The 6 Best Pool Balls: A Buyer's Guide for 2023
You'll find few sporty individuals that don't enjoy pool. It's a fun game that everyone can get involved in and is the perfect way to unwind at the end of a long day. But to enjoy pool to the fullest you need quality equipment.
These are the 6 best pool balls:
The best pool balls are made of phenolic resin, perfectly round, and last for many years. Polyester resin is a cheaper alternative that will save you some money, but it has drawbacks, namely when it comes to chipping and leaving burn marks on your felt.
Below you will find the 6 best pool ball sets on the market for your pool table, and details regarding what to look for when researching. We've provided a mix of inexpensive basic sets and top-end pricier billiard ball sets to ensure everyone has a little something. We hope you find it useful!
Read more: If you still don't have your cue, check out our cue guide.
Why You Should Trust Us
We at Ping Pong Ruler are experts when it comes to sporting goods. While table tennis is our bread and butter, we love almost all sports and pool is no exception.
We scour the internet for the best products for your hard-earned cash in every review we write. All opinions and our genuine thoughts are unbiased — brands do not pay us to endorse any of the products we recommend. Instead, we may earn a small affiliate commission which helps to keep our site alive.
The 6 Best Pool Balls Reviews for 2023
1. Aramith Pure Phenolic Pool Balls — Best Choice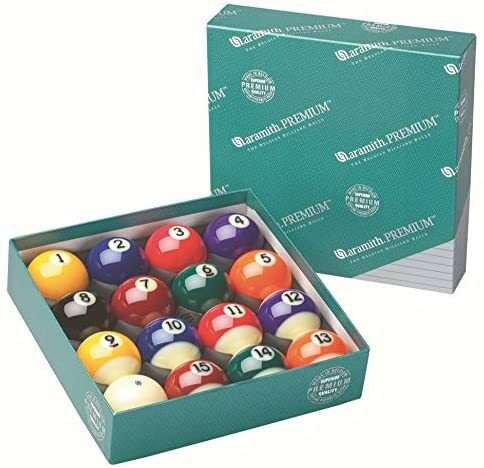 Specifications:
Diameter size: 2-¼ inch
Material: Phenolic resin
Additional buying options?: Yes
Pros:
Premium build quality
Perfectly round
Highly durable
Calibrated for consistent rebounds
Cons:
Our Rating: 9.6
Aramith is the gold standard of pool balls, so it should come as no surprise that they make our list. Despite this being their premium set, it is the cheapest of their three sets of balls. These balls are made using phenolic resin: their trademarked resin compound. It will last up to five times longer than lower-quality balls.
The balls also feature Virotech technology. This uses a heat-curing process that gives the balls their high density and superior impact resistance. Aramith claims that their balls can endure fifty times more impacts and twice as many scratches as other pool balls.
The quality of the Aramith resin also means each ball is calibrated for optimal rebound. This ensures more consistent pool games and allows you to be far more precise with your shots. We feel that the Aramith pure phenolic balls are the best pool table balls you can currently buy.
2. Iszy Billiard Ball Set — Budget Choice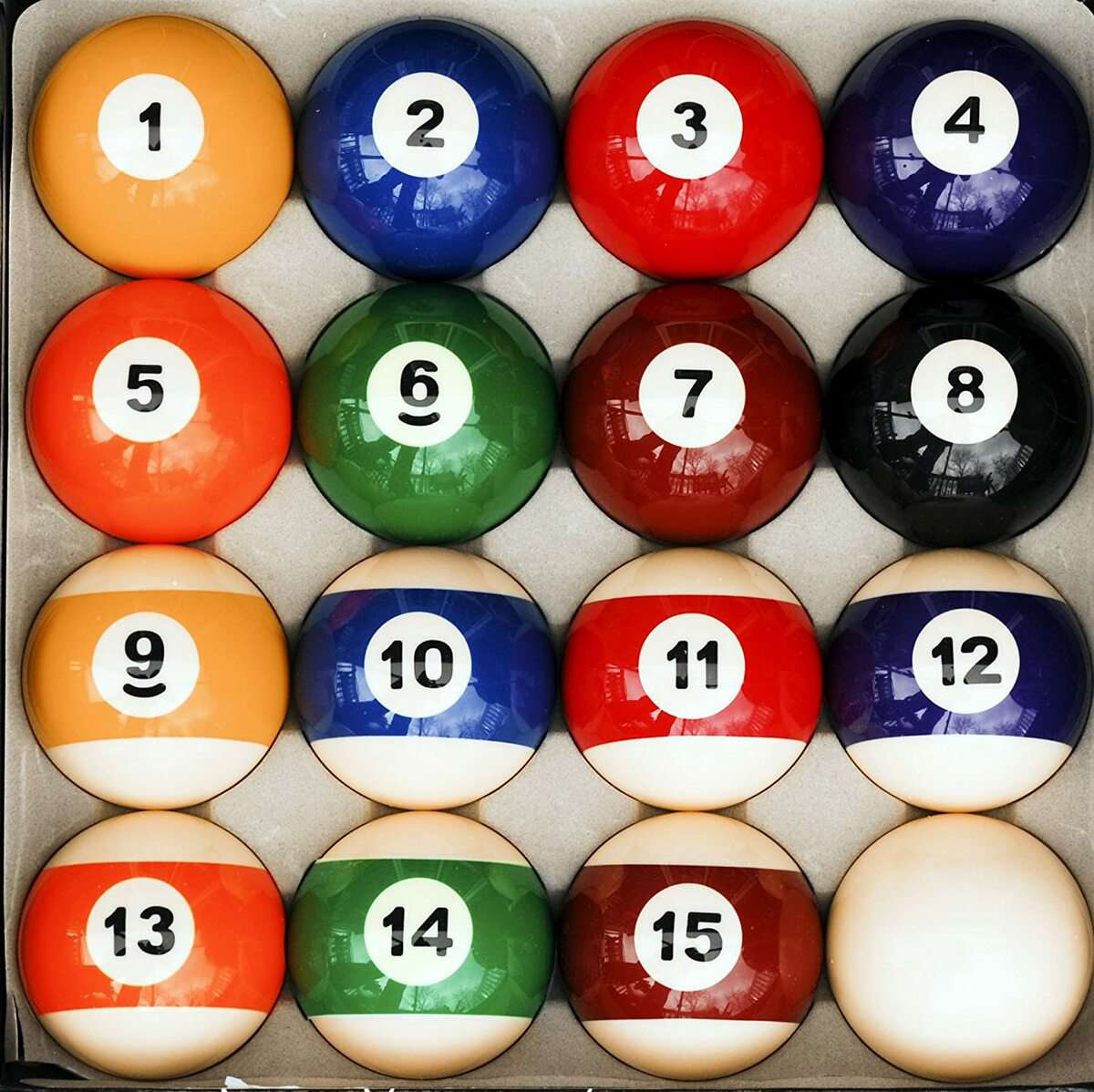 Specifications:
Diameter size: 2-¼ inch
Material: Polyester resin
Additional buying options?: Yes
Pros:
High-quality balls
Very affordable
Four different colored sets
Cons:
Our Rating: 9.2
For those looking for good-quality pool balls at an affordable cost, the Iszy set has the best pool balls to buy. At a quarter of the cost of the Aramith set, it provides incredible value for money, which explains why it is so popular with billiard players. Of course, while the quality is high, it is far from top-end. The balls are made from polyester resin which is inferior to phenolic resin, so if durability is one of your main priorities, best look elsewhere.
We also like that Iszy sells the set in four different colors. For most, the traditional color set will be what you want, but options are nice. The three other sets are marble, classic marble, and dark marble. They look pretty flashy but may hinder your ability to distinguish between spots and stripes. They also cost a little more than the traditional set.
3. JAPER BEES Pool Balls Set — Most Style Choices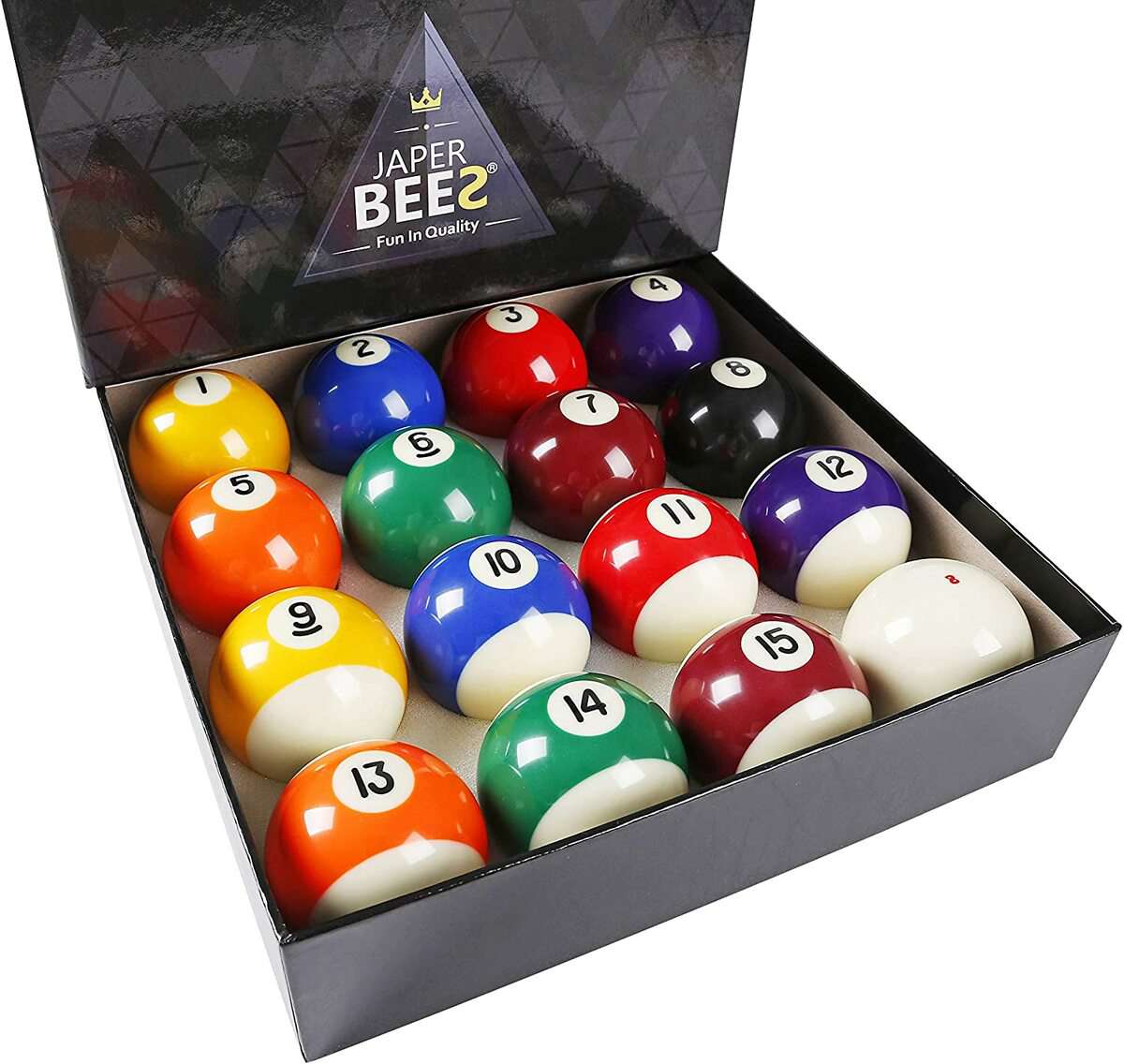 Specifications:
Diameter size: 2-¼ inch
Material: Polyresin
Additional buying options?: Yes
Pros:
Perfect roundness
Low degree of variance
Very affordable
Five different color sets
100% money-back policy
Cons:
Our Rating: 9.3
The JAPER BEES pool ball set is another excellent choice. We find them to be the best pool balls for the money if you have less than $50 to spend. The balls are perfectly round and precise in terms of weight and diameter. The margin of deviance is just -0.1/0+.1 gram and -0.1/+0.1 millimeter. This ensures your balls are almost identical.
The balls are made from polyresin, which isn't the best, but is not too bad either. JAPER BEES states that their balls last 2-3 times longer than other brands. Clearly, they are comparing with lower-quality balls here. However, the balls have other enticing features, such as long-lasting gloss and burn spot resistance.
Long-lasting gloss helps keep the balls looking pristine and shiny, while burn spot resistance helps prevent damage to your pool table. Unknown to some, balls can get very hot when you strike them with your pool cue. This can cause burn spots on your pool table. Therefore having pool cues with burn spot resistance is a big advantage.
You also have a lot of choices when it comes to the design of the balls. There are five different sets:
Deluxe standard
Deluxe superior
Marble dark
Pro premium
Pearl trick shot
Honestly, all of these sets look great. We also prefer the marble dark design on this set to the marble sets by ISZY. They look more professional. And as before, these sets all have different costs. Furthermore, they have different quality levels, with the lowest deluxe standard.
The final feature we like about this set is the 100% money-back policy. JAPER BEES gives your money back if any quality issues arise, and they guarantee they will rectify issues within 12 hours of receiving an email. Now that is elite customer service right there.
4. Felson Pool Ball Set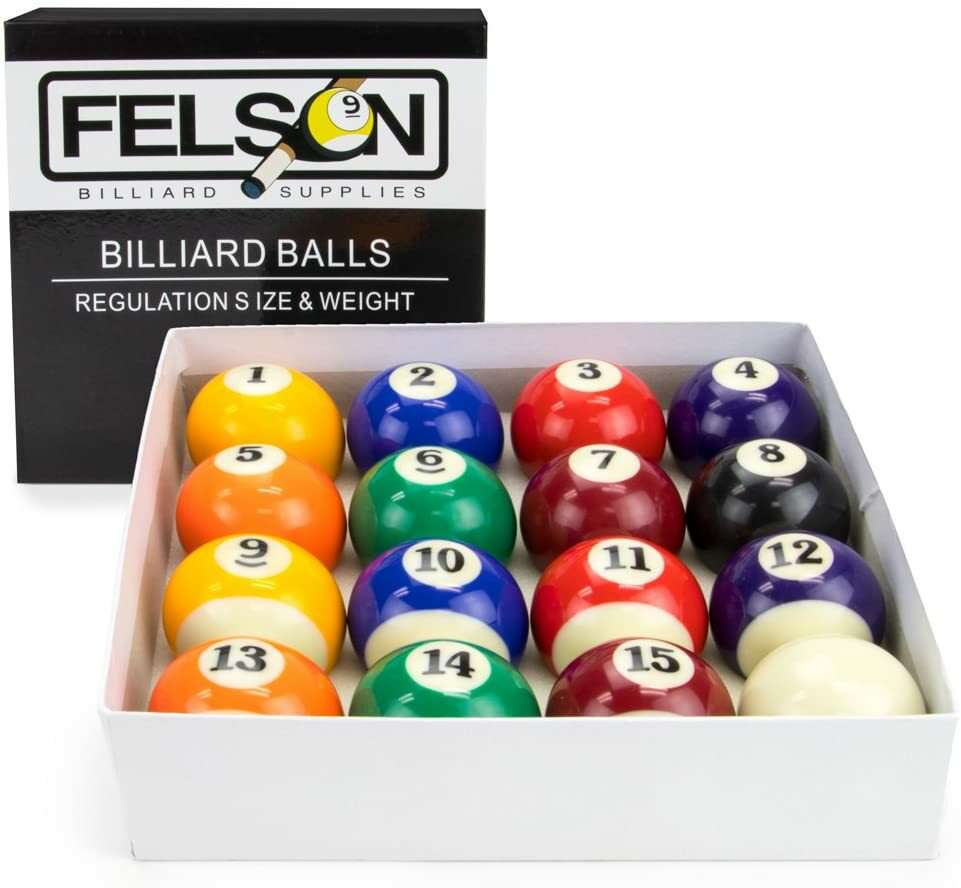 Specifications:
Diameter size: 2-¼ inch
Material: Resin
Additional buying options?: No
Pros:
Precision engineered for roundness
Very affordable
Cons:
Average durability
Poor color finish
Our Rating: 8.6
If you are stretched for cash, Felson has a solid cheap billiard ball set to consider. The balls are precision engineered for roundness, ensuring they roll consistently and do not veer to either side. Like the rest of the sets featured, they are regulation size and weight but not quite as uniform as we would like.
The quality of this product is also lacking in a few other areas. The first is the color finish. It is rather dull, and the paint is not applied all that well. We also noticed erroneous spacing on the word "size" on the packaging. While both are not major issues, it indicates a cheaper product. For around 15 bucks extra, the Iszy pool ball set is a far better choice in our eyes.
5. Aramith Crown Pool Ball Set — Great Value for Money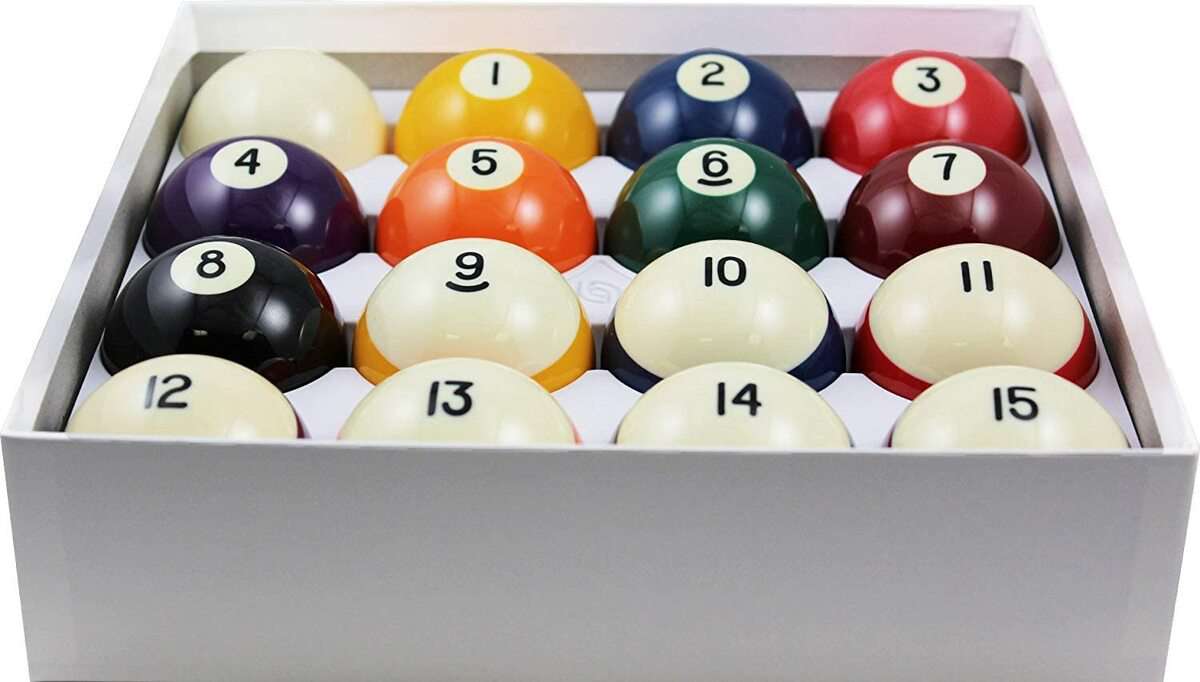 Specifications:
Diameter size: 2-¼ inch
Material: Phenolic resin
Additional buying options?: No
Pros:
Premium build quality
Perfectly round
Highly durable
Calibrated for consistent rebounds
Cons:
Our Rating: 9.5
As mentioned earlier, Aramith is practically unmatched regarding pool ball quality, so many of you may be after their most affordable balls — presenting the Aramith Crown set. It is over 50% cheaper than their premium set and cuts a few corners to give you incredible quality at a competitive price.
The most obvious difference between this and the premium set is visual. The numbers reside outside of the stripes in the striped balls. While this looks a little strange, it doesn't affect how they perform, so it is an effective way to cut the cost. The numbers are also not quite as bold, which is of little importance.
However, the main difference is in terms of composition. The balls are made using a different type of resin. It is still phenolic resin which is very high quality, but it falls short of what they use for the premium sets and above. Yet the quality is so high that you may not even notice that the resin is different. This set certainly gets the seal of approval from us.
6. Brunswick Centennial Billiard Balls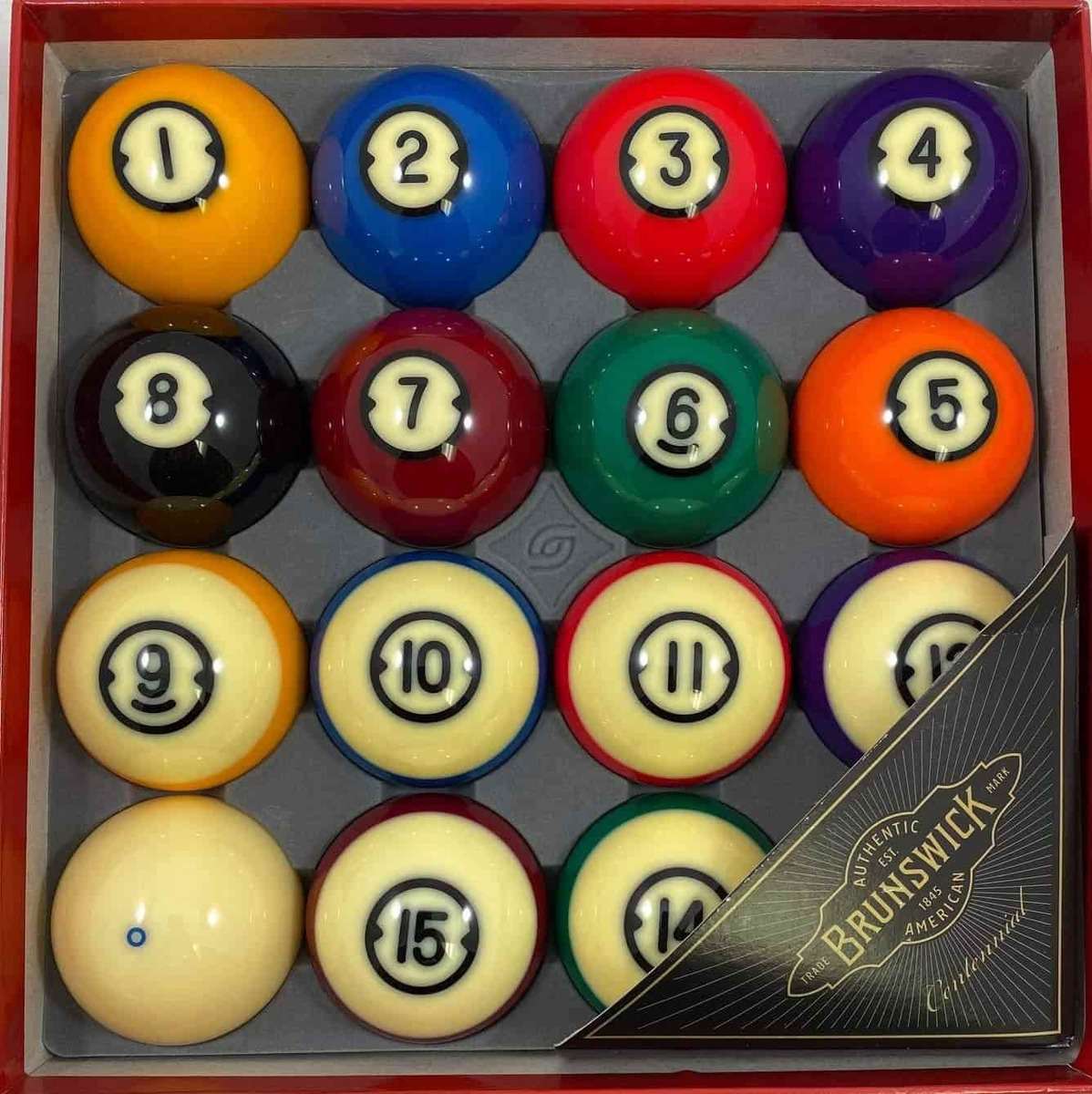 Specifications:
Diameter size: 2-¼ inch
Material: Phenolic resin
Additional buying options?: No
Pros:
Premium build quality
Perfectly round
Very low degree of variance
Highly durable
Cons:
Expensive
Old-school style may not be to everyone's tastes
Our rating: 9.3
The final pool ball set to make our list is by Brunswick. It is the most expensive set featured but is very high quality. For starters, they use Aramith phenolic resin: the best billiard balls resin you can get. They are also manufactured by Saluc. This is the same Belgian company that makes the balls for Aramith. This again reasserts that these are premium balls you are purchasing.
They, too, undergo a heat-curing process that fuses the components of the ball for a strong molecular bond. They also have a very small degree of variance of just 0.001 inch, making them very precise balls. You may also notice on the listing that they provide a free-break cloth on request. This helps mitigate wear from breaking and is a nice little addition.
In terms of appearance, they vary quite a lot from Aramith billiard balls, sporting more of an old-school look. We think it's pretty rad, but it doesn't suit everyone — a super billiard ball set, just a bit expensive for most people.
Pool Ball Buying Guide
Material
The material is one of the first qualities you should look at when shopping around for pool balls. There are two main types: synthetic and polyester. The best billiard ball sets are made of synthetic resin, which has great elasticity and is highly durable. The trade-off is that these billiard ball sets have an elevated cost.
By comparison, plastic balls made from polyester resin may sometimes leave burn marks on your pool table and are not as durable. However, these balls hold their shape well and cost a lot less. So they are a great option if you have a limited budget to work with.
Size and Weight
Regulation balls for pool are 2 1/4″, so unless you have a table with small pockets, this is the size you should be seeking to pick up. As for weight, the balls should weigh anywhere between 5-6 oz, most are at the top end.
But what matters more than individual sizes and weights is consistency.  Each ball should be of the same size and weight otherwise, it will be challenging to be precise with your shots.
Roundness
Roundness is another area where consistency is vital. All balls should be perfectly spherical to allow them to move freely. Even a tiny bump can cause a ball to drift off course, and in a game of such fine margins, this is simply not acceptable.
Elasticity
Elasticity determines how well balls can transfer their energy to one another. Inelastic balls, are poor transferrers of energy, so when they collide the original ball transfers only a small amount of momentum and keeps on moving. Elastic balls, on the other hand, transfer much more energy, allowing them to stop completely after impact in the right circumstances.
As you can imagine, this is very important for the cue ball as it helps set you up for the next shot.
Appearance
Appearance is of the least importance relative to the other buying factors we have looked at, but that doesn't mean you shouldn't consider it. There's nothing wrong with wanting a set of pool balls that both performs well and looks the part.
Most sets of balls have a classic spot and stripe appearance with minimal differences between them. However, stylized sets are available too which may tickle your fancy. The likes of non-typical fonts, pearl effects, and marble effects all do a lot to change the overall appearance of a set.
How to Make Your Pool Balls Last Longer
Despite pool balls being highly resilient, they are still prone to wear given the impacts they have to endure. While there's not much you can do about gouges or scratches, you can address staining resulting from chalk and dirt build-up.
You will need bleach, gloves, and a magic eraser. Simply fill up your sink with water and a little bleach, and then while wearing your gloves wash each ball. When finished, wash them with water to remove any leftover bleach, dry them off, and finally go over them with a magic eraser to give them a shiny finish.
Conclusion
That summarizes our top picks of the year. So what are the best pool balls? We feel that the Amarith pure phenolic pool balls are the best pool balls of 2023. So if you're serious about the sport, you should consider picking them up. They are a little expensive, but they more than makeup for this in terms of quality and longevity — they are the best billiard balls for the money. If, however, you're still a bit short in terms of cash, we recommend the Amarith Crown pool ball set. It's the perfect way to secure Amarith-level quality while having a few features stripped back.
As for our budget choice, we recommend the Iszy pool ball set. You get a lot of value for money with these balls. They are fairly high quality and are perfect for home use.
If you liked this article, you might also enjoy our write-up on 5 types of pool games you need to try.
Frequently Asked Questions
What Should I Look For When Buying Pool Balls?
There are a lot of qualities to look for when purchasing the best pool ball set. When reading billiard balls reviews or studying listings yourself, make sure that the balls are:
Regulation size and weight
Have a low degree of size and weight variance
Last a long time
Are perfectly round
Have a consistent rebound
Are burn-spot-resistant
Are well-polished and pleasing to the eye
Are Some Pool Balls Better Than Others?
Pool balls vary a lot in quality, and if you opt for cheap billiard balls, they probably won't last that long. Given that pool balls should last for many years, it makes sense to invest in a quality set so that you don't have to replace them as often.
What Kind of Pool Balls are Best?
Aramith pool balls are the best pool balls you can buy. This is mostly due to their phenolic resin composition, which is currently unmatched by other ball manufacturers. They are impact-resistant, scratch-resistant, burn-spot-resistant, and perfectly round.
What Pool Balls Do Pros Use?
Once again, Aramith is the brand that has this honor: 85% of players use Aramith balls, and nearly all tournaments exclusively supply them. Approximately 3-4 million amateur and professional billiard players use them every day.
Do Pool Balls Wear Out?
All pool balls wear out, even the best pool ball sets. They take a lot of damage when you strike them with the cue and when they rebound into one another. Even if you get a quality set, there will come a time when they need replacing either because they are damaged, misshapen, or smaller than they should be.
Why Does My Pool Ball Hop Sometimes?
The cue ball hops if it is airborne when it makes contact with another ball. It may also hop if you put too much force into the stroke. While topspin can encourage the ball to climb slightly on impact, this is not to a strong extent.
Do Expensive Pool Balls Make a Difference?
Expensive pool balls are of much higher quality the cheap pool balls, and you should feel this when you play with them. They are uniform, elastic, and highly durable. Cheap pool balls, by comparison, have more defects, are less elastic, and do not last as long.

Freelance writer. Table tennis enthusiast. Lover of all things online. When I'm not working on my loop game I'm probably binge-watching some fantasy show.