The 5 Best Pool Table Felt
Is your pool table looking a little rundown? Perhaps it's time to replace the felt.
Pool table felt affects not only your table's aesthetics but also its performance. A high-quality billiard tablecloth is durable and fast. And we all know that playing on a smooth, quick play surface is more fun than playing on one that is slow and riddled with tears and fuzz.
Which pool table felt is best for your table?
Read on to learn everything you need to know.
Featured Products
Pool Felt Buyer's Guide
Size
First things first, you need to get the right size to fit your table. Fortunately, it's pretty difficult to mess up here as manufacturers usually pre-cut pool table cloth to your requirements.
You can easily purchase a 7 ft, 8 ft, or 9 ft set.
Material
This is one of the key areas where you need to decide your desired felt properties. Most felt comes in a blend of two materials, usually wool and nylon. But sometimes wool accompanies polyester too.
We recommend going for wool and nylon if you have the option.
You'll also notice the term "worsted wool" being thrown around. This type of wool is more expensive but tends to be the best felt for pool tables.
Durability
There are two aspects to consider when it comes to weight.
The first is your material blend. Generally speaking, the higher the wool content, the more durable the felt is.
The second characteristic is its weight. Heavy felt for pool tables is stronger and less likely to break down, so if maximum durability is what you seek, look for felt weighing around 22 oz or more.
Speed
When it comes to speed, worsted wool is the clear best pool table cloth. This is because it is not prone to pilling. Regular wool, by comparison, has a far fuzzier surface texture which causes the ball to slow down.
You should also take note of the weight of the fabric for pool tables. While thicker felt is more durable, it is often slower. So it's important to find the right balance for your needs.
Color
Moving past performance, we come to physical appeal. Pool felts are available in lots of different colors, so you don't need to just settle for green.
We recommend choosing a felt pool table that matches your decor. That way your pool table feels right at home.
Why Trust Ping Pong Ruler?
Ping Pong Ruler is dedicated to bringing you the best sporting information available. Whether that be equipment reviews or strategy guides, we'll write about it! We want sports enthusiasts worldwide to have access to free information to help them improve.
The 5 Best Pool Table Felts
Championship Saturn II Felt — Best Overall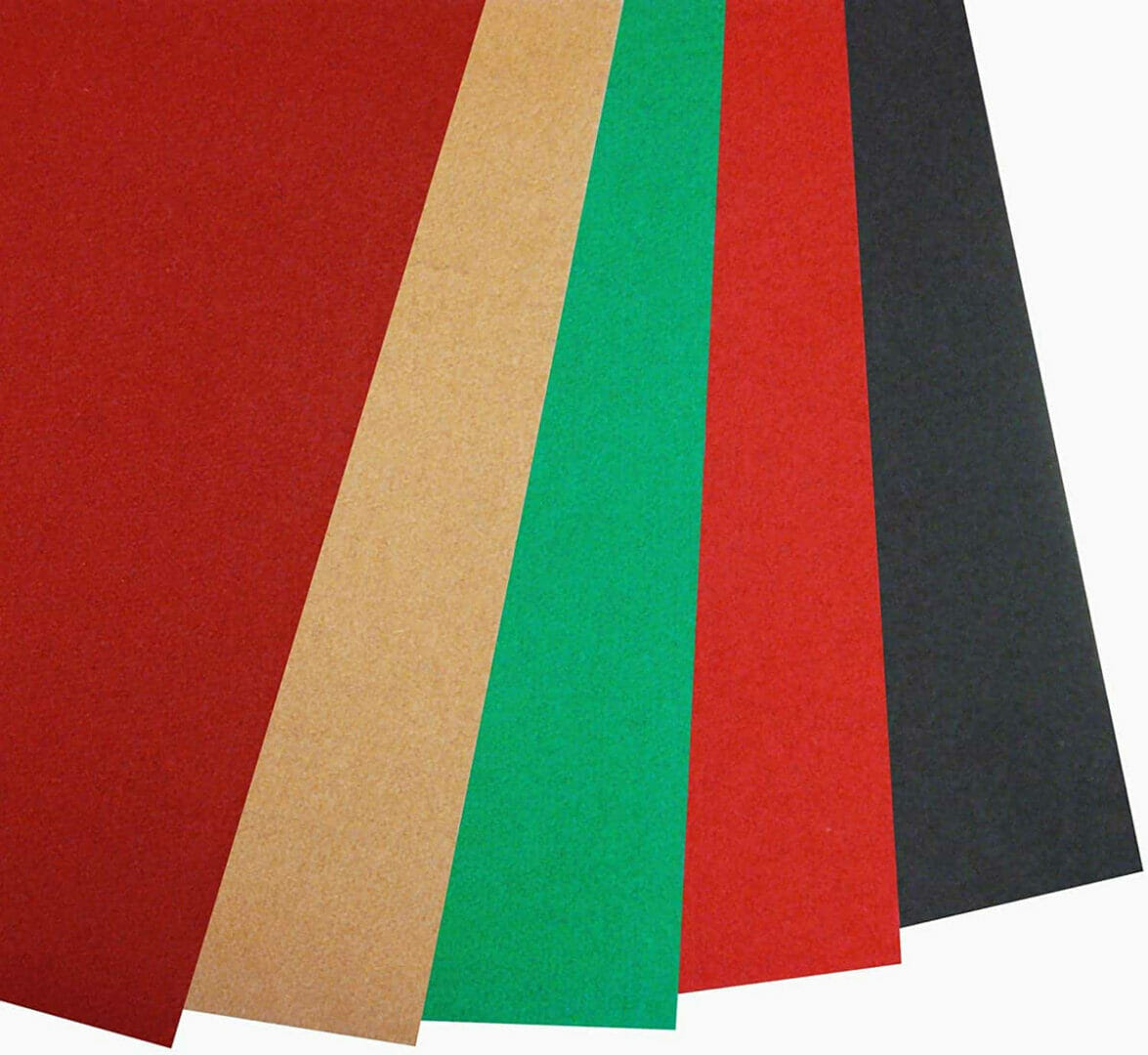 Specifications
Material: 75% wool 25% nylon
Weight: 19 oz
Size: 7 ft, 8 ft
Color: Black, burgundy, camel, green, red
Pre-cut: Yes
Rating: 9.6
The Championship Saturn II may be the second most expensive felt, but with added cost comes unrivaled quality. It's not just us that think that. The value of this felt has led to the Saturn II becoming an Amazon Choice product.
The felt has a 75/25 wool and nylon split. And while it is not worsted, it is pretty stretchy. This makes applying the felt easier as you have the flexibility of being able to stretch out the material over your slate bed.
The felt also has the added benefit of a Dupont Teflon coating. As such, it has a layer of protection against spilled liquids, meaning it should keep looking tip-top for a damn long time.
The set includes 7 cloth pieces, 6 rail clothes, and your main bed cloth. You have 5 colors to choose from, from standard-looking green to bold red.
Iszy Billiards Accuplay Felt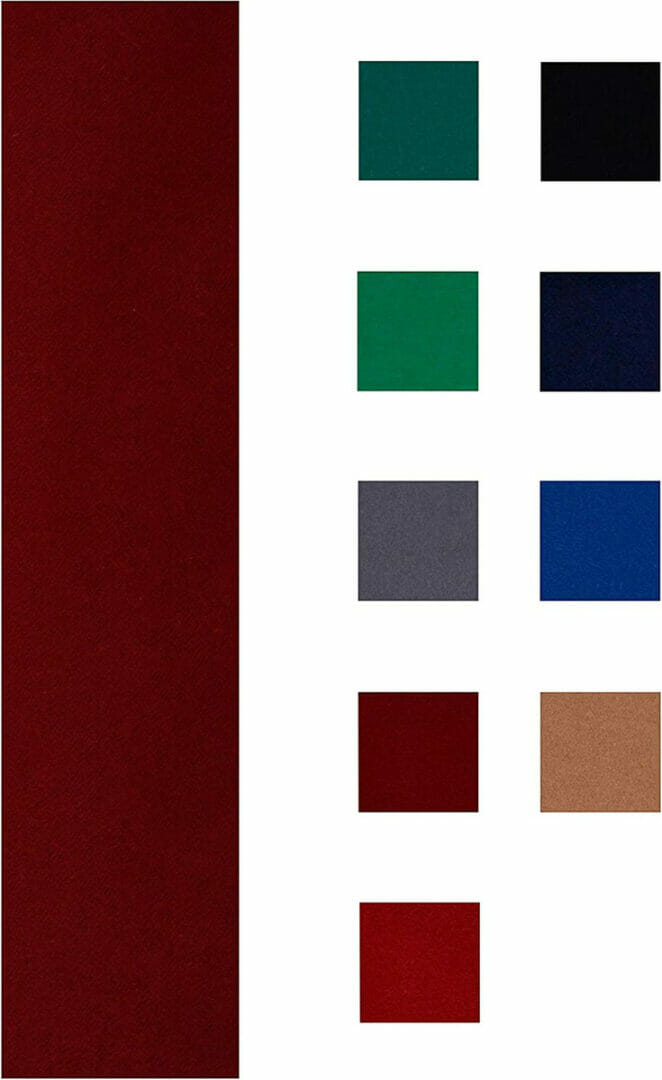 Specifications
Material: 75% wool 25% polyamide
Weight: 20 oz
Size: 7 ft, 8 ft, 9 ft
Color: Black, blue, burgundy, English green, gray, navy, red, tan, spruce green
Pre-cut: Yes
Rating: 9.4
Surprisingly, the second spot on our list goes to another non-worsted felt — Accuplay felt. It comes in nine different colors and fits 7 ft and 8 ft tables, so if you have a 9-footer, you're sadly out of luck.
Like the Championship Saturn II felt it has a 75/25 material mix. Yet rather than pairing nylon with wool, Iszy Billiards has elected for polyamide, a quick-drying material and easy to dye.
The speed is medium-fast, although this might be a little conservative. It doesn't quite compare to the top worsted wools in this regard. On the other hand, the application is rather simple, arrives pre-cut, and has plenty of stretchiness.
Boshen Worsted Felt — Best for Speed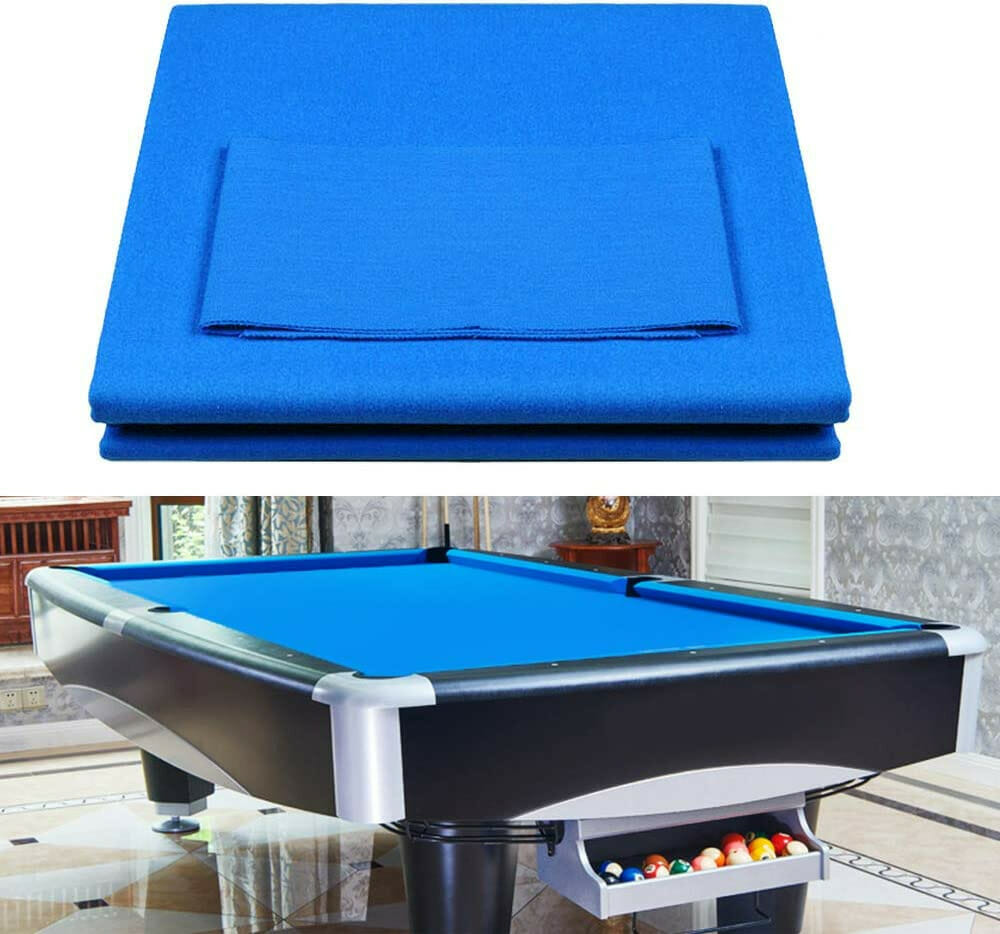 Specifications
Material: 60% wool 40% nylon
Weight: Unlisted
Size: 7 ft, 8 ft, 9 ft
Color: Black, blue, gray, red
Pre-cut: Yes
Rating: 9.2
This Boshen felt is our first of the worsted category. As such, it has a high-quality, smooth play surface. Pre-cut and quite stretchy, installing is a breeze. The issue with this wool is that it sometimes arrives with many creases, which can be difficult to fully remove.
You may well need to iron these out. Of course, you need to be careful not to damage the felt here. So start with low heat and only apply for a short time before removing. Then build up as needed.
This felt type is made from 60% wool and 40% nylon. While we rate it worsted, it has a lower wool content than many other felts. This means it's thinner and less durable. On the flip side, it is best pool felt for speed, leading to more exciting pool games.
You can pick up Boshen's worsted felt for pool tables measuring 7-9 ft, and you have four basic colors to choose from: black, blue, green, and red.
Boshen Double-Side Fleece Thickened Felt — Budget Choice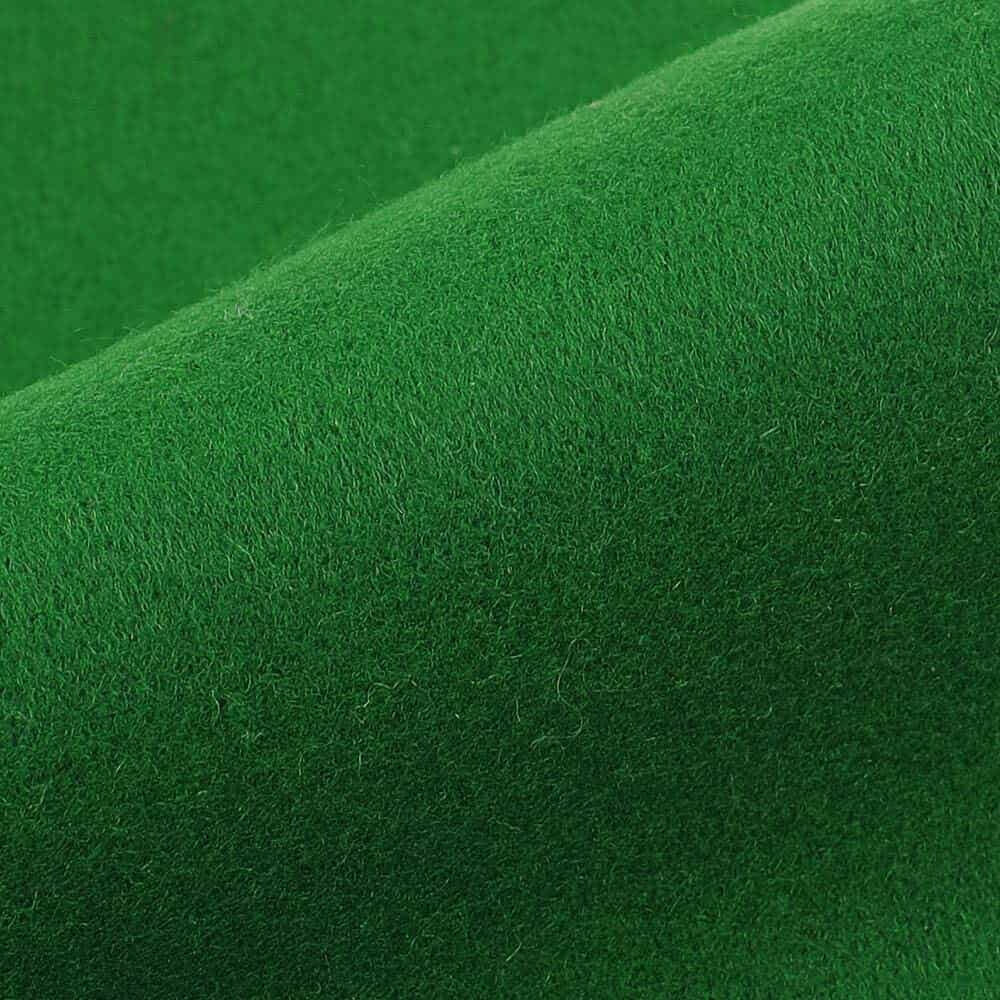 Specifications
Material: 10% wool 90% nylon
Weight: Unlisted
Size: 7 ft, 8 ft, 9 ft
Color: Green
Pre-cut: Yes
Rating: 8.9
Next, we have another offering from Boshen, which is their non-worsted felt. Costing half the price of their worsted felt, it's our budget pick recommendation.
This felt is considerably different from the rest as it has a very low wool content. Just 10% of the felt is made from wool, and the remaining 90% is made of nylon. The benefit of having so little wool is that the felt is less prone to pilling, making it faster.
This then brings durability into question. However, as the felt is double fleece thickened, it is fairly durable. Furthermore, the increased thickness also reduces speed somewhat, so you are looking at a fairly fast felt overall, but not too fast.
The main drawback to the double-sided fleece thickened felt is that it is not stretchy and often comes with creases. This means the felt takes longer to prepare and apply, which is a bit of a pain.
You also have the option to pick up the felt in two other types: single-sided thickened and fine-Australian wool. The former is thick, 100% nylon which promotes longevity, while the latter is 90% wool and 10% nylon, resembling standard tablecloths.
Unfortunately, you can only pick up these felts in green which is a little limiting. However, it comes in all sizes from 7-9 ft.
ProLine Classic 303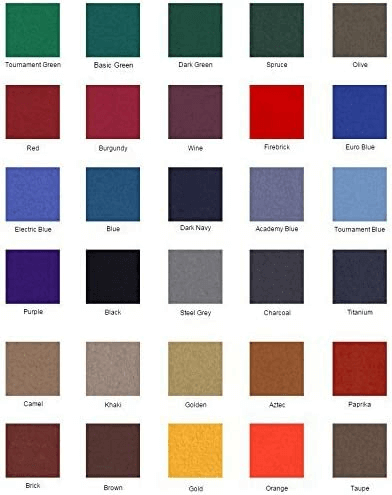 Specifications
Material: 80% wool 20% nylon
Weight: 21 oz
Size: 7 ft, 8 ft, 9 ft
Color: 30 colors to choose from
Pre-cut: Yes
Rating: 8.9
Our final felt recommendation comes from ProLine. Their classic 303 felt is available in 30 colors, so you are spoilt for choice. While you can pick up the felt wool for pool tables ranging from 7-9 ft, it does seem that most of the colors are only available for 8 ft tables which will be a little disappointing to some.
Moving on from style, we come to the composition. The Classic 303 felt is non-worsted and has an 80/20 wool and nylon split. This provides a pretty good play surface that is fairly durable with okay ball speeds.
One thing that stood out about this tablecloth is its Teflon coating. The only other felt to have this is the Championship Saturn II felt, which took our number 1 spot. To recap, this helps protect the tablecloth from spills, scuff marks, and anything else that might stain its surface. So having it is a definite plus in our eyes.
How to Apply Pool Table Felt
Although the thought of applying pool table felts can be a scary one, you need not worry. The process may be a little lengthy, but it is relatively straightforward.
1) Begin by disassembling your pool table. Remove the bolts keeping the railings in place, and move pocket liners out of the way. You then have access to remove all of the old felt from the railings and the bed.
2) Clean the slate. Although the slate is always covered by felt, chalk will seep through, which you should remove. You'll also have to scrape off any old glue to ensure you get a strong flush bond when you reapply.
3) Glue the felt to the slate. Lay out your felt over the slate while leaving an overhang on all sides, then begin gluing. For the pockets, cut several slits so you can pull the felt more easily to prevent it from bunching up. Once you have one side glued, pull the felt tight before gluing the remainder. This ensures it lies flat on the slate. The edges of your felt should all be on the underside of the slate, leaving you with a clean-looking bed.
4) Glue the felt to the railings. You can use staples or glue to adhere your felt here (many people opt for staples). Like with the slate, adhere your felt to the railings while making sure that it is taut.
5) Reassemble your parts. Now it is simply a matter of re-assembling all of your parts. Don't forget to put your pocket liners back in place.
For a detailed watch along, click on this video by Retro Active Lifestyle. They break down the process clearly, and the video is very entertaining for a tutorial.
Maintenance Tips
You can take many steps to ensure that you keep your pool in pristine condition. Here are our top tips.:
Avoid eating or drinking over the table — spills happen
Avoid direct sunlight
Use a cover when you are not playing
Apply chalk away from the table
Clean the balls every so often
Clean your table with water and a cloth regularly
Brush the table regularly from one side to the other to remove chalk
Conclusion
While your pool table felt may seem to be holding up okay, switching to new felt is a surefire way to breathe new life into your table. Not only will it look refreshed, but a quality felt will also help it perform better.
Having looked at all of the options currently available, we find the best pool table felt to be Championship Saturn II. It may be non-worsted, but it is easy to apply, durable, and comes in five different colors. It has also proved very popular with buyers, averaging a 4.6/5 star rating on Amazon.
FAQs
What Is the Best Type of Felt for a Pool Table?
Generally speaking, worsted felt is the best kind. That being said, it is more expensive and other types of felt can perform just as well. Our favorite is Championship Saturn II — a non-worsted felt.
What Is the Best Pool Table Felt Made Of?
Championship Saturn II is made of 75% wool and 25% nylon. It also has a Dupont Teflon coating which makes it water-proof to an extent.
How Long Does Felt Last on a Pool Table
This depends entirely on its usage. If you play intensely, say 5 days a week, you could look at just 3 years. However, playing once a week could be closer to 10 years.
It's important to keep an eye on your felt and look out for the signs that it needs changing. These include:
Excessive wear
Pilling
Tears or other damage
Stains
Areas that have become loose

Freelance writer. Table tennis enthusiast. Lover of all things online. When I'm not working on my loop game I'm probably binge-watching some fantasy show.