The Best Pool Tables: A Complete Guide
Growing up, I spent hours playing pool in my grandma's basement. Then later in life, I spent hours with friends shooting pool at a local tavern. I find the sport really engaging and love that it can be enjoyed by the young and old, family or friends. That's why having a table at home can be a game-changer.
But finding the right table can be a bit challenging.
To help save you time, we've rounded up what we think are the best pool tables for 2023 and included a pool table buying guide that highlights the most important features to consider. Let's get started.
 

Best Pool Table for the Price

Best Quality Pool Table

Best Budget Pool Table 

 

Pros

Solid price point
Good starter table
Sturdy enough

Great construction
The design will look great in your room

Can fit in smaller spaces but is not too small
Great price point

Cons

Heavy
Made of particleboard

Leveling can take time at first
Could use center support

Price Score

95.2

82.7

98.2

Quality Score

85.7

97.1

82.9

Ease of Use Score

92.3

80.2

93.3

Rating

4.5 Stars

4.5 Stars

4 Stars
Our Review Process
Over here at PingPongRuler, we are not only ping pong experts but also highly educated in other mainstream sports. Sports are our passion; our goal is to help players worldwide learn and improve.
Every product featured in our guides is carefully selected by a member of our team because it stood out above the rest. We do our best to compare all products in the space and test each for its value, performance, durability, and physical appeal. 
Full List of The Best Pool Tables for 2023
Top-Rated Pool Table Reviews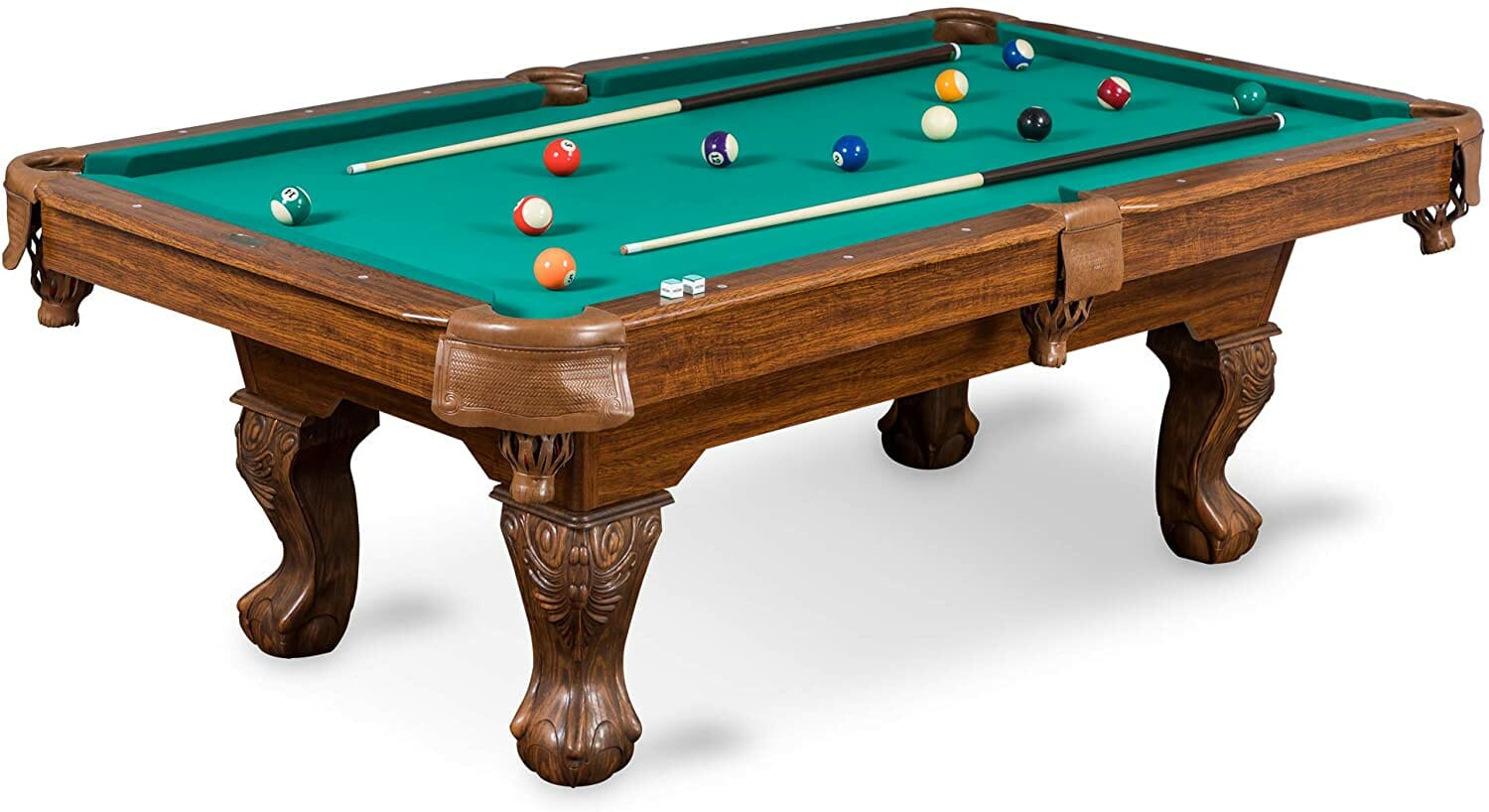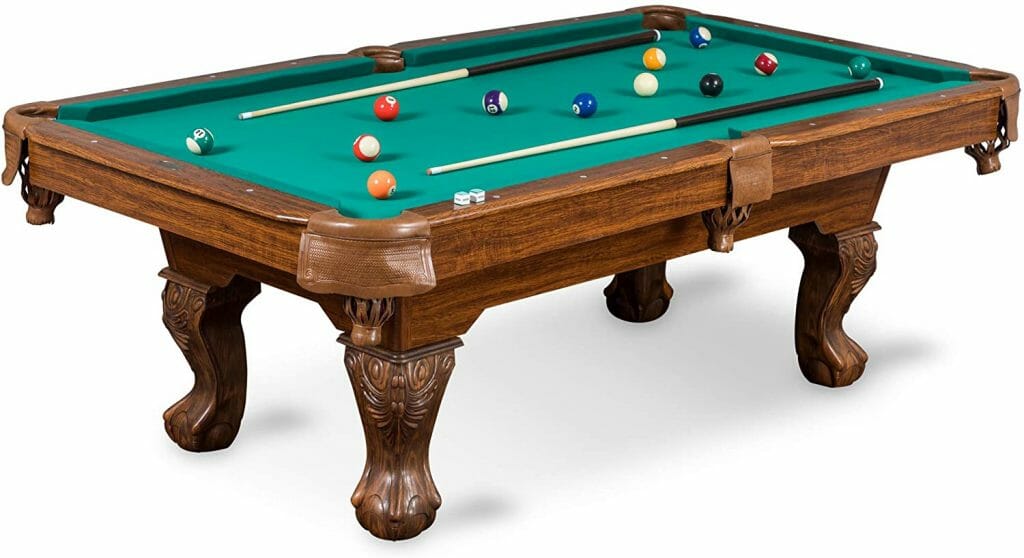 Pros
Solid price point
Good starter table
Sturdy enough
Cons
Heavy
Made of particleboard
Key Features
87″ x 50″ x 31″
Parlor-style design
Available in 3 colors
Drop pockets
Claw-style legs with levelers
Professional K-66 bumpers
If you're looking for the best billiard table for your home, then the EastPoint Sports Masterson could be an excellent contender. Whether you plan on putting it in your living room, game room, or basement, it looks great and is quite easy to set up.
It features K-66 rubber bumpers that provide an excellent bounce to keep the fun going all night long. We love the built-in leg leveling system that keeps everything fair and prevents the balls from rolling to one side. We are also a big fan of the design of the table, which features classic ball and claw legs plus parlor-style drop pockets. The finish is scratch-resistant, guaranteeing that it will look the same for many years.
Another thing that we like about this one is that you'll be ready to start playing the game instantly as it comes with two wooden billiard cues, two pieces of chalk, a triangle, a whole set of balls, and a special brush to keep the felt clean. It's an excellent choice for first-timers as well as more experienced players. Assembly takes around an hour.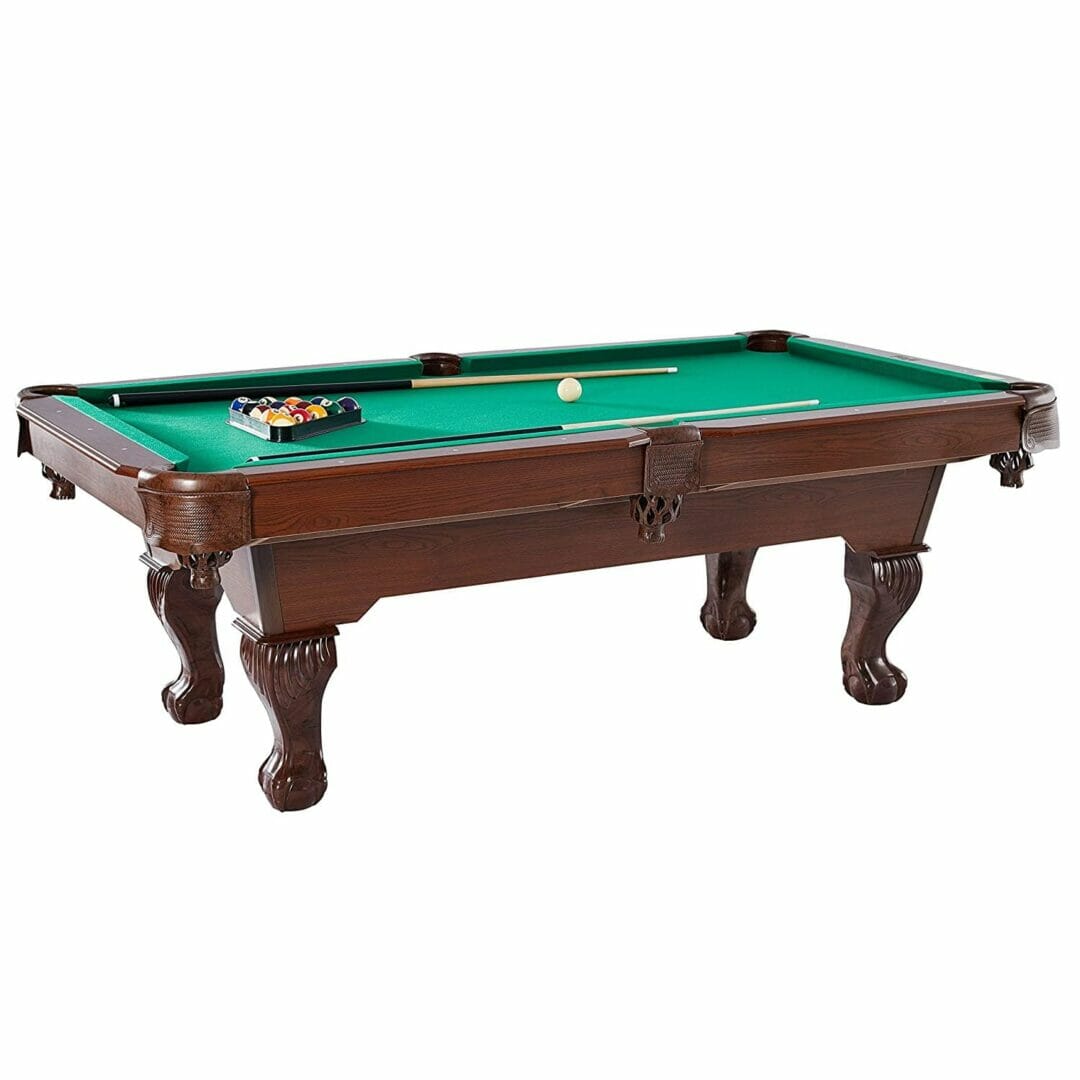 Pros
Great construction
Stunning old-school design
Cons
Key Features
89″ x 50″ x 31″
23-piece set
Dark green and brown colors
Drop pockets
Claw-style legs
18 mm particle board deck
K-818 bumper guards
Beautiful wood finish
Continuing with our pool table reviews, we come to our first top-brand pool table — the Springdale by Barrington. This mid-range table brings elegance and lots of class to any space that you decide to change into your private game room. The pool table is made of dark cherry wood with durable leather net drop pockets reinforced with diamond-style stitching. The dark wood contrasts beautifully with the traditional-looking dark green felt.
With a parlor-style design and carved legs, this is a suitable choice for beginners and serious players. The 25 mm thick wool felt and the 6 pool slates guarantee accurate cue connection with the balls and optimal ball rolling. Assembly shouldn't be a problem as you can easily set it up in an hour or less. The 27.5″ x 7″ birch wood veneered square legs come preassembled to save you time and effort.
Leveling is straightforward because there's a bracket under the mainframe that makes your job easier, and with an 18 mm thick playfield support system, there's no chance of warping. This table is more suitable for a bigger room that can accommodate its massive size while providing enough space so you can move freely.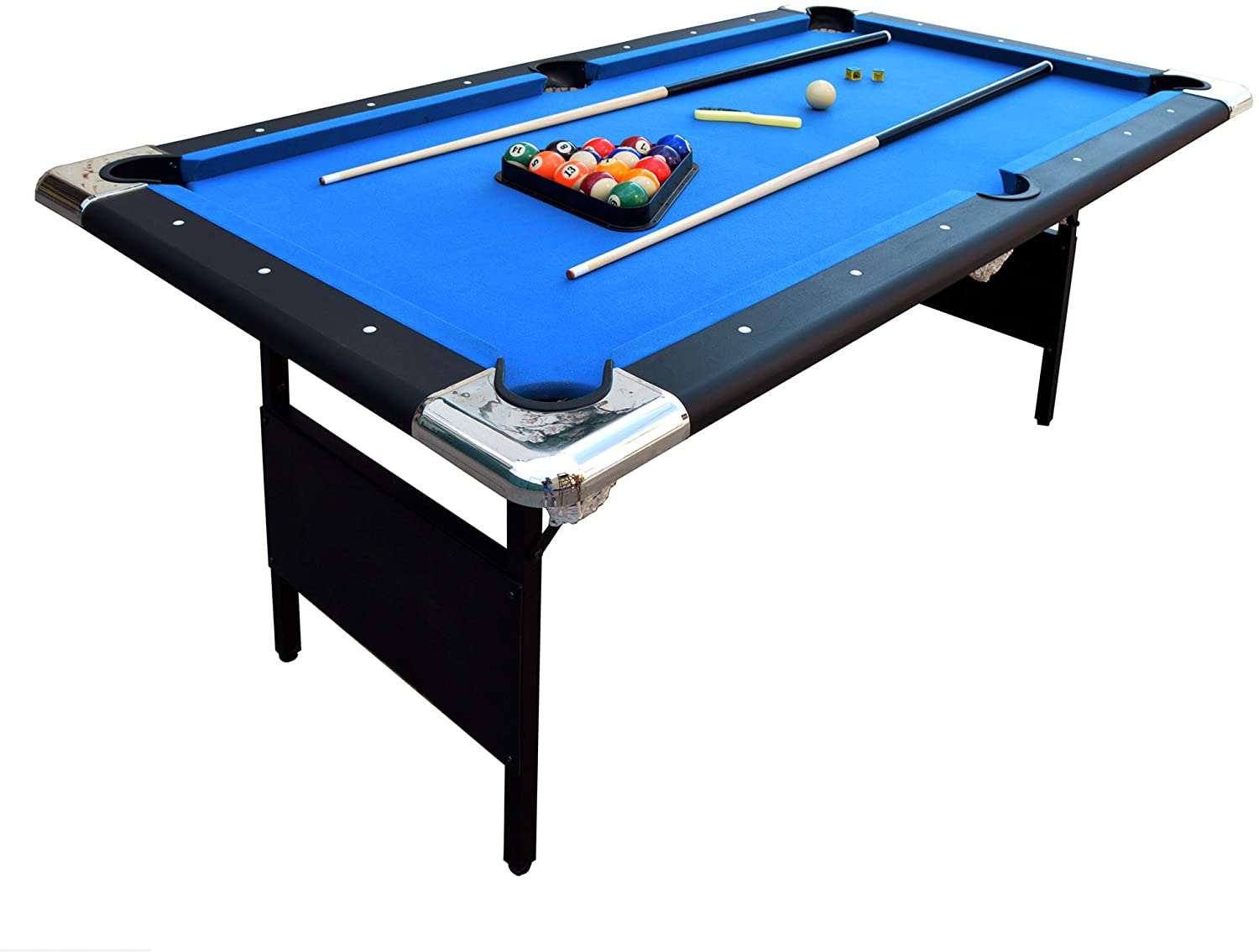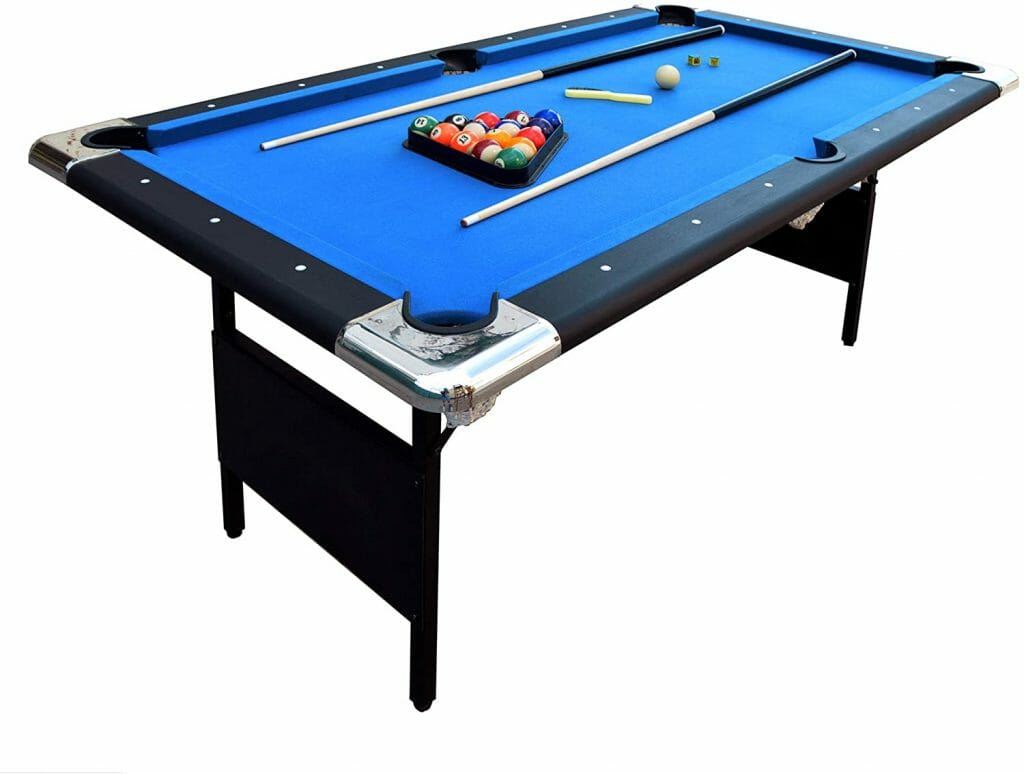 Pros
Can fit in smaller spaces 
Great price point
Cons
Leveling can take time at first
Could use center support
Key Features
80″ x 45.5″ x 5.5″
Steel legs are easy to fold
Integrated leg levelers
High-quality wool felt

L-profile rubber cushions

5″ rails
Chrome-plated corner caps
The Hathaway Fairmont is probably the best option to consider if you have a small budget and less space. This table folds so you can easily set it up whenever you want and store it out of the way if you're planning to use the area for other purposes. It even comes with a nylon carry bag that allows you to transport it safely from one location to another.
The simple space-saving design is an excellent addition to any living room, office space, or kids' room. Moreover, no assembly is required as every table ships pre-assembled and ready for use. All you have to do is to unfold the legs, and the game is on. Thanks to its smart design, even kids and teens can fold and unfold it when needed. However, it's quite heavy given its size so some children may require assistance.
Despite its affordable price, this pool table is built to last thanks to the 1.25-inch steel construction and the 1.5-inch leg levelers that keep it in place. It also features high-quality yet affordable felt made of 75% polyester and 25% wool to guarantee good ball rolling. The corners are chrome-plated to keep your table in perfect condition and the l-shaped cushions provide a better bounce for your balls.
To ensure you can play right away, the table comes with all the required accessories. This includes 48-inch cues, balls, a triangle, chalk, and a special table brush.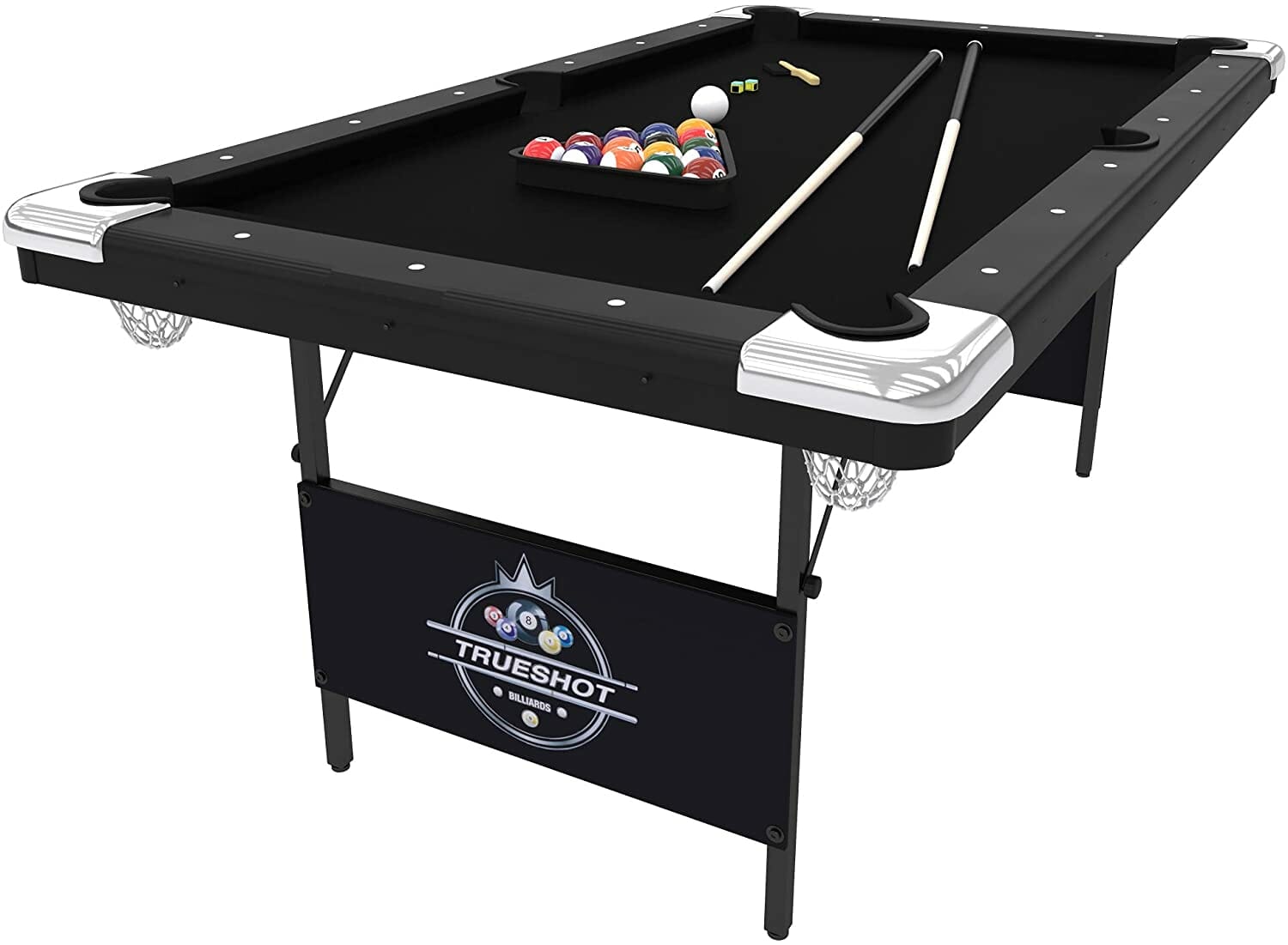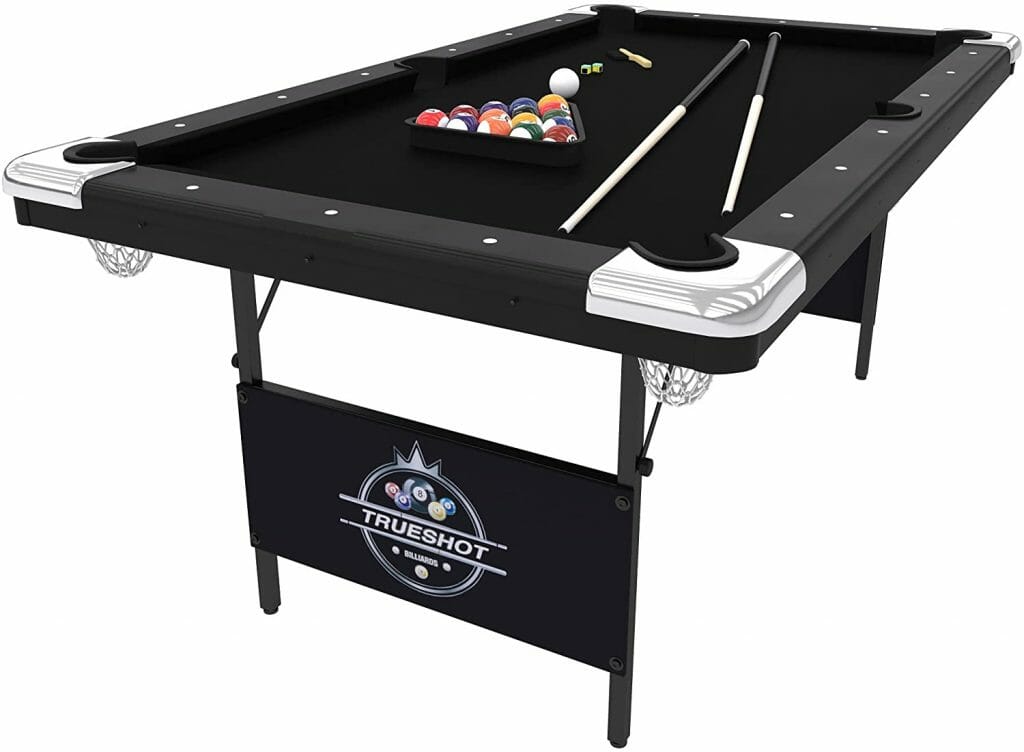 Pros
Good quality for a smaller table
Easy to set up and take down
Leg levelers
Cons
Key Features
76″ x 43″ x 32″ 
114 lbs
3.5″ wide when folded up
K818 reactive bumpers
18-point aiming system
Built-in leg levelers
This table is the right one for kids or teens who are perhaps just becoming familiar with pool. It sports a compact and practical design that even a beginner would have no trouble setting up. The table also excels in the aesthetics department as it features a sleek black cloth that complements the décor of any room. making it a good choice for those who care about interior design.
Lightweight yet sturdy, the Trueshot finds a great balance between robustness and mobility without compromising on playing quality. The table easily levels using the leg levelers so that you can customize the height to better suit those playing the game. Once you've adjusted the height, the locking mechanism will keep your table stable and in place to avoid any inconvenient table budging.
The cloth is scratch-resistant, with low friction. This allows your balls to roll smoothly. You should, however, consider replacing the balls after some time as they tend to chip with repeated use. Aiming is made easy for less experienced players as the table features 18 aiming points so you can use the dots to line up your shots. 
For us, this table is an excellent choice for smaller apartments, and with shock-absorbing large pockets, and scratch-resistant cloth, we are confident that the Trueshot will last a very long time.
Included with the tables are all the accessories you need to get playing right away: 2 cues, a set of balls, a triangle, a rail brush, and 2 pieces of chalk.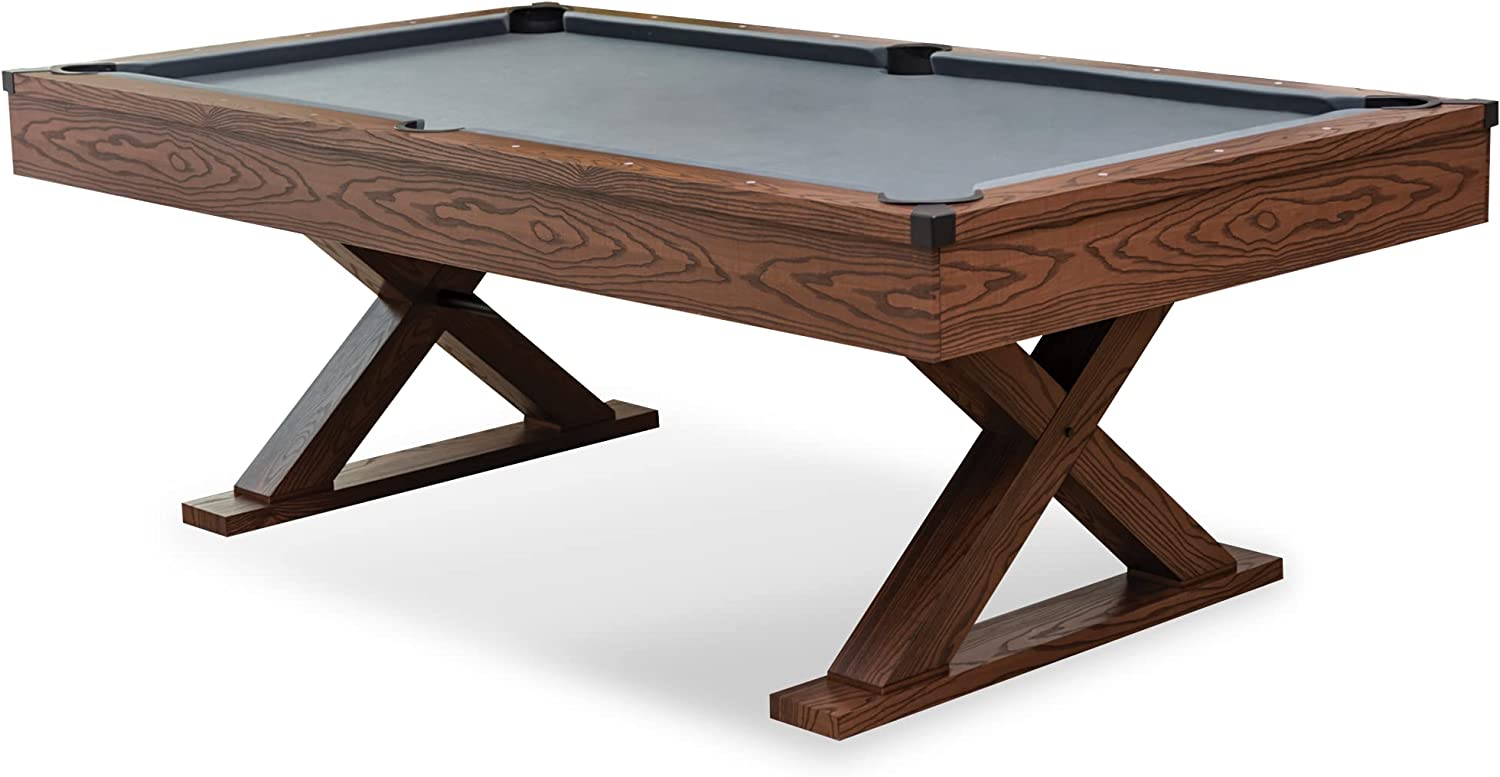 Pros
Stylish and modern-looking
Construction made to last for years
In-built leg levelers
Cons
Requires multiple people to move
1-hour setup time
Key Features
87″ x 49.25″ x 31″
198 lbs
K66 premium rubber bumpers
Parlor-style drop pockets
Made with anti-rust treated aluminum
X-leg design
Adjustable feet levelers
Accessories included
For our second EastPoint Sports table, we have the Dunhill. At a length of 87," it is one of the longest tables on this list. It is also pretty heavy at 198 lbs, so will take quite a few people to move if you want to relocate it.
We really dig the brown natural wood grain with the accompanying gray felt. It appears very stylish and is undoubtedly one of the best-looking pool tables you can buy right now. A lot of the other high-end models have more of an old-fashioned look which we appreciate too, but it's nice to have a more modern option. We are seeing many new tables start to use x-leg designs, and we are all for it. They just look great!
The Dunhill features premium K66 rubber bumpers that deliver a consistent bounce for ultimate playability. The top rail is scratch resistant so the table can withstand quite a bit of wear and tear with no negative impacts on appearance.
Unfortunately, the table takes around an hour to set up. While this is a bit of a pain, it could certainly be longer, and it's a small price to pay for one of the best home pool tables.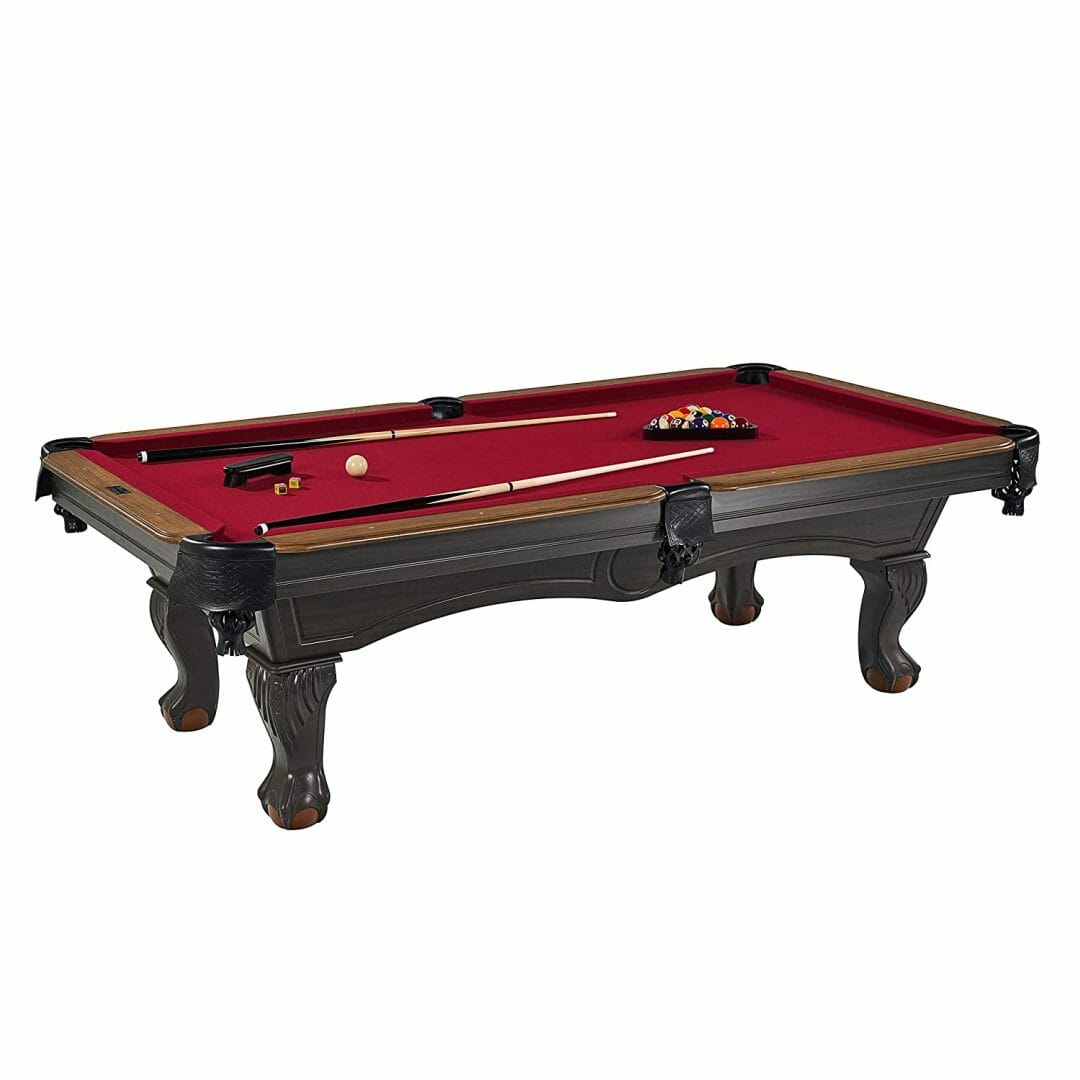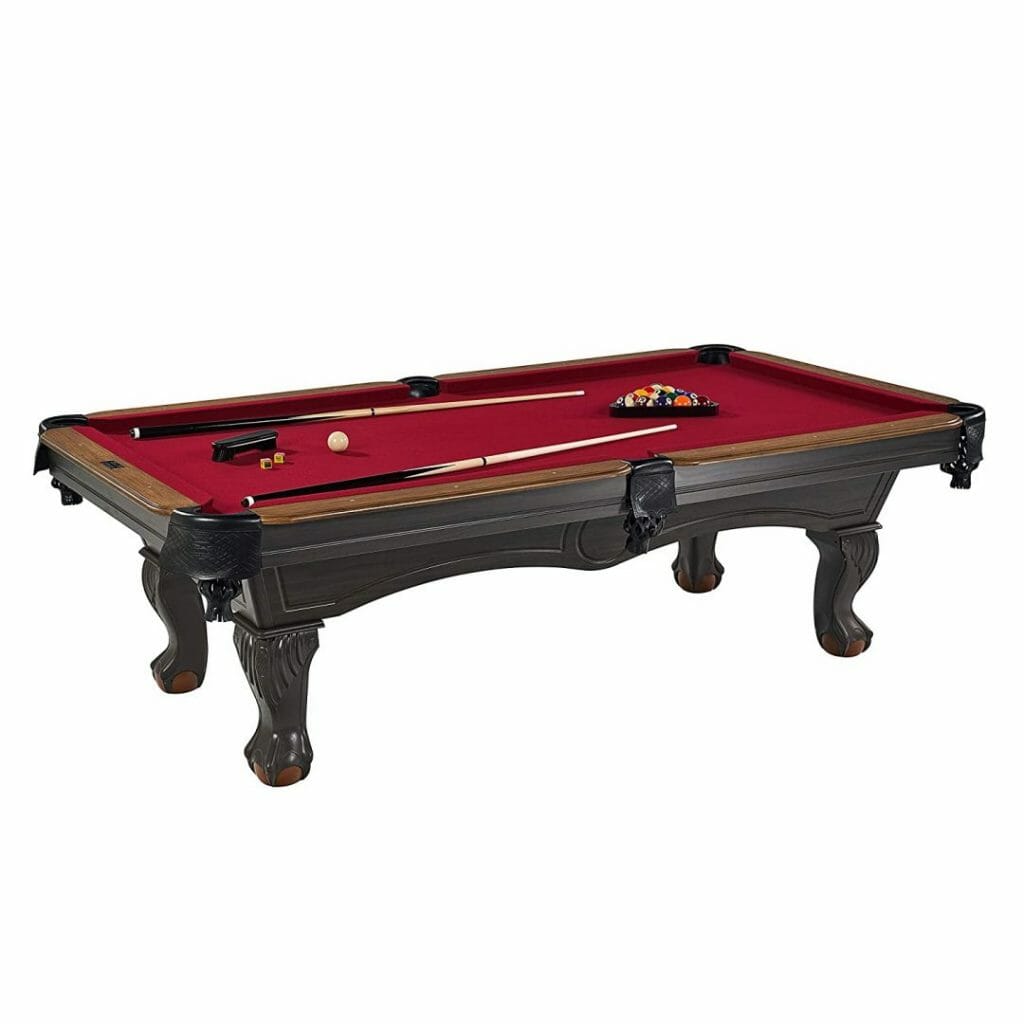 Pros
Felt is smooth so the balls roll consistently
Durable
Stable 
Could last for generations
Cons
Higher price point
Long time to assemble
Key Features
100″ x 56″ x 31″
Playfield features 50% wool blend felt 
1″ thick playing field with double-sided lamination
Reinforced wood grain top tail and apron
Parlor-style drop leather pockets
K66 bumpers
Ball claw two-tone leg design
If you're considering a stylish slate pool table, then you need to consider the Arlington table by Barrington. This is the right addition to your game room, featuring elegant Queen Anne legs, adding a touch of class and promising hours of unlimited fun.
This 3-piece slate pool table consists of a one-inch slate for durability and improved ball roll. The table is made of heavy-duty wood, which guarantees that the pool table will last for a long time. This is a good choice for professional pool players who are ready to play for long hours.
All the accessories that you need will arrive with your table. You'll receive 2 cues, a set of high-quality pool table balls, a triangle, two chalks, and a brush. Due to the size of this table, you need to set it up in a big room where players will have enough space to move around.
To improve bounce, the top and side rails are covered with K66 cushions, and the pool table is fitted with 60% red wool felt, which is more durable than other models on the market, guaranteeing good value for your money.
A drawback to this table is its assembly which is long and complex. Usually, we wouldn't recommend purchasing expert assembly as often it is a waste of money. However, in this case, we think it is a good option as it saves you a major headache. 
To summarize, the Arlington may be expensive, but it is one of the best slate pool tables that you can buy and a great investment.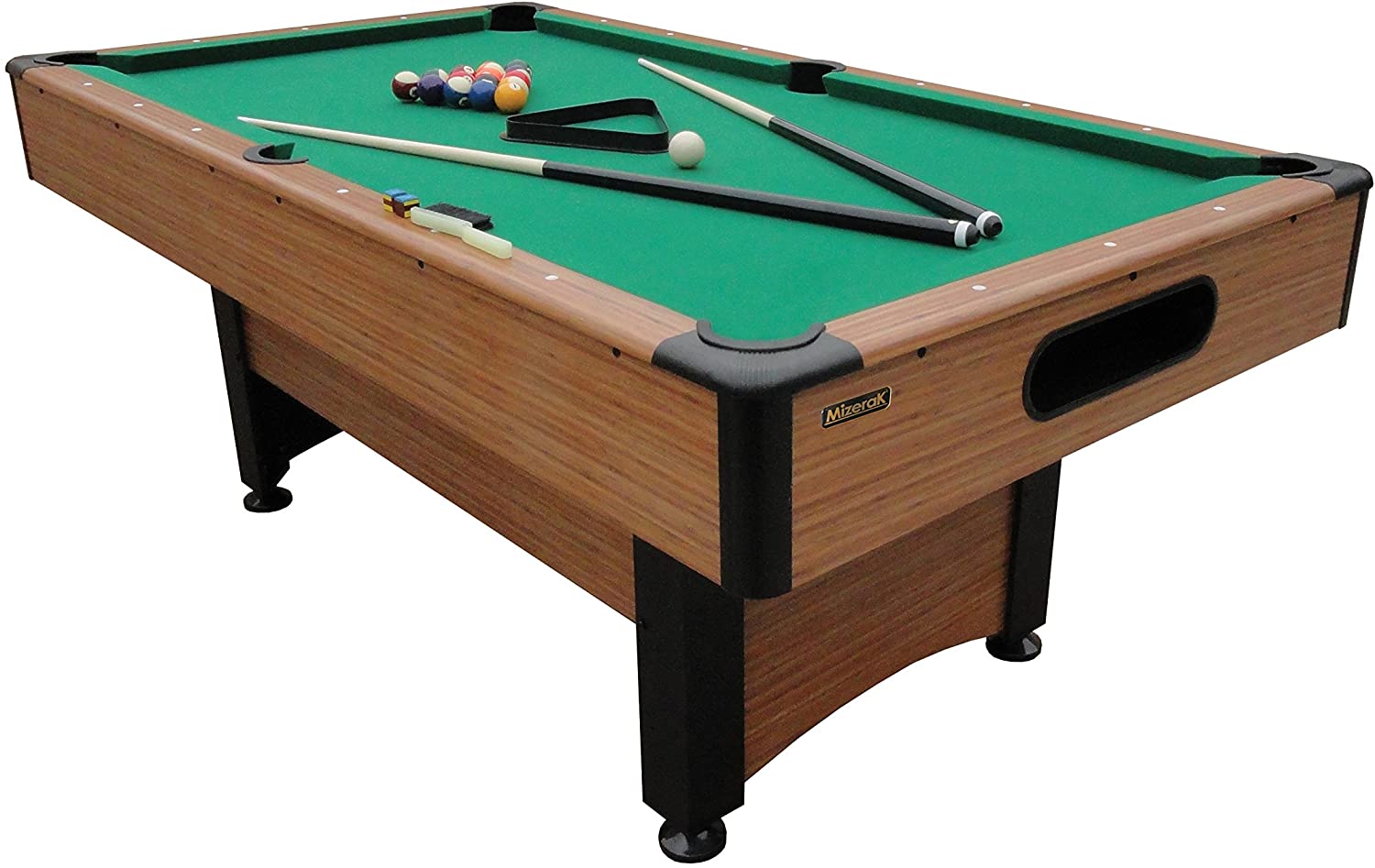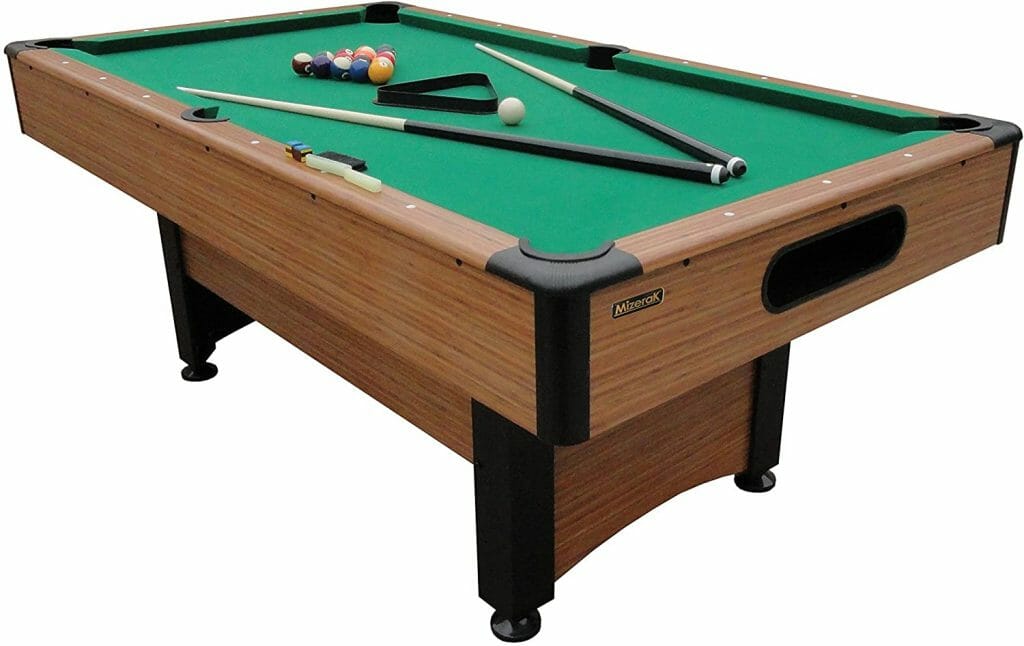 Pros
Great customer service
Super construction for a smaller-sized table
Cons
Key Features
69.87″ x 34.75″ x 9.5″ 
198 lbs
5/5″ wide oak wood grain laminate rails
Automatic ball return
Rubber cushions
Double sealed MDF play bed
Durable green nylon cloth
Pedestal-style legs with cross support and disk-style leg levelers
Bamboo laminate material
Black accent corner posts and caps
Warranty: 90-day limited
Many smaller-sized tables often have less than ideal quality construction, but not the Mizerak Dynasty Space Saver 6.5′ billiard table. 
As the name suggests, the table is only 6.5 feet long. Most pool tables are between 7 and 10 feet, saving you some space but not sacrificing your playing experience. 
The disc-style leg levelers are easy to figure out and will ensure your balls roll predictable and fairly, even if your floor isn't perfectly level. 
The table features automatic ball return, black-accented posts, and a stylish bamboo laminate exterior that would make this pool table feel right at home in any sophisticated game room. 
We think you'll be happy with this one for those who want a fun pool experience in a smaller package.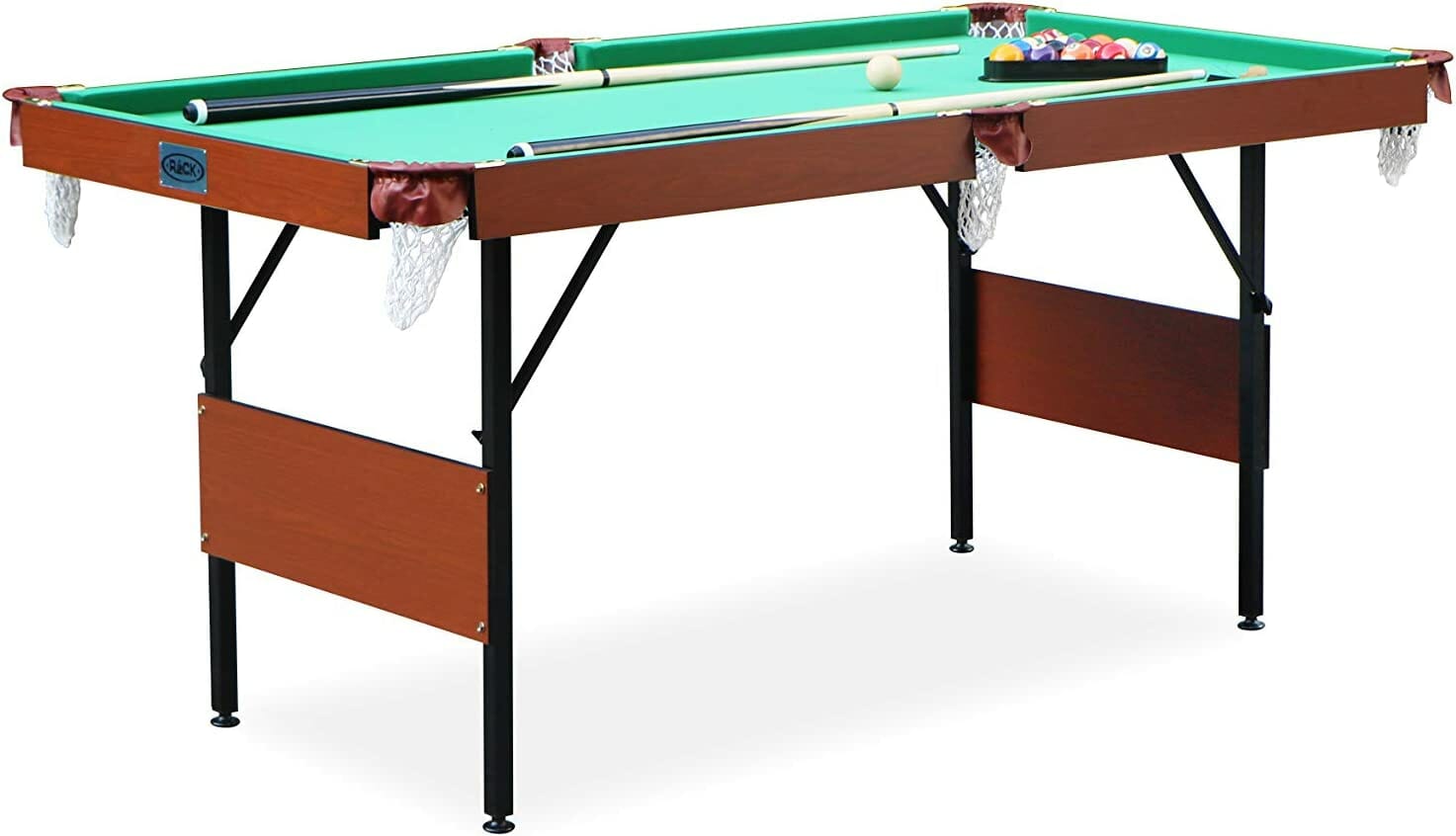 Pros
Lowest price
Great for kids
Lightweight
Foldable
No assembly required
Unlimited lifetime warranty
Cons
Key Features
55″ x 29″ x 31″
46.2 lbs
Available in blue or green
L88 rubber bumper cushions
Cotton net ball pockets
Accessories included
As the smallest and most inexpensive table on this list by some margin, the Rack Crux billiard table is certainly one to consider if you have a limited budget or limited space. It is half the price of the next cheapest table and weighs just 46.2 lbs. This makes it highly affordable and easy to maneuver. If you're really pushed for space, you can even fold the table up and put it in storage. It's a simple job involving levers, you don't have to remove any screws at all.
Given the table's small size, I think it would make a great fit for children. Alternatively, it could serve as a family table. Available in both blue and green, it has a very traditional look.
The greatest selling point for me is the lifetime warranty. It's rare for a product to have such an extensive warranty period, and shows that Rack strongly stands behind this table. It's fair to deduce that it's built to a very high standard or else Rack would not be able to offer this. They also have a 100% satisfaction policy which further instills confidence.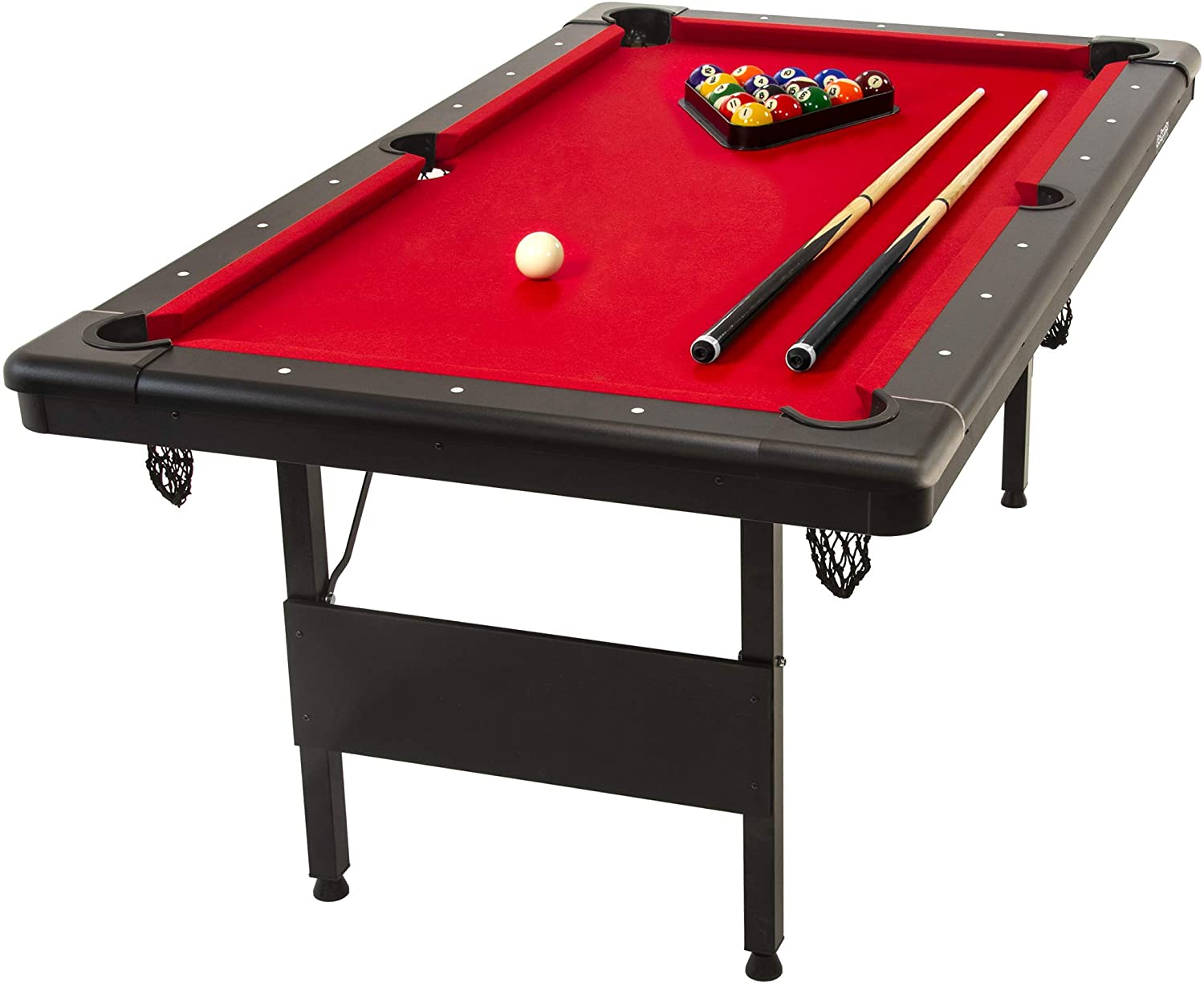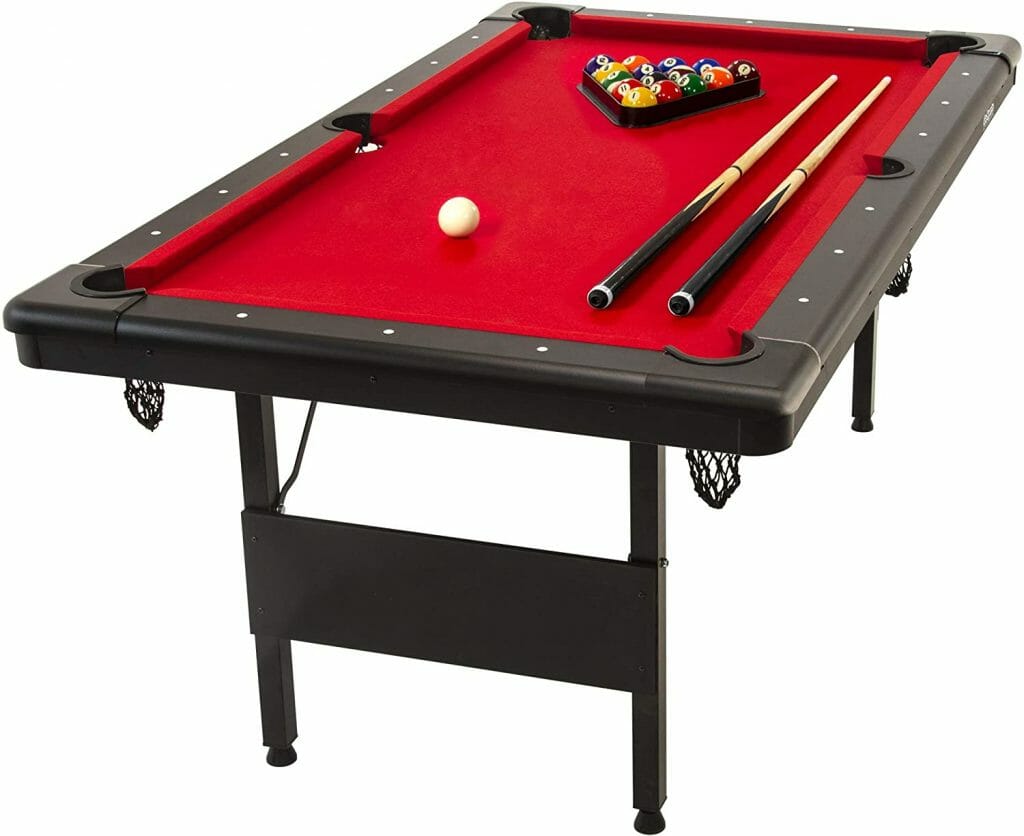 Pros
Fits in smaller rooms
More sturdy than you'd think for a portable table
Easy to set up, just fold out the legs
Cons
Key Features
76″ x 43″ x 31″
Heavy-duty steel frame
120 lbs
Red color
Synthetic cloth
Leg levelers
If you don't have the luxury of a dedicated game room, then you'll need to buy a portable table to fold away after you're done playing. The GoSports Billiards Table is one of the best portable pool tables on the market. 
Featuring a steel alloy frame, it is surprisingly stable for a portable table. You can also easily level the table, ensuring that the balls roll evenly and true. Just be aware that setting it up is likely a 2 person job as the table weighs 120 lbs which is probably more than you expect.
The GoSports 6 ft / 7 ft table comes with 15 regulation-sized billiard balls, a ball rack, 2x 57″ cue sticks, 2 pieces of chalk, and a brush. 
If you want a true pool-playing experience, this is a great option for many people.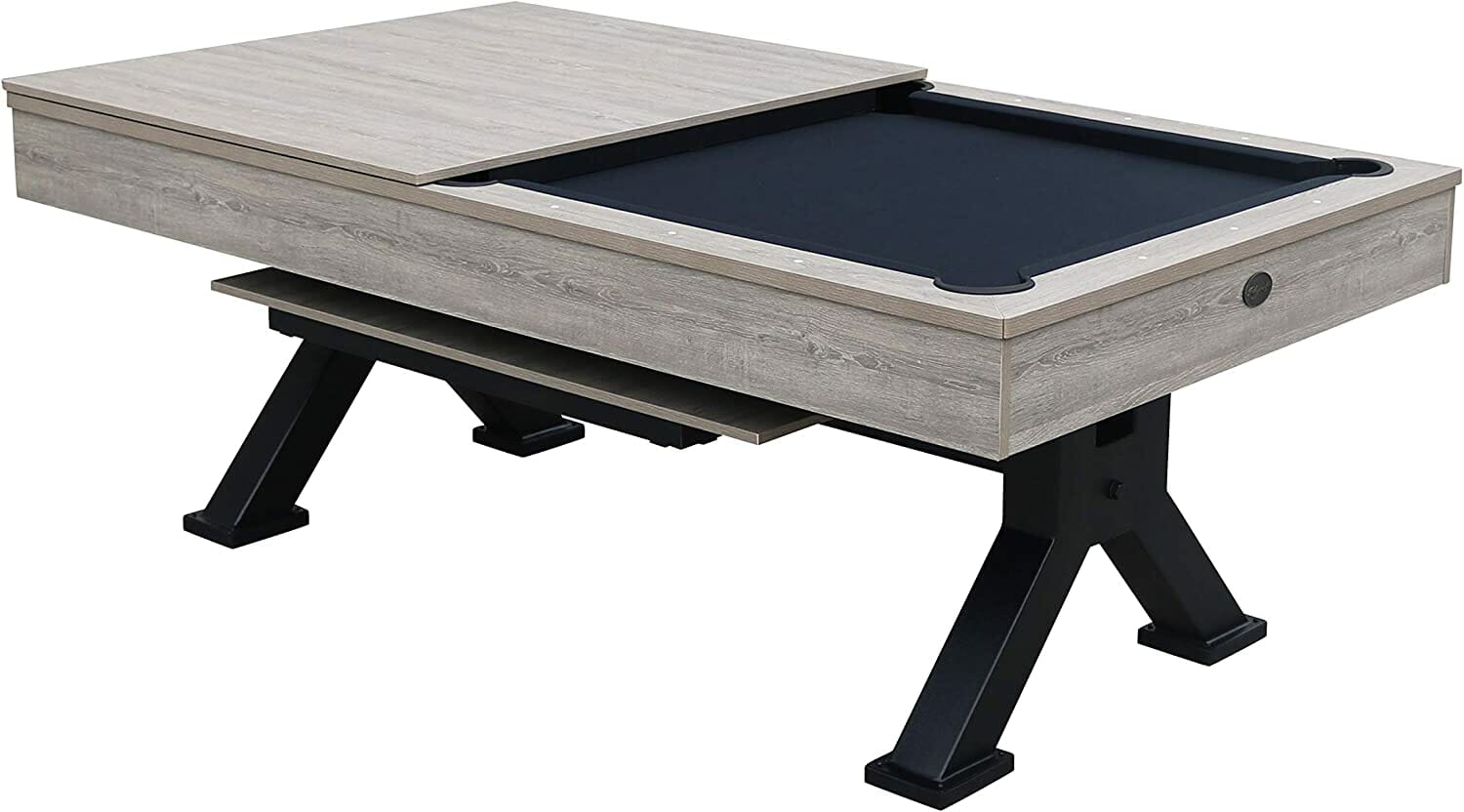 Pros
Very stylish
Convertible into dining table
Cons
Play surface could be higher quality
Premium-priced
Key Features
84.5″ x 50″ x 31″
18 mm MDF with a PVC resin buffer
~300 lbs
Gray with black felt
Convertible into dining table
Includes leg levelers
The Playcraft Black Canyon is our top premium option as it not only looks exceptional but also because it is multi-functional! The table frame is an attractive light gray which pairs beautifully with the black legs and felt. Alongside the EastPoint Sports Dunhill table, it is one of the best-looking tables, in our opinion. 
What caught our eye is the fact that it can double up as a dining table. All you have to do is place the wooden top over the play area, and boom! Nobody would be none the wiser that you own a pool table! There's plenty of room to push chairs under the table to maximize space availability, and you can easily store the wooden cover underneath the playing surface on the hidden shelf.
We only have two real issues. The first is the cost. While the table is pretty great, we feel it is overpriced as it uses engineered wood rather than real wood. The second is the quality of the playing surface. It is made from 18 mm MDF with PVC rather than slate which we would expect for a table of its price tag. As a result, the playing surface may not truly be flat, and it is susceptible to bowing over time which significantly diminishes the quality of pool that you can play. Despite this, we still think it is one of the best home pool tables. It can flawlessly fit in with your home decor.
Guide To Buying A Pool Table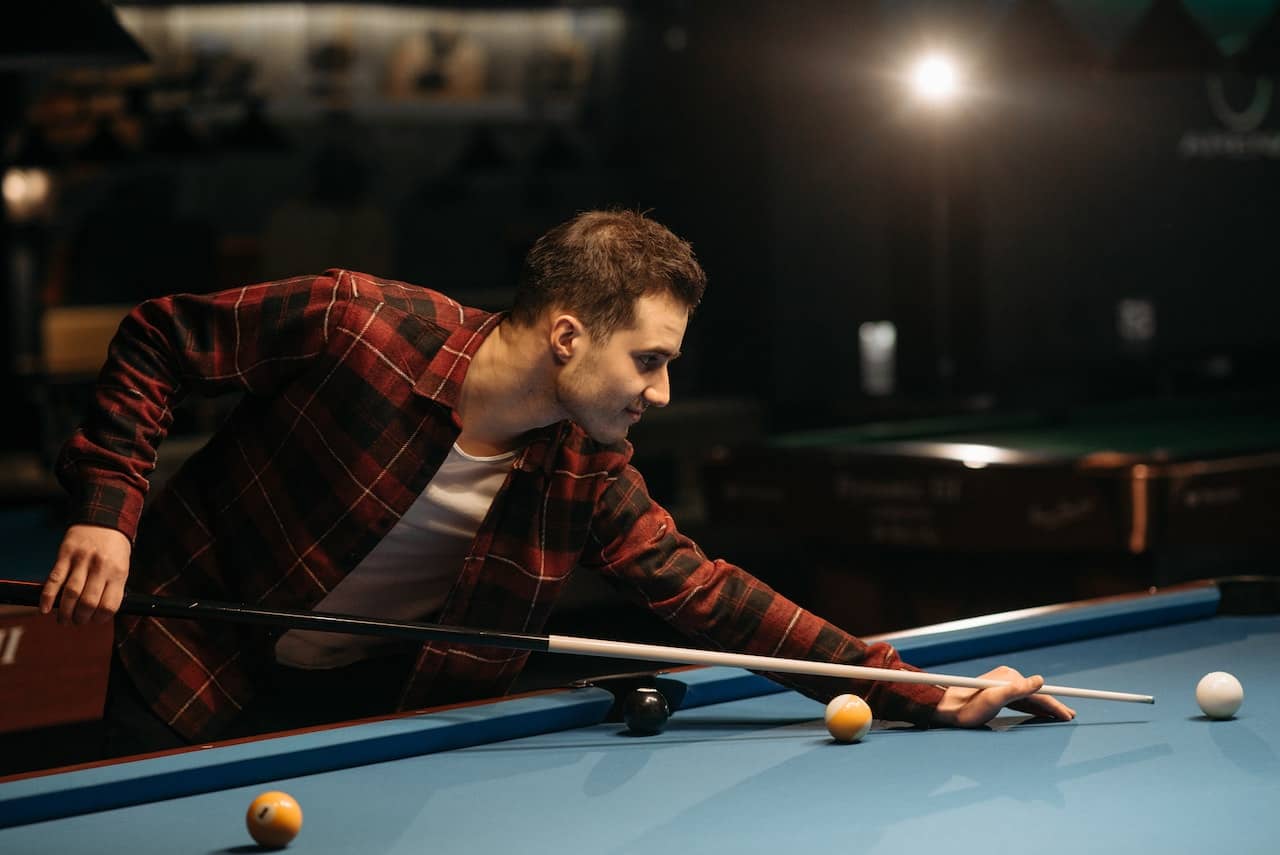 Where Will You Put Your Pool Table?
The first question you need to ask is where will you put your pool table. There are two types of tables available; indoor and outdoor tables. Of course, you can easily move and set up some models indoors or outdoors, depending on your needs.
Indoor Pool Tables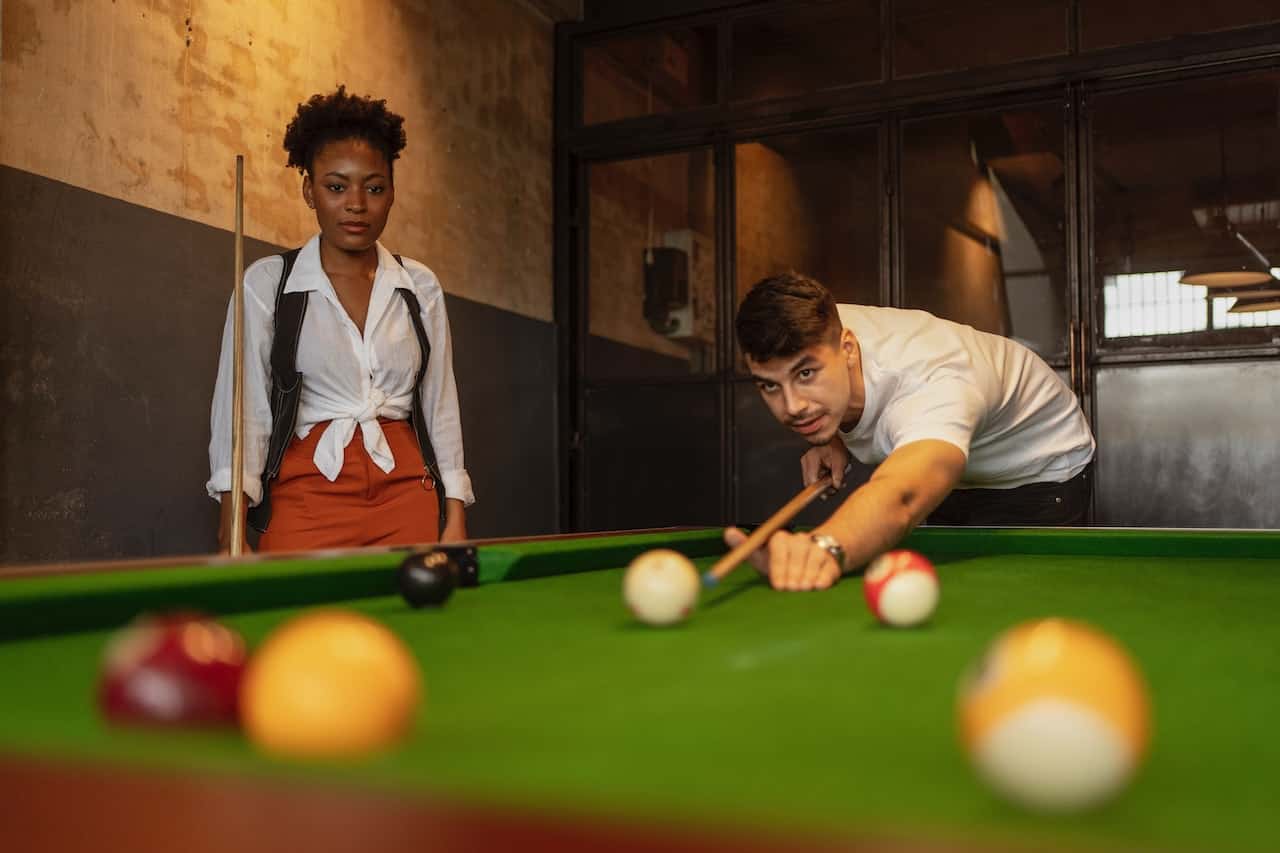 Indoor tables are designed to be kept inside the house. These are usually made of wood, although some models are made of metals like steel or aluminum. They come in all sorts of looks and sizes, but some higher-end models can be extremely elegant and add some real class to your games room or wherever you choose to set it up. They're a top choice for classical players who are seeking a timeless piece that will last for decades.
Aluminum and steel tables are quite durable, and some have a folding design so that you can put them away after you're done playing. They could also be set up in a smaller room as they're usually less bulky than wooden tables.
All indoor pool tables should have an elegant yet durable felt top. There are lots of good models available with plenty of color options so choose the right color that best suits your playroom.
Outdoor Pool Tables
Outdoor pool tables aren't made of wood because it doesn't react well to water. After just a short time, wood will start to warp. Most outdoor models are made of metals like steel or aluminum. These tables need treating to become rust-resistant and should have some kind of finish that protects them from the elements. The felt should be weather and UV-resistant so that it won't get damaged if it gets wet or starts to fade if exposed to the sun.
We recommend buying a cover for your table if it doesn't come with one as it provides a great deal of protection and is a worthwhile investment.
Best Pool Table Brands
While any pool table manufacturer can put out a quality pool table, it is usually the established names that are the best pool table brands. This is because they consistently put out the best quality tables. Brands such as Barrington and Playcraft are experts in the space as they have been specializing in pool tables for many years. They have extensive ranges of high-quality tables and don't put out cheap, poorly made tables as most newcomers do. 
There are also other top pool table brands that may not be quite as well-specialized but are still very experienced when it comes to general sporting goods. I'm thinking of the likes of EastPoint Sports. They cover a variety of sports from badminton, to rounders, to karate. Name a mainstream sport, chances are EastPoint Sports have dipped their toes into it. Companies such as this are great options to buy pool tables from as they are often cheaper. However, they usually cannot rival the quality of specialized companies such as Barrington and Playcraft.
Pool Table Dimensions and Space
When you're thinking about a place for your pool table, you must make sure that there's some space for clearance on all sides so players can move comfortably. Pool tables that measure 6 feet long are quite practical and fit both beginners and seasoned players. 8-feet pool tables are bigger and usually bulkier. They're suitable for more professional players and are also more expensive.
A 9-foot pool table offers an outstanding experience for all players. However, its sheer size means it is often too large for most homes. 
Folding Pool Tables
Regardless of their size, you can easily store folding pool tables so that they are out of the way when you're done playing. They represent a great source of entertainment for all players and are usually cheaper than non-foldable pool tables.
A folding pool table easily folds into two or three pieces without professional help. You can also set it up easily whenever you want to. Here are a few advantages of folding pool tables.
These tables are designed for players who like to move around. You can easily pick them up for a camping vacation or set them up at your summer house.
Most folding tables are quite cheap compared to the models that are designed for a permanent setup.
Since these tables are designed with mobility in mind, they're usually lightweight. This makes them perfect for kids and teenagers who can set them up on their own.
Although these tables are extremely practical, they still come with a few disadvantages you need to consider before making a purchase.
Not all folding tables are easy to install. Some can be quite tricky, or you might need the help of an experienced adult before they're ready for use.
Because they're meant to be folded and unfolded several times, the screws might become loose over time. In some cases, you'll have to replace some of the screws to maintain the condition of your folding pool table.
It might not completely level if you're very careful while setting up the table. This will affect the quality of your game as it sabotages the accuracy of your shots.
As folding tables are cheaper than non-folding tables, they are usually lighter, less robust, and feature fewer premium materials. As a result, they are usually of lower quality. 
Mini and Tabletop Pool Tables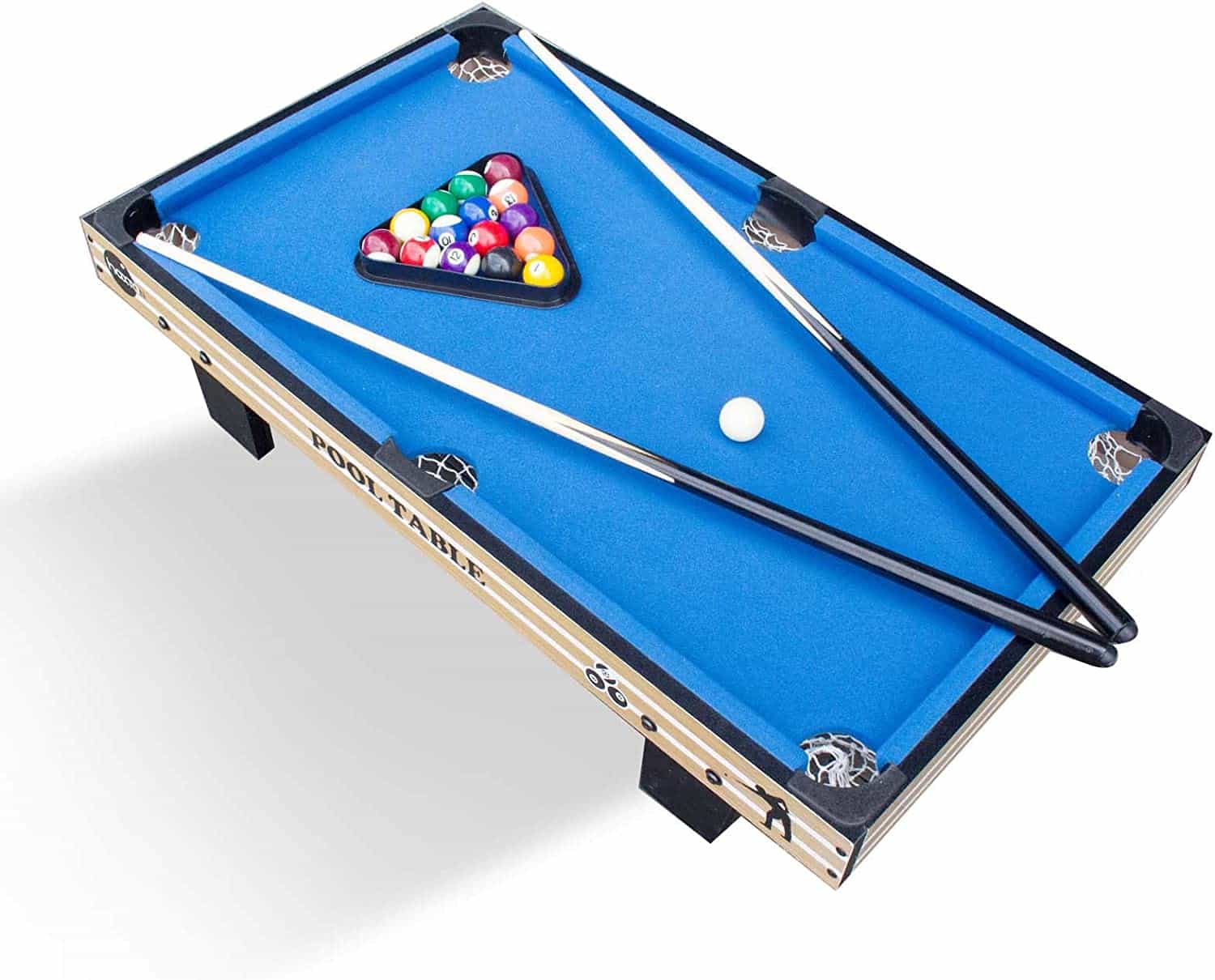 If you have next to no space available to set up a pool table, you can still play your favorite game by purchasing a mini or tabletop pool table. These easily fit on existing surfaces such as a dining table, so you and your friends can enjoy playing pool without the large expense of a full-size table.
Mini and tabletop pool tables are quite compact and can be set anywhere. They're also quite portable. Here are some reasons why you should consider buying a mini or tabletop pool table.
Little to no setup
Great tester to see if a home pool table is for you
The most lightweight and portable table you can buy
Accessories are usually included
Slate vs. Non-Slate Pool Tables
When you're shopping for a pool table, you'll come across models that feature slate placed under the table, and others that feature no slate at all.
One could argue that non-slate tables are better in certain circumstances, but that being said, the best billiards table always feature slate because of its unmatched quality — it's just a shame slate so damn expensive! In this section, we'll discuss the pros and cons of each type of surface.
Advantages of Slate Pool Tables
Slate tables provide players with more cue precision.
These pool tables can be leveled to perfection. There will be no problem trying to ensure that your table is 100% flat, improving your ability to aim.
Balls usually roll straight and true to the direction where you're aiming, so they will help you become a better pool player.
If you're serious about playing pool, then you should invest in a slate table because this is the kind of table you can find in professional tournaments and championships.
Slate pool tables are extremely durable and are usually designed to never warp with repeated use.
Slate tables are the most durable. You might need to replace the cloth itself after a while but the table and its slate will last for a lifetime.
Disadvantages of Slate Pool Tables
If you're on a tight budget, slate tables might not work for you. They're usually more expensive since slate is an expensive material.
They're quite heavy. If you need to move such a table, you'll need to recruit some friends to give you a hand.
They are very large. As such, they are difficult to fit into your home.
Advantages of Non-Slate Tables
If you choose a wood or metal table instead of slate, your pool table will be lighter. This means that it will be easier to set up and more practical to move around.
Non-slate tables are usually less expensive.
Non-slate tables come in various sizes. They're usually smaller, and you can also find mini models that can be set up in tight spaces.
Disadvantages of Non-Slate Tables
Choosing a wooden table means that the surface will be subject to warping over time. This means that eventually, your table won't be level, affecting your shots' accuracy.
The gameplay of non-slate tables is quite slow compared to slate. 
Non-slate tables are made of less expensive materials. As a result, they're more flimsy and more subject to damage over time.
Unlike slate, other materials will show signs of scratches and are subject to chipping.
Weight 
If you're planning to set up your pool table in a game room or basement where it will stay for years, then you might not worry much about the pool table's weight. However, having a heavyweight table means that it will be difficult to set up, especially if you're not hiring a professional.
The heaviest tables are made from slate. However, aluminum and wooden tables can also be pretty heavy too. A benefit of picking a heavy table is that they are very robust. They're almost impossible to accidentally budge as well, so you won't knock around any balls mid-match
The lightest tables are mini and tabletops models. They are not as fun to play on but are highly portable.
Pool Table Felt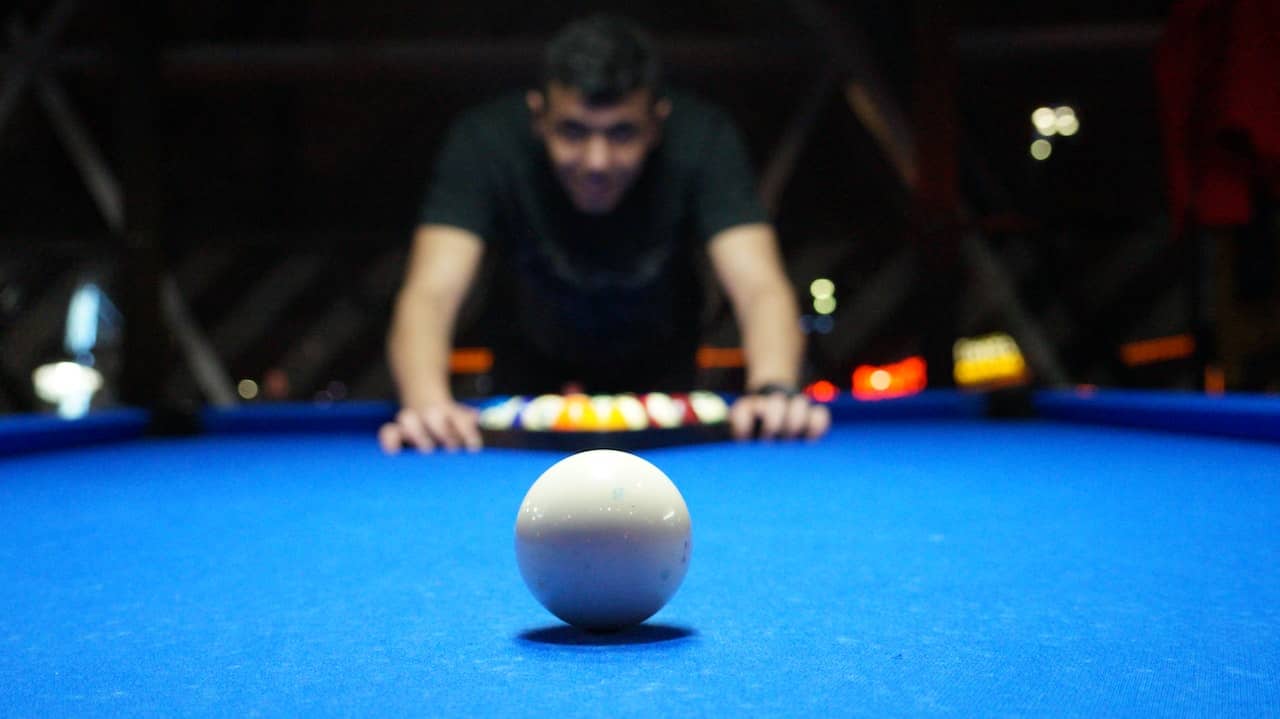 All pool tables are covered with special felt that is a blend of wool and nylon or polyester. There are several colors and types available out there although the most common ones are green and blue. Felt tends to be made of 60% wool and 40% nylon or polyester. 
While this cloth composition is common, it is less durable than high-quality cloth and affects the ball's speed. Nevertheless, it's less expensive and is perfectly suitable for inexperienced players. Worsted pool table cloth, on the other hand, is usually the best option. It's more expensive and allows your balls to roll fast and smoothly. It's the type of cloth used in pool tables designed for tournaments. Besides its expense, it is not as durable as other types of clothing available.
Other types of cloth are available like nap cloth, which is made of 100% wool. It is also expensive and not that common. The feel of this cloth changes depending on the direction you're rubbing your hands in. If, instead, you're looking for an outdoor pool table, your cloth should be treated to withstand UV rays and weather. Most outdoor tables feature a polyester cloth which is more resistant to water and heat. However, it tends to wear pretty fast compared to wool.
Regardless of the type of cloth you choose, it will eventually show signs of wear and need replacing. Burns commonly appear over time and affect how it looks, but they will not affect the playing quality until they turn into holes. Once the felt shows signs of game-changing wear, it's time to replace it. Otherwise, you'll start experiencing serious problems with your control over the speed or direction of the balls.
We recommend choosing your felt color based on the décor of your room and the furniture style. Most tables feature a green felt, but other common choices include red, blue, camel, and even black. Some manufacturers offer felt with a special logo or drawing in the middle. You might have yours replaced with custom-made felt that better suits your mood.
Multi-Use Pool Tables
If you're on a tight budget or have limited space, then you might need to consider multi-use pool tables. These are practical models that you can play multiple games on. Think foosball or ping pong.
There are also select models on the market that can double as pool and dining tables. These practical tables represent good value for money because you can enjoy your favorite pool game whenever you want without worrying about dedicating a special spot for it.
Installing Your New Pool Table? 
Portable pool tables like the GoSports Table are the easiest to set up since they are built with foldability in mind. You can be playing in just a few minutes. 
Smaller-sized tables are also easy to assemble, all the pieces are ready to go. You usually just have to screw them together. Most of these will have you playing in less than an hour. 
Regular-sized tables like the Barrington Springdale will require a more thorough setup process. Usually around an hour or more. 
Pool Table Maintenance
To prolong the life of your pool table we recommend you carry out regular cleaning. It is not very labor-intensive, so it is worth the time spent. The easiest way to clean your table is with a pool table brush. Brush from one end of the table to the other, and don't change directions. This ensures you remove as much dirt and chalk as possible. Then once you have a pile of dirt collected at one end, use a hoover to suck up all that nastiness. You can use either a small handheld hoover or a regular hoover with a long nozzle. 
For spills, address them as quickly as possible. Grab something absorbent like paper towels and lay them on the spill. Do not press down on them as you may cause the spill to permeate deeper into the table. As each paper towel soaks up the liquid, replace it with a fresh sheet. Once this becomes ineffective, gently press the area with a wet cloth to draw up the remaining part of the spill. Hopefully, this handles the issue. If any remains, repeat this last step with a diluted vinegar solution on your cloth (50% water and 50% vinegar).
Another step you can take to help prolong the life of your table is to apply a cover. This eliminates all risks of damage whenever you are not playing, as you only need to take the cover off the table when you want to play. 
Conclusion
Investing in one of the best pool tables guarantees that you and your family will have access to many years of unlimited fun. And fortunately, there is a huge variety of tables available for a range of budgets, so there really is a table out there for everyone.
We chose the EastPoint Sports Masterton Billiard Pool Table as the best option for first-time players because it's quite affordable and from a good pool table brand. It's also easy to set up and looks decent in someone's home.
If you're an avid pool player, you might need to take your game up. In this case, we recommend you look at the Barrington Arlington. This should be the first option for every serious pool player because it's built by a top pool table brand that uses high-quality materials. So if you want to splurge, it's a top option.
FAQs
What Pool Table Do Professionals Use?
Professionals play exclusively on 9 ft pool tables. However, some competitive pool matches are held on 8 ft pool tables as they are cheaper and take up less space. Competitive English pool tables, on the other hand, are usually 7 ft long.
Which Is Better the Brunswick or Olhausen?
Brunswick and Olhausen stand as two of the top pool table manufacturers in the world. While which brand is better depends on the specific tables you are looking at, we give a slight edge to Brunswick. They started making tables over 125 years before Olhausen and produce what is widely considered the top cabinets in the industry.
Is a 7 or 8 Foot Pool Table Better?
If you have the space, an 8-foot table is certainly the best option as it is closer to professional size. However, if you are short of space, we recommend going for a 7-foot table. Otherwise, your lack of space will likely make your games less entertaining. 
How Thick Is the Slate on a Brunswick Pool Table?
Most Brunswick tables feature 1″ thick slate. However, they do offer other sizes such as 1 1/8″ and 1 1/2″. 
How Much Room Do You Need for a Pool Table?
This is entirely dependent on the pool table size you are looking to buy, so there is no set figure. The best way to determine the space you need is to take the width of the pool table and add on 2x the length of your pool cue. Afterward, repeat this for the length of your pool table. This will give you a rough estimation.
For 8-foot tables, you are looking at around 202″ x 158″, assuming you are using 57″ cues.

Freelance writer. Table tennis enthusiast. Lover of all things online. When I'm not working on my loop game I'm probably binge-watching some fantasy show.