The 6 Best Pool Table Ping Pong Combos in 2023
Pool and ping pong is a ton of fun, and to capitalize on this enjoyment, you might want to be able to play both from the comfort of your own home. But this poses a bit of a problem. Both pool tables and ping pong tables take up a lot of space; it's hard to fit one table in your home, let alone both.
So what do you do? Well, the answer is pretty simple. Purchase a pool table ping pong combo. This way you can enjoy both sports while just having one table.
The best pool table ping pong combos in 2023 are:
Yet there are other models you might want to consider too. In this guide, you will learn about the 6 best ping pong and pool table combos, and what to look out for when shopping around.
Why Trust Ping Pong Ruler?
At Ping Pong Ruler, we are experts in all things ping pong, be it rubbers, balls, or this guide's pool table and ping pong table combos!
I have over 10 years of experience playing table tennis and testing equipment, and that's not including anyone from the rest of the team.
For this guide, I selected the best products based on the following characteristics:
Build quality
Size
Materials
Tabletop thickness
Warranty
Best Pool Table Ping Pong Combos
1. RACK Scorpius 7-Foot Pool/Table Tennis Table — Best 7 ft Table
Specifications:
Dimensions: 84" x 48" x 32"
Material: MDF
Weight: 282 lbs
Warranty: Lifetime
Included accessories: Pool ball set, 2 cue sticks, racking triangle, chalk, brush, table tennis tabletop, 2 paddles, 3 table tennis balls, net and post set
Our Rating: 9.6
Our first pool table and ping pong table offering comes from RACK, a pool table specialist. Since their inception in 2003, they have produced over 30 pool tables, so if you want quality (which you should!), these are the guys to go to.
The Scorpius, the only exclusive ping and pool table they offer, sits at 7 ft in length and weighs a hefty 282 lbs. The pool table playfield is 3/4″ thick and made from MDF. As for the ping pong tabletop, it is also made from MDF and measures 15 mm thick.
While we wouldn't usually recommend lower than 18 mm, the simple fact is that combo tables don't go that high. In fact, 15 mm is essentially the thickest you will get. Similarly, the net is flimsy, but we have yet to see a quality net on a pool ping pong table combo.
This model includes all of the equipment you need to play both pool and ping pong, and unlike any of the other tables on this list, you get to choose your table's color. It sports the classic pool colors of blue, green, and red.
Yet, while color offerings are a nice touch, they are not particularly significant. The warranty matters a lot more, and RACK goes above and beyond here. The Scorpius comes with a lifetime warranty and a satisfaction guarantee. If this doesn't instill confidence, I don't know what does. It's the best ping pong pool table combo you can buy.
2. Hathaway Spartan 6-ft Pool & Table Tennis Multi-Game Table — Best 6 ft Table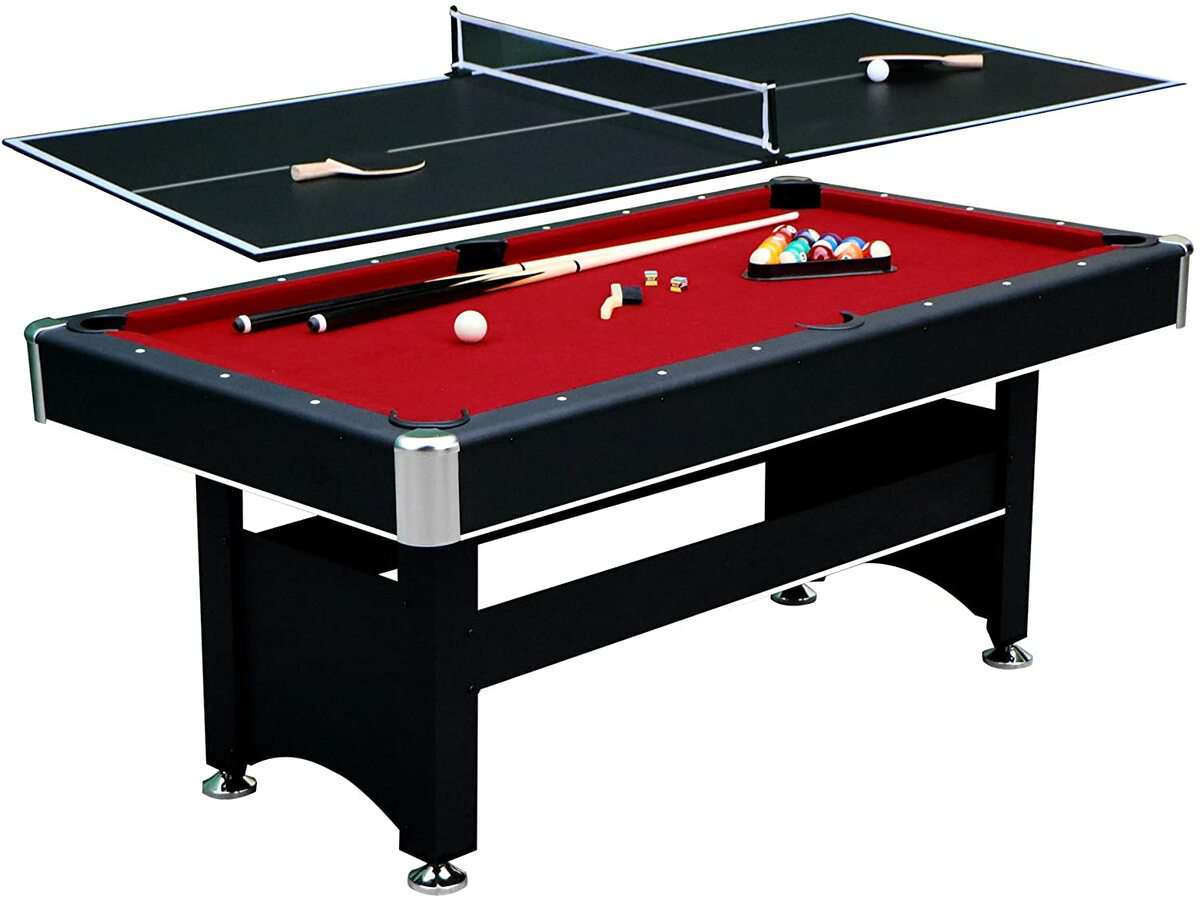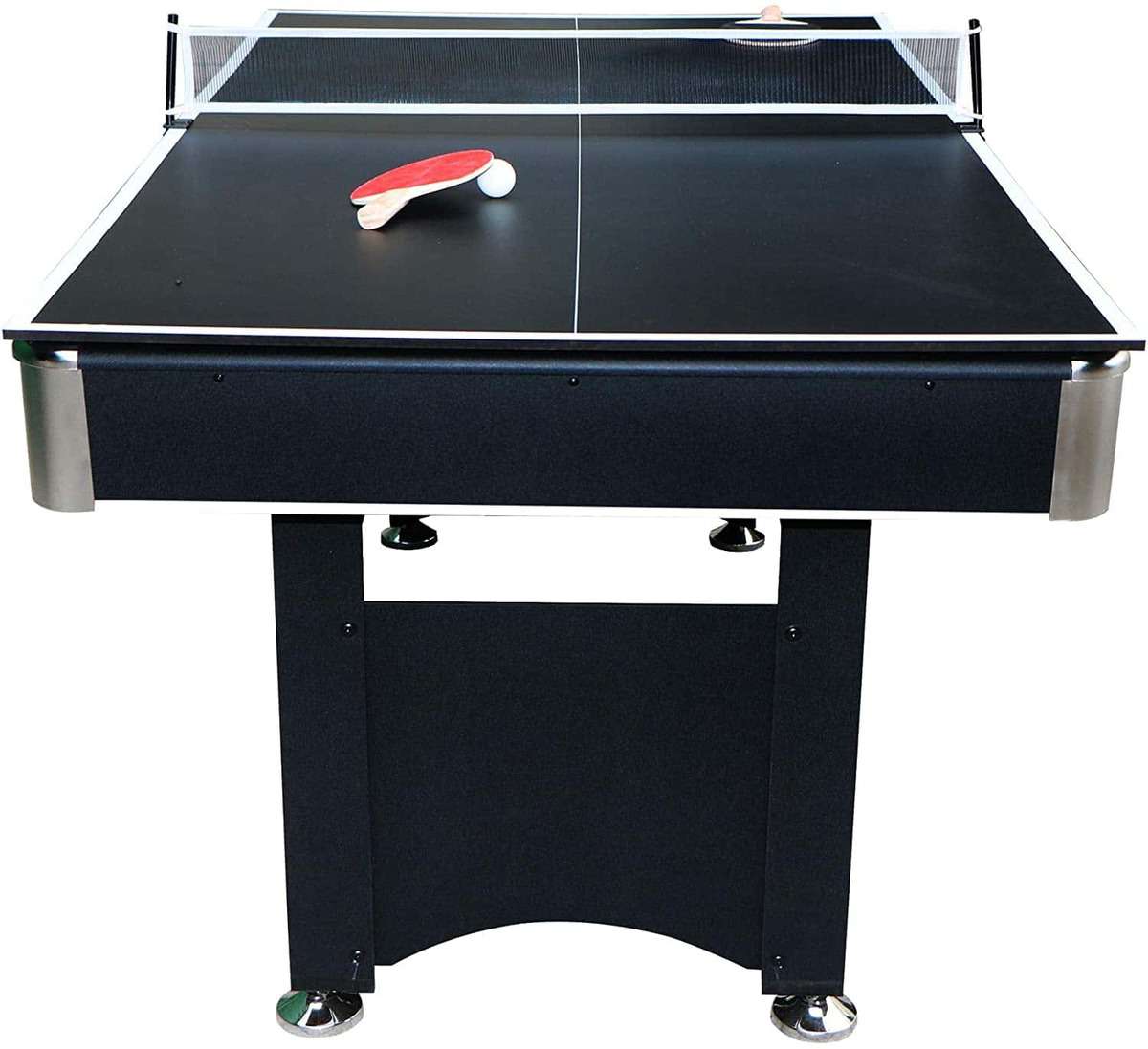 Specifications:
Dimensions: 72" x 38" x 31"
Material: MDF and ABS plastic
Weight: 100 lbs
Warranty: 180 days
Included accessories: Pool ball set, 2 cue sticks, racking triangle,  ping pong table top, 2 paddles, 2 table tennis balls, net and post
Our Rating: 9.5
The Hathaway Spartan pool table with ping pong is a quality addition to any rec room. It's a touch smaller than most, as it's 6 ft in length compared to the rest that are generally 7 ft. So if you're just short of space for a 7 ft model, this may be the one for you.
It has a strong build quality with an MDF and ABS plastic composition, and it weighs just 100 lb, making it easy to maneuver. The table's surface is poly-sealed with blended red felt — it's quite the eye-catcher! And the K819 rubber cushions provide a consistent surface for the pool balls to rebound off of.
The quality of the ping pong tabletop is around average for a pool table with a ping pong top, and you have all of the accessories you need to get playing right away.
One of the strongest qualities going for this table is its price, it's several hundred dollars cheaper than the next cheapest model, making it a great buy if you are short of cash. However, the result of paying less means you get less coverage. The warranty period lasts just 180 days which pales in comparison to the lifetime warranty of the Scorpius.
3. Hathaway Maverick 7-Foot Pool and Table Tennis Multi-Game Table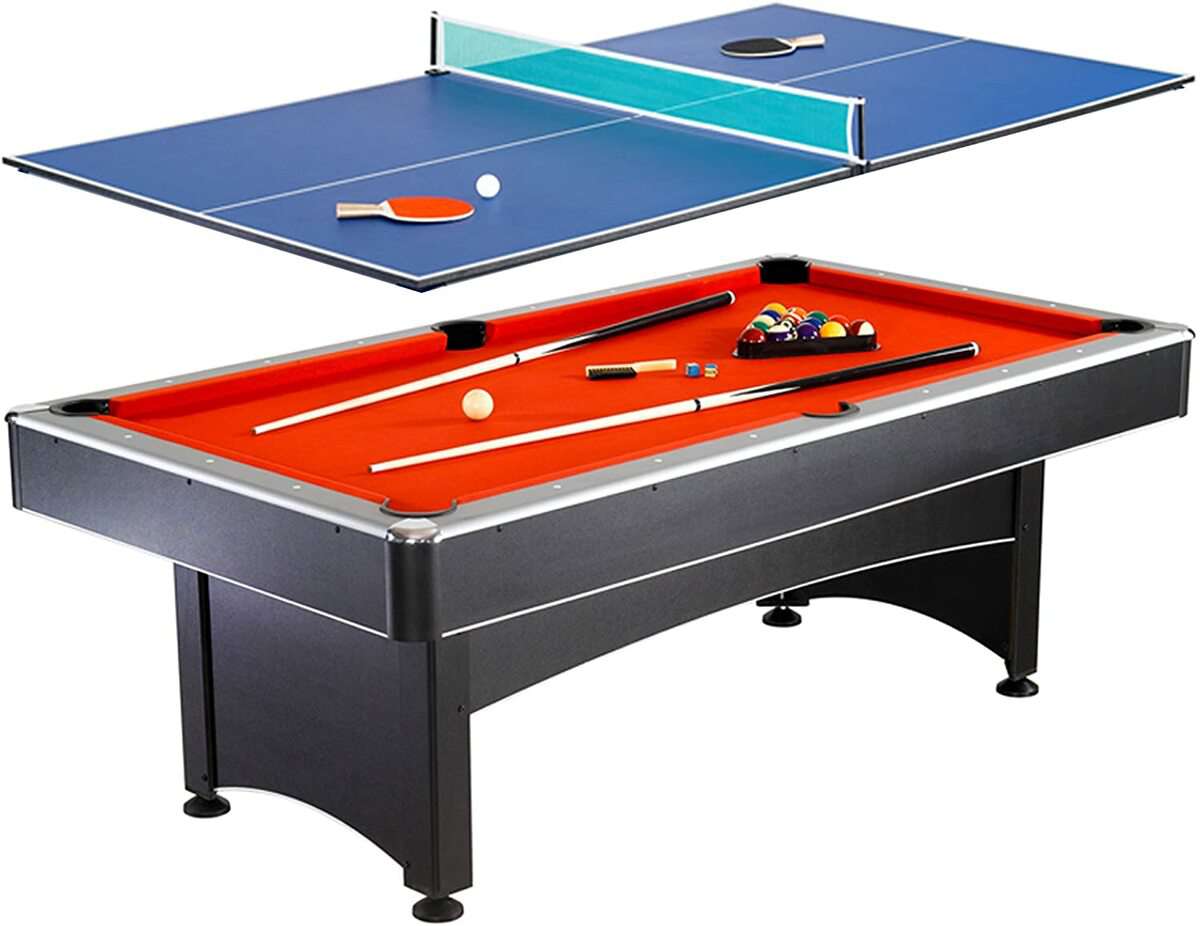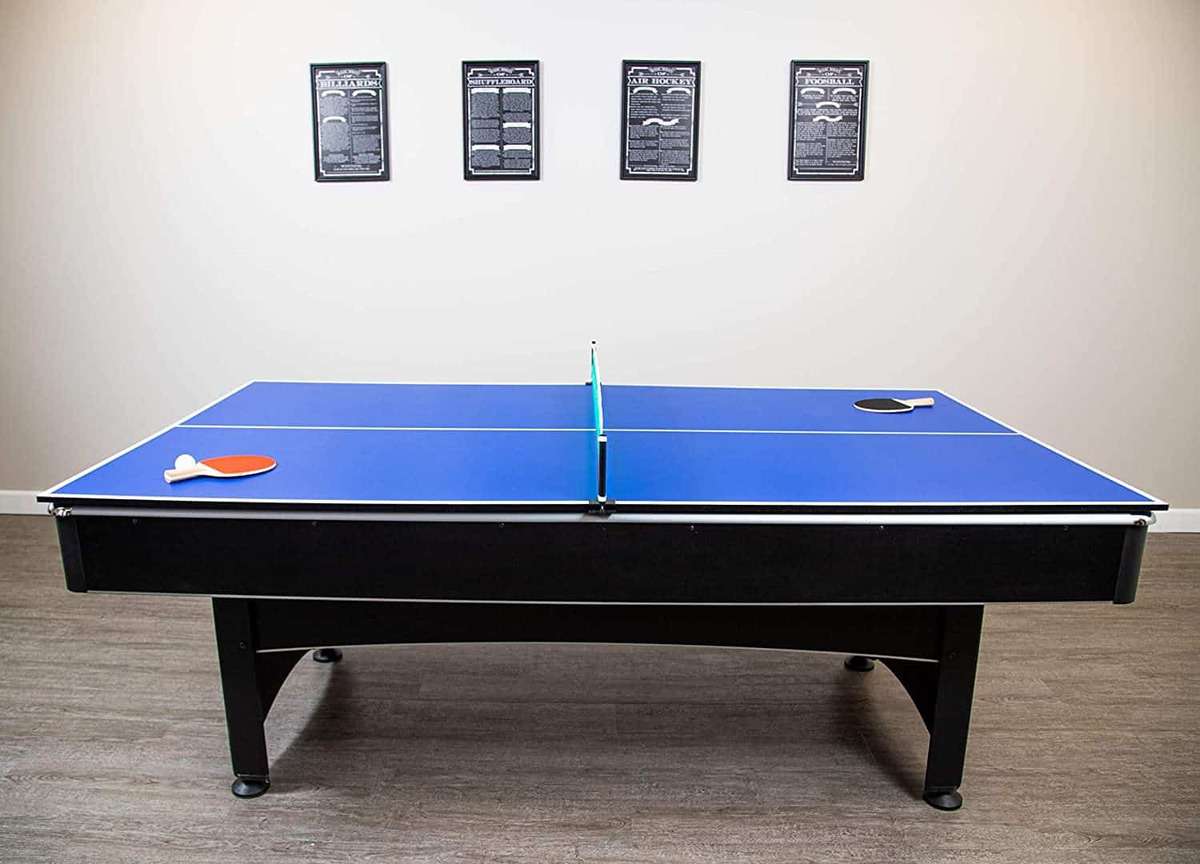 Specifications:
Dimensions: 84" x 46" x 31"
Material: Wood
Weight: 252 lbs
Warranty: 180 days
Included accessories: 2 57" pool cues, pool ball set, triangle, chalk, brush, table tennis top, 2 table tennis paddles, 2 balls, net, and post
Our Rating: 9.4
Up next, we have another pool table with a ping pong top by Hathaway: the Maverick. It measures 84" x 46" x 31" and is rather well-sized. It also has a strong build quality to match the Scorpius. The billiard surface is poly-sealed, the molded pockets employ resilient resin, and the K66 gum rubber cushions provide a fast and consistent rebound to ensure the action never stops.
The play surface is also made from high-quality blended red felt like the Spartan, but this table has silver laminate top rails with chrome-plated corner caps, whereas the Spartan does not.
You can also level the legs to maintain a flat playing surface even when the ground is uneven. This is especially important for pool!
One thing to note is that the table is pretty heavy. At 252 lbs, you can't move it on your own very easily. So if you plan on moving your pool table ping pong combo fairly often, this might not be your model. On the other hand, it does come with a 180-day warranty period which is the same as the Spartan and provides some peace of mind.
4. Freetime Fun Rockford 7 ft 3-in-1 Multi-Game Table — Premium Pick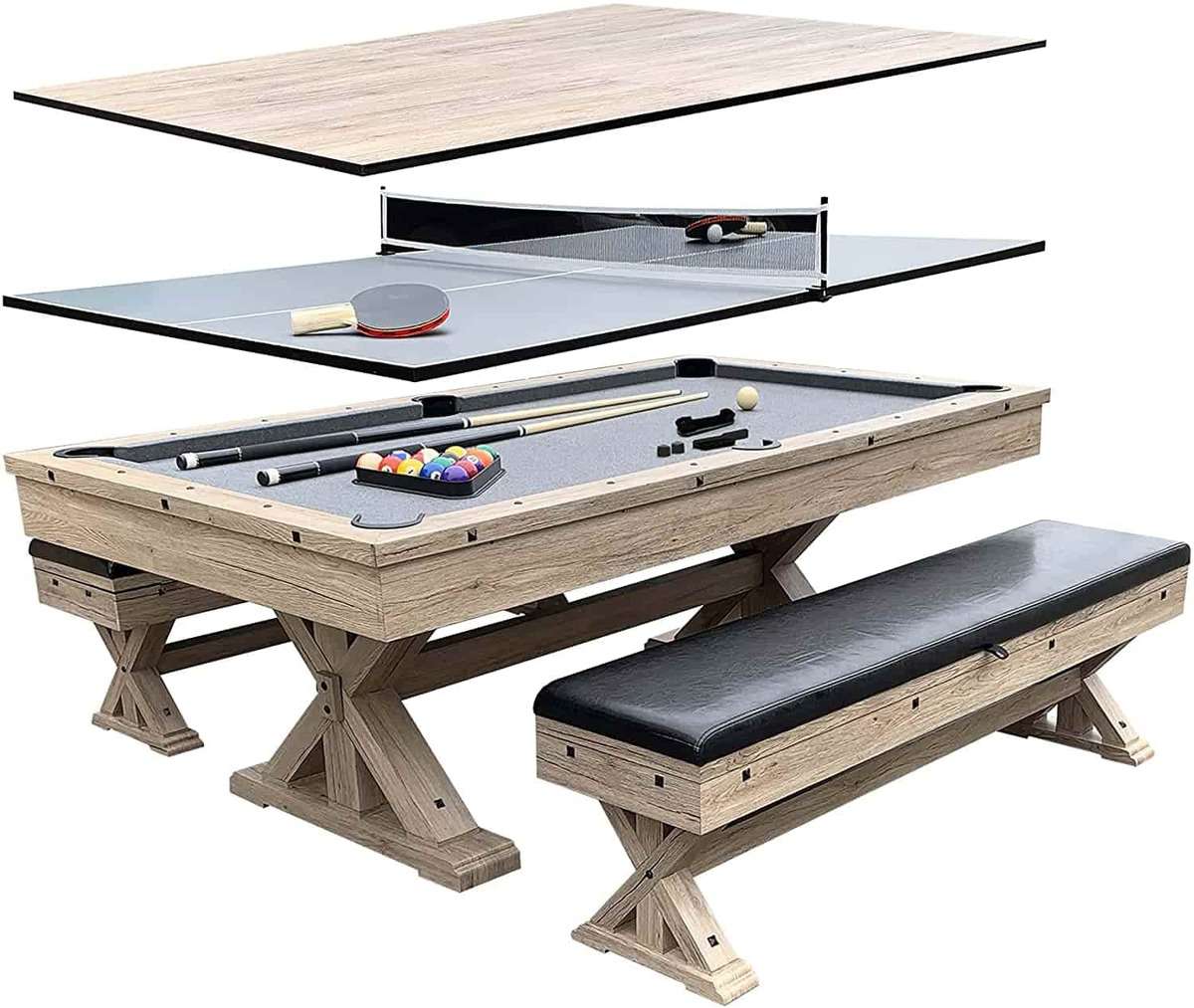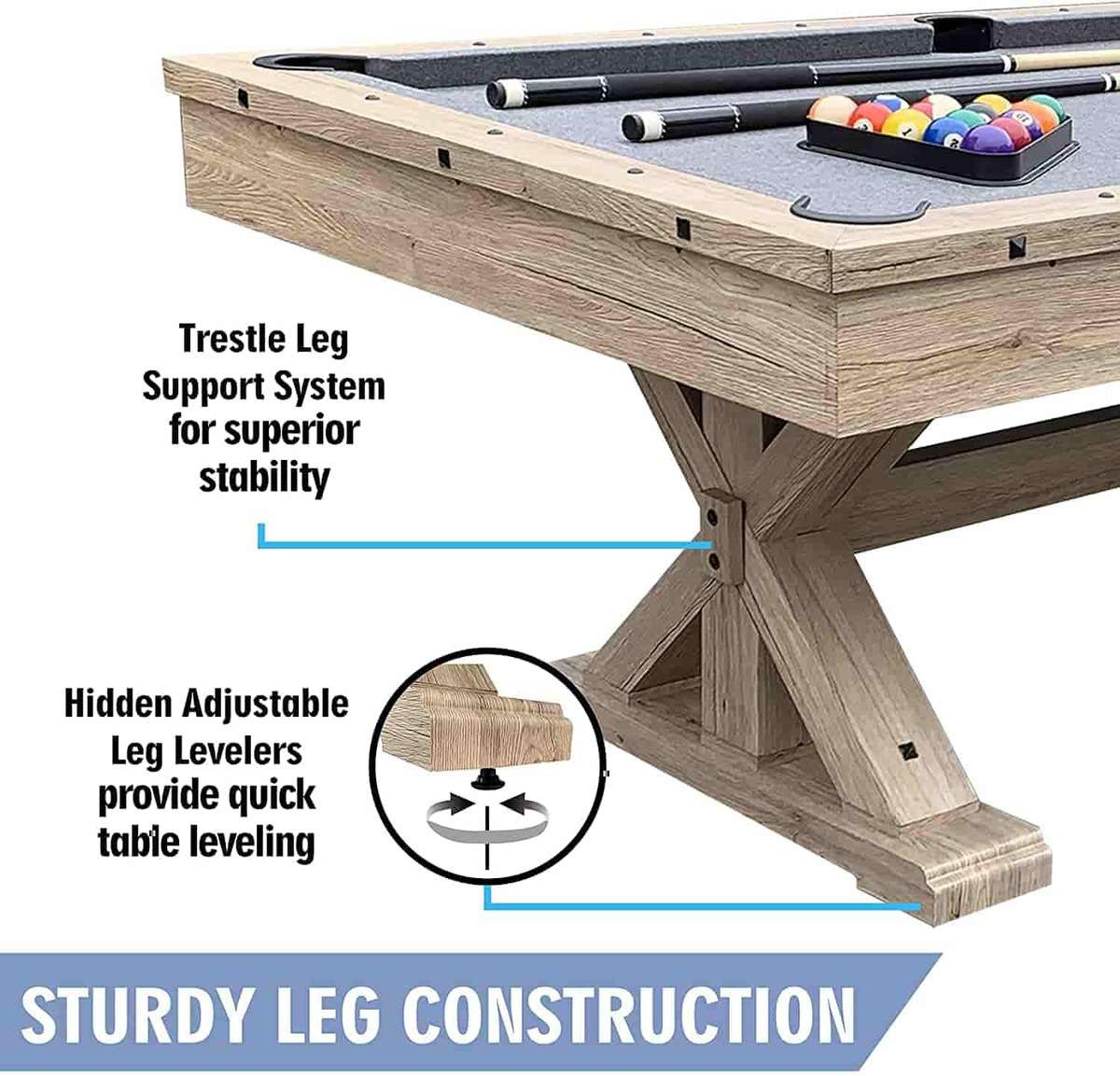 Specifications:
Dimensions: 84" x 48" x 32"
Material: Maple, engineered wood
Weight: 405 lbs
Warranty: 1 year
Included accessories: 2 58" two-piece maple cue sticks, billiard ball set, ball rack, table brush, rail brush, chalk, table tennis top, 2 ping pong paddles, 2 balls, net and post set, dining top, 6 top protection pads, benches
Our rating: 9.2
The Rockford combination pool and ping pong table by Freetime Fun is rather different from the above tables by Hathaway. For starters, it's a 3-in-1 table. You can use it as a dining table, a pool table, or a ping pong table. This makes it much easier to fit in your home. It's also very aesthetically pleasing and can easily blend in with your home decor. This table is so modern looking it would almost feel out of place in a game room!
With its distressed oak melamine finish, it looks very modern. It also pairs very nicely with the high-quality speckled grey felt. Moving past aesthetics, the table is simply well-designed. The trestle leg support system provides ample stability, and hidden within the base are leg levelers to keep the playing surface flat.
But the included bench seats really separate this pool and ping pong table combo from the models above. Sporting the same distressed oak melamine finish and trestle leg design, they pair beautifully with the main table. They also have tons of storage space to keep your accessories together and out of sight. The bench even opens and closes easily due to the pre-installed hydraulic EZ-lifters. They are such a neat addition!
Moving onto the tabletop, we continue to have good things to say. It's thicker than average and has a central support beam underneath it, preventing any sag, so table tennis games are pretty enjoyable. The 1-year warranty also inspires confidence — although we feel it should be longer given the price.
Overall we highly rate this combo table, but we expect the weight and price will put some people off. It's definitely more of a luxury pool table ping pong combo.
5. Atomic 7-ft Hampton 3-in-1 Combination Table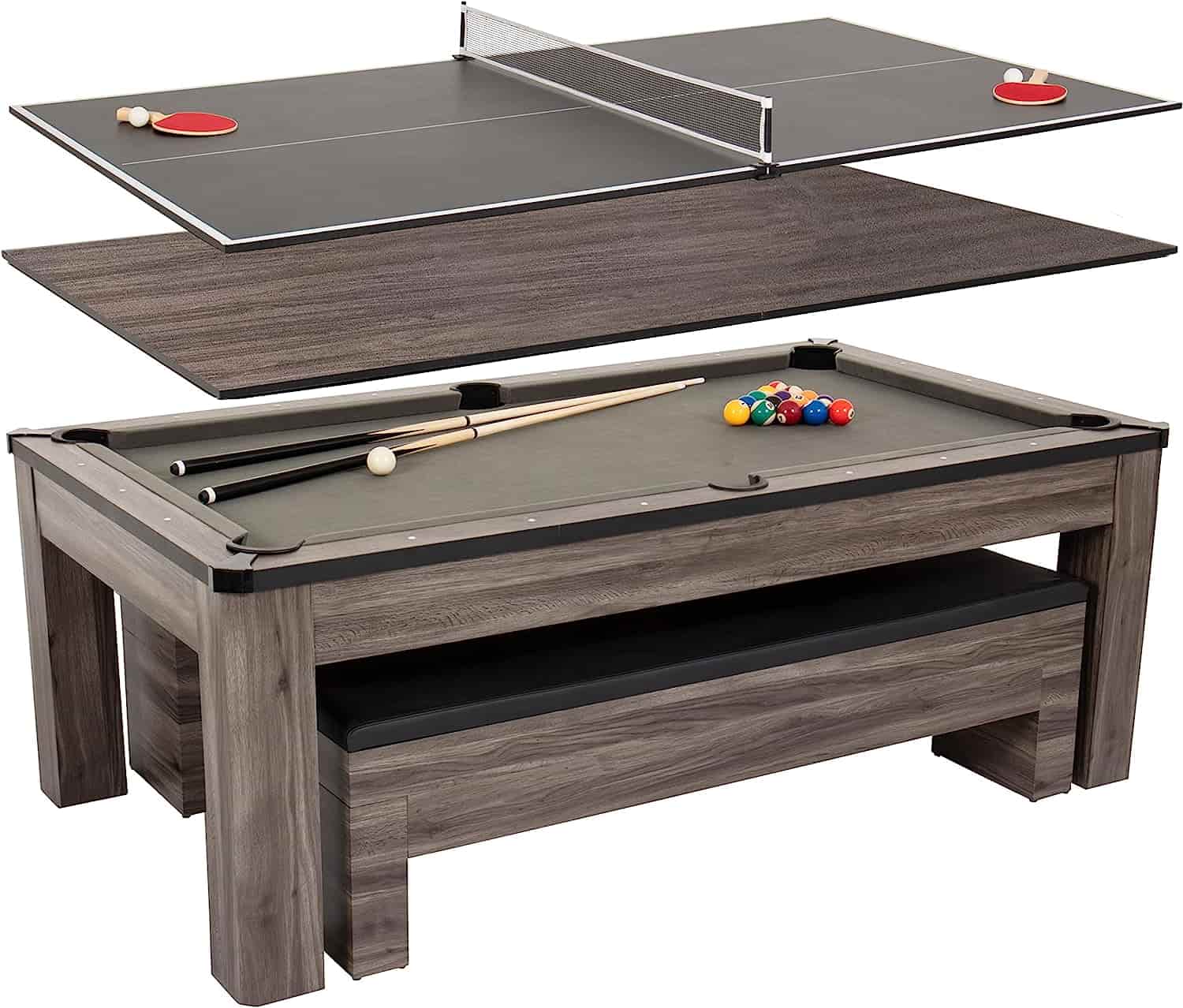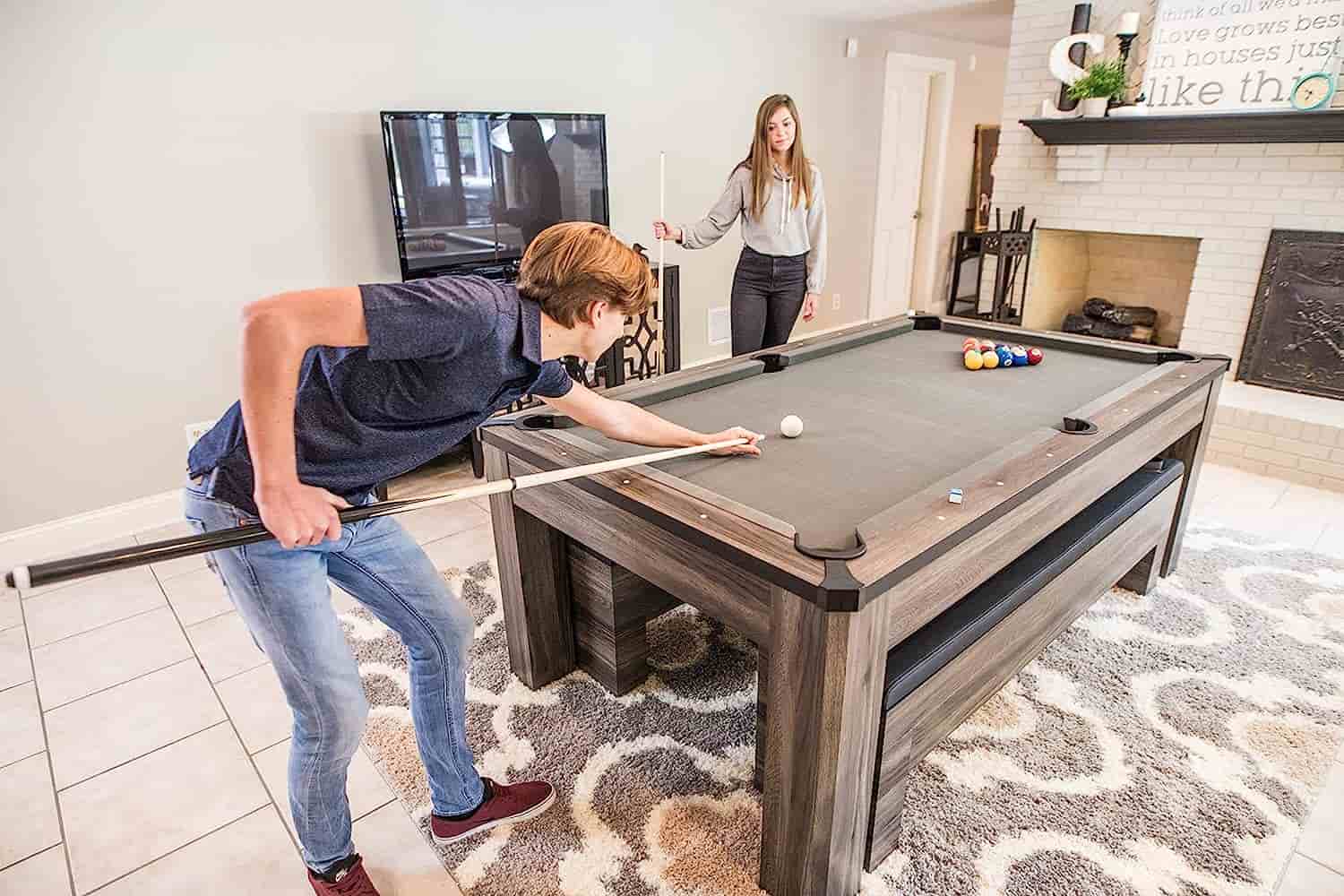 Specifications:
Dimensions: 84" x 47" x 31.5"
Material: Wood
Weight: 451 lbs
Warranty: 90 days
Included accessories: Two-piece cue sticks, billiard ball set, ball rack, table brush, chalk, table tennis top, 2 ping pong paddles, 2 balls, net and post set, table cover, benches
Our rating: 9.2
The Atomic 7 ft Hampton pool and table tennis table are in fifth position on our list. With a weight of 451 lbs, it is the heaviest table on this list by almost 50 lbs, so you can rest assured it is both solid and durable.
The name Atomic may not ring a bell with ping pong enthusiasts as they are not a big player in the industry, yet they certainly have ties with one massive player, and that's Stiga. Both companies are owned by Escalade Sports, a sporting giant that has been making products since 1927. Despite this, Hampton doesn't excel in the table tennis department. The tabletop is fairly thin, and the paddles and balls are low-quality.
The overall design is similar to the Freetime Fun Rockford and even more so to the Hathaway Newport. Both tables have very flat edges and feature benches that slot underneath the table. These benches double up as storage for all of the various accessories.
A cool feature that Atomic Hampton shares with the Freetime Fun Rockford and Hathaway Newport is the table cover. This allows the table to triple up as a dining room table. With the contemporary grey wood grain finish, you'd never know it was a pool/ping pong table at all!
6. Hathaway Newport 7-ft Pool Table Tennis Combination Table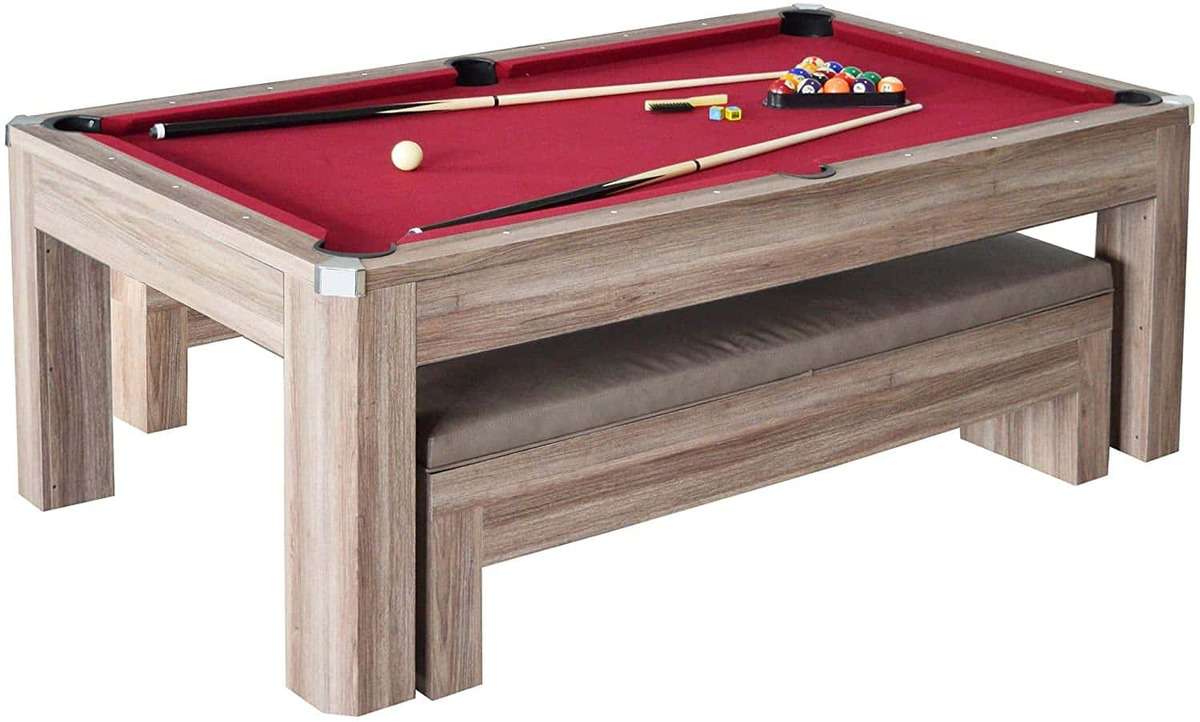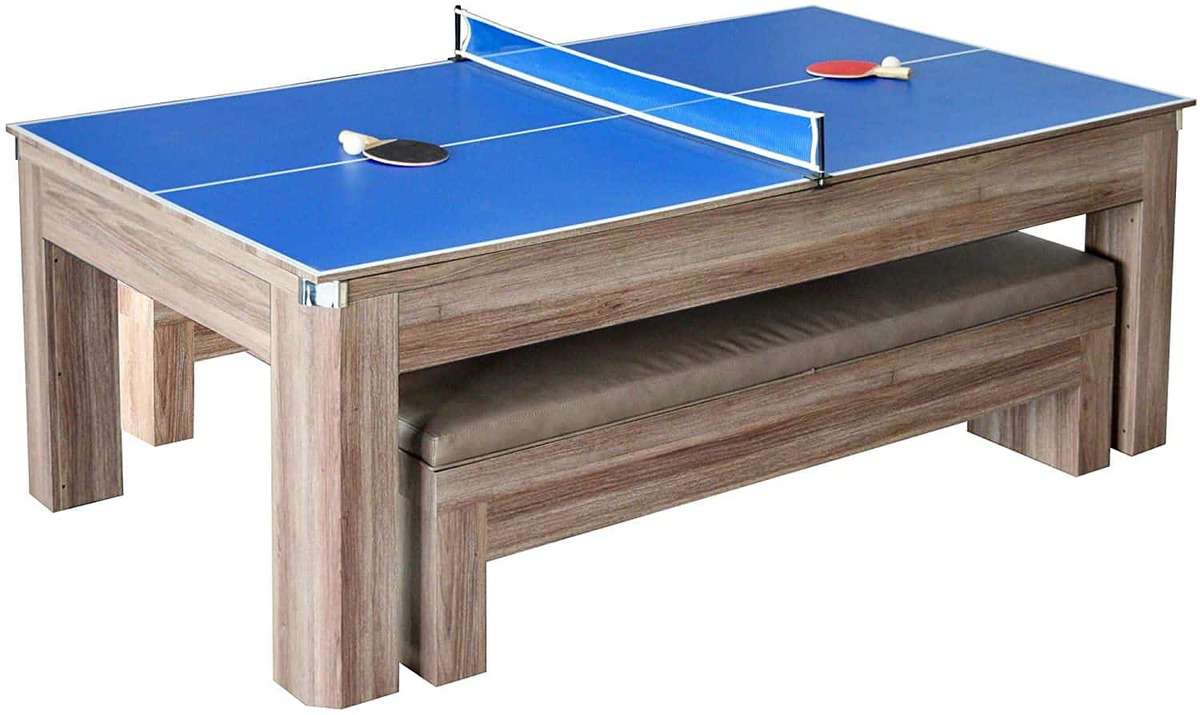 Specifications:
Dimensions: 84" x 47" x 32"
Material: MDF, PVC, Wood
Weight: 383 lbs
Warranty: 180 days
Included accessories: 2-piece 57" cues, billiard ball set, triangle, table tennis top, table tennis paddles, net and post set, benches
Our rating: 9.1
The final pool table with a table tennis top on this list is the Newport. It sports the same blend of red felt like the other Hathaway tables, but its fundamental design is different. As a 3-in-1 table, it is easily convertible into a dining table, making it a direct competitor of the Hampton and Rockford.
It also has comfortable bench seating that opens up to store your gaming accessories. But one difference you may notice between it and the Rockford is that the benches are small enough to fit under the table. This is a huge advantage as it saves a lot of space when you want to start playing either pool or ping pong.
The table materials are also remarkably similar. It's primarily composed of reclaimed driftwood with a melamine finish and features chrome-plated corner caps and leg levelers. However, in terms of aesthetic appeal, we don't think it's quite as stylish as the Rockford.
You may also notice it's quite a heavy table as it's built with solid materials, so again, if you plan on moving your combo table often, consider the Spartan instead. Another key quality to note is that no ping pong balls are included. This seems a rather strange omission, but it's hardly an issue — you'll want to use better-quality balls anyway.
Overall we really like this 7 ft ping pong pool table. It may be expensive, but it's a great space saver for those who are also in the market for a dining table.
Features to Consider Before Buying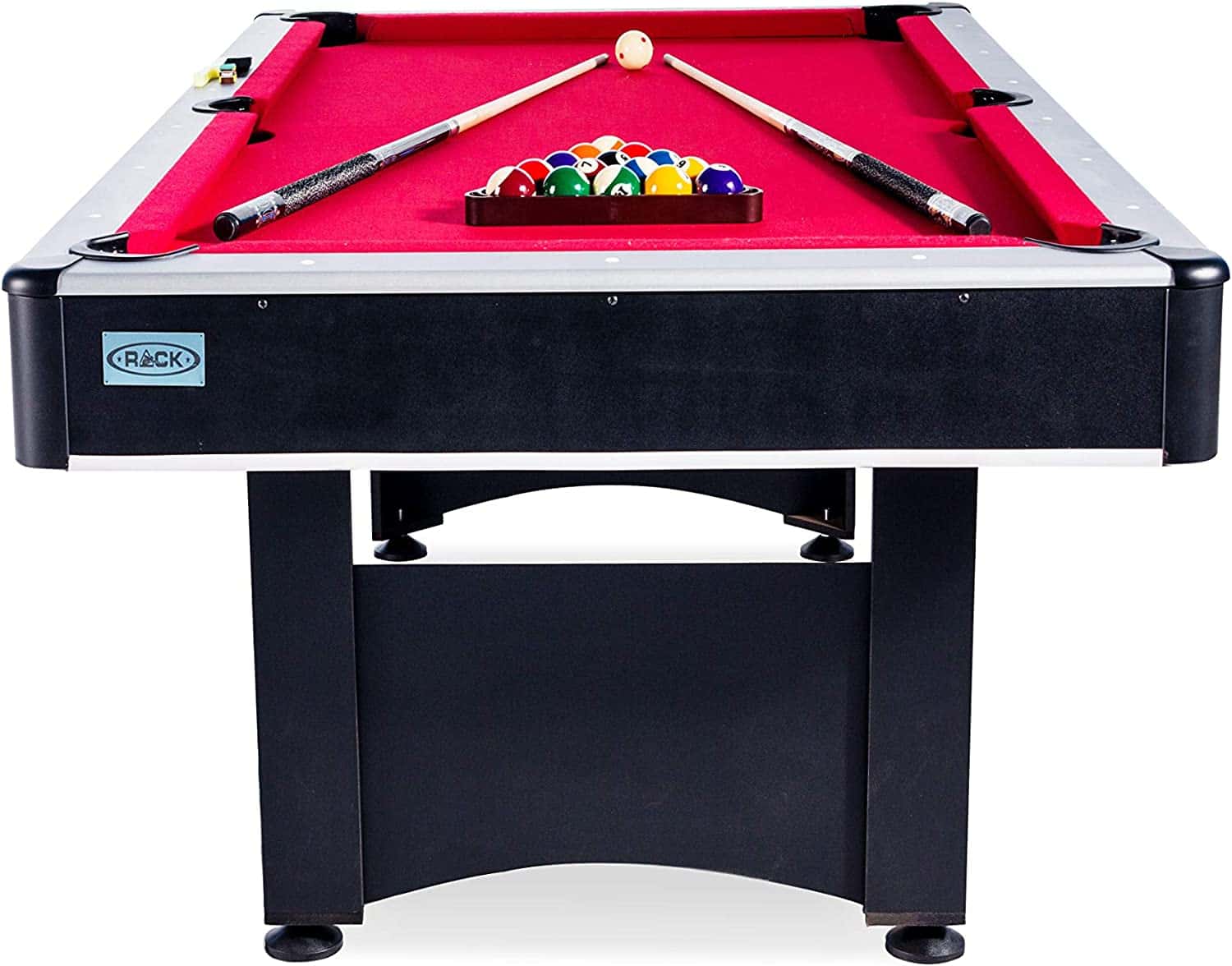 Size
It should be no surprise that pool tables with ping pong tops come in various sizes, so knowing how big you want the table is necessary when buying. Given standard pool and ping pong tables share a similar length-to-width ratio, pool tables with ping pong tend to be well-sized for both sports. However, we should note that the size for both games can never simultaneously be perfect.
As 7ft is the standard length for ping pong pool table combos, the table tennis playing area feels a little short. However, it's still large enough to have great games. Pool, however, doesn't feel that short as both 7 ft and 6 ft are standard sizes for pool tables.
You also need to consider the space around the table you will need so that you are not hindered when you are playing. Ideally, 5 ft of clearance should be on every side of the table. This ensures you have adequate space for your queue even when the white ball lands close to the cushions. For 7 ft tables, aim for a clear space of 17 ft x 14 ft.
If you are really tight for space, we recommend going for a smaller table. Alternatively, you can use smaller cues as these require less room.
Material
The material used for your ping pong and pool table combo is critical, as this determines the unit's longevity. These tables are not particularly cheap, so if you are going to invest money in one, you want to be sure that it will last for many years to come.
Each material comes with its benefits and drawbacks. Ideally, you want your table to be strong yet not overly heavy. Therefore pay close attention to the weight of each table and look out for fragile materials such as particleboard or plywood. Instead, you should seek out tables with quality materials such as solid wood, MDF, and metal.
Weight
This leads us nicely on to weight. While a heavy ping pong pool table combo often means quality, this comes at a cost — they are damn hard to move. Of course, if you aren't going to be moving your table, it's not much of a problem. But for many people, there may be times when it needs moving, and if you go really heavy, you'll need help to budge it. The lightest tables only weigh around 100 lb, whereas the heaviest are around 400 lb, so you should certainly check the weight before buying. Somewhere in the middle of this range is probably best for most people.
Warranty
You can find the greatest-looking ping pong and billiard table in the world, but if there's no mention of a warranty, it's a bit of a red flag. The table might still be great, but do you want to risk it? As mentioned earlier, pool table ping pong combos aren't cheap, and you don't want to have to fork out hundreds of dollars for a new table.
A good warranty period shows that the manufacturer strongly stands behind their product. It also shows they are making enough profit to offer it, meaning tables aren't returned frequently. A standard warranty period for pool table ping pong combos is 180 days, but you can find some tables that offer a year's warranty or more.
Accessories
Most pool ping pong tables include accessories, but it's always best to check to ensure you're not empty-handed come game time. Most tables should include:
However, we should note that the included accessories may not be of the greatest quality. If you're a keen ping pong player, you are certainly better off buying a custom-made paddle.
Frequently Asked Questions
Do Combo Tables Last Less Than the Single Purpose Game Tables?
The duration of any table is dependent on the quality of materials used, this is why it is vital to vet each product irrespective of whether it's a single-game or multi-game table. Any well-built multi-game table featuring solid wood or MDF should certainly last as long as a single-purpose game table.
How Do I Clean a Pool Ping Pong Combo Table?
Always err on the side of caution and avoid harmful chemicals as these could damage both the pool felt and the ping pong tabletop. For the latter, we recommend either using a table tennis table cleaner, or water, and for the pool surface, only use water and a rag as it's more susceptible to damage.
Can You Play Ping Pong on a Pool Table?
Absolutely. If you have a pool table at home, all you need to do is buy a conversion top, and hey presto! You can play ping pong!
Is a Pool Table Bigger Than a Ping Pong Table?
Pool tables are often smaller than ping pong tables. Standard pool table models are 8 ft, and tournament models are 9 ft. Most ping pong tables are also 9 ft. However, they are wider at 5 ft (60" as opposed to 50").
Conclusion
That sums up our review of the best pool table ping pong combos. There aren't too many multi-game tables available that strictly focus on pool and ping pong, so we tried to provide a good amount of depth for each model.
The Rack Scorpius 7-foot pool/table tennis table is the best pool table ping pong combo, in our opinion, and many other people agree by the looks of things. It's a hefty table and very well-built. We like that it comes in three colors and that the table tennis tabletop conveniently slots under the pool table's surface. However, what really sold us on this model is the lifetime guarantee.
Another table we are also very fond of is the Rockford by Freedom Fun. It's the greatest-looking table by some stretch and has a premium feel. We also really like that it comes with benches that double up as storage for your accessories. Yet, there's no getting around the fact that the table is damn expensive. Only big-time spenders should consider it.
Enjoy this write-up? Why not check out our best foosball table article as well?
Similar Reads

Freelance writer. Table tennis enthusiast. Lover of all things online. When I'm not working on my loop game I'm probably binge-watching some fantasy show.