3 Best Pool Dining Tables
Struggling to choose between a pool table and dining table? We have a solution! Pick up a multi-purpose pool dining table and make the most out of the limited space you have in the dining room.
In this guide, we cover everything there is to know and provide links to some of the best pool dining tables on the market.
Featured Products
Why You Should Trust Us
As sporting experts, we know to discern high-quality products from those you'll likely want to return.
All of our reviews are unbiased and not sponsored. We instead rely on small commissions that we may earn when you purchase a product using one of our links.
The Benefits of Owning a Pool Table With a Dining Top
Undoubtedly the best aspect of owning a dining room pool table combo is its space-saving nature. Fitting both a dining table and a pool table into your home is an unrealistic goal for most people. That's why they battle between choosing one or the other. But by purchasing a combo table, you get both for just half the space.
Another benefit is the stunning appearance that many models offer. Unlike many pool tables that feel tacky and out of place in your home, many pool dining tables have a contemporary appearance, a stunning finish, and sometimes elegant hand-carved legs.
(EMBED)
Pool Table Dining Table Combo Reviews
Rack Luxor Pool Dining Table — Best Overall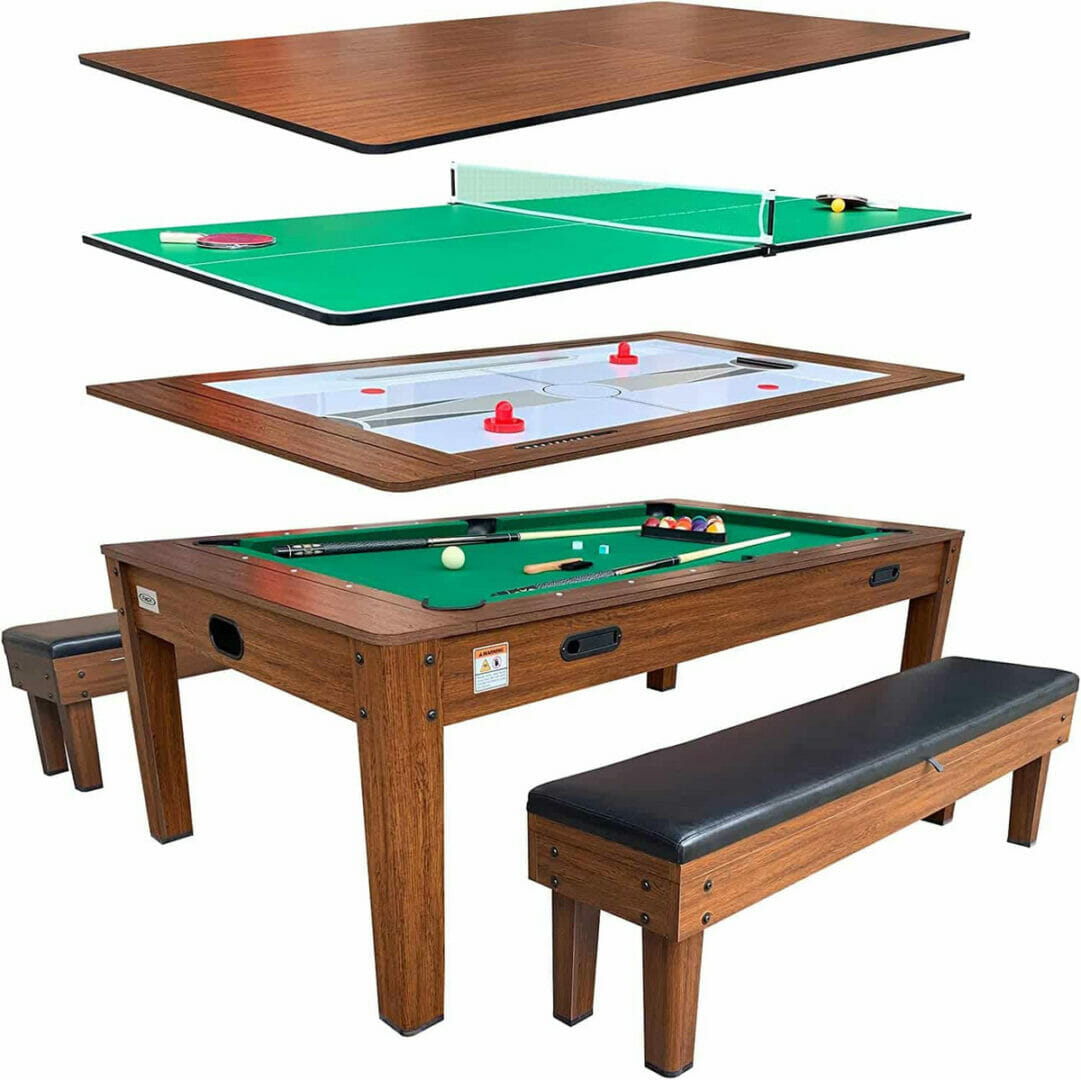 Features
Size: 88" L x 48" W x 32" H
Weight: 390 lbs
Material: Engineered wood, MDF
Warranty: Lifetime warranty
Pros
Includes pool, table tennis, and hockey
Unbeatable lifetime warranty
Buy with or without benches
Toll-free customer service
Features quality blower and thick table tennis top
Cons
Rating: 9.7
The best dining pool table combo is the Rack Luxor. However, you don't just get an area to eat and play pool with the Rack. You also get air hockey and table tennis which are welcome editions. Switching between pool and air hockey is quick and hassle-free. You simply rotate the table and lock it into place. Conversely, for table tennis and dining, you place the associated table top on the top of the table.
Unlike many multi-game tables, air hockey and table tennis are very good quality. The UL, CE, and TUV/GS certified motor ensures plenty of airflow to keep air hockey games lively, and the 19 mm thick MDF table top provides a quality bounce for keen table tennis players.
As it stands, the Luxor table is only available in brown. However, Rack has plans to release it in gray soon as well. A choice you can instead make is whether you want to purchase the table with benches or not. By opting to go without, you save yourself around $400 bucks. Although if you are without seating, we recommend picking them up as they conveniently slide under the table when you don't want to use them.
Perhaps the most alluring feature of this high-quality pool table dining table combo is the outstanding warranty and customer service. The Luxor has a lifetime warranty as all our Rack tables do. This demonstrates the quality of the company's products and ensures you are covered should any issues arrive. Rack also has a toll-free number for inquiries and support. This further highlights Rack's commitment to stellar customer service.
Freetime Fun Rockford Pool Dining Table — Best Seating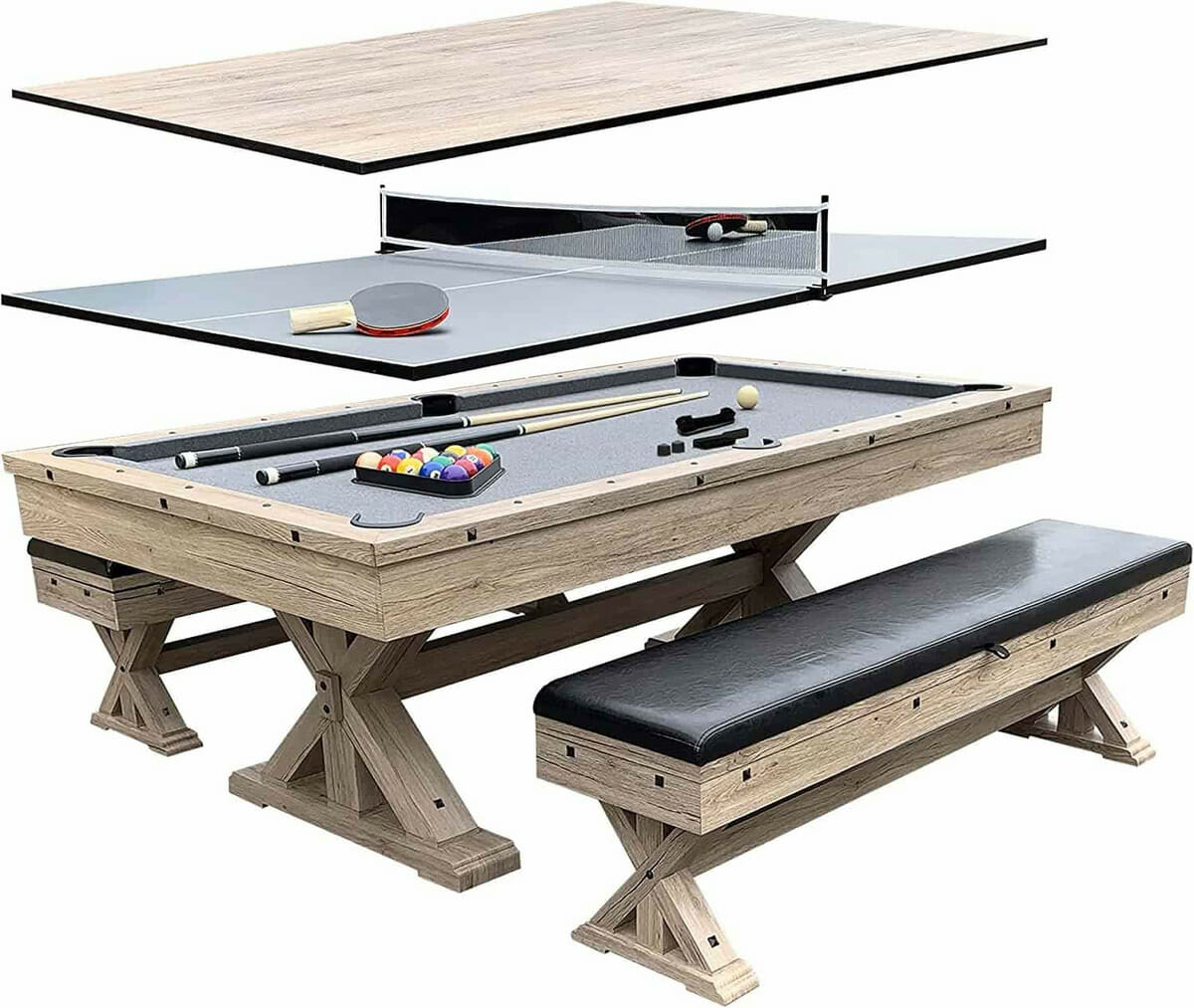 Features
Size: 84" L x 48" W x 32" H
Weight: 405 lbs
Material: Solid oak, wood
Warranty: 1 year
Pros
Includes pool and table tennis
Choose between rustic oak or espresso
Trestle legs for high stability
Leg levelers
Includes benches with hydraulic lifters
Cons
Expensive
Heavy
It could be more robust
Short warranty period
Rating: 9.3
As our second pool table dining room table, we have the Rockford by Freetime Fun. It measures 7 ft in length and is fairly weighty at 405 lbs. That being said, this is quite a bit lighter than the heaviest table on this list.
This table's interesting trestle leg design first caught our eye. Not only is it eye-catching, but it provides a lot of support. You can see the same trestle support in the benches too. Including these benches means there is no need to go out and purchase seating separately. They are very comfortable with their wide and deep faux leather padded cushions, and they slide conveniently under the table when you're ready to switch from dining to pool.
These benches also act as storage solutions for your sports accessories, all of which are included. Inner lined with gray carpet, they are attractive and soft, and they effortlessly close and open due to the integrated hydraulic EZ lifters.
Onto the sports themselves. The pool surface features a pleasing grey felt with premium-grade K66 cushions. These provide a smooth and predictable ball roll that will last many years. As for the table tennis top, it's a nice extra for when you get bored playing pool. We can't say it's a particularly good top by our table tennis standards, but it should be a treat for casual players.
Planks & Hide Beaumont Pool Dining Table — Premium Pick

Features
Size: 102" L x 58" W x 31" H
Weight: 850 lbs
Warranty: Lifetime warranty
Pros
Very strong build
Hand-carved
Stylish
Choose your desired color of felt
Cons
Expensive
Heavy
No benches included
Rating: 9.1
For those of you who are after a premium dining table pool table combo, let me direct your attention to the Plank & Hide Beaumont table. It is both beautiful and strong and hand-carved from solid oak with a distressed silver finish. The internal cross beams provide 66% greater support for the slate than standard tables. The legs also sport a one-piece design, further adding stability to the build.
The weight is the caveat of such a well-built and strong pool dining table combo. The Beaumont is incredibly heavy at 850 lbs. This restricts where you can situate the table, which means setup is rather difficult. For most heavy tables, we recommend grabbing some friends to help out, but with this model, it's simply too heavy. We instead recommend professional installation.
We should note, however, that you shouldn't have too much difficulty switching between pool and dining. Plank & Hide thoughtfully split the thick dining top into four parts. This makes it perfectly manageable to apply and remove as needed.
Measuring 8 ft in length, the Beaumont is a foot longer than the Rockford and half a foot longer than the Luxor. This leads to slightly more challenging pool games which we like! The play surface uses high-quality K66 cushions and leather drop pockets — exactly what you would expect for a table of this caliber. You also get to choose your desired color for the felt which is a nice extra.
Pool Dining Table Buyer's Guide
Build Quality
The quality to which you're pool and dining table combo is built will largely determine how long it will last. Where possible, seek high-quality solid wood, that being said, we have found most pool dining tables made from engineered wood to also be very well built.
Price
There's no denying that all billiards dining tables are expensive pieces of furniture — they tend to cost a lot more than, say a standalone pool table. However, there is still quite a large scale in terms of price.
At the premium end, you get the best materials, unrivaled build quality, and often, a sizeable warranty.
Warranty
Due to their hefty investment, you should seek out dining table pool tables that are built to very high standards to ensure they last. What's more, you should also strive to find a model with a lengthy warranty to act as a safety net. Most tables have at least a 1-year warranty period, and the best offer a lifetime warranty.
Seating
As dining pool table combos are designed to function both as pool tables and dining tables, it is very common for them to come with seating in the form of benches. These benches conveniently store under the table when they are not in use and sometimes open up so that you can store accessories.
Other Games
While the purposes of pool and dining are likely your primary intentions, many tables offer additional sports which is a bonus. Other common sports include table tennis and air hockey.
How to Convert a Pool Table Into a Dining Table
Purpose-made pool table dining tables are very easy to convert from one use to another. To switch from pool to dining, simply apply the protection pads and supports and then place the dining cover on top.
If instead, you just have a regular old pool table, fear not. You can still convert it into a dining table. The first step is to make a dining top. The easiest way to do this is to go to your local hardware store and get a piece of wood cut to the size of your pool table. Following this, sand, paint, or stain the top to meet your desired requirements.
You should also pick up a piece of wood to rest on the center of the pool table to ensure the top doesn't sag. Then it is simply a case of purchasing some foam pads to provide protection, and hey presto! You've got yourself a pool dining table!
Conclusion
Dining pool tables may be pricey, but they are a great investment for those who long for both a place to eat and a place to play pool.
To recap, the best pool dining table in our eyes is the Rack Luxor. We preferred this table above the others because of its performance across the board and excellent customer care.
Not only is the pool high quality, but it also features superb air hockey and table tennis, making it an outlier in the best possible way. Its lifetime warranty and toll-free telephone line also demonstrate that Rack only produces high-quality tables and care deeply about their customers.
FAQs
Can a Pool Table Be Used as a Dining Table?
You can use virtually any pool table as a dining table, provided it is strong enough and has the space to tuck chairs underneath it.
All you need is wood cut to size to act as the dining surface, central support, and foam pads to prevent scratching.
Is a Pool Table the Same Height as a Dining Table?
Pool tables are usually a little higher than dining tables. They measure around 31-32", whereas dining tables measure 28-30". So the difference is rather small.
The main issue you might face when converting your pool table into a dining table is that the chairs are a little low. For this reason, you might want to purchase taller chairs or a purpose-built pool dining table that includes perfectly sized seating.
Are Pool Dining Tables Any Good?
Pool dining tables are great additions to your home as they both save space and introduce a form of fun entertainment that friends and family can enjoy.
They are also very well-built and, as such, last a long time.

Freelance writer. Table tennis enthusiast. Lover of all things online. When I'm not working on my loop game I'm probably binge-watching some fantasy show.