The 5 Best Foldable Pool Tables
Who doesn't like a game of pool? I challenge you to find someone that doesn't! Pool is the perfect sport for people of all ages as it's fun, easy to pick up, and not taxing on the body.
I'm sure many of you daydream about how cool it would be to have a pool table in your rec room, but the size and expense of these tables are a bit of a turn-off. So why not instead consider a foldable pool table?
I had one growing up, and it was a ton of fun! Not only are they much cheaper than standard pool tables, but their ability to fold also means that you can store them out of the way if you need to reclaim some space. Sounds pretty good, right? Let's take a look and see what tables are on offer.
Featured Products
Why You Should Trust Us
We are sports experts and know how to differentiate between quality equipment that will last for many years and shoddy equipment that will break after a month or two.
Each review is a comprehensive process of selecting the right products we consider to be a cut above the rest. We then do our best to compare these products to give you the best insight possible.
Foldable Pool Table Reviews
GoSports Mid-Size Pool Table — Best Overall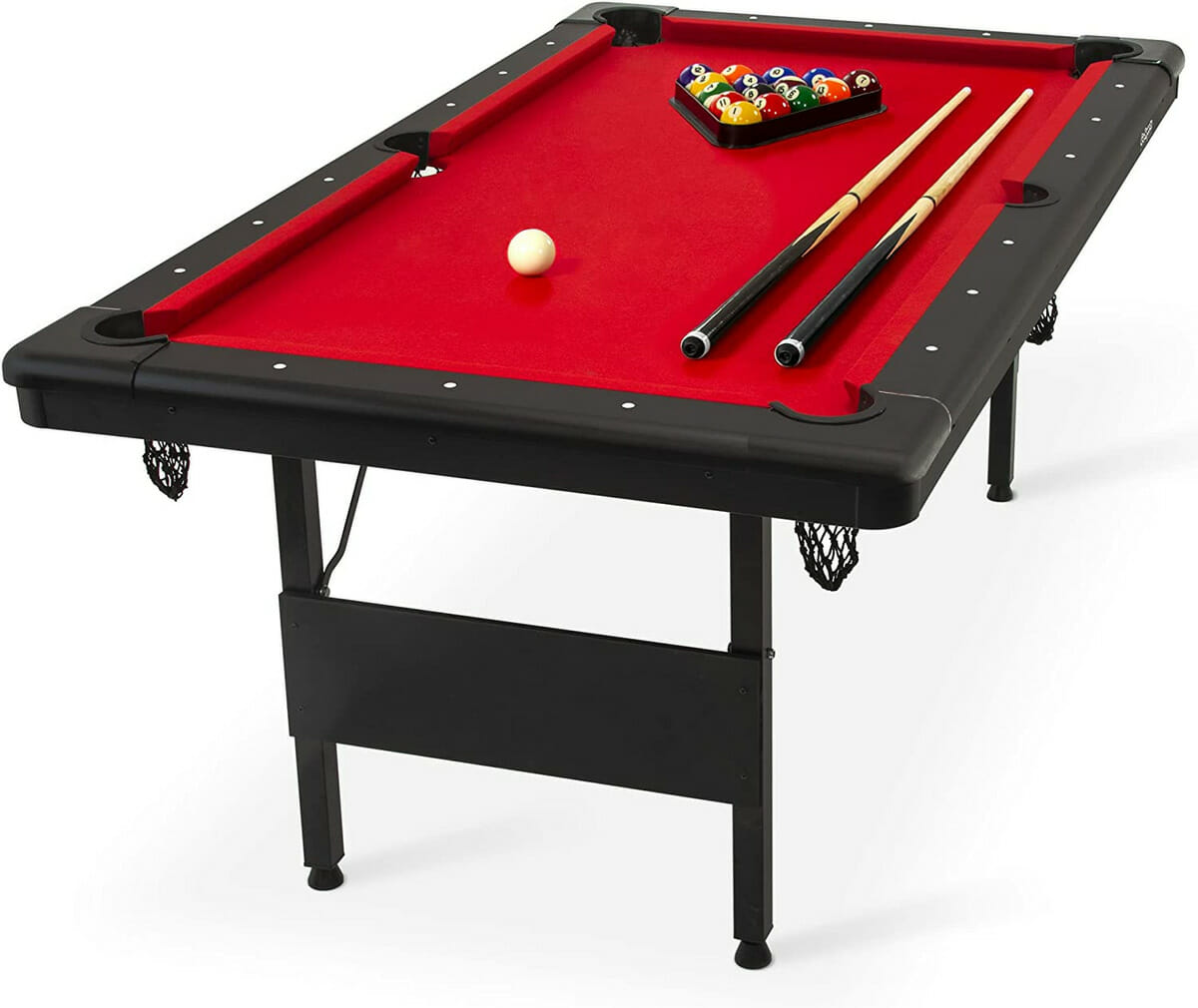 Features
Size: 6 ft or 7 ft
Weight: 120 lbs
Material: Felt, alloy steel
Warranty: 6 months
Pros
Available in blue, red, and black
No setup required
Steel frame
Leg levelers
Trueshot aiming system
Cons
Rating: 9.7
The GoSports mid-size pool table is the perfect addition to any games room or man cave. First and foremost, you get to pick between the 6 ft and 7 ft versions. This choice isn't offered with any other tables on this list. On top of that, you have color choices. There's no classic green. Instead, blue, red, and black are on offer.
As for its actual performance, we have nothing but kind words. The premium felt delivers a smooth and predictable ball roll, and the leg levelers ensure your playing surface is always level. Weighing in at 120 lbs, it's around average weight and highly portable.
The legs and brace supports are made from alloy steel for maximum strength, and there is absolutely no requirement for assembly. Simply unfold the legs, and you're good to go!
The folding billiard table includes all necessary accessories and regulation-size balls. These beat out the smaller kind, which are much harder to control and less fun to play with.
Considering all of these excellent features, we feel comfortable declaring the GoSports mid-size pool table the best folding pool table available.
[Read the Latest User Reviews]
Hathaway Fairmont Portable 6 Ft Pool Table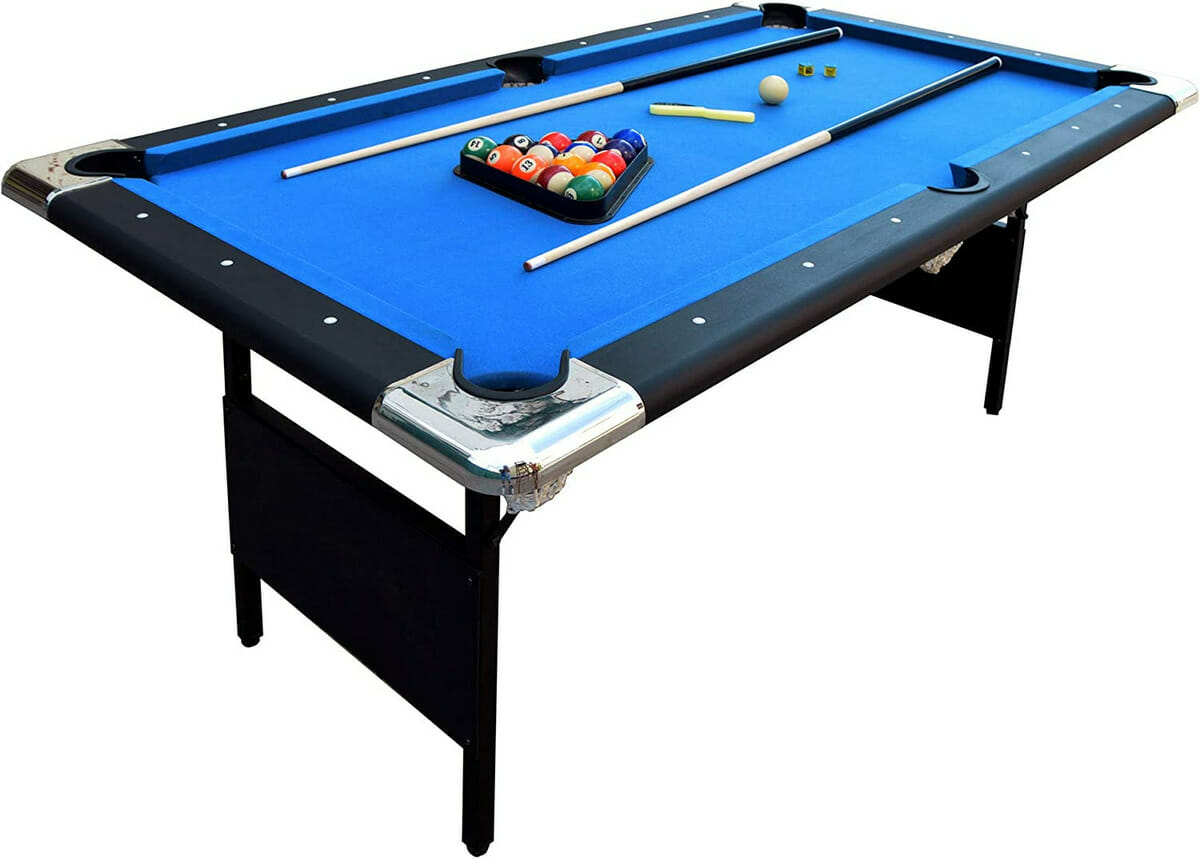 Features
Size: 6 ft
Weight: 115.5 lbs
Material: Felt, alloy steel, MDF, chrome
Warranty: 180 days
Pros
Available in blue and red
No setup required
Chrome-plated steel corners
Steel frame
Leg levelers
Trueshot aiming system
Cons
Rating: 9.5
Narrowly missing out to the GoSports table is the Hathaway Fairmont portable billiards table. It shares many similar features with the GoSports model, but we had to give it second place due to one less color offering and, more importantly, no 7 ft option.
This table comes in at 115.5 lbs and features a similar alloy steel undercarriage with leg levelers to ensure strength and level play. However, one different feature is the chrome-plated corners. Not only do they look great, but they also provide additional protection to an area that takes more punishment than the rest of the table.
The play surface is ½-inch thick and constructed from poly-sealed MDF, which is covered by a blended polyester and wool felt. The surface can bow a little when you fold the table, but it is as straight as an arrow during games. The 180-day warranty backing is evidence of this.
Once again, this model includes all the accessories you need, including regulation-size balls. We should note, however, that the cues are a little shorter than what's included with the GoSports model, they measure 48-inch in length rather than 57-inch. As a final point, like many of the other foldable tables, this portable pool table requires no setup which may be a relief to some buyers.
[Read the Latest User Reviews]
SereneLife 6 Ft Pool Table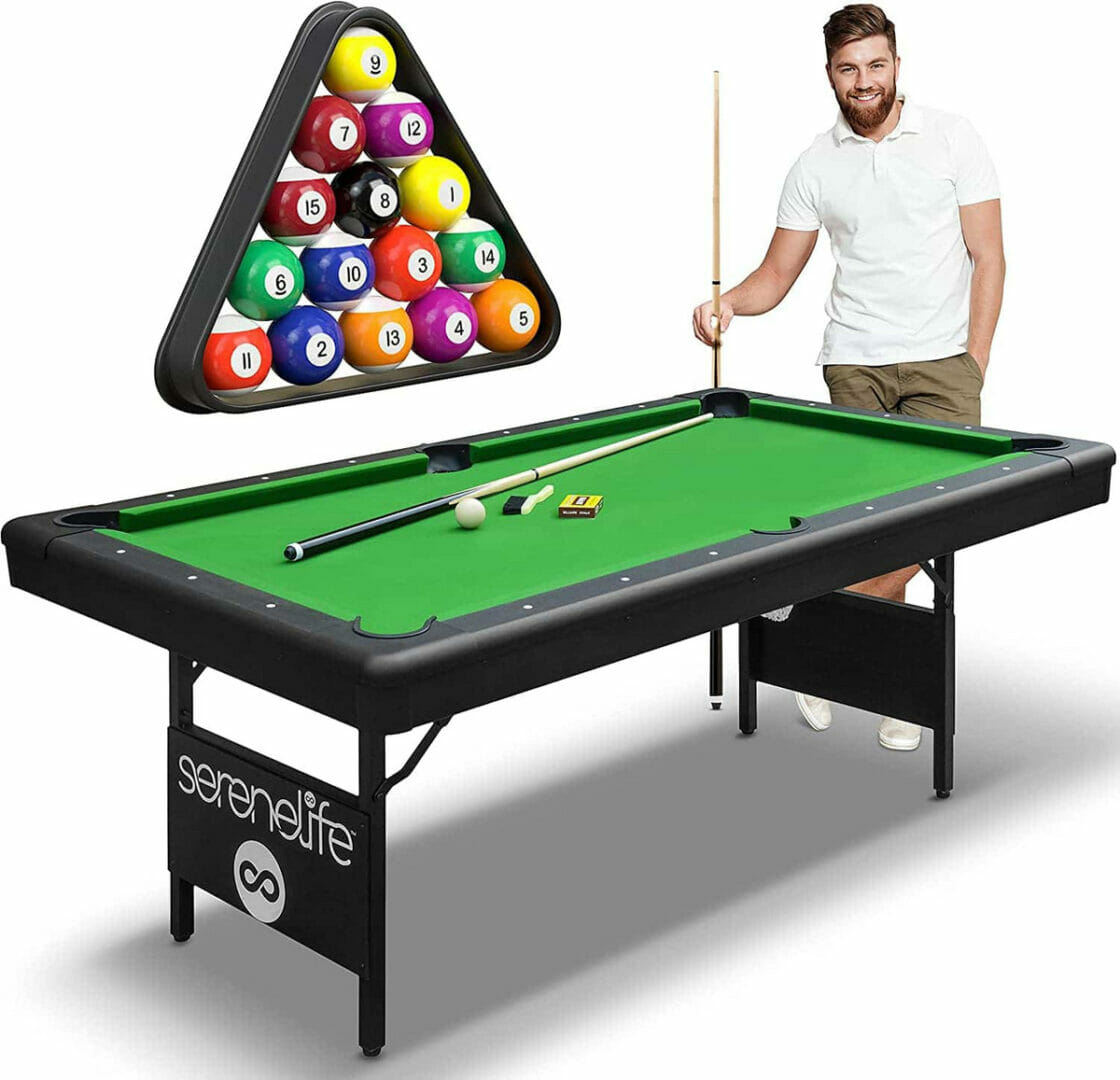 Features
Size: 6 ft
Weight: 128 lbs
Material: Cloth, engineered wood, alloy steel
Warranty: Unlisted
Pros
No setup required
High sideboard
Steel frame
Leg levelers
Trueshot aiming system
Cons
No color choices
Large logo on support
Rating: 9.2
The SereneLife table is the heaviest pool table on this list, but not by much, weighing 128 lbs. This is because it shares a very similar form with the other tables. The undercarriage features welded steel supports and a reinforced frame to prevent dips from forming on the table's surface.
One feature we like about this model, in particular, are the raised sideboards. They help provide more stable gameplay and reduce the risk of any ball going airborne off the table's end. On the other hand, we dislike the large logo printed on the legs supports. It would certainly be more attractive without the logo, it's just so damn big!
Unfortunately, you don't have any color options with the SereneLife foldable billiards table as it only comes in green, and it's also a little more expensive than our first two tables. As such, we couldn't place it any higher than third place.
[Read the Latest User Reviews]
Fat Cat by GLD PRODUCTS Trueshot 6 Ft Pool Table — Best Looking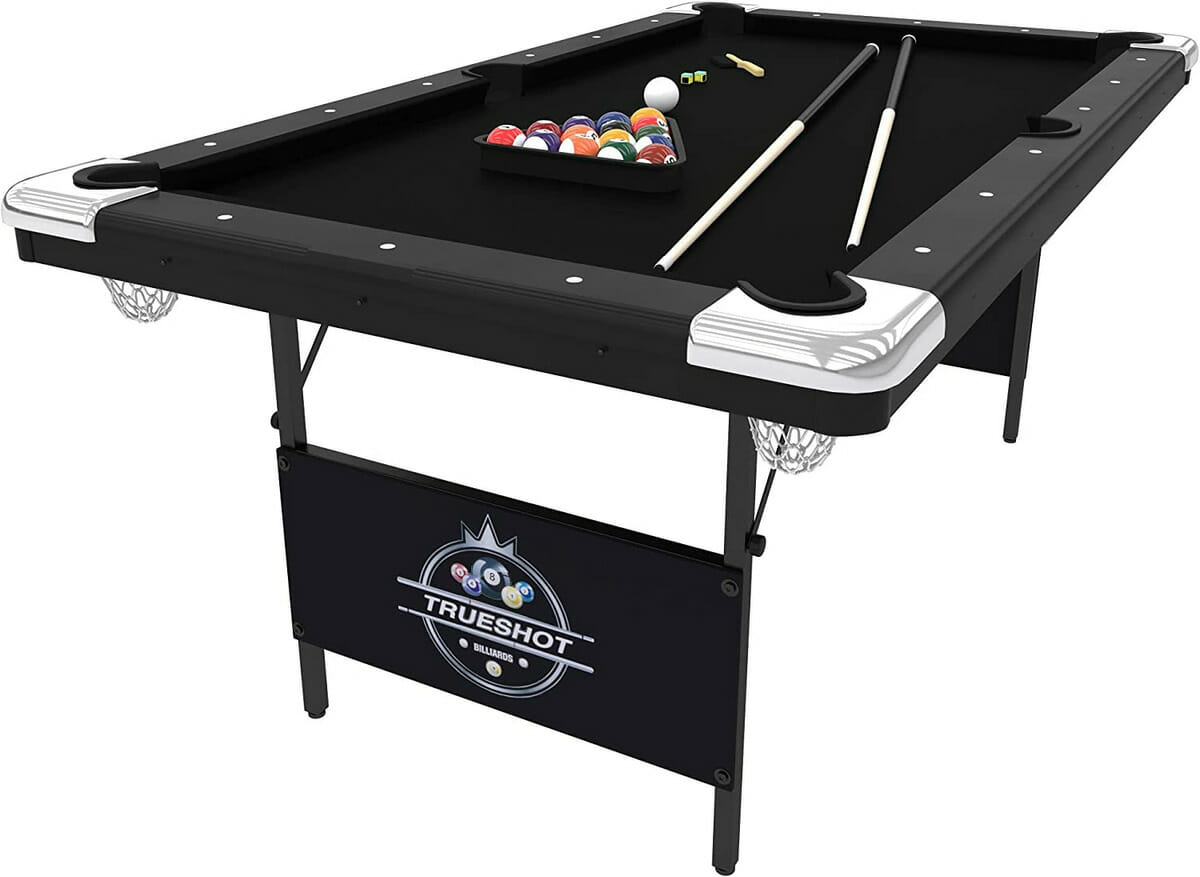 Features
Size: 6 ft
Weight: 114 lbs
Material: Cloth, wood
Warranty: 90 days
Pros
Very attractive
Chrome-plated corners
Leg levelers
Trueshot aiming system
Cons
No color choices
Short warranty
Large logo on support
Rating: 9
The Trueshot pool table is the most expensive model on this list by some margin and has proven very popular with buyers. We also find it to be the most attractive foldable pool table on the market with an elegant black and chrome color scheme. It's just a shame that there is a logo on the support bracket as it would look even better without it.
The play surface is ½-inch thick like the Fairmont table and features K818 reactive bumpers for fast and fun gameplay. All accessories are included and despite this table measuring 6 ft rather than 7 ft, it features large 57-inch 2-piece cues.
While most collapsible pool tables require no assembly, the Trueshot has some setup, albeit very short. When you unfold the table you have to lock the brackets in place using the fast-pin system. This merely involves attaching 4 bolts — it should take you around a minute or so.
[Read the Latest User Reviews]
Costzon Folding Pool Table — Best for Kids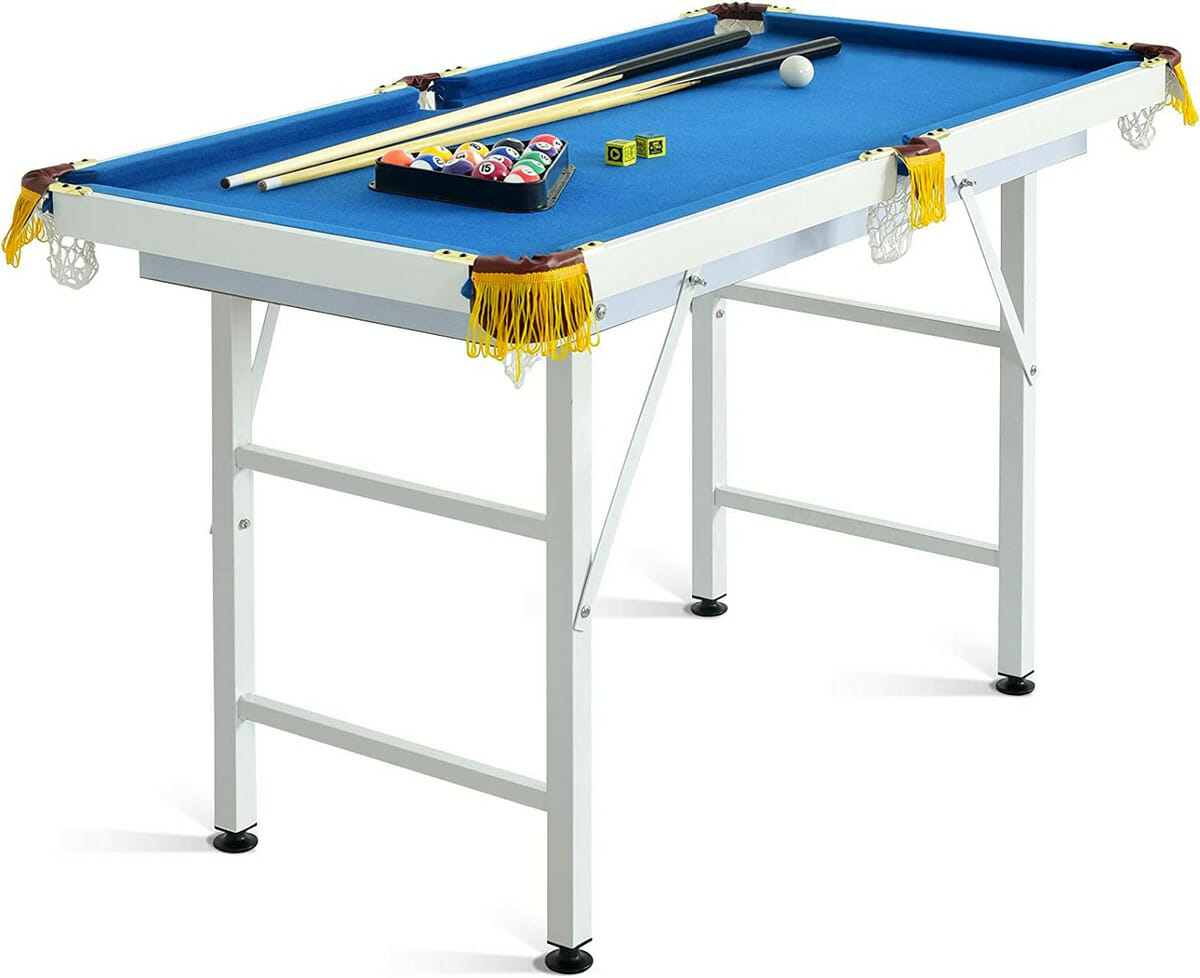 Features
Size: 4 ft
Weight: 33 lbs
Material: Nylon cloth, MDF, wood, resin, plastic
Warranty: 3 months
Pros
Highly compact
Very inexpensive
Leg levelers
Cons
Tacky appearance
No color choices
Short warranty
Too light
Rating: 8.4
The Costzon folding pool table is comfortably the smallest table on this list, measuring just 4 ft long. It also weighs just 33 lbs making it incredibly lightweight. Both of these features make it perfect for kids — it's too small for adults. While this reduced size and weight make the table very safe and easy to maneuver, it does mean it is susceptible to budging during games. Therefore you shouldn't put too much weight on it.
The table doesn't arrive fully assembled, yet the process is very simple, and you should be up and running in less than five minutes. A flaw we noticed is that the feet don't fit within the table's rim when you fold it up. This means you must remove them whenever you want to collapse the table. It's by no means a deal-breaker but annoying nonetheless.
The greatest quality going for the Costzon pool table, besides its portability, is its price. It costs less than ⅓ of the price of our next cheapest table, which is truly staggering. Superb value for money — it's the best portable pool table if you have a tight budget.
[Read the Latest User Reviews]
Foldable Pool Table Buyer's Guide
Size
The most important aspect of choosing a fold-up pool table is buying the correct size. While playing on larger tables is often more fun, you shouldn't try to squeeze a large table into a room that will not accommodate it. Remember, you need space around the whole table to play your shots. Having to raise the butt of your cue because you're against a wall is just the worst! So measure out your room and see which size works best for you.
Most of the best folding pool tables measure around 6 ft in length. You'll have trouble finding anything much larger. However, there are many smaller tables available.
Weight
Closely tied to size is weight. While all tables on this list are foldable, lightweight pool tables are the easiest to maneuver and store.
As an estimate, the average weight of a pop-up folding pool table is around 120 lb. However, if your children will be setting it up and putting it away, perhaps consider going for a lighter model.
Price
Foldable pool tables are usually cheaper than fixed models. This is because they omit certain features, such as ball return systems and slate-playing surfaces, in favor of lighter and inexpensive alternatives.
Generally speaking, prices range from around $150 to $650. We wouldn't recommend tables on the low end, but from around $350, the quality starts to noticeably improve.
Assembly
Almost all portable pool tables require no assembly at all. This is a perk of their design. The legs are folded during shipment so there is no need to attach them.
Selecting foldable pool tables may require some assembly, but it is usually very short if this is the case.
Warranty
Pop-up pool tables are cheaper than high-quality fixed models, so they tend to have shorter warranty periods.
Even the best foldable pool tables only include around 6 months of warranty which is pretty disappointing. However, some tables may only include half this length of coverage or even less.
Trueshot Aiming System
Most high-quality foldable pool tables use the trueshot aiming system to assist you with lining up your shots. With a total of 18 aiming points equally positioned around the corners of the table, they are great for executing shots involving rebounds.
FAQs
Are There 8 ft Foldable Pool Tables?
Currently, there are no folding pool tables 8ft in length. The largest foldable tables you can purchase are 7 ft. However, the vast majority measure 6 ft long.
If any 8ft portable pool tables enter the market, we will be sure to update this post!
Conclusion
Foldable pool tables solve the price and portability issues plaguing regular pool tables. As such, they make perfect additions to your home.
Having meticulously studied all of the folding leg pool tables currently available, the GoSports mid-size pool table stood out to us as being the best, although there wasn't much in it. We selected this model because it included a few extras on our next favorite table. This included more color options and a 7 ft version. For us, this was the difference maker.

Freelance writer. Table tennis enthusiast. Lover of all things online. When I'm not working on my loop game I'm probably binge-watching some fantasy show.