Table tennis is a wonderful sport — if you're here, you probably know that already! Many of us would love nothing more than to have a table tennis table in our house so that we can play to our heart's content.
For most of us though, this simply isn't feasible.
Table tennis tables take up a lot of room and you need a great deal of extra space to play, especially if you're an advanced player. So, you might want to bring your ping pong table outdoors instead!
An outdoor tennis table gives you adequate room to play, and lets you enjoy some sunshine and fresh air at the same time. Some tables are weatherproof ping pong tables, which offer protection from the elements.
Pros and Cons of Outdoor Table Tennis Tables
Before deciding if an outdoor ping pong table is for you, you should consider all the pros and cons. Before I was forced to sell my outdoor table tennis table, I used it often—I have quite a lot of information that you might find useful.
First thing's first, if you have the room for an indoor table, I would certainly go with that. Check out our favorite cheap indoor table tennis tables. They provide the best bounce and you have a consistent training environment. This allows you to really focus on drills because there are no distractions.
If, however, an indoor table isn't an option, here's what you can expect from owning an outdoor ping pong table.
Advantages
The main benefit of owning an outdoor table is that it's free to use. Yes, that's a little obvious; but, not having to pay every time you want to play saves you a lot of money.  Unless you have some kind of membership where you pay monthly or yearly, you will be paying to use most indoor tables per session. This gets very expensive.
You also get to play whenever you want, provided the weather permits, which is a luxury. This means not having to travel, or hoping there is a slot for you to book at a sports center.
This advantage disappeared as soon as I sold my outdoor table. The COVID-19 pandemic forced my table tennis club to close, and I haven't been able to book sessions as frequently at my local sports center either.
In total, I haven't played table tennis for over a year and a half now, which is a long time for someone who used to play every week. If I still had my outdoor table, I would never have been in this situation!
Another advantage is that you have complete control over which table you are playing on. Sports centers and clubs have poor quality tables that you'll get stuck with some of the time. The bounce is bad, the table is chipped and you'll hate it. 
When you purchase an outdoor table tennis table YOU get to decide what table you buy, ensuring that you're always training on a great table.
Disadvantages
An outdoor ping pong table leaves you at the mercy of mother nature. And if she's feeling mean, you won't be playing table tennis. If it rains, you'll miss your session. And, you might also have to wait for the ground to dry before you can safely play again as well.
If it hasn't rained, the wind can still hurt your game. Table tennis balls are very light, and even the slightest gust of wind will throw a table tennis ball off course. I've played table tennis many times outside on slightly windy days, and I always leave feeling frustrated. I toyed with the idea of having some kind of an erectable, wind-break gazebo to combat the wind, but I never ended up making one. Perhaps this is something you could do if you live in a windy area.  
Excessive sunlight is another pain. Table tennis is best played outdoors when it's not too sunny. On sunny days, your eyes will be distracted and compromised every time you look up.  You can also lose the ball on the table sometimes when there's glare. This is why an anti-glare surface is a must for your outdoor table tennis table.
The ground level and material of your outdoor space are other elements you should consider. The ground should be fairly flat, but it doesn't have to be dead-straight, as most tables allow you to level the legs. The ground I played on was uneven cobble, which was a nightmare because the ball always bounced off at unpredictable angles.
Additionally, if your ground surface doesn't allow the balls to bounce, this may also be maddening. That's a lot of bending down that we aren't used to doing in sports halls and the like.
The final drawback is how many balls you will lose. And trust me, you will lose many. As someone who edged the ball more times than I care to mention, I fired balls into my neighbor's garden like there was no tomorrow. I actually ended up constructing a large net over my fence to capture some of the balls I would have otherwise lost. Top tip: only use cheaper training balls, unless you have a large garden. You won't miss them as much as your precious 3-star balls.
What is the Difference between Outdoor Tables and Indoor Tables?
What doesn't change from indoor to outdoor tables is the size. Both predominantly come in full size, so you won't have to change your shot placement or power.
The main difference between outdoor and indoor tables is the bounce of the ball. Outdoor tables are often made of metal and wood, with an anti-glare, waterproof coating to prolong their life. While this is well-suited for the outdoors, the bounce is noticeably lower on outdoor tables than on indoor tables. This can throw off your timing and ruin your rhythm. I've also found that the ball tends to skid more off an outdoor ping pong table, and the spin is significantly diminished.
If you're a strong table tennis player, you'll want to make sure you get an outdoor table that has a great bounce, similar to that of indoor tables.
The 5 Best Outdoor Ping Pong Tables You Can Order Online
#1. Butterfly Easifold Outdoor Rollaway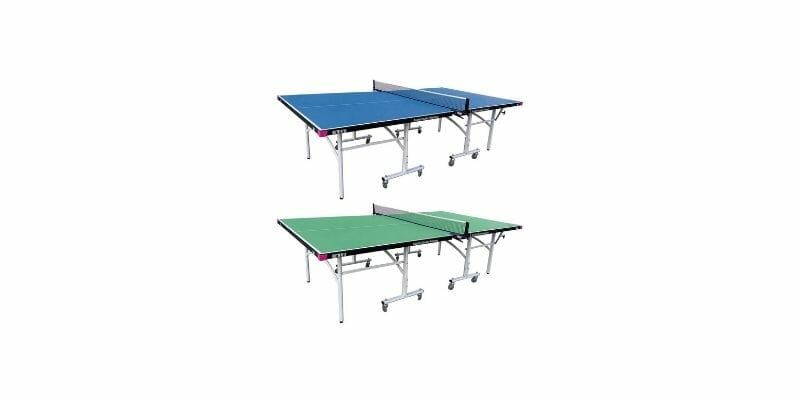 Pros:
12mm thick surface
Very strong tabletop
Nests for storage
Fold-up playback feature
Weatherproof net included
Leg levelers
3 -year warranty
Cons:
Small wheels
Requires some assembly
The Butterfly Easifold Outdoor Rollaway is Butterfly's most popular outdoor table, and it's easy to see why. The table has a 12mm COMPREG top made up of 11 different layers of plywood-treated resin.
This model easily trumps most outdoor tables, which are not only around half as thick but are also produced with inferior materials, such as melamine and aluminum. The stellar tabletop alone makes the Easifold Outdoor Rollaway the best outdoor ping pong table.
It also nests for storage and has leg levelers that are useful if you're playing on uneven surfaces. The table comes with a 3-year warranty, which is pretty respectable.
#2. Cornilleaux 300X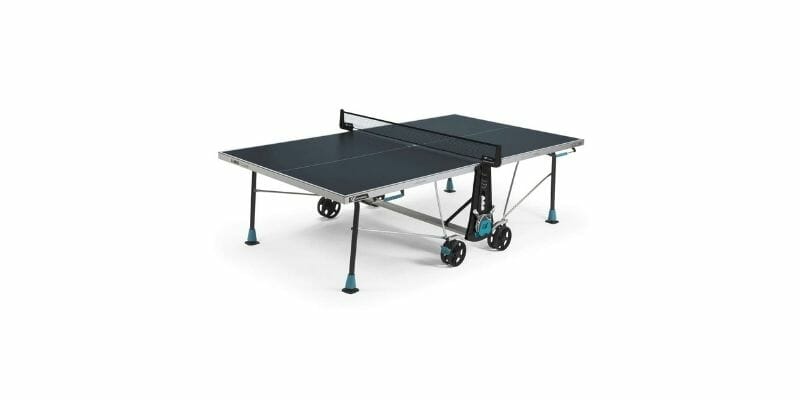 Pros:
Anti-glare surface
COMPACT TECHNOLOGY folding system
Double oversized wheels
Point counters
10-year warranty
Leg levelers
Ball and bat holders
Cons:
Expensive
Requires considerable assembly
As an expert for outdoor tables, it should be no surprise that a Cornilleau table makes this list. The 300X is a robust outdoor table with an emphasis on stability and safety, with a sturdiness that makes it resistant to falling over. It has double oversized wheels and 16 locking points so you can open and close the table safely.
The 300X also has a lot of other great features you won't find on many tables, such as bat and ball storage and a beaded point scorer.
The playing surface is a 5mm thick laminate paired with a SOFTMAT anti-glare coating. We love that it is anti-glare, but at 5mm, it's not the thickest of tables. All things considered, it is still one of the best outdoor table tennis tables.
For more information, check out our full review of the Cornilleau 300X.
#3. Stiga XTR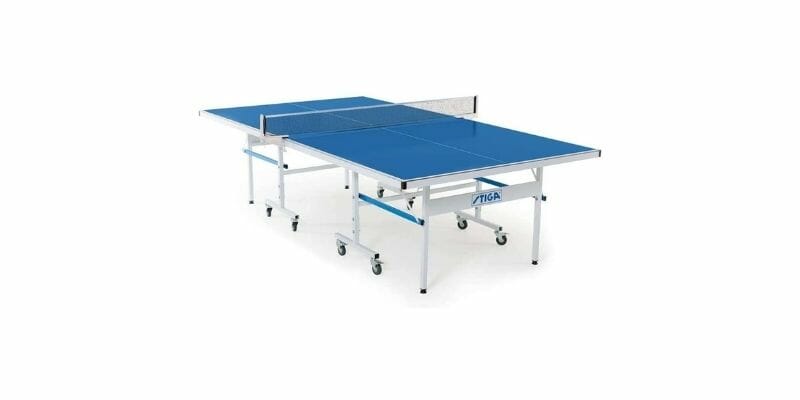 Pros:
6mm thick surface
Fold-up playback feature
Weatherproof net included
Leg levelers
Nest storage
Very well priced
Cons:
Requires some assembly
1-year warranty
The Stiga XTR outdoor table tennis table gives a lot of bang for your buck. For this reason, it's received outstanding reviews and ranks as an "Amazon's Choice" product.
The 6mm thick aluminum composite surface provides a decent bounce for an outdoor table and excellent resistance to the outdoors. It is entirely waterproof, and the legs easily adjust to help you play on uneven surfaces.
If you have a limited budget, you really can't go wrong with the Stiga XTR. It does not have the top features, but at its price, it's practically unbeatable. The Stiga XTR is a great table for outdoor training or for simply having fun with the family.
For more information, check out our full review of the Stiga XTR.
#4. JOOLA Motion Outdoor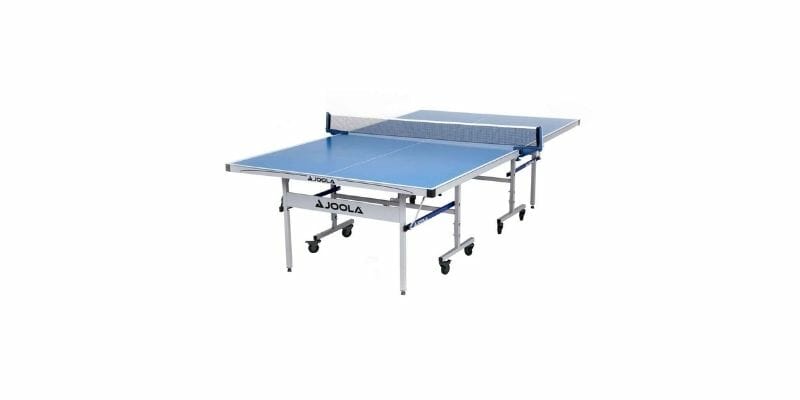 Pros:
6mm thick surface
Nest storage
Leg levelers
Anti-tilting device
Weatherproof net included
Fold-up playback feature
Well priced
Cons:
The JOOLA Motion Outdoor is a well-priced outdoor table that has all the features you need to have a fun time playing outside. The surface is a 6mm aluminum, plastic composite that provides a decent bounce for an outdoor table, and is resistant to deformation and damage.
Much of the structure is rust-resistant and you can easily level the table to keep the playing surface straight. Like many tables, it has nest storage to minimize the space it takes up when not in use and to fold up on one side for solo play.
The weatherproof net is a nice add-on, making the JOOLA Motion Outdoor a super weatherproof ping pong table.
#5. Butterfly Playback Outdoor Rollaway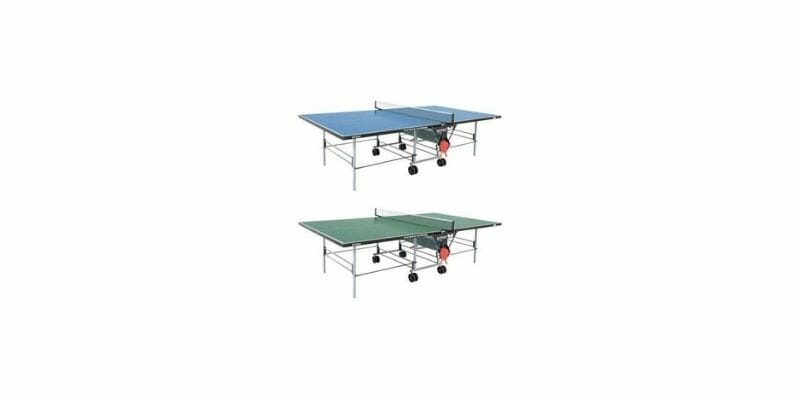 Pros:
Ball and racket holders
Fold-up playback feature
Lightweight
Net included
5-inch double wheels
3-year warranty for frame & 10-year warranty for the top
Cons:
Requires considerable assembly
No leg levelers
The last table on this list is the Butterfly Playback Rollaway. An outdoor ping pong table should be both resilient and highly portable for uneven terrain. The outdoor rollaway excels in this regard. The 6mm synthetic laminate top sits on an upgraded frame, making it resistant to considerable damage.
The large 5-inch double wheels also ensure that the table can easily wheel wherever needed, across virtually any terrain. I would just advise taking your time moving it, as it's quite light in weight. Although the large wheels should minimize the risk of it falling to one side, you're better safe than sorry.
The major drawback of the Playback Outdoor Rollaway is that it requires extensive assembly.
For more information, check our our full review of the Butterfly Playback Outdoor Rollaway.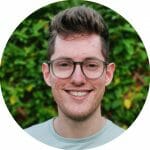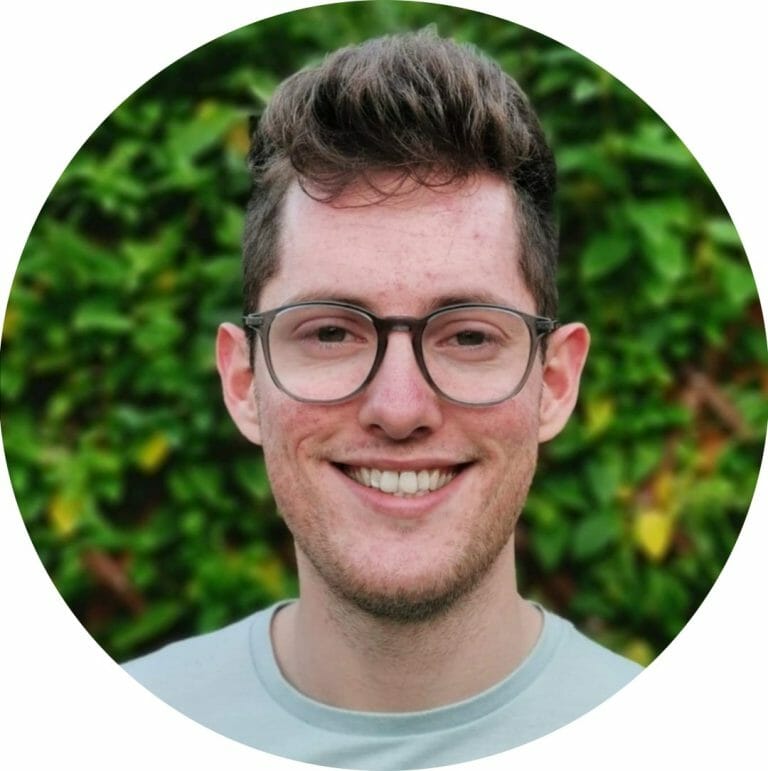 Freelance writer. Table tennis enthusiast. Lover of all things online. When I'm not working on my loop game I'm probably binge-watching some fantasy show.