The Best Ping Pong Table Covers: Reviews and Buyer's Guide
A good ping pong table can be pretty expensive, and after buying a new one, the last thing you want is for it to get damaged. Having a good quality ping pong table cover is essential to keeping it safe and in the best condition possible for play. My last cover kept my table in great shape, and it was definitely worth the investment.
Table tennis covers protect your table against rainfall, dirt, and to some extent, even the sun's harmful UV rays. Both indoor and outdoor versions are available. As it stands, the best ping pong table cover is by Covermates. It features reinforced corners and buckles to prevent it from blowing away.
In this guide, we are going to review some of the best ping pong table covers on the market as well as look at some of the things you'll want to consider when buying one.
Featured Products
At a Glance: The Best Ping Pong Table Covers in 2023
Why You Should Trust Us
We here at Ping Pong Ruler may enjoy all sports, but we are experts when it comes to table tennis. I've been playing table tennis for over 10 years now, and have competed in various national competitions. During this time I've purchased countless table tennis products and developed the knowledge to discern the good from the bad.
For this review, I focused on durability, material quality, appearance, and how secure each cover attaches to the table.
Outdoor Ping Pong Table Cover Reviews
Please remember you can use outdoor covers indoors but not vice-versa. Most table tennis covers are for outdoor use but a select few are for indoor use only.
#1. Covermates Cover — Best Overall

Specifications
Size: W110″ x D60″ x H30″
Material: Water-resistant 300D polyester
Weight: 4.25 lbs
Warranty: 3-year warranty
table cover is this from Covermates. It's ideal for protecting your outdoor ping pong table as it's made of water-resistant 300D polyester. This protects your table from all that mother nature can throw at it. To keep it in place in high winds, it has a fastener strap to stop it from blowing away, giving you peace of mind. Not only is it great quality with thoughtful features, but, Covermates also guarantees it with a 3-year warranty.
I'm glad to see the cover features reinforced corners as this area is particularly weak. My last cover had me placing tonnes of duct tape to cover up all the corner holes! It also has one neat feature that the others don't: paddle pockets. This means you can keep your paddles with your table to never lose them. Please note that only do this for outdoor paddles!
Although formerly an upright version of the Covermates cover was available, as it stands, they only sell the version for open table tennis tables. Similarly, a black version was once available, but now the only color option is khaki.
Pros
Very easy to take on and off
Reinforced corners
Long warranty period
Fastener to prevent it from blowing away
Includes paddle pockets
Our rating: 9.5
#2. BEILLER Ping Pong Table Cover — For Windy Areas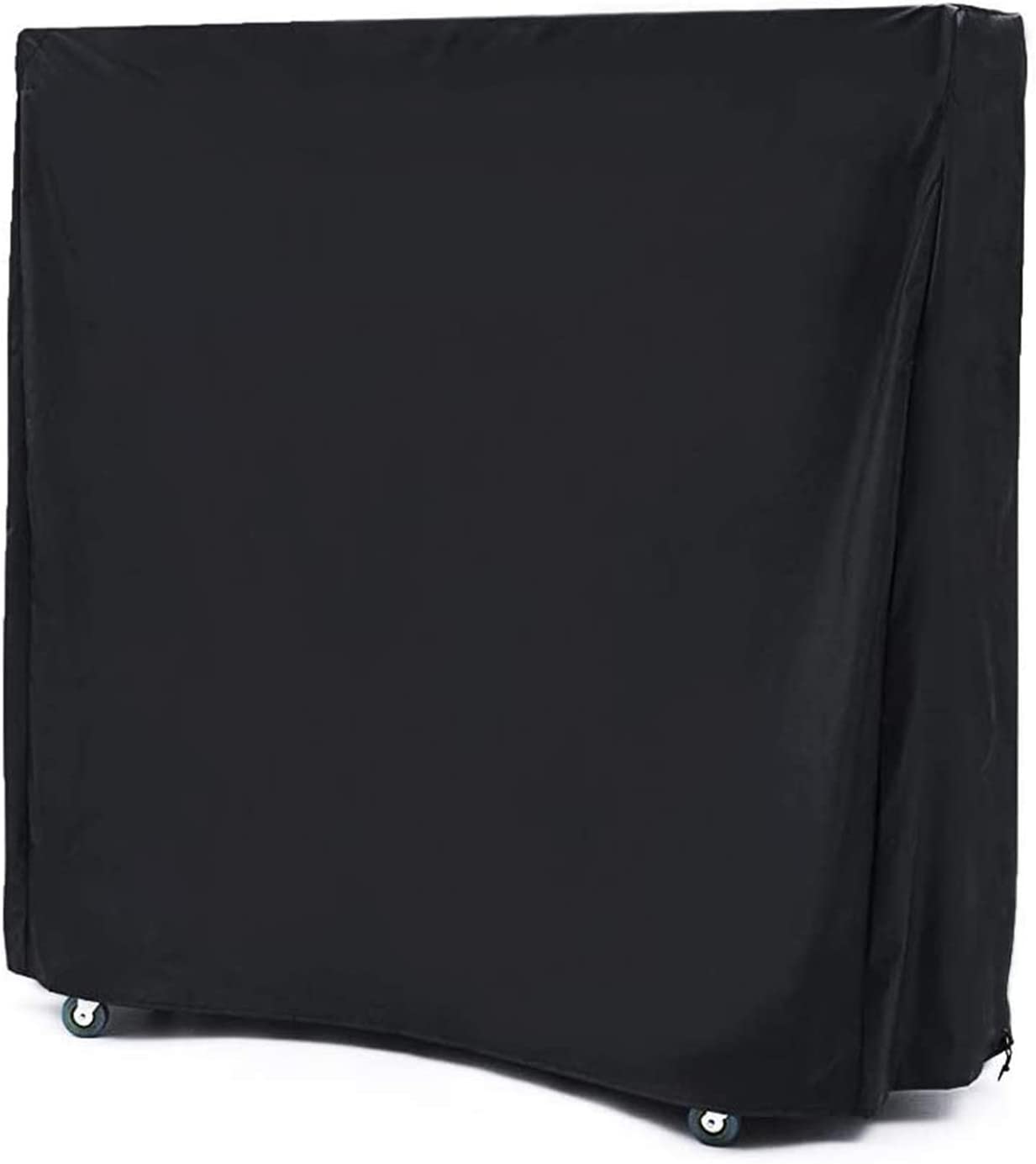 Specifications
Size: W65″ x D28″ x H73″
Material: 420D Oxford fabric
Weight: 2.15 lbs
Warranty: Not listed
The BEILLER cover another good option to keep your table safe when you're not using it. It's made of 420D Oxford fabric. It features a PVC inner layer, a polyester middle layer, and finally, a UV-coated exterior. All these layers make it fairly heavy-duty, suggesting it is a good choice for windy areas. This is further supported by the elastic hems and buckles, which help to keep it firmly attached to your table.
While it's true BEILLER is not a ping pong brand, it really doesn't need to be. We are not talking about paddles and balls here, so going with a well-recognized table tennis name doesn't necessarily mean you will receive a better cover. Considering the outstanding reviews from buyers, and the price tag, which is notably cheaper than the others on this list, we think this is one of the best outdoor table tennis covers for windy areas.
Pros
Provides good protection against wind, rain, and sun
Secures well to table
Inexpensive
Our Rating: 9.3
#3. Cornilleau Table Cover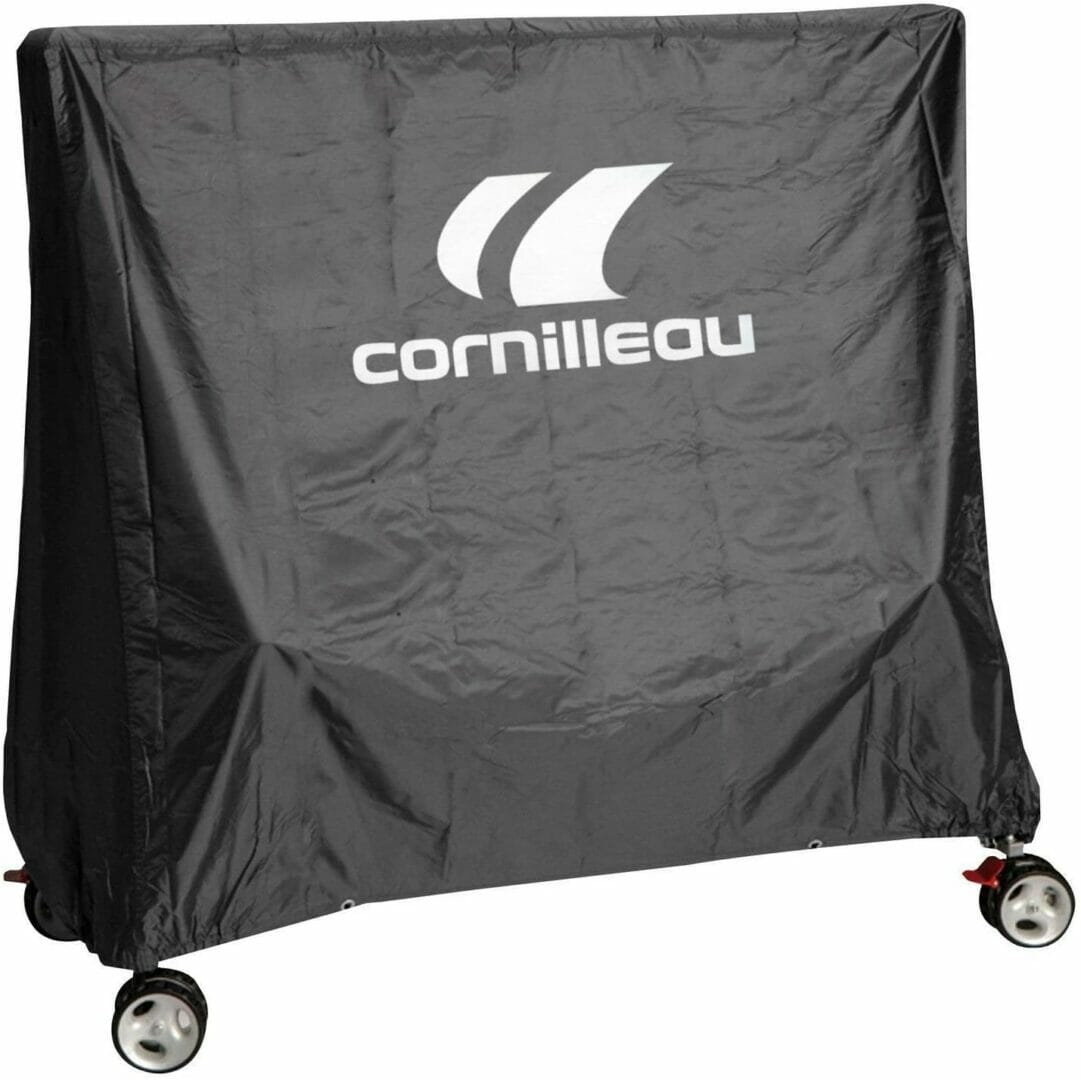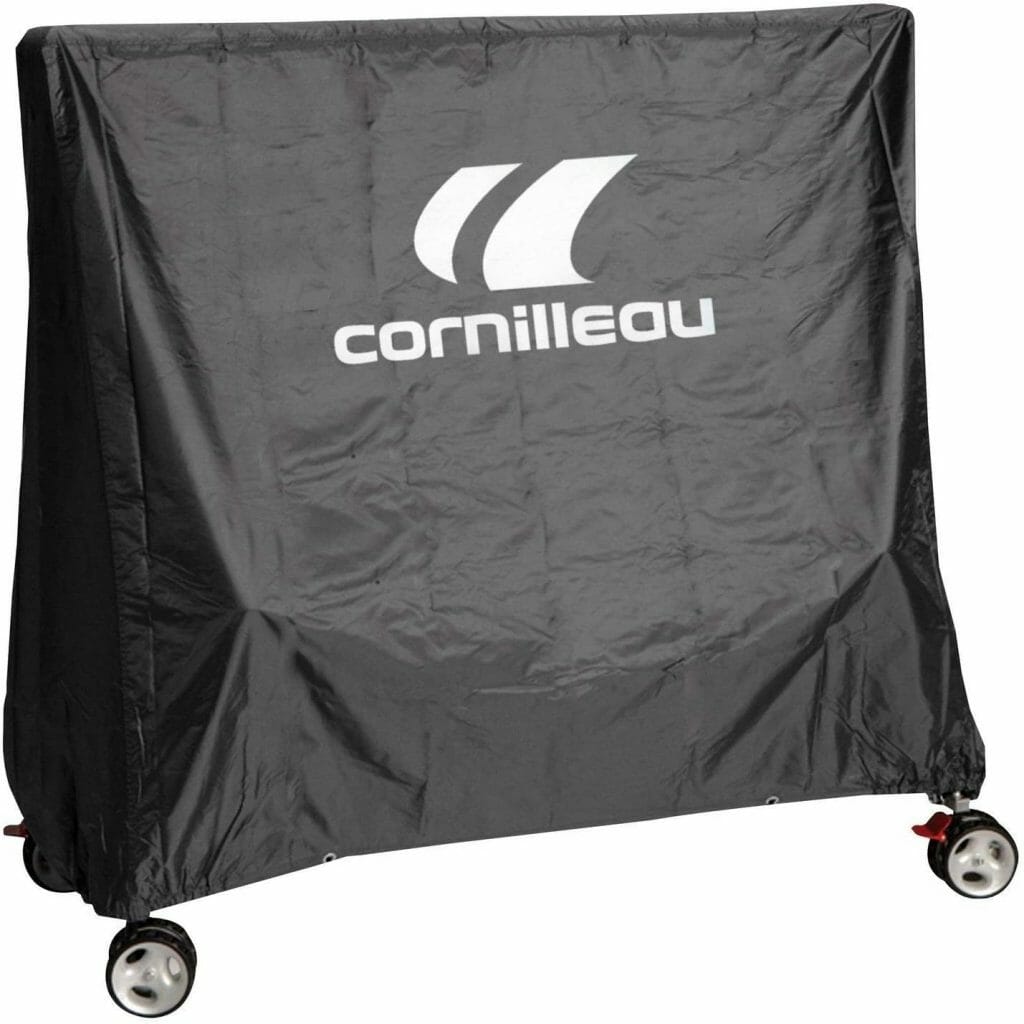 Specifications
Size: W63″ x D10″ x H53″
Material: Polyester
Weight: 5.6 lbs
Warranty:
This polyester cover from French table tennis brand Cornilleau is another high-quality cover option for you to consider if you want one to use . It is made of lightweight polyester and will do a great job of keeping your table free from any dirt, dust and .
But 's a catch… It is only for folding tables that are in the closed position you  is not   for you.
Pros
It comes with a one-year warranty
Lightweight
Our Rating: 8.9
#4. STIGA Indoor/Outdoor Premium Table Cover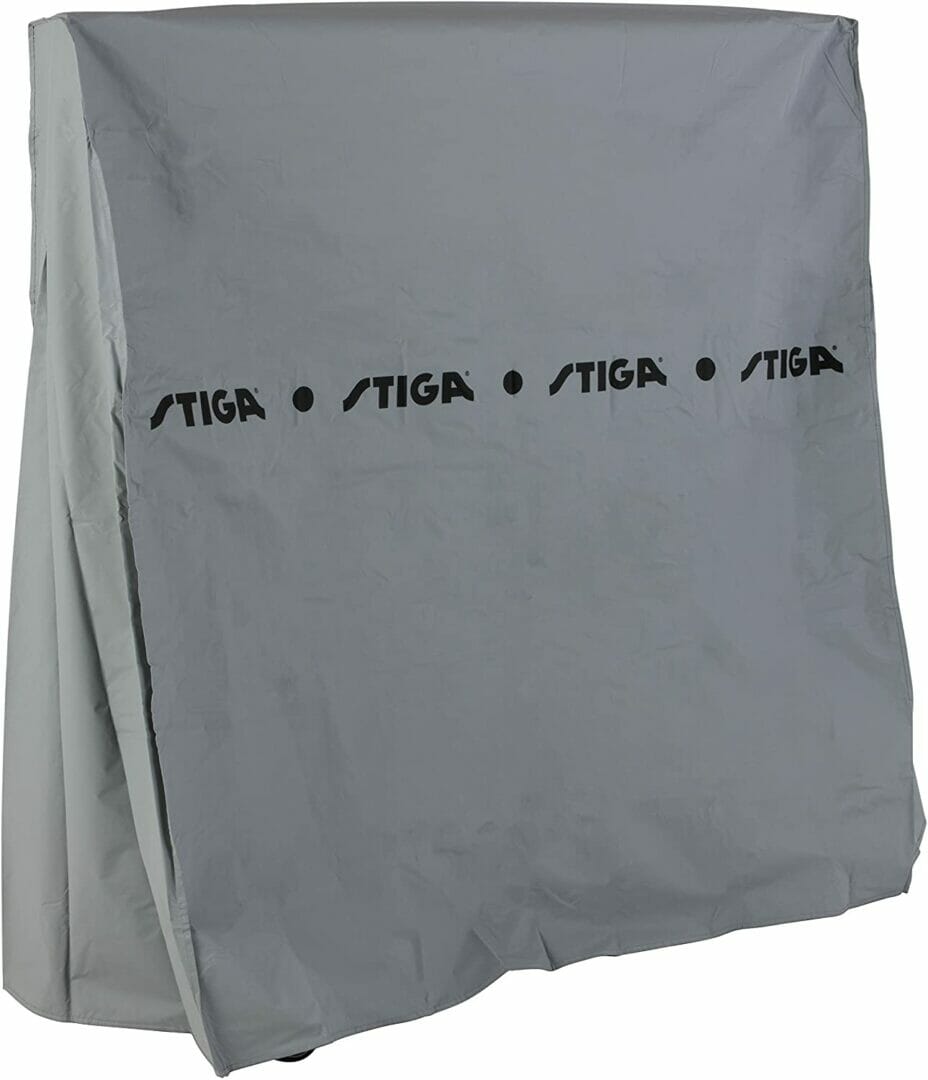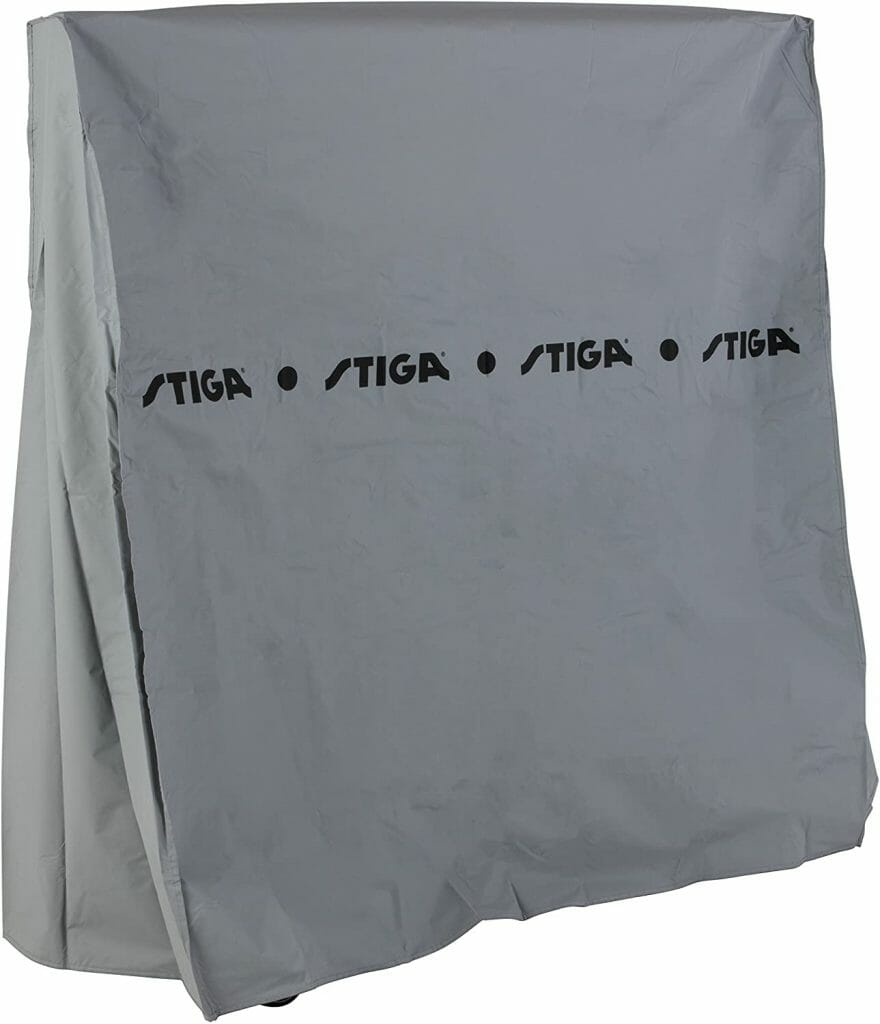 Size: W66.5″ x D61″
Material: Polyester
Weight: 3 lbs
Warranty: 1-year warranty
The STIGA Indoor/Outdoor Premium is another cover made on both indoor as well as outdoor tables. That being said, we wouldn't recommend this one if you plan to leave your table outside all year round. The polyester used in the construction of this cover is of high quality, it cannot handle heavy rainfall. It's better suited to indoor storage as it will keep dust and dirt at bay and is very easy to put on and off.
Pros
Will keep the surface clean and scratch-free
Lightweight and convenient to use
Cons
Only for the upright position
Prone to tearing at the corners
Our Rating: 8.6
Our final outdoor cover is by top table tennis brand Kettler. Their cover has a mixed composition of 70% polyester and 30% PVC. They also used a 500 Denier coating for UV protection, making this cover completely weather-resistant. The cover weighs 300 GSM and includes double stitching and additional material in the weak points for maximum protection, much like the cover by Covermates.
It's super easy to remove with its full-length zippers, which most people will appreciate, but it's extremely lacking in fasteners. It doesn't have any buckles or elastic hems, so this is not a cover I would want if I lived in a windy area (which I do!). That being said, it's perfectly suited to tackle rainfall and extreme heat.
It even features an air vent on the top, which seals with Velcro. Its purpose is to improve airflow, but I doubt it's worth using, if I'm honest.
Pros
Tackles rainfall and extreme heat well
Easy to remove with zipped closure
Long warranty
Cons
Prone to windy conditions
Only for closed position
Our Rating: 8
#1. JOOLA Ping Pong Table Cover — Budget Choice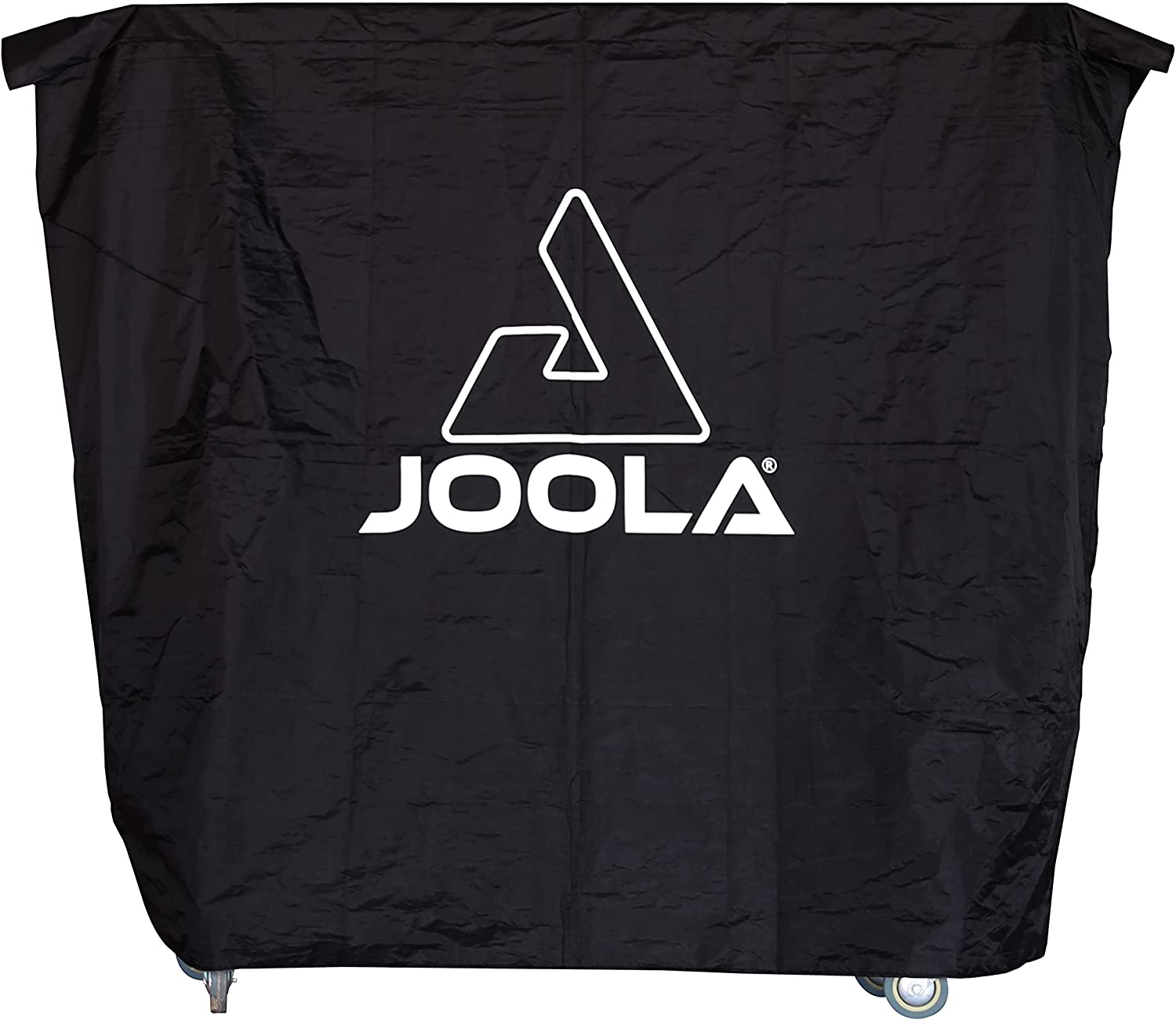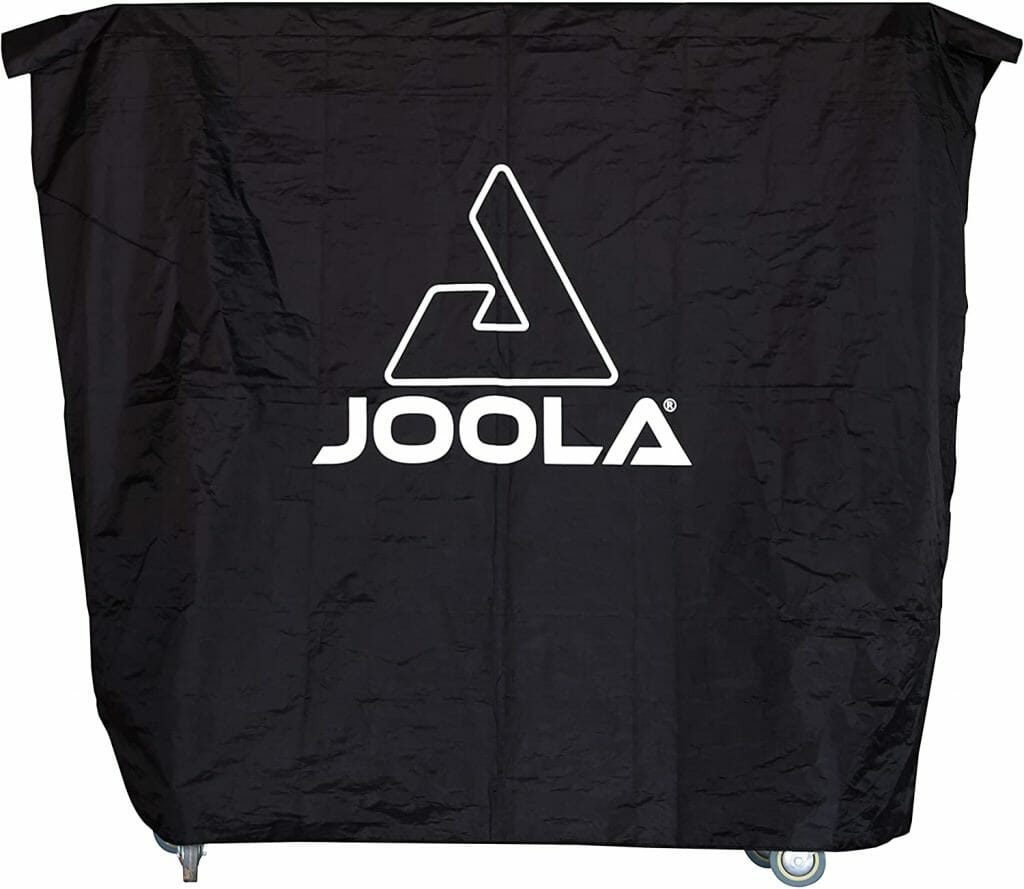 Up next is our budget choice the JOOLA ping pong cover. You can also purchase the weatherproof version for a little more . The indoor version is made from thermoplastic nylon — a highquality lightweight resistant material that will keep your table safe from dust and scratches. cover also works when your table is in a playing or storage position, which is a huge plus. So if you're short of cash and want an indoor option, we think the JOOLA cover is one of the best table tennis covers you can get.
Pros
Inexpensive
Made from thermoplastic nylon (durable and lightweight)
Velcro attachment for convenience (easy to set up)
Use on both the upright storage and the playing position
Cons
Not suitable for use outdoors
Our Rating: 8.7
Why Do You Need a Cover for Your Table Tennis Table?
Do you even need a cover for your table? It's a good question, but the likelihood is that you've already spent a good few hundred dollars on your ping pong table, so why neglect that investment? The last thing you want is for it to become damaged in a way that you could have prevented.
A Cover Keeps It Clean
Keeping your ping pong table clean is key to making it last and look great. over for a game only to find that your table has animal droppings, is completely covered in dust, or even worse, badly damaged. Using a ping pong table outdoor cover will ensure that your table's surface remains clean, well-protected, and looking tip-top. If you need to clean your table, check out our guide on cleaning a ping pong table here.
Table Tennis Table Covers: A Buyer's Guide
Material
When choosing a cover, you need to consider what it's made from. You need to pick the right kind of materials depending on where you store your table. If you're storing it outside, you'll need a ping pong table cover that's waterproof.
If you're lucky enough to live in a particularly sunny area, you might want to look for a UV protection cover. Otherwise, your table can lose its color. If that's the case, you'll want to look primarily for HD vinyl or PVC covers rather than something like nylon.
Table Dimensions
Make sure that the covers fit snugly. Whether flat or upright, you need to measure the dimensions closely and keep a buffer of one or two inches just to be safe. Check the specs of the cover you're looking at against the measurements of your table for an adequate fit.
Fastener
Leading on from dimensions, you might want to consider covers that include some kind of fastener. This prevents the cover from blowing away during windy periods. This might not be important to you if you don't live in a particularly windy area. However, for us, it's not worth the risk! The last thing you want is to go outside to find your cover has vanished.
Price
Table tennis covers vary greatly in cost. You can expect to pay anywhere from around $24-$120. While $120 is a lot to spend on a cover, it could be worth the investment if it provides the best protection and lasts the longest.
Warranty
Your intention when buying a cover is to prolong the life of your outdoor ping pong table, and the cover can only do this for as long as it holds together. If it's falling apart it won't effectively protect your table, and a long warranty period ensures that it functions as it should.
The Different Types of Ping Pong Table Covers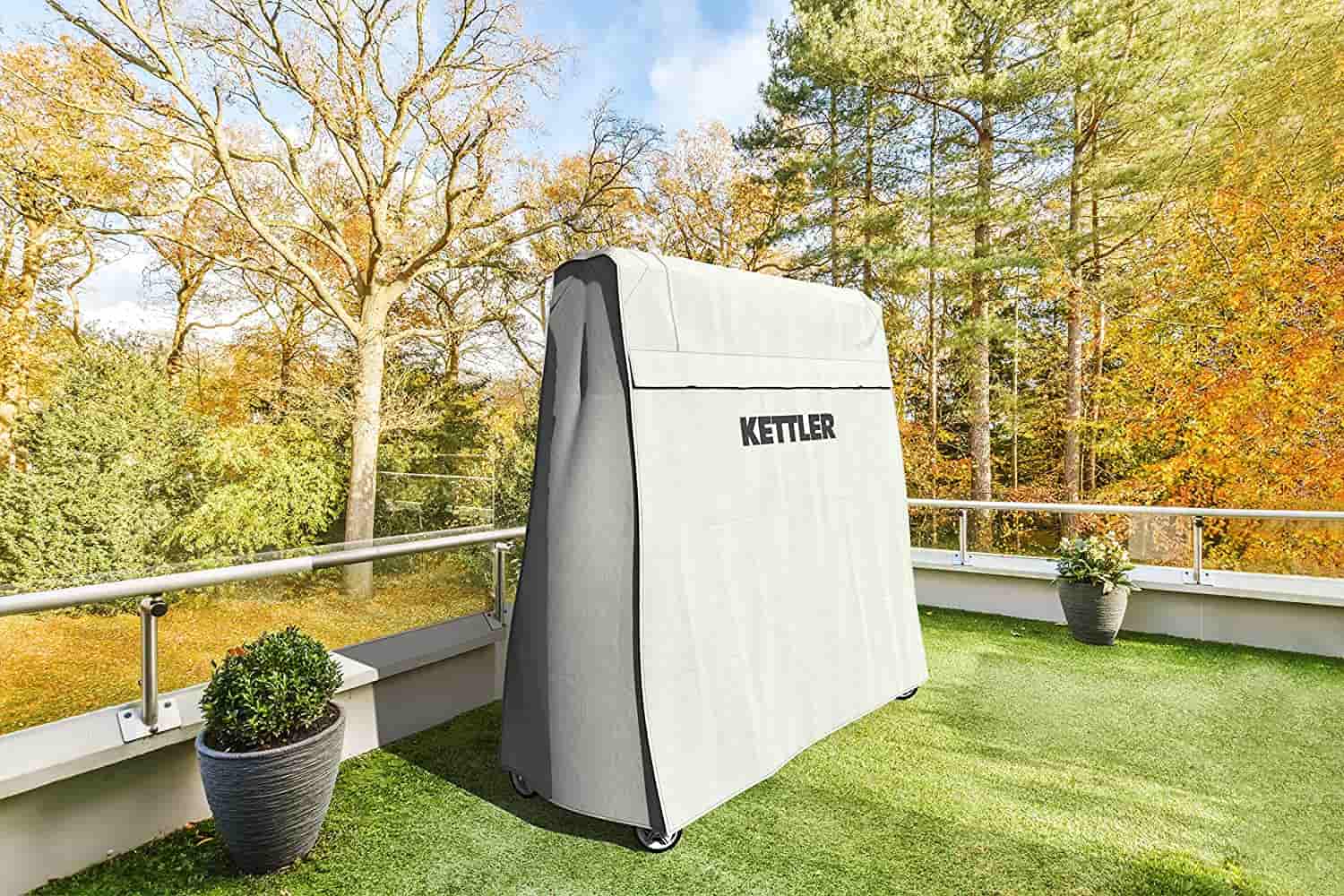 Depending on how and where you store your table, you need to choose the correct ping pong cover design
Indoor Table Covers
These are the covers that are suitable for indoor tables. For instance, you can use these covers in houses, garages, and clubs. Manufacturers of these covers use lighter materials and they only offer the basic level of protection from moisture, dust, and dirt.
Outdoor Table Covers
Outdoor ping pong table covers are made of more heavy-duty materials and are sturdier than their indoor counterparts. These covers are designed with the ability to withstand all weather conditions as they use high gauge water-resistant materials.
Dual Function Covers
As the name suggests, these covers are suitable for both indoor and outdoor usage. They usually combine the lightness and ease of use of an indoor table cover with the heavy gauge and durable materials of an outdoor table cover, thus making them pretty effective against all kinds of conditions.
Popular Table Tennis Table Cover Brands
Several brands are making quality covers, but the most important thing is to look at their customer reviews, especially the negative ones. The brands that we rate are Covermates, JOOLA, STIGA, Classic Accessories, and Cornilleau. Some of these manufacturers not only make great ping pong table covers, but all sorts of other table tennis equipment like tables, paddles, and robots.
Upright vs Flat Covers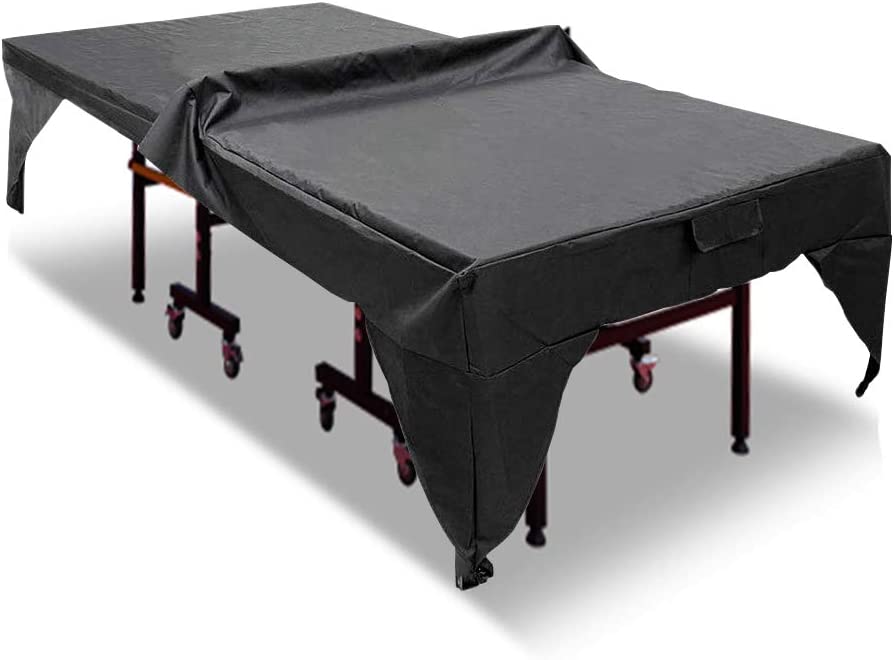 Ping pong tables have two positions: open and closed, and manufacturers addressed this by creating upright covers and flat covers. As the names suggest, upright covers are for tables that are in the folded position. Conversely, flat covers are for when the table is open and ready to be used.
Most of us fold up our tables when they are not in use, so upright covers are more common as they are in higher demand. However, some people prefer to leave their table open. In fact, some tables, like stationary models don't even have a folding feature. So these players need flat covers. Make sure you double-check the type of cover before you purchase yours.
Also, a select few models work on both types of table positions, so these are great for everyone.
Conclusion: Which Cover Should You Buy?
To sum up, any ping pong table cover is better than no cover.
And for us, the winner of the best ping pong table
Read more: If you're looking for a new ping pong robot, check out our post on the best table tennis robots here.
Frequently Asked Questions
How Should I Store My Table?
If you leave your table outside all year round, then you'll want to get a highly durable table cover. We always recommend keeping it in a garage or inside to keep it in the best condition possible, though.
Another element to consider is the form in which you store your table. Do you leave it unfolded and ready to play? Or do you fold it up to be a bit more efficient with space? Some covers work for both table orientations, but most are specifically designed for folded table application. Always check that your cover can fit over the table how you store it.
What Can Damage a Ping Pong Table?
Ping pong tables, like everything, are susceptible to damage. Tables can get scratched or even have sizeable wood chunks gouged out both when playing or from falling objects. You can help mitigate potential damage to the table surface by closing up your table, but this doesn't completely eliminate the risk.
If you are playing outdoors, you expose your table to more harmful elements.
Are Ping Pong Tables Waterproof?
Only outdoor tables are waterproof. Most table tennis tables are indoor models. They will quickly become ruined if left out in the elements.
Do You Need to Cover an Outdoor Ping Pong Table?
While you don't have to cover outdoor ping pong tables, it is highly recommended. Outdoor tables are waterproof and resist harsh weather conditions, but they, too, over time, will degrade. Warping and rust are something you may experience over the course of several years depending on the quality of your outdoor table.
Given that waterproof ping pong table covers are very inexpensive relative to purchasing a whole new table, buying a ping pong cover for an outdoor table is a no-brainer.
What Can I Use to Cover a Ping Pong Table?
Purchasing a dedicated ping pong table cover for the outdoors is best. However, you could make your own cover using materials such as vinyl, polyester, or PVC.
Can I Machine Wash My Ping Pong Table Cover?
No product listings seem to specify whether table tennis covers are machine washable. I would err on the side of caution and avoid machine washing. If you need to clean your cover, try hand washing instead.

Freelance writer. Table tennis enthusiast. Lover of all things online. When I'm not working on my loop game I'm probably binge-watching some fantasy show.