A good ping pong table can be pretty expensive and after buying a new one, the last thing you want is for it to get damaged. Having a good quality table tennis table cover is essential to keeping it safe and in the best condition possible for play.
In this guide, we are going to review some of the best ping pong table covers on the market as well as look at some of the things you'll want to consider when buying a new one.
At A Glance: The Best Table Tennis Table Covers in 2021
Table Tennis Table Covers: A Buyer's Guide
Before we look at the individual table cover reviews, let's look at some of the tings you need to consider before buying one.
Why do you need a cover for your table tennis table?
Do you even need a cover for your table? It's a good question but the likely hood is that you've spent a good few hundred dollars on your ping pong table. The last thing you want is for it to be damaged by something that could have been prevented. Here are a few reasons why it's so important to purchase a cover for your table.
A cover keeps it clean
Keeping your ping pong table clean is key to making it last and looking great. The last thing you want is to invite people over for game only to find that it's got animal droppings all over it or is completely covered in dust. Using a cover will ensure that the table surface will remain clean and your table won't look unappealing. If you need to clean your table then check out our guide on how to clean a ping pong table here.
Prevent scratches
Another huge advantage of having a cover on your ping pong table is that the table's surface will remain free of scratches. These scratches can cause the ball to bounce unevenly and it can make your playing experience very annoying and frustrating.
Protect it from the elements
Having a cover on your ping pong table will keep the table safe from any external elements. Sun, rain or snow is not going to damage your table and it will remain functional for a long time to come.
The Different Types Of Ping Pong Table Covers
Depending on how and where you store your table you might need to go for one cover over the other. Here's
Indoor table covers
These are the covers that are suitable for you to use indoors. For instance, you can use these covers in houses, garages, and clubs. Manufacturers of these covers use lighter materials and they only offer the basic level of protection from moisture, dust or dirt.
Outdoor table covers
Outdoor table tennis table covers are made of more heavy-duty materials and they are sturdier than their indoor counterparts. These covers are designed with the ability to withstand all weather conditions as they are made of high gauge water-resistant materials.
Dual Function covers
As the name suggests, these covers are made for both indoor and outdoor usage. They usually combine the lightweight and ease of use of an indoor table with the heavy gauge and durable materials of an outdoor table to mean they are pretty effective against all kinds of weather.
Other things to consider
There are a few other things to think about when buying a ping pong table cover. Let's have a look at some of them now.
Materials
When choosing a cover, the materials that it's made of is going to be a key point to consider. Depending on where you store your table, you need to pick the right kind of materials. If you're storing it outside you'll need a fabric that is waterproof.
If you're lucky enough to live in a particularly sunny area, then you might want to look for a cover that offers UV protection. Otherwise, your table can lose its color. If that's the case then you'll want to look primarily for covers made of HD vinyl or PVC rather than something like nylon.
How to store your table?
If you leave your table outside all year round then you'll want to get a very highly durable table cover. We always recommend keeping it in a garage or inside to keep it in the best condition possible.
The other thing is do you leave your table unfolded and ready to play? Or do you fold it up to be a bit more efficient with space? Some covers can be used on both table orientations but others are specifically designed to be used on one. Always check that your cover can fit over the table how you store it.
Your table dimensions
Make sure that the covers fit snugly. Whether flat or upright, you need to measure the dimensions closely and keep a buffer of one or two inches just to be safe. Check the specs of the cover you're looking at against the measurements of your table for an adequate fit.
Price
As with all everything in life, if you want to get a cheap cover then you'll likely have to compromise on a bit on quality. Ping pong tables can be pretty expensive and you need to take some extra care so that you can extract full value from your investment and make it last for years to come. We recommend going for one of the covers we've listed above but again look for one that has the features (UV protection, water resistant etc) that you need.
Popular Table Tennis Table Cover Brands
There are a number of brands that are making good, quality covers but the most important thing is to look at their customer reviews, especially the negative reviews. The ones that we rate are: Covermates, JOOLA, STIGA, Classic Accessories, and Cornilleau are some of the top brands for table tennis covers. These are some of the top manufacturers of not just ping pong table covers but also sorts of other table tennis equipment like tables, paddles and robots. If you're looking for a new ping pong table check out our post on the best table tennis tables here.
Ping Pong Table Cover Reviews
Now we'll move on to our top rated cover reviews. We've ranked these in order but some of them are meant for indoor tables and some are meant for outdoor tables so make sure you check which one you need before going with our recomendation.
#1. Covermates Cover (Our Favorite)
Our favorite table tennis table cover is this one from Covermates. It's ideal for protecting your outdoor ping pong table as it's made of commercial-grade vinyl which ensures that your table will be well protected from all that mother nature can throw at it. To keep it in place in high winds it has a fastener flap to stop it from blowing away giving you peace of mind. Not only is it great quality with thoughtful features, but, they also guarantee it with a 2-year warranty.
Depending on what you're looking for and what style you prefer, it's available in two different colors: black and khaki. You can also buy it in two different orientations: Upright or flat. But, make sure you buy the correct one depending on how you plan to store your table when you're not using it.
Pros
Commercial grade vinyl and polyester (Very rugged and strong)
Available in two colors – Looks great
Suitable for outdoor use (Will protect your table well)
2-year warranty
Cons
The weight of the cover can damage the net
#2. JOOLA Dual Function – Budget choice
Up next is our budget choice the JOOLA Dual Function Table Tennis Cover. Being a dual function cover it's suitable for both indoor and outdoor use. It's made from thermoplastic nylon, a high quality waterproof resistant material that means it will keep your table safe from water and scratches. An essential feature if you plan to keep your table outdoors where rain and moisture can cause damage to your table.
Pros
Dual function ping pong table cover (use inside and out)
Made from thermoplastic nylon (very water-resistant)
Velcro attachment for convenience (easy to set up)
Can be used on both upright storage and the playing position
Cons
Lightweight and not for suitable for windy conditions
#3. STIGA Indoor/Outdoor Premium Table Cover
The STIGA Indoor/Outdoor Premium is another cover made on both indoor as well as outdoor tables. That being said we wouldn't recommend this one if you plan to leave your table outside all year round. The polyester used in the construction of this cover is of high quality but, it cannot handle heavy rains. It's better suited to indoor storage as it will keep dust and dirt at bay and is very easy to put on and off.
Pros
Will keep the surface clean and scratch-free
Lightweight and convenient to use
Suitable for indoors
Cons
Only for the upright position
Some customers reported it can tear at the corners
#4. Classic Accessories Veranda Ping Pong Table Cover
The Classic Accessories Veranda cover could be another good option to keep your table safe when you're not using it. It's made of polyester with a protective water-repellent and resistant laminated backing. This means that it is a good option for keeping your table dry even in heavy rains.
It's super easy to put on as it uses a covered zip with rip-n-grip (which is like velcro) for easy assembly. Another feature we love is the straps at the bottom to tie it to the legs of the table. This stops it from blowing away in strong winds (something that genuinely happens if you don't tie it down!)
Pros
Polyester with PVC coating on the inside.
Special protection against water
Rip-n-grip closure for ease of use
Three year warranty
Cons
No reinforcing layer on the top corners
#5. Cornilleau Table Cover
This polyester cover from French table tennis brand Cornilleau is another good option for you to consider if you are looking for a cover to use indoors. It is made of lightweight polyester and it will do a great job in keeping your table free from any dirt, dust and scratch-free.
But here's a catch… It is designed only for folded tables and you can only use it for upright designs. This cover is not the ideal option for you to choose as a flat cover.
Pros
It comes with a one year warranty
Made of polyester
Very lightweight
Suitable for indoor upright ping pong tables
Cons
Not designed for flat tables
#6. LYHNMW Waterproof Table Tennis Cover
Lastly, we have this cover from LYHNMW. It's made from oxford polyester and is designed to be used on indoor and outdoor tables. Some customers have reported that it can be damaged by excessive exposure to the sun and rain but there is a small air vent to prevent moisture from developing inside causing the table to rust or lose its coloring. It comes in two sizes so make sure you measure your table to get one that fits.
Pros
Oxford polyester for best indoor performance
It comes with a 1.5-year warranty
Cons
Isn't tied down to the table so can blow away in strong winds
Conclusion: Which cover should you buy?
To sum up, any ping pong table cover is better than no cover. It's so important to keep it in the best condition. Using a cover when it's not in use will make it last for years to come.
For us, the winner of the best table cover is the one from Covermates. The combination of the high-quality materials, the look and design, great reviews from other customers plus the affordable price mean that we recommend it whenever someone asks us.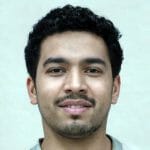 Eugene (Gene) Sandoval has been one of those guys who spent too many hours around ping pong tables in high school. However, soon enough, Gene understood that there is more to ping pong than having fun. That is how he started a journey that made Eugene one of the experienced semi-professional ping pong players in the United States. As the founder of the PingPongRuler, Eugene spends most of his time surrounded by ping pong tables and research. He always has this knack for coming up with new ping pong strategies and telling the good and bad equipment apart.