Butterfly Playback Rollaway Outdoor Review
The Butterfly Playback Rollaway Outdoor (also known as the TW24B) is an outdoor table tennis table with a ¼" (6mm) thick top and is designed for durability for families to use and store outside. It's got a lot of the features that you need to look for in a table to be used outside but is it any good? Let's take a look at some of its features.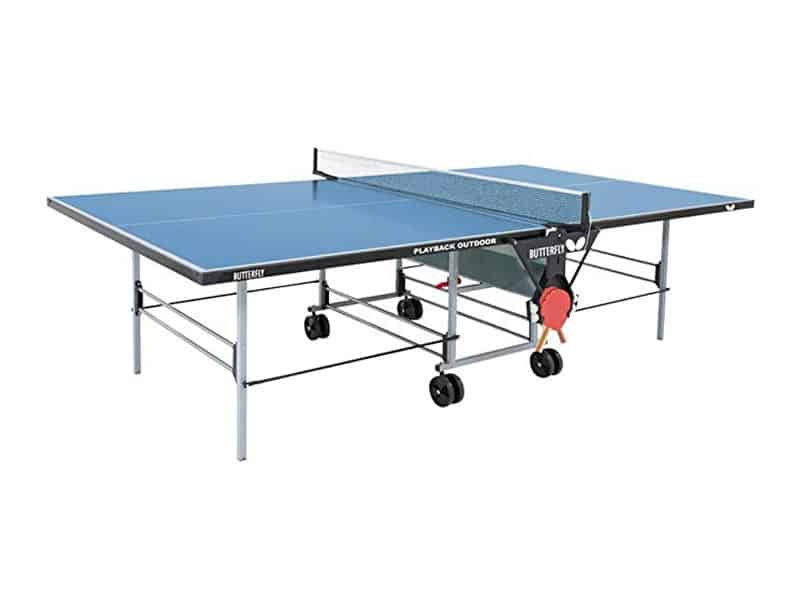 Specifications
Dimensions – 9 x 5 feet
Weight – 150 lbs
Assembly time – 2 -3 hours (and you'll need at least 2 people)
Surface thickness – 1/4″ (around 6mm)
Price – $$$ (Check current price)
Our rating – 7.0/10
Overview of the Butterfly Playback Rollaway
Being constructed for outdoor use, the table gives a different bounce than an indoor model would. However, for the purpose it is intended for, this is an excellent model. The wheels work well on many surfaces. The wheels and the ease of folding it up make it a table that can easily be moved from one location to another whether indoors or outdoors. Overall, it is good for frequent casual play.
It's not however in our top-rated table tennis tables list. To see which tables we currently recommend click here.
Weather resistant table surface
In order to withstand the effects of weather, the table has a Synthetic Laminate Top (SLT) which is ¼" thick. This material is not approved for professional play. However, for casual play among family and friends this top provides play similar to standard indoor tables.
Ease of Mobility
There are 4 sets of 5" double wheels on the table. This makes the table easy to move around, even on uneven ground. The wheels are plastic which raises some concern as to their durability. The legs are indented so it is easy to get around the table, but they cannot be adjusted to raise or lower the height.
Folds for Storage or Single Player Use
With latches to secure it and a two piece table top, the Playback Rollaway can be configured 3 ways: open for multiple person play, one half folded up for individual play, or both sides folded up for storage. Though it will stand up to the elements well, a cover is recommended to keep off dust when it is being stored.
Steel Frame
The Butterfly Playback Rollaway has a sturdier frame than the Butterfly Outdoor Home Rollaway which makes it even more durable. The legs are 1" square steel with steel support rods and a reinforcing plate. In order to prevent wear on the table edge there is a 1.5" steel rim.
Assembly
Assembling the Playback Rollaway table takes around 2 hours and needs two adults for lifting the table tops. We highly recommend checking all the parts and separating the hardware by type before beginning and having an appropriate ratchet set for all the bolts.
Durable outdoor table has SLT (Synthetic Laminate Top)
1-1/2-inch steel railing rim, 1-inch round steel legs, and welded chassis
Two safety levers on each table side provide an effective child safety feature
Folds into the playback and storage positions without removing the net and post
Net and post set included; 3-year warranty against manufacturer defects
Pros:
Safety latches for folding
Holder for 4 rackets and 8 balls
Easy to move
Cons:
Very difficult to assemble – Be prepared for a very difficult assembly process
Some parts are plastic
Tips over easily when folded for storage
Conclusion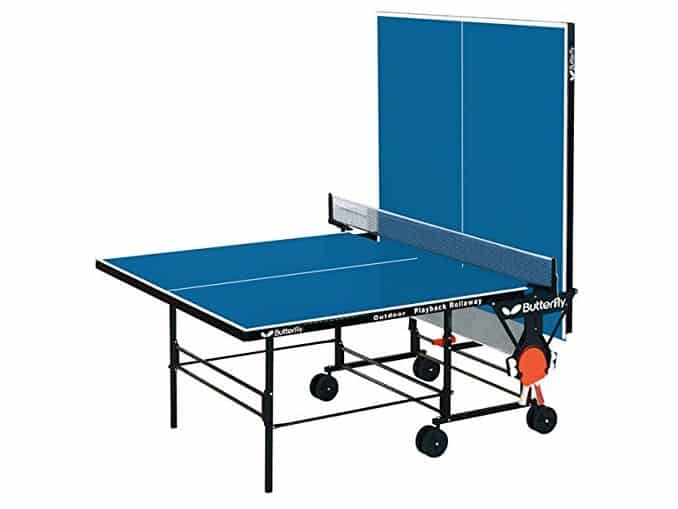 In this price range for outdoor Ping Pong tables, the Butterfly Playback Rollaway performs admirably. The steel frame is durable and the SLT table top is designed to withstand many types of weather. Caution should be taken with it in the folded up storage position as it is prone to tipping. Overall, for family fun, this is a quality investment.

Eugene (Gene) Sandoval has been one of those guys who spent too many hours around ping pong tables in high school. However, soon enough, Gene understood that there is more to ping pong than having fun. That is how he started a journey that made Eugene one of the experienced semi-professional ping pong players in the United States. As the founder of the PingPongRuler, Eugene spends most of his time surrounded by ping pong tables and research. He always has this knack for coming up with new ping pong strategies and telling the good and bad equipment apart.