Cornilleau 300X Outdoor Table Review
The Cornilleau 300X table is an outstanding FFTT approved outdoor table tennis table packed with features. As a part of its new outdoor X series, the 300X is mid-priced, offering exceptional value for beginners and advanced players alike. We rate it as the top outdoor table on the market.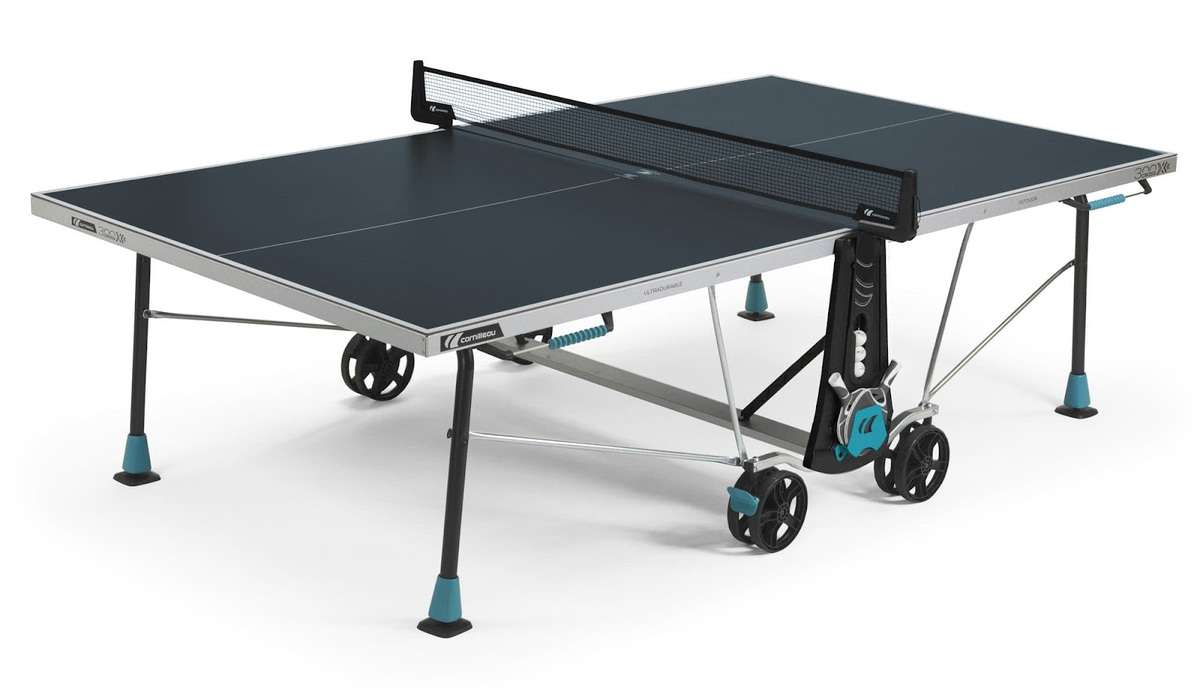 Specifications:
Dimensions: 9 ft x 5 ft (Regulation size)
Assembly time: 60-120 minutes
Surface Thickness: 5mm resin laminate
Weight: 56kg
Price: $$$$
Our rating: 9.4
Overview of the Cornilleau 300X
5mm Resin Laminate Surface
One of the most important aspects of purchasing a ping pong table is the playing surface. This will affect factors such as spin and speed.
For indoor tables, the thickness of the wood is the ideal indicator of quality. However, outdoor tables use other materials which are more resistant to heat and moisture. This can make it more difficult to ascertain the quality of the playing surface.
The Cornilleau 300X uses a 5mm resin laminate surface. 5mm is on the lower end of thicknesses for outdoor tables, but its coating is where this table really shines (no pun intended).
Outdoor tables are best enjoyed on sunny days and this means glare, and lots of it. Cheap outdoor tables almost have a gloss-like finish which is frankly blinding when you are playing. This is why the anti-glare SOFTMAT finish is so great. It diminishes the glare by up to 3 times when compared with a normal table — a super feature which you'll love.
Strong Solid Build
The playing surface is supported by a 50mm frame made of Aluzinc, a material composed of zinc, aluminum, and steel that is resilient and corrosion-resistant.        
The rest of the metal build also has a corrosion-resistant coating. As such, it is well-adapted for extreme conditions. Cornilleau also claims that the table is so robust, that knocks and scratches won't leave marks.
Furthermore, the 300X uses Cornilleau's COMPACT TECHNOLOGY folding system. This reduces the risk of the table losing its balance — a particularly great feature for windy areas.
With a total of 16 different locking points and an automatic lock failsafe at 65 degrees, it's safe to say Cornilleau has safety nailed for this table.
If this wasn't enough, the Cornilleau 300X also takes up less space than the average table once folded, reducing storage requirements.
Play on a Range of Surfaces
The Cornilleau 300X was clearly developed with varied terrain in mind. For starters, the table uses oversized double wheels. This makes it exceptionally easier to maneuver across tough surfaces such as gravel and grass. These enlarged double wheels also offer increased surface area which reduces the risk of the table falling over when it is being transported.    
Even when you have reached your desired playing area, the 300X makes adjusting the table simple. The corners of the table are easily raised and lowered using the swivel feet. Unlike many tables, you don't have to lift one end to adjust the feet. The mechanism is not directly connected to the foot itself so adjusting is effortless. The feet also adapt to whatever the surface for increased stability.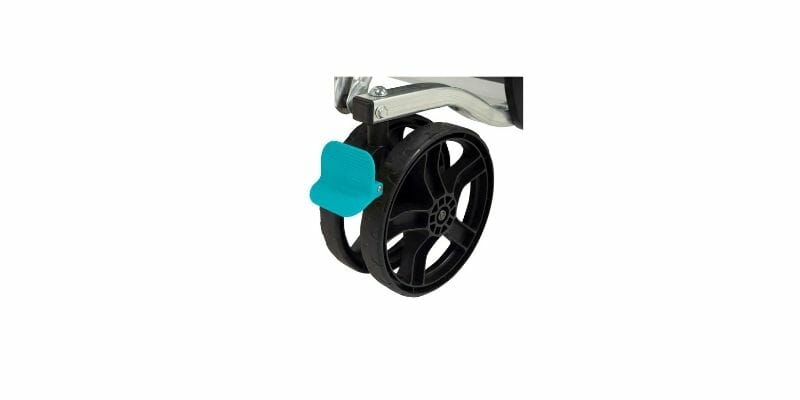 Playback Feature
As with many table tennis tables, each side can operate independently of one another. This gives you the option to leave one side in the upright position to practice with yourself.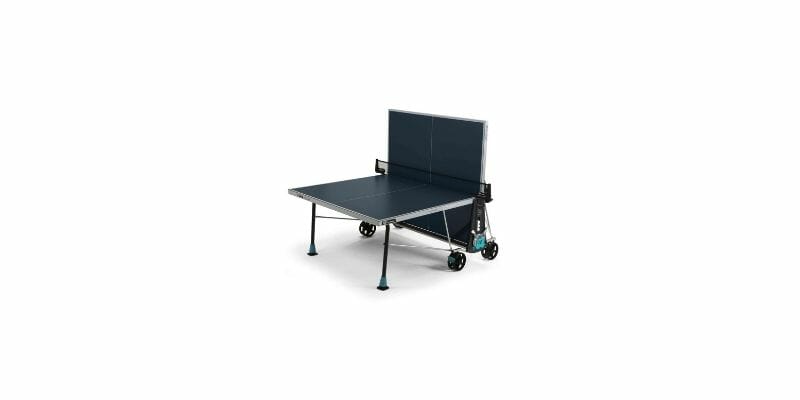 Extended Warranty
The warranty of the Cornilleau 300X is a staggering 10 years. This blows pretty much all of Cornilleau's competition out of the water. Most companies offer 1 or 2 years warranty, perhaps even 3, but nowhere close to 10.
By setting 10 years as their guarantee, Cornilleau shows that they strongly stand by the quality of their products. As it's not only the 300X they offer this guarantee on, but all of their outdoor tables. In this regard, they stand way above the other big brands.
What is interesting is that Cornilleau offers a 3-year warranty for their indoor tables — tables subjected to less extreme conditions. This cements the fact that Cornilleau are outdoor table specialists.
To further sweeten the deal, Cornilleau guarantees a 20-year availability for spare parts. We are entering crazy territory here. If durability is your main concern when purchasing an outdoor table, the 300X really is a no-brainer.    
Additional Features
The Cornilleau 300X comes equipped with quite a few features you won't see from its competitors.
The first is its foldable net. Nets are often the first part to decline on a table tennis table. This is because they stick out from the table and are easily knocked. They are also not as strong as the rest of the frame. This is why the foldable net that stores flush with the edge of the table is so useful. It easily locks in place when in use and tightens for increased tension.
Another feature we love are the included point counters located on the side of the table. They are super easy to use and help you keep track of the score. Cheaters be gone! I was glad to see that the point counters aren't fixed. This means if you need them out of the way you can fold them under the table. A small attention to detail, but one we love. For games such as around the world, the point counters are best not used to minimize the risk of injury.
The final additional feature to note is the bat and ball storage in the table side panels. It stores up to 4 bats and balls which is plenty for most people. Just remember to only store weatherproof bats outside as ordinary bats will become ruined. Cornilleau produces great outdoor bats such as the Tacteo T30.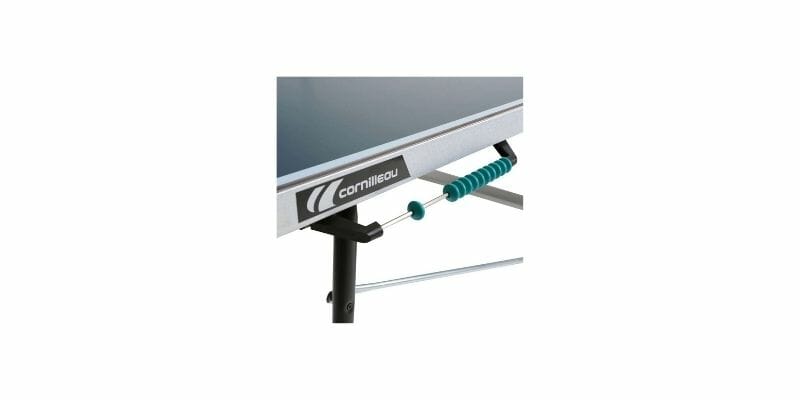 About Cornilleau
Based in Bonneuil-les-Eaux, France, Cornilleau is an expert table tennis manufacturer. They are well-known for their development of durable outdoor products. Their tables are quite common in England.  
Cornilleau's expertise also extends beyond table tennis, having developed outdoor pool tables and innovative trampolines without the use of springs.
Pros:
Anti-glare SOFTMAT finish: The anti-glare finish reduces the sun's rays by up to 3x
COMPACT TECHNOLOGY: Reduces the risk of the table falling over and minimizes the amount of space it takes up when not in use
Double oversized wheels: Makes maneuvering the table simple
Warranty: 10-year warranty and 20-year spare part guarantee engulfs the competition
Extra features: The foldable net, point counter, and ball storage are excellent add-ons we love
Cons:
Pricey: Quite expensive
Requires considerable assembly: Takes a few hours to assemble. Instructions and a video help simplify the process.
Conclusion
The Cornilleau 300X is one of the best outdoor table tennis tables available. Slotted around the midpoint of the X range, it offers the greatest value for money.
Built with safety in mind, it is the perfect table for a family with kids. But it also offers a great playing experience for more competitive players. The anti-glare surface will keep everyone happy, as will the score counters to prevent cheating.
The included 10-year guarantee is the icing on the cake for this great table. You can happily make a purchase knowing that you're covered should anything break. This length of guarantee is something you will struggle to find among other outdoor table tennis tables.  

Freelance writer. Table tennis enthusiast. Lover of all things online. When I'm not working on my loop game I'm probably binge-watching some fantasy show.