The 5 Best Pool Cue Cases
Purchased a fancy new pool cue but don't have anything to store it in? You've come to the right place! Today we are discussing the features to look out for in a quality case, and selecting our best pool cue cases for 2023.
Cases are essential to prolonging the life of your cue(s), and you really shouldn't take yours outside of the house without one. I know I sure wouldn't!
Featured Products
Why You Need a Pool Case
Like any expensive piece of sports equipment, cues need protection when transported from one place to another. If you're only playing at home, there is no real need for a pool cue case, but if you're traveling to bars, clubs, and tournaments, you'll certainly need one.
Without a case, your cue will experience significant wear in the form of scratches and dents, hurting its performance and feel. Worst case scenario, it may even bend, making it unplayable.
You should also consider that pool cue cases provide protection and make cues far easier to carry. They are perfectly sized to house your cue(s) and come with either a carry handle or shoulder strap for convenience.
Our Review Process
At PingPongRuler we are dedicated to providing the best sporting information on the internet. When it comes to reviewing products, we scour the web to identify the top performers. We then analyze each for its quality in several areas, such as build, performance, and durability.
We also cross-compare our favorite options to discern the top performers in various categories. This helps us provide recommendations as to which product suits each kind of buyer.
Best Hard Pool Cue Cases
BY SPORTS 2×2 Hard Cue Case – Best Overall Option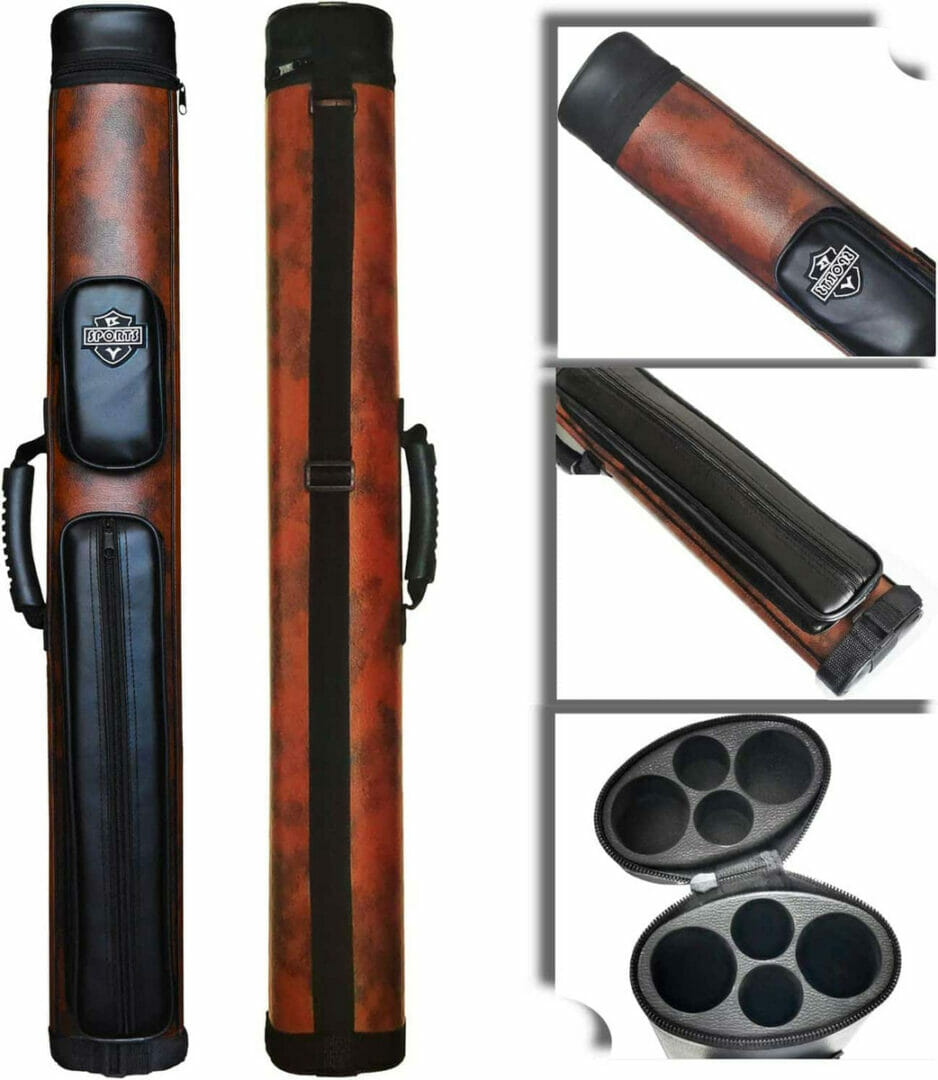 Specifications
Size: 2×2
Material: Synthetic leather
Carrying mechanism: Handle & adjustable shoulder strap
Pros
Stylish
8 color options
Cues have individual compartments
Waterproof
Cons
Rating: 9.6
Kicking off this list, we have our favorite pool cue case, which coincidentally happens to be the best-looking case as well. The BY SPORTS case is made from high-quality PU leather, giving the case a fantastic textured finish. It also means that the case is waterproof, well that's what BY SPORTS states. I imagine it is more so water-resistant than actually water-proof.
Beneath the outer layer of PU leather is a rigid sponge that acts as shock absorption for heavy impacts. The cues are also separated into individual compartments to prevent them from wearing against one another, which is a big plus. In total, you have four slots for your cues, two for butts, and two for shafts. This should suit the vast majority of players.
You also get two pockets for additional accessories. The smaller pocket measures 6" x 3" x 1", and the larger pocket measures 16" x 3" x 1 ⅓". You really can't ask for much more space!
Casemaster Q-Vault Pool Cue Case — Best Budget Option

Specifications
Size: 1×1
Material: Synthetic leather
Carrying mechanism: Adjustable shoulder strap
Pros
Inexpensive
4 color options
Stylish
Cues have individual compartments
Cons
Only fits one butt and one shaft
Limited accessory space
Rating: 9.3
As our budget option, we have this case by Casemaster. It features a hard resin shell, and despite its cheap price, it's a faux leather pool cue case. We really like the way it looks, and you can pick it up in four colors: blue, green, pink, and red.
Like the BY SPORTS case, it has individual sections for your butt and shaft. This prevents them from rubbing up against one another. The inner lining is also made from soft cloth, as you would expect, so your cue is well protected.
The main issue we have with this case is the fact that it only fits a single cue. This is rather restrictive as many players like to carry a few cues simultaneously. That being said, it is still a great option for beginners who only have a single cue.
Another drawback to note is the limited accessory space. Where many pool cue cases come with several pockets, the Casemaster Q-Vault case has just one. The listing specifies two pockets but this is incorrect. I suspect the single accessory case is large enough for most players, but it is certainly among the smallest on this list. Nonetheless, it's a great pool stick case for cheap.
Casemaster Deluxe Hard Cue Case – Premium Option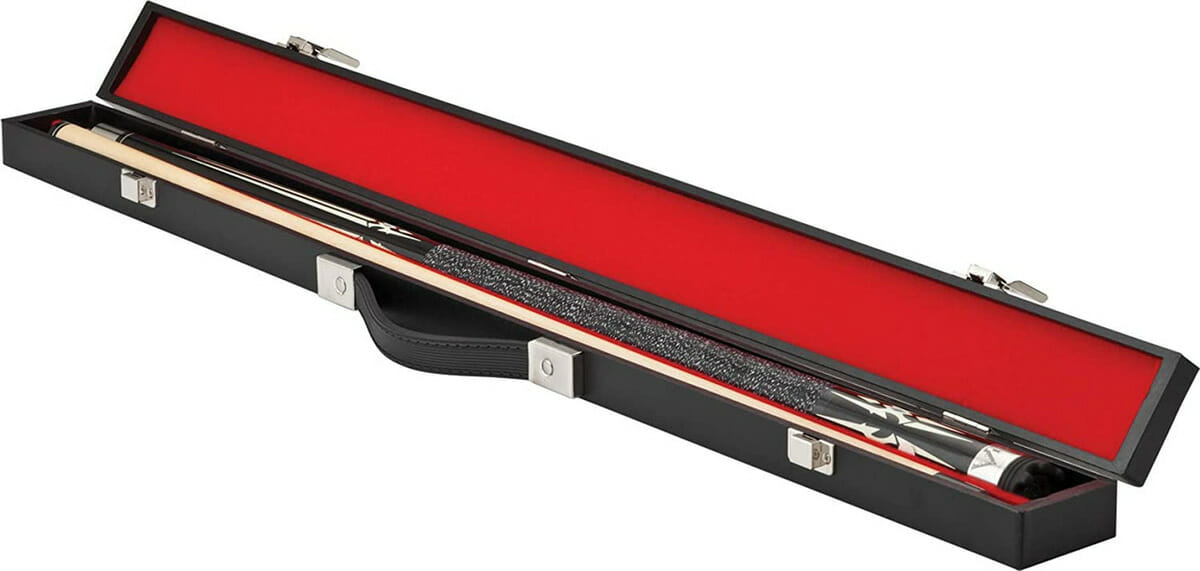 Specifications
Size: 1×1
Material: Resin shell, synthetic leather
Carrying mechanism: Carry handle
Pros
Professional appearance
Waterproof
Unrivaled protection from harsh impacts
Cues have individual compartments
Cons
Only fits one butt and one shaft
No accessory space
Rating: 9.2
If you only carry around one cue and want maximum pool cue travel case protection, you need look no further than the Casemaster Deluxe. Made from a hard resin shell with an attractive red synthetic leather interior, it provides both protection and style. Of all the cases on this list, we have the most faith in this one to stand up against heavy impacts.
Moreover, the Casemaster Deluxe is one of the most professional-looking cases on this list. Its suitcase design is very attractive and certainly conveys the notion that you are a skilled player — perfect for establishing your image in the competitive scene.
Besides the limited space for a single cue, you also have virtually no space for accessories. There are no additional pockets — you'll be lucky to fit a few pieces of chalk in with the shaft. Therefore you will have to carry all of your accessories in another bag which is a bit of a pain.
Best Soft Pool Cue Cases
Cosmos Pool Cue Case – Best Overall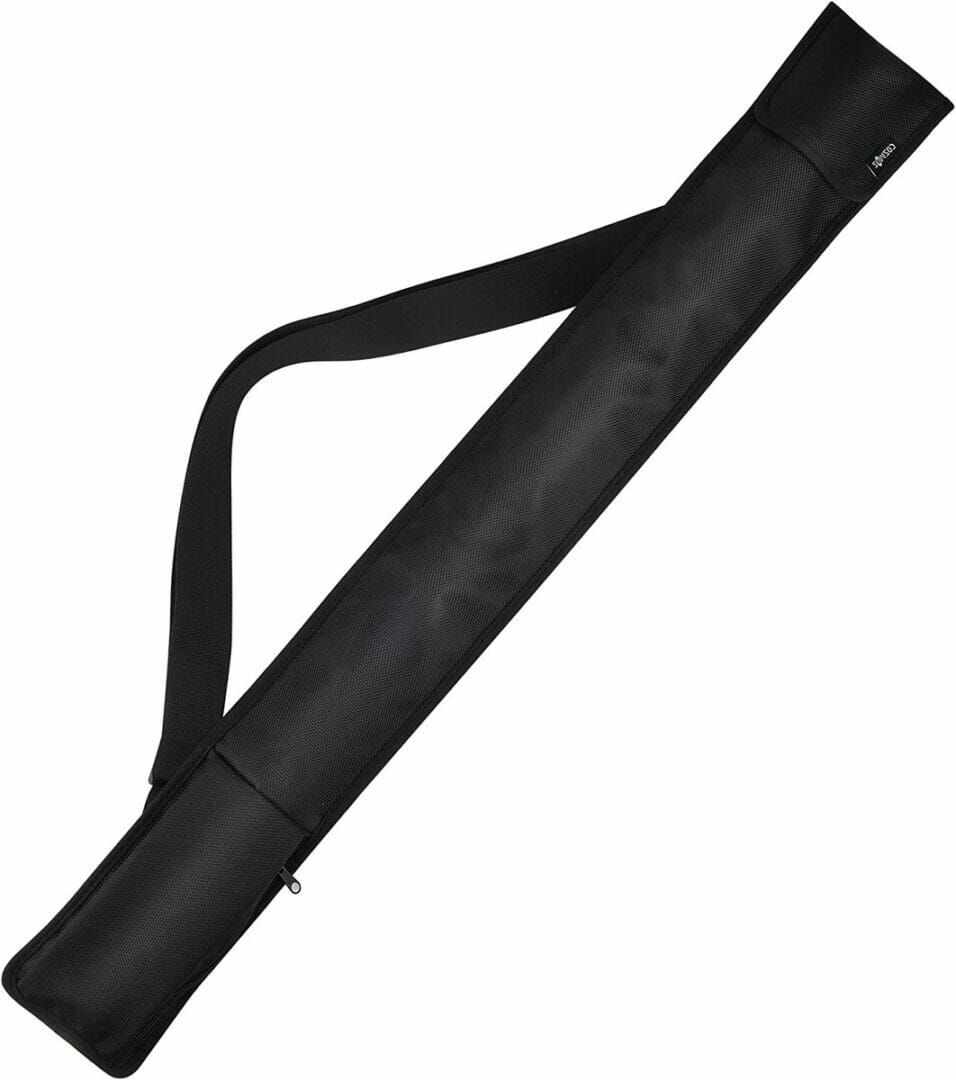 Specifications
Size: 1×1
Material: High-density nylon
Carrying mechanism: Adjustable shoulder strap
Pros
Inexpensive
Completely collapsible
Lightweight
Cues have individual compartments
Cons
Cheap feel
Limited protection
Only fits one butt and one shaft
Limited accessory space
Rating: 8.8
Our first soft case is by Cosmos, it is extremely lightweight and completely collapsible. This means carrying around your cue with the shoulder strap is next to effortless, and you can easily fold up and store this case in another bag if you would like to.
Of course, the caveat here is that this case does not provide the best protection. It's fairly thin, and its lack of rigidity does little to protect your cue from harsh impacts. However, it does a fine job against general wear.
The compartment for the butt and shaft are separated by an elastic strap and the inner lining is made from soft felt. That's not bad at all for a case that is around a third of the cost of most other cases on the market.
Again, please note that the Cosmos pool cue case fits just a single cue. Its basic nature clearly targets beginners to the pool scene. If you're really passionate about pool we recommend getting something of higher quality with more storage space. Besides fitting just a single cue you only get one small pocket for accessories.
MangoRun Pool Cue Case — Premium Pick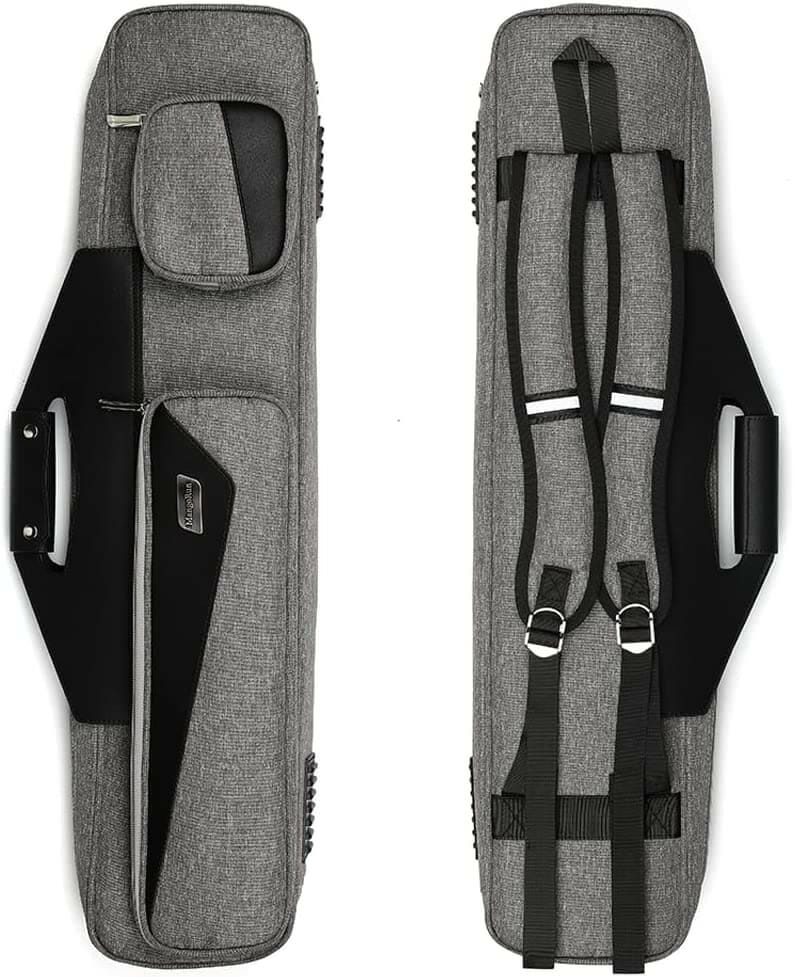 Specifications
Size: 4×4
Material: Oxford fabric, leather
Carrying mechanism: Carry handle and 2x adjustable shoulder straps
Pros
Stylish
3 colors to choose from
Large capacity
Cues have individual compartments
Waterproof
Abundance of accessory space
Leather handle
Non-slip mats
Cons
Rating: 9.8
If you've got a high budget to work with, the MangoRun case is the best cue case, no question about it. It has a very attractive design and uses Oxford fabric, giving it a pleasant textured finish. You also have three colors to choose from: grey, blue, and black. Grey and blue look miles better than black, in our opinion.
Despite being a soft-style case, it actually provides a lot of protection. Each shaft and butt has a dedicated compartment, and the case houses a staggering four shafts and four butts. That's among the highest capacity you can get in a case.
What's more, you have plenty of accessory storage. The interior has two thin sleeves for items such as credit cards, and the exterior has two zipped pockets, one small and one very large.
The only other drawback to this case besides its price is the weight of around 1.75 kg. This isn't particularly heavy, broadly speaking, but this is definitely on the top end regarding pool cue cases. However, I feel this is a small drawback for what you get.
The MangoRun case even provides superior carry options to the rest of the competition. You can use either the leather handle or the two adjustable shoulder straps to carry the case. These straps are much wider, and higher quality than other models provide, and you get two instead of one, which is an added bonus.
Best Pool Cue Cases: Buyer's Guide
Soft vs Hard
There are three types of cases to choose from, and you should think long and hard to determine which one is the right fit for you.
Soft cue stick cases are often the lightest of the three. This makes them easier to carry around but does, in turn, mean they provide the least amount of protection. If you have a very expensive pool cue, it might ease your mind to go with a hard or box case.
Pool cue hard cases are the most popular type, and for good reason. They provide the best protection, ultimately the most important factor when selecting a pool cue case. The drawback with hard cases is that they can sometimes be a little on the heavy side.
Box cases, while a type of hard case, are a subset you should look out for. They are not particularly common and sport a suitcase design giving them a very professional appearance. While they look great, they are often on the heavy end and do not have shoulder straps — you'll instead have to use a carry handle.
Size
Pool cue stick cases come in various shapes and sizes from around 1×1 to 4×8. For those of you who are not in the know, the first digit refers to the number of holes for butts, and the second digit is for shafts.
Beginners with only one cue can get away with a basic 1×1 case. However, more advanced players will likely want substantially more space. Remember, the bigger the size offering, the higher the cost.
Material
What your cue case is made out of will affect both its physical appeal and the protection it provides. Materials such as nylon, faux leather, plastic, and rubber are fairly common.
Take faux leather, for instance. It is one of the best-looking materials, is not as expensive as real leather, and provides a decent amount of protection, although not as much as plastic for instance.
Additional Compartments
For most of us, it's not just pool cues we carry around but also additional accessories such as chalk and extra tips. These require extra space as you don't want them bouncing around loose with your butts and shafts.
As such, the best cue cases have at least an additional compartment or two to house all of your accessories.
Conclusion
Pool cue cases are essential pieces of kit if you take your pool cue out of the house, you'll be sorry if you don't buy one and end up damaging your cue.
Fortunately, there are many options to choose from. While the best pool cue cases generally have plentiful storage, we found a few great models that only fit a single cue.
Our budget choice is such an example. The Casemaster Q-Vault pool cue case may have limited space, but it looks great and is well worth the money. At the other end of the spectrum, our premium pick is the MangoRun pool cue case. It has the best features by some margin and is an easy buy if you have a sizeable budget.
However, our top choice overall is the BY SPORTS 2×2 hard cue case. It offers superb value for money, keeps your cues well protected, and we also feel that it has the best appearance.
FAQs
What Is the Best Pool Cue Case Brand?
We believe BY SPORTS is the best pool cue case brand. Their best case, which is 2×2, features 8 different color options to choose from and is beautiful to look at. It also has plenty of space to store your accessories, as well as a handle and shoulder strap for easy carrying. Given the fact that it currently sits as an "Amazon choice product", it seems buyers around the world agree that it is a top case for the money.
What Is the Best Material for a Pool Cue?
The best pool cues are generally made from North American Garde A Hard Rock Maple. However, other quality woods, such as ebony and blackwood, are becoming increasingly common.

Freelance writer. Table tennis enthusiast. Lover of all things online. When I'm not working on my loop game I'm probably binge-watching some fantasy show.