The 8 Best Pickleball Skirts
Everyone wants to look and feel great while playing pickleball, and this begins with your wardrobe. I, for one, always think long and hard about what I'm going to wear before I step on the pitch. But being a guy, I'm pretty damn limited!
As a woman, a pickleball skirt should certainly be a staple of your wardrobe. They are flattering, flowy, and super comfortable to wear. And you don't have to just wear them for pickleball. You can wear them for other sports or around the house too!
Today, I will cover some key information regarding what to look out for when you pick your perfect pickleball skirt. And then, afterward, I'll cover some of the top choices to save you some time.
First, let's lay out your options.
Skort vs Skirt?
A skirt hangs from the waist and covers the outer part of the lower body. But a skort is a hybrid between a skirt and shorts. It has shorts under the skirt flap.
By definition, most pickleball skirts fall into the skort category, but they are still often called skirts. As such, I'll use the terms interchangeably.
Best Women's Pickleball Skirts — Short Length
BALEAF Women's Athletic Skirt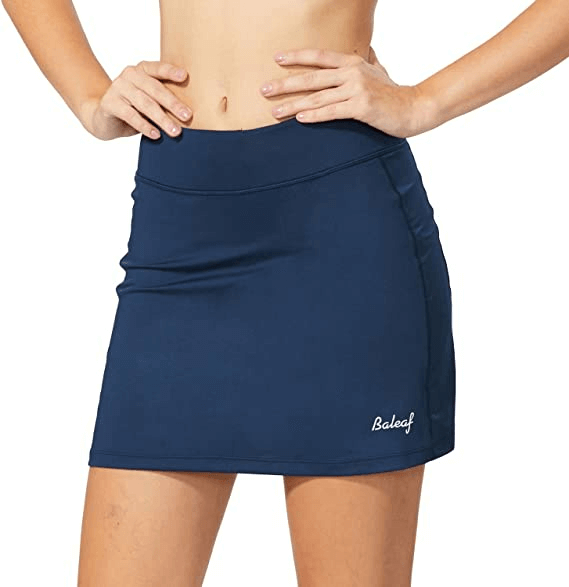 Specifications
Material: Body – 90% polyester, 10% spandex | mesh lining – 95% polyester, 5% spandex
Closure: Elastic with internal drawcord
Sizes: XS, S, M, L, XL, XXL
Colors: 16 to choose from
Pockets: 2
First up is the BALEAF pickleball skirt, which uses a simple, straight design. However, BALEAF also sells multiple versions with pleats, which look great.
The skirts are basic block colors, and you've got 16 to choose from, which is quite the range. The closure is elastic and features an internal drawcord, making it easy to achieve the desired fit.
This BALEAF skirt features two sizeable pockets on each leg, which are big enough to fit your phone or a pickleball. They even have a hidden earphone cable hole so you can easily listen to music without damaging your earphone cable.
As a final plus, the shorts mesh layer is highly breathable as it's 95% polyester. It would take quite a hot, humid day to overheat in these!
Werena Pleated Skirt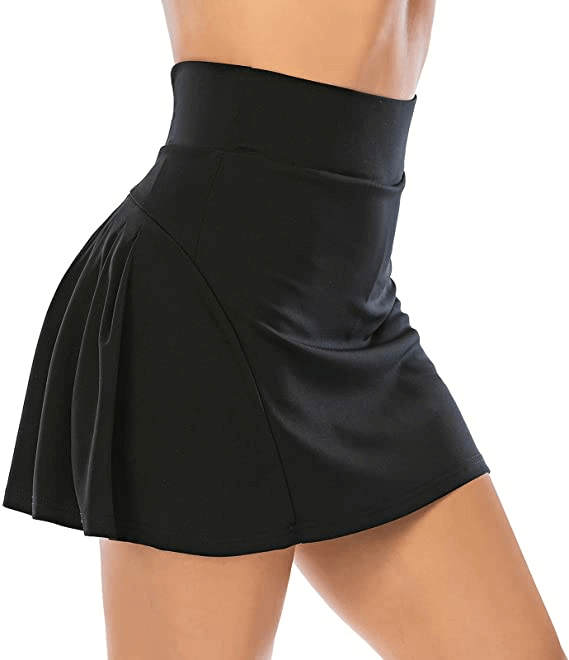 Specifications
Material: 95% polyester, 5% spandex
Closure: Elastic
Sizes: XXS, XS, S, M, L, XL, XXL
Colors: 20 to choose from
Pockets: 3
We really love this skort, and so does everyone else, it seems, as it's currently the #1 best seller on Amazon. It's a very short pleated skirt with a high-rise elastic waistband that doesn't roll when you are playing games. This helps to hide belly fat and has a very flattering look.
It's got 3 pockets which is pretty irregular. The two side pockets are great for pickleballs and can fit phones up to 5.5". And the third pocket is located at the back. It's much smaller and is ideal for smaller essentials such as your keys or a card. You don't want anything too big as it will dig into your back.
There are 20 colors to choose from, and Werena has recently added a few more unorthodox designs, such as the plaid pink and black tie die.
Oalka Women's Skirt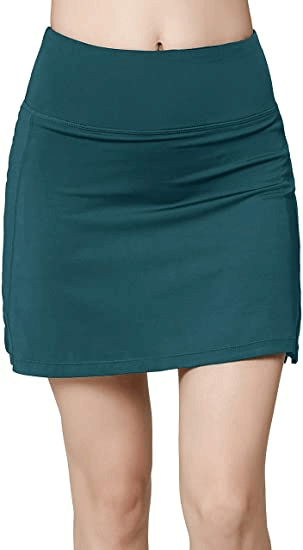 Specifications
Material: Body and mesh – 92% polyester, 8% spandex
Closure: Elastic
Sizes: XS, S, M, L, XL, XXL
Colors: 22 to choose from
Pockets: 4
The Oalka skort is a streamlined skirt that is slightly stretchier than the previous skirts due to its higher spandex content, yet it is still very breathable. Available in 22 colors and many styles, with basic and bolder designs available.
This Pickleball skirt features a triangular-shaped gusset crotch which improves your range of motion while preventing rubbing. This is also supposed to prevent the shorts from riding up, but we did find that they tend to rise a little.
If storage space is important to you, you'll love to hear that this skort has 4 pockets! Pretty incredible. You get two standard side leg pockets which you can use for pickleballs, but you also get a back and front pocket for smaller goods like earphones.
Fulbelle Women's Skirt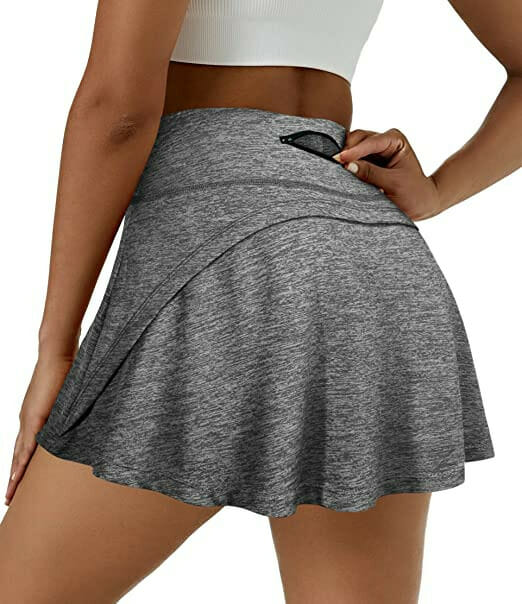 Specifications
Material: 92% polyester, 8% spandex
Closure: Elastic
Sizes: S, M, L, XL, XXL
Colors: 15 to choose from
Pockets: 3
The Fulbelle skirt is high-waisted with an elastic waistband. This has a slimming effect as it helps to hide the belly. The front of the skirt is straight, while the back has more of a wavy look, which we like. The skort now includes anti-slip silicone to prevent the shorts from riding up.
Complete with 3 pockets, you've got enough space for multiple pickleballs at the sides and other small items at the back. There are 15 colors on offer. The light grey 2.0 featured above is our favorite.
Anvivo Skirt with Leggings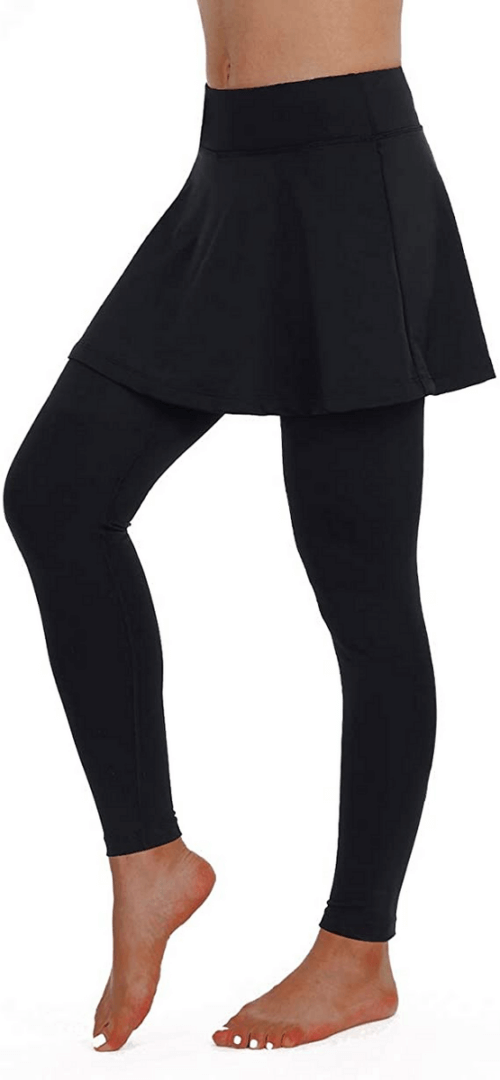 Specifications
Material: 90% polyester, 10% spandex
Closure: Elastic
Sizes: XS, S, M, L, XL, XXL, XXXL
Colors: 27 to choose from
Pockets: 2
Last up for the short skirts, we have the Anvivo pickleball skirt with leggings. The skirt itself measures 14.2" for a size medium, and you have two choices for the size of the leggings: three-quarter length or full length.
Pickleball skirts with leggings are a great choice if you don't feel like showing much skin or are playing in colder conditions. The skort features 2 pockets on the leggings large enough for pickleballs.
Best Women's Pickleball Skorts — Long Length
BALEAF Women's 16" Skort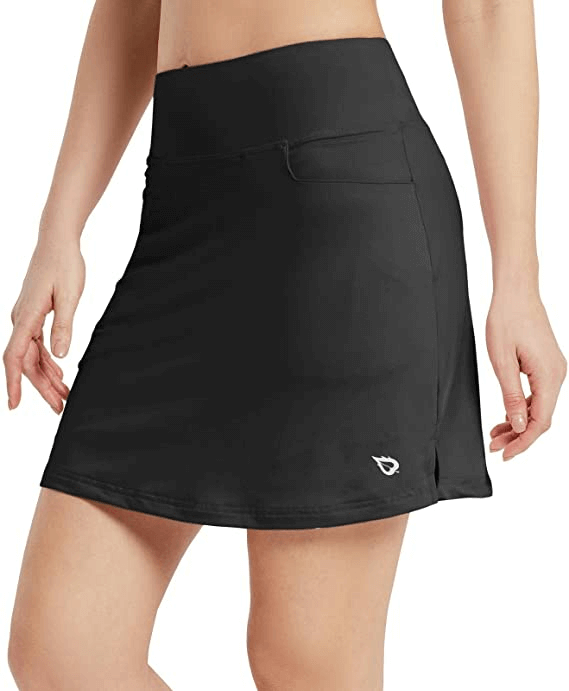 Specifications
Material: Body – 83% nylon, 17% spandex | mesh lining – 92% polyester, 8% spandex
Closure: Elastic
Sizes: XS, S, M, L, XL, XXL
Colors: 4 to choose from
Pockets: 5
If longer skirts are more your vibe, then the BALEAF 16" skort may be right up your street. It is high-waisted and has a smooth look. It's also got small slits at the hemline to improve the range of motion.
What makes this skort unique is its assortment of pockets: there are 5 in total. There are two outer skirt pockets on either leg which is pretty atypical. And there are two further side pockets on the undershorts layer.
The right pocket fits phones up to 6.7," and the left pocket is for pickleballs. It's an upside-down pocket which is more advantageous as it's easier to grab the ball for quick access. Finally, a back zipper pocket also fits phones up to 6.7". This back pocket is much larger than you will find in other skirts. There's no doubt that it's the best pickleball skort with pockets that you can buy.
Jack Smith Women's Skort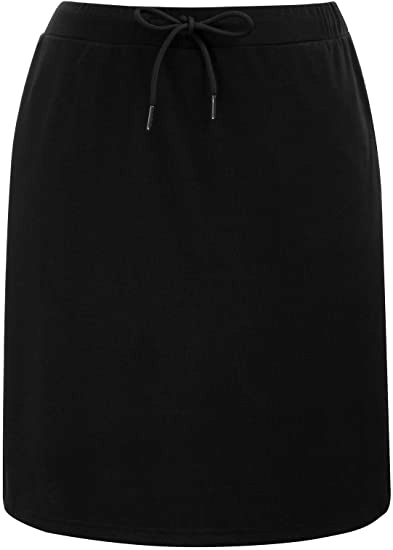 Specifications
Material: 90% polyester, 5% spandex, 5% rayon
Closure: Drawstring
Sizes: S, M, L, XL, XXL, XXXL
Colors: 28 to choose from
Pockets: 2
The Jack Smith pickleball skort is longer than the skort by BALEAF, reaching just above knee level. Unlike the other skorts, it uses a drawstring on the outside and features 5% rayon, a soft and absorbent fabric likened to silk and linen.
This lady's pickleball skirt features 2 deep pockets on the outside skirt. Making it easy to store and carry around large items. However, these pockets may have been better suited to the undershorts, as they cause the skirt to flare out at the pockets when used, which is rather unflattering.
Annjoli Women's Skort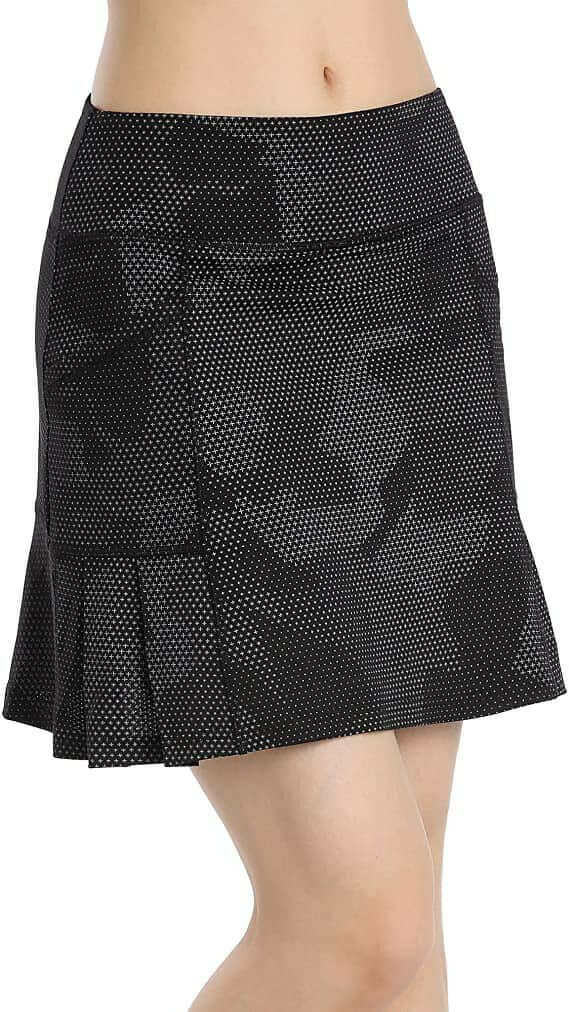 Specifications
Material: 88% polyester, 12% lycra
Closure: Elastic
Sizes: S, M, L, XL
Colors: 28 to choose from
Pockets: 2
Unlike all of the other skorts on this list, Annjoli does not offer a variety of basic colors, no, no. These skorts are for pickleball players who want to make a statement on the court! While some are far from our taste, there are actually a lot of designs on here that we really like. Pictured above is the fantasy black, one of the more understated styles that we love.
The skort features pleating on the sides, a wavy finish at the back, and a smooth finish at the front. You also get two pockets, both on the outer skirt portion. We would have preferred these be located on the under shorts, but this is of little consequence.
Pickleball Skirt Buyer's Guide
Length
Pickleball skirts come in a range of lengths, so choose one that you are most comfortable with. You can purchase skirts that finish as high as the upper thigh or as low as the knees.
Style
From streamlined to flared and straight to those featuring pleats, there are many different skirt styles to choose from. Some sellers even have the same skirt with multiple design options. While this is mostly aesthetic, more flowy skirts can feel a little more free, which could positively impact your performance.
Colour
Color options are pretty much off the scale for skirts for pickleball. There are tonnes to choose from. Most skirts use fairly standard colors, but there is also a wide variety of more edgy designs, which you rarely see in activewear.
Breathable
Although skirts allow more airflow than shorts, you can still feel a bit hot wearing them at times. This is why a breathable short layer is always a good idea. Moisture-wicking fabric and mesh material are both great choices that will help keep you cool.
Pockets
While entirely optional, I would certainly rather have pockets than be without them for one. Being able to store a pickleball or two or perhaps your phone when you're finished playing is super handy.
Closing Thoughts
That's the end of our guide. We hope it helped you decide which of these pickleball skirts is the right one for you. We certainly feel it's good to have both short and long pickleball skorts. That way, you can rock plenty of different styles and pick the right skort for the occasion.
Our favorite short shirt is the Werena skirt. It's got you covered with 3 pockets, so you'll always be able to have a pickleball or two handy, but more importantly, it looks and feels great. The high waistline is flattering on the belly, and the rear pleats are charming.
As for our top longer skirt pick, that goes to the BALEAF 16" skirt. It may only be available in 4 colors, but they all look great and fit a variety of outfit styles. We love the 5 pocket design of this skort. It's the most of any of the skorts featured, and the upside-down pocket, in particular, is ideal for quick pickleball ball access.
Before you go, consider checking out our other pickleball write-ups! We've got guides on pickleball balls, pickleball paddles, pickleball shoes, and pickleball nets.

Freelance writer. Table tennis enthusiast. Lover of all things online. When I'm not working on my loop game I'm probably binge-watching some fantasy show.