The 4 Best Pickleball Gloves
Struggling with poor grip and blisters when you play pickleball? (I sure do!)
There's a simple solution: pickleball gloves!
Purchasing a glove also brings with it other benefits, and they're not that expensive, so any keen player should at least consider them. As a key point, you only need to buy one glove, as you only use it for your playing arm!
If you're new to buying pickleball gloves, read the full buyer's guide below the reviews.
Why Should I Wear Pickleball Gloves?
Enhanced Grip
Most pickleball gloves use sticky materials along the palm and finger sections. This provides more adhesion which is useful for powerful racket swings. It also helps prevent fatigue in your forearm as you don't have to grip your racket quite as hard as you would without a glove.
Sweat Absorption
Due to the intensity of the game, you work up quite a sweat playing pickleball. For some people, this means sweaty hands which makes playing pickleball a little challenging. Sweat makes your racket rather slippery, and you really have to grip it hard or else risk it going flying after a big shot.
Pickleball gloves provide excellent moisture absorption. This keeps your racket handle dry and easy to grip.
Warmth
All gloves to a varying degree provide additional warmth which is useful when you are playing in cold conditions. If you're an experienced racket sports player, you know that your performance suffers greatly in any racket sport when you get cold hands. It reduces your feeling and grip, so gloves can go a long way to ensuring cold weather doesn't affect your performance.
Protection
Speaking from experience, racket sports can be a killer for your hands. The repeated rubbing of your fingers and palm up against the handle sometimes leads to soreness and blisters after long sessions. Especially if your hands are not used to this kind of wear — yes, beginners I am looking at you!
Besides rubbing, you can also scrape your hands on the floor when you take a fall. It is not that uncommon in pickleball as you are often running and reaching to make difficult balls. So pickleball gloves are certainly worth considering from a protection standpoint alone.
Best Men's Pickleball Gloves
Franklin Sports Pickleball Single Glove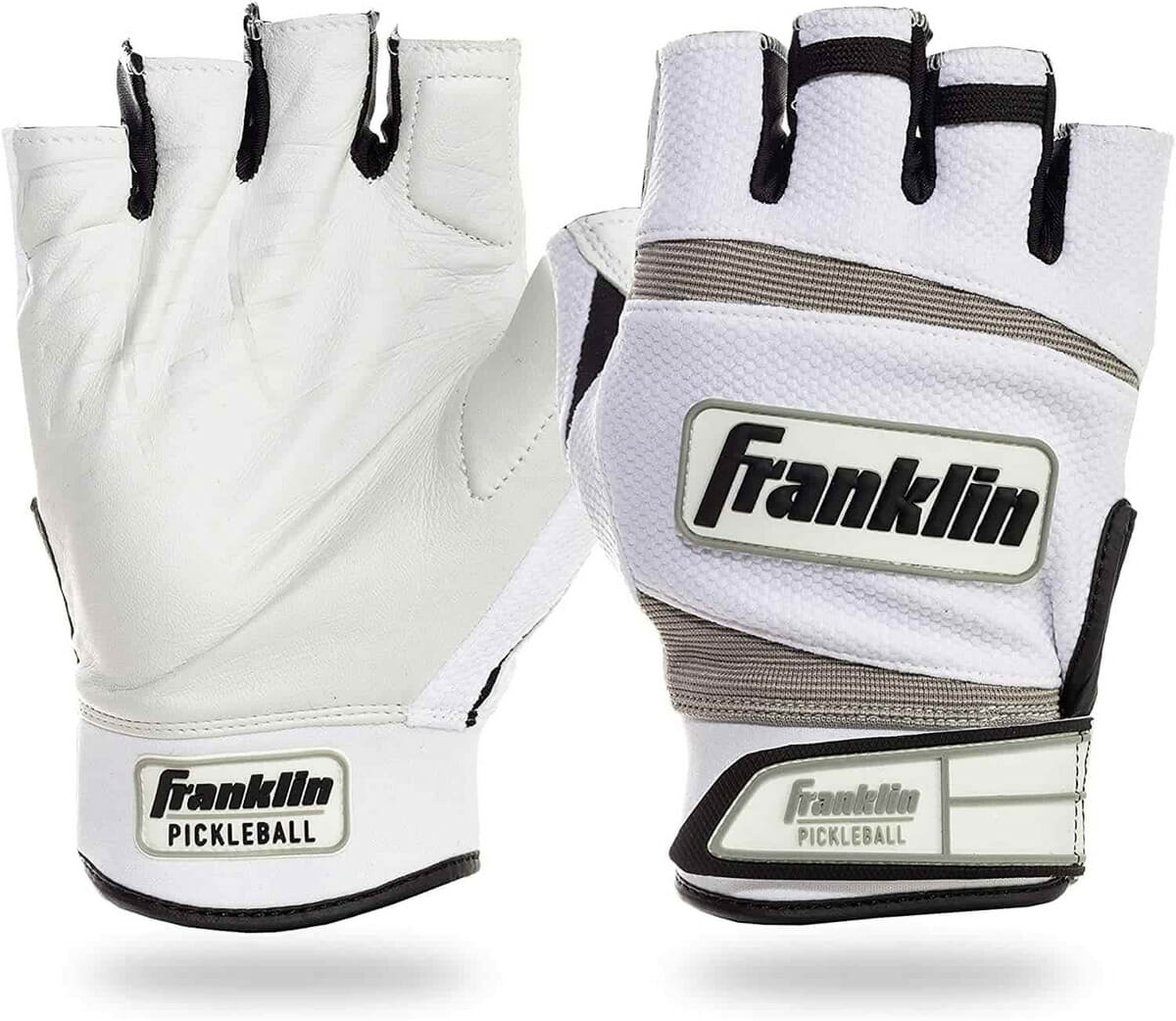 Specifications:
Material: Leather
Type: Left or right hand
Sizes: XS-XL
Colors: White/black
Pros
Top pickleball manufacturer
Very breathable
Padded thumb and index finger
Moisture-wicking palm
Wrist strap
Pull tabs for quick and simple removal
Cons
The first pickleball glove we looked at is by Franklin Sports — a top manufacturer in the industry. You can pick up their glove for either your left or right hand in sizes ranging from small to XL.
The palm material is "premium leather" as they call it, although they do not state which type of leather it uses. What we can say is that it is comfortable and moisture-wicking. It also uses a fingerless design which further adds to its breathability.
It's one of the better gloves if you're playing in hot conditions.
In terms of protection, the glove does well. There's additional padding on the thumb and index fingers which are problem areas for blisters, so you shouldn't have any issues there. The logo on the outside of the hand also provides a bit of protection should you get struck by a rogue pickleball.
Overall it's a top-quality pickleball glove. The only area it could improve is in terms of durability.
HEAD Leather Racquetball Glove — Renegade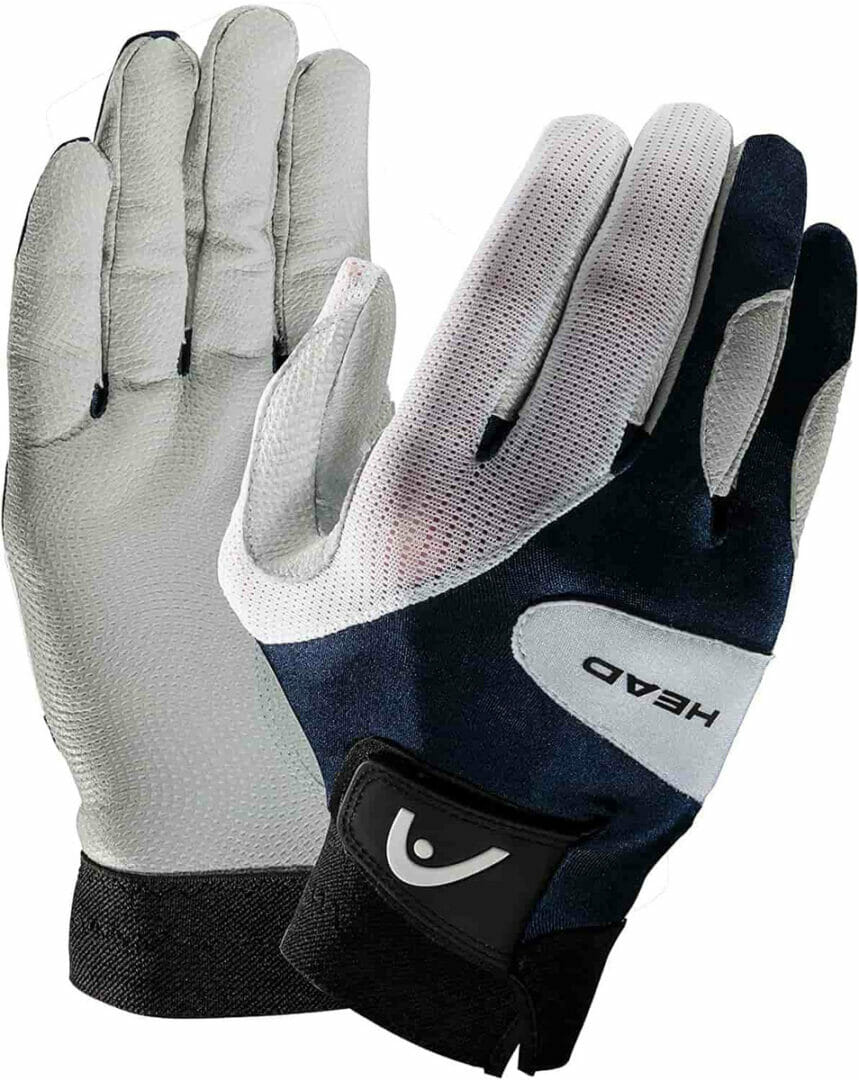 Specifications:
Material: Leather
Type: Left or right hand
Sizes: S-XL
Colors: Grey/black
Pros
Inexpensive
Microfiber mesh for breathability
Wrist strap
Cons
The HEAD Renegade glove may have been made for racquetball but it also serves as a great glove for pickleball too. It's the cheapest model on this list and keeps up with the rest in terms of quality. The strongest aspect of this glove is perhaps the microfiber mesh which provides great breathability.
As the glove covers the entire hand you also get really good protection. My main issue with this glove is its look — it's rather plain-looking. In my opinion, the dull grey on the inside of the glove was a poor choice. However, this does not affect its performance which is far more important.
CUZINA HexPro Pickleball Racquetball Glove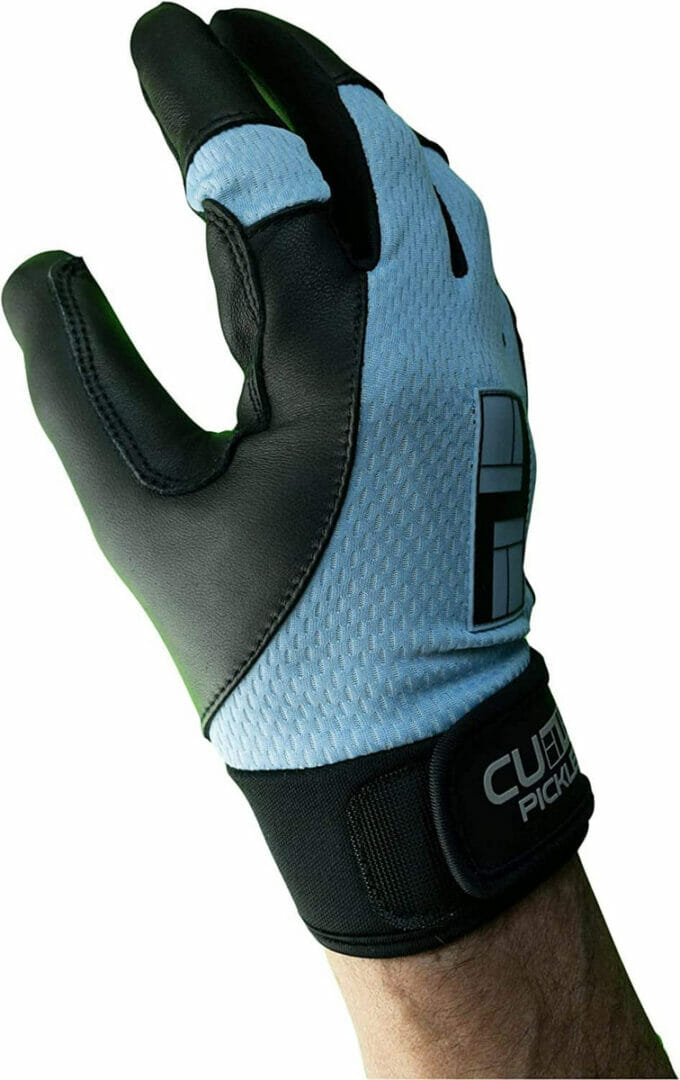 Specifications:
Material: Sheepskin
Type: Left or right hand
Sizes: XXS-XXL
Colors: 12 choices
Pros
Very comfortable
Very sweat-absorbant
Expansive size options
Expansive color options
Microfiber mesh for breathability
Wrist strap
Activated charcoal bag included
Cons
If you don't mind paying a little more for one of the best pickleball gloves, then the CUZINA HexPro is a top choice. At around twice the price of many of the other pickleball gloves, it has a range of features.
The palm section uses Cabretta sheepskin leather for maximum comfort and durability. It also uses a HexSilver mesh. This is a highly breathable silver-infused material that uses innovative PCM hexagon cooling tech.
As if this wasn't enough, CUZINA went one step further with their CU29 wristband. It's copper-infused and also highly absorbent. This means that even if the palm section failed to capture all of your sweat, the wristband soaks it up before it can travel down your wrist.
Much like the Franklin Sports Pickleball glove, the HexPro also reinforces the susceptible areas of the thumb and index finger with additional padding. So there is next to no risk of soreness or blisters.
One unique feature that we also love is the included ActiveFresh activated bamboo charcoal bag. By placing your glove into the bag following a session the activated charcoal soaks up all of the moisture. This helps to prolong the life of the glove and mitigates the development of bad odors.
Best Ladies Pickleball Glove
Selkirk Boost Pickleball Glove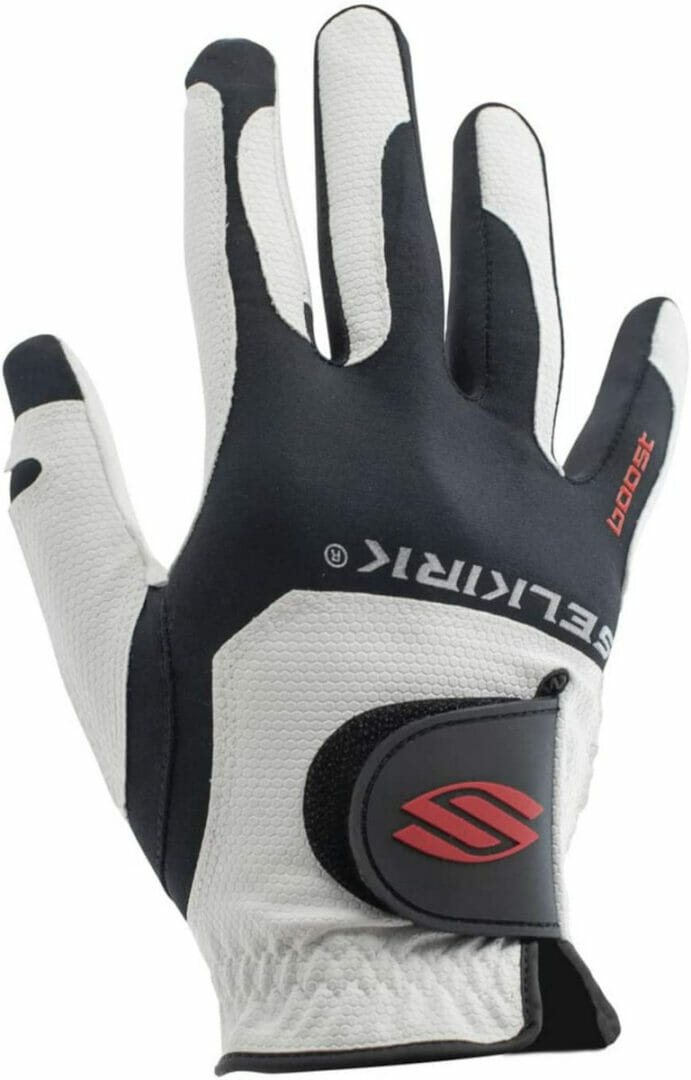 Specifications:
Material: Lycra
Type: Left or right hand
Sizes: *One size fits most*
Colors: 12 choices
Pros
Cons
Not made of leather
May not fit players with very small or very large hands
The Selikrk Boost ladies pickleball glove is very different from the others on this list. This is because it is primarily made from Lycra as opposed to leather. As such, it does not provide a great deal of protection and is less comfortable to wear.
On the other hand (no pun intend), it does provide a superior fit. Named Flexx Fit, the glove's build molds to the contours of your hand for a snug fit resulting in 80% fewer wrinkles. Selkirk is so confident in this, in fact, that they only offer the one size, as it should fit all. However, we are uncertain if this is the case for players with very small or very large hands.
Buyer's Guide
Type of Leather
One of the most important aspects of pickleball gloves is the leather —this features in the palm section. Each type of leather has its advantages and drawbacks. The best gloves for pickleball tend to use sheepskin. In the table below, you can see a comparison of the main types.
| | | |
| --- | --- | --- |
| Leather | Pros | Cons |
| Goatskin | Cheap and initial softness resembles sheepskin | Less durable and softness diminishes over time |
| Sheepskin | Soft and durable | Expensive |
| Synthetic | Textured surface provides great grip | Average softness and comfort |
| Tackified | Maximum grip | Harder to switch between forehand and backhand |
Size Availability
You need to buy a pickleball glove that fits you too well. One that is too tight will restrict your movement and feel uncomfortable to wear. Similarly, one that is too loose will feel awkward and may hinder your ability to effectively grip the handle.
Pickleball gloves are sold in a range of sizes, but you may struggle to find your size for certain products if you fall in either of the extremes. Therefore, you should check first before delving deeper into deciding whether a particular glove is for you.
Breathability
As mentioned earlier, gloves have a warming effect on your hands, this coupled with sweat can leave you feeling quite uncomfortable. As such, breathability is an important quality in a pickleball glove. Many featured perforated palms to allow for adequate airflow.
Some designs are also fingerless. These are even better for airflow but they do provide less protection.
Style
Your final consideration should be style. A pickleball glove is another element to add to your pickleball outfit like your shirt and shoes. But remember, you can't swap it out like your shirt and shoes for every session. That is, unless you want to buy multiple gloves! Therefore pick a design and color that will work with all of your pickleball attire.
FAQs
What Are Pickleball Gloves Made From?
Pickleball gloves are usually made of leather. However, the quality of this leather varies between models. Sheepskin is the best as it is soft and durable, while synthetic leather is not as high quality as it is harder and less comfortable.
What is the Difference Between Pickleball and Racquetball Gloves?
Pickleball and racquetball gloves are largely the same. As both sports feature similar rackets their requirements closely align. Both types of gloves are usually made of leather, feature wrist straps, and focus on comfort, protection, and breathability.
Do Your Hands Sweat a Lot?
Most people do not sweat very much from their hands during pickleball so there isn't necessarily a requirement for pickleball gloves. Yet, gloves offer benefits besides soaking up sweat such as providing comfort, protection, and helping you to look great!
Can I Use a Better Grip Instead of a Glove?
Pickleball grips are a great alternative to gloves if your existing grip becomes worn out. However, they are rather one-dimensional in that they only improve grip (and in doing so, comfort). Gloves offer more benefits across the board but not all players like wearing them.
Are Summer and Winter Pickleball Gloves Different?
Currently, you'll struggle to find gloves marketed specifically for summer or pickleball gloves for cold weather. However, certain models are certainly suited more to one than the other. Take the Franklin Sports Pickleball glove for instance. It is highly breathable and has a fingerless design making it great for summer use.
Does a Glove Affect My Playing Performance?
Undoubtedly. Gloves soak up sweat, enhance your grip, and provide protection and warmth. All of these factors enhance your game. The only drawback to wearing a glove is that it can negatively affect the feeling of your handle and the ball. This is why thick gloves are best avoided.
Conclusion
Pickleball gloves are a great way of enhancing your performance and a piece of equipment you should certainly consider purchasing. All in all, we are very satisfied with the quality of pickleball gloves that made this list, and picking a winner is no easy feat.
But after careful deliberation, we've decided that the best pickleball glove you can buy right now is the Franklin Sports pickleball single glove. The reason it clinched the top spot was mainly because of its breathability and style which outmatched the other gloves.
The CUZINA HexPro only narrowly missed out, placing second in our rankings. It actually beat the Franklin Sports glove in many areas but we feel it is a little overpriced as it costs twice as much.
Want more pickleball content? Check out our guide on pickleball bags, gifts, skirts, and paddles!
Related:

Freelance writer. Table tennis enthusiast. Lover of all things online. When I'm not working on my loop game I'm probably binge-watching some fantasy show.