The 4 Best Pickleball Machines
Want to take your pickleball game to the next level? Well, then a pickleball machine might be a worthwhile purchase. While expensive, they can prove invaluable to dedicated players.
Speaking from experience, I know the power of robot trainers. I've used several table tennis robots in the past, and they are awesome!
In this guide, you'll learn about the top pickleball machines on the market and break down some of the key features you will want to look out for.
Featured Products
What Is a Pickleball Machine?
A pickleball machine is a piece of sporting apparatus that feeds you pickleballs. This enables you to drill shots and undergo highly targeted training.
Pickleball pitching machines are very customizable. You can alter feeding characteristics such as speed, spin, and placement. This gives them unique advantages over training with players, which is inherently unpredictable. They don't make mistakes, and their repetitive nature helps you develop muscle memory.
Who Should Buy a Pickleball Machine?
While pickleball serving machines are a great tool for any player, they are most suitable for intermediate players and up. This is because the cost is likely too high of an investment for a casual beginner. These players may also not use the machine enough to make it a worthwhile purchase.
However, a pickleball machine is a great buy for intermediate players and above. Players at this level tend to be more determined to improve and are happier to invest large sums of money.
Ultimately, you must ask yourself how much you enjoy the sport and if you are in it for the long run. If you are, a pickleball machine is a perfect partner.
Why Should You Trust Us?
As racket sports experts, we have become very effective at telling the good equipment apart from the bad. This has come from many years of hands-on testing and in-depth product research.
Help us help you by giving our guides a read.
Pickleball Machine Reviews
Pickleball Tutor Plus — Best Overall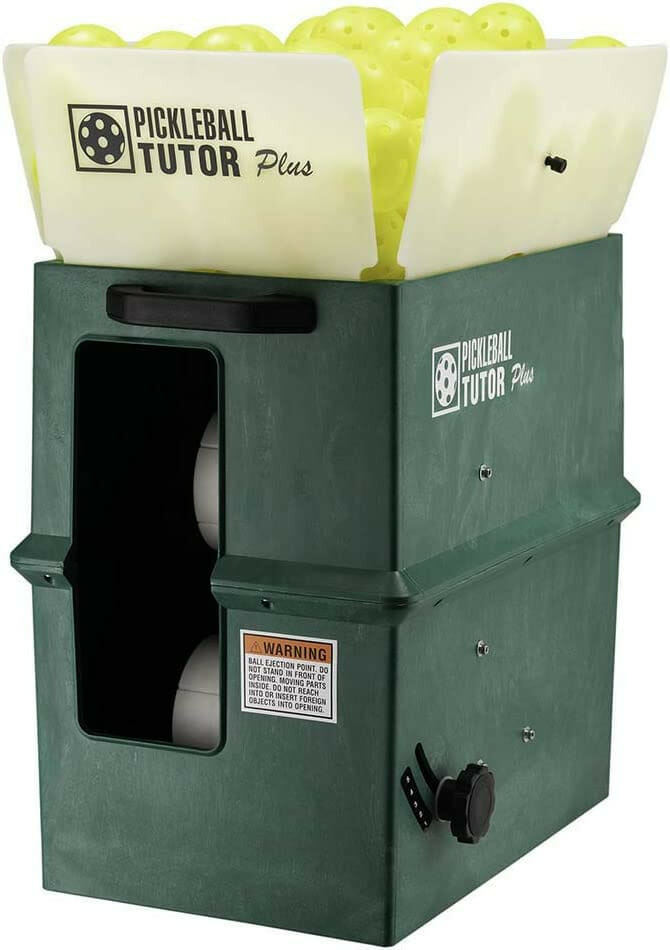 Specifications
Capacity: 110 balls
Speed: 10-65mph
Spin: Topspin & backspin
Playing time: 3-4 hours
Battery: Rechargeable
Wireless remote: Yes
Weight: 35lbs
Warranty: 3 years
Pros
Produces topspin and backspin
Long-playing time
Smart battery
Includes wireless remote
Large warranty period
Cons
Rating: 9.8
Sports Tutor is one of the top brands for pickleball machines, so it should be no surprise that one of their machines tops our list.
The Pickleball Tutor Plus gives you tonnes of training options. It can produce topspin, backspin, and fire balls from 10-65mph. It even has an oscillator that fires out shots randomly to help you get your feet moving.
In total, you get 3-4 hours of usage before needing a recharge which we feel is plenty. Recharging is very simple. The integrated smart lead acid battery automatically shuts off once it's fully juiced up to prevent overcharging. This means you can put it on charge overnight without worrying about unplugging it.
We also rate the Pickleball Tutor Plus in terms of mobility. It weighs 35lbs and has built-in wheels and a handle. This means you can easily wheel it to the court from your car.
The final feature we want to highlight is the 3-year warranty period. Sports Tutor provides the longest warranty period of any pickleball machine on the market. This shows that they have faith in their product and that it isn't prone to faults.
Pickleball Tutor Spin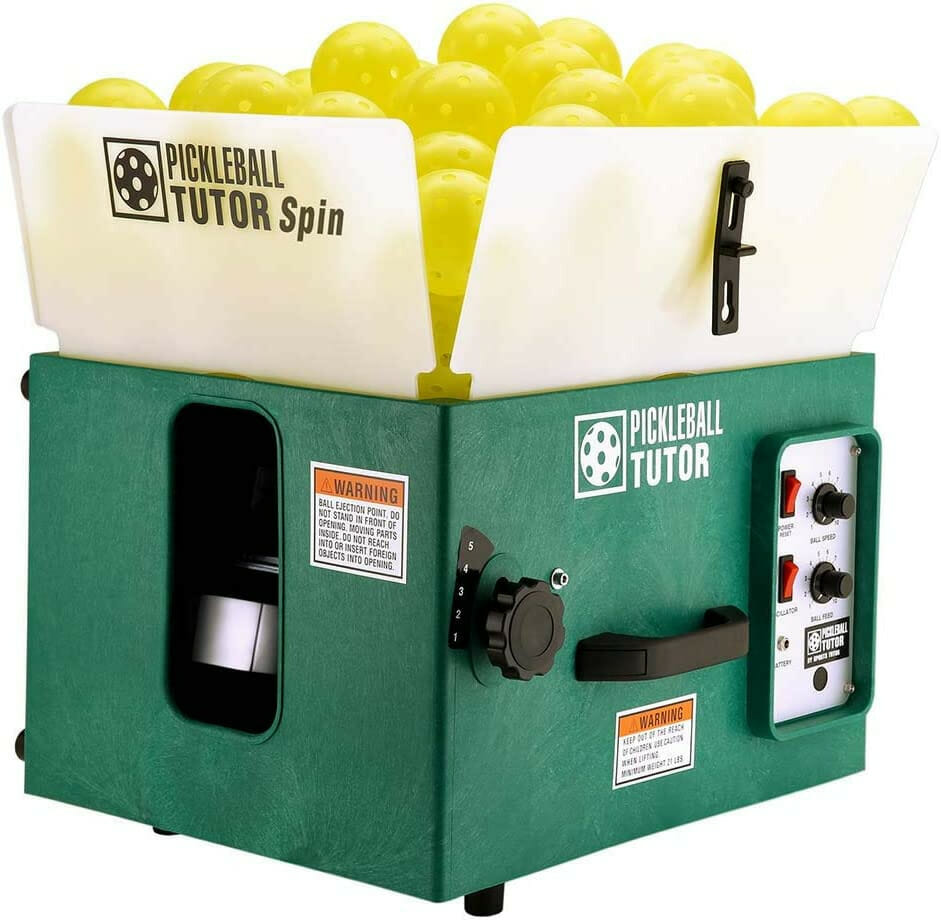 Specifications
Capacity: 125 balls
Speed: 10-60mph
Spin: Sidespin
Playing time: 3-4 hours
Battery: Rechargeable
Wireless remote: No
Weight: 29lbs
Warranty: 3 years
Pros
Produces sidespin
Large ball capacity
Long-playing time
Smart battery
Large warranty period
Cons
Cannot produce topspin or backspin
No wireless remote
Rating: 9.5
For those wanting a cheaper alternative to the Pickleball Tutor Plus, may we present the Pickleball Tutor Spin. It shares many advertising features with its big brother, like the 3-4 hour playtime, smart battery, and 3-year warranty period.
However, it does have several differences. For starters, it's considerably shorter. It is slightly more than two-thirds the size of the Plus version. Yet, in terms of width, it is marginally wider. This is because the feeding wheels are horizontally aligned rather than vertically aligned.
Consequently, the Pickleball Tutor Spin exclusively produces sidespin rather than topspin. Of course, you always have no spin option if you prefer. Given that topspin forms the foundation of most pickleball strokes, the Pickleball Tutor Spin does not emulate real rallies as well as the Pickleball Tutor Plus.
The other main drawback to this model is the lack of a wireless remote. You have to control the machine using the control panel on the side. On the other hand, you do get a higher ball capacity by 15, so the pickleball Spin does outshine the more expensive model in some areas.
Spinshot Pickleball Machine — Premium Pick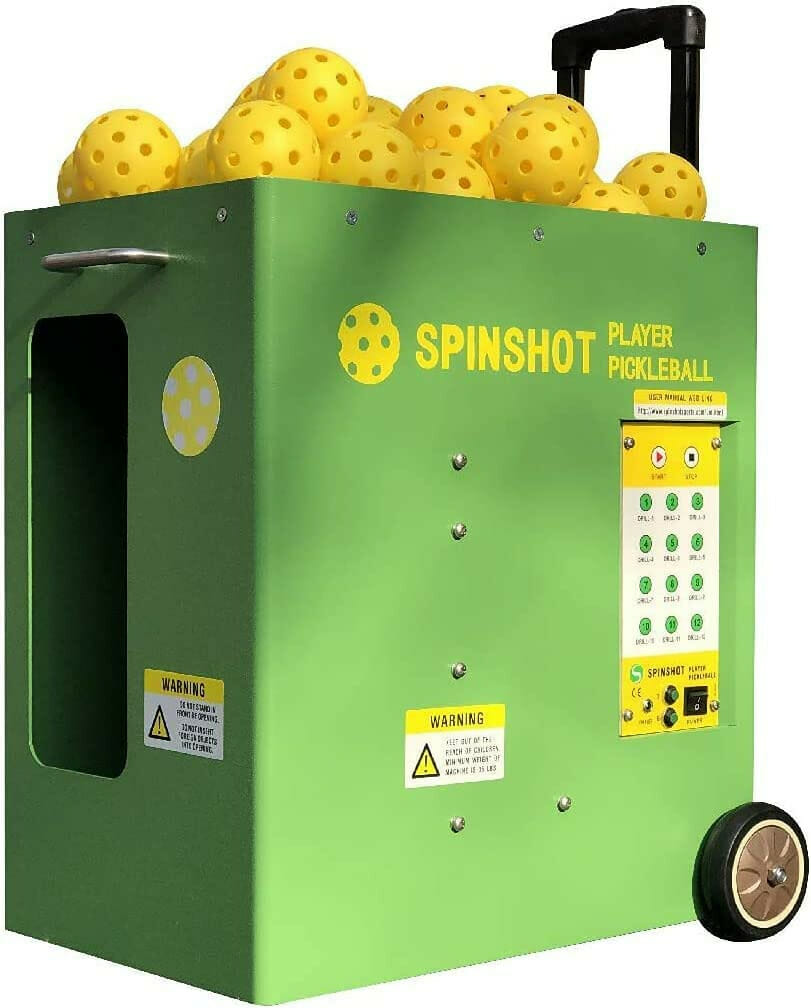 Specifications
Capacity: 100 balls
Speed: 19-60mph
Spin: Topspin & backspin
Playing time: 3 hours
Battery: Rechargeable
Wireless remote: Yes (mobile app)
Weight: 42lbs
Warranty: 2 years
Pros
Produces topspin and backspin
Long-playing time
Pre-programmed drills
Customizable drills
Bluetooth app control
Cons
Ball capacity could be larger
Heavy
Expensive
Rating: 9.4
The Spinshot pickleball machine is certainly a luxury choice. It has more advanced features than the rest but costs quite a lot more.
The main advantage it brings are the pre-programmed drills. This instantly gives you access to various drills to cover all areas of your game. What's more, the drills are customizable. You can change settings such as spin and speed to your unique requirements and then save these for future use. If this wasn't enough, you could conveniently do this from your phone.
Rather than using a wireless remote with limited functionality, Spinshot has elected to offer control of the machine through their Bluetooth app. This is a serious upgrade on other models. Their app has a minimal look and is easy to use.
Onto some of the drawbacks to the Spinshot machine. It has a smaller capacity than the Pickleball Tutor Plus and Pickleball Tutor Spin at 100 balls. It also has around an hour less of play time and weighs more at 42lbs. We should note, however, that it has rear wheels and an extendable handle. This handle makes it easier to wheel than the Tutor Plus, as tall people won't have to hunch over.
Pickleball Tutor Mini — Budget Choice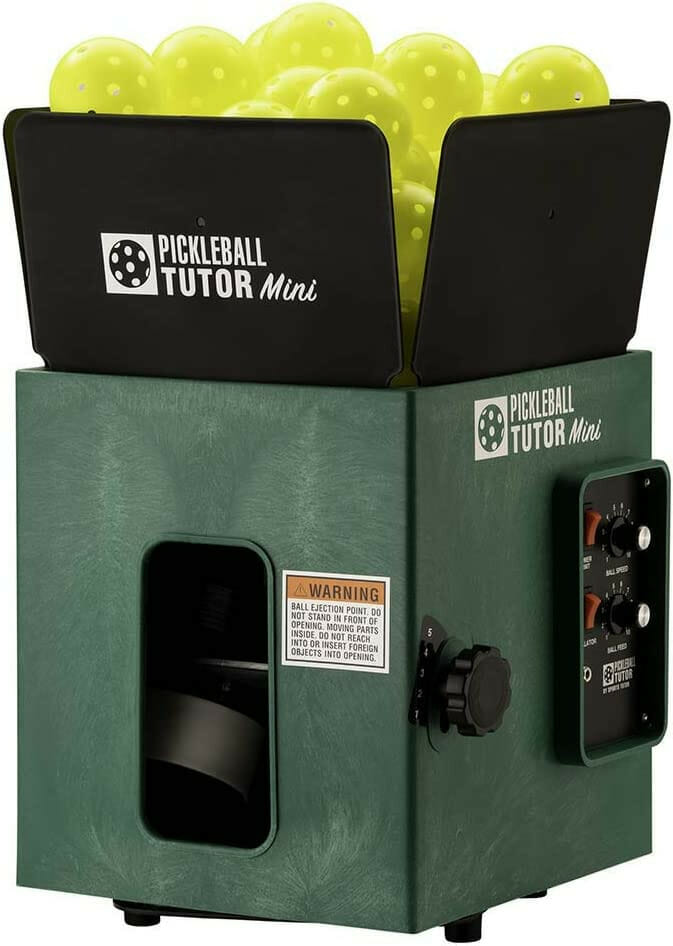 Specifications
Capacity: 60 balls
Speed: 10-50mph
Spin: None
Playing time: 2-3 hours
Battery: Rechargeable
Wireless remote: No
Weight: 24lbs
Warranty: 3 years
Pros
Good value for money
Lightweight and compact
Smart battery
Large warranty period
Cons
Small ball capacity
Cannot produce spin
No wireless remote
Rating: 9.1
For those on a budget, the Pickleball Tutor Mini can provide excellent value — it is half the cost of the Tutor Plus. Pickleball Tutor has cut back on a few areas to achieve this price. Namely, the playtime, which is around an hour less. They have also removed spin capabilities, so you are fed balls with no spin every time.
In the interest of compactness, they have also reduced the size of the ball container. The Tutor Mini fits just 60 balls which is far below the other machines on this list. I would argue that this is the machine's biggest downfall. Constantly refilling it is a pain and not worth its small size.
That being said, the Tutor Mini may be the only machine that fits if you have a small car. We recommend you check out the Tutor Spin before buying, as it is only marginally larger and has over twice the ball capacity.
Buyer's Guide
Ball Capacity
To really get in a flow state while training with a robot, you should purchase a model with a high ball capacity. If you don't, you will find yourself constantly picking up and refilling the balls, which is a big disruption to your training.
Spin
Each type of pickleball throwing machine has its unique spin capabilities. Most produce topspin and backspin. However, some produce sidespin or cannot produce any spin. Provided you purchase a model with spin capability, you can increase or decrease the spin rotation on the ball.
Speed
The speed the balls are ejected is another area you can customize. Most models start at around 10mph and go up to at least 50mph. The top models can go as fast as 65mph.
Mobility
Unlike your pickleball paddle or pickleballs, pickleball practice machines are pretty large pieces of equipment. They are also often pretty damn heavy. This means you should take particular note of the wight and any features which assist with maneuverability.
Most comes with wheels and a handle which should suffice for many players. However, some models may be too large to fit in your car if it is small.
Remote Control
All automatic pickleball machines allow for manual tweaking on the unit itself, but higher-quality models often also include some remote control.
This allows you to stop, start and edit drills from a distance without having to go back to the robot to make these changes manually.
Price
Pickleball ball machines are hefty investments, even the more basic models. Stick to your budget and only spend what you are happy to invest.
Warranty
Given their expensive price tags, the best pickleball machines have a respectable warranty period. Ideally, you shouldn't settle for less than 2 years of coverage.
Conclusion
Pickleball machines really are great pieces of kit, and while they are pricey and not for everyone, they make great companions for passionate players.
Having looked at all the models on offer, we find the best pickleball machine to be the Pickleball Tutor Plus. The reason we chose this model above the others is that it ticks all of the boxes. It only narrowly beat out the Pickleball Tutor Spin. This was because it has a remote control, topspin, and backspin capability (the Pickleball Tutor Spin only does sidespin).
However, we recognize this machine might be too much money for some players, so if you're tight on cash, we recommend the Pickleball Tutor Mini as our budget choice. It is far more limited, but at half the cost, it provides incredible value.
FAQs
Are Pickleball Machines Worth It?
For most players, pickleball machines are certainly worth the money (almost all pickleball machine reviews are positive). They enable you to train in your own time and in a highly productive way.
Can a Tennis Ball Machine Be Used for Pickleball?
Despite their similar function, tennis ball machines do not work with pickleballs. Manufacturers have instead had to re-design ball feeding machines to support pickleballs.
How Do You Practice With a Pickleball Machine?
You set the machine at one end of the court and have it fire pickleballs your way. Adjust setting such as speed and placement for a complete training regiment.
How Do You Clean a Pickleball Machine?
Pickleball machines require minimal maintenance. The only area that really needs cleaning are the internal ball throwing wheels. To clean these, rub the entire circumference of the wheels with a 100 grit sandpaper sponge.
How Long Does the Battery Run for the Pickleball Machine?
Run times vary depending on which pickleball ball machine you buy. Most models tend to last for 2-3 hours.
Can I Improve My Game With the Pickleball Machines?
Pickleball machines work wonders at improving your game. They improve your technique, consistency, and timing. Some machines even offer custom drills which are very effective at emulating real matches.

Freelance writer. Table tennis enthusiast. Lover of all things online. When I'm not working on my loop game I'm probably binge-watching some fantasy show.