The Top 4 Most Expensive Ping Pong Paddles
It's no secret that table tennis paddles can get really expensive as you build your way up to advanced gear. Trust me, I know. I've spent over a thousand dollars on high-end ping pong paddles trying to find the right one for me.
Elite bats are expensive because manufacturers have to push the boundaries of what is possible by testing new technologies. Clearly, this is not cheap.
Some of us may wince at the prospect of spending hundreds upon hundreds of dollars on a bat. But if it helps make you a better player, isn't spending a couple of hundred extra bucks worth it? It's hard to put a price tag on this and it will vary greatly from person to person.
For this article, we have compiled the four most expensive ping pong paddles you can build today if you so choose. This means we will be excluding the likes of the Nittaku Resoud which has been discontinued. Nicknamed the "Violin Blade", the Resoud took decades to create using violin string technology. Back in 2015, it retailed for around €3,000 ($3,500+).
All of these bats are also ITTF-approved. This means no mini bats, or unbranded gold fancy ping pong paddles, only the real stuff!
To check out some mid-range ping pong paddles we recently reviewed, watch our video:
Setup 1: Butterfly Zhang Jike Super ZLC (Chinese Penhold) with Butterfly Dignics 05 – +$500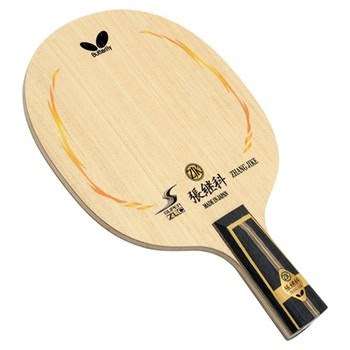 Butterfly Zhang Jike Super ZLC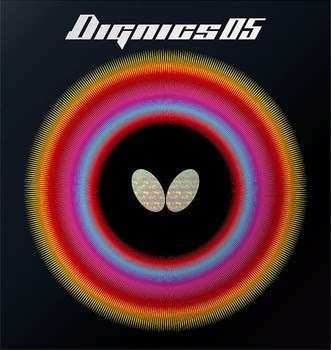 The first setup features the Butterfly Zhang Jike Super ZLC blade. This is the most expensive blade available right now. It is the first blade made with Super ZL-Carbon. It is said to have a huge sweet spot and promotes power while maintaining control.
What is interesting about this blade, in particular, is the huge cost differential between the Chinese Penhold and standard version. As of the time of writing, the Chinese Penhold is a staggering ~$600, whereas the standard variant is ~$400. Both are incredibly expensive, but I fail to see what merits of the $200 increase. They are exactly the same blade except for the adaptation for the penhold grip.
Dignics 05 comes in as the most expensive rubber today. Think of it as a new and improved Tenergy. Available in the same number formats as Tenergy (05, 64, 80) except for 09C. Undoubtedly, Butterfly Dignics 05 is an amazing rubber, but whether it warrants the price tag is highly debatable. In my opinion, it's pretty overpriced. As a result, the Zhang Jike Super ZLC with Dignics 05 is the most expensive paddle you can buy!
Setup 2: Butterfly Harimoto Innerforce Super ZLC with Butterfly Bryce Speed – +$700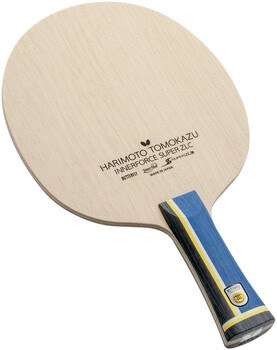 Butterfly Harimoto Innerforce Super ZLC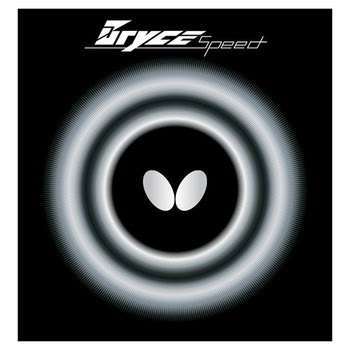 The second custom setup of this list uses the Butterfly Harimoto Innerforce Super ZLC as the blade of choice. Fun fact: all three of the most expensive blades are a part of the super ZLC series. Hardly surprising, as it is the latest and greatest technology Butterfly has developed.
The Harimoto Innerforce Super ZLC is classed as an offensive blade just like the Zhang Jike Super ZLC, although reviews suggest it is slightly slower. Again, I expect the difference between the two is hardly noticeable. They both cost the same amount at the time of writing.
As the rubber of choice, I have paired the blade with Bryce Speed. Butterfly recommends coupling it with Dignics 05, but it has already featured above. Bryce Speed is a great rubber, I personally used it for a few years. It's a step above most rubbers in terms of pace while also fairly spinny.
The Most Expensive Pre-Made Ping Pong Paddles in the World
Setup 3: Butterfly Mizutani Jun Super ZLC With Butterfly Tenergy 05 – +$500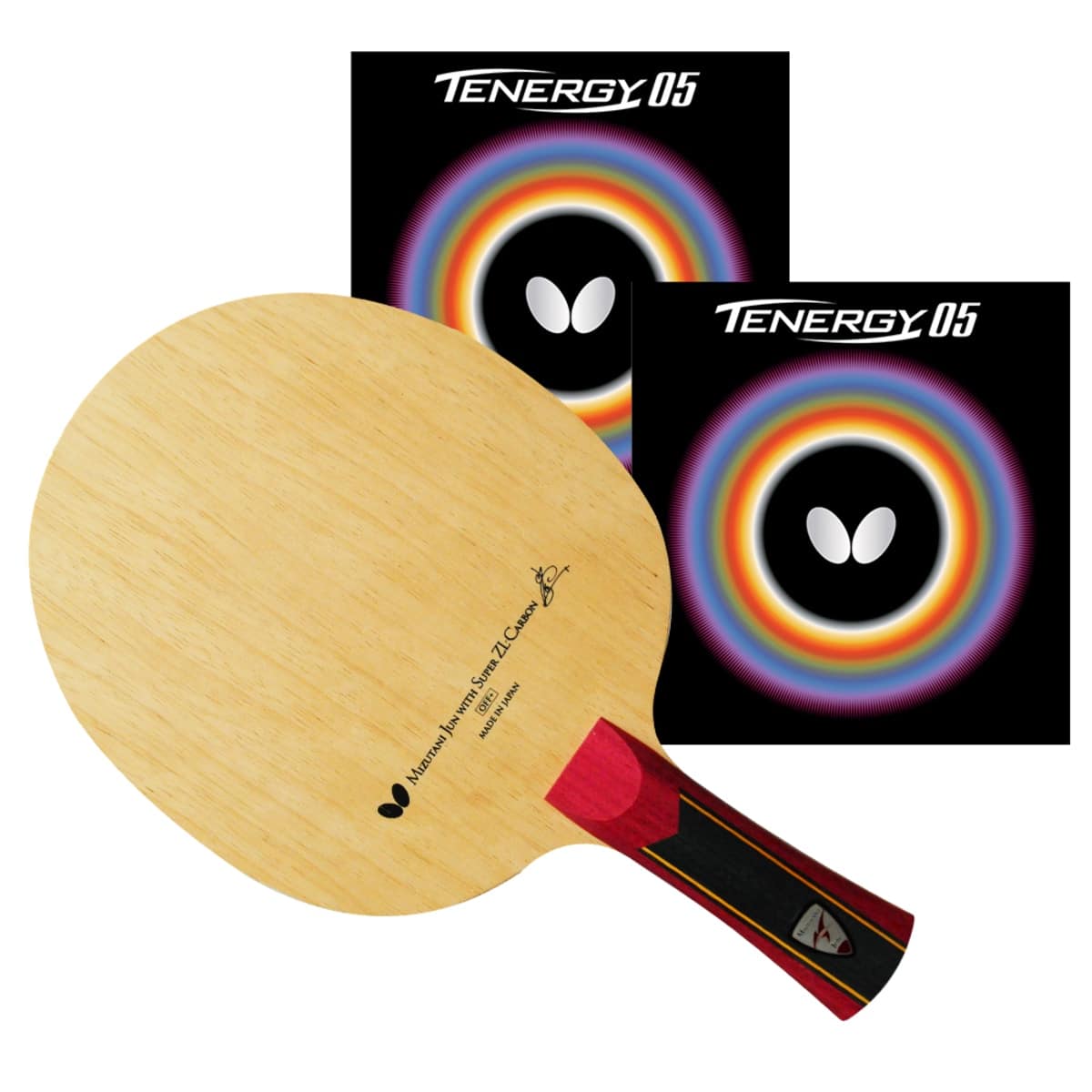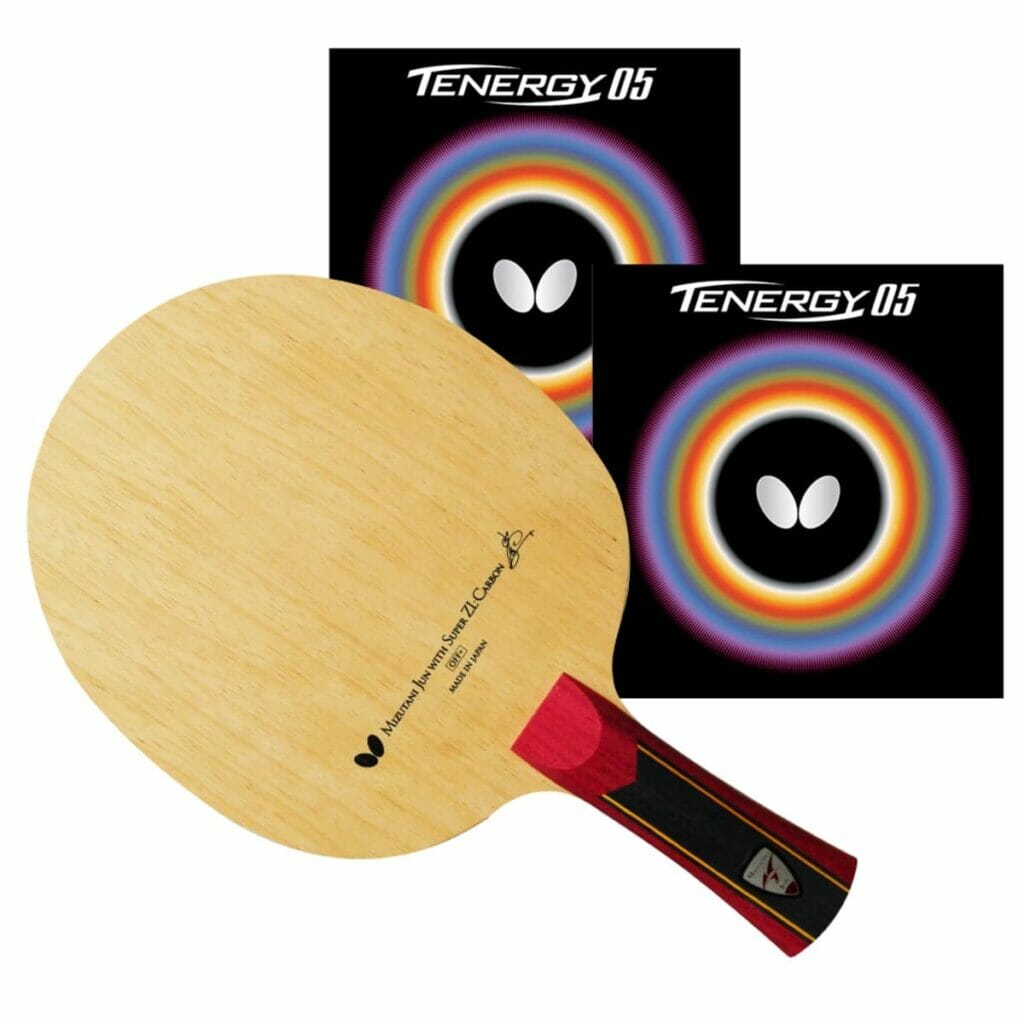 Next up we have the Butterfly Mizutani Jun Super ZLC. Priced the same as the standard Zhang Jike Super ZLC, it is also part of the Super ZLC series. There are a few different blades available at this price point.
Being a member of the Super ZLC series, there is a similar focus on a large sweet spot with high speed and control. The Mizutani Jun Super ZLC is slightly faster, marketed as offensive+, whereas the Zhang Jike Super ZLC is just offensive. We are talking a game of margins here; both are excellent blades and the only notable difference is a slight increase in pace and differing designs.
For the rubber, we have the renowned Tenergy 05 (T05) — see our Butterfly Tenergy 05 review here.
The most famous rubber to date, you know what you are getting when you purchase Tenergy. An elite rubber capable of pushing your game to the highest level possible.
At the time of writing, all of the Tenergy range come in at the same price of +$75. Besides 05, you've got T05 Hard, T64, T80, T25, and T19 to choose from. There are even FX versions available of the older rubbers to give you even more options to choose from.
Setup 4: Butterfly Zhang Jike Super ZLC with Butterfly Bryce HighSpeed — +$500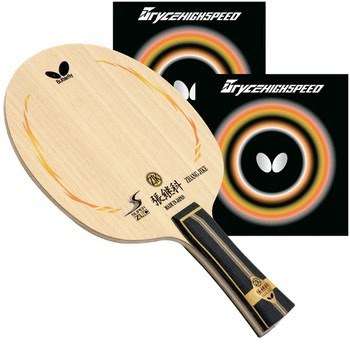 If you want to get your hands on the Butterfly Zhang Jike Super ZLC (non-penhold version) but aren't so set on Dignics as your rubber of choice, perhaps this bundle may interest you.
Megaspin offers the Zhang Jike Super ZLC paired with two sheets of Bryce HighSpeed as a package deal. Bryce HighSpeed is another super Butterfly rubber priced at +$60. Overall, the paddle costs +$500.
Why are These Paddles so Expensive?
Do you know what every item on this list has in common? Butterfly.
Butterfly is well-known for charging a premium for their products because they are the biggest name in the table tennis industry. As with all industries, there is always that one company that charges a level above the rest.
While the products they produce are fantastic, they are obviously adding a buffer because of their name. Consumers have proven time and time again they'll happily pay inflated price tags for various reasons. Whether it's because they want the best quality, or to flaunt the "designer name", the fact remains. People will pay.
Irrespective of the market price, Butterfly products are expensive to make. The blades for instance consist of alternating layers of wood and carbon. Clearly, testing, refining, and creating such blades takes a lot of time and money.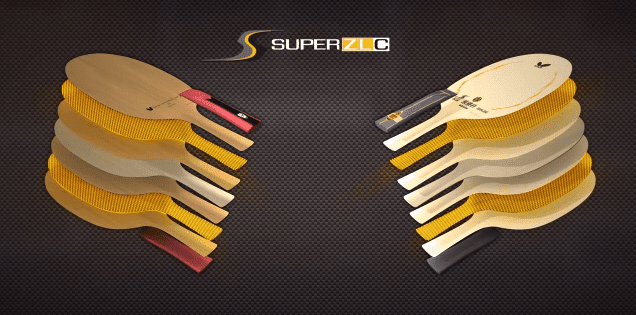 Are These Expensive Ping Pong Paddles Worth the Money?
There is no mistake that Butterfly is a front-runner in regards to rubber and blade quality. The question is whether they are worth their steep price tag.
To better answer this question, we need to separate blades from rubbers and analyze what Butterfly's competitors are producing.
Are the Most Expensive Blades Worth it?
First, let's take a look at blades. This is where Butterfly truly shines in the premium price tag zone. They have a plethora of blades available for hundreds of dollars, where other brands have just a few.
In fact, the 3 most expensive blades besides Butterfly, are the JOOLA Vyzaryz Trinity, the JOOLA Energon Super PBO-c, and the JOOLA Vyzaryz Hybrid. Costing +$250 respectively, as of the time of writing. A lot less than what Butterfly charges.
Interestingly, Butterfly and JOOLA are the only two companies to offer blades on Megaspin that exceed the $200 threshold.
But where JOOLA sells just 4, Butterfly sells 30. There really is no comparison in deciding who the premium supplier is. Butterfly's top-end blades cost far more and they overwhelm JOOLA by how many they produce.
When we then compare this by overall blade ratings from reviewers, we see lots of cheaper options that rate the same as the more expensive Butterfly blades.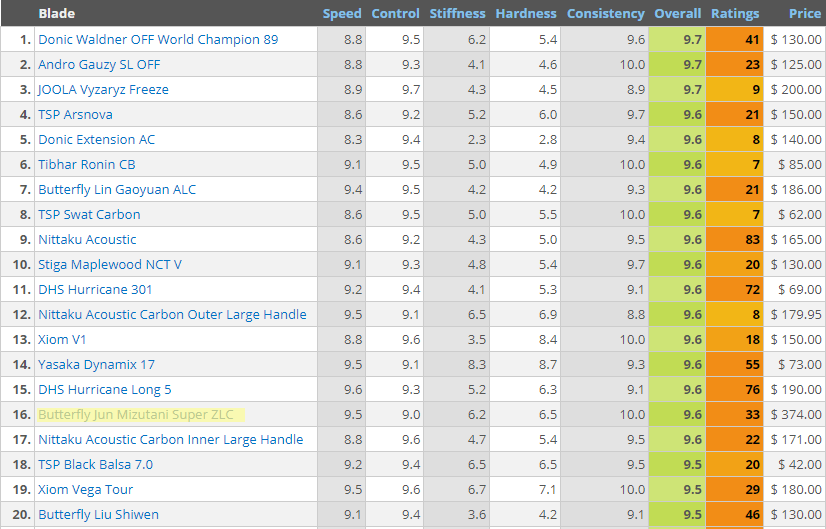 Data courtesy of revspin.net
As you can see, there are a lot of blades ranked 9.7 and 9.6 overall. The Jun Mizutani Super ZLC is such a blade. But look at the costs on the right. The Mizutani blade is twice that of most of the others.
Considering the subjectiveness of reviewing, I would argue all of these blades are somewhat level with each other in terms of quality. Therefore forking out around $150 extra doesn't seem worth it.
Are the Most Expensive Rubbers Worth it?
When we compare the top-rated rubbers, we see a similar story.
Butterfly's two most popular series: Tenergy and Dignics, are nearly twice that of its main competitors. A total of 26 rubbers cost more than $60, and 21 of these are produced by Butterfly.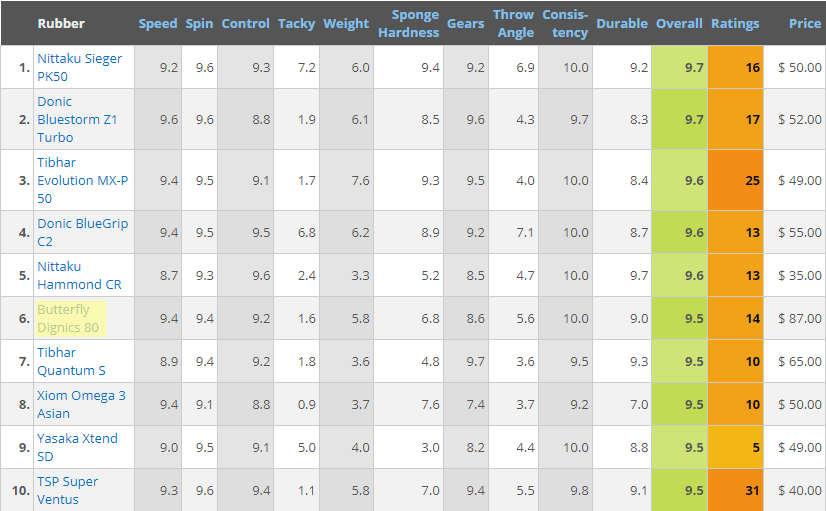 Data courtesy of revspin.net
In terms of reviews, Dignics 80 is the only Butterfly rubber to break into the top 10. Yet no rubber even comes close to the price of Dignics within that range.
As before, I largely consider anything within the top 20 to be on par with one another. So the extra $35 or so seems a little wasted.
Expensive Rubbers vs Expensive Blades
Now that you know there are other great options besides the most expensive paddles, there is only one question left to answer. If you can only afford to go big on one, which would it be? Rubber or blade?
That's a tough one. But here is my take.
I'm pickier when it comes to choosing ping pong rubbers so I am stricter with what I purchase. As an aggressive looper, I need the fastest, spinniest rubbers going. And I am willing to pay a premium to get that. With a blade, I'd ideally like it to be super quick as well, but I'd settle for less than the best if it meant getting my precious rubbers.
However, if you find a good blade and take care of it for years, even the most expensive blades are well worth the money. I switched to the Timo Boll ALC, gosh, around 7 years ago now. Best. Decision. Ever.
Read our Timo Boll ALC Review here.
At the time I was reluctant to spend +$175 on a blade. But it ended up helping evolve my game, I took care of it, and even now so many years later, I have no plans to switch.
Factors to Consider When Buying an Expensive Ping Pong Paddle
There are a lot of expensive table tennis paddles on offer but just because a paddle is pricey and "high-quality" does not mean it is a good investment for you. As such, I recommend analyzing potential paddles based on four factors: skill, style, longevity, and value.
Skill is one of the first things you should look at. Expensive paddles almost always demand a lot of skill to use. If you're not an advanced player, chances are a highly expensive paddle is too advanced for you, and you would be much better off with something a little cheaper.
Style is another key element. We all have our own style of play and equipment preferences. While it is important to explore, don't drift too far from what you are comfortable with to pursue an expensive paddle. For example, if you love soft rubbers, and dislike hard, don't purchase a hard rubber just because it is more expensive.
Longevity is another area that I feel is especially important for expensive paddles. If you're investing a lot of money, you should be damn well sure that your bat will last for a long time. Adequate care ensures that the blade will last, but there is not much you can do about the rubbers. I for one, try to get a year out of my rubbers before replacing them.
Value brings it all together. How well does said paddle tick all of your boxes? And are there cheaper bats of similar quality?
Expensive Ping Pong Paddle Pricing Comparison
To get a grasp of how expensive the top ping pong paddles are I think it's helpful to compare them to the approximate average price.
For this, I looked at all of the blades and rubbers on Megaspin of which there are hundreds. The median blade price totaled around $70. And as for the rubbers, it was around $40. So totaled together with one blade and two rubbers, that brings us to an average cost of $150
That means that all of the expensive paddles on this list cost more than 3x the average paddle price.
FAQs
What Is the Most Expensive Ping Pong Paddle?
The most expensive table tennis paddle is the Butterfly Zhang Jike Super ZLC (Chinese Penhold) with Butterfly Dignics 05. It currently costs +$750.
How Much Does a Pro Table Tennis Racket Cost?
There is no benchmark price for professional table tennis equipment. In my opinion, generally speaking, you're not going to achieve professional-level quality by spending any less than $150. Most elite ping pong paddles use rubbers that are $40 or more, and a blade that is often around $100 or more.
Why Are Butterfly Blades So Expensive?
Because Butterfly is one of the most trusted and popular table tennis manufacturers. Their range of blades is extraordinary, and while often overpriced, you are almost guaranteed a blade that you love, assuming you picked one that fits your playing style.
The Bottom Line
The 4 setups listed in this article are amazing high-quality bats that are the most expensive ping pong paddles. They are right up there with the best. But do you need them to be a great table tennis player?
Of course not.
Don't get sucked in by the most expensive table tennis rackets expecting them to be the best. They often aren't. Conversely, don't make the mistake of scrimping on your ping pong paddle as it will only hurt your game.
Your best bet is to find a middle ground where you get the greatest value for money. Although expensive, Butterfly's Arylate-Carbon Blades really are fantastic, and I have no trouble recommending them. If you buy one, look after it.
And as for rubbers, I've found the $35-$50 range to offer incredible value for money. I am particularly fond of Andro, Tibhar, and Donic. Just remember to only spend whatever you can afford, and choose equipment that suits your style.
And hey! If you have the money to burn on the most expensive table tennis bats, feel free to go for one of the setups we listed. While pricey, they are pretty much the absolute pinnacle of table tennis paddles.

Freelance writer. Table tennis enthusiast. Lover of all things online. When I'm not working on my loop game I'm probably binge-watching some fantasy show.