Yasaka Ma Lin Extra Offensive Review
The Yasaka Ma Lin Extra Offensive is a blade created in Sweden's Tranas Factory, with the help of Ma Lin, a legendary table tennis player. Throughout his career, Ma went on to use the blade to great effect.
Sometimes referred to as the Yasaka Extra Offensive (YEO), the Ma Lin Extra Offensive is a popular blade among many professional ping pong players. This blade's popularity is likely due, at least partially, to the fact that it was Ma Lin's personal blade. With such a respected player backing the blade, we're guaranteed quality. If it's a good enough blade for one of the top players of all time, it's certainly good enough for us!
We see a similar story when looking at the Timo Boll ALC and Waldner Senso Carbon. Both became exceedingly popular blades because fan-favorite players Timo Boll and Jan-Ove Waldner consistently used them in their careers.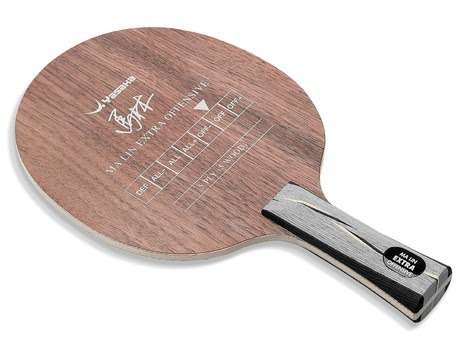 Specifications
Class:  OFF
Style: Attack
Plies: 5
Weight: 86g
ITTF Approved? Yes
Price: $
Our rating: 9
Yasaka Ma Lin Extra Offensive Composition
The Ma Lin Extra Offensive features 5 plies. The hard, exterior veneers are used alongside Scandinavian pine, where the blade gets its power. The central veneer, however, was intentionally made thick and medium-soft to enhance feeling.
With the medium-soft central veneer and hard exterior veneers, this is a well-balanced blade.  Each blade has lacquer applied to its surface to boost speed and lengthen durability.
What Table Tennis Pros Use the Ma Lin Extra Offensive?
The only player we can say with certainty that used the Ma Lin Extra Offensive is Ma Lin himself. However, we expect many top players have used the blade over the years.
This blade helped Ma win many elite events such as the World Cup, World Championships, and Olympic Games.
The Positives
As an all-wood blade, the YEO boasts superior feeling as one of its strongest attributes. Many of us use carbon blades, which tend to dull your feeling of the ball. It's the trade-off you make for a speed boost.
Despite being an all-wood blade, the YEO has a sizable sweet spot, much like a carbon blade. We welcome this balance between superior feeling and potential for quality shots across the surface of the blade.
This superior sense of feeling gives you a lot of control and only leaves slight vibrations upon impact with the ball – nothing too overpowering. If you're transitioning from a carbon blade, it shouldn't take you long to adapt to the all-wood blade.
The YEO also has a decent amount of dwell time due to the thick, medium-soft central veneer. This makes shots like loop openers really easy to execute. The great dwell time also helped Ma Lin with his serving — see for yourself! Take a look at this video demonstrating Ma's high-toss ghost serve.
Generally, the YEO blade tends to be most popular with penhold players. This makes sense, as Ma Lin plays penhold himself. However, the blade is available in all four handle types, giving you great potential for customization (straight, flared, anatomic, penhold).
What makes the Yasaka Ma Lin blade such a strong buy in my opinion is its price tag. For the quality you're getting, you could expect to pay 3 figures!  Yet, the YEO costs less than many average rubbers. As someone used to buying expensive Butterfly blades, I'm astonished at how cheap the YEO is.
The value for money with this blade is essentially unbeatable.
The Negatives
In terms of speed, the Yasaka Ma Lin Extra Offensive is very fast; however, it suffers a touch far from the table. This is because it plays rather linearly, and lacks a catapult effect due to the absence of carbon layers. As such, it's best to keep rallies at a close to mid-distance, or else you could find yourself at a power deficit to your opponent.
If you usually go for killer speed in your game, you may also find the blade is quite tiring to use. The YEO's linear speed means you have to put more effort into your strokes, which is physically draining. If you're a fit player, this shouldn't be much of an issue. But, less fit or older players may have to reduce their speed somewhat or attack less often to comfortably use this blade.
The Best Rubbers for Yasaka Ma Lin Extra Offensive
Being such a great blade, the Ma Lin Extra Offensive pairs well with many different rubbers. My immediate thought for an ideal pairing is Rakza, as Yasaka, the same company offering the YEO, offers this rubber line.
The Rakza 7 is adequately offensive and offers a lot of control. However, if you want to go faster, Rakza 9 should be great too.
Check out our Rakza review here.
If you like Chinese rubbers, the DHS Hurricane 3 Neo is also a great choice. This rubber plays well close to the table like the YEO. But it also demands fast arm speed, so you need to be quite fit (we've got a review for H3 Neo too!).
Boosting can help make this setup more lively, so if you don't mind boosting your rubbers, this pairing could be a match made in heaven.
The final combo is for players who seek a slower bat — whether you lack the skill or if that's just your play style. For these players, Mark V, another rubber by Yasaka, is a solid option. The Yasaka Ma Lin Extra Offensive with Mark V levels out to an Allround+ kind of bat.
You have access to decent speed with the YEO, but unless you put in a lot of power yourself, the fundamental pace on your shots won't be blistering by any means. Using the YEO with the Mark V allows you to focus more on form and effective placement. The great thing about this setup is you can always upgrade rubbers at a later date to something faster. And, you won't need to change blades because the Ma Lin Extra Offensive classifies as offensive.
Megaspin currently has the pair on sale as a bundle at a super price.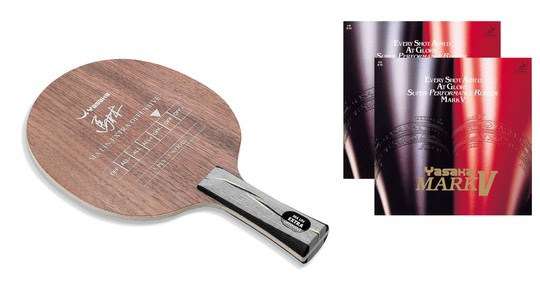 About Yasaka
Yasaka is a table tennis company that dates back to the 1940s. They initially began producing table tennis rubbers. The release of Mark V in 1969 was a pivotal point in table tennis and it soon became one of the most well-known rubbers of all time.
The production of blades then followed in 1992, and Yasaka continued to release innovative products such as the Dynamix, a blade that has a staggering 17 layers.
Alternatives to the Ma Lin Extra Offensive
Yasaka produced a series of blades in their Ma Lin line-up, all of which address specific preferences within the offensive style.
The first alternative blade appeals to players who prefer the feeling of all-wood blades but dislike the vibrations that follow when they hit the ball. This is the Yasaka Ma Lin Extra Special. Unlike the YEO, this blade has hard inner veneers with a much smaller soft central veneer. As a result, the blade is heavier at 90g.  
For carbon blade lovers, the Yasaka Ma Lin Carbon is ideal. It is a 7-ply blade with five layers of wood and two layers of carbon. The presence of carbon deadens the vibrations in the blade and makes it slightly faster than the Ma Lin Extra Offensive.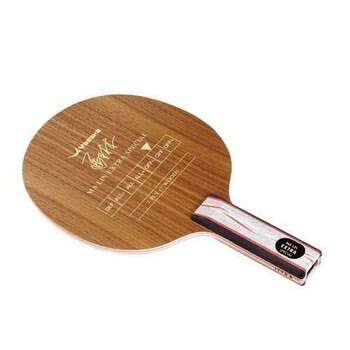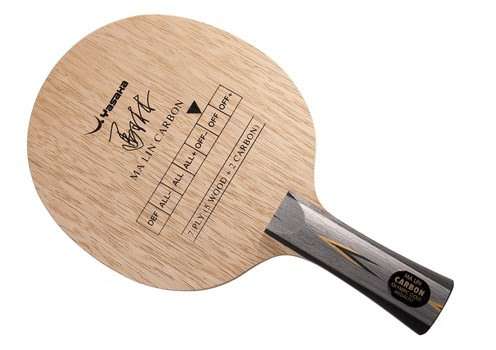 Pros (Simplified):
Good feeling: Its all-wood composition gives you better feeling than most carbon blades
Long dwell time: It holds the ball for a long time, which gives you more control and spin
Fast: As an offensive blade, it has a lot of power
Very cheap: It provides incredible value for money.
Cons (simplified):
Suffers at far distances from the table – The lack of carbon layers makes it harder to produce powerful shots when you are far from the table
Conclusion
The Yasaka Ma Lin Extra offensive is a fast blade suited for a close to mid-distance from the table style of play. Ma Lin helped design the blade and went on to use it for a lengthy portion of his career. Ma's part in the design and his use of the blade contributed to the YEO's vast popularity.
The YEO also has a large sweet spot and long dwell time, both precious attributes, especially for such a fast blade. The only real area the blade is lacking is in its pace far away from the table. Nevertheless, most fit, skilled players shouldn't have too much of an issue playing fast when they are looping at far distances.
At its price point, the Yasaka Ma Lin Extra Offensive is an outlier in the best possible way. If you're an offensive player and a fan of Yasaka, or simply like the sound of the blade from this review, I strongly recommend you give it a try. If for whatever reason you don't gel with it, the good news is that you've wasted barely any money. But player reviews suggest dissatisfaction with the blade is unlikely. It is one of Yasaka's top-rated blades for a reason.  

Freelance writer. Table tennis enthusiast. Lover of all things online. When I'm not working on my loop game I'm probably binge-watching some fantasy show.