The Rakza series is the most popular offensive group of rubbers that Yasaka has produced. And of the 8 Rakza rubbers released thus far, Rakza 7 has proven to be the most popular among players. Here is our Rakza 7 review.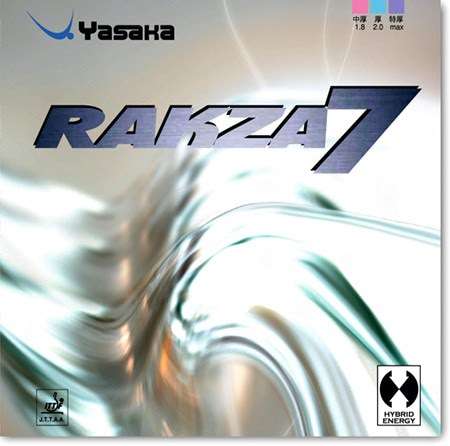 Specifications
Speed: 9
Spin: 9.3
Control: 8.9
Hardness: Medium-Hard
ITTF Approved? Yes
Thickness (mm):  1.8, 2, 2.2
Price: $$
Our rating : 9.2
Construction
Rakza 7's top sheet is mainly composed of natural gum. This increases the longevity of the top sheet and enhances spin production. Yasaka also worked hard to develop the underlying pimple geometry to obtain a more harmonious relationship between spin and speed.
The underlying Power Sponge is of medium hardness and together with the top sheet, uses a technology known as the Hybrid Energy system.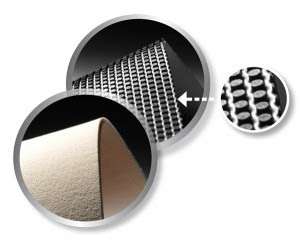 What Table Tennis Pros Use Yasaka Rakza 7?
Yasaka Rakza 7 is not commonly used by table tennis pros. This is probably due to a few reasons. For one, maximum levels of speed and spin are popular at the highest level, and Rakza falls a little short. Pros generally don't need rubbers with great control as their form is impeccable.
And secondly, Yasaka isn't a particularly popular brand for table tennis pros at the moment. I believe they have a lot fewer sponsorships than most of their competitors.  
The highest-ranking pro currently using Rakza 7 is Aida Satoshi of Japan. Ranked at 596 in the world, he uses Rakza 7 on his forehand with Rising Dragon on his backhand.
Instead, Rakza X proves to be a more popular rubber at the top level. The highly entertaining Mattias Falck uses it on his backhand with the tricky short pimps Rakza PO on his forehand. He is currently number 9 in the world.
Liang Jingkun also uses Rakza X on his forehand, currently ranked 11, he was as high as world number 6 back in 2019.
The Positives
Rakza 7 is a highly controllable offensive rubber. Its pace and spin are very high, but not quite as high as some of the top offensive rubbers such as Tenergy 05. But this trade-off can certainly be considered beneficial in the hands of the right player.
Where this rubber shines is the main rally sequence following a service and service return. Rakza 7 promotes consistency and controllability — meaning it's really easy to get into a groove and outlast your opponent.
It doesn't react too much to incoming spin which plays well into its overall style: it's easy to get into the main rally sequence. Looping off of backspin is simple, as are pushes – just don't expect otherworldly spin on these shots.
Of course, loop finishers on third balls are still well within your grasp using Rakza 7. They just require more effort when compared with its competitors. Placement may be your friend here more so than maximum speed.
Perhaps one of the reasons some people perceive Rakza 7 to be so fast is down to its superior control. You don't have to be anywhere near as precise with your loops allowing you to commit to faster and faster shots.
Mixing blocks into your game is also a great idea with Rakza. Blocking loops is quite straightforward, and the forgiving nature of backhand punches makes them highly advertising.
In terms of cost, Rakza is well priced, being far cheaper than the likes of Tenergy, and in similar price ranges such as Donic Bluefire and Andro Rasanter. Rakza offers good value for money.
Negatives
Whilst Rakza offers great spin and speed, it does not quite match that of the most offensive rubbers. This makes performing loop kills a little more difficult, as you need to use more energy. Third ball attack is one of the most important elements in table tennis today, so a hindrance here is a drawback.
The amazing control Rakza 7 offers might also tempt you into becoming comfortable just playing rallies out without using powerful shots. If this is your style then there is no issue. But for aggressive loopers, it's important to not get roped in and step up the pace when an opportunity presents itself.  
If you are a super spinny player, you might find yourself a little disappointed with this rubber. Expect to win fewer rallies off of slow roll-over loops and from serves. As mentioned earlier, the slight deficit in spin rewards you with copious amounts of control.
About Yasaka
Yasaka was formed in 1947 by Mr. Hirosi Yaoita and Mr. Sakamoto. They came up with the name Yasaka by combining parts of their names.
Hirosi Yaoita was a keen table tennis player, and he had a dream of creating quality table tennis equipment. In the years that followed, Yasaka grew at a great pace and supplied many of the rising Japanese stars.
1969 marked a key milestone, the release of Yasaka Mark V — one of the most widely recognized rubbers to date. It helped players secure wins in the men's singles in the 1970 European Championships, and the 1971 World championships.
The most successful Yasaka-sponsored player to date is Ma Lin. He amassed many trophies, being a 3x Olympics Champion, 4x World Cup Winner, and a staggering 9x World Champion.
Yasaka Rakza 7 Alternatives
Rakza has a comprehensive range of 8 different rubbers. Each suit a particular player preference: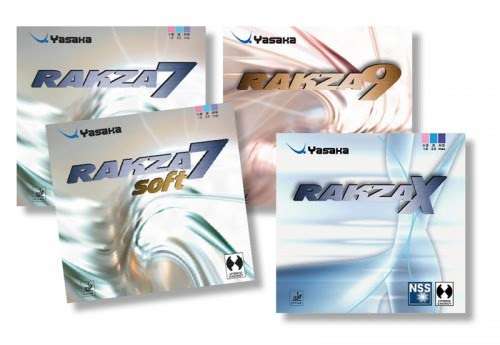 The entire rubber series has been well-received by players so if Rakza 7 isn't for you, one of these alternatives just might be. Rakza 9 could be a great forehand choice to truly unlock your full power for looping and smashing.
And for those who prefer a slightly softer rubber, Yasaka Rakza 7 Soft is the ideal pick, offering a little less pace with more control.  
Rakza PO is also an interesting variant. Used to great effect by Mattias Falck, we rarely get to see short pimple rubbers used to such great effect against the top players in the world. Rakza PO allows him to power through the loops of his opponents.
Pros (simplified)
Price: Rakza 7 offers good value for money
Control: Super control for a rubber of such spin and speed
Unreactive: Doesn't react too much to incoming spin
Cons (simplified)
Limited speed & spin: Doesn't quite match the levels of the top offensive rubbers
Conclusion
Rakza 7 is a high-quality rubber suited to allround+ and offensive styles. It can perform smashes and loops beautifully but kill shots take a little bit more oomph to deliver.
Once you get into the main match sequences you will see that this rubber shines. The control you have in all aspects of play is very high, and if you are a consistent player you have a great chance of winning points.
Personally, I am surprised this rubber isn't more common considering how good it is. I have only seen it a handful of times among players I have played.  
If you are after a forgiving rubber with a great controlled loop game both close to and far away from the table, Rakza 7 is an excellent pick.

Freelance writer. Table tennis enthusiast. Lover of all things online. When I'm not working on my loop game I'm probably binge-watching some fantasy show.