Jan-Ove Waldner: Table Tennis Player Profile
Name: Jan-Ove Waldner
Nationality: Sweden
Date of Birth: 10/03/1965
Grip: Shakehand
Hand: Right
Playing Style: Creative Attack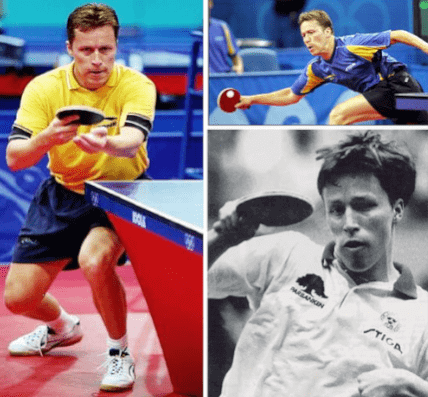 Jan-Ove Waldner Biography
Jan-Ove Waldner began playing table tennis at the age of six and would play with his older brother in their summer house. Jan-Ove also enjoyed other sports, like soccer and tennis.
That same year, Waldner's brother joined a table tennis club. Jan-Ove tagged along but was not allowed to join because he was too young. The youngest members were still a couple of years older than Waldner. So instead, he acted as a mascot and cheerleader. Despite his young age, the club members let Jan-Ove join when they saw his ability. Talent like that could not go to waste.  
Looking back, Jan-Ove said he could have easily ended up devoting his life to football or tennis instead of table tennis. He is fiercely competitive and felt like he was born to play sports. However, in hindsight, he is certain that he made the right decision in sticking with table tennis.
In 1974, at the age of nine, Waldner was asked to attend a training camp in Örebro. It was located some 250km away from the comfort of his home in Stockholm — a significant distance for such a young player.
After initially expressing frustration with the journey, his outlook completely changed by the time the training camp had concluded. When his mother arrived to pick him up from the camp, young Waldner did not want to leave. Clearly, the camp woke something in the boy.
Competing on the National Stage
By the age of 12, Jan-Ove won his first match in the top division of the Swedish League. This win was a key milestone that showed Jan-Ove as a destined front-runner in Sweden.
Three years later, Waldner flew to China to practice. China is renowned for table tennis and its hardcore training. Waldner found the training difficult in China, as it was far more intense than his training back in Sweden. He lost many matches but gained a lot of experience.
Waldner knew that to develop his game, he needed to play against more styles than he was used to in Sweden. For example, learning how to play against a penhold would prove useful in the future.
Jan-Ove's Rise to Dominance
Jan-Ove won his first major medal in 1982 in Budapest for the European Championships. On his way to the final, he beat the former World Champion Stellan Bengtsson. This was surely unexpected, as Jan-Ove ranked only 30 in Europe at the time. Unfortunately, he fell short of the gold, and instead took home silver, losing in a close match to fellow teammate Mikael Appelgren. This would make him the youngest European finalist.    
From this point onwards, Waldner claimed medal after medal each year and rose through the ranks. The World Table Tennis Championships of 1989 marked a particularly successful event for Jan-Ove. Not only did he claim the gold in the singles, but he also helped secure gold in the team event where Sweden easily triumphed over China 5-0 in the final. This was a win that would go down in the history books.
However, Jan-Ove cites his 1992 Olympic win as his most precious. Waldner believes this was the prime of his career, as he felt he was in his best shape ever. Going into the final, he knew that he had a good chance of winning with Jean-Philipe Gatien as his opponent, as he had experience playing with him in the past.
Jan-Ove Waldner Net Worth
Jan-Ove Waldner's net worth is estimated to be around $10 million. As he was a bigger name than most players, he likely secured more money through endorsements. Waldner has also won a significant number of international tournaments, which offer sizeable sums as prize money.
Getting rich from a young age did present its challenges. Unfortunately, Waldner became addicted to gambling, though he says he has since quit.
Jan-Ove Waldner's Style
What made Jan-Ove such a joy to watch was his unique style. He seemed to have an eye for the game and was a master tactician. This presented him with the title, "the Mozart of table tennis."
Waldner always observed his opponent's body language. He has a lot of words of wisdom for table tennis fans, but perhaps one of his best is below:
I am standing where the ball comes, that's why I don't have to move. I can read the game.
Jan-Ove perfected his entire shot arsenal across the board, carefully selecting whatever stroke he needed to win the point. Where many players heavily focus on looping, Jan-Ove commonly blocked alongside his loops. He was also a master of drop shots and counters.
Serving was another skill in which Waldner excelled. He stayed behind 30 minutes after every training session to drill his serves until they were perfect. During Waldner's era, service rules were different. Players were allowed to obstruct their opponent's view of the ball with their arm or body, and Waldner was a master of this technique. He regularly varied his spin, placement, and speed, which gave his opponents a lot of trouble.
He attributes a lot of his success to his mental strength. He always kept a cool head when playing and a positive attitude, skills his parents instilled in him.  
Check out this great video showing some of Waldner's best rallies:
Jan-Ove Waldner's Achievements
Jan-Ove's many achievements throughout his lustrous career have given him widespread fame. You don't achieve the nickname the "Mozart of table tennis" without being a pioneer of the sport. He held the #1 ranking in the world with aplomb – we would expect nothing less from the legend.
At a time when China became dominant in table tennis, Waldner still invoked fear. Many people believe Jan-Ove Waldner is the greatest player of all time. And while this is likely not the case, he is certainly among the top table tennis players of all time and has greatly influenced the sport.
He was the first player in history to achieve a Grand Slam. This coveted title is reserved for players who have won a gold medal in the Olympics, World Championships, and the World Cup. Only ten players have achieved a grand slam.
Jan-Ove Waldner's Olympic medal tally was even close to reaching two gold medals, which would have been an impressive achievement. He fell to Kong Linghui in the final of the Sydney 2000 Olympics. Waldner would have to settle for one gold and one silver.
Although there are a few Jan-Ove Olympic medals and other event medals, we've listed only his gold medal achievements below:
Jan-Ove Waldner Olympic medals
Summer Olympics X1 – Singles – 1992
World Cup X1 – Singles – 1990
World Cup X1 – Team – 1990
World Table Tennis Championships X2 – Singles – 1989, 1997
World Table Tennis Championships X4 – Team – 1989, 1991, 1993, 2000
European Table Tennis Championships X1 – Singles – 1996
European Table Tennis Championships X3 – Doubles – 1986, 1988, 1996
European Table Tennis Championships X6 – Team – 1986, 1988, 1990, 1992, 1996, 2000
On top of this fine collection of awards, Waldner was even more successful within his own country's championships. From 1981-2011, Waldner claimed 17 gold medals and five silver medals in the Swedish Championships.
Jan-Ove Waldner Equipment
Jan-Ove Waldner has a close relationship with Donic. He has been good friends with the company owner, Frank Schreiner, for many years. Throughout his career, Jan-Ove Waldner was a Donic-sponsored player and, for the most part, only used Donic equipment.
Records indicate he used the Waldner Senso Carbon V1 as his blade, the Coppa Jo Gold as his forehand rubber, and the Coppa Jo Platinum as his backhand rubber. The rubbers are somewhat less talked about these days, but the Waldner Senso Carbon V1 is widely considered a super blade.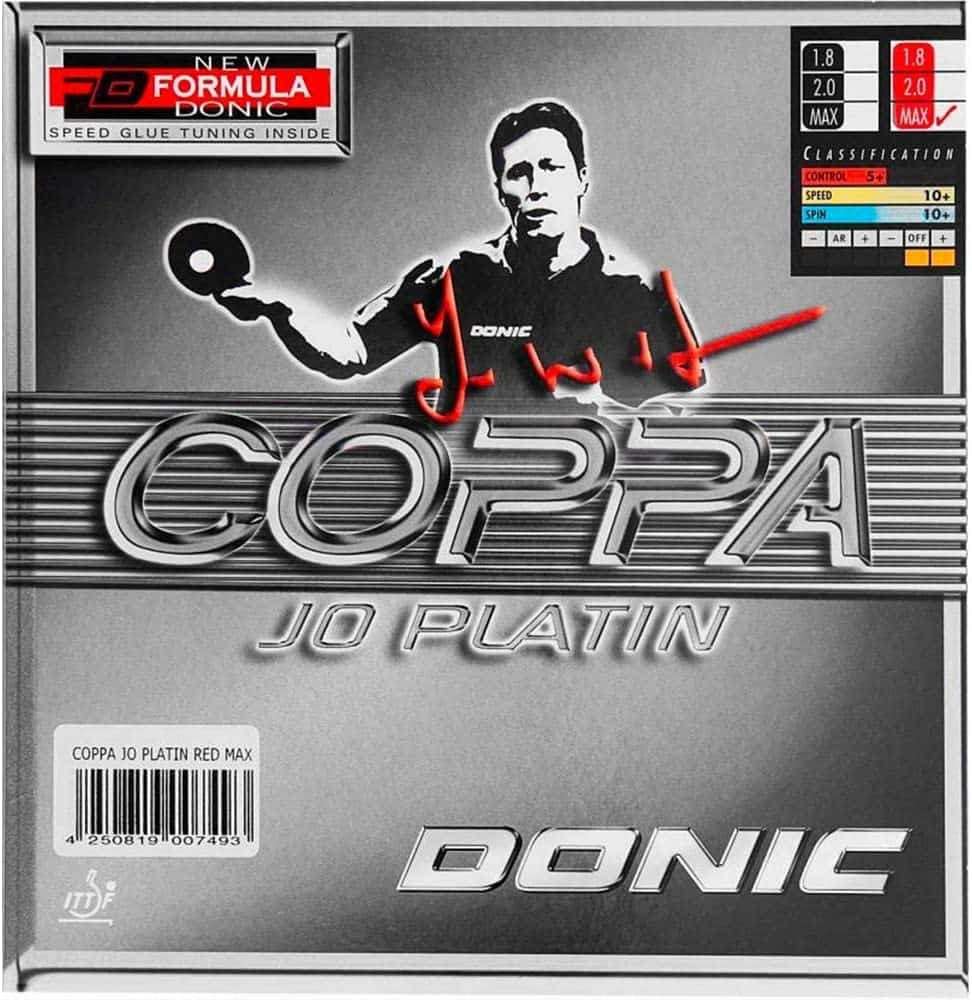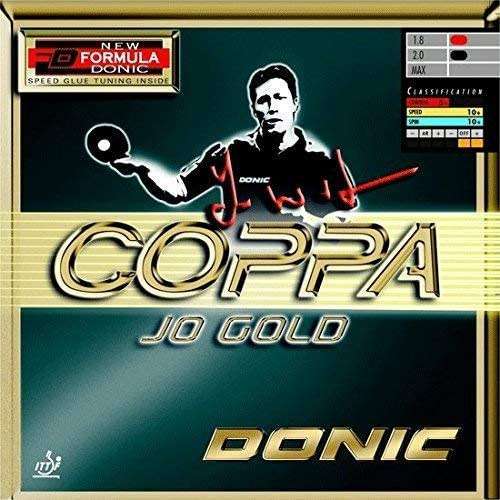 Jan-Ove Waldner Retirement and Future
Jan-Ove Waldner retired from international table tennis at 46 years old. However, he continued playing within Sweden, representing Spårvägens for several years.
Although now retired, Waldner is still very much involved with table tennis. He still plays but has instead shifted his focus onto the development of equipment with Donic. He assists them with their product development to help create high-performing, new equipment.
Jan-Ove said he would consider becoming a coach in the future, but for now, he is happy with what he is doing. He still provides a little coaching whenever he can, but the thought of him coaching a young prodigy is an exciting prospect!
Waldner now has more time to enjoy his hobbies. He frequently watches soccer and plays golf. There are many pictures of him playing golf with other Swedish Legends such as Jörgen Persson and Mikael Appelgren. It's nice to know they still keep in touch!

Freelance writer. Table tennis enthusiast. Lover of all things online. When I'm not working on my loop game I'm probably binge-watching some fantasy show.