DHS Hurricane 3 NEO Review
Having already looked at the popular Hurricane 3, today we take a deep dive into its successor, the DHS Hurricane 3 NEO.
NEO was released to bypass the speed glue ban. Without the glue, H3 lost its killer edge. So in response, DHS released a rubber with the same top sheet and a factory-tuned sponge.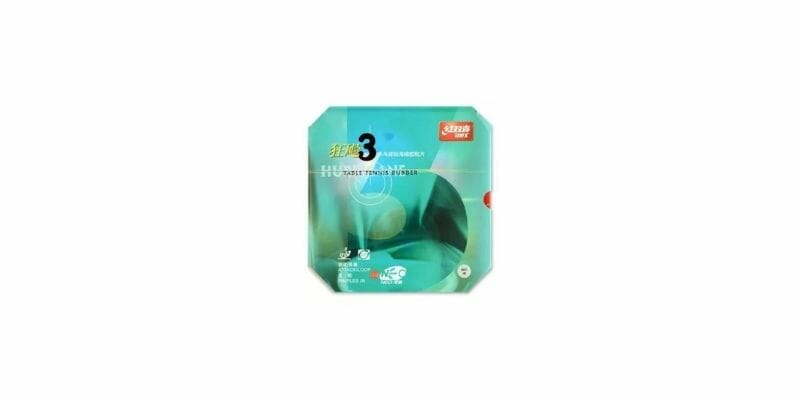 Specifications
Speed: 8.4
Spin: 9.2
Control: 8.9
Hardness :Medium-Hard
ITTF Approved?  Yes
Thickness (mm) : 2.1, 2.15, 2.2
Price: $
Our rating : 9.1
Construction
As Hurricane 3 NEO uses the same top sheet as H3, it is very tacky. The only difference is its softer orange sponge. It has been factory-tuned to maximize its abilities.  
NEO also comes packaged with additional backing protection on the sponge side of the rubber. I imagine this is either to prevent rubber curling or to preserve the factory tuning.

What Table Tennis Pros Use DHS Hurricane 3 NEO?
The Hurricane 3 rubbers are wildly popular among the Chinese National team and some of their top athletes use Hurricane 3 NEO.
The top-ranked player is the dragon himself, Ma Long — one of the most accomplished table tennis players of all time. He uses NEO Hurricane 3 on his backhand with Hurricane 3 National Blue Sponge on his forehand. The two rubbers are paired with a Hurricane Long 5 blade for a complete Hurricane setup. You don't see that too often!
One of the other most successful players to use NEO Hurricane 3 is Zhang Jike. Despite ranking 464 in the world as of the time of writing, Zhang Jike is another GOAT of table tennis. A former world number 1, he has countless medals to his name. He uses NEO H3 on his forehand and Tenergy 80 on his backhand.    
The Positives
The first positive that comes to mind is that there is no need to tune H3 NEO initially. Regular Hurricane 3 is a little lost without speed glue, and most people don't want to risk breaking any ITTF rules by tuning rubbers themselves. Of course, people do, but Hurricane 3 NEO means you are not put in that awkward situation to begin with.
Spin is the main area DHS Hurricane 3 NEO shines. It has a little more than Hurricane 3. Serves are lethal and so are slow spinny openers. Despite being so heavily used by the Chinese who are advocates of crazy 3rd and 5th ball attack, slow spinny openers are one of this rubber's strongest merits. Its tacky top sheet has no trouble gripping the ball which will win you many points if you are a spinny player.
For loop-on-loop play, this rubber is also superb. It has a much lower throw angle than traditional rubbers which is immediately noticeable. The ball tends to kick forward on your opponent's side of the table which is jarring for them to say the least. If you like to get over the ball and stick quite close to the table, H3 NEO could be just what you need.    
Speed is a bit of an odd one. It has a very linear relationship with the force of your stroke. This means it falls short of a lot of traditional rubbers: your Tenergys, Bluefires, etc. But in its maximum gears, H3 NEO has a ton of speed thanks to its inbuilt tuning. So to get the most out of H3 NEO, you will have to refine your stroke to land when you exert fierce force.    
You also get a good deal of control. Again, this is due to its linear pace. The medium-hard sponge kills a lot of the incoming pace when you block the ball which makes it more manageable.
However, you just need to be careful not to hand-deliver easy shots to your opponents. Putting a bit of pace onto your blocks and using punch counters is a great way to keep your opponent guessing when you can't loop. There's a great deal of versatility at your disposal with H3 NEO, it just takes a skilled player to wield it effectively.
Even beginners will still be able to manage using Hurricane 3 NEO thanks to its many gears. This means if you are just starting out you can get accustomed to the Chinese style from the get-go and build up muscle memory. Stick with H3 NEO, and as you improve, you will gradually unlock more of what the rubber is capable of whilst maintaining a consistent game.
The rubber also costs half that of most Euro/Jap style rubbers — providing a cheap entry point for new players.
The Negatives
One of the fundamental issues in relying on a rubber with a tuner is that eventually, the tuner will wear off. And without it, the rubber just feels tame compared to what it once was.
With Hurricane 3 NEO, many people report noticing a drop-off within a month. To me, that's a bit of an issue. I don't boost rubbers and I like them to stay healthy enough to use for at least an entire season.
As mentioned earlier, you could boost which for the most part will rejuvenate your rubber for a limited time. If you're just training and not entering ITTF events, I don't really see a problem with it. But it's a hassle that I would rather not deal with. Taking off and re-gluing rubbers time after time is tiresome, and you'll probably have to deal with rubber shrinkage. So you'll want some edge tape handy or your bat might end up looking silly.
Quality control is another area I would like to cover. There seems to be a great deal of variation between the properties of the rubber you receive when you purchase a Hurricane rubber. This holds true in both the original and NEO variants.
Lots of players have reported variations in hardness, tackiness, and weight when replacing their old sheets with new ones. This is far from ideal and can leave you hoping you don't receive a "bad batch."
Ultimately, there will always be minor variations when you buy rubbers, whatever the company. It just seems DHS has poorer quality control than most, especially for their cheaper Hurricane rubbers.    
Surprisingly, weight seems to be an element that varies too. But at its core, H3 NEO is quite a heavy rubber. So it is best paired with a light or medium heavy blade.
The final issue voiced in regards to H3 NEO is just how tiring the rubber is to use. As discussed earlier, to access the rubber's top gears you have to exert a lot of effort which is taxing. This is exacerbated by its close-to-the-table style of play. You have less time to react and have to play more powerful strokes. It's just exhausting thinking about it as someone who likes to drift and play forehands on the backhand side.  
You need exceptional footwork to push H3 NEO to its limits. And if you can, you will overwhelm your opponents, no doubt.
About DHS
DHS is one of the largest table tennis brands in the world. They emerged as the first supplier of the Olympic games after their successful release of the 40mm ball which received approval by ITTF.
They are table tennis experts, and have helped ensure that the Chinese National Team stays on top of the rest of the world.
DHS Hurricane 3 NEO Alternatives
Double Happiness offers a great deal of Hurricane rubbers. A more muted version of the Hurricane 3 NEO is its predecessor: DHS Hurricane 3.
Understandably, some of the higher-rated Hurricane rubbers are more expensive. Two of the standouts are DHS Hurricane 3 Provincial with Blue Sponge and DHS Hurricane 3 National with Blue Sponge. These feature the rarer blue sponge that players love. The manufacturing process is stricter for these more expensive rubbers.
DHS also has a lesser-known Skyline series. The DHS TG Skyline 3 NEO plays similar to H3 NEO offering great looping and control at an unbeatable price point.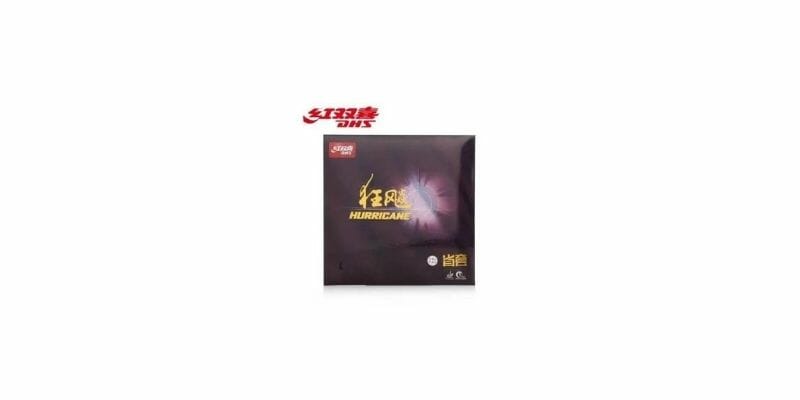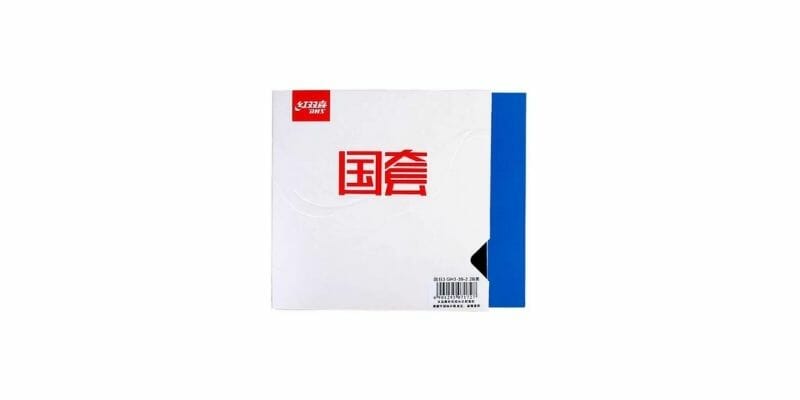 Pros (simplified)
Superb loops –At higher gears, H3 NEO offers top-notch looping
Price – At half the cost of most tensor rubbers, NEO's performance relative to price is the best you will find
Versatility – With many gears and high spin throughout, you have access to an abundance of shots
Cons (simplified)
Tiring – Staying close to the table and executing powerful shots is draining
Flat-Smashing – Poor flat-smashing game. Best paired with a tensor rubber as cover for the smash
Rubber care – Tacky rubbers need more rubber care. Rubber protectors are a great choice to preserve tackiness
Conclusion
DHS Hurricane 3 NEO is one of the best Chinese rubbers you can buy. Whilst it plays very differently from modern tensor rubbers, it is cheap, beginner-friendly, and lethal in the hands of an expert. The low arc it produces on loops can make receiving very challenging for your opponents if they are not familiar with it.
I would certainly recommend trying Hurricane 3 on forehand with a tensor rubber on backhand. Using it on both sides would be a bit restrictive and your bat could end up being a little heavy.
You'll also have to be quite fit to make purchasing H3 NEO worthwhile. You need to be able to stay close to the table and have great arm speed and footwork to meet the demands of the rubber. It is not for everyone, but something worth trying if you are an offensive looper – as most of us are in the current table tennis meta.

Freelance writer. Table tennis enthusiast. Lover of all things online. When I'm not working on my loop game I'm probably binge-watching some fantasy show.