The STIGA Space Saver is an indoor table tennis table that's smaller and more compact than full-size tables measuring 71″ long and 40.5″ wide (regulation tables measure 108″ x 60″). For those who are limited by space but don't want to miss out on the fun of owning your own table, this could be a very good option as it's made with a lot of the other great features of a more expensive full-size table. Let's take a look at some of its features.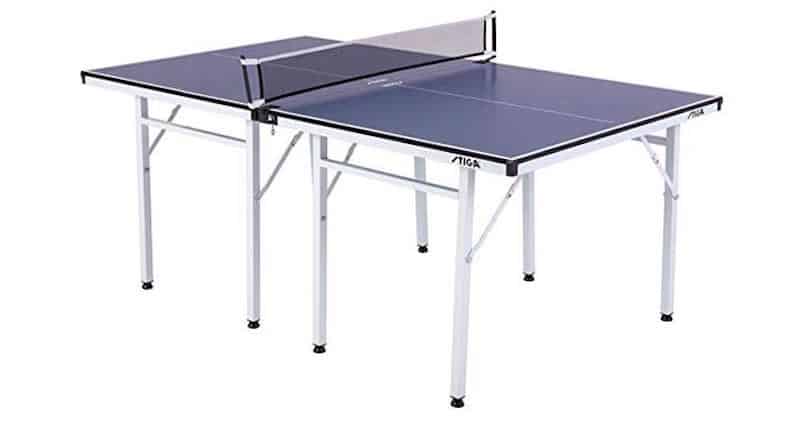 Specifications
Dimensions – L71" x W40.5" x H30"
Assembly time – 0 minutes (Just unfold it and play)
Surface thickness – 5/8″ (surprisingly thick for such a small table)
Price – $ (Check the latest price on Amazon)
Our rating – 9.5/10
Overview of the STIGA Space Saver table tennis table
A look at some of its features
5/8″ MDF table surface
If you've read our post about the top ping pong tables to buy you'll know that one of the most important things to look for when buying a new table is the thickness of the tabletop. In a nutshell the thicker the surface is the better the bounce you'll get.
It's for that reason we were pleasantly surprised with the STIGA Space Saver as it's got a 5/8″ surface made from MDF (medium density fiberboard) which is what you'd get on a full-size indoor table that costs over double the amount of this table. It's as if they've taken a table like the STIGA Advantage and made it smaller but kept as many of the other features as possible.
Ok, so it's not the 1″ thick tabletop that you'd expect for an ITTF approved table and it certainly won't win any awards for having a great bounce, but considering the price, we think it's great value. They've finished the table's surface with multiple layers of paint to give it a smooth and completely level top to ensure an even bounce across the whole table. Then to finish off they've got the white silkscreen stripes that are printed directly onto the table. No stickers that can peel off or will cause the ball to bounce funny. For casual players looking for something easy to set up, quick to put away and that will fit in your apartment, it could be a very good option.
Very easy to store and assemble
The Space Saver splits into two independent table halves to make moving it around and storing it a piece of cake. It comes 100% preassembled so you won't have to worry about any set up when it arrives. You literally have to unfold the legs and you're good to go. Each table packs down to very compact sizes of L35.5" W40.5" H30″ so it can fit nicely in a closet or under a bed so is ideal for people living in smaller apartments that don't have enough space for a regulation size table. Another great opportunity for people struggling with space would be looking for a mid-size ping pong table.
Surprisingly stable frame and legs
The table is supported by sturdy 1.25″ steel legs. They are painted with a powder coating to ensure durability and a stylish look. Each leg has height adjusters on the end to ensure that you can have a completely level playing surface. They have rubber covers on the end too to prevent any scratches to the floor when you're moving it. The table surface is protected with a 1.25″ steel apron to provide adequate support.
Comes with net and posts set
As you'd expect it has a net and posts set included when purchasing through Amazon and it comes with a 38.5″ heavy duty set that you can adjust the tension with as well. It's a little bit fiddly to put on but there aren't many options when it comes to nets available for tables that are this width.
About STIGA the manufacturer
STIGA are one of the world largest and most popular table tennis manufacturer making some of the best selling ping pong related products on Amazon. Their commitment to the sport is evident through the quality of their products and high level of customer service that previous customers have reported. We have no hesitation in recommending their products.
Positives
100% Preassembled – There's no assembly for this table, literally take it out of the packaging, unfold it and put the net on and you're good to go
Smaller than full-size tables – It's a great option for smaller apartments where space isn't a luxury
5/8″ table surface – For a compact table it's got a reasonably thick surface that gives a good enough bounce for recreational players
Sturdy frame – 1.25″ legs with height adjusters to ensure a completely level playing surface
Very lightweight

– It's got great mobility as the table is two separate halves (each weighing around 37 lbs)

Comes with net and posts – 38″ net and posts set is included
Very affordable – A lot cheaper than full-size tables
Great reviews – Other than a small number of defective tables it gets really good reviews on Amazon the majority of which are 4 and 5 stars
Negatives
No playback position – You can't fold up one side of the table to practice on your own
Not regulation size – Those used to playing on a full-size table will find it frustrating
Only 5/8″ surface – Not the greatest bounce and if you get serious about your game you'll want to upgrade to a thicker surface
Conclusion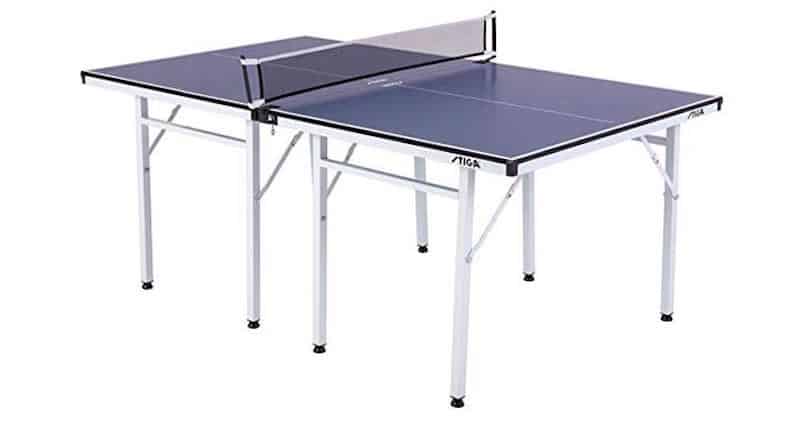 As far as tables that aren't full size go, The Space Saver is one of our favorites. It's a great option for those who are limited by space but still want to have their own table tennis table or for recreational players and families on a budget who want to try out owning a table before investing in a full-size one. We really liked it and would recommend it if you're looking for a small and compact table for your home or office. It gets really good reviews from previous customers on Amazon and considering it's not a full-size table and is made for casual players it gets a good review from us too.

Eugene (Gene) Sandoval has been one of those guys who spent too many hours around ping pong tables in high school. However, soon enough, Gene understood that there is more to ping pong than having fun. That is how he started a journey that made Eugene one of the experienced semi-professional ping pong players in the United States. As the founder of the PingPongRuler, Eugene spends most of his time surrounded by ping pong tables and research. He always has this knack for coming up with new ping pong strategies and telling the good and bad equipment apart.