JOOLA Tour 1800 Review — Great Mid-Level Table
The JOOLA Tour 1800 is a mid-tier ping pong table for individuals that want a relatively good table, but do not necessarily need ITTF-approved tournament quality.
Even as an advanced player, it's the sort of table I would be happy to use, despite preferring something a little more high-quality.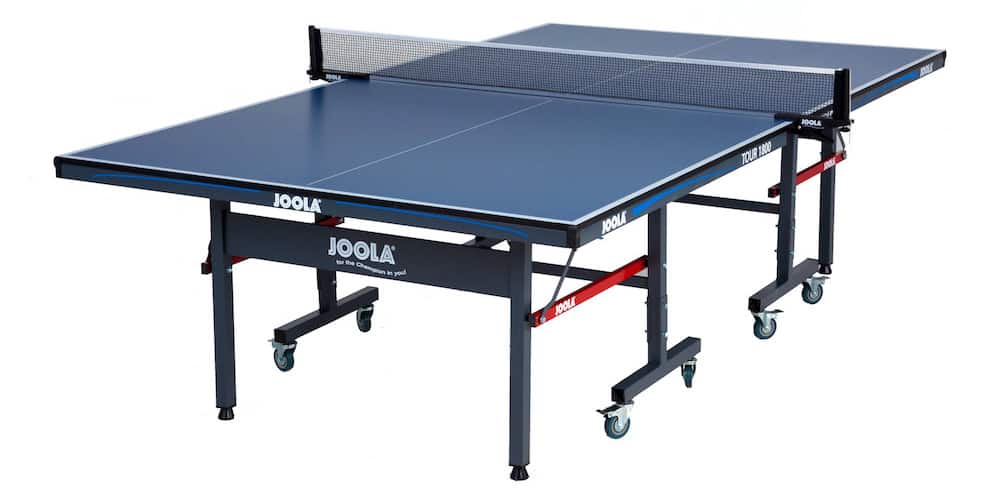 Table Top Quality: ★★★☆☆
Build Quality: ★★★☆☆
Overall Rating: ★★★☆☆
Pros
Quick assembly, compact storage.
Cons
Average table top thickness, 1-year warranty.
Specifications:
| | |
| --- | --- |
| ITTF Approved | No |
| Table top thickness | 18 mm |
| Solo playback mode | Yes |
| Leg levelers | Yes |
| Wheel size | 3″ |
| Extras | High-quality net |
| Weight | 188 lbs |
| Warranty | 1 year |
| Price | $$ |
Pros:
Affordable
Quick assembly
Nests for compact storage
Thick apron
Solo playback mode
Includes high-quality net
Cons:
Average table top thickness
1-year warranty
Small 3″ wheels
Rating: 9.4
Read Next: The Best Ping Pong Tables
JOOLA Tour 1800 Features
18 mm Table Top
The JOOLA Tour 1800 ping pong table uses an 18mm (3/4″) playing surface. With such a depth, it's around average relative to the rest of the market. In my opinion, this gears towards an intermediate player base. Sure advanced players can use it, but it's not quite thick enough for them to get a lot of enjoyment out of it.
You can only pick up JOOLA's 18mm ping pong table in dark blue — there is no green option. The silk-screen white marking lines are directly printed on the table's surface and cured using ultra-violet light to ensure that they don't fade.
Strong Frame and Legs
The strength of the table is around what I would expect, considering its table top thickness. The aprons measure 1.5″, which is very respectable. This helps mitigate warping and keeps the playing surface nice and level. The aprons are black matte powder coated with the JOOLA logo silk-screened on for a clean finish.
As for the legs, they are also black powder-coated for consistency and measure 1.5″ in depth. This, again, is sufficient to support the 188lb build. The legs also feature rubber leg levelers at the base. This both prevents you from accidentally scratching your flooring, and means you have a perfectly level table even in areas with uneven ground.
3″ Wheels for Transport
The wheels of the JOOLA 18 mm ping pong table are of average size at 3″. This size is perfectly adequate to wheel the table around indoors. The wheels also have locks to keep the table secure for when it is being used or when it is in storage. Personally, I don't bother locking the tables I use, but you just might!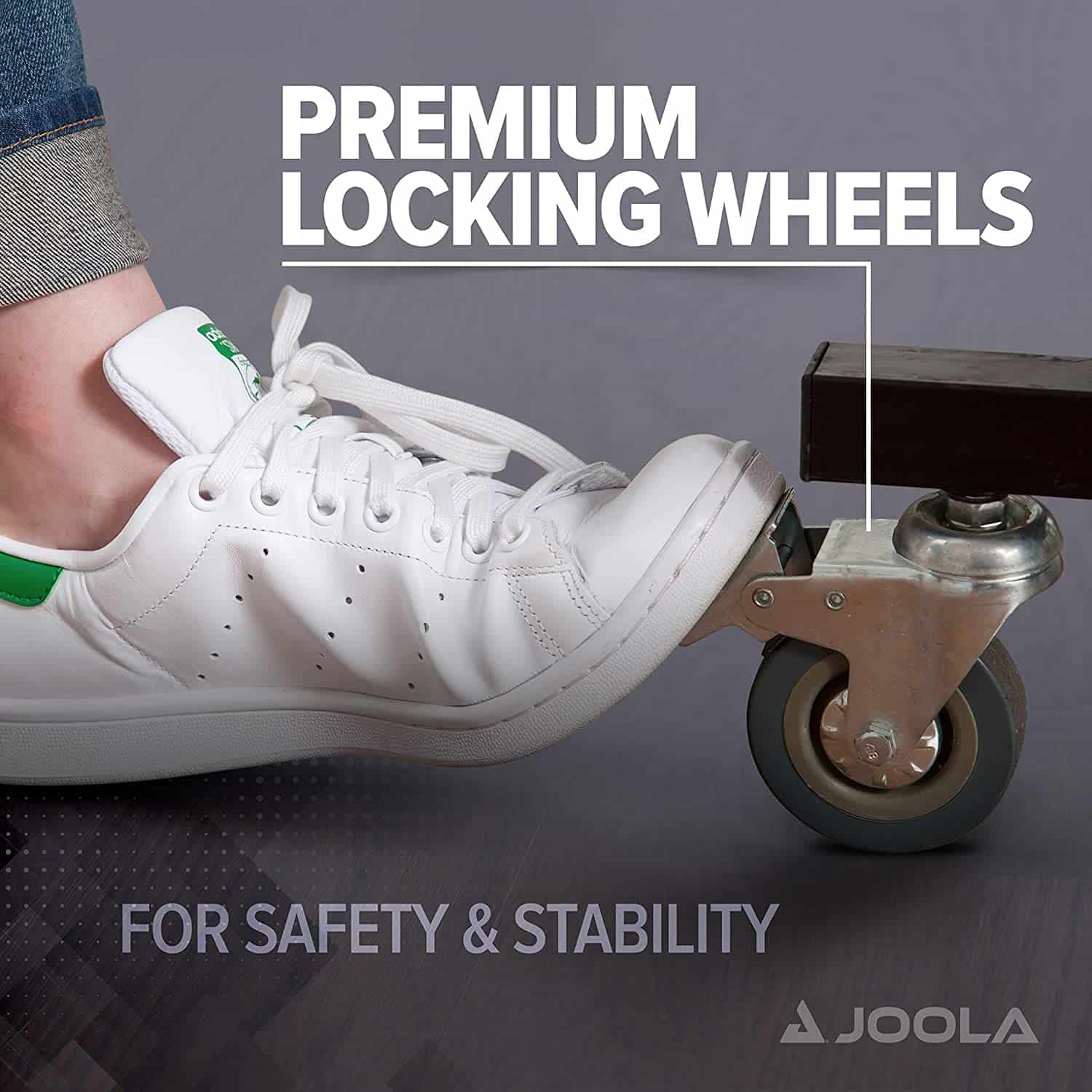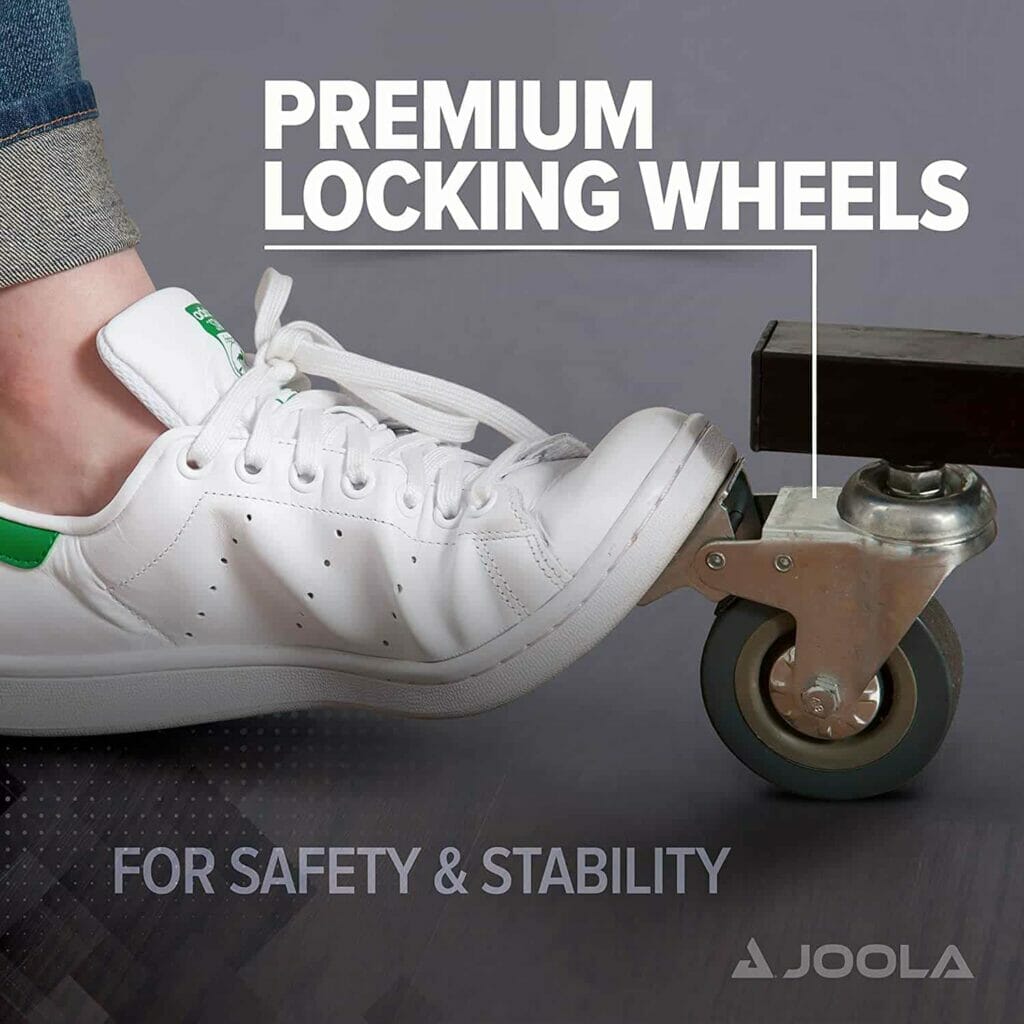 Play by Yourself!
A neat feature that the JOOLA Tour 1800 indoor table tennis table and net uses is solo playback mode. This enables you to independently fold up just one-half of the table up and keep the opposing side down. You can then practice against yourself when you can't find a partner to play with. It's super handy for the developing player.
And just for transparencies sake, I should note that this is by no means an exclusive feature to the Tour 1800. I would say most tables nowadays have the option for solo playback mode. Nonetheless, it is still a tick in the Tour 1800s favor!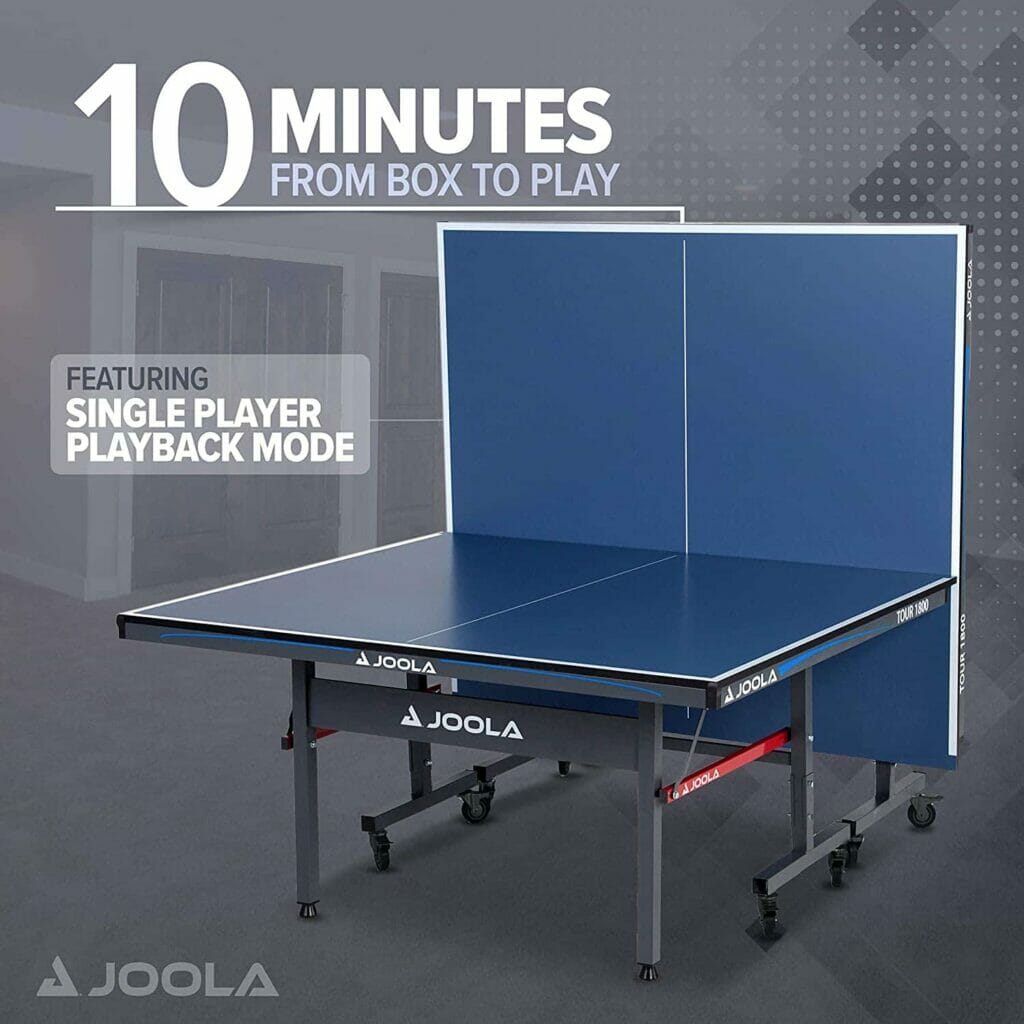 Rapid Assembly
Although many inexpensive models advertise brief assembly periods, the JOOLA Tour 1800 table tennis table takes it one step further. They state that it takes just 10 minutes from unboxing the table to actually get playing.
Other quick assembly tables are usually 15 or 20 minutes, so the Tour 1800 is tough to beat in the assembly department.
Easy to Store
Like many cheaper models, the JOOLA Tour 1800 tennis table comes in two pieces. This brings with it the benefit of sliding the halves of the table into one another so that they don't take up much space. Therefore the Tour 1800 could be a good option if you don't have a lot of room around the house or wherever it is you are planning on storing the table.
The folded dimensions measure 25″ D x 62″ H x 63.5″ W.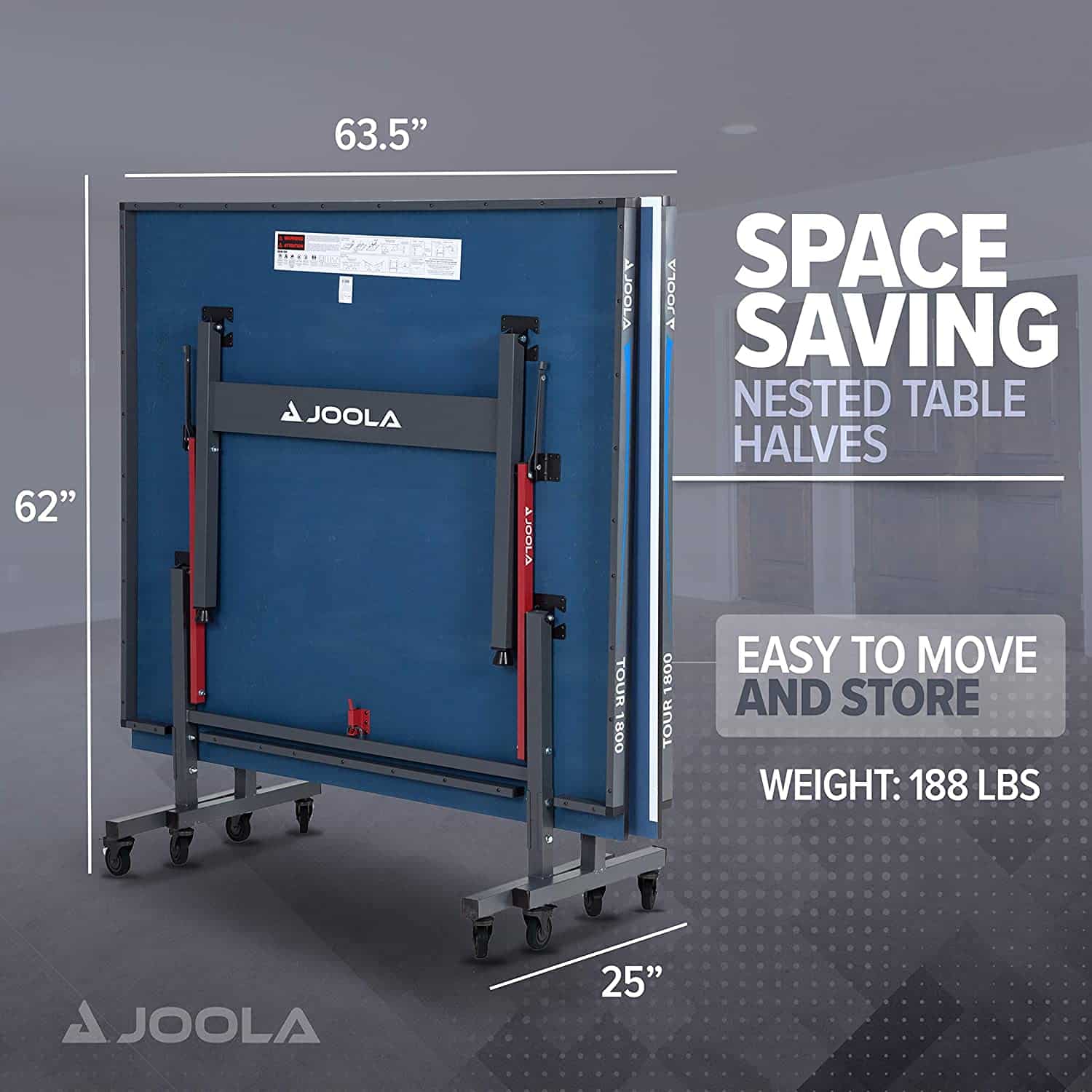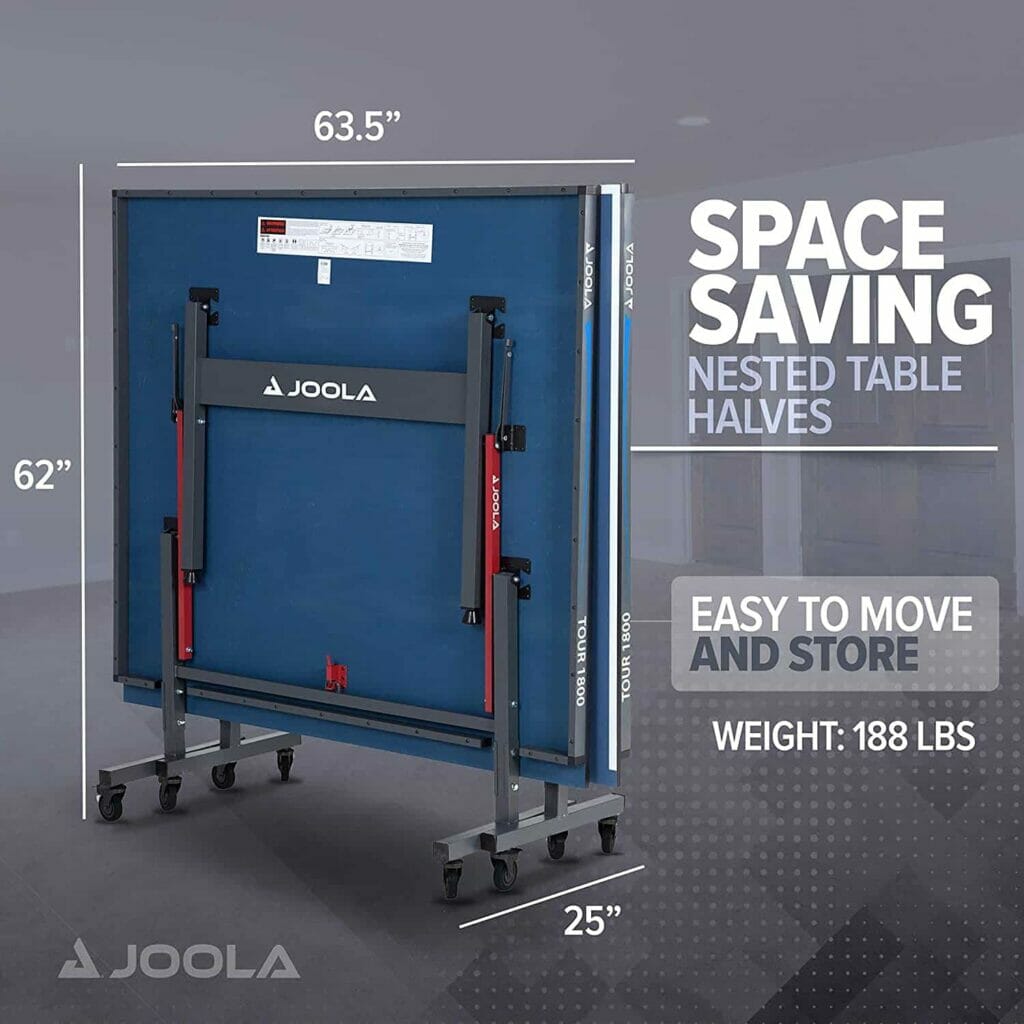 High-Quality Net Included
As is customary with many tables, you get a net included when you purchase. However, unlike some models, which include crappy nets that are better in the bin than on the table, the Tour 1800 includes a very good net.
I believe it is the JOOLA Inside net. It may be one of the cheapest nets around. But it's pretty damn exceptional for the price. It features tension and height adjustment and averages 4.6/5 stars on Amazon. Therefore the JOOLA Tour 1800 indoor tables tennis table and net make a very good set.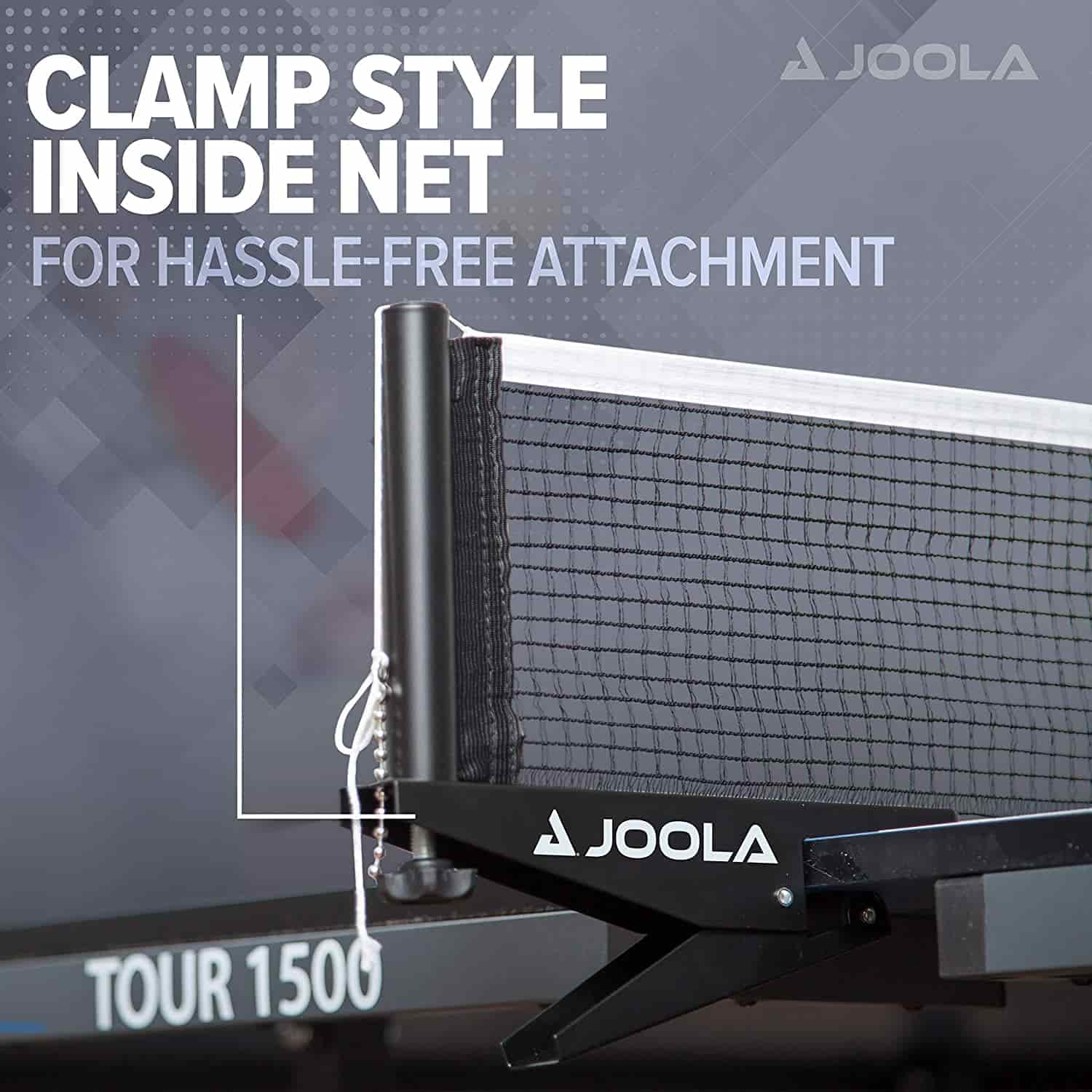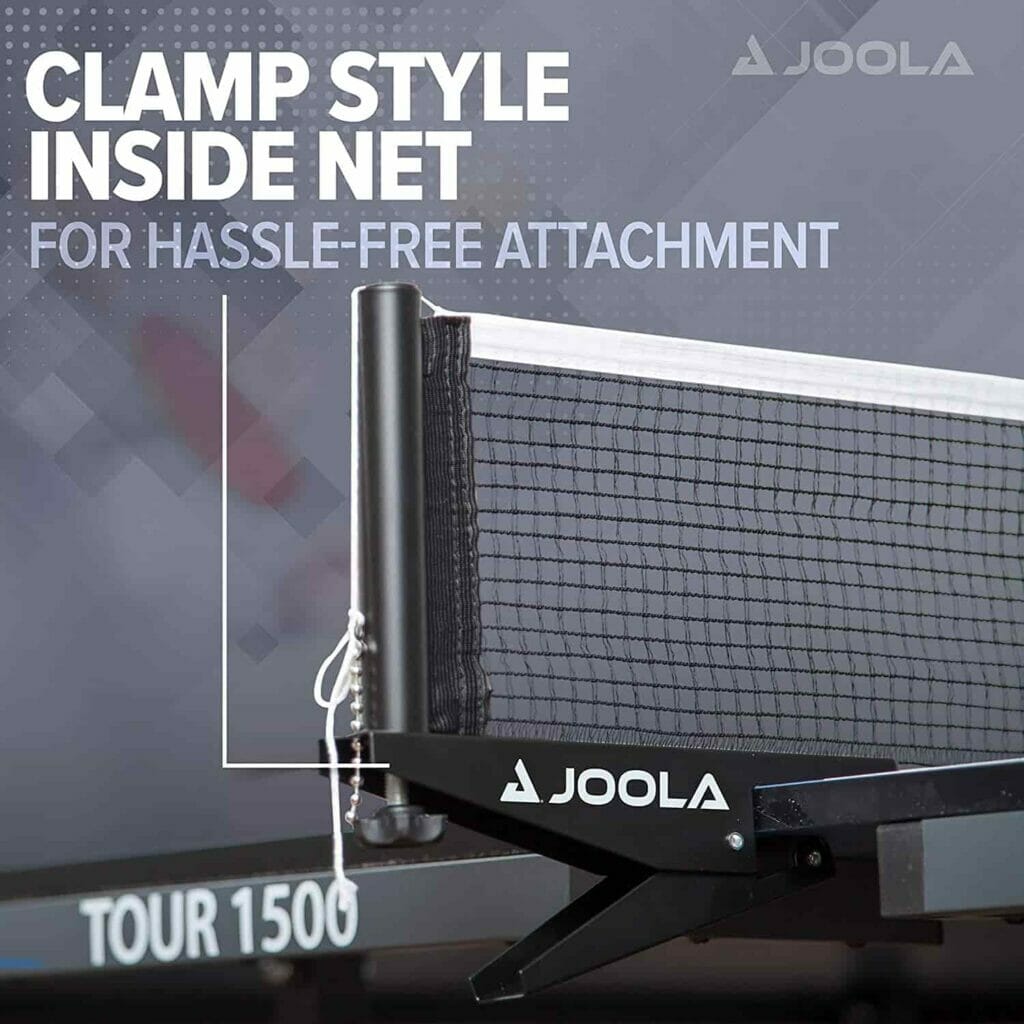 Who Should Buy the JOOLA Tour 1800?
The JOOLA Tour 1800 folding table is ideal for intermediate players and below. I wouldn't recommend it to advanced players as they will benefit from a 22 mm or 25 mm table, whereas lesser skilled players will not.
I feel the Tour 1800 has a lot of use cases. It makes for a great home table, school table, or even a club table for newer players.
About the Brand: JOOLA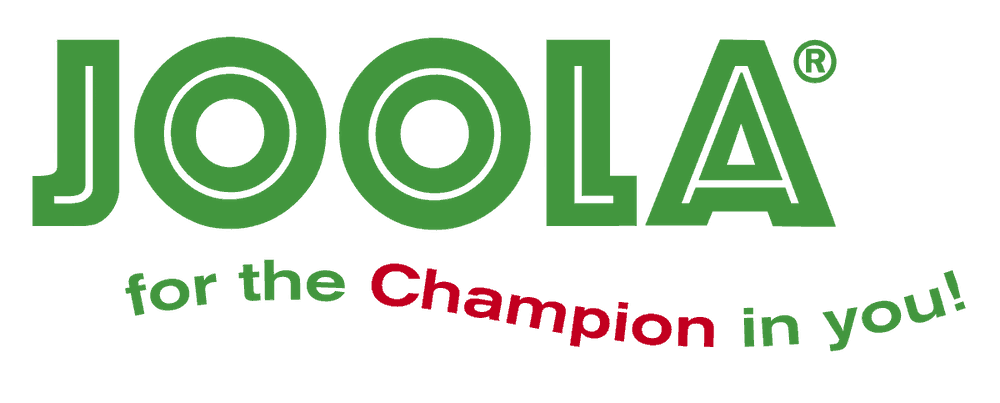 JOOLA is one of the largest table tennis manufacturers in the world, dominating the US market with high-quality products. They make all sorts of equipment such as tables, paddles, robots, and accessories, and they get very good reviews from customers.
Other Models in the JOOLA Tour Series
There are two other models in the JOOLA Tour series that might interest you. If you're looking for a cheaper option, then the JOOLA Tour 1500 is the one for you. Alternatively, if you're after something a little more advanced, check out the JOOLA Tour 2500 instead.
JOOLA Tour 1500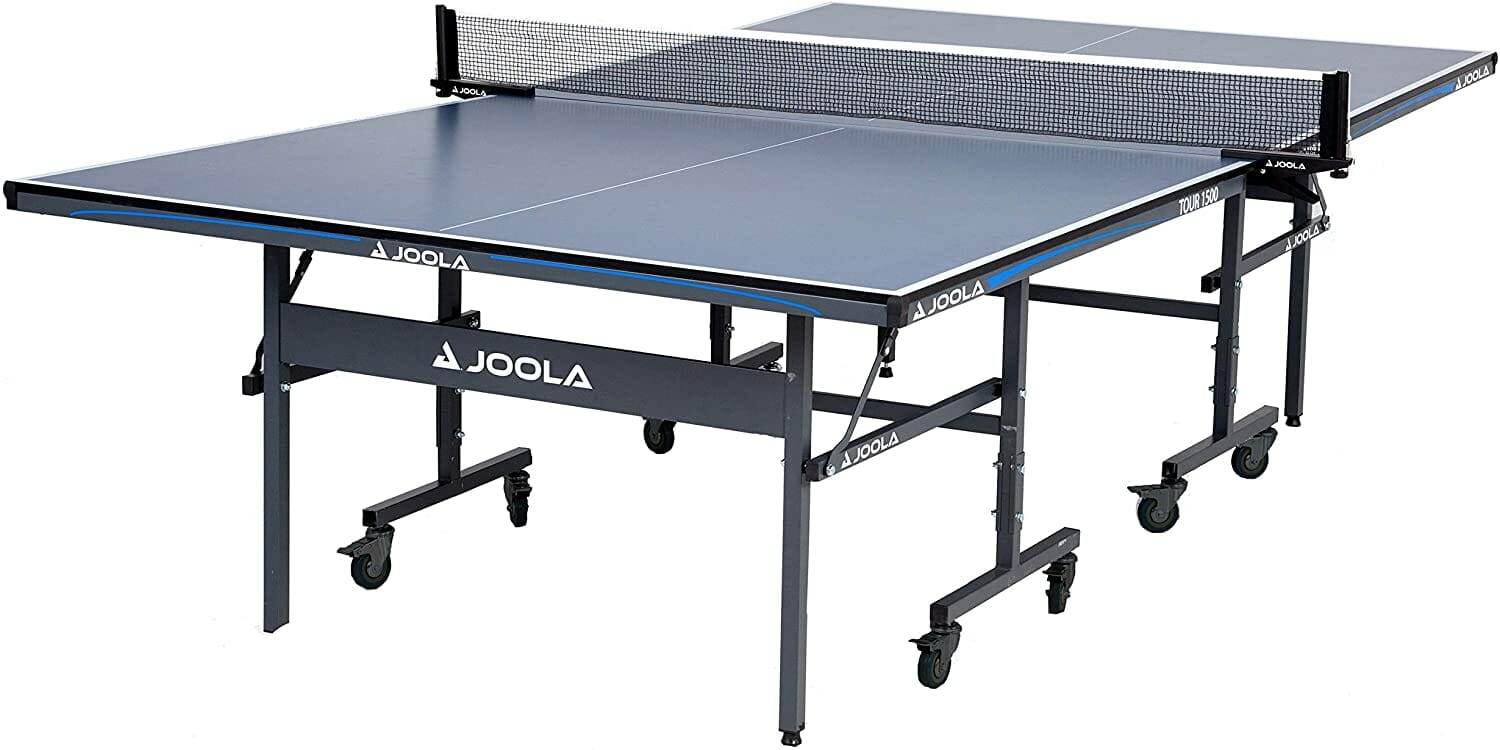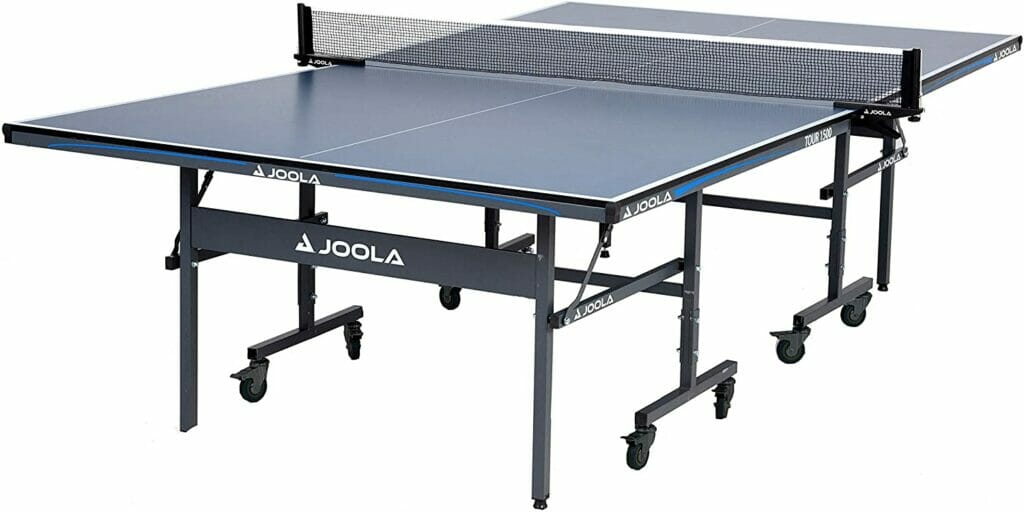 As the Tour 1500 is part of the same series as the Tour 1800, they share a similar build. The primary difference between the two models is regarding the playing surface. The 1500 has a 15mm table top compared to the 1800s 18mm table top.
This marks a significant reduction in bounce quality therefore, we recommend sticking with the Tour 1800 if possible. However, if you are a beginner or very casual player, the Tour 1500 does make for a very good entry-level table.
To learn more about our thoughts on this model, read our full JOOLA Tour 1500 review.
JOOLA Tour 2500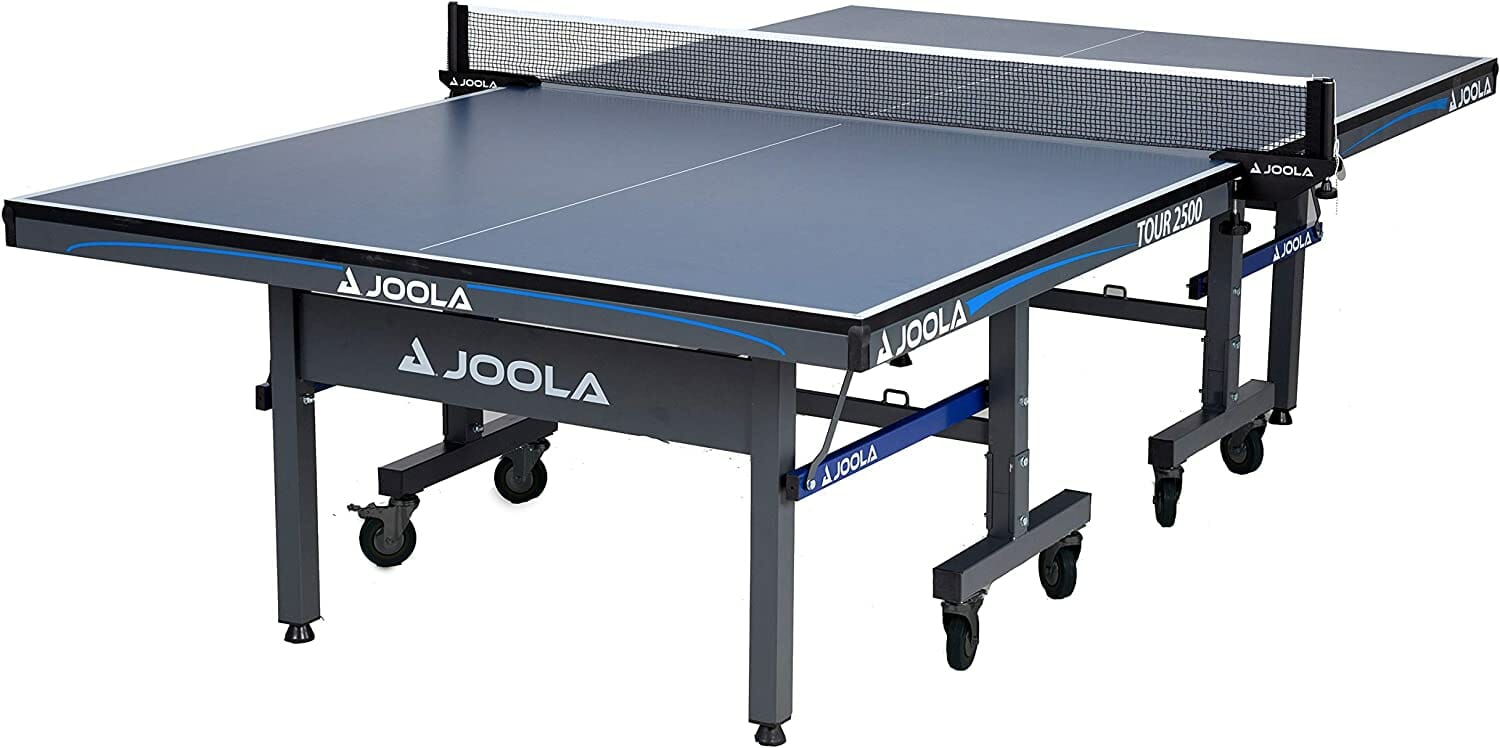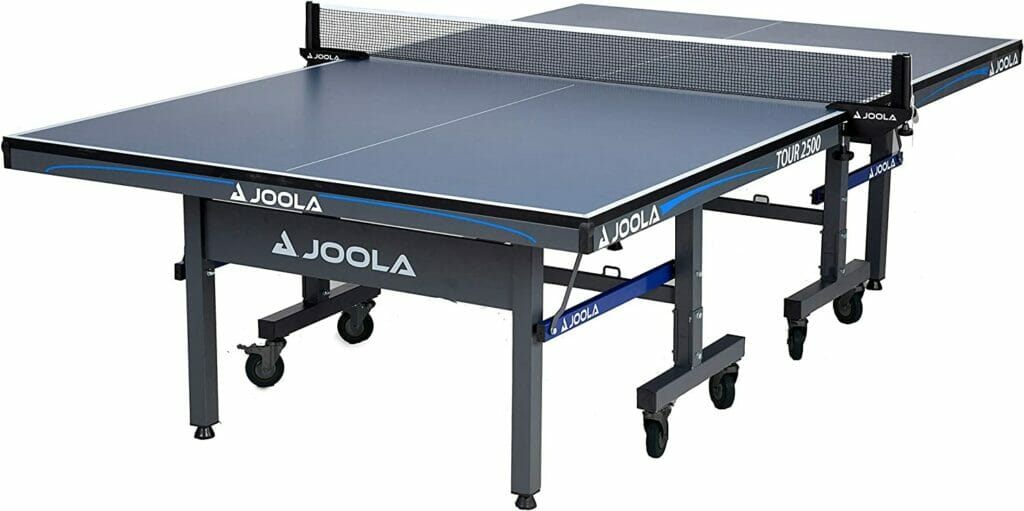 If you have more money to invest and are after a higher quality table, the Tour 2500 is an excellent table to purchase. It has a tournament grade 25 mm thick playing surface with a thick 2″ apron to support it.
It also shares the benefits of the Tour 1800, such as a 10 minutes assembly time, nested storage, and a high-quality net. In fact, we love it so much that it topped our list of the best ping pong tables.
For more information on this model, check out our JOOLA Tour 2500 review here.
Cracking JOOLA Tour 1800 Deals
There are a few current deals on the Tour 1800 that might be worth looking at. We try to keep these deals and offers updated as much as possible, so check back to see if we have any others.
JOOLA Tour 1800 and iPong Trainer Motion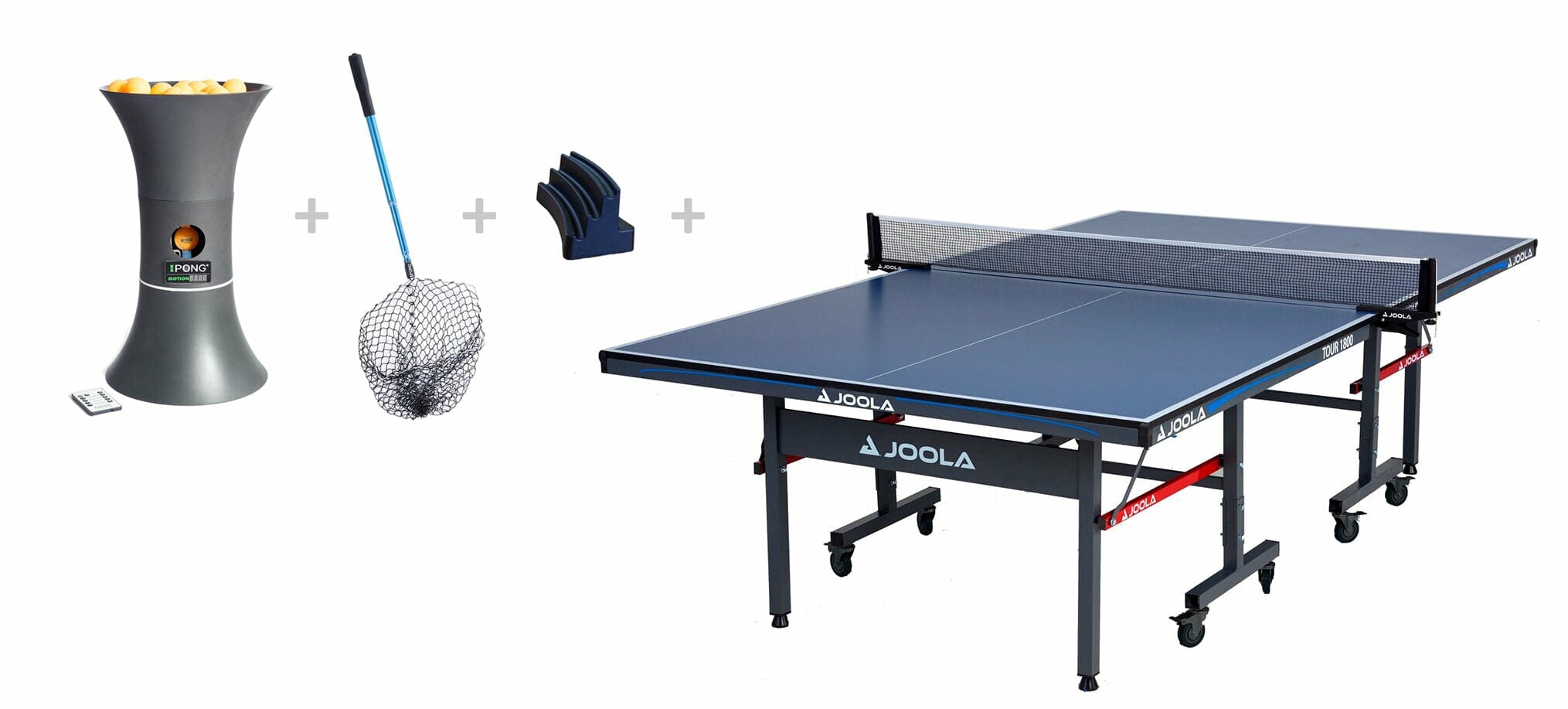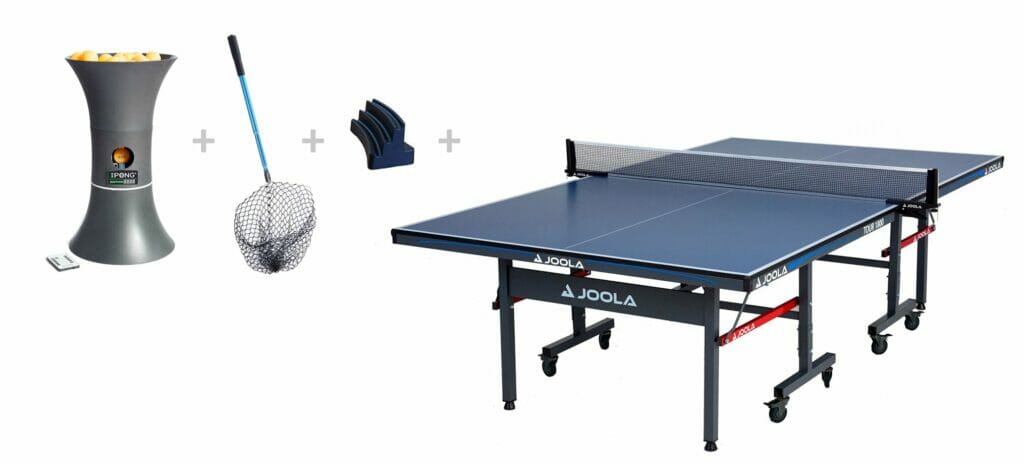 If you're looking to up your game and purchase a table tennis robot to help you train then check out this bundle which contains the JOOLA Tour 1800, an iPong Trainer Motion robot, 80 ping pong balls, an iPong Pickup Net, and a stand, saving you $80.
Set of 3 JOOLA Tour 1800s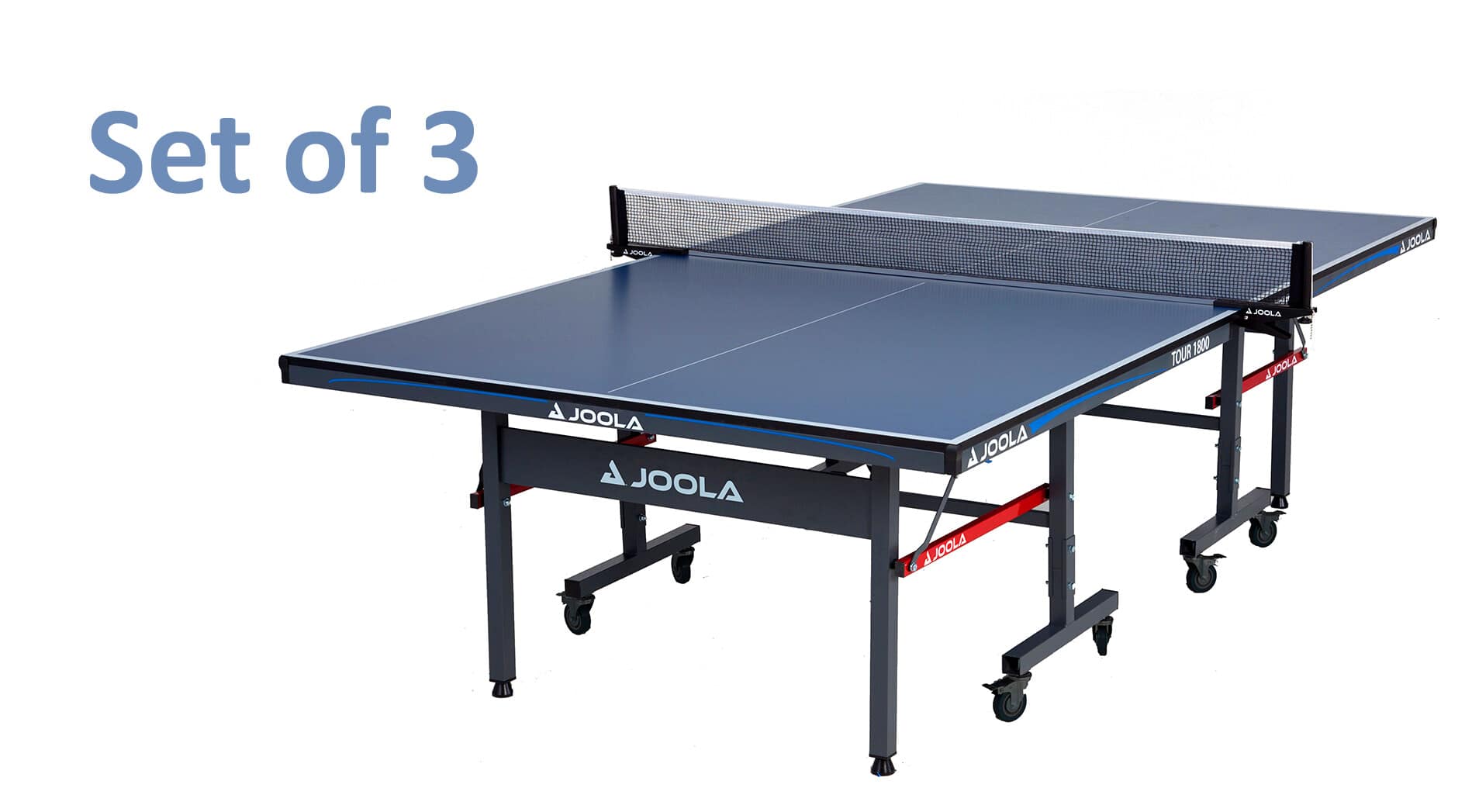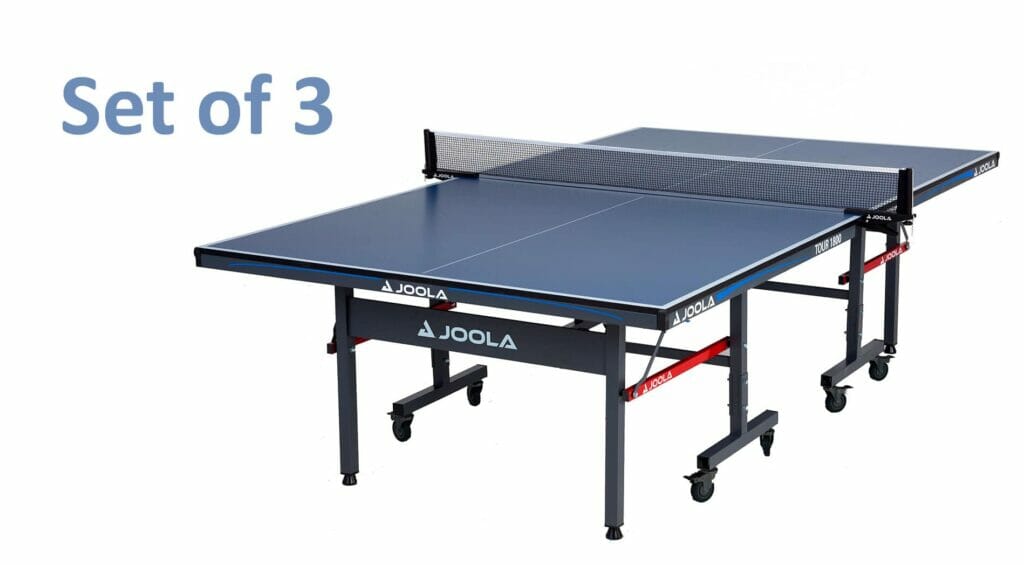 If you're looking to purchase more than one table for a school or table tennis club then check out this deal on 3 x JOOLA Tour 1800s and save over $1000. It's much better than purchasing the tables individually.
Conclusion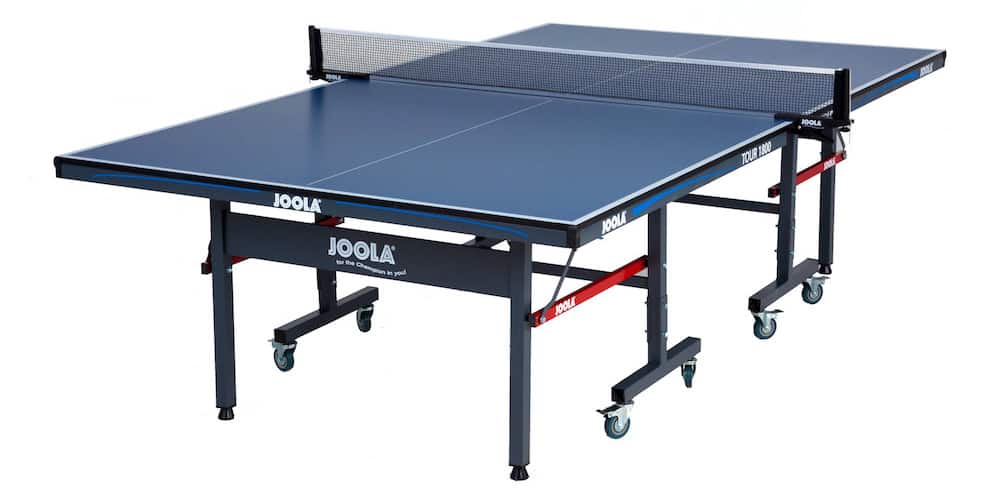 For the average player wanting to improve their table tennis ability, the JOOLA Tour 1800 is a good buy. It doesn't have the bounce quality of a competition-level table, but most people don't need that. It also gets fantastic reviews, and we strongly endorse it.
However, if you're not fully sold but still interested in learning more about other JOOLA tables, we recommend you give our JOOLA ping pong table guide a read.

Freelance writer. Table tennis enthusiast. Lover of all things online. When I'm not working on my loop game I'm probably binge-watching some fantasy show.