JOOLA Rally TL Review: The Ultimate Guide
The JOOLA Rally TL 300 (also known as the Rapid Play 150 and United Pro 15) is a sturdy, 15mm thick table with a charcoal-painted fiberboard.
It's a great table for casual use, perhaps for a family or in a school.
However, JOOLA also sells two more advanced models: the Rally TL 500 and the Rally TL 700. With these three tables, all skill levels are covered. And given their attributes and the build quality of each, I feel like at least one of these tables should be a good fit for you.
We'll begin by discussing the features of the Rally TL 300, and later we will expand on the other models.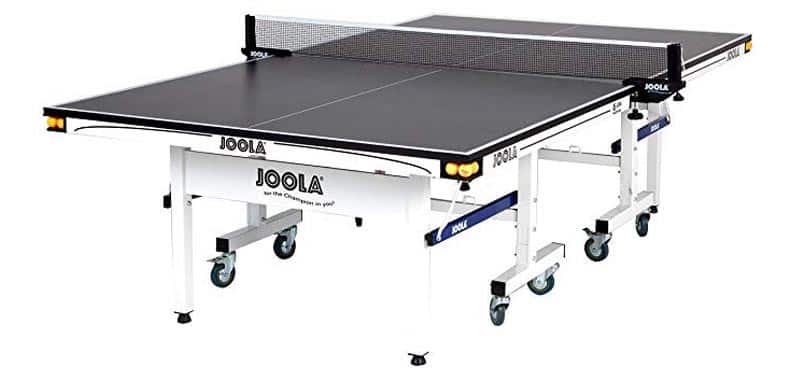 Table Top Quality: ★★☆☆☆
Build Quality: ★★★☆☆
Overall Rating: ★★★☆☆
Pros
Lightweight, quick assembly, ball holders.
Cons
Thin table top.
Specifications
Dimensions – 9ft x 5ft
Weight – 155 lbs
Assembly time – 10-15 minutes (Comes 95% preassembled)
Surface thickness – 15mm (just under 5/8″)
Price – $$ (Check the latest price on Amazon)
Our rating – 6.8/10
Features
15mm Charcoal Table Surface
The JOOLA Rally ping pong table sports a 15mm (5/8″) thick table top made from MDF (medium-density fiberboard). The charcoal top has silk-screened white striping that is printed directly on its surface for consistency and durability.
If you've read up about how table thickness affects bounce quality then you'll know that the thicker the table the higher the ball will bounce. Tables tend to range between 15mm on the lower end and 25mm which is the official regulation thickness.
As the JOOLA Rally TL 300 is only 15mm thick, we can only recommend it for casual players. If you're a bit more serious about your ping pong then we recommend 18mm as a minimum — of course, you'll have to spend more for this though.
The Rally TL also comes in two thicker models. More on them later.
Durable Frame and Table Apron
The 15mm surface sits on top of a 1.5″ tube apron to help support the surface and provide an even bounce across the whole table. The undercarriage is a 30mm x 30mm steel frame and feels very strong and sturdy.
Moving on to the table legs, they are 1.5″ (38mm) thick and are made from durable steel. The ends of the legs have height adjusters so you get the playing surface as flat as possible. As it's an indoor table, they have rubber ends so as not to scratch the floor.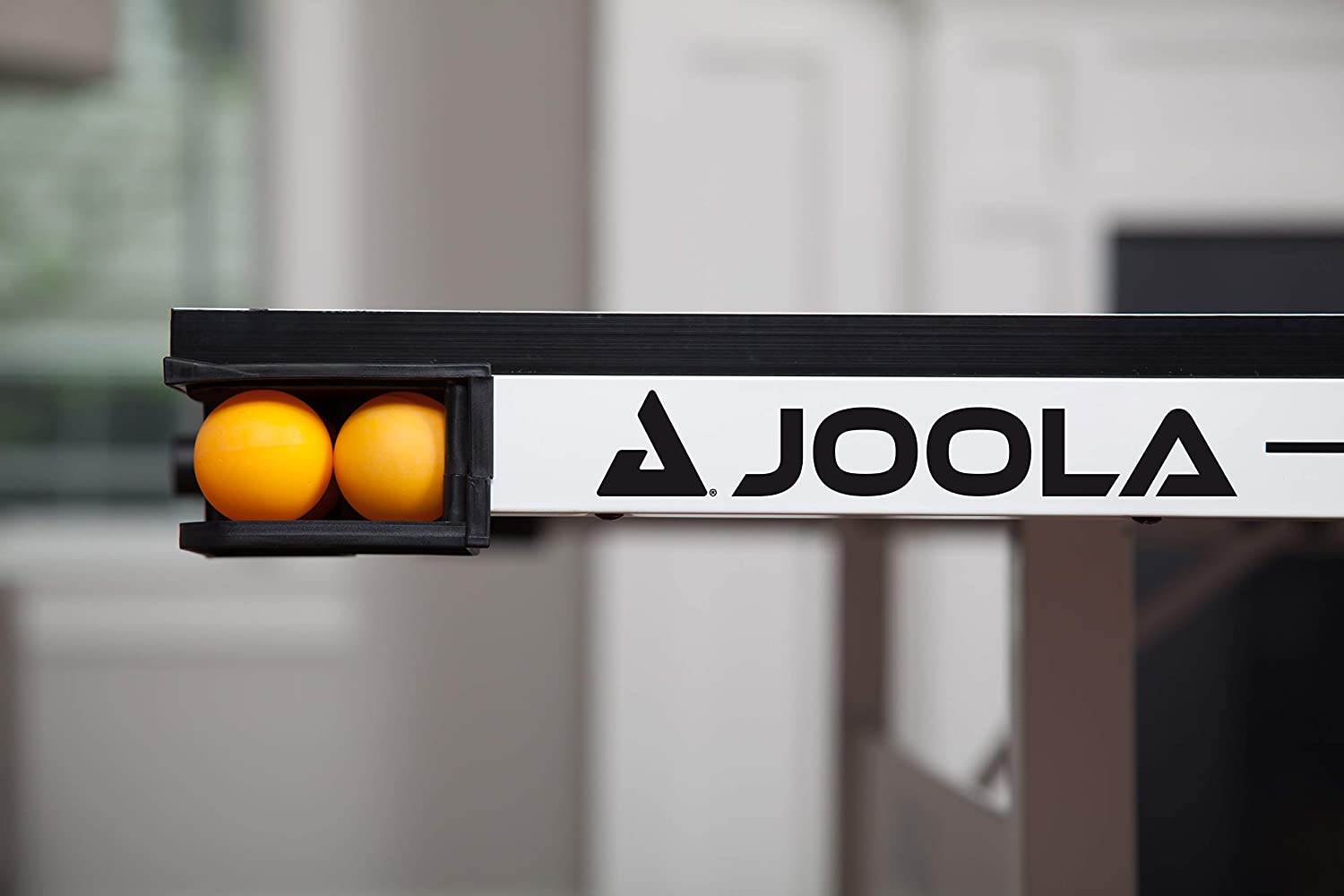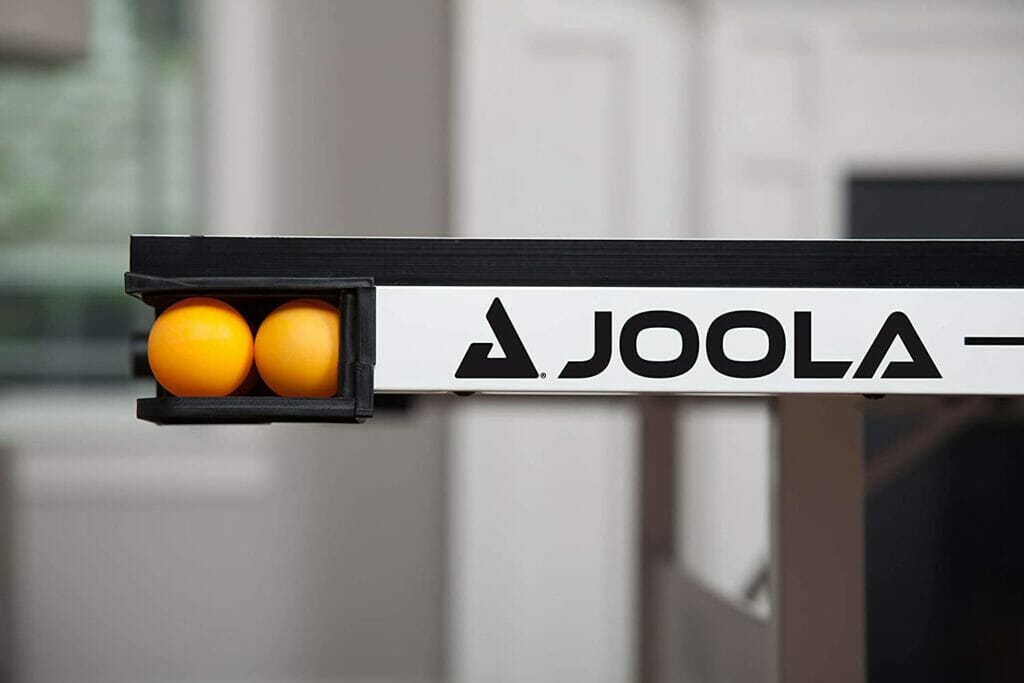 Folds and Splits Into Two Halves
Table tennis tables can get pretty heavy and so being able to split them into two sections makes them a lot more mobile. The Rally TL is made up of two table halves for this reason. Each half of the table conveniently folds up and nests together very snuggly — a great feature for an indoor table to have. You can even fold up just one side to make use of the solo playback mode.
The JOOLA Rally TL 300 has four anti-tilting caster wheels that are 3″ in width. This makes it very easy to move anywhere indoors. And once folded up the safety latch keeps the table in place by preventing it from moving unexpectedly. This is a pretty standard safety feature.
If foldability is your top table requirement, we recommend checking out our buying guide for the best foldable ping pong tables.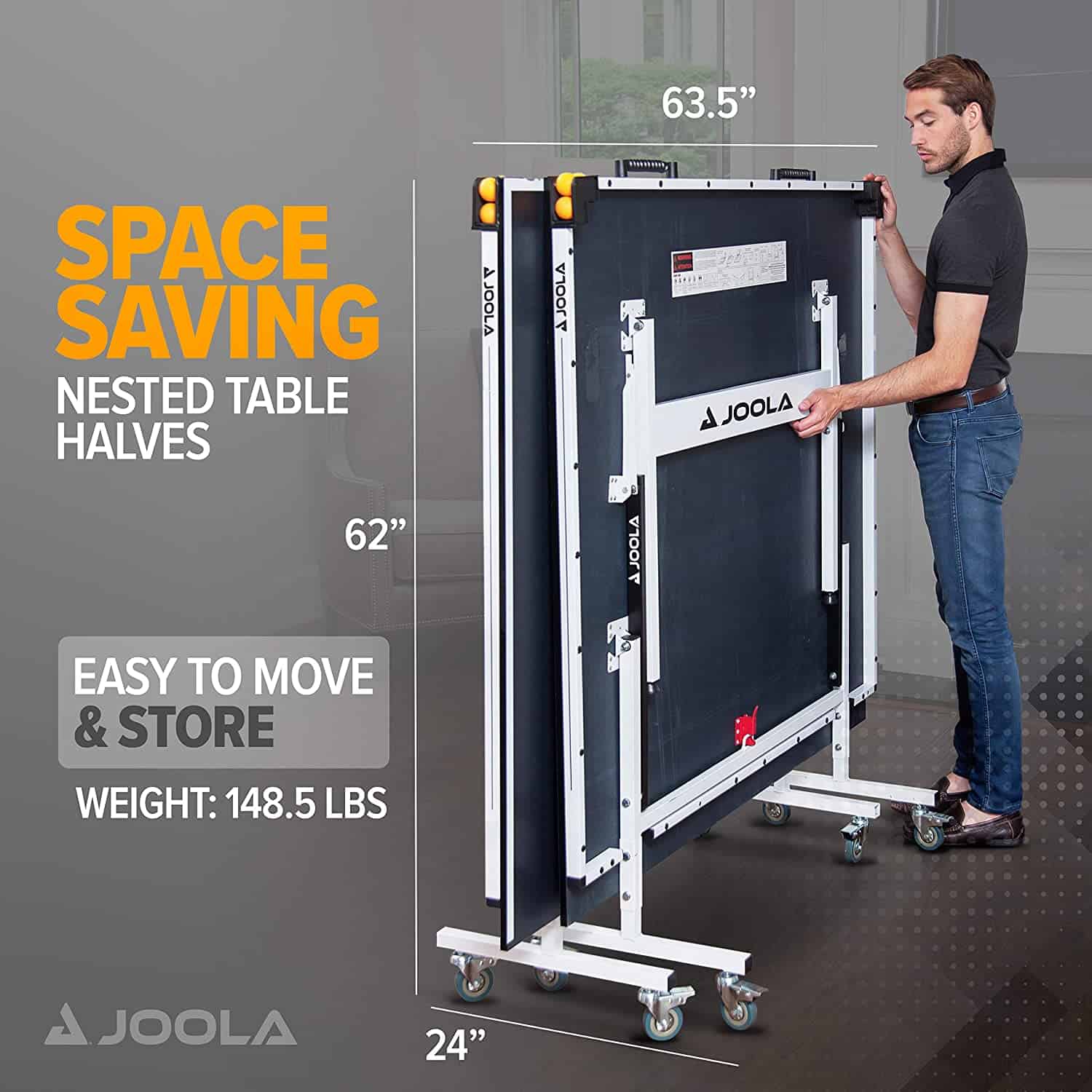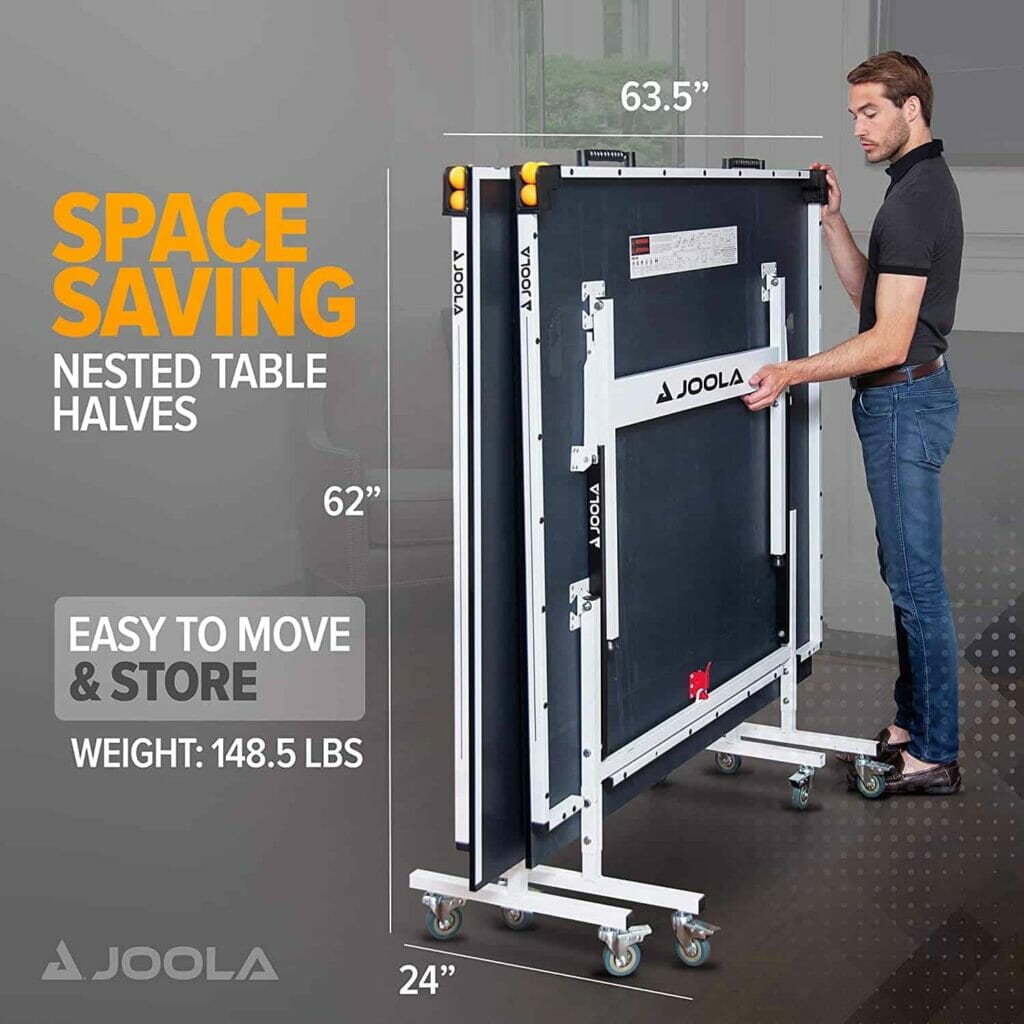 Convenient Ball Holders and Magnetic Scoreboard
At each of the corners of the table are small spaces to hold some ping pong balls. Each corner can hold three balls (twelve altogether) which is a nice touch and makes it really convenient for getting a new ball.
Another one of the table's thoughtful features is the magnetic scoreboard that goes on either end of the table. This is super useful to settle any disputes when someone "forgets" the score.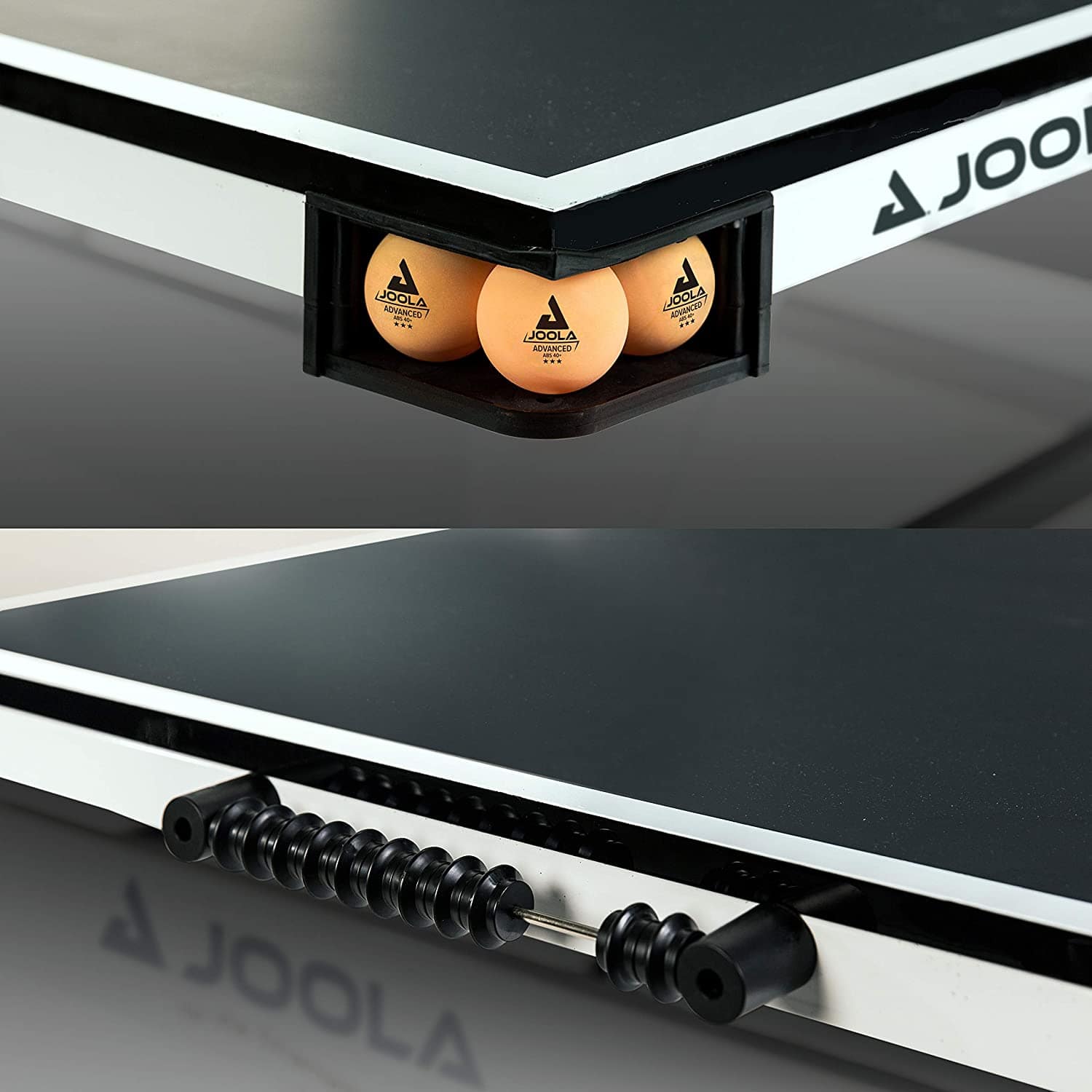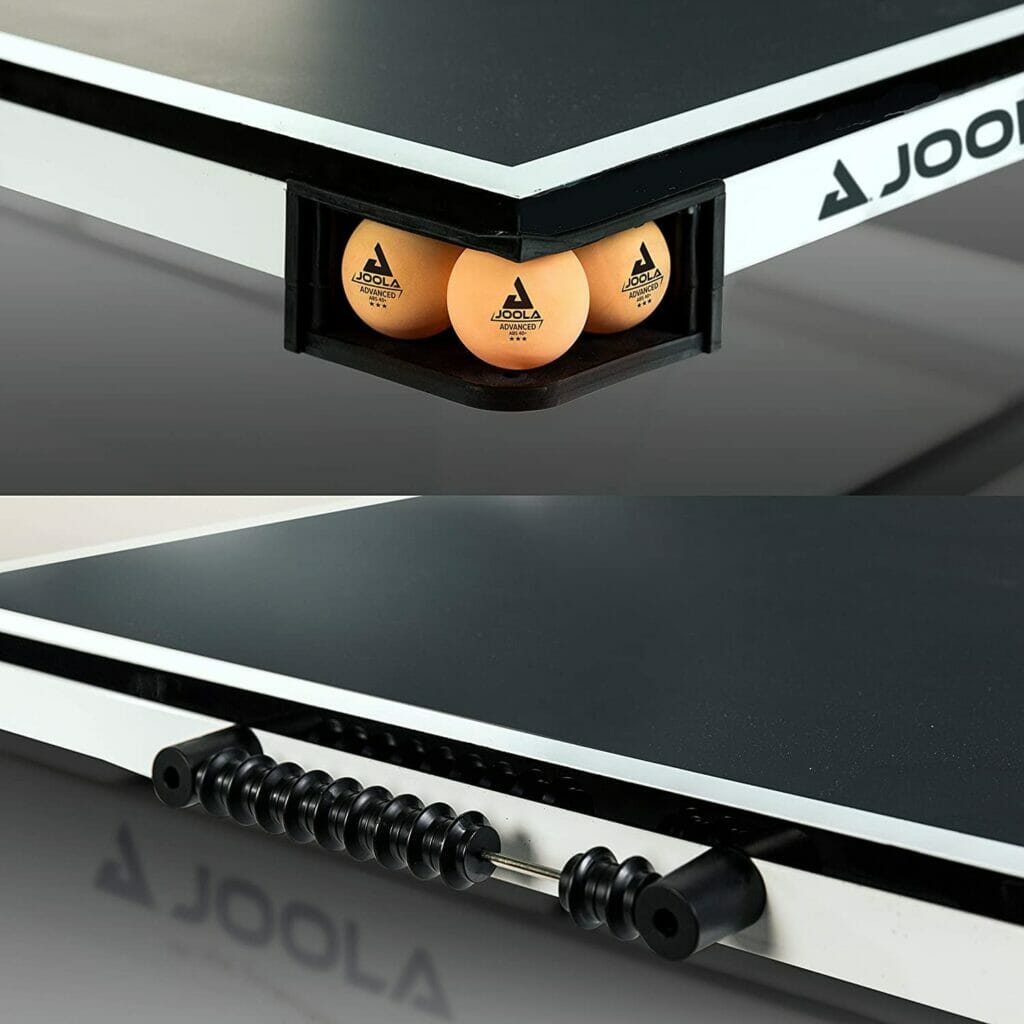 Simple Assembly
As far as tables go, the TL is pretty easy to put together. You should be able to assemble it by yourself in around 15 minutes. However, you could get a second person to help and get it assembled faster.
Pros
Strong and sturdy build – The frame is strong and durable
A good finish to the table top – We really like the charcoal color of the surface
Easy to assemble – Quick to put together and shouldn't take more than 15 minutes
Foldable – Each half of the table is easy to fold and you can put it into the playback position
Magnetic scoreboard – Keep track of the score with the magnetic scoreboard at the edge of the table
Ball holders – Each corner of the table has space for three balls (twelve altogether)
Cons
Only 15mm table surface – Not a very thick tabletop (we recommend at least 18mm) but for casual players it suffices
Not as cheap as other tables – A little more expensive than some of its competitors
JOOLA: World-Renowned Manufacturer
German table tennis manufacturer JOOLA has been producing quality products for over 70 years. During that time they have been the official table supplier for multiple Olympic games as well as countless national and international tournaments. Their products get very good reviews on Amazon, and their customers consistently report that they provide quality customer service.
Alternative Models
JOOLA Rally TL 500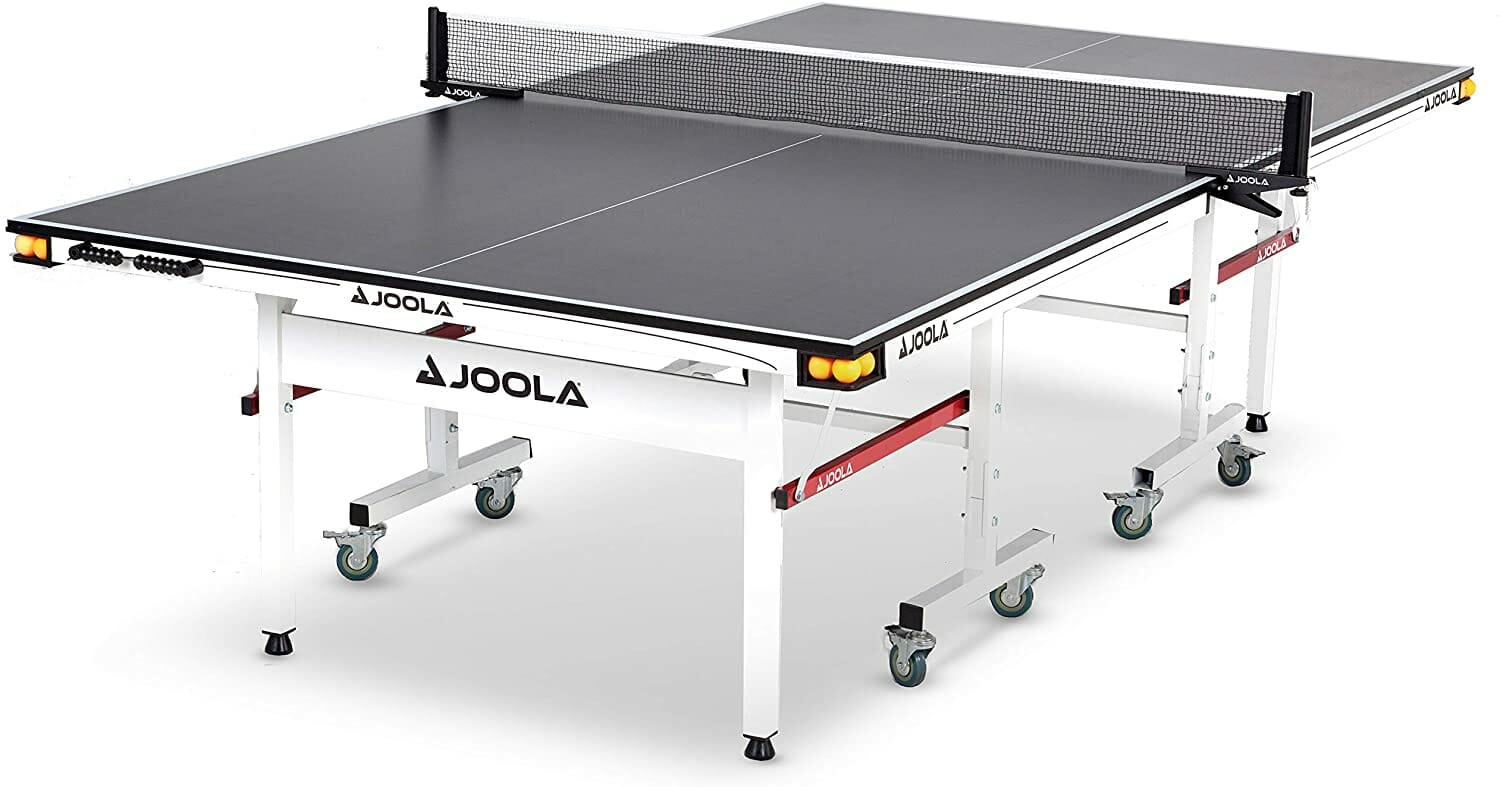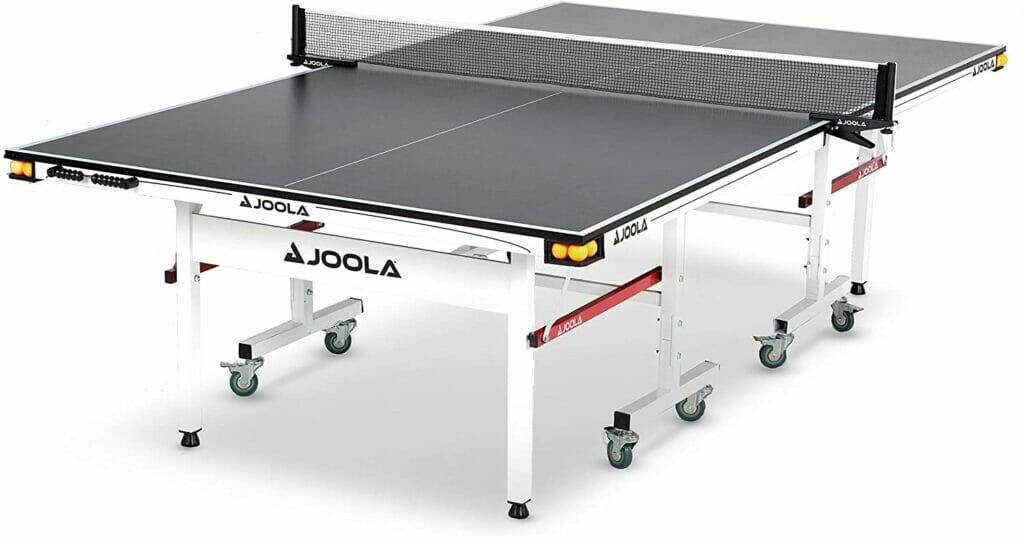 The Rally TL 500 is virtually identical to the Rally TL 300 other than for a few features. And these are features that really matter — no gimmicks.
The first is that the JOOLA Rally TL has an 18mm playing surface in the 500 version. As mentioned earlier, 18mm is our minimum recommended thickness for intermediate players. I even play on 18mm thick tables fairly regularly as an advanced player, and the jump in quality from 15mm is immediately apparent.
The second difference is the undercarriage. It's a little beefier to support the heavier tabletop. JOOLA increased it by 33% from the TL 300 giving it a 40x40mm thickness. Other than that all other features are the same!
JOOLA Rally TL 700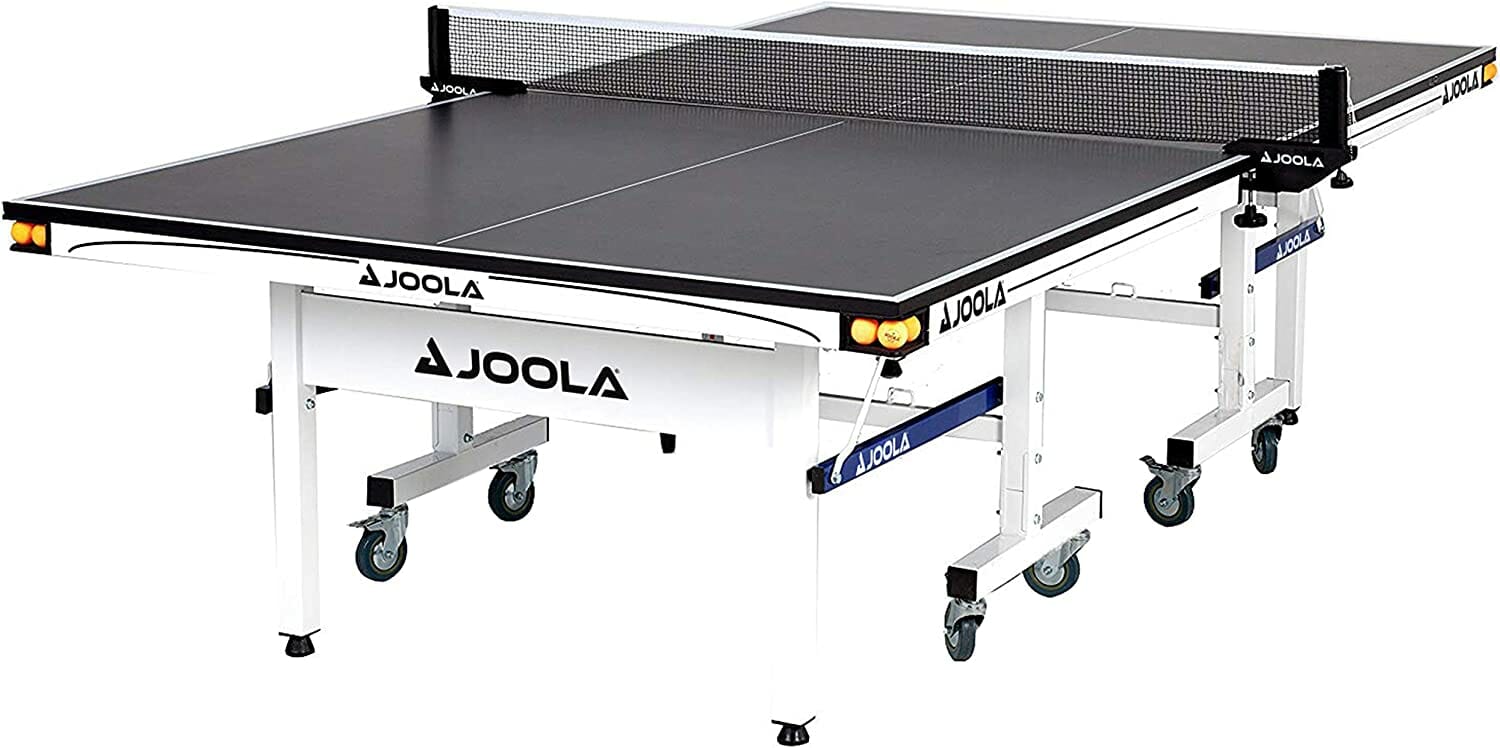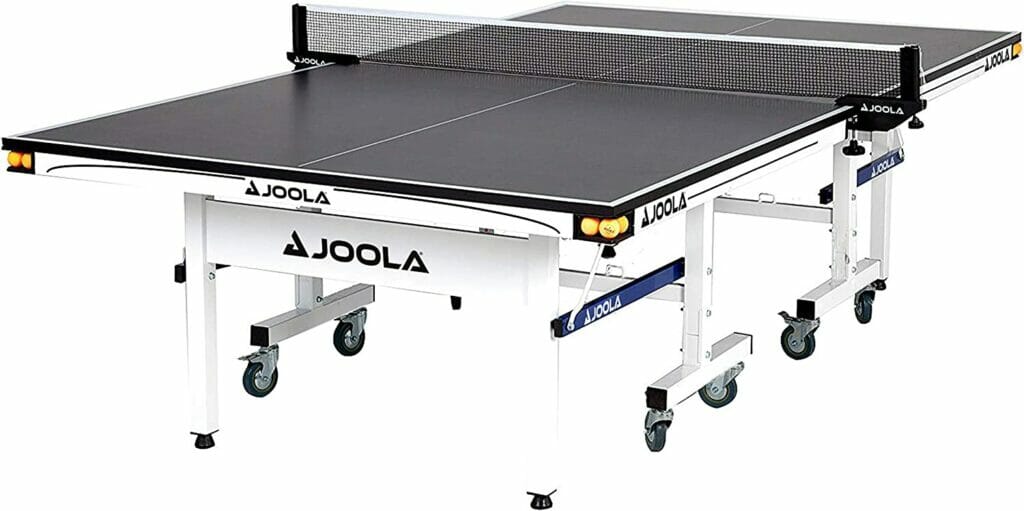 The JOOLA Rally TL 700 professional MDF indoor table tennis table is the most advanced table in the Rally line-up. And it's a similar upgrade on the Rally 500 as the Rally 500 is on the Rally 300.
It features a 25mm tournament-grade thickness for a stellar playing experience. Truly anyone can have a great time playing on such a table. So if it's within your budget and you're passionate about table tennis, it's a top buy even if you're not at an advanced level just yet.
Once again, JOOLA increased the undercarriage to support the heavier table top. The Rally TL 700 has an undercarriage that measures 50x50mm. And the final upgrade for this model is the wheels. They are 4″ rather than 3″.
Conclusion
So to sum up the JOOLA Rally TL is a fantastic choice for those looking for an affordable inside table for casual use. Since its release, it's gathered hundreds of 5-star reviews on Amazon. We love that it assembles quickly and is easy to move around.
However, if you consider yourself to be at an intermediate level we seriously recommend that you consider getting the 18mm version instead. It will be far more enjoyable to play on. Of course, you can even go one step further and get the JOOLA Rally TL 25mm thick version — although this will be overkill for most people. It's only really for advanced players.
Recommended reads:

Freelance writer. Table tennis enthusiast. Lover of all things online. When I'm not working on my loop game I'm probably binge-watching some fantasy show.