The JOOLA Rally TL (also known as the Rapid Play 150) is a sturdy, 15mm thick table with charcoal painted fiberboard. This table is intended for indoor use and should meet the demands of any recreational player looking to improve their game or just have fun with friends and family. The surface is mounted on a durable 30mm x 30mm frame making it very sturdy and considering the price could be a good option if you're looking for an affordable table tennis table. Let's take a look at some of its features.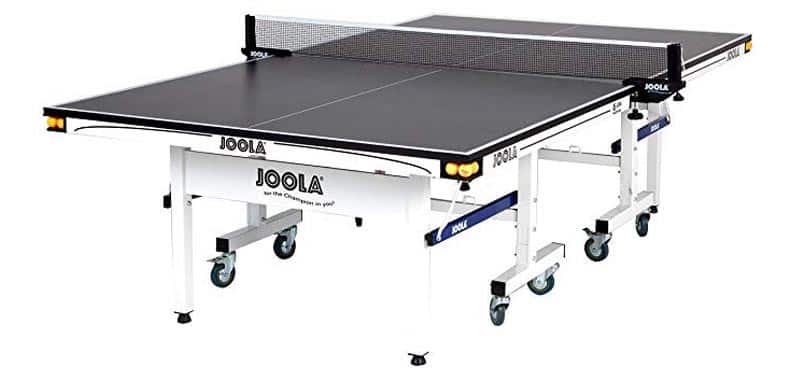 Specifications
Dimensions – 9ft x 5ft
Weight – 155 lbs
Assembly time – 10-15 minutes (Comes 95% preassembled)
Surface thickness – 15mm (just under 5/8″)
Price – $$ (Check the latest price on Amazon)
Our rating – 9.2/10
Features
15mm charcoal table surface
The Rally TL sports a 15mm (5/8″) thick table top made from MDF (medium density fiberboard) that gives a reasonable bounce considering it's on the lower end of table thicknesses. The charcoal top has silk-screened white striping that is printed directly on the tabletop to create a consistent and durable playing surface.
If you've read up about how the table's thickness affects the bounce (side note: to read more about what to look for when purchasing a new table check out our guide to buying the best ping pong table here) you'll know that the thicker the table the higher the ball will bounce.
Tables tend to be between 15mm on the lower end and 25mm which is the official regulation thickness. If you're a bit more serious about your ping pong then we recommend 18mm as a minimum but for a casual table to use with the family 15mm is fine (they're also a bit cheaper!)
If you have a little more budget to spare and wanted to get something with a better bounce then the Rally TL also comes in two thicker models:
For a bit of fun and recreational play, the 15mm surface will more than suffice but if you're taking your game more seriously then we always recommend getting a thicker table for a better bounce. These models are almost the same apart from the thicker surface and a slightly thicker frame to support the extra weight. We'll cover the frame now.
Durable frame and table apron
The 15mm surface sits on top of a 1.5″ tube apron to help support the surface and provide an even bounce across the whole table. The undercarriage of the table is a 30mm x 30mm steel frame and feels very strong and sturdy.
With the other models in the JOOLA Rally series, they have slightly thicker frames to support the heavier weight of the tabletop. The Rally TL 18 has a 40mm x 40mm thick frame and the Rally TL 25 has a 50mm x 50mm frame.
The table legs are 1.5″ (38mm) thick and made from durable steel to provide support. The ends of the legs have height adjusters so you get the playing surface as flat as possible. As it's an indoor table they have rubber ends so not to scratch the floor.
Splits into two halves and foldable
Table tennis table can get pretty heavy and so being able to split it in two makes them a lot more mobile to put into storage. The Rally TL is made up of two table halves which makes moving it around a lot easier. Each half of the table conveniently folds up and so doesn't take up much space. When folded up the two halves nest together very snuggly, a great feature for all indoor tables to have. Once folded up the tables are kept in place by a safety latch to prevent the table collapsing unexpectedly. A very important safety feature.
To make moving the tables around each half has four anti-tilting caster wheels that are 3″ to provide enough stability when rolling it (the Rally TL 25 has 4″ wheels to account for the extra weight). You can then lock them to stop it from moving around during a game or when it's in storage. This makes moving the table by yourself so much easier and really helps make sure you don't hurt yourself or damaging the table while moving it.
Because you can separate the two halves and fold them up you can put the table into personal playback mode where you fold only one half and use it to hit the ball against. This is a great feature for solo practice when you don't have an opponent to play against.
Check our buying guide with the best foldable ping pong tables.
Convenient ball holders and magnetic scoreboard
At each of the corners of the table are small spaces to hold some ping pong balls. Each corner can hold three balls (12 altogether) which is a nice touch and makes it really convenient for getting a new ball.
Another one of the table's thoughtful features is the magnetic scoreboard that goes on the sides of the table. Very handy to keep score and settle any disputes when someone "forgets" the score.
Not difficult to assemble
As far as tables go the TL is pretty easy to put together. You could manage it on your own but we recommend having a second person around to help with lifting. Here's a link to the assembly instructions.
JOOLA: World renown manufacturer
German table tennis manufacturer JOOLA have been producing quality products for over 70 years. In that time they have been the official table supplier for multiple Olympic games as well as countless national and international tournaments. Their products get very good reviews on Amazon and their customers reported that when getting in touch their customer service has been reasonable.
Pros
Strong and sturdy build – The frame is strong and durable
A good finish to the table top – We really like the charcoal color of the surface
Easy to assemble – Quick to put together and shouldn't take more than 15 minutes with two people
Foldable – Each half of the table is easy to fold and you can put it into the playback position
Magnetic scoreboard – Keep track of the score with the magnetic scoreboard at the edge of the table
Ball holders – Each corner of the table has space for three balls (12 altogether)
Cons
Only 15mm table surface – Not a very thick tabletop (we recommend at least 18mm) but for casual gamers, it will be fine
Not as cheap as other tables – A little more expensive than some of its competitors
Conclusion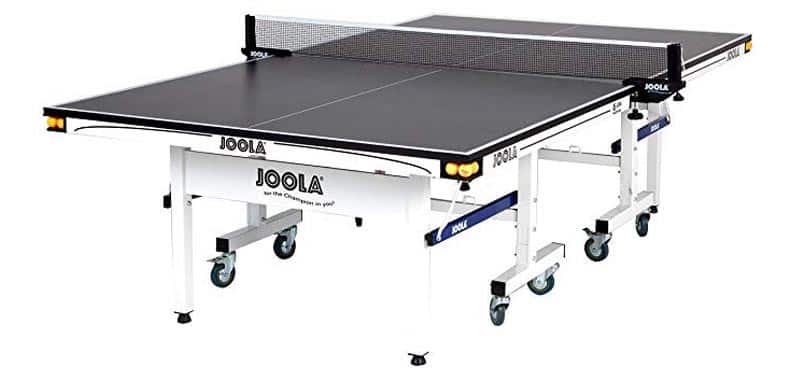 So to sum up the JOOLA Rally TL is a fantastic choice for those looking for an affordable inside table. Since its release, it's gathered hundreds of 5-star reviews on Amazon. We love that it folds up so quickly and without any trouble making storing the table virtually effortless.
Ideally, it would have a slightly thicker table thickness so whilst the regular 15mm is fine for casual players if budget allows we'd recommend getting the 18mm version. But if you want a sturdy and reliable table that will last for years then this could be a good option.

Eugene (Gene) Sandoval has been one of those guys who spent too many hours around ping pong tables in high school. However, soon enough, Gene understood that there is more to ping pong than having fun. That is how he started a journey that made Eugene one of the experienced semi-professional ping pong players in the United States. As the founder of the PingPongRuler, Eugene spends most of his time surrounded by ping pong tables and research. He always has this knack for coming up with new ping pong strategies and telling the good and bad equipment apart.