Butterfly Centrefold 25 Review
The Butterfly Centrefold 25 is a high-end professional indoor table tennis table that's hugely popular with amateurs and professionals alike. It's been used in many official tournaments as well as being a firm favorite of table tennis clubs all over the world.
In this review, we'll take a look at the positives and the negatives plus some of the features that make this table so popular.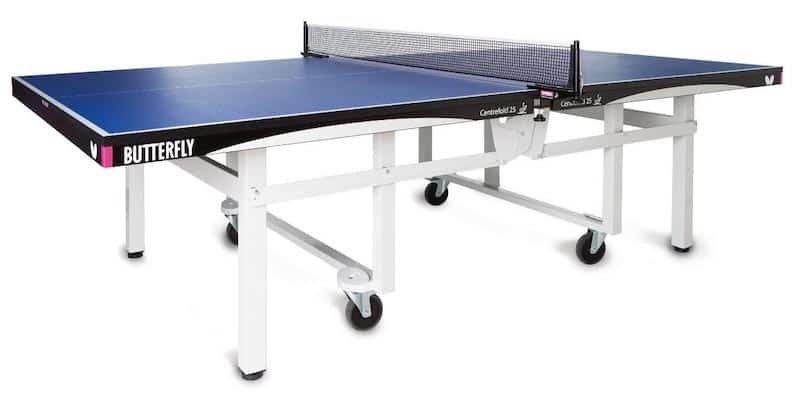 Specifications
Dimensions – 9 ft x 5 ft (Regulation size)
Weight – 290 lbs (Very heavy)
Assembly time – 0 minutes (Arrives 100% preassembled)
Surface thickness – 1" (25mm) Regulation size tabletop
Price – $$$$$ (Check Price)
Our rating – 9.8/10
Butterfly Centrefold 25 Overview
Perhaps the easiest way to sum up the quality of the table is to mention that it was specifically designed for the 2004 and 2005 U.S. Open ITTF Pro Tour Championships. That alone is enough to describe the quality of this table, however, some of its features are definitely worth mentioning.
The Centrefold 25 is one of our featured tables in our article reviewing the best ping pong tables, take a look here!
Features
1″ Thick tabletop surface
For a table tennis table to be used in an official tournament it has to meet certain standards. The main one is the thickness of the table's surface which has to be at least 1″ (25mm) thick. It's one of the few tables that meets these criteria. It has 1″ thick scratch-proof top that is designed to increase the consistency and reliability of the bounce of the ball's topspin and backspin shots. It also reduces that amount of skid leading to a more enjoyable game. It's one of the best table tennis table surfaces that we've played on.
Strong steel frame apron
To protect the table top, the apron of the table is lined with a strong steel frame to provide support and stop it from getting knocked and scratched. Each corner has a magenta corner protector pieces.
Foldable and easy to move around
A key feature of an indoor ping pong table is that it's easy to fold away when it's not in use. It is incredibly easy to put into storage or move as the two halves fold together in the middle meaning that when it's folded up its storage dimensions measure on 20″ (51cm) across. Once it's folded up it locks into place with a very simple to use locking system that prevents it from opening unexpectedly. An important safety feature.
Strong and durable undercarriage
The Centrefold 25 has one of the strongest undercarriages we've seen on a table. It's equipped with four 5″ (125mm) durable wheels that rotate so that you can move it to where you need it easily. Very handy considering it's so heavy. Two of the wheels lock, another useful safety feature to stop it from moving around during play and also when it's in storage.
Arrives pre-assembled
One of our favorite things about this table is that it arrives completely assembled. All you have to do is remove the packaging which as it's quite a heavy table a walk in the park but compared to spending over two hours screwing nuts and bolts it's definitely a good thing! Here's a video showing the process of setting it up.
Leg levellers on all four table legs
Another good feature for an indoor table is to be able to adjust the height of the legs. It has four height adjusters on each of the end legs which allows you to ensure that the table is completely flat no matter where you're playing.
Comes with net and posts set
Not all table tennis tables come with a net and posts set and most of the ones that do include it, aren't any good. That's not the case with this one which comes with the Europa Net Set which is a tournament standard net and post set.
Available in two colors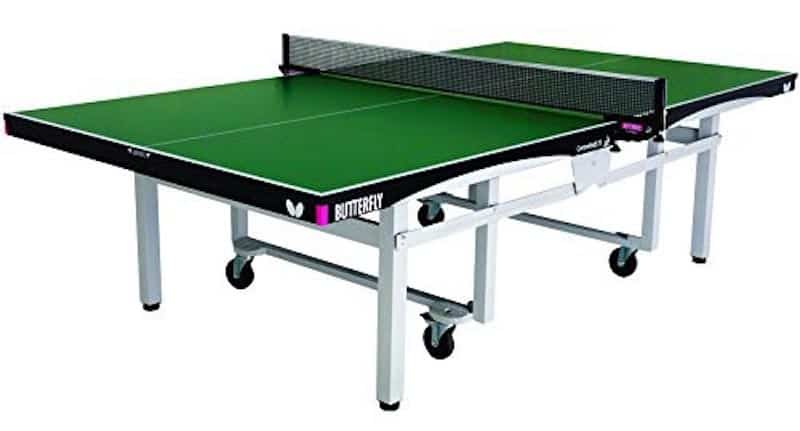 Depending on your preference, it's also available in two different colors: Blue and green (we like the green version).
The official table of the World Table Tennis Championships
It's not only us that like The Butterfly Centrefold 25 It's was also the official table used in the Table Tennis World Championships in 2012, 2014 and 2016 as well as lots of other international and national table tennis competitions in the US and worldwide.
About the brand: Butterfly
Butterfly are a world-renowned leading manufacturer in table tennis tables and equipment from Japan. Being founded in 1950 they've been producing high-quality products that are popular all over the world. Their commitment to quality is evident in all their products. We doubt you will damage the table enough to need a repair, but the table's warranty extends a whopping five years, showing the company's trust and belief in the Centrefold's ability to perform.
The Positives
Professional table tennis table – It is approved by the ITTF for official table tennis tournaments
Great warranty – It's backed by a 5-year warranty that ensures quality and longevity
1 inch thick scratch-proof top – It has a regulation size 1 inch ( 25mm ) scratch-proof top making it one of the best tables on the market
Strong frame – The rail attached to the table apron is 2.75" steel to protect the surface plus its legs consist of 2" steel that makes it extremely durable and strong
No assembly required – It arrives completely preassembled. Take it out of the box, unfold it, attach the net, and begin playing within minutes.
Easy to store – It's very easy to store by releasing the red safety lever on each half and folding the table. This can be done by 1 or 2 people
Quality wheels – The table is equipped with 5" locking wheels that rotate while transporting your table to its storage location
Wheelchair friendly – One of the few match ready tables that are wheelchair friendly with 400mm between the end of the table and the legs
Negatives
Very expensive – This is probably one of the most expensive tables that we've reviewed on the website
No play-back position – Most tables these days split into two separate halves so you can fold up on half and use it in personal play-back practice mode but sadly you can't with this table
It's quite heavy – It's quite a heavy table weighing around 290 lbs. This makes it hard to move on your own
Butterfly Centrefold Deals
One of our favorite table tennis retailers Megaspin have a few deals on the Centrefold that are worth checking out.
If you're looking to buy some new tables for your table tennis club then we'd recommend this deal where you can get 3 x Butterfly Centrefold 25 tables for 29% off.
Check out the special offer here.
If you're looking to get a table tennis robot along with your table then Megaspin are doing a bundle with the very popular Butterfly Amicus Prime Robot for 19% off.
Check out the offer here.
Conclusion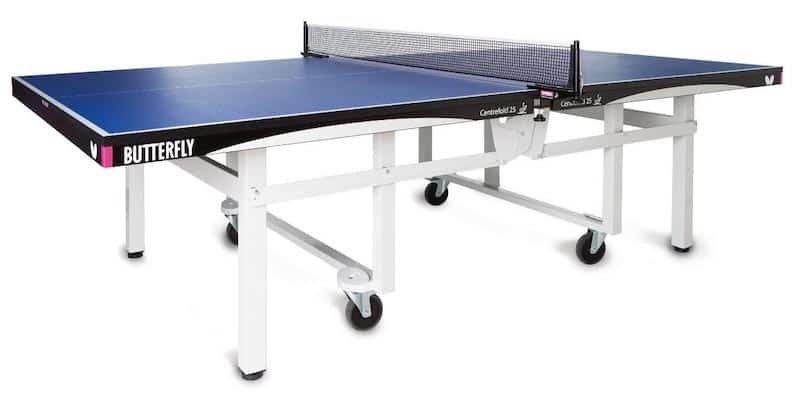 Summing up, the Butterfly Centrefold 25 is one of the best tables we've had the pleasure of playing on. We love it and always enjoy when visiting a club or a bar and they have one of these to play on. The fact that it arrives completely assembled (which is very rare for a regulation table) is such a huge bonus, plus the 1″ thick table surface is an absolute dream to play on. If you're looking for one of the best table tennis tables on the market and have the budget to spend on a premium table then look no further than the Centrefold 25.

Eugene (Gene) Sandoval has been one of those guys who spent too many hours around ping pong tables in high school. However, soon enough, Gene understood that there is more to ping pong than having fun. That is how he started a journey that made Eugene one of the experienced semi-professional ping pong players in the United States. As the founder of the PingPongRuler, Eugene spends most of his time surrounded by ping pong tables and research. He always has this knack for coming up with new ping pong strategies and telling the good and bad equipment apart.