Those living in apartments with not enough room for a full-size table tennis table shouldn't have to go without. Thankfully, there are a number of good options when it comes to looking for smaller tables and the JOOLA Midsize is one of the most popular. While it's not the same as playing on a full-size table it's a pretty good alternative and more than fine for kids and casual games. Mid-size ping pong tables will also test more advanced players on their ball control and placement. Let's take a look at some of its features.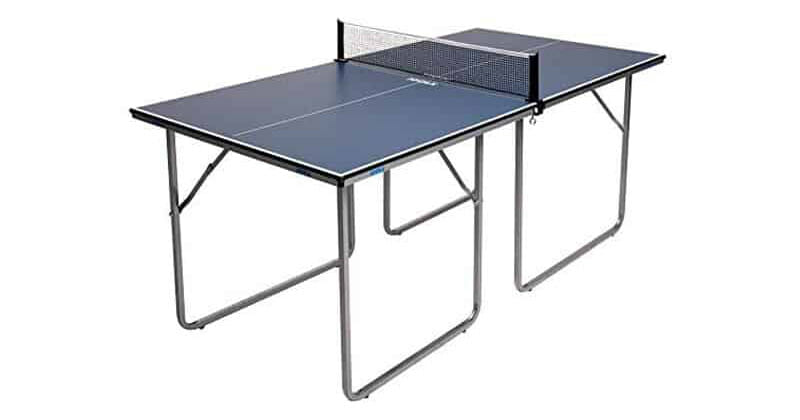 Specifications
Dimensions – L72″ x W36″ H30″
Assembly time – 0 minutes. Comes preassembled, simply unfold and play)
Weight – 62 lbs (Very lightweight)
Price – $ (Check the latest price on Amazon)
Our rating – 9.0/10
Overview of The JOOLA Midsize Sport
Features
2/3rds the size of a regulation table
To make it able to fit in almost any room, the JOOLA Midsize is made up of two table halves that each measure 36″ x 36″ (almost a perfect square) which you join together to create a playing surface of 72″ x 36″. It's perfect for a kids game room or a bit of fun between adults. You can just about play a game of doubles on it too.
Very lightweight and compact
Each table half folds up in seconds and is very lightweight. The whole thing only weighs 62 lbs so you'll be able to move it with ease. It's great for those living cities where space is a luxury as they fold up and can easily fit into a closet or under a bed with storage dimensions of only 36″ x 36″.
Comes completely pre-assembled
If you've looked at some of the other table tennis tables available you'll see that some of them can take as long as 3 hours to put together with incredibly hard to read instruction manuals… That's not the case with the JOOLA Midsize which comes 100% ready to use. Just unfold each half of the table and pop the net on and start playing. It's very easy and even kids could do it.
Net and posts included
The Midsize comes with a net and posts included which attaches to the table top with a classic screw clamp. It's not the best we've seen but it's more than fine for casual games and if it breaks they're very inexpensive to replace.
Look out for missing screws
Whether you buy this table or not, make sure to fully inspect your new table the moment it arrives. We've seen a number of reviews we see where people don't open their table until months after they received it (when the warranty has expired) only to find that it was damaged during delivery or defective. One issue with the Midsize that seems to have happened a handful of times is that one half of the table will be missing screws. It's frustrating but can be fixed easily with a quick phone call to JOOLA.
Don't leave it outside
Also, remember this is not table tennis table designed to be used outdoors, it's meant for inside. That doesn't mean that you can't use it in the garden or garage just don't leave it there as rain will completely destroy this table causing it to warp and rust beyond use.
The JOOLA Midsize Vs The JOOLA Midsize Sport
There are two different models of the JOOLA Midsize currently available, The original model and the sport model. From what we can see the only difference is the color on the top. The original is a navy blue whilst the sport edition is black with white lines down the middle. There's a slight difference in price between them but other than from what we've seen they're identical. We do think the Sport looks a lot nicer but if you're not bothered by the aesthetics get whichever is cheaper.
About JOOLA the brand
If you're new to table tennis products and haven't heard of JOOLA rest assured they're one of the leading manufactures of ping pong related products in the world. Having been founded over 60 years ago they've built up a fantastic company that is known for quality products and have even sponsored and been the supplier to multiple Olympic games plus many national and international tournaments.
Advantages
2/3rd regulation size – Great for small apartments and casual games
Very lightweight – Only weighs 62 lbs
Small and compact – Each table half folds and can be stored easily
Net and posts included – Comes with a screw clamp net and post set
Disadvantages
Not regulation size – If you're used to playing full-size tables it's frustrating
Not a great bounce – Good for casual games but not serious players
Customers reported missing screws – Make sure to inspect the table on delivery as some customers have reported missing screws
Doesn't come with paddles or balls – Remember it doesn't come with paddles or balls which you'll need to buy separately
Conclusion: What did we think?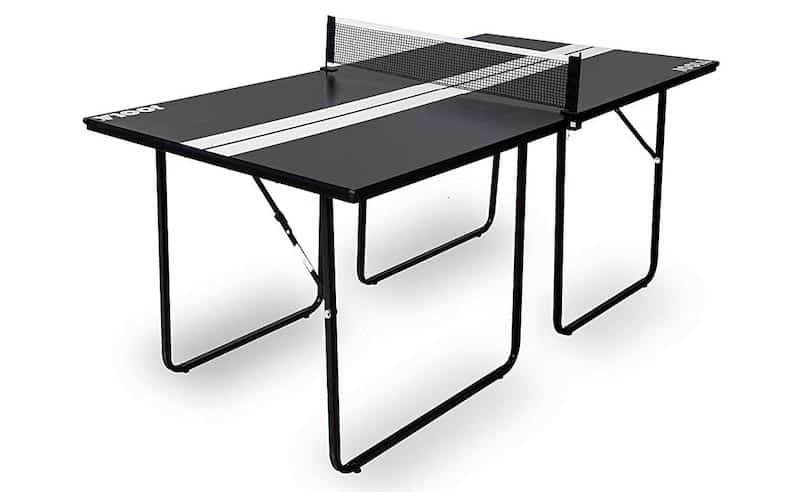 if you want to buy a table tennis table but you have limited space or a limited budget then the JOOLA Midsize could be a very good option for you. While the table is not regulation size, it is still big enough for good fun games between adults and a great option for kids learning to play.
The table is designed with the same high-grade material that the more expensive tables are made of and is strong enough to withstand the knocks and bashes of a game. It's not meant to be used outside though so don't leave it in the rain as it will warp and become unusable.
Overall it's one of the best mini ping pong tables we've seen and is very affordable.

Eugene (Gene) Sandoval has been one of those guys who spent too many hours around ping pong tables in high school. However, soon enough, Gene understood that there is more to ping pong than having fun. That is how he started a journey that made Eugene one of the experienced semi-professional ping pong players in the United States. As the founder of the PingPongRuler, Eugene spends most of his time surrounded by ping pong tables and research. He always has this knack for coming up with new ping pong strategies and telling the good and bad equipment apart.