The 8 Best Air Hockey Tables You Can Buy
Who doesn't love to play air hockey? A staple of arcades that brought joy to our childhoods, air hockey is an exhilarating game enjoyed by all. But why leave that enjoyment at the arcades? Air hockey tables make excellent additions to game rooms. I even had one in my bedroom growing up, and as a kid, I absolutely love it!
They are also more affordable than you think. So what is stopping you? In this guide, we will break down the best air hockey tables — and let you know what makes an air hockey table great so that you can take full advantage of your bucks.
Featured products
Why You Should Trust Ping Pong Ruler
We at Ping Pong Ruler are experts when it comes to sports. Our team has experience reviewing hundreds of types of sports equipment, and we do so independently without outside influence — we are not paid by brands to endorse their products.
Each product was selected for its overall performance relative to the rest of the market. We did this by analyzing each air hockey table across various categories such as playability, durability, and price. 
Choosing the Best Air Hockey Table
Scoring
There are two air hockey table options when it comes to scoring: manual and electronic.
Cheaper tables usually use manual scoring. These are called abacus scorers. After scoring a goal, you slide a numbered bead across. Although common in inexpensive machines, some higher-end tables use them. A particular benefit is that scoring sensors are one of the most commonly reported issues with tables with electronic scoring. You bypass this issue with manual scoring.
However, the best air hockey tables will tend to use electronic scoring. With this, goals are automatically detected and digitally displayed. This is more reminiscent of the arcade hockey machines we love. It means you don't have to repeatedly stop the action to manually count scores. Based on our research, most air hockey tables over around $400 use electronic scoring.
Size
So how big is an air hockey table? Well, it depends! You've got a few different choices in regard to the dimensions of an air hockey table. If the table is for children, around 3-4 feet works. For adults, 6-7 feet is better — this is the standard air hockey table size that you will find. Although you can go larger than this if you like. Regulation-size air hockey tables are about 8 feet long and 4 feet wide. Full-sized tables are best if you have the space as they provide the most enjoyable playing experience. 
Space restrictions are likely to dictate what you can buy though. You will need at least 2 additional feet longways to ensure each player has enough room to maneuver. However, you can place the table flush against the wall unlike for a ping pong table or pool table, which is quite useful for fitting it in your game room. Hockey tables are certainly more space-efficient than many other large gaming apparatus.  
Fans
To have great air-hockey gameplay, adequate airflow is vital. Poor-quality air hockey tables have little or no uplift and you really feel the puck drag along the table as you hit it. It feels cheap, because it is. The best air hockey tables for the home will always use a fan. Now the power of this fan largely depends on how much you are willing to spend. Ideally, 110V or more is what you should be looking for. This provides a nice consistent air flow.
Rails
The rails are the sections that enclose the playing field on which the puck rebounds off of. They produce the tell-tale 'ping' sound we know and love. However, this pleasing sound is usually reserved for the commercial tables, as their rails are made from metal. Home air hockey tables instead tend to use plastic, although some higher-end models do offer metal.  
Power Source
As mentioned earlier, you may want to select an air hockey table with an electric scoreboard. These are either powered by batteries or via AC. AC is the superior method as batteries wear out pretty quickly.  
Multi-Game and Conversion Tops
Multi-game tables and conversion tops help you make the most out of your available space. These units provide multiple games in one for more hours of fun. Common such tables feature games like pool, table tennis, air hockey, and foosball. We have included one of these as part of our air hockey table reviews.
Best Air Hockey Tables: At a Glance
Air Hockey Tables Reviews for 2023
1. MD Sports Air Powered Hockey Table — Best Overall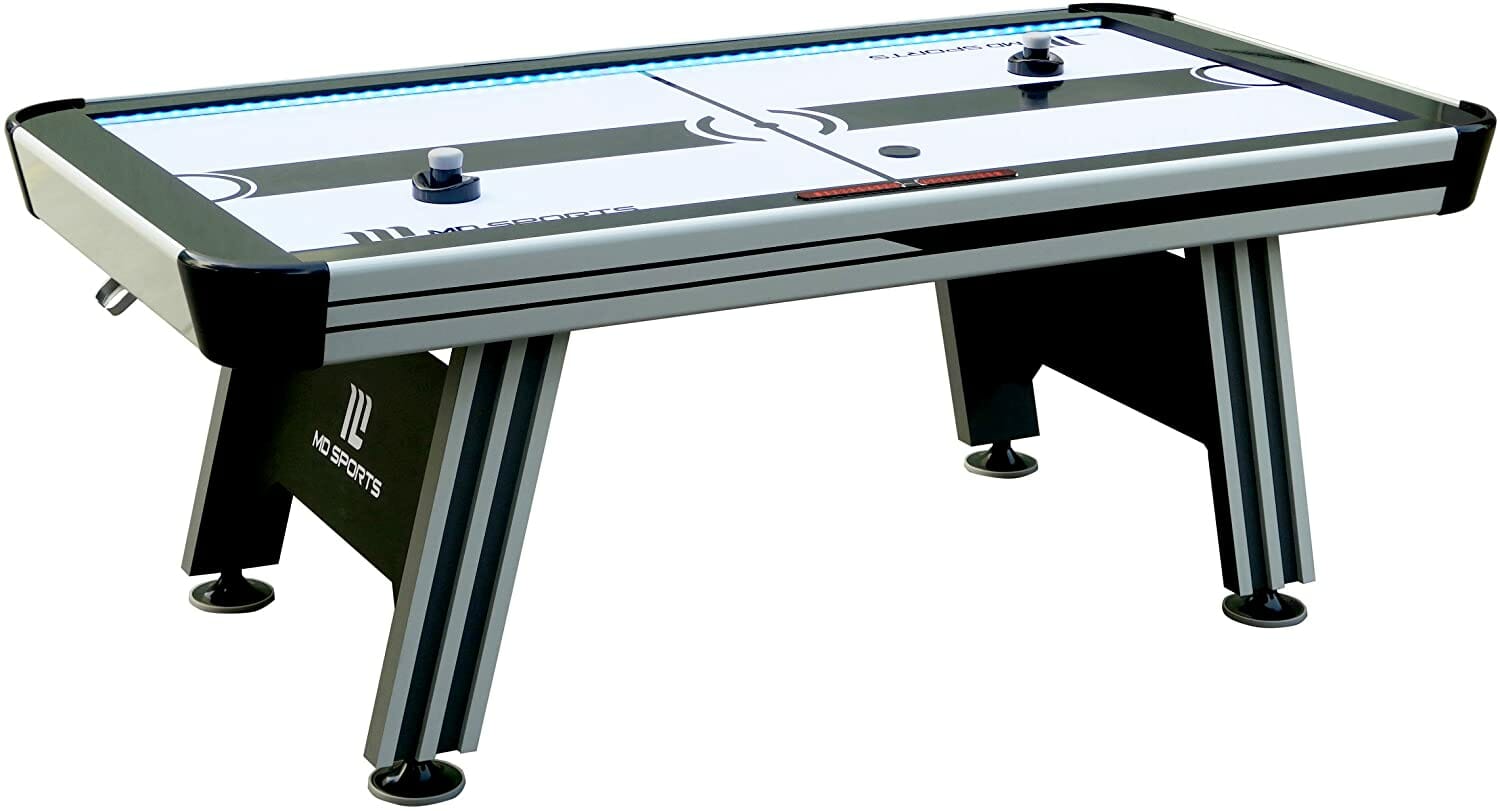 Specifications:
Size: 7 ft (84″ x 42″ x 32″)
Weight: 92 lbs
Materials: Wood, plastic
Air-powered?: Yes
Pros:
Vibrant LED scoring system

120V UL-certified motor

Thick sturdy legs with levelers

Scratch-resistant UV coating

LED rails

Sound effects

Super customer service
Cons:
Some issues with scoring sensors
This 92-pound 7-foot air hockey table looks like it came straight out of an arcade. With its white and black color scheme, LED rails, and sound effects, it's stylish and lots of fun.
It uses a powerful 120V UL-certified motor which is the best of the tables on our list. This provides a truly authentic air hockey experience. The vibrant LED display is also a nice addition – many other models used a dull LED display.
The only issue with this model is that some customers voiced concern regarding the scoring sensors. A relatively minor drawback given its superior features. This alone shouldn't put you off if you like the MD Sports air hockey table as MD Sports have reliable customer service. They guarantee 100% satisfaction which you won't get with many other tables, explaining why we have it rated as the best-rated air hockey table for your game room.  
2. Atomic LED Light Up Arcade Air Powered Hockey Table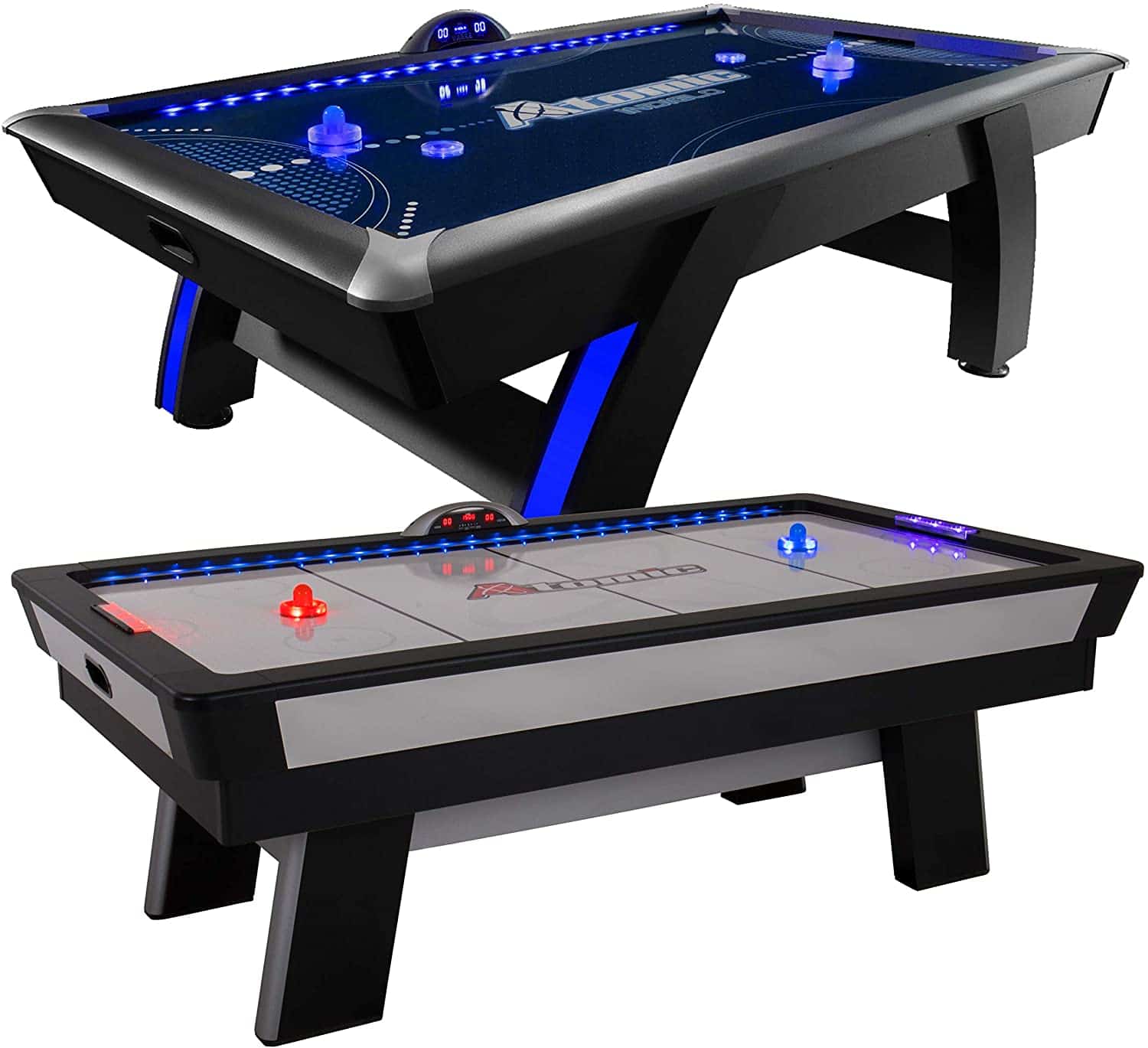 Specifications:
Size: 7.5 ft (90″ x 49″ x 31.25″)
Weight: 220 lbs
Materials: Engineered wood
Air-powered?: Yes
Pros:
LED rails, pushers, & pucks

120V motor

Fun music

Bright LED scoring

High-speed surface

Sturdy

Leg levelers
Cons:
Issues with scoring sensors
Available in two different styles, the Atomic air hockey table looks great. We love the look of the multicolor LEDs. Not only do the rails, pushers, and pucks light up for this version, but so do the goals! That's a pretty rare feature. While not quite 8 ft long, it is the closest air hockey table to full-size that we could find (excluding commercial models). 
The table also uses fun music and a powerful 120V motor for adequate airflow. Coupled with the smooth poly-coated playing surface, the pucks will ping around the table to your heart's content.
Coming in at a total of 227 pounds, the table is a good weight for home use. Certainly sturdy enough that it won't get knocked around during games.
The only real issue to report is some scoring sensor inaccuracies. These are few and far between among purchasers. As the most common fault among air hockey tables, it is not much of a turn-off. In our opinion, Atomic has created one of the best air hockey tables for adults.  
3. American Legend Kirkwood 84″ Air Powered Hockey Table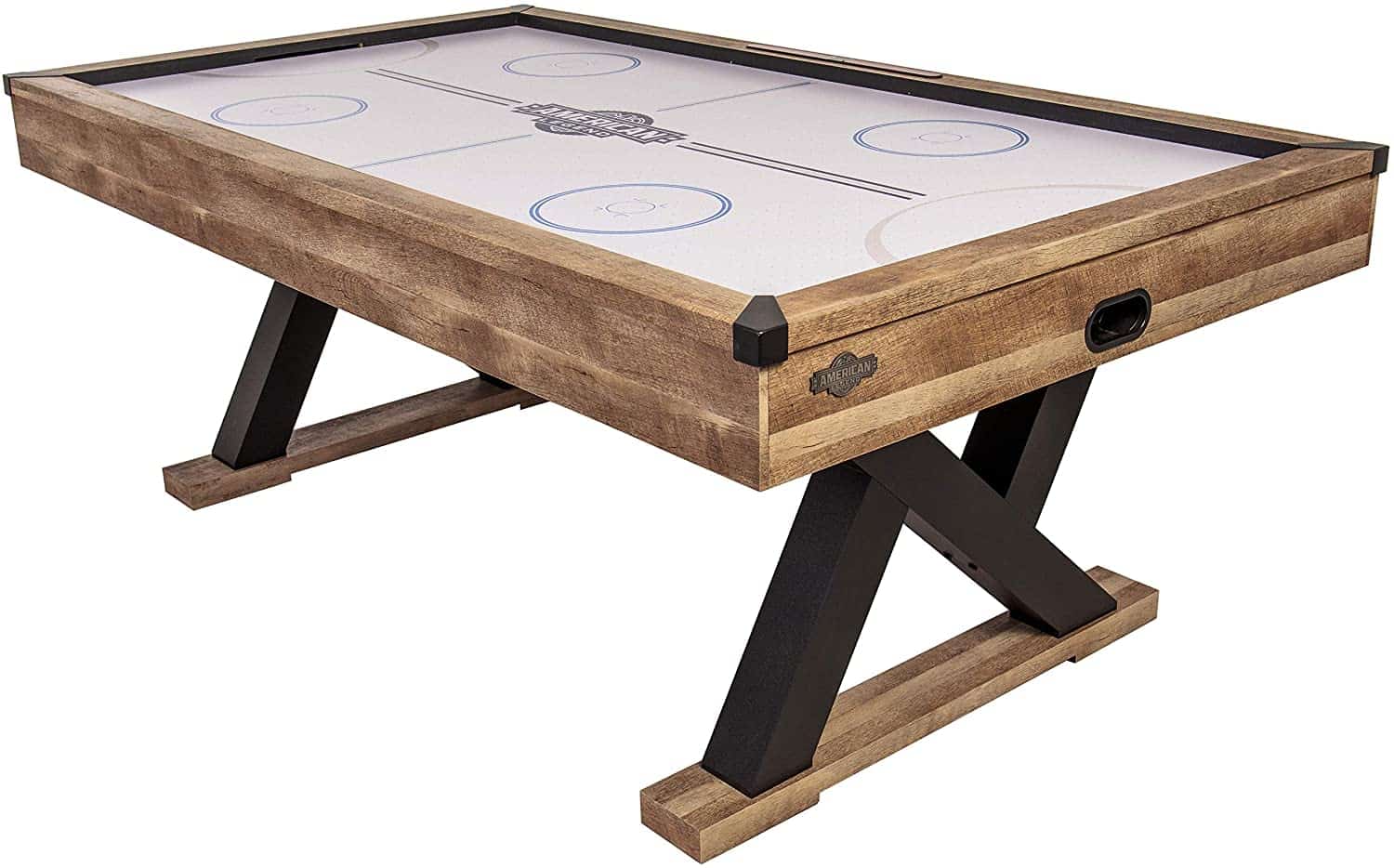 Specifications:
Size: 7 ft (84″ x 48″ x 32″)
Weight: 167 lbs
Materials: Wood
Air-powered?: Yes
Pros:
110V blower

In-game sound effects

Electronic scoring

Simple control panel

Modern design
Cons:
Runs on batteries

No leg levelers
While the design of almost all of the air hockey tables on this list replicates that of authentic arcade-style tables, the Kirkwood takes a different route, instead, going for a look that is more fitting in the home. With its rustic wood finish, it is far more contemporary looking and seems more suited for a lounge than a game room. This is great for buyers who don't have a games room (I wish I had one!) and want a modern air hockey table that doesn't ruin the aesthetic of their chosen room. Therefore, this could perhaps be the best home air hockey table .
Moving past appearances, the Kirkwood shares many features that the other tables on this list possess. It has a 110V blower, uses a digital counter, and blasts out in-game sound effects to get your heart beating. However, it does have a few issues. The smallest being the fact it has no leg levelers. This means you need to place it on an even surface, given it's going indoors, this isn't much of an issue. The biggest drawback to this model is that it runs on batteries. You can't plug it in. This means you'll likely have it die on you unexpectedly, and if you don't have spare batteries lying around, you won't be able to play until you purchase another set.
4. Triumph Lumen-X Lazer 6ft Interactive Air Hockey Table — Budget Buy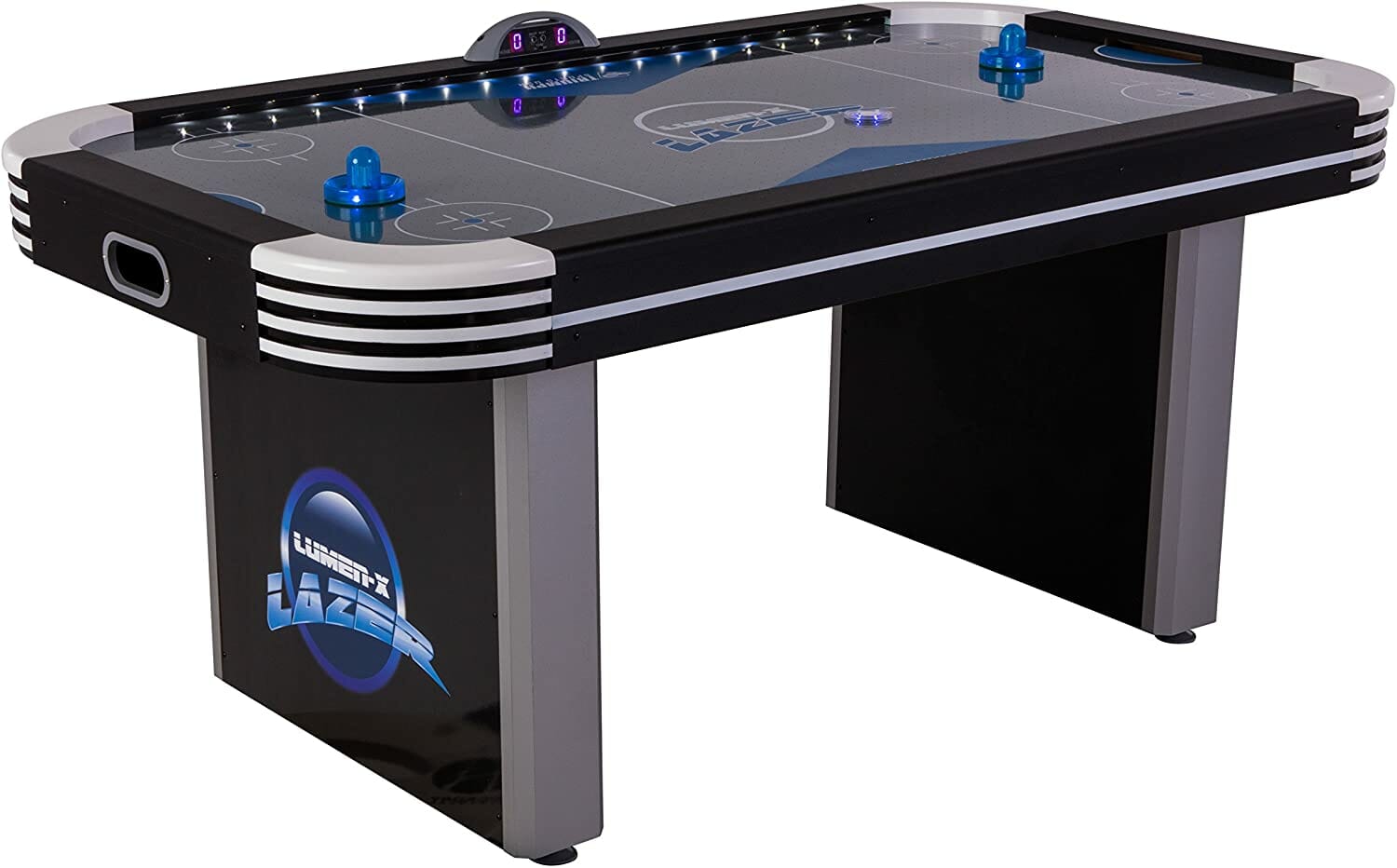 Specifications:
Size: 6 ft (72″ x 40″ x 31″)
Weight: 75 lbs
Materials: Engineered wood
Air-powered?: Yes
Pros:
Interactive LEDs & music

Electronic scoring

Dual motor blowers

Leg levelers
Cons:
Poor scoring sensors

Puck is too light

LED in puck is unreliable

Table is light
At a length of 6 feet, this air hockey table by Triumph is suitable for most adults. The interactive LEDs and lights provide an immersive action-packed experience just like at the arcades! It even uses dual-motor blowers to ensure you have ample airflow so that the puck can glide around the playing surface.
The legs are solid and easily adjustable to ensure the playing surface is level.
The issues lie in the puck and sensors. Sometimes the sensor has difficulty determining whether a goal has been scored. The puck is also a little light which means it can fly off of the table during power shots. And the LED within seem to be rather hit and miss (no pun intended). Not working after light use for some, and working intermittently for others. It is likely that they are not well adapted to the vigorous force they receives inside the puck.  
It's also worth mentioning this table is fairly lightweight at 75 pounds. While this makes it easier to maneuver, it does mean that it is more likely to budge during intense matches.
5. MD Sports 84″ Air Powered Hockey Table — Highest Quality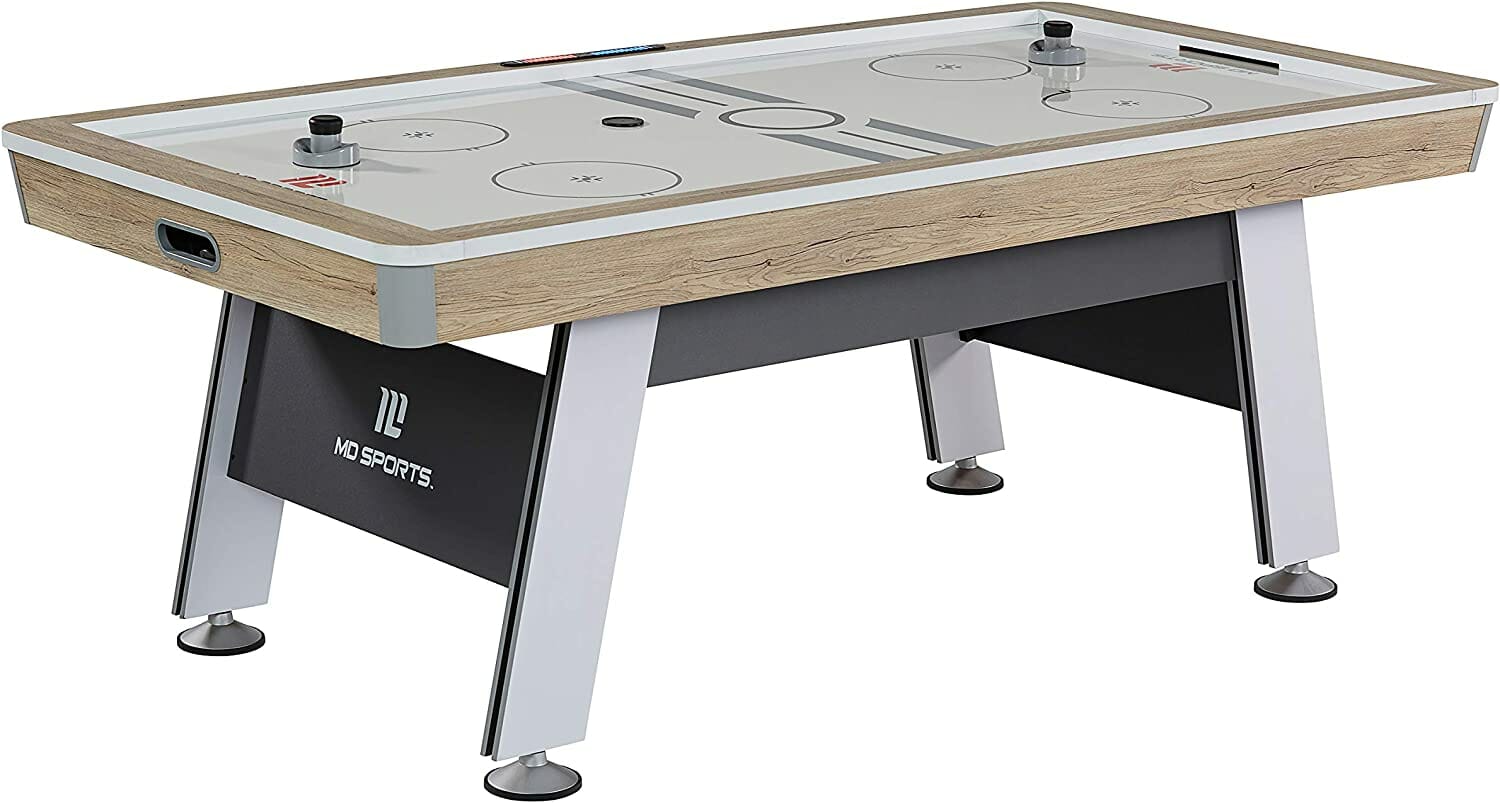 Specifications:
Size: 7 ft (84″ x 42″ x 32″)
Weight: 206 lbs (for entire package)
Materials: Wood, metal, PVC
Air-powered?: Yes
Pros:
Great aesthetic

120V UL-certified motor

Strong build

Electronic scoring

Thick sturdy legs with levelers

Super customer service
Cons:
Not ideal for consumers who prefer a classic arcade-style hockey table

No LED playfield 
Up next we have another standard-size air hockey table by MD Sports. However, unlike our first model for the company, this table features heavy-duty wood grain lamination. So like the Kirkwood, it is one of the best air hockey tables for the home as it doesn't stick out like a sore thumb (no need to banish it to the game room!).
This attractive unit features a premium 120V UL-certified motor which guarantees longevity and a nice even airflow. As for the playing surface, it is UV-coated and scratch-resistant which allows the puck to glide effortlessly along the table top.
In fact, the whole build quality of the table is very strong which is hardly surprising given its weight. Where many tables use chea thin legs, this model features 1 2/5″ thick legs with a panel for support. This gives it a distinct advantage over the other MD Sports model we featured; the first air hockey table on our list, which weighs just 92 lbs and uses 12 mm thick legs. 
Overall, it is one of the top-rated air hockey tables, we just feel that we couldn't give it the top spot as we prefer a classic arcade appearance. This model also lacks an LED playfield so you don't quite get full immersion while playing.
6. NHL 80" Power Play 2-in-1 Air Hockey Table with Table Tennis Top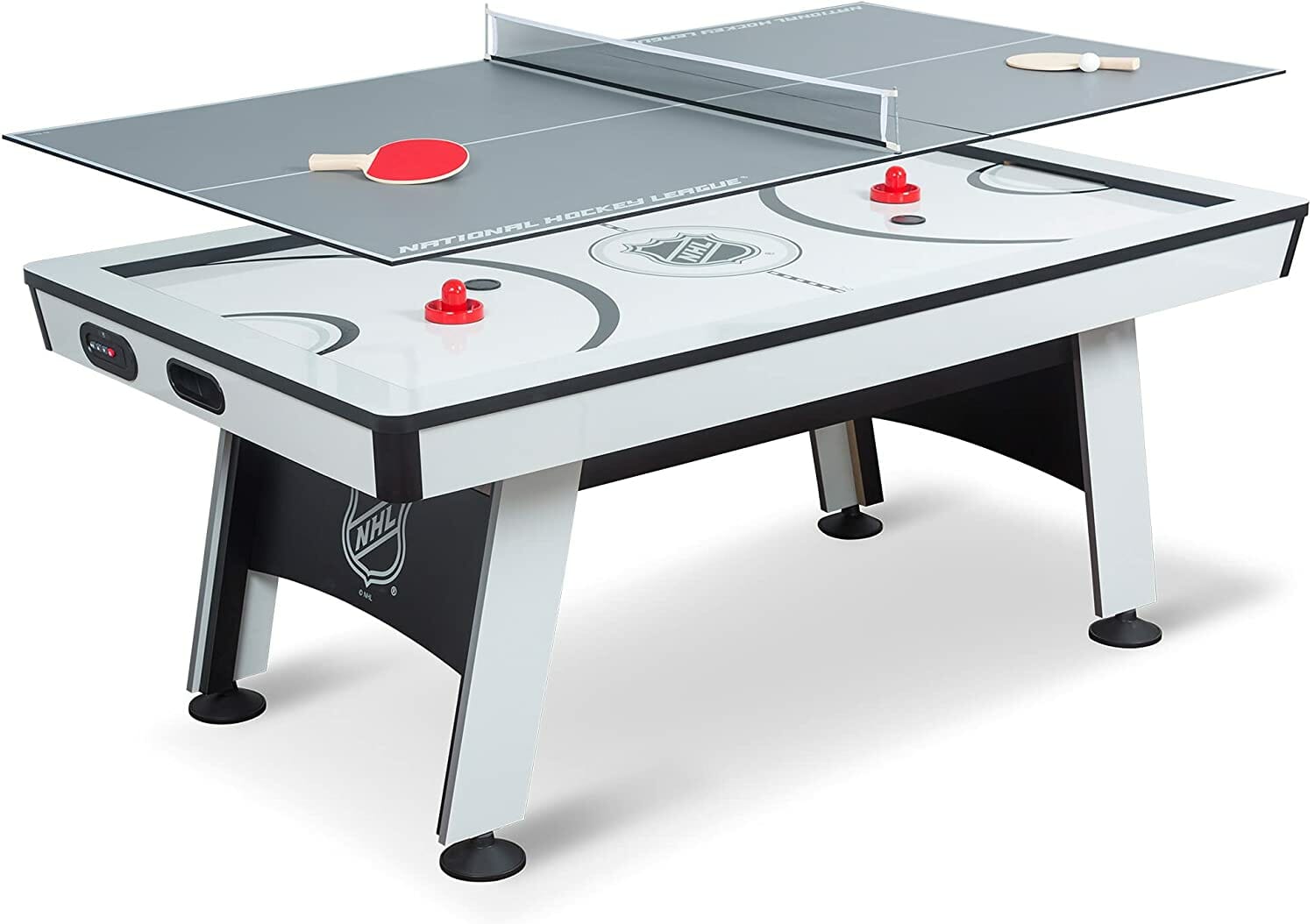 Specifications:
Size: 7 ft (80″ x 43″ x 32″)
Weight: 166 lbs
Materials: Plastic, alloy steel
Air-powered?: Yes
Pros:
2 in 1

Air powered

Great aesthetic

LED scoring

Leg levelers
Cons:
Battery-powered scoring

Poor quality table tennis bats, ball & net

Thin table top
The dimensions of this air hockey table measure 80″ x 43″ x 32″ and it really is a stunner to look at. Weighing in at 157 pounds, it features LED scorers and in-built leg levelers.
Our main concern with this model is that the scoring is battery-powered. This is a bit of a nuisance as you have to have backup batteries on hand or else you could find yourself out of power and unable to play. 
Included with this unit is a ping pong table conversion top. We wouldn't be Ping Pong Ruler if we didn't include a review for a 2-in-1 air hockey table with a table tennis table! As far as conversion tops go, it's pretty poor quality. It's only 8 mm thick where we usually recommend 15 mm, so the bounce isn't great. It doesn't help that the included net, bats, and balls are quite poor as well.
For anyone serious about table tennis, see our guide for table tennis conversion tops.
For anyone else who wants a bit of table tennis fun on top of air hockey, it's a great buy.  
7. Triumph Fire 'n Ice Air Hockey Table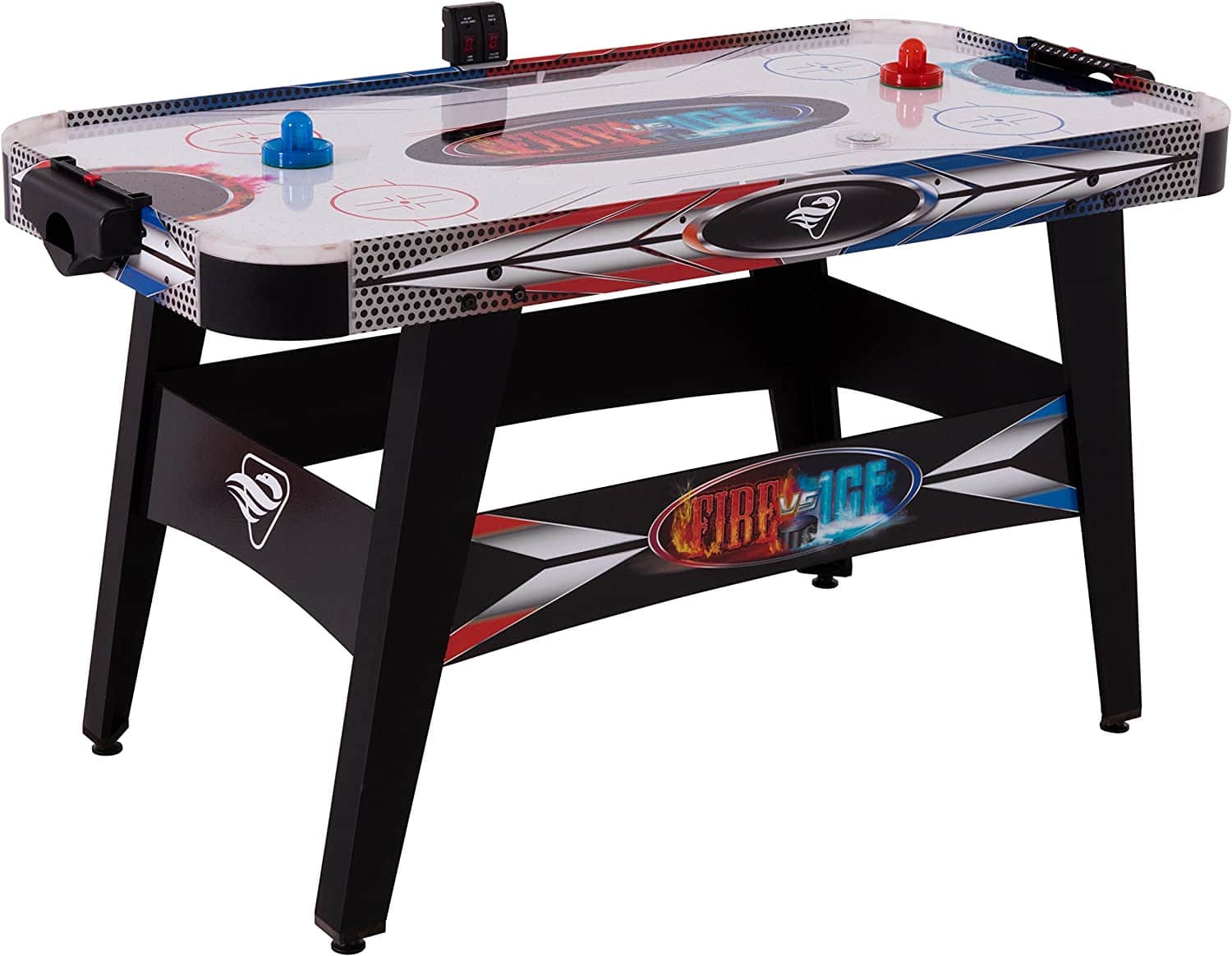 Specifications:
Size: 4.5 ft (54″ x 27″ x 31″)
Weight: 39.6 lbs
Materials: Unlisted
Air-powered?: Yes
Pros:
Air-powered

Electronic scoring

LED pucks and pushers

Compact

Inexpensive
Cons:
Very light

Too small for adults
Short of space? The Fire 'n Ice by Triumph could be just what you need. At 4.5 ft long it's a compact air hockey table so it's pretty easy to fit into a room, it's even air-powered which is not always the case with such small units. It's also got classic air hockey features, these include light-up pucks and pushers as well as an electronic scorer. Very appealing considering the low price.
However, you should keep your expectations realistic. While a great table for the money, it is an entry-level air hockey table, so it can't match the quality of other models on our list that cost 4x more. Ideally, we recommend this air hockey table for kids. At 4.5 ft it is a suitable length where they can have a grand old time. Adults, on the other hand, should look for something larger. 
8. Sport Squad HX40 Air Hockey Table Top — Most Portable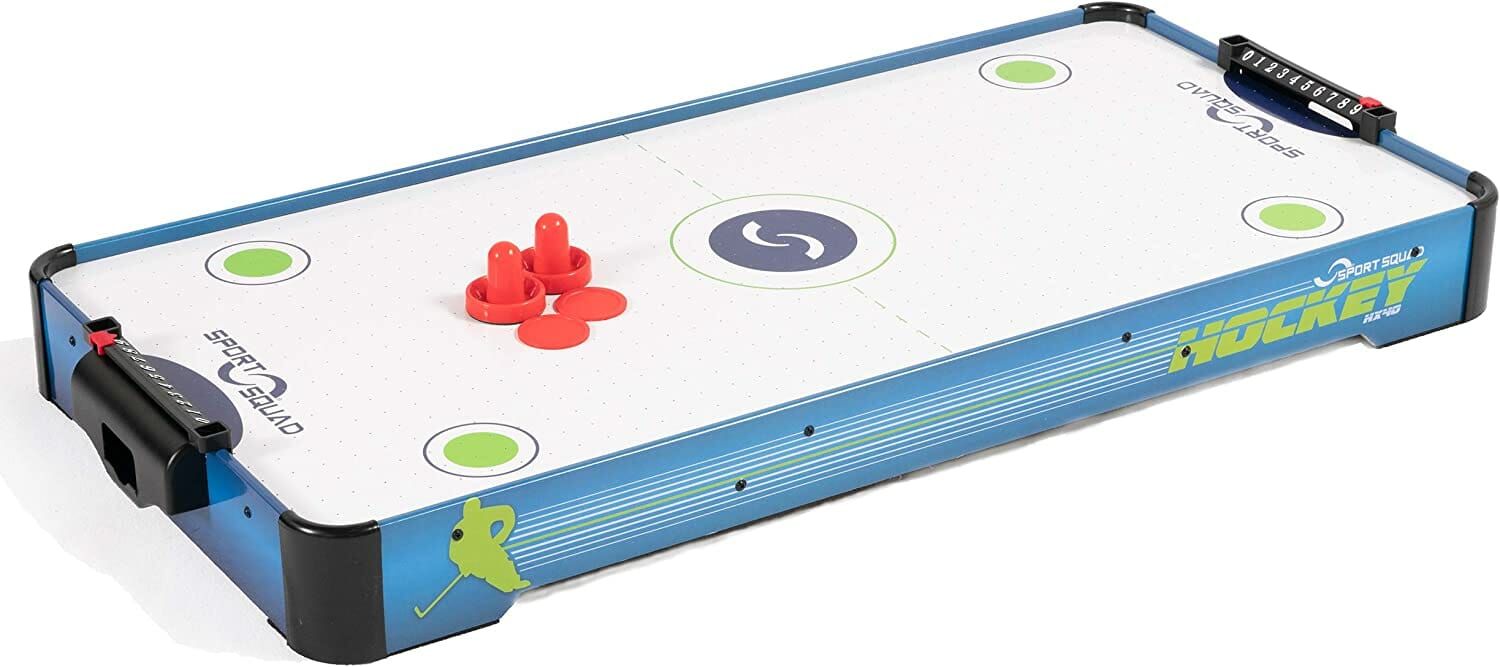 Specifications:
Size: 3.3 ft (40″ x 20″ x 5″)
Weight: 10.7 lbs
Materials: Plastic, engineered wood
Air-powered?: Yes
Pros:
Portable

Very inexpensive

Air-powered

100% satisfaction guarantee
Cons:
Manual scoring system

Very lightweight

Feels cheap

Not as fun to play on as larger tables
As our final recommendation, we have the Sport Squad HX40. It is the most basic table on this list and technically, it's not an air hockey table, rather, it's an air hockey tabletop. We recommend placing this air hockey unit on a table of a comfortable height to play games, although if you can't find one, you can always play on the floor!
Like the Triumph Fire n' Ice this is certainly an air hockey table game for kids rather than adults. It measures just 3.3 ft long and weighs only 10.7 lbs. This means even children will have a tough time not budging it during the excitement of games. On the other hand, this does mean that it is highly portable. You should have no trouble storing it out of sight or transporting it to say a friend's house for instance. The same can't be said for actual air hockey tables which are usually confined to your game room. 
For the price, we think this table top air hockey table is a pretty sound buy as it provides a tonne of fun. And it's sure to keep your kids entertained for countless hours. As a closing point, the HX40 comes with a 100% satisfaction guarantee, so if the table top doesn't quite meet your expectations, the Sport Squad customer service team should be able to help. 
FAQs
How Do I Choose an Air Hockey Table?
Our top tip for choosing an air hockey table is to purchase a model which uses a motor. There are many tables available without motors which have no air power so we recommend avoiding these. We also advise purchasing the largest table you can feasibly fit in your home. This gives you the best playing experience.
What Is the Best Brand of Air Hockey Table?
In our opinion, the best brand of air hockey table is MD Sports. Two of their tables feature on our list and they took the awards for the best air hockey table of 2023, and the highest quality table. 
What Is a Full-Size Air Hockey Table?
According to the United States Airhockey Association (USAA), full-size air hockey tables measure 8 ft long. These are the only kind that are approved for tournament play.
How Much Does a Good Air Hockey Table Cost?
While you can pick up a decent table top air hockey table for around $60, we recommend spending at least $500 to get a quality air hockey table. However, if you can afford $400 more the quality improves considerably. 
What Size Air Hockey Table Should I Buy?
If you have space that measures approximately 12 ft by 8 ft we recommend purchasing an 8 ft table. Alternatively, if your space is a little smaller, say 11 ft by 7 ft, a 7 ft air hockey table is a better choice. Just remember to give yourself at least 2 ft on either so that you are not cramped when playing. Unlike other table sports, you don't need a lot of space at the sides of the table.
Is a 6 ft Air Hockey Table Big Enough?
A 6 ft table is certainly big enough to have a great time playing air hockey. 6 ft is an adequate size for virtually all children, and it is large enough for most adults to have a fun time too. Even 5 ft tables such as this model by ESPN are large enough for a lot of players. Of course, these are primarily for children.
What Is the Average Price of an Air Hockey Table?
Typically, 6 ft-8 ft air hockey tables cost around $700-$800. However, the cheapest models cost less than $100, whereas the most expensive tables can set you back almost $10,000. But we should note, these top-end models are primarily for commercial use rather than home use.
How Long Do Air Hockey Tables Last?
Air hockey tables typically last around 5-8 years. To get the most out of your table you should treat it with care and perform regular maintenance. We highly recommend cleaning the filter of the air blower to keep the airflow strong. You should also ensure none of the holes in the table are blocked. Use either a toothpick or fine drill bit to clear any built-up debris.
Do Air Hockey Tables Need to Be Plugged in?
Most electric air hockey tables need plugging in, but some run on batteries. There are even models that don't use air power at all, so they do not need plugging in. These are sold as air hockey tables but are better defined as push hockey tables.
Do Air Hockey Tables Come Apart?
Although it is not advisable to disassemble your air hockey table, you can take most models apart for easier transportation. We recommend having the instructions handy for reassembly. 
What's Inside an Air Hockey Table?
Housed within an air hockey table are various components needed for operation. These include the air blower, speakers, sensors, and chambers for airflow.
What Is the Most Common Air Hockey Table Surface?
The most common air hockey table surface material is laminated plastic or stainless steel. It is often scratch-proof to ensure longevity.
Closing Thoughts
Now that we've covered all of the best air hockey tables you can purchase online it's time to recommend some of the very best. Our favorite table of the bunch was the MD Sports air-powered hockey table. The reason we chose this model above the rest was due to a few different factors. Firstly, was the premium 120V UL-certified motor and scratch-resistant UV-coated playing surface. Both of these features are very high quality, and the motor especially is the best on this list. We also like that it's fairly lightweight which makes it easy to move around your home should you need to. 
We also feel the Triumph Lumen-X Lazer 6' interactive air hockey table is a great buy if you are trying to get more for your money. It's less than half the cost of the MD Sports table but is still a joy to play on. The main issues with this model are that it is a touch too light in our opinion at 75 lbs, and also that the pucks are too light. So for intense games, you may end up budging the table or you may cause the puck go airborne. If this table is still out of your budget perhaps check out our guide on the best cheap air hockey tables. We should note, however, that many of the tables we cover are tabletop models!
Want more gaming goodness? Check out our best multi-game tables

Freelance writer. Table tennis enthusiast. Lover of all things online. When I'm not working on my loop game I'm probably binge-watching some fantasy show.