Most of us know air hockey as one of the classic arcade games for centuries. We all have dabbled in a few amateur plays in the arcade, but now you can get the exact fun and excitement of playing air hockey at the comfort of your home. These hockey tables will surely make your afternoons more exciting and your game nights more colorful. What's more, some of these are the best air hockey tables for the money. 
These air hockey tables come in various sizes according to your need and space availability. If you have ample space and want to get your adult friends together, we highly recommend a full-sized table, while a tabletop or kid-sized would be perfect for kids to play around casually and have fun.
In this buyer's guide, we have collected various sizes of cheap air hockey tables (relatively speaking) for your air hockey tournament. We have a dedicated review for kids, overall general tables, and one unique table that waits for your attention.
Read the review to find out the star of the list, which is greater than a plain air hockey table.
Best Cheap Air Hockey Tables for Families and Kids
Winner: Best Choice Air Hockey Table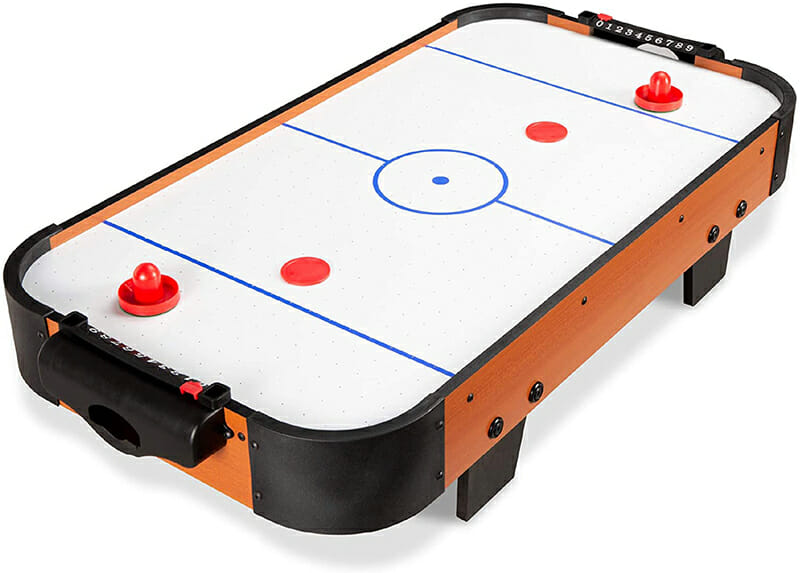 Our first winner in the best overall category is the Best Choice Air Hockey Table. With an average 4.5 star rating, this is one of the best-rated air hockey tables on the list. Let us go through its features and drawbacks to understand the product better.
Featured Specs
Manufacturer: Best Choice Products
Base Material: Plastic, Engineered Wood
Frame material: Engineered Wood
Size: 40 x 20 x 8.5 inches
Benefits
This arcade-style classic air hockey table is engineered with plastic and wood that gives a sturdy finish and enables kids and parents to have a friendly competition while enjoying this striking air hockey table.
The compact design enables the user to store it without taking up lots of space. The small size is perfect for tiny homes with less room to spare.
 This hockey table is ultra-light and portable to carry anywhere on the go. The lightweight allows the table to be transported anywhere around the house; users can take it in their car for a family trip.
A 100V fan motor propels a steady air channel through the top of this air hockey table for a frictionless and smooth surface to move the puck around and score.
 A neatly printed abacus manual scorer on both sides helps track the player's score and houses a convenient puck return station to collect the puck.
The neutral design on the table mirrors a natural game site for an entirely fair matchup without any home-rink advantage.
The easy installation is perfect and doesn't require much time to assemble. Only one person is more than enough to get the entire set built. To play, you need to plug the wire to start the fan; once the fan starts working, you are good to go for hours of fun.
The set comes with a hockey board table, two pucks, and two strikers to start your game immediately after installation.
The company's frequent quality pass tests enable the manufacturer to give a 100% working and high-quality product each time. The high quality makes it a perfectly sturdy entertainment unit.
Drawbacks
The playing board doesn't have an on/off switch to manually on or off the fan.
The fan's speed is weaker as the minimal airflow stops the puck constantly on the table. Users wished this game table came with a speed dial to choose the fan's airflow according to their liking.
Extra Features 
The intelligent design lets you keep this air hockey table on the floor or elevated on a table. The sturdy legs do not move much even when kept on the table for playing while standing up.
Buying Advice
If you are looking for a cheap air hockey tables of a small size to enjoy with your family, we highly recommend this product. The additional quality testing always ensures that you get a high-quality working piece every time.
Runner-up: haxTON Air Hockey Table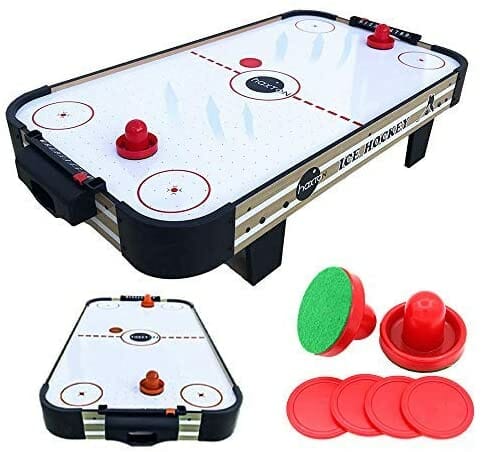 Our runner-up on the best air hockey table list is the haxTON Air Hockey Table with its clever design. Let us dive down into the details, features, and drawbacks to help you select the following air hockey table for your family.
This table is the best air hockey table under $500 if you are in the market for a plastic model.
Featured Specs
Manufacturer: haxTON
Base Material: Plastic
Frame material: Plastic
Size: 38.9 x 22.3 x 4.7 inches
Benefits
This fun air hockey table by haxTON is a decent-sized tabletop game entertainment unit that kids and parents can use.
The tabletop can be assembled within 5 minutes, starting from scratch. The easy connectors make it easy to attach the feet within a few minutes.
 The set comes with two small pucks and two strikers to start the game instantly after the assembly.
The 12V DC motor and adapter spread even a steady stream of airflow for the puck to glide smoothly across the surface without any surface tension. Your shots are very accurate, and you can surely rely on the fan to give a smooth goal each time.
The bracket of this game table is foam padded to avoid any potential scratches on the game surface and floor surface of your house.
The portable design is excellent to place on the ground or an elevated table. You can easily mount the table on the floor for the kids to play and bring the air hockey table on a high surface for adults to play.
 haxTON guarantees a fun-filled party or gathering with their easy-to-use air hockey tables. It's a great way to sharpen your mind and train it to concentrate. Playing something without screens indeed gives your brain and body a slight stretch. The quick striking action encourages good physical activity even while playing in the house.
Drawbacks
This product is not the sturdiest air hockey table you can buy online. Since it is wholly made out of plastic, its durability is comparatively questionable. The table can scratch, scruff, and break apart easily if ample exterior pressure is applied.
Extra features 
The light material makes it exceptionally easy to carry the table with hands and bring on trips. Your car wouldn't slow down because of any extra weight, and you can uninstall the set to save more space.
Buying advice
We recommend this product for tiny kids or adults whose priority isn't durability. This kit is a perfect game board for quick last-minute birthday party arrangements that you can discard later after a few uses.
Best For Kids – Winner: TALLO Sport Air Hockey Table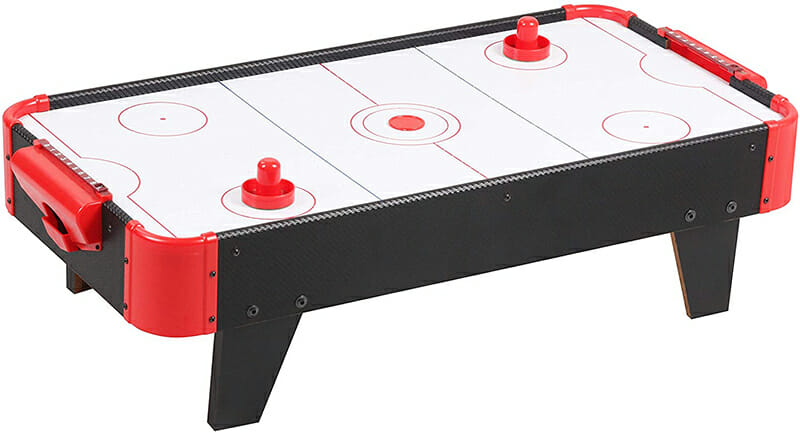 Tallow Sport Air Hockey Table is the best air hockey table for kids, thus wins the kids category with flying colors. Let us look at the benefits and buying advice to help you buy the following fun toy for your kids' playroom.
Featured Specs
Manufacturer: Huangguan
Base Material: Engineered Wood
Frame material: Wood 
Size:32 x 17.5 x 4 inches
Benefits
This fun air hockey table is 32-inches wide and made with engineered wood for a robust and sturdy built.
 The easy assembly is one of the positives that make this table a fun game to have around the house. You can attach the legs and other hardware with a few simple tools.
The small size is excellent for kids to play with; usually, big-sized game boards aren't optimal for kids as they seldom score, but the mini size lets them play well without any disturbance.
This air hockey machine comes with a 12V AC motor for smooth airflow throughout all the air vents on the board. To start playing, plug the board into an electric outlet and let your kids enjoy a fun-filled hour of pure entertainment.
This Tallow Air Hockey Board comes with two manual scoreboards and a puck dispenser for easy storage and collection.
 The primary material features a durable MDF ply which can take any beating very bravely; the added non-marking rubber pads protect the table from surfaces.
The thick rubber-coated sides protect your kid from harming themselves while they play enthusiastically.
This electrically powered air hockey set comes with two scoreboards, one on each side, two mini pushers, and two mini pucks to start the game without further delay.
The company gives an unlimited lifetime warranty in the event of external damage to the product.
Drawbacks
The strikers are practically very small if you wish to accompany your kid while playing. The tiny knob would let you hold the pusher very uncomfortably.
Extra Features
The company offers a lifetime warranty and free shipping. Apart from that, proactive customer service is available at all times of the day.
Buying Advice
If you are looking for a kids' air hockey table with a reliable warranty and sturdy construction, this might be the perfect product choice for your family. This reasonably priced product is the best cheap air hockey table for the money. However, we highly recommend buying a separate set of strikers for when adults wish to accompany their kids while playing.
Best For Kids – Runner-up: Mini Arcade Air Hockey Table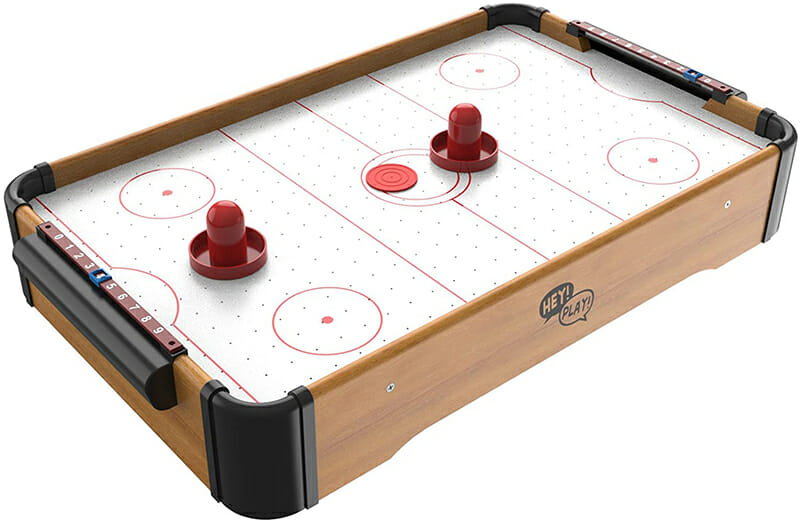 Our runner-up for the kids' air hockey table is this Mini Arcade Air Hockey Table by Hey! Play! Store. This tiny board is tiny and compact, which is excellent for kids for extreme young ages.
Featured Specs
Manufacturer: Hey! Play! Store
Base Material: Plastic
Frame material: Wood
Size: 22 x 12 x 4 inches
Benefits
This 22-inch ultra-light mini air hockey table is excellent for tiny toddlers and kids below 10. The board uses a perfect amalgamation of plastic and wood to have a clean surface that is undoubtedly sturdy.
The easy manual scorekeeper keeps an accurate track of your score as you play. The accessible puck return pocket is excellent to collect the puck after you score. Your child doesn't have to go running around the house to search and managing the puck.
The natural airflow on the tabletop makes it easy for the puck to glide while playing. The motor is run by 8 AA batteries which aren't included in the box.
The game is ultra-portable, and you can carry and keep it anywhere. Since it doesn't require any electricity, you can play with this toy anywhere you want without the need for any electricity hookup.
The arcade air hockey table comes with two mini strikers and two pucks to play with.
Drawbacks
Most of the consumers who have bought this item feel the quality is subpar and a few of them have received the product in a haphazardly constructed manner.
The fan seems to die down very quickly despite using all the 8 AA battery requirements.
 Extra Features 
On the brighter side, it is exceptionally lightweight and easy to carry. It does not have a wire or connection plug, which guarantees a safer experience when kids are in the picture.
Buying Advice
This air hockey table set can be an excellent gifting option for kids during the holidays. The quality indeed seems equivalent and justified for the price.
Best Multi-game Table – haxTON 5-in-1 Air Hockey Table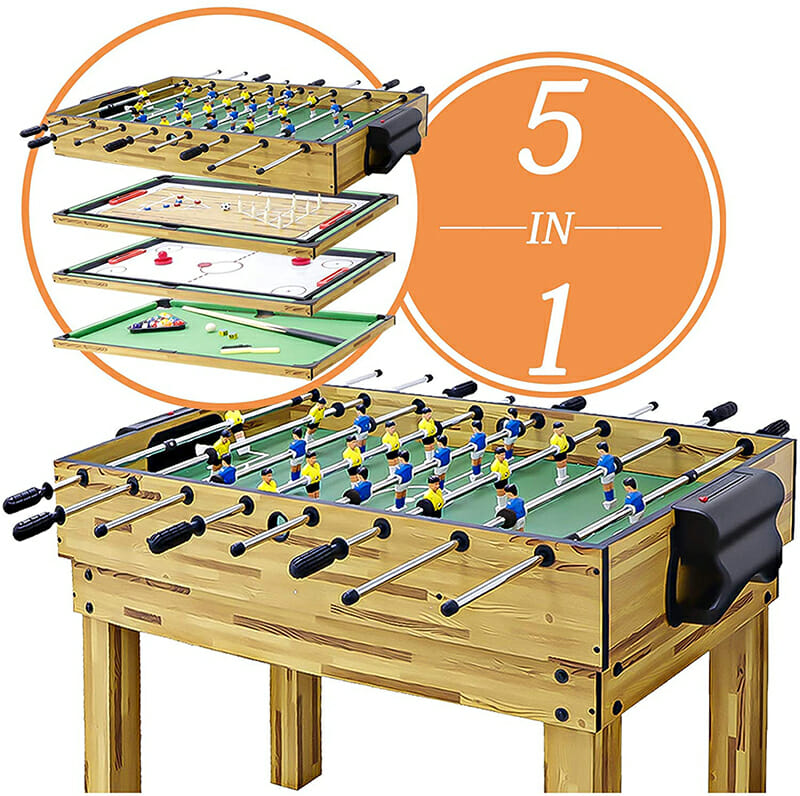 Our best runner-up for the most valuable multi-game table is the haxTON 5-in-1 Air Hockey Table. Let us read the features and potential game sets you can get with this air hockey table set.
Featured Specs
Manufacturer: Haxton
Base Material: Wood 
Frame material: Wood
Size: 36 x 24 x 7.2 inches
Benefits
This 5-in-1 combination game is a convenient fusion of air hockey table, billiard, foosball, mini curling, and bowling table. You can change the games very quickly by sliding the stackable disks on top of each other. You can spend a lot less time rearranging the game stacks for new games; adding and subtracting the levels from the stack gives you your desired gaming method within seconds.
The game is comparably portable and occupies very little space to store. The vertical stacking option smartly utilizes the space while keeping a neat and tidy space around the room.
This stackable multi-game board is made of excellent hardwood raw material for rugged use. The high-quality wood, hardware, table legs, sidelocks are sturdy and attach very benignly. The table doesn't move or slide around while playing, thanks to its sturdy locking legs.
This multifunctional air hockey game table is intended for all ages. The simple and wide variety of games is suitable for different age groups.
You can install the game inside a game room, garage, or entertainment area to let it become a part of the room's furniture.
This ultra-sturdy 5-in-1 combination game table includes accessories like one billiards table, two clubs, 15 billiards, one billiards table brush, one triangle, one foosball table, one foosball, one air hockey table, strikers, and two pucks. You can add your mini playing elements to turn this into a makeshift curling table or bowling table. It can also be used as a card station.       
Drawbacks
 This set is a comparatively heavy piece and sometimes moves if the levels aren't appropriately stacked.
 The accessories you get can feel very small to play with, especially for air hockey. You might have to order a separate set of pucks and pushers to play correctly.
Extra Features
This gameboard's stackability and space-saving features are some of the best positives of the product. Your hassle of buying various mini-games to play has come to an end. One fixture has nearly all the things you might need for a perfect entertaining afternoon.
Buying Advice
We highly recommend this cheap air hockey table to people looking for games that save space. The incredible features truly make it the best air hockey table for home. You can even turn this table into a chessboard or card-playing station with few more accessories. For that reason, it is one of the best air hockey table under $500.
Air Hockey Tables FAQs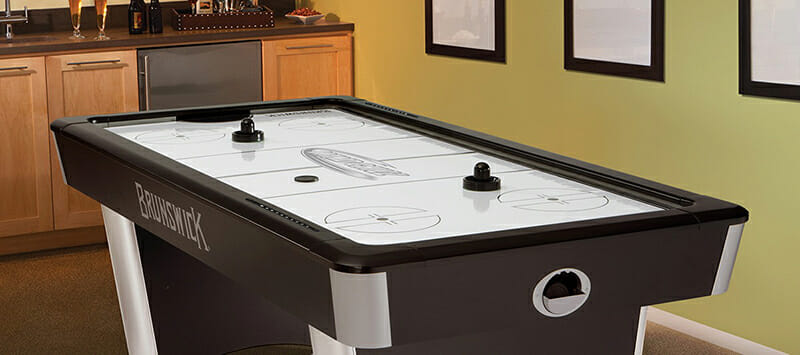 1. What is a good size air hockey table?
 A good size air hockey table indeed differs from person to person. It might be a small portable size for some people, and for some, it would have to be a significant standard air hockey table.
The intended use and age group will give you your answer for the perfect purchase. Each model varies from company to company, but a tiny can be anywhere around 2 feet. If you have a teenager or want a large-sized table for general use, a 6 feet table would serve you well.
Ensure to check your room's dimensions to avoid a play area that looks congested. You need ample space to move around. The professionals use an 8 feet table for bigger tournaments, while the practitioners use a 7 feet table for their daily practice.
Always buy the size according to your need. For example, the best air hockey tables for kids, while of high quality, will still be of a smaller size. If you are looking for a lightweight and portable air hockey, a battery-operated mechanism works excellent. If you are looking into a permanent fixture, we highly recommend buying an electrical model for ample airflow and smooth performance. 
2. Is air hockey a sport?
Yes, air hockey is not only a sport but a professional sport. This game might not be popular or a category in Olympics like the mainstream sports like chess, basketball, or football, but it has a comprehensive and dedicated following worldwide.
The year 1969 was the beginning of world hockey because of Phil Crossman, Bob Kenrick, and Brad Baldwin, who invented the air hockey table that is used to date. Slowly Brunswick, the employer of these three innovators, bough the table to home and public spaces. The arcades and community centers slowly started having them as a conversation piece.
With this success during the mid-1970s, this air hockey got its much-awaited popularity. Soon after, there was a world championship held by officials in New York. You can learn more about air hockey from Air Hockey World.
3. What do you call the air hockey handles?
The air hockey handles that a player uses to push the puck around are called strikers. The name keeps differing according to the geographic regions. The other lesser-known names include a goalie, paddle, or a mallet.
These mallets are simple round-topped handles with an ultra-flat surface for a cleaner push. These strikers usually have padding for smoother maneuvering. Most high-tops resemble miniature Spanish sombreros, while the flat tops have a shorter nub. Players can choose whichever feels right to their hand during the practice.
4. Can you touch the puck with your hand in hockey?
No, you cannot touch the puck with your hand in air hockey while playing the game. If the player ever so slightly touches the puck with any part of his body, it is considered a foul.
A competitor can only touch the puck with his/her hands after they have conceded a goal. It is also considered a foul if you give the puck to another player with your hands. Apart from these rules, you absolutely cannot top your puck by lifting the striker.
One player can only use one striker and puck on the playing surface. A player has the right to call a time out only when the puck is in their possession and not on the game board. These are some of the most common rules that an air hockey player must abide by to continue the game without fouls and hindrances.
Conclusion
We hope our buyer's guide of the best cheap air hockey tables was informative enough to help you buy a decent set for you and your family's entertainment.
While most air hockey tables are built with wood, we highly recommend buying ones that have quality assurance for a long-lasting set. If you think of carrying these on picnics, go for wood ones or, better yet, plastic ones with battery-powered fans. With these models, one does not have to worry about electricity, plugging, and wires.
Lastly, if you actively update your gaming setup, we highly recommend multiple 5-in-1 or 3-in1 game tables for various games. We hope you enjoy your time with your family and friends with hours of screenless fun!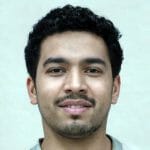 Eugene (Gene) Sandoval has been one of those guys who spent too many hours around ping pong tables in high school. However, soon enough, Gene understood that there is more to ping pong than having fun. That is how he started a journey that made Eugene one of the experienced semi-professional ping pong players in the United States. As the founder of the PingPongRuler, Eugene spends most of his time surrounded by ping pong tables and research. He always has this knack for coming up with new ping pong strategies and telling the good and bad equipment apart.