The 6 Best Shuffleboard Pucks: A Buyer's Guide
So you've got your shuffleboard table, and now it's time to get your hands on a quality set of pucks (woohoo!). You can't just go out and buy any old set, though. Like shuffleboard tables, puck quality varies depending on the manufacturer, so this post will help you understand which puck is right for your table. We want you to be able to enjoy the game to its full extent!
The best shuffleboard weights are the right size for your table and made from heavy-chrome steel with removable plastic caps. These will last for years. But some less expensive models could work too.
We studied the best shuffleboard pucks on the market and analyzed each in detail to give you the necessary information to make a buying decision. We have also created a buyer's guide that specifies the features you should seek in your pucks.
Why It's Important to Choose High-Quality Pucks
The answer is pretty simple, not all table shuffleboard pucks are born equal, and you will get much more out of superior pucks.
High-quality pucks are built to better standards; they are more durable, have replaceable parts, and are less likely to get stuck on wax. This means they both last longer and are more functional, which makes them more enjoyable to use.
Key Features to Look For
Size
Shuffleboard pucks come in two sizes:
2-1/8 inch recreational-sized pucks
 2-5/16 inch regulation-sized pucks
Recreational pucks are ideal for players who are new to the game and lack the skill to use larger pucks. They are also more suitable for the smaller shuffleboard tables that you likely have.
On the other hand, regulation-sized pucks require more skill to use and suit larger tables over 15ft long.
Weight
As with all things, there is a sweet spot for shuffleboard weights. Too light, you'll constantly be overshooting, and your opponents will easily knock your pucks around. Yet too heavy may make the shuffleboard pucks harder to control.
According to the shuffleboard rules dictated by the Shuffleboard Federation, regulation-sized pucks must be within the 310 g-355 g range to be eligible for tournament play.
Number of Pucks
Nearly all shuffleboard table pucks sell in eight quantities, with four going to each team — enough for matches. But you may come across pucks that don't come sold in eight quantities.
Beveled Edges
Beveled edge pucks are often superior to flat-bottom pucks. This is because they don't cause the wax to accumulate as they travel down the length of the table. Instead, they smoothly glide over the shuffle wax. However, flat-bottom pucks often behave rather differently.
Due to their sharp bottom edges, they do not smoothly glide over wax. Instead, they plow through the wax, leaving a trail of wax devastation in their wake, which requires smoothing.
Removable Screw Caps
While shuffleboard puck tops are not particularly prone to damage, they can show signs of serious wear if used regularly or mistreated. When this point comes, you may feel the need to replace your shuffleboard pucks.
However, if you have selected a model with removable screw caps, you need not buy another set. Instead, simply unscrew the plastic cap and replace it with a new one.
Colors
Colors give you a clear indication of the field of play and which team is winning. They must be distinguishable. The most common colors you find among pucks are red and blue, but many more colors are available.
Extras
While having additional features with your purchase is a big selling point, it's no good if it comes at the cost of the quality of the tabletop shuffleboard pucks. Here are a few extras to look out for:
Storage case: A case helps protect your pucks from moisture and excessive wear. It is also a means of carrying your pucks and helps make you look like a seasoned player!
Shuffleboard wax: You can never have enough shuffleboard wax, and select pucks come with a can or two. It is a great addition to any shuffleboard puck set.
6 Best Shuffleboard Pucks of 2023
1. American Shuffleboard Pucks — Best Overall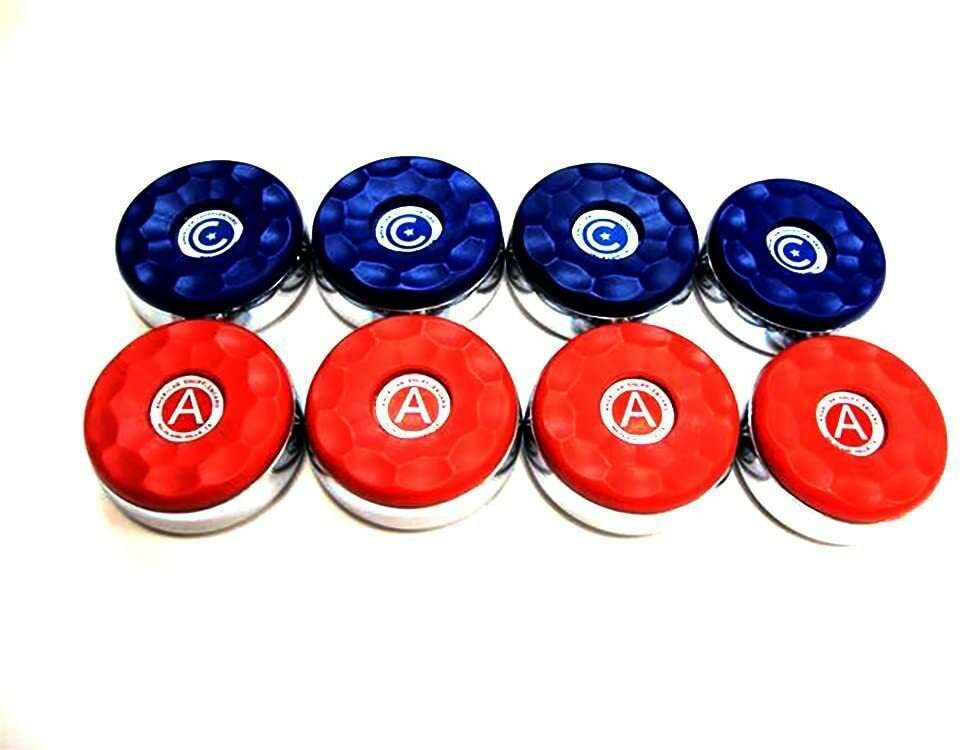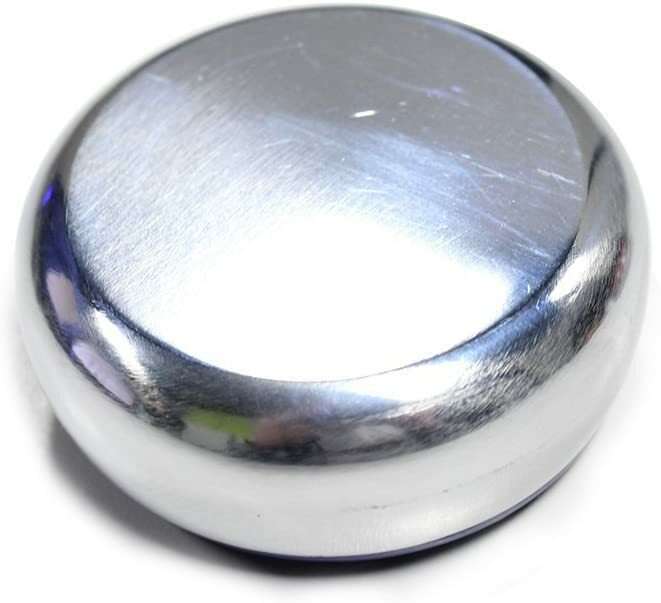 Specifications:
Weight per puck: 0.75 lb (340 g)
Size: 2-5/16 inch
Material: Heavy chrome-plated steel and plastic
Number of pucks: 8
Colors: Red and blue
Pros:
Beveled edges

Replaceable screw caps

Very durable

Regulation size
Cons:
If you are after a set of regulation-sized table shuffleboard pucks, you won't get any better than these pucks by American. They fall within the regulation weight of 310 g-355 g and are made from heavy chrome-plated steel. This ensures they have the resilience to last for many years, even with harsh impacts.
The plastic-topped caps are also easy to screw off and replaceable, which is a big advantage. If they show signs of serious wear, you need only replace them rather than the whole puck itself.
The only drawback to this great puck set is that it has no extras. But this doesn't deter us as the pucks are so well made.
Our rating: 9.8
2. Zieglerworld Shuffleboard Pucks — Best Customization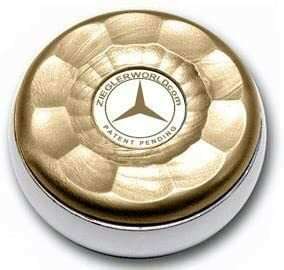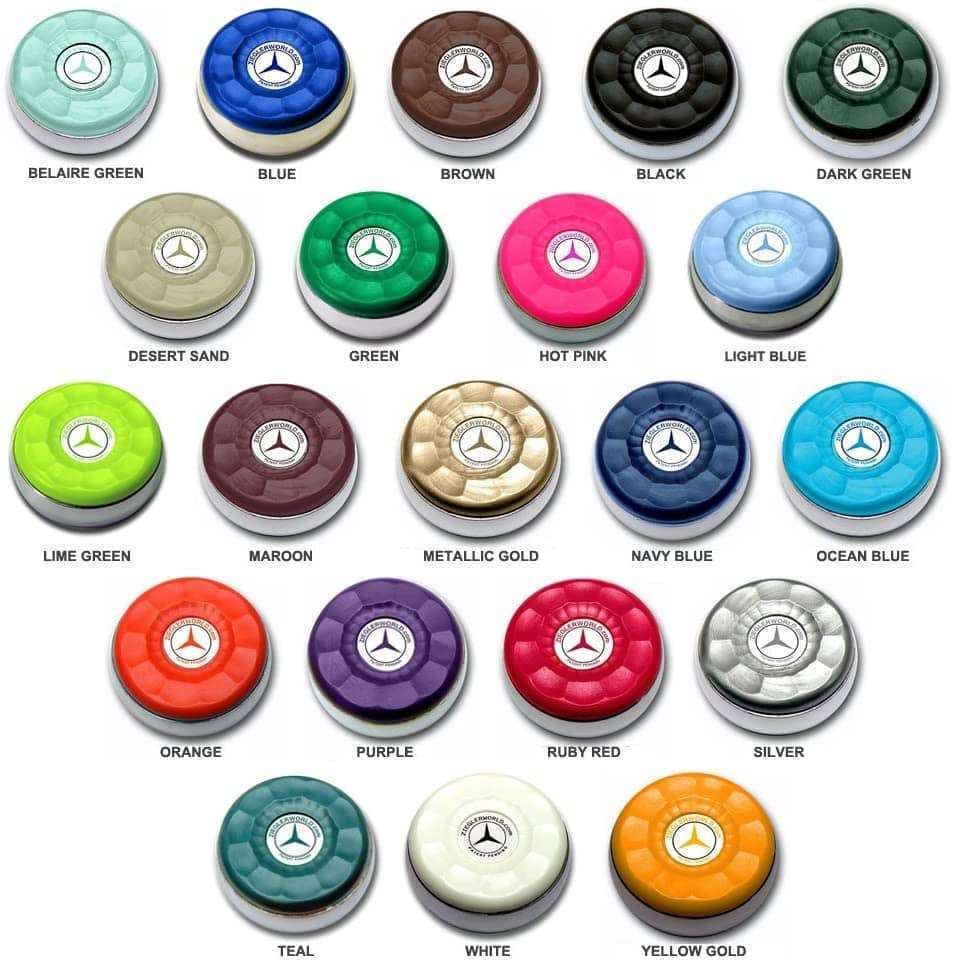 Specifications:
Weight per puck: Unlisted
Size: 2-5/16 inch
Material: Unlisted
Number of pucks: 4
Colors: 21 different colors
Pros:
Beveled edges

Lots of colors available

Regulation size

Unique screw cap helps you gauge spin and speed

Replaceable screw caps

Includes booklet
Cons:
Expensive

Comes in a set of 4 pucks
If quality is your only concern, the Zieglerworld pucks are the ones for you. They are the most expensive pucks on this list, but with this price comes superior quality. Besides being beveled and well-weighted, the screw caps are replaceable. This is a sure-fire sign they are premium pucks as cheaper models are snapped on or glued on, which means you can't easily replace them.
The Zieglerworld pucks logo in the middle of the puck also spins when thrown. This helps you to gauge your speed and spin.
There are also plenty of colors to choose from. So if you want to show a bit of flair on the table with your kit, these pucks will surely achieve that. Besides the gold listing pictured above, there are 21 other colors you can choose from.
Our rating: 9.7
3. TORPSPORTS Shuffleboard Pucks — Budget Pick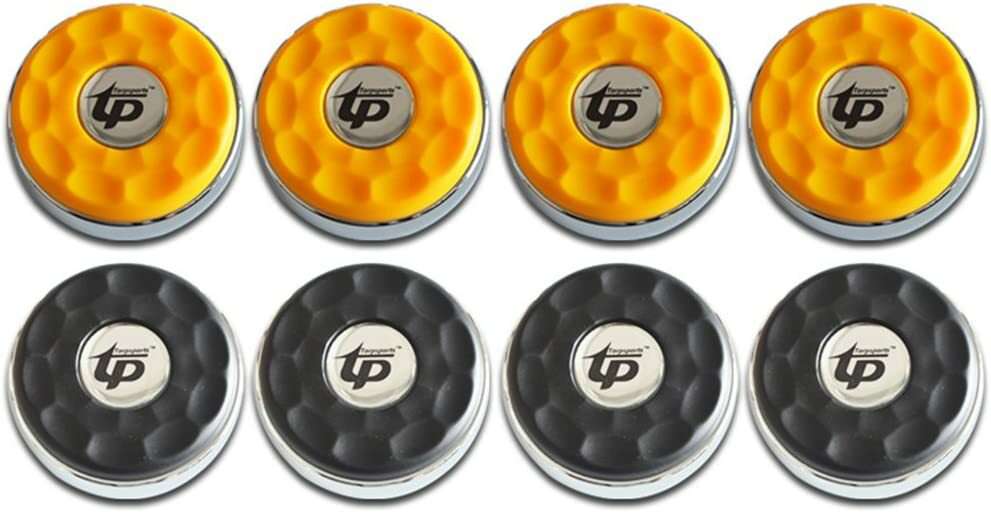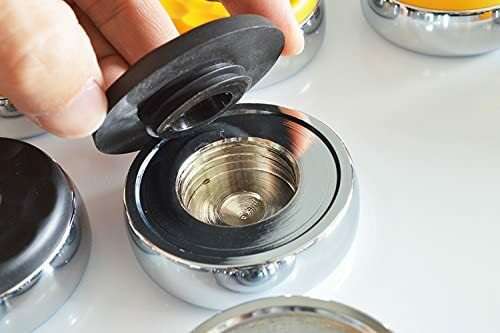 Specifications:
Weight per puck: 0.71 lb (324 g)
Size: 2-1/8 inch
Material: Heavy chrome-plated steel and plastic
Number of pucks: 8
Colors: Yellow/orange and black
Pros:
Beveled edges

Replaceable screw caps

Very durable

Inexpensive
Cons:
No accessories

Not regulation size
If money is tight and you want inexpensive shuffleboard pucks, we recommend this set by TORPSPORTS. They are less than half of the cost of the American brand and are fairly close in quality. They are also made from heavy chrome-plated steel and have replaceable screw caps, which are both very sought-after features.
However, we found that they do not travel quite as smoothly down the table, but we really can't complain since the price is low.
Again, this set comes with no accessories, which is a bit of a shame. And remember, these pucks are recreational size, not tournament size, so ideally, they are best used on tables that are around 15ft or less. That being said, they are very high-quality for cheap shuffleboard pucks, so we heavily endorse them.
Our rating: 9.4
4. YDDS Shuffleboard Pucks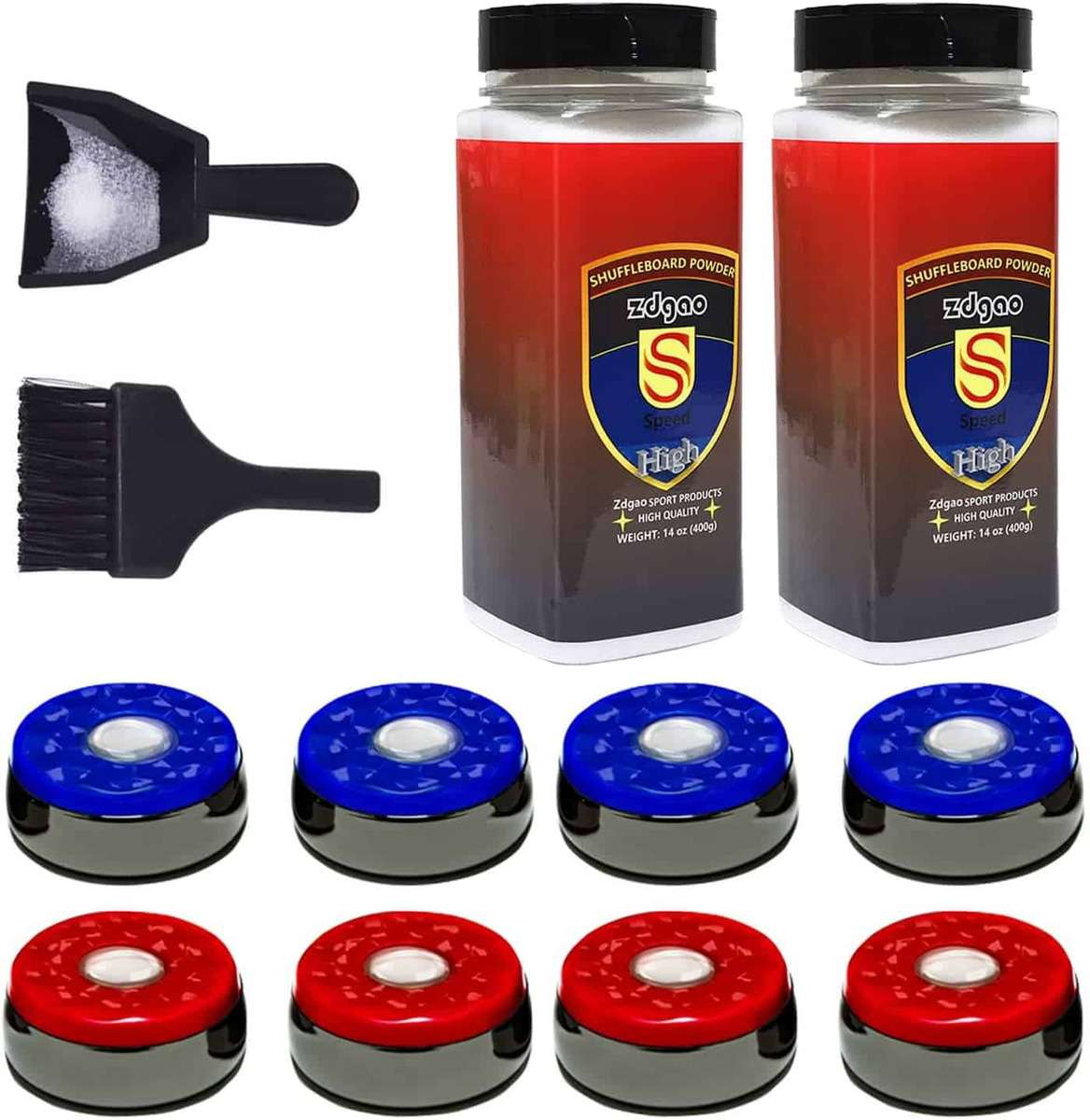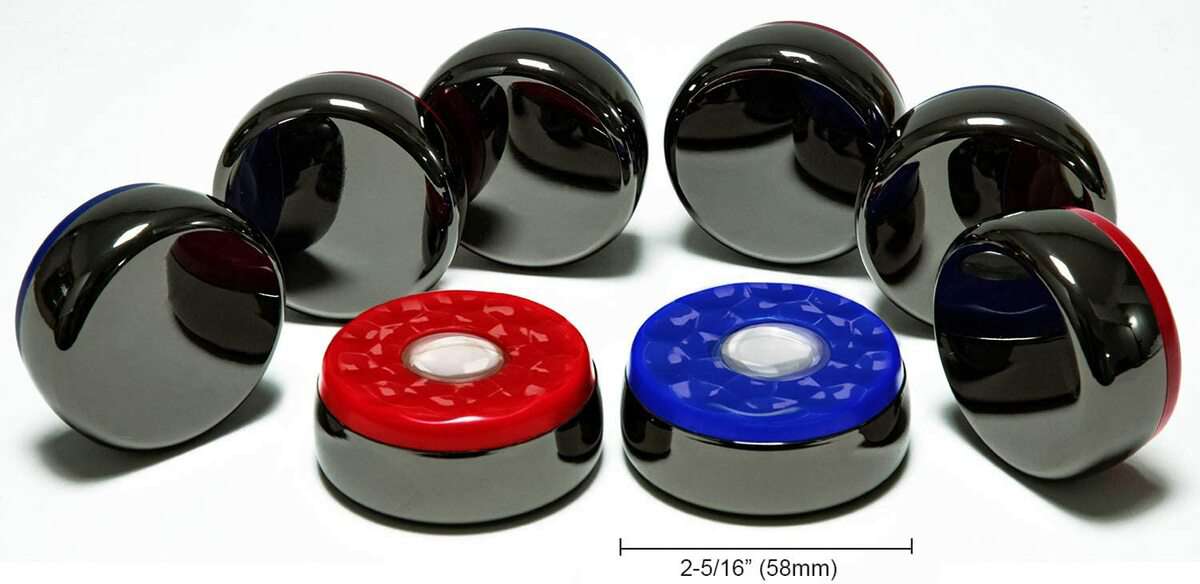 Specifications:
Weight per puck: Unlisted
Size: 2-5/16 inch or 2 1/8 inch
Material: Chrome-plated steel and plastic
Number of pucks: 8
Colors: Red and blue
Pros:
Beveled edges

Very durable

Lots of extras

Regulation size
Cons:
Sometimes missing dustpan set

Screw caps are not replaceable
Up next is the YDDS shuffleboard puck set, another regulation-size bundle. While these pucks are undoubtedly of high quality having chrome-plated steel like the rest, their greatest standout feature is the accompanying extras.
A mini dustpan, brush, and two 14 oz cans of shuffleboard wax are included with the pucks. While the dustpan and brush are clearly inexpensive, the wax is worth a fair sum of money, so you're getting a great bang for your buck when you purchase this bundle.
We also like that you can purchase a recreational-sized set, perfect for players with smaller shuffleboard tables. Both versions have medium and high-speed pucks for you to choose from.
Our rating: 9.4
5. Billiard Evolution Shuffleboard Pucks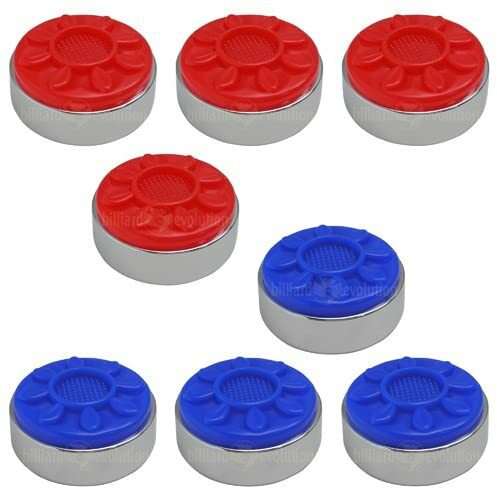 Specifications:
Weight per puck: 0.78 lb (354 g)
Size: 2-5/16 inch
Material: Unlisted
Number of pucks: 8
Colors: Red and blue
Pros:
Brightly colored

Regulation size

Inexpensive
Cons:
No beveled edges

Cheaper-looking plastic caps

Screw caps are not replaceable
Our second favorite budget pick is the Billiard Evolution set of shuffleboard pucks.
Yet unlike our top budget pick — the TORPSPORT set, these pucks are regulation-size, making them a better choice for longer tables. They are also a little brighter than others, making it easier to distinguish teams. Although we suspect it shouldn't be too difficult to tell colors apart anyway.
However, the plastic caps appear lower quality than we like and do not seem removable. We also would rather the shuffleboard pucks have beveled edges. Without this, the pucks snowplow the wax leaving wax streaks that no one wants. We recommend going for one of the more expensive sets if you have the money to spend.
Our rating: 9.1
6. Hathaway Shuffleboard Pucks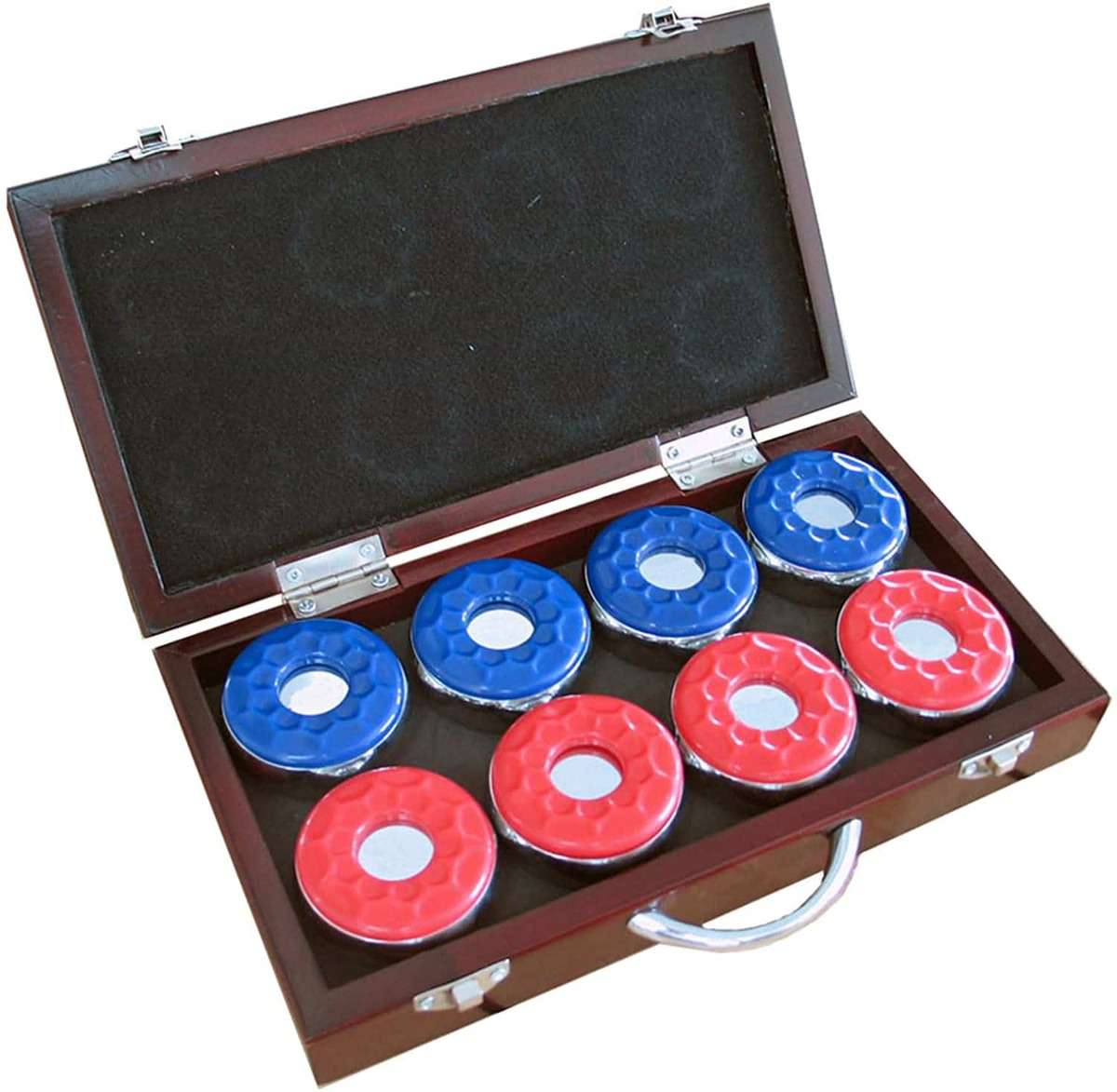 Specifications:
Weight per puck: 0.59 lb (269 g)
Size: 2-1/8 inch
Material: Unlisted
Number of pucks: 8
Colors: Red and blue
Pros:
Beveled edges

Comes with a wooden case

Surface texture provides good grip
Cons:
Incorrectly advertised as regulation size
The Hathaway shuffleboard puck set is the only set on this list to come with a carry case, so they possess a distinct advantage in this department. As for the pucks themselves, we find they are of decent quality. The edges are beveled, and the plastic caps provide good grip when you throw them.
The main issue with this otherwise great set is the poor product description on the part of Hathaway.
They list the pucks as regulation-size, which is 2-5/16 inches, when in fact, they are 2-1/8 inches which is recreational size. This is a pretty big oversight on their part but doesn't affect the actual quality of the pucks themselves. Make sure to consider this set only if you have a small shuffleboard table.
Our rating: 8.9
Conclusion
We hope you found this guide useful and learned what you should look out for when shopping around for shuffleboard pucks. In our opinion, the best shuffleboard pucks right now are those by the American Shuffleboard brand. They ever-so-slightly edge out Zieglerworld's pucks simply because they are a little bit cheaper, even though they're both expensive models.
So if you have the money to spend, those are the pucks that we recommend. However, if you are looking for a more affordable option, we think the TORPSPORT pucks are probably your best choice. That is provided you have a small shuffleboard table. If you are using a full-size table, it is best to go for the Billiard Evolution pucks instead.
Read more: Want other games tables for your rec room? Check out the best multi-game tables.
FAQs
What Are Shuffleboard Pucks Called?
Shuffleboard pucks go by several alternative names. The term "weights" is pretty common, but they are sometimes called "shuckles" as well.
What Are Shuffleboard Pucks Made Of?
Shuffleboard pucks are made from metal, often with a chrome finish. They also have plastic tops.
What Is the Standard Size for Shuffleboard Pucks?
There are two shuffleboard puck sizes: 2-1/8 inch and 2-5/16 inch. The smaller 2-1/8 inch pucks suit recreational players who play on smaller shuffleboard tables.
On the other hand, the larger 2-5/16 inch pucks are for skilled players who play on the largest shuffleboard tables. This size is standard and meets tournament regulations.
How Tall Are Shuffleboard Pucks?
Sellers rarely list the height of shuffleboard pucks, given that the diameter is the property that changes rather than height. Most pucks measure around 24 mm tall.
Is It Better to Opt for a Heavier Set Of Pucks?
This depends on what kind of player you are. If you have a tendency to overshoot your pucks, a lighter set is best for you. Conversely, if you often come up short, invest in a heavier set instead. Just remember that your pucks need to be 310g to 355g range if you want to compete.
How Many Pucks Do You Need for Shuffleboard?
To play regular shuffleboard, you need a total of 8 pucks. 4 for each team.
What is the Slowest Shuffleboard Powder?
The slowest shuffleboard wax you can buy is Sun-Glo Speed 7 wax. Each type of shuffleboard wax has a rating from 1 to 7, with 7 being the slowest wax you can buy. Slow shuffleboard wax is great for smaller tables.
Does Sand Make Shuffleboards Faster?
"Sand" is another term for shuffleboard wax. It helps pucks travel faster down the table by acting as a lubricant that minimizes friction. This makes gameplay smoother and far more enjoyable.
How Do You Clean Shuffleboard Pucks?
Unlike shuffleboard tables, shuffleboard pucks require very little maintenance. To clean your pucks, wipe them down with a clean cloth to remove any dirt or wax that they may have picked up.
Are All Shuffleboard Pucks the Same?
No, shuffleboard pucks vary in many characteristics such as size, weight, and durability. Therefore, you should take your time when researching to ensure you select high-quality pucks.

Freelance writer. Table tennis enthusiast. Lover of all things online. When I'm not working on my loop game I'm probably binge-watching some fantasy show.