Butterfly Wakaba 3000 Review
The Butterfly Wakaba 3000 is a preassembled table tennis bat that makes for a great introduction to the competitive world of table tennis. Manufactured by Butterfly, the leading table tennis brand, the Wakaba 3000 is a solid beginner's bat at an affordable price.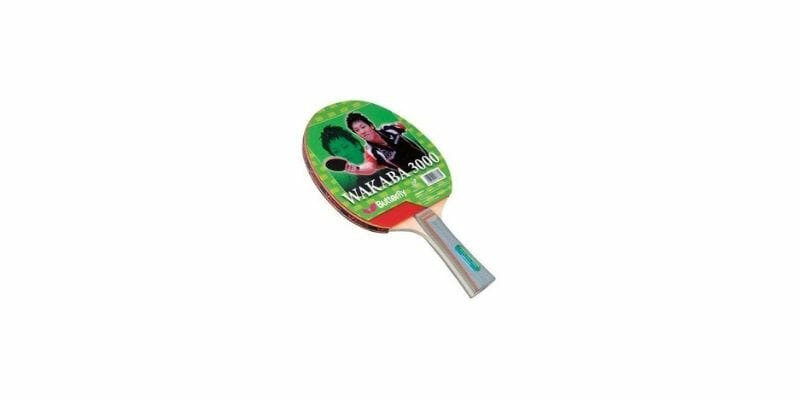 Specifications
Manufacturer performance ratings: Speed: 90, Spin: 80, Control: 70
Blade: 5-Ply Wood
Rubbers: Wakaba rubbers
Sponge: 2.1mm
ITTF Approved: Yes
Price: $
Butterfly Wakaba 3000: An Overview
When purchasing your first bat you likely have very little knowledge of what you should be buying. After all, there are tons of bats, rubbers, and blades out there, all screaming "I'm the best!"
In truth, when you first start out, you want to keep it simple and choose a bat that you can comfortably handle. The Wakaba 3000 is such a paddle. It uses a 5-ply blade with Wakaba rubbers on either side.
As with other cheaper premade bats, you cannot customize the Wakaba 3000. Where most custom bats use table tennis glue which allows for rubber removal and re-application, the Wakaba uses permanent glue.
However, this alone should not deter you from purchasing. By the time you are ready for fresh new rubbers, you will have likely improved to a state where you need a complete bat overhaul. At that point, I would recommend you delve into the world of truly custom bats.
Yet for the time being, the Wakaba 3000 can help you break free from the beginner level.
Flared Handle
The 5-ply blade uses a flared handle. Flared handles are the most popular handle choice for blades as they help minimize the chance of the bat falling out of your hands. I went for a flared handle with my first bat and have never looked back.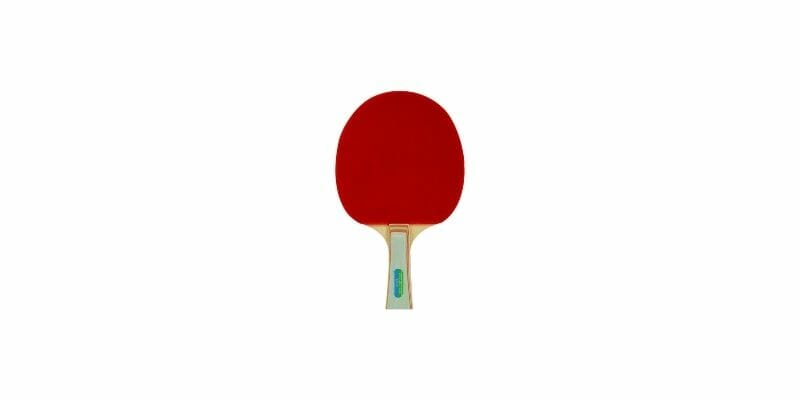 Performance
The Butterfly Wakaba is a beginner bat targeted at players that like to play a fast but controllable game. The rubbers are 2.1mm thick, which is typical for most offensive players.
As such, expect to be able to counter topspin well and execute fairly pacey smashes.
However, the Wakaba 3000 is not too fast, it has a good amount of control. I suspect many beginners will be able to adapt to its style of play without too much practice.
When compared with poor unbranded bats, the quality of the Butterfly Wakaba 3000 becomes apparent. It will help you gain a competitive edge over your opponents by enabling you to produce more spin and more speed.
ITTF Approved
You can use the Wakaba 3000 to officially compete. The International Table Tennis Federation logo located on the rubbers is evidence of this.
This means you can use it in any league or competition if you so choose. Therefore the Wakaba 3000 gives you a great entry point to push your table tennis skills to the next level and see if it is a sport you want to pursue seriously.
About Butterfly
Founded on December 19th, 1950, Butterfly is one of the most widely recognized table tennis brands worldwide. They are technology experts having meticulously studied both rubbers and blades in their own research facilities in Tokyo since 1983.
They also produce a range of other products relating to table tennis such as clothes, tables, and footwear. Often associated with a premium price tag, quality is an assurance when you purchase a Butterfly product. Their motto is "Quality and service comes first."
Conclusion
The Butterfly Wakaba 3000 is a great bat to get started with if you are new to table tennis. It provides a decent amount of spin and speed whilst maintaining high levels of control.
Its low price tag is one of the reasons it is so easy to recommend.
The Butterfly 603 which we have a review for here has similar stats to the Wakaba 3000, as it uses the same Wakaba rubbers. And yet, it costs considerably more. Therefore, if you are looking for a cheap and effective bat to evolve your table tennis performance, we think the Wakaba 3000 is a bat you should consider checking out.

Freelance writer. Table tennis enthusiast. Lover of all things online. When I'm not working on my loop game I'm probably binge-watching some fantasy show.