Custom Ping Pong Paddles: Where to Buy & How to DIY?
Equipment is always important in sports, be it badminton or football. But equipment is more important in some sports than others.
Table tennis is a prime example.
When I first ventured into the world of table tennis, I was blown away by the level of customization and costs associated with buying a bat. To begin with, I was a little skeptical of whether the steep price tag of custom professional ping pong paddles was worth it. Fast forward 10 years, and now I know with certainty that it is.
Having inferior equipment harshly stunts your performance. Even the world number 1 Fan Zhendong would have a tough time using a poor-quality table tennis bat. He would probably get annihilated by the rest of the top 100 players in the world. Hell! If you're an advanced player, you might even stand a chance of beating him!
So we've established that custom ping pong paddles are important. But what exactly should you be looking out for, and where should you be looking?
Choosing Custom Ping Pong Paddles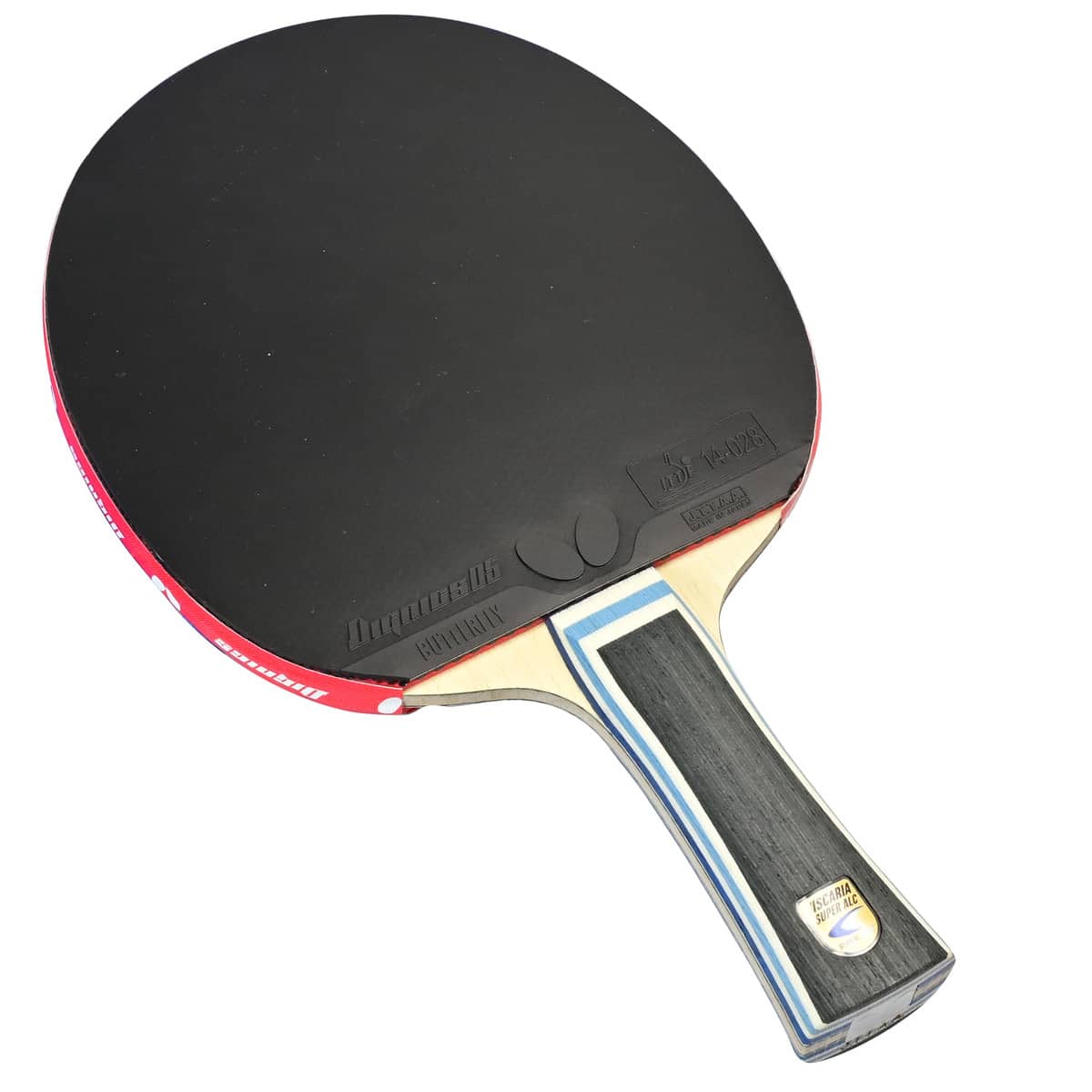 The first thing to ascertain before purchasing your racket is your skill level, and how you like to play. If you're a beginner, a bat with high control is probably best. You won't be able to contain the pacey top-level custom printed ping pong paddles.
In addition, an offensive player shouldn't be using a defensive bat. It just wouldn't complement their way of playing. Choose bats that mirror your skill and style.
Now that's out of the way, we'll get into the nitty-gritty customization of a DIY ping pong paddle. You've got a lot of choices here, so listen up!
Penhold or Shakehand
Blades are broken down into two main types: penhold and shakehand. As the shakehand grip is far more popular, especially outside of China, you might not even know that they make specialized penhold blades.
Although even if you use the penhold grip, you don't have to use a penhold blade. Many penholders are comfortable using regular shakehand blades with straight handles.
The difference between the blades varies from model to model, but penhold blades are generally straight, shorter, and often thicker.
If you're a shakehand player, simply stick with the regular blades. You don't want to be using any penhold versions.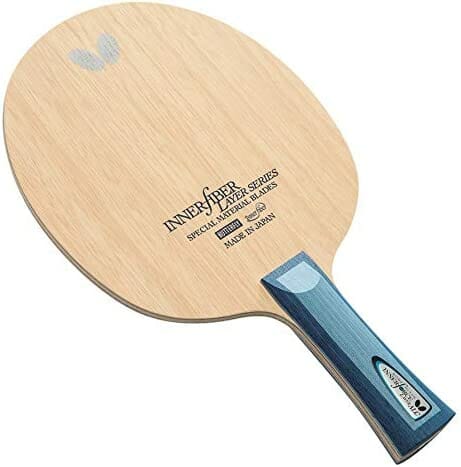 Allwood Blades vs Carbon Blades
The structure of blades today is either "allwood" or carbon.
Which you go for is mostly dependent on your skill level. Allwood blades provide more feeling of the ball. This helps you develop your technique and play more effective shots. As a beginner, this is a match made in heaven. Allwood blades give you the feedback you need to determine which shots you play poorly, and which shots you play well — thereby allowing you to make the necessary minor adjustments.
On the other hand, carbon blades tend to be faster and lighter. Layers of carbon break up the wood, where the speed increase comes from. The drawback to having a carbon blade is you lose much of the feeling you would have gotten if you were using an allwood blade.
This is why many manufacturers are trying to create carbon blades with high levels of feeling to gain the best of both worlds.
Many people recommend allwood blades for players who have not yet reached an advanced level. They certainly streamline the learning process and are great blades in their own right.
Carbon blades tend to be best for players who, for the most part, have heavily refined their technique and need a small boost in pace.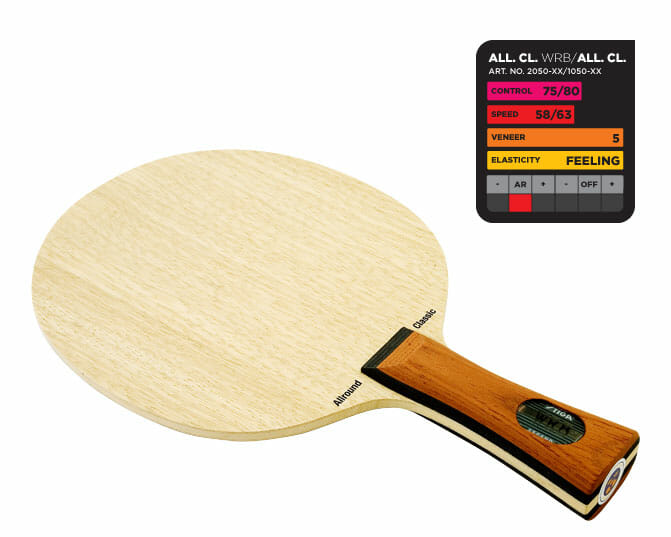 Flared vs Straight vs Anatomic
The three handle types are flared, straight, and anatomic, although you may hear concave and convex terms. These are alternative names for the flared and anatomic handles.
There's not a great deal to say regarding handles. It's entirely personal preference and shouldn't affect your gameplay to any noticeable degree. The most popular type is flared. These handles flare out at the base a little, which helps prevent your bat from flying out of your hand.
Straight handles are also quite common. These are used by both shakehand and penhold players.
Anatomic handles are pretty rare, I can't remember seeing any against players I have played with.
I would recommend you not overthink it and just go for a flared handle. 
Rubber Thicknesses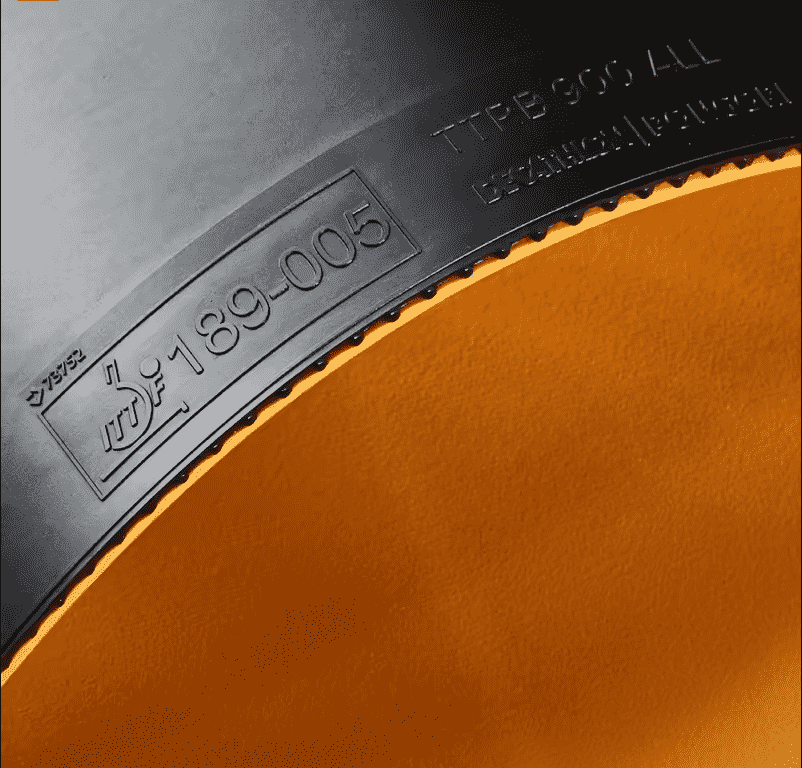 Measured in mm, the thickness of your rubber affects how fast it will play. The thicker the rubber, the more pace it will have.
Of course, there are legal boundaries to how thick you can go. The ITTF rules state that the total thickness of the rubber cannot exceed 4 mm. This includes both the top sheet and the sponge itself.
When you purchase rubbers online, the thickness listed refers to the sponge, not the top sheet. Sponges of maximum thickness, such as mine, use all of this 4 mm allowance.
The usual ranges you will find online vary from around 0.5-2.2 mm, but you can go a little higher. As a general rule of thumb:
Defensive style: Less than 1.5 mm
All-around style: 1.5-1.9 mm
Offensive style: 2 mm+
Tacky or Non-tacky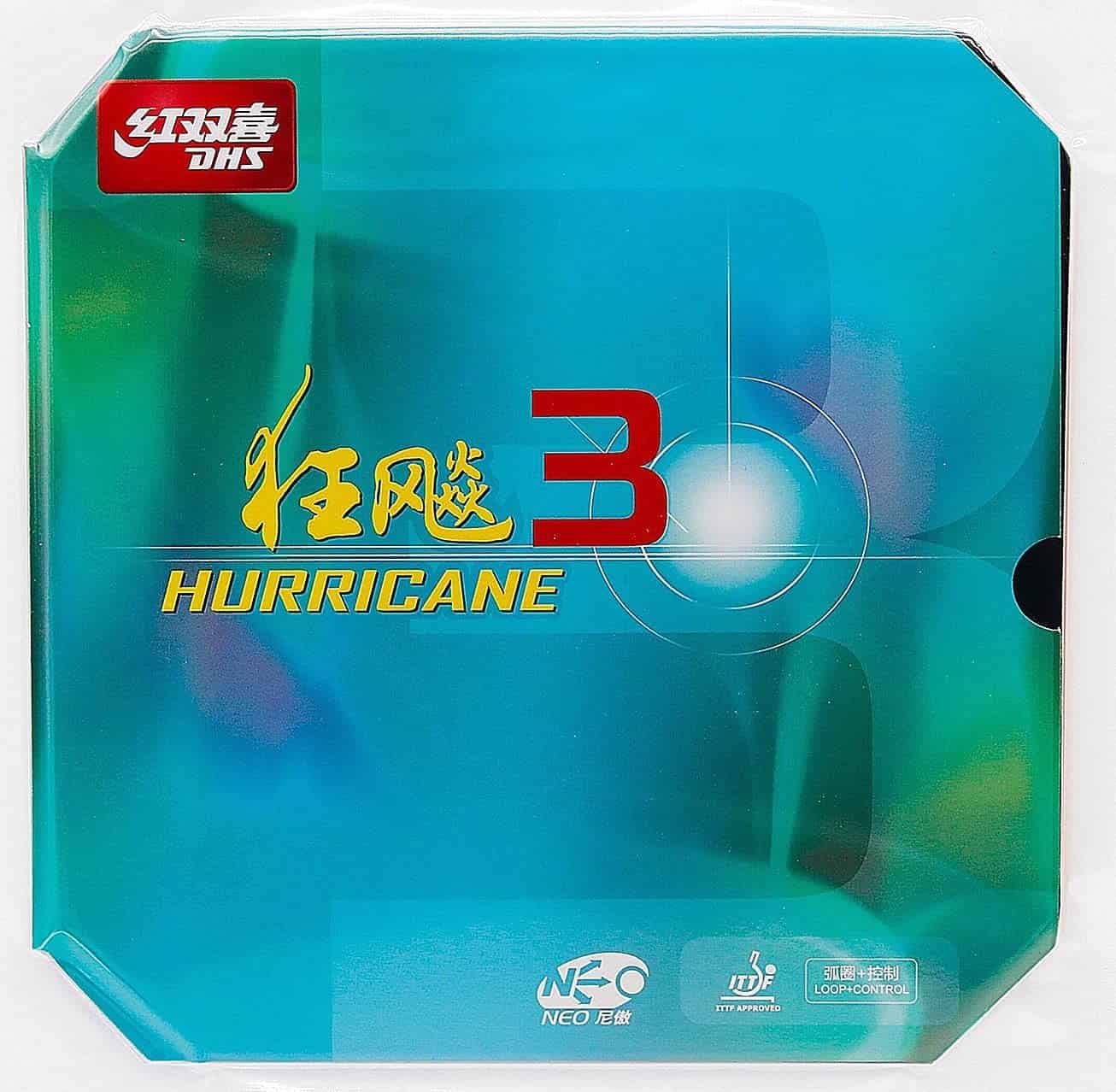 Tacky rubbers have a sticky top sheet. When you place your bat upside down the ball will quite literally stick to the bat for a short time. Tacky rubbers are super popular in China. The top Chinese players in the world have dominated using them so they certainly have their place in table tennis.
Non-tacky rubbers are what we would consider ordinary rubbers, or the traditional Euro/Jap style. They do not have much stickiness at all and instead rely on grip. The accompanying sponge tends to be softer and provides more feeling than the hard sponges that are often paired with tacky rubbers.
Tacky rubbers produce great levels of spin and have a strong short game. This is because they are more controllable in the lower gears.
Neither is better than the other, it is an entirely personal preference. Like most, I am a big fan of non-tacky rubbers, but this is probably a biased statement as I have had very little exposure to tacky rubbers.
Inverted vs Short Pimples vs Long Pimples vs Antispin
Standard Inverted Rubbers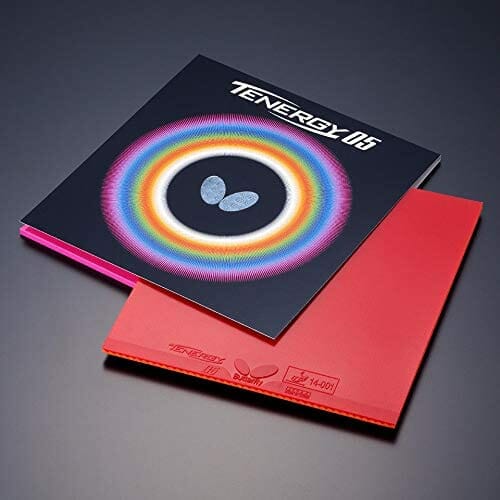 The vast majority of rubbers conform to the inverted rubber type. This means the pimples are glued face down onto the blade's surface. Inverted rubbers play exactly how you would expect them to – it's the ordinary way to play.
Non-Standard Rubbers
Short pimples, long pimples, and antispin add a level of trickiness to your game. They can be an absolute nightmare to play against — especially if you have never played against them before. They turn the conventional rules of spin and speed on their head so it takes a great deal of time to understand how they all work.
Short Pimple Rubbers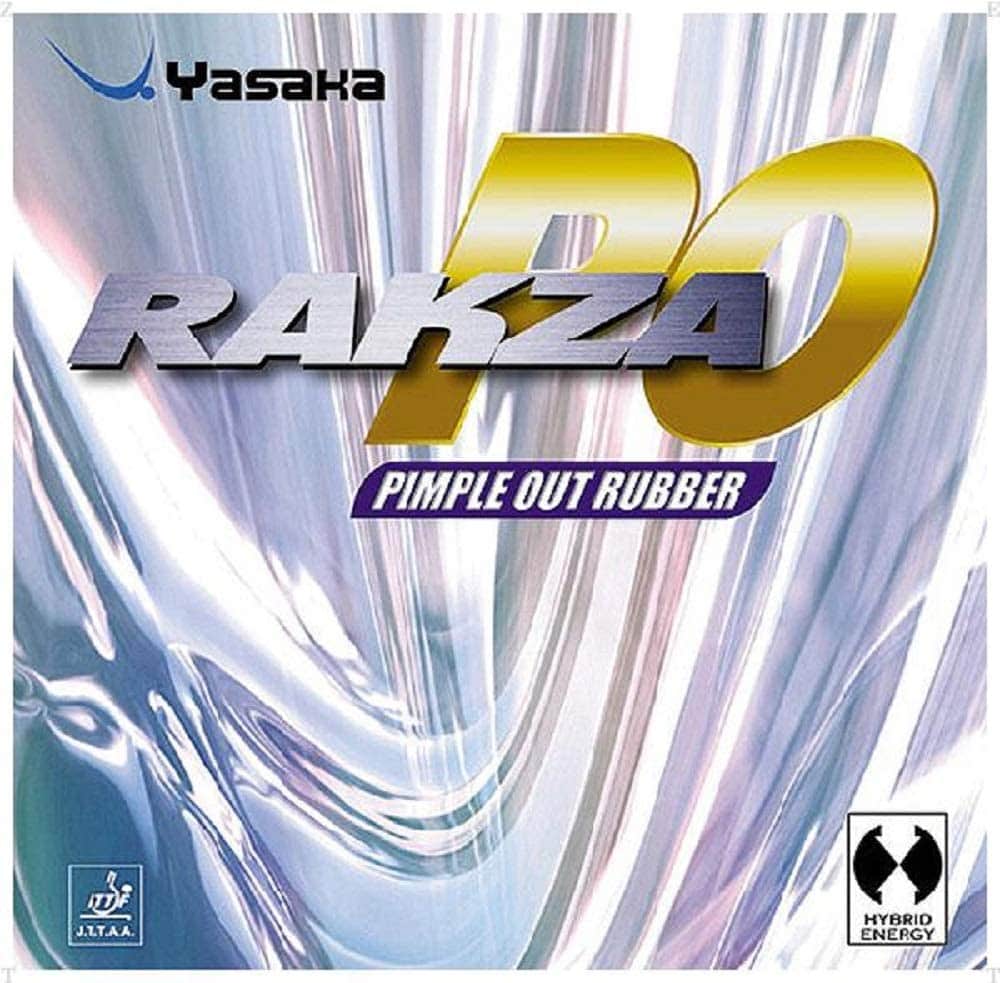 Short pimples have their pimples exposed on the playing side. They allow for a mix of attacking and defending. Generally, short pimples are insensitive to incoming spin, making smashing through backspin unfairly easy, some might say! (ignore me, I'm just bitter). This also means short pimples cannot generate much spin so there is a bit of a trade-off.
Long Pimple Rubbers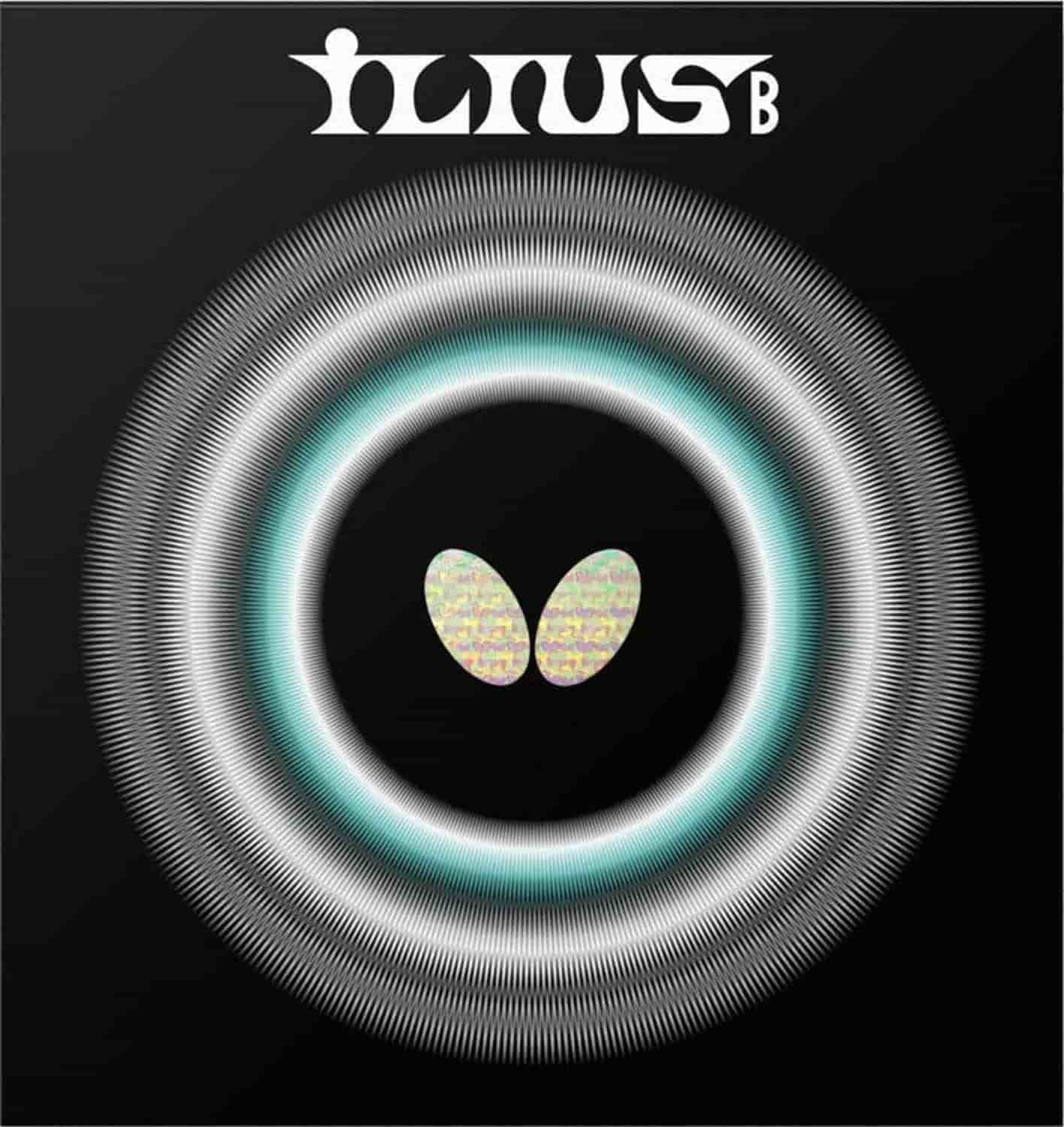 Long pimples are perhaps the trickiest of rubbers to play against. They produce high levels of spin and most commonly reverse the spin of the opponent. So if player A with an inverted rubber plays a topspin stroke, player B can block the ball and reverse the spin to create backspin. Very confusing!
Antispin Rubbers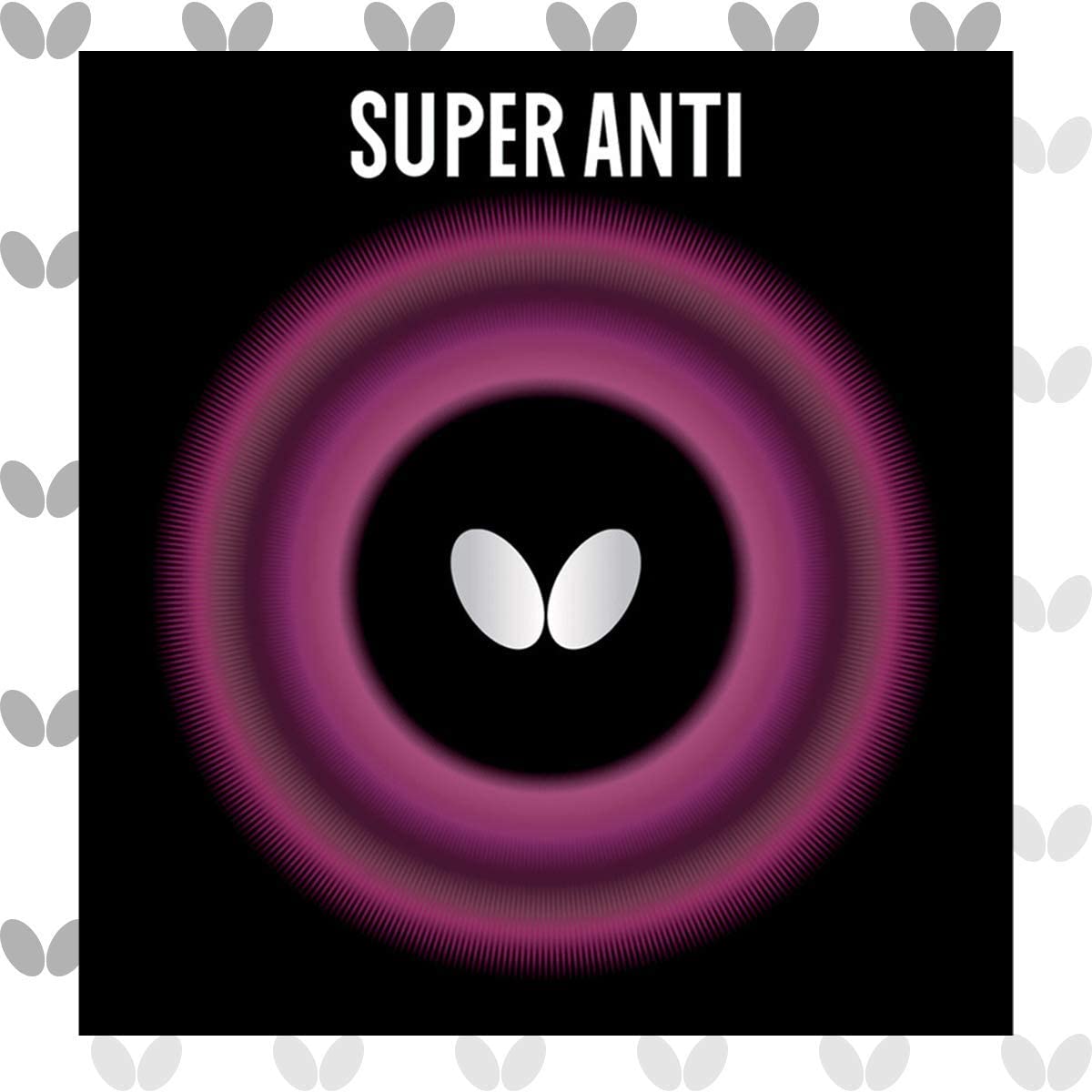 Not quite as common as they once were, antispin does what it says on the tin. It mitigates spin. Antispin is probably the least versatile of all the rubber types.
Optional Extras

That's all you really need to know when choosing your personalized ping pong paddle, but who doesn't like some extras?
First up, we've got bat makeup. Most table tennis suppliers offer bat makeup for a small fee. This saves you the effort of having to glue your rubbers yourself when you design your own ping pong paddle. I'd just pay the fee and save the trouble if you're starting out.
As part of bat makeup, you have the option to get your blade varnished. This creates a barrier between the blade and rubber for gluing. It makes it easier to remove the rubber when it needs replacing. However, I've had a bit of a nightmare with varnish in the past. The rubbers just wouldn't stick! I had them peel off during a crucial match. Not fun. I wouldn't bother varnishing unless you really want to.
Tuners & boosters is another subject I would like to briefly touch on. Some rubbers, particularly of Chinese origin, will be factory tuned. This means they have a layer of tuning on the sponge side of the rubber for enhancement. This, however, wears off in around a month or so. Some players choose to re-tune themselves by taking off their rubber and re-applying the tuning agent.
Technically, this is illegal under ITTF rules, so I'd steer well clear of it. You don't need to consider tuning unless you have a Chinese rubber as part of your custom-made ping pong paddle. And these rubbers are usually cheap enough to replace regularly.  
The final extra feature is edge tape. Pretty much everyone uses it, and it protects the edge of your bat. It adds a nice complete finish and hides shoddy rubber cutting. If I had a penny for every time I cut my rubbers wonky and was saved by edge tape, I would be a rich man! It's great stuff.
Where to Buy Your Custom Ping Pong Paddles
Now that you've decided on the rough specifications, it's time to compare personalized ping pong paddles. But where do you look? First and foremost, the answer will almost always be online. Table tennis is not a very mainstream sport, and elite table tennis equipment on the high street is almost non-existent.
Even if you could find half-decent equipment, it would be extremely unlikely that you would find the exact equipment you were after. For this reason and simple convenience, it's best to purchase your customized ping pong paddle online.
Where To Buy in the US
You've got lots of online retailers to choose from in the US. Ping Pong Depot, Megaspin, American Tables Tennis, and Tabletennis11 are all great options. The key is to shop around to find the best prices. Many retailers also only stock specific brands. A great example of this is Topspin Sports here in the UK. They are Donic specialists and only carry very limited stock for other brands. Not great if you want Butterfly rubbers for your custom table tennis paddle!
Our recommended brand for US buyers is Megaspin. They carry a very diverse range of products; chances are, if your product is popular, they will stock it.
The prices on Megaspin are very competitive. If shipping costs and customs fees weren't a thing, I would certainly be ordering from Megaspin! Unfortunately, many of the products I'm after are a bit more expensive here in the UK.
If you struggle to find a specific piece of equipment, you can always try Amazon. I find they are pretty good for stocking rubbers and blades. In particular, Amazon is a great place to look if your regular supplier, such as Megaspin, is out of stock. They sometimes also carry stock for discontinued products after the remains have dried up from table tennis retailers. One thing to note, however, is that unless you are purchasing a premade racket, you will have to buy your rubbers and blade separately — there is no bat make-up feature. This means you'll have to make your ping pong paddle yourself.
Where To Buy in the UK
For anyone based in the UK, we have plenty of options for ping pong paddle customization. My personal favorite suppliers are Tees Sport and Bribar. They are true table tennis specialists and will stock pretty much any type of rubber or blade you could want.
Table Tennis Direct, Topspin Sports, and Thorntons Table Tennis are great alternative picks also.
Where To Buy for Everywhere Else
Rather than list the top suppliers for every country (because that would take all day!), we'll just recommend a few standout picks.
TTNPP is a supplier based in Hong Kong. They ship worldwide and even mark parcels as "gifts" to minimize the risk of additional tax fees (naughty, naughty). This could save you a bit of money for your custom table tennis paddle.
Dandoy Sports is another great pick. Based in Belgium, they also offer worldwide shipping and competitive prices.
Some Recommended Paddles
Megaspin: Yasaka Sweden Extra with Mark V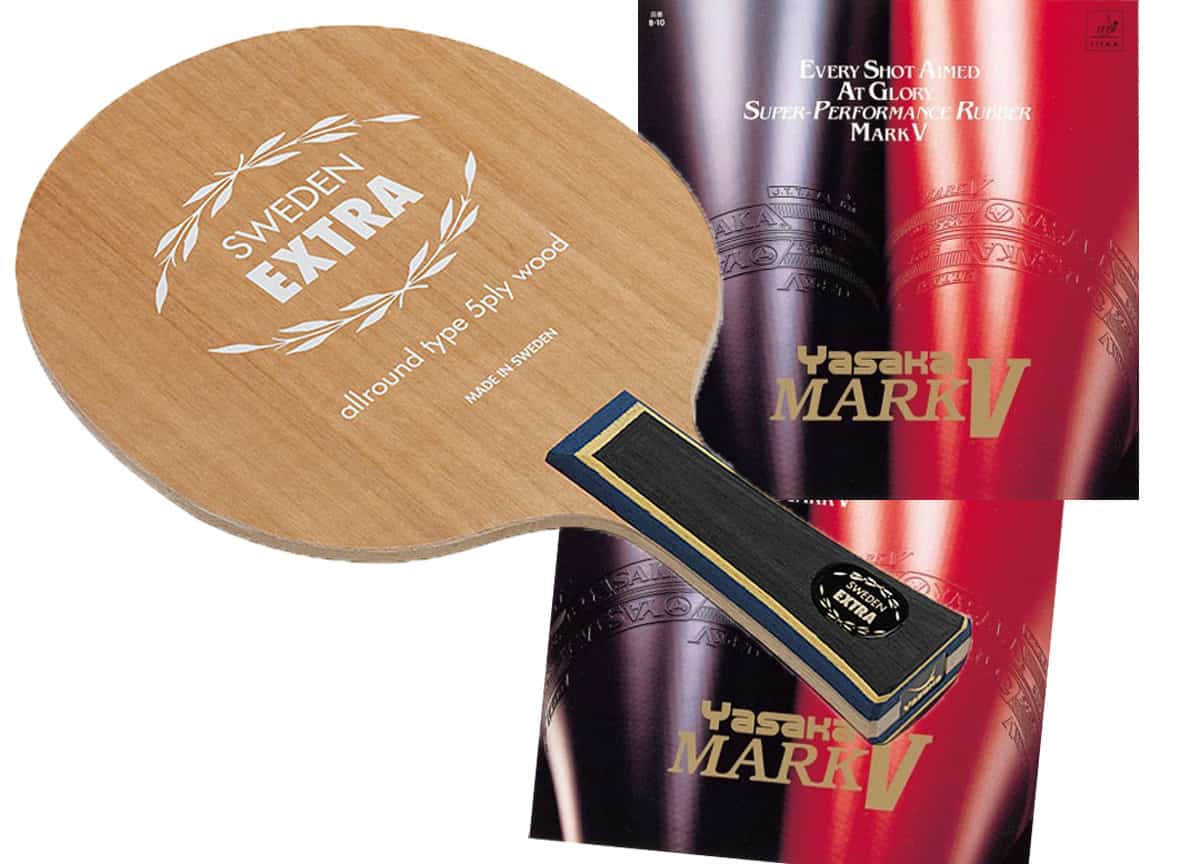 This setup is ideal for allround players. It combines one of the best-selling blades in the world which has great feeling, with a similarly popular rubber. Mark V offers respectable levels of pace and spin with high levels of control. This ping pong paddle design is also rather cheap for what you are getting — super-duper value for money!
Amazon: Alberto Mino Pro-Line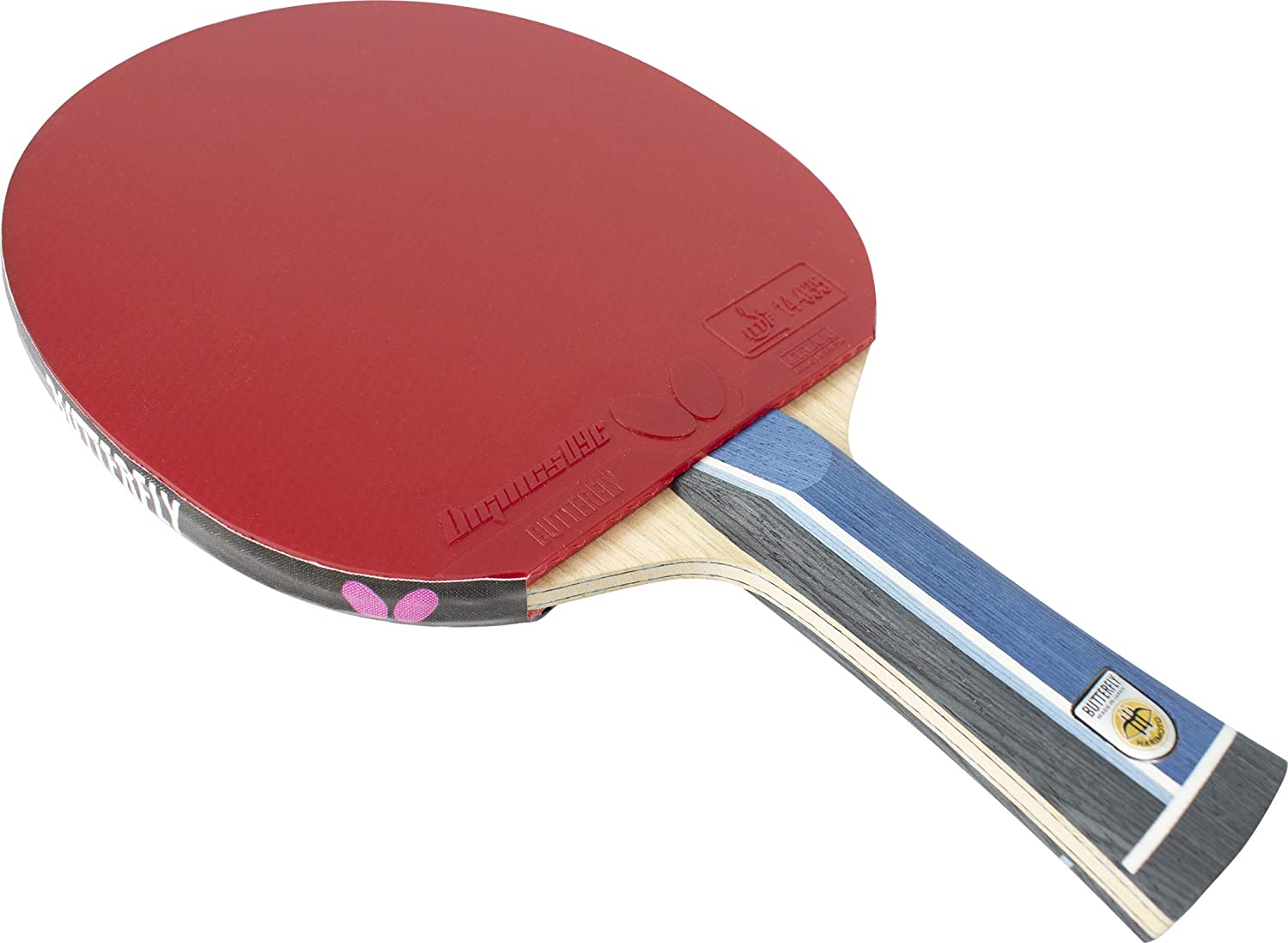 Up next we have a far more expensive racket from Butterfly. This paddle features the Harimoto Innerforce ALC. A 7-ply blade with its carbon layers closer to the center compared to other rackets which supposedly gives a softer contact. As for the rubbers, we have Dignics 05 and 09C — the two most popular rubbers from Butterfly's most offensive series. Dignics 05 is a little softer and a little faster compared to Dignics 09C, but there's not much in it. If you're an advanced player who has a deep wallet, it's one of the best rackets you can buy.
Bribar: DHS 5002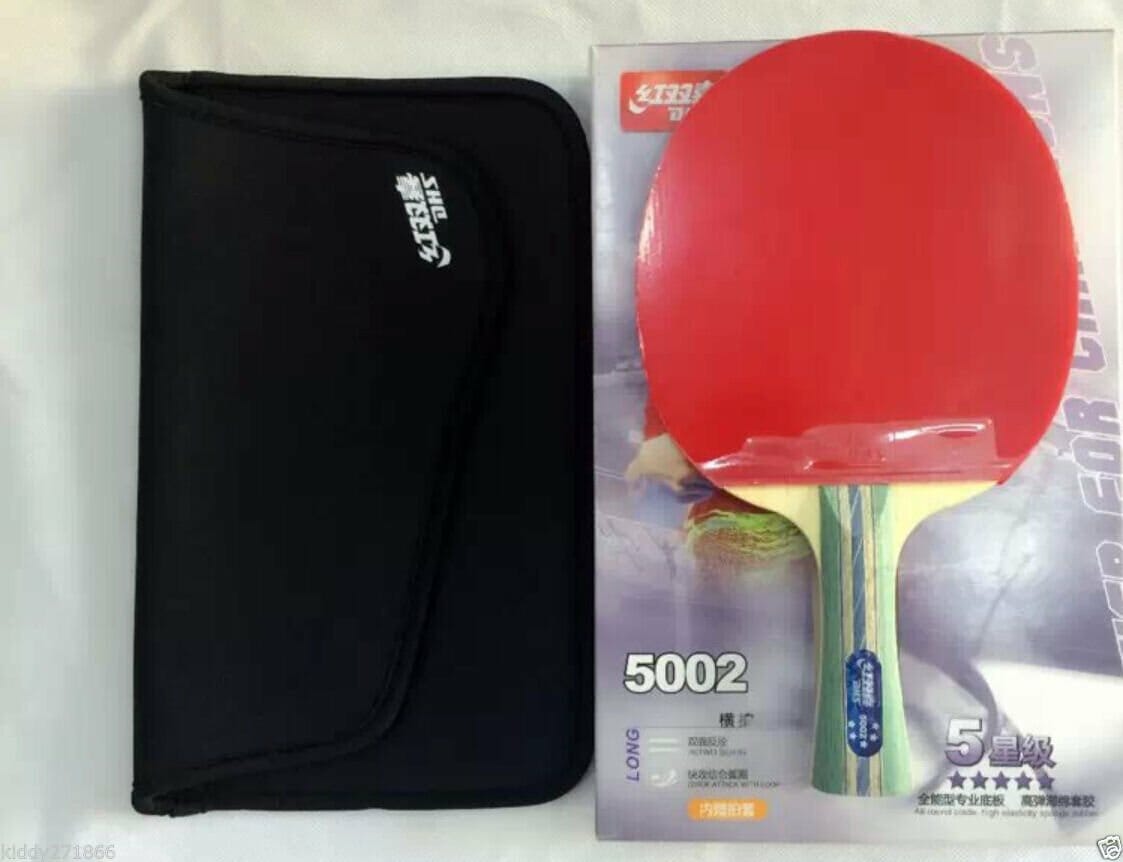 The DHS 5002 caught my eye because of its incredible value. It cost less than 1/4 of my current racket and is a damn good choice for intermediate players. Fitted with a 5-ply allround blade, it's easy to control, and the tacky Hurricane 3 rubbers offer exceptional spin and durability. It even comes with a free case. In my opinion, you'll be hard-pressed to find a better racket for the price.
Custom Ping Pong Paddles Summary
There's a lot to think about when shopping for custom ping pong paddles. Hopefully, with the information in this article, you will feel comfortable enough to get started. It's always best to keep things simple initially. So if this is your first time customizing your own ping pong paddle, here are our buying suggestions:
Shakehand (unless you play penhold)
All-wood blade
Flared handle
1.8 mm sponge (allround style)
Non-tacky
Inverted
Edge tape
Get the bat made up for you
Beyond this, choose a rubber or blade which aligns with your play style, be it spinny, offensive, defensive, etc. We have buyer's guides on both rubbers and paddles which should further help you hone in on specific products that might interest you.
FAQs
What Is the Best Wood for a Ping Pong Paddle?
Unfortunately, there is no best type of wood for customizable ping pong paddles. Rather you should pick a type of wood that suits your playing characteristics. For example, if you like a stiff fast blade Koto makes a great choice for the outer plies. 
That being said, if I had to choose one top wood, I would probably go for Kiso Hinoki. This is because it is only available in one location in Japan, and the wood is only used when it reaches at least 300 years old. 
Can a Ping Pong Paddle Be Any Size?
A ping pong paddle can be any size, but for practicalities sake, most rackets are similarly shaped. The rules instead specify that paddles must be rigid and flat. There are also restrictions on the composition of materials. For instance, 85% of the blade must be made from natural wood, and the rubbers, including the glue, must measure no thicker than 4 mm.

Freelance writer. Table tennis enthusiast. Lover of all things online. When I'm not working on my loop game I'm probably binge-watching some fantasy show.