The Butterfly 603 is a shakehand style, 5-Ply all wood blade designed and priced for a beginner/intermediate player. Among the Butterfly line, the Butterfly 603 is probably not their best model, but it's definitely not their worst. It's ITTF approved, which means you can use this racket to play in tournaments, and it comes with a Wakaba 2.1 rubber.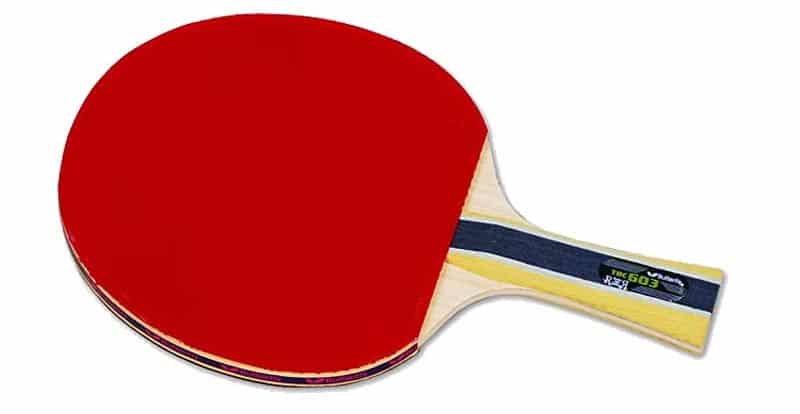 Specifications:
Performance ratings – Speed: 82, Spin: 90, Control: 85
Blade – 5 Ply
Rubbers – Butterfly Wakaba rubber on both sides (2.1mm red side and 1.9mm black side)
Sponge – 2.0mm thick sponge
ITTF Approved? – Yes, can be used in official tournaments
Price – $$ (Check Price On Amazon – Check Price On Megaspin)
The Butterfly 603: An Overview
The Butterfly 603 racket is a premade racket, so that needs to be kept in mind. Real table tennis players tend to purchase blades first (the wooden skeleton), and then switch their rubbers out depending on their style of play, how they feel, the spin/power they want, etc. That doesn't mean all pre-made table tennis rackets are horrible, it just means this racket was designed with the player's skill in mind: Intermediate players.
Premade rackets are usually aimed at beginners and intermediate players looking for something they can pick up straight away and that will allow them to work and build upon their skills. Let's take a look at the 603's features now.
2.1 mm and 1.9mm Wakaba rubbers designed for power and spin
The 603 is interesting as it has different thicknesses of rubbers on each side of the paddle. On the red side it has the Wakaba 2.1mm rubber and on the black side it has a 1.9mm Wakaba rubber. This means that depending on which side you hit the ball with you'll get a different shot (the red will be more powerful). It's got a speed rating of 82 and a spin rating of 90 which is quite high (although you shouldn't always pay too much attention to these as they're decided by the manufacturer and are often larger than they actually are). When you're brand new to table tennis you want to look for a paddle with a low-speed rating but a high control rating so we wouldn't recommend this bat for complete beginners.
Thick rubber means powerful racket
Many customers have reported great power with this racket and considering it has a thick 2.1mm rubber (on the red side) attached to it, it's not surprising. This thick rubber is going to weigh down the paddle, and coincidently customers have reported that this paddle feels heavy. If you're not used to a heavy paddle you'll find that your arms get's worn out quicker than with a light one.
Finding the sweet spot with Arylate Carbon
One of the reasons people have commented on this racket's power is because of the arylate carbon built into the 5-ply wooden blade. This material increases the "sweet spot" area of the face of the paddle.
Flared handle/ergonomic grip
It's built with a flared handle to make gripping the paddle easier and stops it slipping out of your hand. But it's a relatively short handle and so players with larger hands may not get on as well with the bat. If you have large hands we'd recommend looking for one with a larger handle as you might find this racket a little uncomfortable.
High official spin rating
Butterfly gave the 603 a rating of 90 for spin, we felt it deserved otherwise. Although this racket has a 2.1mm sponge, we didn't find the rubber warranting a rating of 90. It's alright, not amazing and is fairly tacky, probably enough for someone looking for an upgrade to their cheap bat they found in the attic or came as part of a set.
Comes with zipper case
A nice little extra is that the Butterfly 603 comes with a pretty nice zipper case. That being said, if you're going to spend your money on a decent racket such as this one, it's worth it to keep it inside a table tennis case. This probably isn't the best ping pong racket case, but it will get the job done and help the rubbers last longer and keep them away from dust.
The positives
Good intermediate ratings – It's pretty well rounded and might suit an intermediate player who wants to generate more speed and spin but not lose all the control
Great rubbers – We love that it has different thicknesses of rubbers on each side which allows you to change depending on the type of shot you want to play
Reasonably priced – It's affordable and not too expensive compared to some of its counterparts from other brands
Thick sponge and rubbers – It's got quite a thick sponge and rubber meaning you'll be able to generate more speed as the ball bounces off the racket
30 Day warranty – Butterfly offers a 30-day warranty in case you have a defective one
The downsides
Quite heavy – It's quite a heavy which if you're not used can mean you got worn out a lot quicker
Shortish handle – Its handle isn't too large so won't suit players with large hands
Not suitable for complete beginners – The ratings on this paddle aren't suitable for players who are brand new
About The Butterfly Brand
Butterfly are one of the leading brands in the world of table tennis. They've been providing high quality products for decades and has manufactured some of the world's best table tennis equipment.
Customers who have purchased this racket or any table tennis equipment sold by Butterfly, and had problems with their order, have expressed a swift and easy resolution. Butterfly are very keen to keep their customers happy it seems!
Conclusion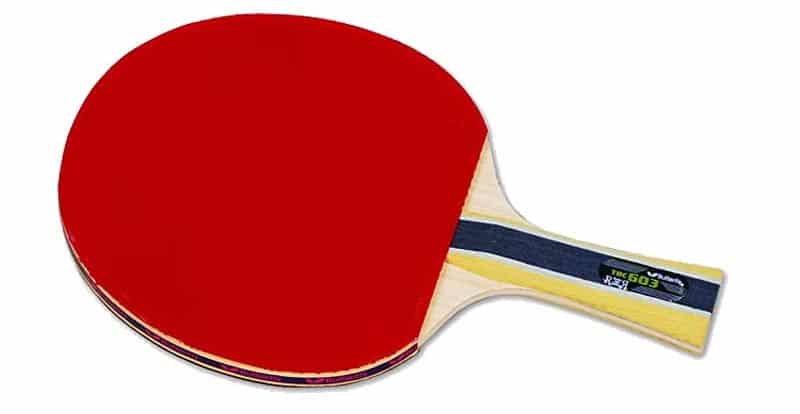 To sum up, the Butterfly 603 is a great paddle that will definitely help you develop as a player and give you the spin and speed that you need as you level up your ping pong skills. But if you're taking your game very seriously and want to enter tournaments it might not be the right one for you. To see the ones we like head over here.

Eugene (Gene) Sandoval has been one of those guys who spent too many hours around ping pong tables in high school. However, soon enough, Gene understood that there is more to ping pong than having fun. That is how he started a journey that made Eugene one of the experienced semi-professional ping pong players in the United States. As the founder of the PingPongRuler, Eugene spends most of his time surrounded by ping pong tables and research. He always has this knack for coming up with new ping pong strategies and telling the good and bad equipment apart.