Sportcraft Ping Pong Tables Reviewed
Finding a perfect ping pong table is a big task for any player who wishes to play professionally or someone who wants something good and sturdy to play for fun.
As purchasing a good quality ping pong table is not a small task, you need to be 100% sure that your purchased product stands the test of time. Many ping pong tables available on the market can scratch very quickly within a few uses.
But Sportcraft's high quality and heavy-duty ping pong tables will surely last long without any scratches on the surface. But the quality and durability don't stop till the surface; the company goes to great lengths to use only steel for the body to avoid denting and spot chipping after rust.
We understand your concern, and thus keeping all the cynical buyers' doubts in mind, we have made a list of the top five ping pong tables from Sportcraft.
#1 Sportcraft PX400 Table Tennis Table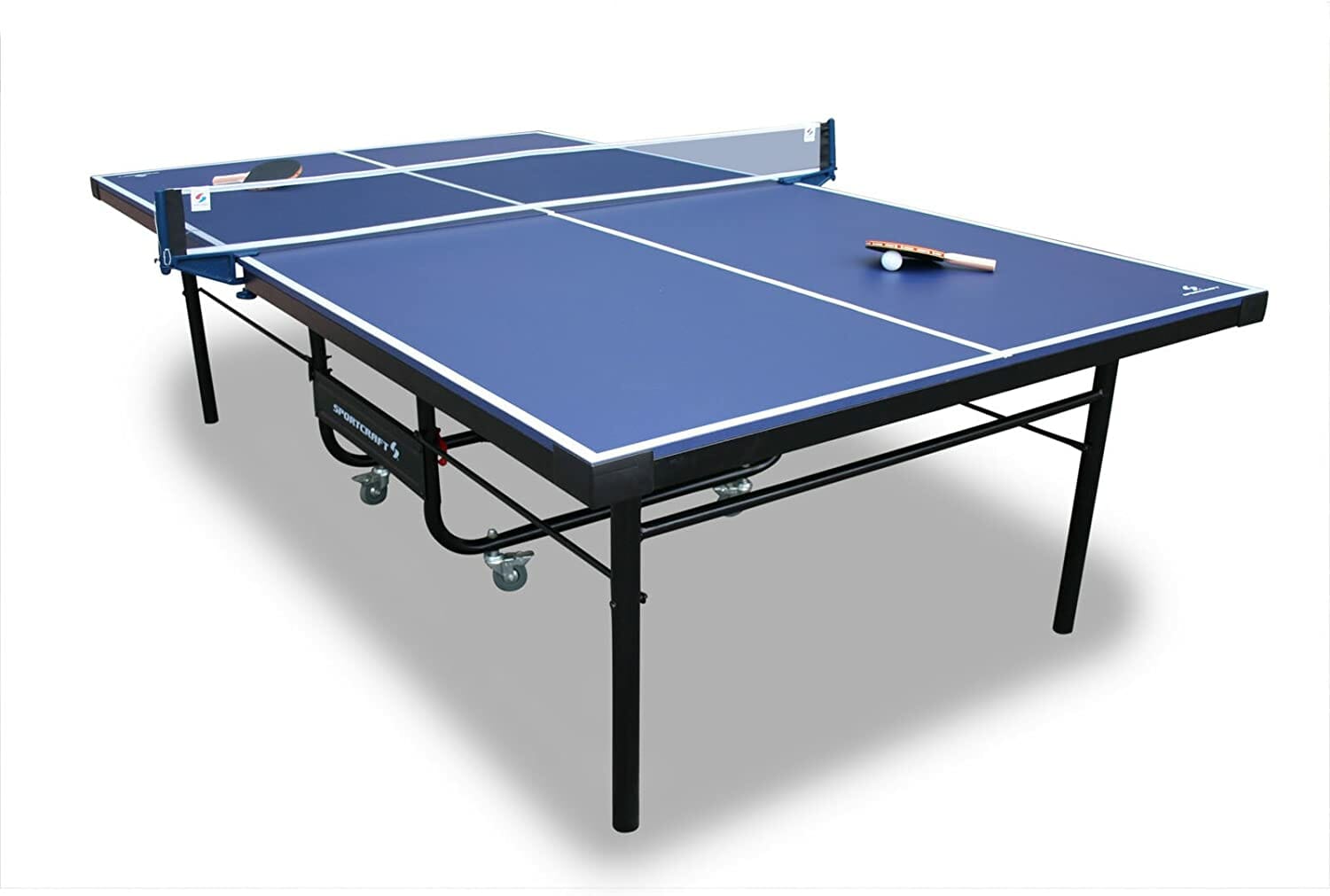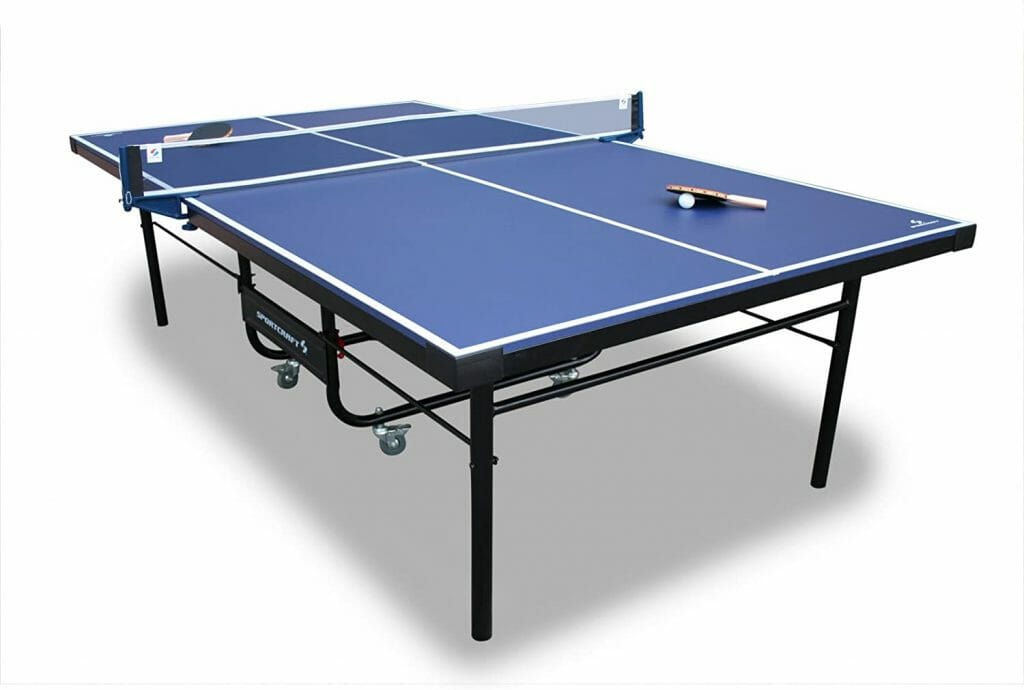 Sportcraft PX400 Table Tennis Table is a sturdy and robust table that looks clean and has clear lines without any twisted demarcation. This classic blue table tennis is built with a heavy steel frame and world-class stamped steel leg, which gives excellent stability while playing.
No matter how hard you play, the table would not move out of its place even for an inch. This product is an excellent value-for-money table that you can easily enjoy with your family or friends.
The high portability makes it a best friend for people who might be a little short on space. When not in use, you can very easily fold the table and keep it away. The easy folding mechanism makes it an ideal choice for people who transfer the table on many occasions.
The table will yet again come into use when you are just by yourself. Its one-side fold setting encourages a player to play on single mode. You can efficiently practice your skills while you are alone. The table has ultra-smooth rolling three-inch lockable casters to support the table.
This tournament-size table can be excellent for people who like to play on big boards.
This table requires a little time to assemble, but once you understand the pressure requirements and the structure, you can quickly build the table with a few essential tools. This Sportcraft PX400 Table Tennis Table Set includes a study set of the net, four high-quality paddles, three balls, and the vital tools required for assembly.
This table tennis has a width of five feet and a length of nine feet in total. The table weighs 134 pounds and is very easy to move from one place to another.
Pros
The table comes with ultra-smooth rolling lockable caster wheels.
The structure has a sturdy and curved undercarriage. The curved tubes add a layer of safety and discourage any nicks and cuts.
This product is a heavy-duty tournament-sized ping pong table with a sturdy base.
The set includes a complete package of all the essential requirements needed for starting the game.
Suitable for indoor games.
Cons
This table looks very basic and isn't ideal for one who wishes to invest in a more attractive-looking piece.
Irrespective of the simple structure, it is heavy, which will undoubtedly cause issues while moving or unfolding.
#2 Sportcraft AMF Pro Air Piston Table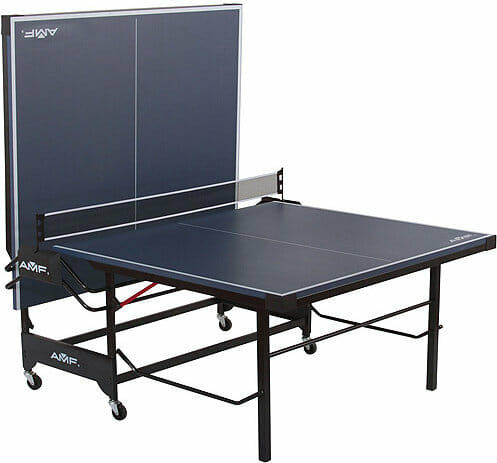 This Sportcraft AMF Pro Air Piston Table has a unique blend of excellent performance and value. If you are looking for an innovative table that tackles a few minor issues like net assembly, this might be your next best table purchase.
This ping pong table has a good quality one-inch thick-coded playfield and an all-steel frame that adds durability to this piece. The heavy stainless steel keeps it rust-free and maintains a stronghold of the ground even during intense plays. This Pro Air Piston is smartly engineered with a unique center-mounted net that stays in place at all times.
This intelligent design eliminates the efforts to remove and reattach the net every time the table gets repositioned. The four different piston weight management system works flawlessly to instantly make the table 50 pounds lighter than any standard table available on the market. These pistons make the process of lowering and rising a breeze.
The lightweight of this table makes the product very easy to move from one place to another. The table is perfect for older people and players suffering from severe backache. It requires nearly zero ideal strength to make the table erect.
This Sportcraft AMF Pro Air Piston Table comes with sturdy solid wood pro-style heavy-duty paddles and highly rated three-star table tennis balls. These high-quality playing accessories would last long, eliminating the need to order extra paddles and balls each month.
Pros
Piston Weight Management System is perfect for lowering and raising the two halves effortlessly.
Includes a center-mounted net structure that ensures that the net stays in place. You do not have to worry about reattaching it.
The table gives excellent ball bounce with the help of steel aprons and a professional flat surface.
It can easily fold up for single players.
This product is an ideal choice for senior citizens who wish to play and keep their lifestyle healthy and active.
Cons
The table doesn't add much bounce, as the manufacturer mentions.
#3 Sportcraft Pipeline Table Tennis Table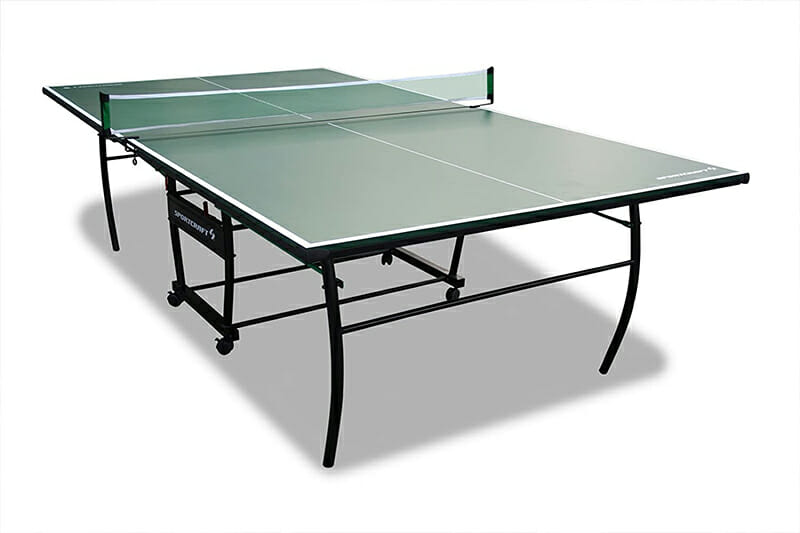 This Sportcraft Pipeline Table Tennis Table has a high-quality center-mounted net which is excellent for players who hate attaching or detaching the net after the table moves ever so slightly.
The heavy-duty thick tabletop is perfect for playing serious and professional fights with your family, friends, or another player. The heavy-duty metal steel frame and legs give the table a sturdy feel. This table is bound to stay with you for years. This Pipeline Ping Pong Table has a rich and thick 100% laminated surface with extra textured material.
This texture and laminate produce unmatched bounce and encourage players to create trick shots or spin shots per their requirement. You can very easily fold the table halfway for practicing sessions or close and fold the table entirely for an ultra-compact space-saving solution.
The table edges are capped with rubber to keep the players safe while playing the game. You get the option of locking away the caster wheels with excellent security. The lock would not budge or loosen up during mid-play. 
The table is 9′ x 5′ x 30″, making it a perfect size for playing any game. The table comes with two pips in paddles for great fiction and uses a thick sponge and rubber mix for paddling for your spins with expertise. The set completes itself with three high-visibility orange balls for higher visibility and lesser dud shots.
Pros
The product has heavy-duty steel legs and a frame for unmatched stability.
This table has a 100% laminate play surface.
The textured play surface creates an excellent surface for bounce and dynamic spin shots.
The table has a halfway practice mode for single players.
The caster wheels are lockable for keeping a steady play area.
The structure comes with all the standard ping pong accessories.
The product has a center-mounted net.
Cons
Assembly instructions can be very confusing.
The undercarriage doesn't have extra rods to support the weight of the table.
#4 SportCraft Game Master 2 Piece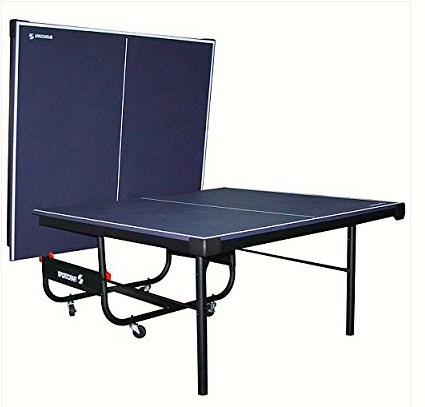 This hefty SportCraft Game Master 2 Piece Table Tennis set is a perfect product for adults and professionals to play. The table is extremely sturdy and has a lot of weight, leading to a long-lasting purchase that doesn't require changes.
You will need two adults to help assemble the table. You can very easily fold away the table for playback settings. The excellent quality dense top layer makes you hit good shots. The ball comes back a lot faster in a more organic way. You can very easily store this set away by completely folding it into a slimmer model.
The table is designed for playing in tournaments and professional matches. The thicker coat makes this table impervious to most kinds of damages. This high-quality Game Master 2 Piece Set is all you need for a competitive game of good old ping pong. 
The table comes in a decent two separate 5″ x 9″ playfield with a spectacular 1″ thick surface.
Pros
The table has excellent undercarriage durability.
You can very easily fold this table.
This table comes with a high-quality, rugged top board.
It has a decent playback mode as compared to other Sportcraft tables.
The table is excellent for professional matches and well suited for seasoned players.
Cons
This table is undoubtedly on a heavier side than other standard tables.
This table requires a minimum of two people to assemble.
#5 SportCraft Grand Master III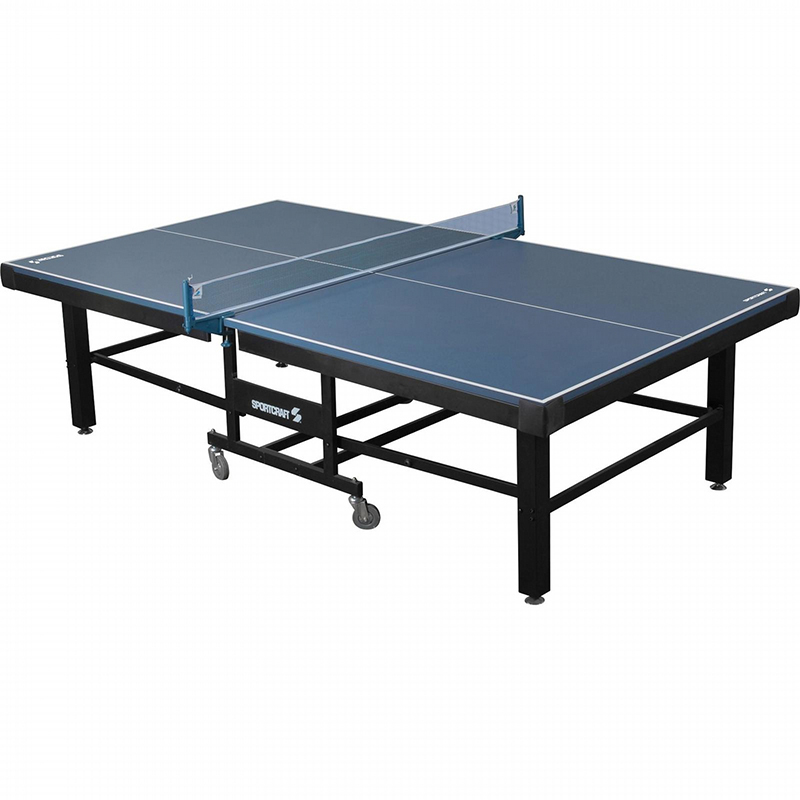 SportCraft Grand Master III is one of the most stylish and finest tables you can buy from SportCraft. The quality material of this table is worth every penny and built for very professional use. The tabletop is very thick and has excellent cushioning. Despite the cushioning, your ball always bounces back very perfectly.
This ping pong table has extra-large 2.5″ post-style legs for maximum strength. The extra metal ensures that you have a strong table that stands the test of time. The side features 2.5″ steel aprons with corner caps to keep the edges smooth and safe. Even if you play with extra energy, the corners will not hit and damage you.
You can lock away the rolling casters with their lock system, which keeps the wheels in place. Any player can easily fold the table for a clean playback setting or lock the entire structure for storage.
The assembled table has 9′ x 5′ x 30″ dimensions and comes equipped with a net and post.
Pros
It is the most stylish-looking ping pong table from this company.
The table has extra-large post-style legs for extreme strength.
It fashions a heavy-duty steel chassis and an ultra-smooth rolling caster.
The casters are lockable and never move from their place.
You can very quickly open and close the table as per your need. The table also opens up for playback and stays compact when folded down.
Cons
This table isn't the most ideal for folks with general use in mind. The large legs would not fit well in small spaces.
Additional Buying Tips
A few things to look for before purchasing your next ping pong table:
If you are in the gaming market for an indoor table, make sure that the table has a protective layer on all sides.
We recommend buying a table that is highly foldable and is light to move. This feature is essential for indoor tables. Since you will need the space, you are bound to move the table a lot. Thus having a lightweight table comes in handy during such times.
If you are looking for a robust and sturdy outdoor table, buy a rust-proof aluminum table or one with a thick melamine coating.
Since the table will stay outside, you should splurge a little and get a heavy-duty table for durability.
We highly recommend buying a table that lets you play solo. This feature drastically increases its usability.
If you are looking to purchase a table for your recreational room or empty backyard space, we suggest buying any economy model since it won't get used every day. But if you are thinking of starting a family night tradition, buy a medium sturdy model for your family members and friends. Lastly, if you are training someone in your house, it becomes imperative to purchase the sturdiest table, which will last for years.
Collapsible models cost a bit more, but they are excellent options for small spaces. If you have a small space but wish to enjoy the sport of table tennis, this can be your gateway play kit!
Conclusion
We hope our review of the top bestselling ping pong tables from Sportcraft was helpful.
If you are still on the fence about whether buying a ping pong table is the right choice or not, we suggest that you clear your doubts and test the game.
You would surely love it, and it will indeed reduce your screen time while making your mind and body agile.

Eugene (Gene) Sandoval has been one of those guys who spent too many hours around ping pong tables in high school. However, soon enough, Gene understood that there is more to ping pong than having fun. That is how he started a journey that made Eugene one of the experienced semi-professional ping pong players in the United States. As the founder of the PingPongRuler, Eugene spends most of his time surrounded by ping pong tables and research. He always has this knack for coming up with new ping pong strategies and telling the good and bad equipment apart.