The Killerspin Jet 600 Spin N1 is an intermediate level paddle that we really liked. It's part of Killerspin's Jet series of eight different rackets. It's ITTF approved and features Nitrx-4Z rubbers with a 2.0 millimeter sponge. The Jet 600 is known for being hard to handle at first as it's very easy to overhit the ball due to its higher speed rating. For that reason, it's not suitable for complete beginners. Let's take a look at some of its features in a bit more details.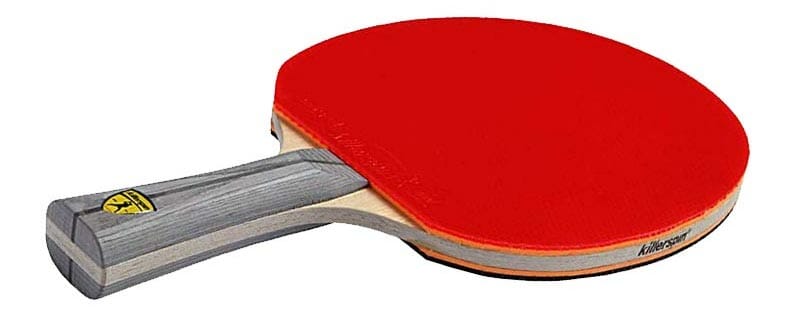 Specifications
Paddle ratings – Speed: 8.0, Spin: 9.0, Control: 8.5
Blade

– 5 Ply made of wood

Rubbers – Nitrx-4Z hi
Sponge – 2 millimeter thick sponge
ITTF Approved? – Yes, can be used in official tournaments
Price

– $$ (

Check the latest price on Amazon

)

Our rating – 8.9
Overview of the Killerspin Jet 600
The handle is a 5-ply wood, 6.0 mm lightweight thickness that is flared at the bottom and is designed for increased control. Even with the handle and the increased control, this paddle's aggressive power style of play leads it to lack in the control aspect relative to its other attributes.
Disadvantages
Some have reported that the flared handle is too short and can be annoying.
At 175 grams, the paddle is rather heavy. However this aids in the paddles increase power and requires some getting used to.
Only a 30 day warranty
Average control
You should not purchase this racket if you are a beginner. This racket lacks control, which is imperative for beginners. This racket is designed for an aggressive style of play, and there are other paddles in the same price range that are better suited for beginner players looking for a quality racket.
Conclusion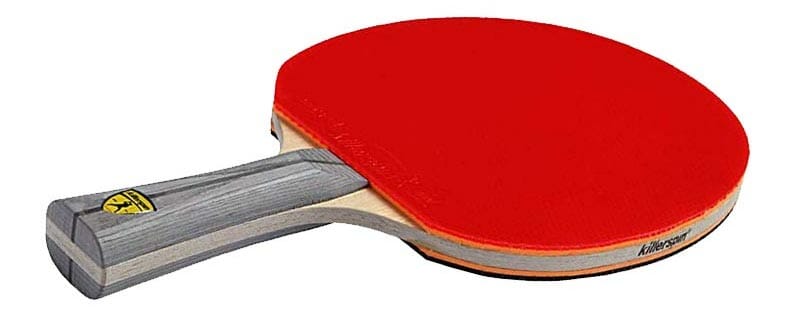 You should purchase this racket if you are an intermediate player and want a faster and stronger game. The paddle was designed for such, but as a result, is lacking in the control area. It will take some time getting accustomed with the paddle's increased speed and weight.
Expert players or players that don't play an aggressive style should not purchase this racket. There are other rackets better suited for your playing style or skill level. To read more about our favorite ping pong paddles head over here.