Killerspin Jet 600 Review
The Killerspin Jet 600 Spin N1 is an intermediate level paddle that we really liked. It's part of Killerspin's Jet series of eight different rackets. The Jet 600 is a 5-ply all wood blade which is ITTF approved and features Nitrx-4Z rubber with a 2.0 millimeter sponge. The Jet 600 is known for being hard to conrol at first as it's very easy to overhit the ball due to its higher speed rating. For that reason, it's not suitable for beginner players just starting out.
Let's take a look at some of its features and why we liked it in our Killerspin Jet 600 review.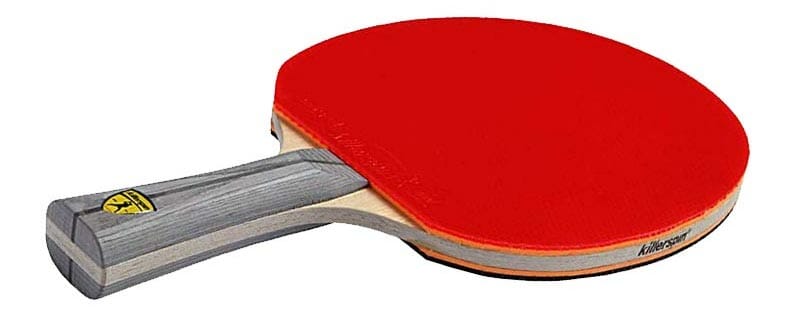 Specifications
Paddle ratings – Speed: 8.0, Spin: 9.0, Control: 8.5
Blade

– 5 Ply wood

layers
Rubbers – Nitrx-4Z rubber
Sponge – 2 millimeter thick sponge
ITTF Approved? – Yes, can be used in official tournaments
Price

– $$ (

Check current price)
Our rating – 8.9
Construction of the Killerspin Jet 600
The Killerspin Jet 600 is made with a 5-ply all wood blade that packs quite the punch and allows you to generate a really good amount of power. The paddle weighs in at a relatively heavy 175 grams and with a 2mm sponge on either side. After playing with it you can quick see that it allows you to generate lots of speed and spin without losing out on too much control making it one of, if not the most balanced paddle in Killerspin's Jet series.
The Jet 600 paddle also has a shakehand style flared handle made of wood that was really comfortable to hold and was a decent size. We're big fans of flared handles as they give you more control over the paddle and they're less likely to slip out your hand when going for a power shot. That being said it's slightly small so might not be the best choice for table tennis players with large hands as it might be harder for them to keep hold of it.
When it comes to rubbers, the Killerspin Jet600 has the very popular Nitrx-4Z rubbers on both sides of the wood blade. The rubber on this paddle is very high tension which means increased power of the table tennis racket causing the ball to really ping off the face and improve the speed.
The rubbers on the Killerspin Jet 600 racket are also quite tacky and grip the ball well when making contact allowing you to generate good spin and counter your opponents spin on their returns. Killerspin have given it a rating of 9/10 for spin which we thought was quite accurate and good for a pre-made paddle.
The Killerspin Jet 600 racket is approved by the ITTF (the international table tennis federation) which means as you improve and start to enter official competitions you'll be able to use this paddle.
It also comes in a really nice box that makes it a lovely gift or can be used as a ping pong case to keep your paddle in when you're not using it. This will help your paddle to last longer and prevent it from being damaged accidentally. If you need a case for your racket check out our recommended ones here.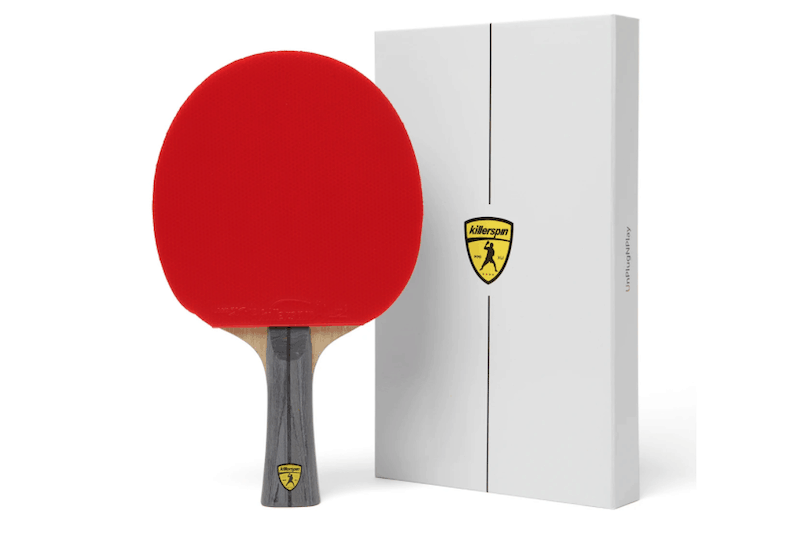 What did we like about the Jet 600
Having tried out A LOT of paddles over the years of running this site we have to say we thoroughly enjoyed the Killerspin Jet 600. It was incredibly well balanced and we thought the ratings were accurate. It didn't excel in any single rating of speed, spin and control but it was just a very comfortable table tennis racket to play with. As a result for advanced beginners or intermediate players it could be a good option.
We love the gift boxes that all the Killerspin Jet series paddles come in. They make great presents for all table tennis players but also you can use it as a ping pong paddle case when you're not using it.
Another good thing is that the Killerspin Jet 600 is approved by the International Table Tennis Federation. You'd expect this of any good paddle and unless you're a complete beginner you should always be buying a paddle that's approved for official tournaments.
Finally, the Killerspin Jet 600 has a 30 day warranty which is good. We would have liked it to be slightly longer but just check that it doesn't have any manufacturing defects as soon as you get it.
What could have been better
Overall we really like the Jet600 but there were two things that we feel we should point out before you purchase it.
The first thing to mention is how heavy it is and far from a lightweight paddle weighing in at 175 grams. If you're not used to such a heavy paddle you might find it too much to handle and we'd recommend you get something a little lighter to start off with.
The second thing that was fine for us, but some customer's reviews have mentioned, is that the flared handle is quite short for them. A lot of the Killerspin Jet series of paddles have relatively short handles which aren't ideal if you have large hands.
About Table Tennis Brand Killerspin
If you're not familar with them, Killerspin are an American table tennis brand that was founded by Robert Blackwell Jr back in 2001. Since then, they've developed a great reputation as a luxury and quality table tennis company producing clothing, tables, paddles and accessories that are really popular all over the world.
Conclusion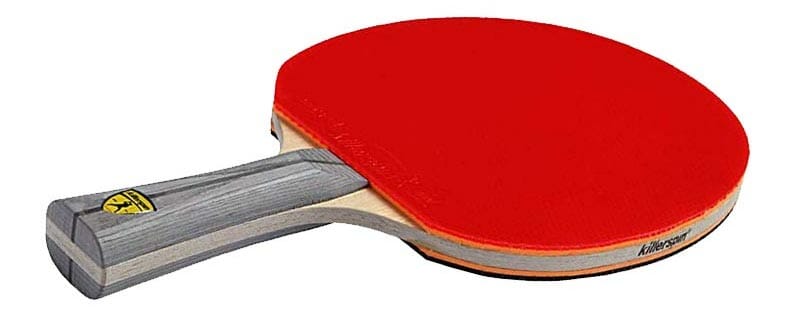 Overall we really like the Killerspin Jet 600 paddle and considering its price, thought it was well worth the money. We loved that balanced and all round style that the bat is going for and think it would make a great purchase for an intermediate player finding their style of game. The speed and power that you can produce mean that you can play aggressively when you want but the fact that it still has a control rating of 8.5 meant that the paddle didn't feel out of control.
We'd recommend it to intermediate players looking to upgrade from their first or second table tennis paddle to something that packs a bigger punch but they don't want to lose all sense of control. It will take some time to get accustomed with the Jet 600's increased speed and weight but more advanced level paddles have this compared to ones for beginners.
Also, we wouldn't recommend the for brand new beginners to table tennis or for expert and advanced players. There are other rackets better suited for these groups and we'd recommend checking out this post on our favorite ping pong paddle list here where we have lots of other paddles in a similar price range to the Jet 600.

Eugene (Gene) Sandoval has been one of those guys who spent too many hours around ping pong tables in high school. However, soon enough, Gene understood that there is more to ping pong than having fun. That is how he started a journey that made Eugene one of the experienced semi-professional ping pong players in the United States. As the founder of the PingPongRuler, Eugene spends most of his time surrounded by ping pong tables and research. He always has this knack for coming up with new ping pong strategies and telling the good and bad equipment apart.