JOOLA Infinity Balance Review
The JOOLA Infinity Balance is the cheapest pre-assembled paddle of the JOOLA Infinity range of table tennis bats. With similar levels of speed, spin, and control, it best fits allround players who like to play both offensively and defensively.
It also costs significantly less than most custom table tennis paddles and could be a great buy for someone who is not yet ready to spend hundreds of dollars on a paddle and wants a bat that provides good value for money.
We were fortunate enough to get our hands on the Infinity Balance courtesy of Megaspin. We then tested it out in all areas of the game to see what we liked and what we didn't. Here's our honest review.
Specifications
·         Class – OFF
·         Plies – 7W
·         Rubber – Micron
·         Sponge thickness – 2.1mm
·         Blade thickness – 5.7mm
·         Handle type – Flared
·         Weight – 179g
·         ITTF Approved? – Yes
·         Price – $
·         Our rating – 7.5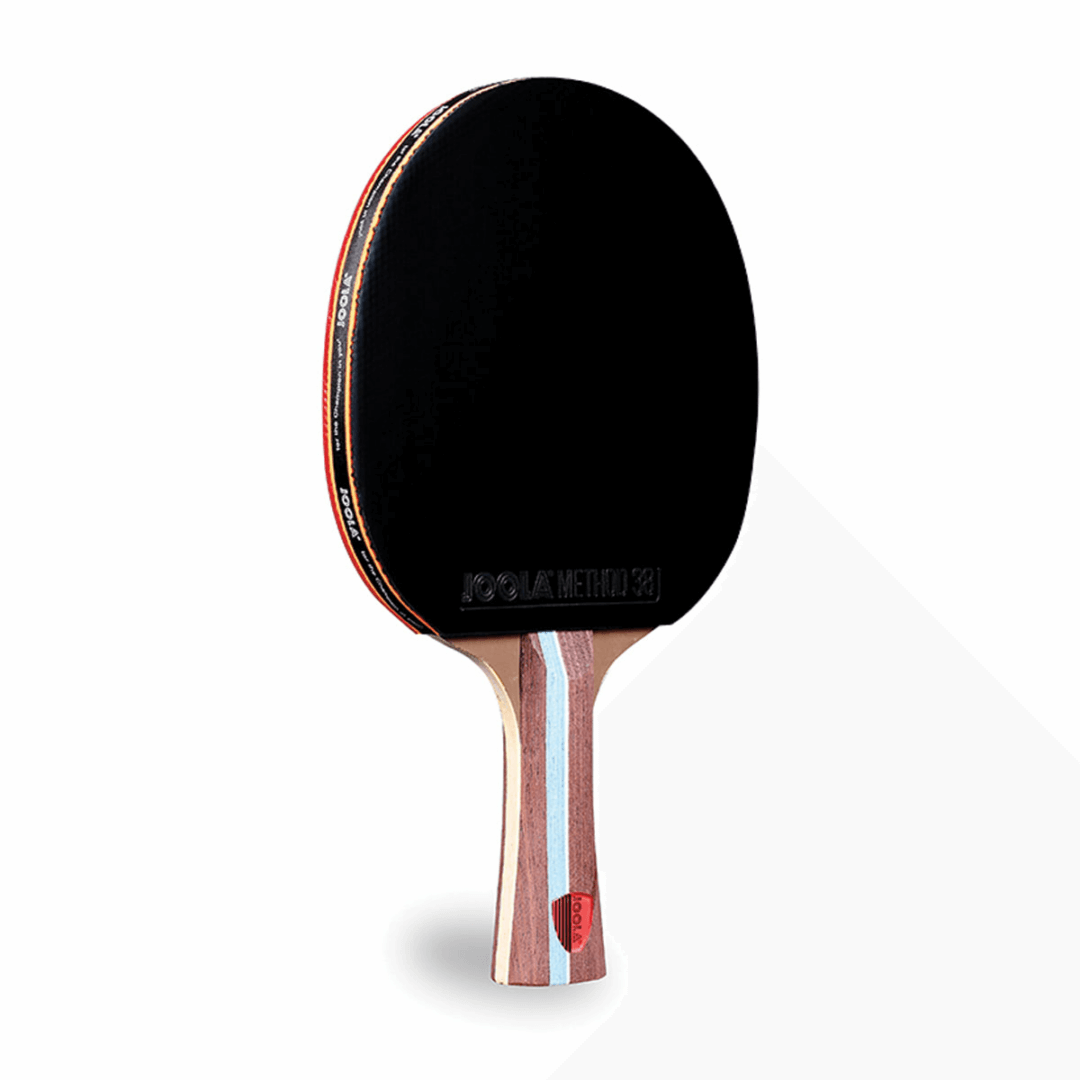 JOOLA Infinity Balance Construction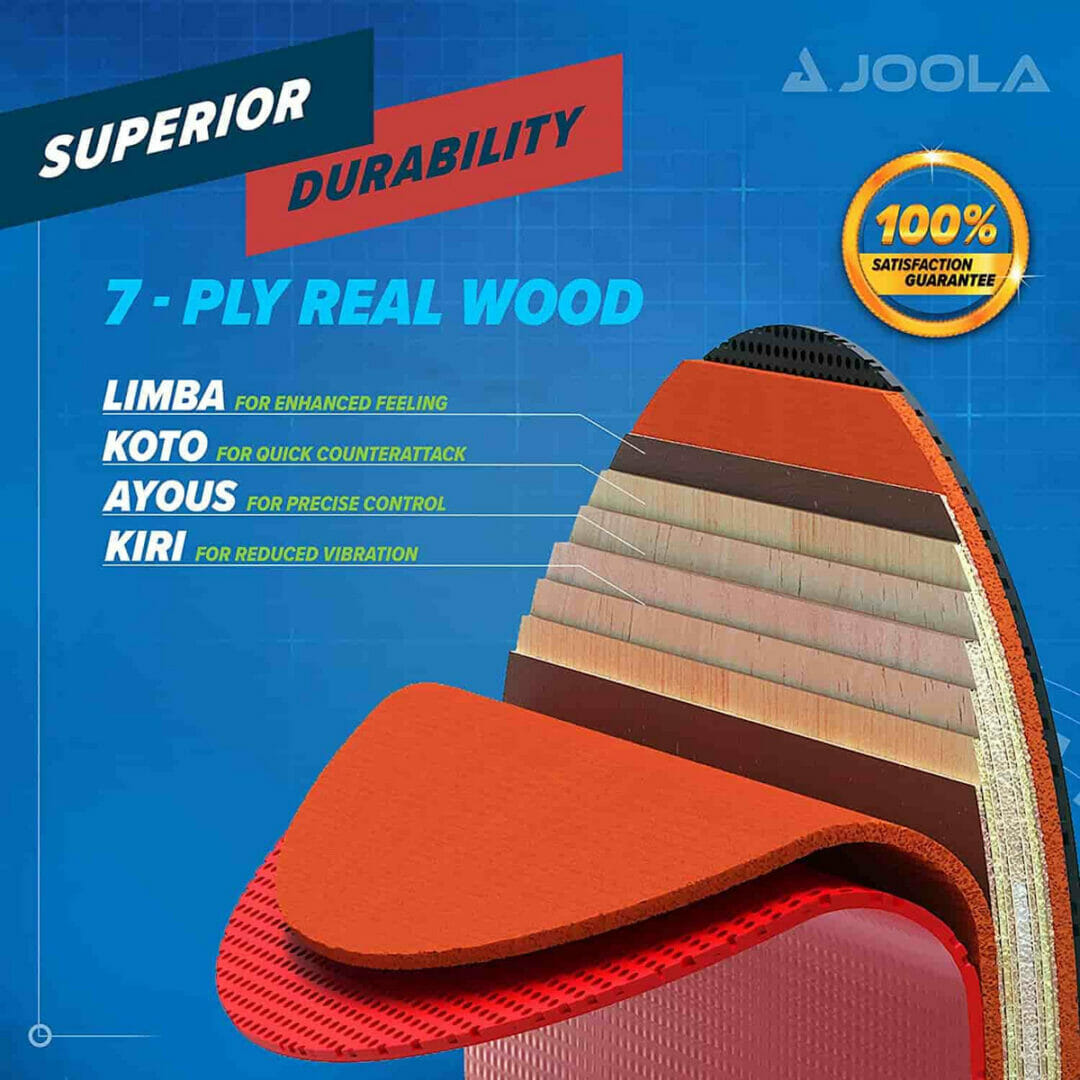 The JOOLA Infinity Balance table tennis racket is a paddle from JOOLA's pre-assembled bat line. This means you are getting a complete bat with a specially selected blade and rubbers.
Blade
Unlike many cheaper paddles, which do not specify their construction, JOOLA details the wood it uses for the Infinity Balance. This cements the fact that the Infinity Balance is a quality blade. It uses Limba, Koto, Ayous, and Kiri, measuring 5.7mm in width. The bat uses a flared handle.
Limba: Obtained from the Terminalia Superba tree. Limba wood is soft and provides control. Yet, despite this softness, it can make a blade feel hard when paired with other veneers. Limba is rather flexible, making it easier to produce spin. Limba also has satisfying acoustic properties and can produce a nice clicky sound when looping.
Koto: A soft wood often found in the outer plies. Its stiffness makes it well-suited for
a fast countering game.
Ayous: Commonly found in blade cores. Ayous is soft, lightweight, and flexible.
Kiri: Also found commonly in the core. Very common among Butterfly blades that are manufactured in Japan. Kiri is soft and lightweight. However, it is harder and heavier than Balsa.
Rubbers
The JOOLA Infinity racket uses Micron rubbers. Formerly, the bat used Method 38 rubbers. Micron is a traditional inverted style rubber that is smooth. The sponge thickness is 2.1mm. Generally, this thickness suits a fast attacking style.
JOOLA Infinity Balance Pros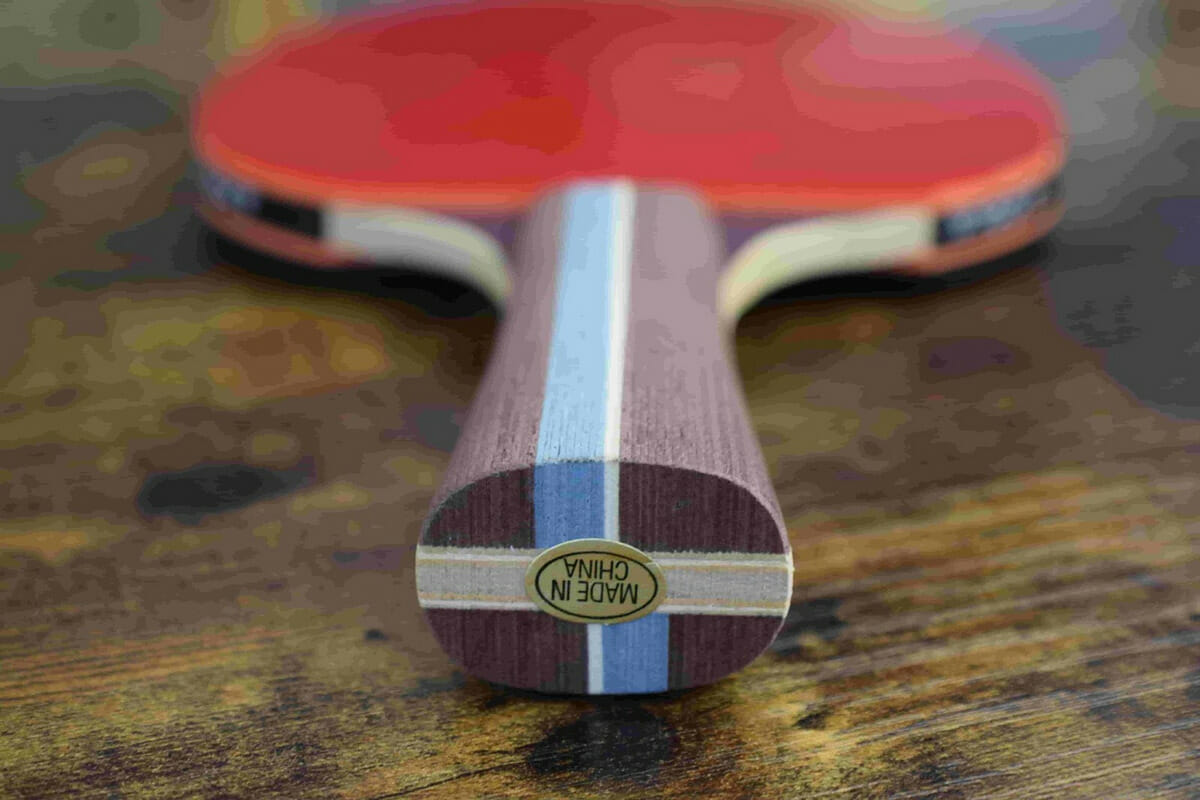 Pros
Inexpensive

Great value for money

Good looping

Fast smashes
It's pretty impressive what JOOLA has managed to pack into such a cheap bat. It's clear you are getting great bang for your buck with the Infinity Balance. It performs well in virtually all areas of the game, and to me, it perfectly suits intermediate players.
Its 7-ply all-wood composition is the perfect stepping stone from 5-ply all-wood to 7-ply carbon-composite blades. This helps preserve feeling and increase pace while not to the extent that it is too quick to handle. Of course, advanced players still might love this bat too. I just find that as quick as the game is these days, many advanced players seek the fastest and spinniest equipment they can get their hands on. And the Infinity Balance is not it. But players who do not follow this trend may very well love this bat.
I felt that I had a lot of control in every facet of the game with the Infinity Balance, even for my smashing, where the blade's pace is most noticeable. I didn't make too many mistakes, and I could kill the ball pretty much as I pleased. I also could easily switch to looping where I felt right at home.
As an intermediate player, you may already be looping to some degree or looking to implement it into your game. The Infinity Balance offers a nice controlled loop with good spin and speed. It's a level I think most intermediate players will be able to handle. Any faster, and it would probably be a better fit for advanced players.
What I like about this bat is how it does everything rather well. It's reliable and effective. No area seems particularly impressive, but similarly, there is no area where it really lets you down. And for the price, that's a damn good deal, in my opinion.
JOOLA Infinity Balance Cons
Cons
Too fast for beginners

Blocking slower shots

Wrong rubbers listed
There are only a few drawbacks to the Infinity Balance. The first is that the rubbers listed are inaccurate, which is not a weakness of the bat itself. As mentioned earlier, it uses Micron rubbers on both sides. However, in the past, JOOLA sold it with Method 38 rubbers. It has yet to be updated on Megaspin's description. I should note, however, that in the product photos, you do see the newer Micron rubbers. Overall this isn't much of an issue.
The main problem I found while using the Infinity Balance is that quite a few of my blocks didn't make it over the net. This was mostly the result of my own tendencies, where I expected the ball to rebound off of the bat faster than it actually did. If, for whatever reason, you are coming from a faster bat, you may find that you also make the same mistake. It only takes a little bit of adjustment, though, and it's business as usual.
An opposing drawback to the Infinity Balance is that it is too fast for beginners. While this is obviously not noteworthy to intermediate players and above, I just don't see a reason why a beginner should choose this bat. It's too fast, and you're much better off going for a slower paddle with a 5-ply blade and more feeling.
About JOOLA
JOOLA is a table tennis manufacturer that has been operating for over 50 years. They produce a range of equipment but are most well known for their table tennis tables. They have been providing them to various organizations for many years, such as North American Table Tennis (NATT) and USA Table Tennis (USATT).
JOOLA has also provided tables for some of the world's biggest competitions, such as the 1996 Atlanta Olympics and the 2018 World Veteran Championships.
Alternative Options
We compared the Infinity Balance head-to-head against 4 other Joola paddles in this range, so check out the video for the full reviews.
JOOLA Omega Strata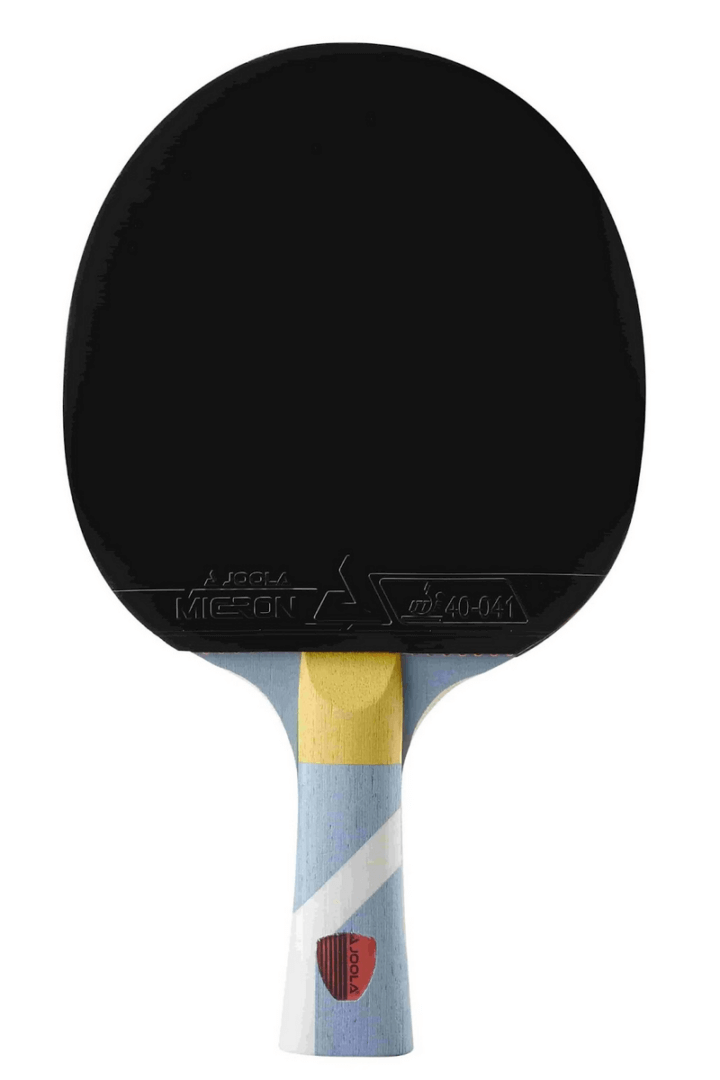 (For our full review, click here)
The Omega Strata is a slower pre-assembled paddle suited for beginners. Priced almost the same as the Infinity Balance, it offers high levels of control and a lot of feeling. Weighing just 166g, it is a solid option for developing players who like to play a controlled game with spinny shots.
JOOLA Infinity Edge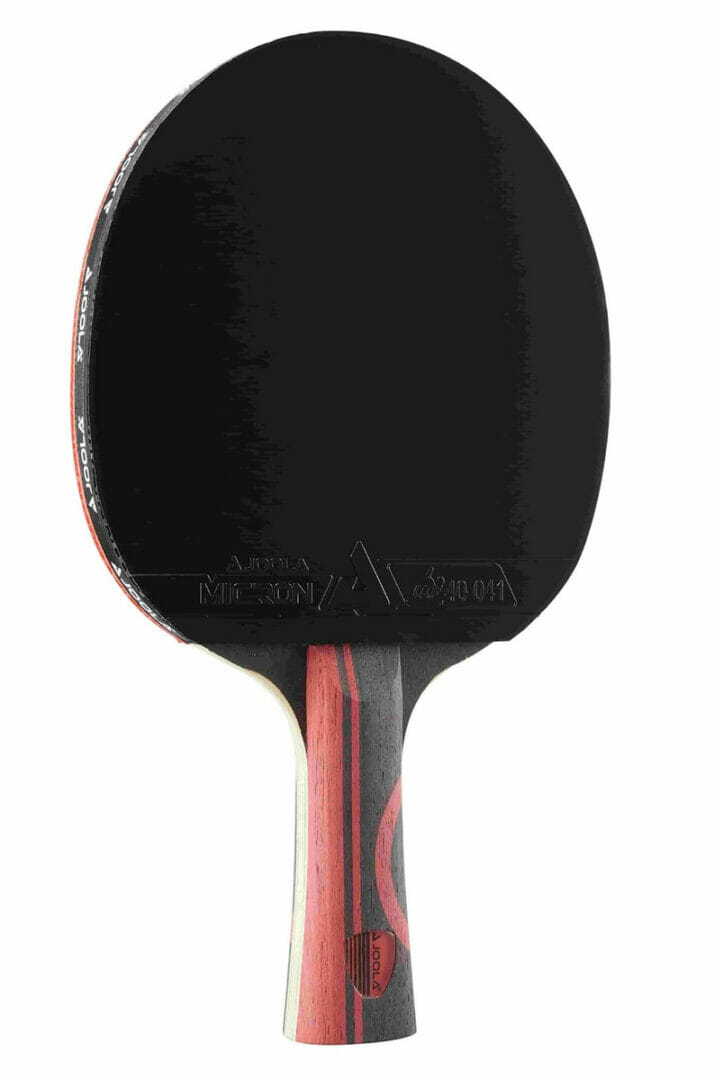 (For our full review, click here)
The Infinity Edge is a more expensive pre-assembled paddle that could be a great fit for intermediate and advanced players. It is faster than the Infinity Balance. This is mostly due to its carbon-composite blade. Its elevated speed is both evident away from the table for more powerful shots and closer to the table when playing defensively. As such, it's harder to control but easier to kill points if you possess good technique.
Conclusion
The JOOLA Infinity Balance is a super pre-assembled paddle that I feel is best suited for intermediate players. If you're at this level and unsure of what to purchase, I whole-heartedly recommend it. That is, provided you play an allround / allround+ style.
The Infinity Balance feels pretty great everywhere, and it can really help speed up your development process. Try to avoid going for carbon blades and super fast rubbers as an intermediate player, as this will slow down your progress as they are pretty difficult to control. They also tend to cost a lot more money  Once again, JOOLA has packed a lot of value into a very inexpensive bat.
You might also be interested in our top table tennis bat cases.

Freelance writer. Table tennis enthusiast. Lover of all things online. When I'm not working on my loop game I'm probably binge-watching some fantasy show.