The Palio Legend 2 table tennis racket is one of our favorite paddles that we've played with. It's an ITTF approved, 5 ply premade bat that has incredible speed and spin so is ideal for attacking players. Whilst having a very fast and powerful paddle can be a good thing in the right hands, it might not be the best bat for you if you're a complete beginner. In this review, we'll take a look at a few of its features and its pros and cons.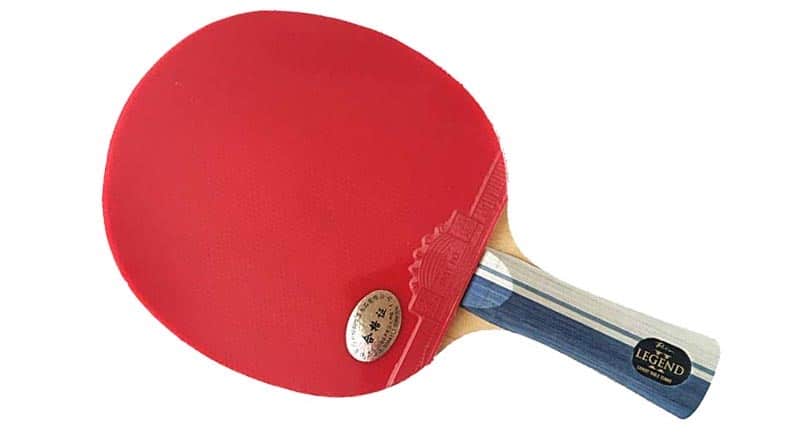 Specifications
Paddle ratings – Speed: 10.0, Spin: 9.0, Control: 6.0
Plies – 5 Ply all wood blade
Rubbers – Palio Hadou on both sides
Sponge – 2.0mm thick sponge
Grip – Flared
ITTF Approved – Yes, you can use it in official tournaments
Price – $$ (Check the latest price on Amazon)
Our rating – 9.5
Overview of the Palio Legend 2
What are the best ping pong paddles of 2022? The Palio Legend 2 is one of our favorites. Check out our video review below.
Features
Very fast: Speed 10/10
The speed on the Palio Legend 2 is big. It's one of the fastest paddles we've played with. The blade is made up of 5 layers of havier ply wood and it weighs a bit more than most of its competitors (around 190 grams) but as a result, packs quite the punch.
ITTF approved tacky Palio Hadou rubbers
On both sides, the Legend 2 has Palio Hadou rubbers which are a high-quality Chinese rubber which is approved by the ITTF for official tournaments.
The rubbers sit on a layer of 2.00mm hard sponge which means that the ball doesn't slow down much when you hit it resulting in more speed (and less control). They are also very tacky which allows you to generate a lot of spin which is very popular with Chinese players. As you hit the ball you want to brush it rather than letting it make full contact with the paddle. Tackiness wise it is comparable to the DHS Hurricane 3 rubbers if you've tried them before.
You can change the rubbers on this bat when they wear out too which is handy but if you clean them and use a paddle case you shouldn't need to very often.
Low control rating: Not suitable for beginners
The Palio Legend has a control rating of only 6.0. This means that it's not going to be suitable for complete beginners. It's a very powerful bat and if you haven't got the basics of playing down you'll find that you can't get the ball to go where you want. When the ball makes contact, it will ping off the blade and go a lot further than you intended! Only once you start to improve your game and get better at controlling the ball and hitting it where you want it to go should you try a bat with such a low control rating.
The handle and grip
The handle on the Legend is a flared grip which is probably the most common type of grip for bats, especially in the west. A flared grip means that the width of the handle will get wider towards the end of the handle. This stops it from slipping out of your hand and is very comfortable.
Comes with a case
Keeping your paddle in the best shape possible requires looking after it, cleaning it and getting a case for it. Thankfully, when ordering through Amazon it comes with a case included which is a nice touch.
About the manufacturer
The Palio Legend 2 is a collaboration between Chinese table tennis brand Palio and Expert Table Tennis. They've joined forces to create a series of pre-made rackets: The Expert 2, The Master 2 and The Legend 2. Each of their products is suited for different players. Being table tennis players themselves though they have designed each bat precisely with the player in mind.
Pros
Very Powerful – It has insane levels of speed getting a rating of 10/10
High-quality tacky rubbers – The Palio Hadou rubbers are very easy to generate high levels of spin so if you're an attacking player you'll enjoy playing with this paddle
ITTF approved – It's ITTF approved so you can use it in official tournaments
Comes with a case – It comes with a paddle case included to store it in
Reasonably priced – Not too expensive and in line with other similar quality paddles
Cons
Low control rating – Depending on your skill level you might find it quite hard to use as the power and spin will make placing your shots difficult
Heavier than other paddles – It's fairly heavy which if you're not used to can put a strain on your hands and wrists
Rubbers can lose their spin – The rubbers can get dusty and lose their spin. Make sure to clean it regularly to stop this from happening
Conclusion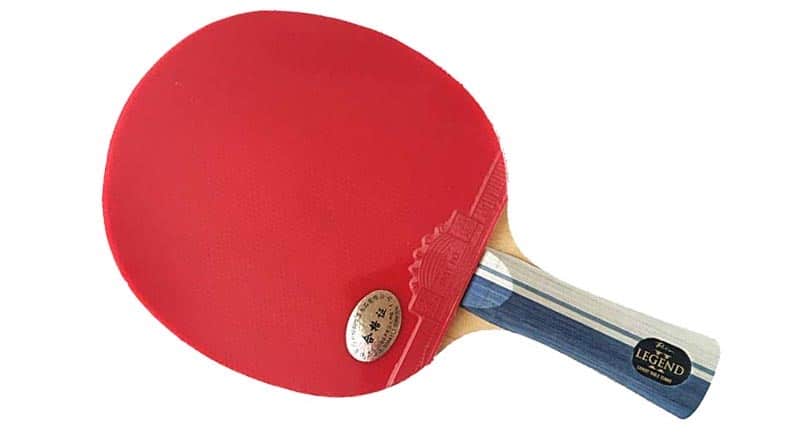 In conclusion, the Palio Legend 2 is a really good paddle that we loved playing with. It's insanely fast and the ball rebounds off the rubbers very quickly. This may or may not be a good thing depending on your skill level. If you're brand new to table tennis we'd recommend picking up paddle with a higher control rating than this one as it wasn't very forgiving. Then when you're more skilled at placing the ball where you want upgrading to something like this.
Another thing you should consider is the fact that you can change rubbers with this paddle. After the rubbers are worn you can keep the high-quality blade and replace it with rubbers of your choice. We love that it comes with a case to store it in which will extend the life of the rubbers too. All in all, this is one of the highest quality pre-made rackets we've tried and it comes highly recommended from us.

Eugene (Gene) Sandoval has been one of those guys who spent too many hours around ping pong tables in high school. However, soon enough, Gene understood that there is more to ping pong than having fun. That is how he started a journey that made Eugene one of the experienced semi-professional ping pong players in the United States. As the founder of the PingPongRuler, Eugene spends most of his time surrounded by ping pong tables and research. He always has this knack for coming up with new ping pong strategies and telling the good and bad equipment apart.