The Yasaka Mark V table tennis rubber is one of the best sellers of all time being used by tens of thousands of players all over the world, including the Olympic champion, Ma Lin. It's a long-lasting, all-around classic rubber that's an ideal option for players in beginner or intermediate level, but it's by no means slow, and it will be a favorite in your table tennis arsenal. Even when you become an experienced player, you'll want to come back to it time and time again.
In this post, we'll give you our Yasaka Mark V review and cover some of the reasons why it's gained so much popularity.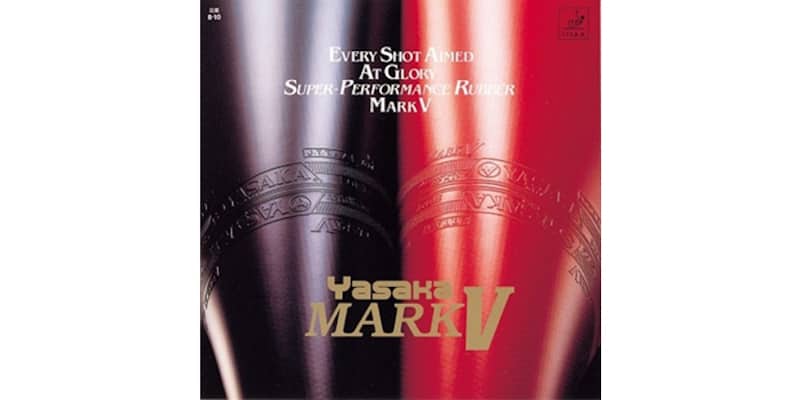 Specs
Thickness (mm) – 1.0, 1.5, 1.8, 2.0 or Max (2.5)
Speed – 80
Spin – 82
Control – 87
Durability – Very good
Hardness – Fairly soft
Yasaka Mark V Overview
If you haven't tried the Yasaka Mark V, we highly recommend you do. It's one of the most popular rubbers in the world and for good reason. It's a pioneer in terms of combining natural and synthetic rubbers in its production, and the Mark V is still one of the best to have ever done that so masterfully. It combines speed, spin, and control perfectly to make a very well-balanced rubber that pairs with almost any blade.
If you are a beginner and looking to develop your backhand looping or forehand spins, there's not a better rubber to start with. Even players who use tensor rubbers like Tenergy models return to the Mark V because of that, and its only competitor in the speed glue sphere might be Butterfly Sriver.
The Yasaka Mark V is available in a number of different thicknesses depending on what style of play you like. You can get it in 1, 1.5, 1.8, 2.0, and 2.5mm (max) thickness options. The thicker the rubber is, the more speed you're going to be able to generate with it, so if you're a beginner, it's probably best to go for thinner options in order to get used to controlling the ball. Most people like the 1.8 or 2.0, so if you're not sure, it's safest to try one of those.
Other models
The Yasaka Mark V is also available in a few other models that you might want to try.
Yasaka Mark V XS – The XS is another model of the Mark V that aims to improve spin without compromising speed. They use different chemicals on the top sheet (called Double Acceleration Technology). As a result, it has a much tackier top sheet and it's also a bit heavier than the regular Mark V.
Yasaka Mark V M2 – The M2 is the latest addition to the Mark V family and it features all the great things that made Mark V so popular in the first place, but this time, with more speed. As a result, it's much harder than the original version.
Yasaka Mark V Racket – You can also purchase a pre-assembled racket that uses the Yasaka Mark V rubbers. It's a 5 ply shake hand blade and it's hugely popular.
What We Liked
Great control – It's ideal as a first rubber choice for beginners who strive for good control but also comes in thicker options for more aggressive players who want more speed and less control.
Long-lasting – It's a very durable rubber that will last you for at least a couple of years.
Great versatility – It Works well in combo with most of the blades. However, if you want to increase its power, it's recommended to pair it with a hard-surfaced carbon blade. In case you are looking for an offensive pairing, we recommend XIOM Axelo.
Very affordable – It's one of the cheapest rubbers on the market: a lot cheaper than its competitors such as Donic and Stiga, and just a bit cheaper than its greatest competitor, Butterfly Sriver. Yet, its quality is on par with those, if not even better.
What Could Have Been Better
Might be too spinny for beginners – For new players, it might spin too much and might require time to adapt.
About the Brand: Yasaka
Yasaka is one of the oldest table tennis brands in the world dating back to 1947 when it was founded by Mr. Hirosi Yaoita and Mr. Sakamoto. The name of the brand is derived from the names of its founders: "Ya" from Yaoita and "saka" from Sakamoto. It wasn't until the 1970s, though, that Yasaka released the Mark V, and since then, it's become one of the most popular rubbers in the world and their flagship product.
Conclusion
To conclude, the Yasaka Mark V is probably one of the best rubber options for those building their first custom bat (buying a separate blade and rubbers) and it presents a great choice for players of all abilities.
It balances speed, spin, and control so well that we highly recommend it to both beginners learning the game and intermediate or advanced players who are trying to up their spin game. Just alter the thickness depending on your skill and what you look for in a rubber, and you'll get what you want. It's even used by world champions and pro players such as Ma Lin and Mattias Falck.
In short, if you're looking for a good rubber that will last for years and help you improve your game, then you should definitely check it out. It's also one of the most affordable rubbers we've come across, which is a huge bonus.

Eugene (Gene) Sandoval has been one of those guys who spent too many hours around ping pong tables in high school. However, soon enough, Gene understood that there is more to ping pong than having fun. That is how he started a journey that made Eugene one of the experienced semi-professional ping pong players in the United States. As the founder of the PingPongRuler, Eugene spends most of his time surrounded by ping pong tables and research. He always has this knack for coming up with new ping pong strategies and telling the good and bad equipment apart.