NOTICE: The Power Pong 5000 has been discontinued and is no longer available. For the most up-to-date best table tennis robots on the market today, check out our Best Ping Pong Robots Buyer's Guide, which we regularly update.
If you're looking for a top of the range table tennis robot that ticks every box and more then you need to check out the Power Pong 5000. It's our number one best rated robot in 2021 and has a whole host of features that make it the perfect companion for any serious table tennis players that want to take their game to the next level.
In this post, we're going to take an up close look at why it's so popular and reveal all of its amazing features in our Power Pong 5000 review.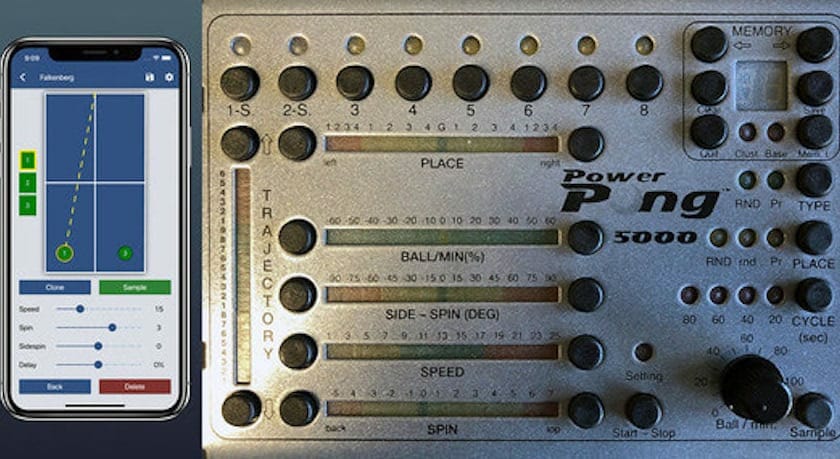 Features and construction
The Power Pong 5000 is easily the most advanced table tennis robot on the market at the moment. It has some incredible features that make it stand out far and above any of the other table tennis robots currently available that we've tried. Below are a few of the features and benefits that stood out to us.
Three-wheel design
The Power Pong 5000 is able to generate every type of spin you could want. And not only types of spin but you can also set how much spin on a scale of 1-10 for every single ball. This is all made possible by the three-wheel design which was is the same as the Butterfly Amicus series of robots.
This unique design means that these robots are incredibly accurate and customizable, plus they can also shoot balls with no spin, a nice feature that not many other robots can do. All this has the effect of making your training seems as realistic as possible and it really feels like you're playing against a real opponent.
Bluetooth mobile app
One of our favorite features about the Power Pong 5000, and one that sets it apart from the other two models, the 2001 and the 3001, is its bluetooth mobile phone app. Instead of only being able to set up drills with the control box, you're able to customize every ball in every single drill from your phone for complete control over your training routines.
And when we say customize every ball we mean it. You can create drills with up to 8 balls with completely different speed, spin, trajectory and placement. And that's just one drill, with the Power Pong 5000 you can store an unlimited amount of drills.
It's easy too, simply select a ball number and drag it around the screen to your desired placement, adjust the speed and spin and you're good to go. Check out the video below to see how easy it is.
The app also makes it a lot easier to choose what drill you're going to work on with a simple tagging and naming system that allows you to search and find which one you want to work on. You can also easily share drills with other players or if you're a coach with your students, all from the comfort of your phone. It works on both apple and android devices and is constantly being updated with new features by the US based development team.
New Control Box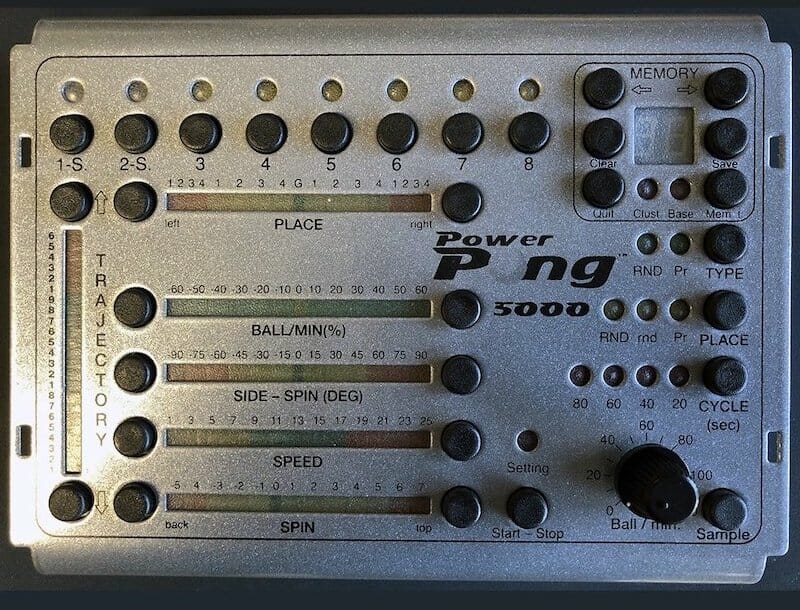 If technology isn't your thing, then don't worry, you can use the state of the art control box instead of the mobile app to set up your drills. While you don't get the same level of customization and drill storage with it, you can still store a lot of drills (99) and can even cluster them.
That being said, the capabilities of the app are so incredible we highly recommend taking the leap to use it as once you're used to how it works you won't go back.
Ball recycling net
If you've used a lower cost table tennis robot before, the chances are it didn't have a ball recycling net which means that you're constantly having to pause to pick up all the ping pong balls to put them back in to the machine.
Not so with the Power Pong 5000. It comes with a ball recycling net that means the balls are automatically fed back into the machine meaning you can train theoretically forever!
3 Year warranty and great support
As you'd expect from such a high end table tennis robot, Power Pong have amazing customer service and support. They have a 3 year warranty on all their products and are sold by Attila Malek, a USATT hall of famer and table tennis coach.
If you have any issues with your robot, simply send it back to them and they promise to fix it or replace it within one day.
As well as great technical support, Attila and his team at Power Pong are happy to help you get started with your new robot. As well as the 12 pre installed drills, they offer to send you a custom tailored set of drills that are bespoke to your individual needs. A nice personal touch.
Other models from Power Pong
The PowerPong 5000 is their top of the range all singing, all dancing model that pulls out all the stops. But as you'd expect, it's quite expensive. Thankfully, Power Pong have two other models that have a few less features but are also more affordable.
They are the Power Pong 3001 and the Power Pong 2001. They aren't compatible with the mobile app and have a few less features like being able to store less drills, not able to generate as many types of spin etc. This video from Samon Dubina explains the differences really well.
To check them out in more detail check the links below.
PowerPong 2001 – USA Store / UK store
PowerPong 3001 – USA Store / UK Store
Where to buy the Power Pong 5000
If you're ready to buy then depending on where you live there are a few options for purchasing. We recommend purchasing from a trustworthy retailer with decades of experience in selling table tennis robots like Megaspin. Their dedication to customer service is fantastic and they ship products very quickly.
The other option is purchasing direct from PowerPong. Their North American website is powerpong.org and their UK website is powerpong.co.uk
Pros
Free balls – It comes with 100 free 3-star Power Pong balls with purchase
3 year warranty – Amazing customer support with a 1 day fix or replace policy
Unlimited memory for drills – Store an unlimted amount of drills with the mobile app
Comes with pre-programmed drills – Comes with 12 pre installed drills and they'll send you bespoke drills for your needs when you first purchase
Complete control – Control speed, spin and placement of every single ball
Ball recycling net – Play forever with the high quality ball recycling net
Cons
Expensive – It's one of the priciest table tennis robots on the market
Conclusion: Is it worth the money?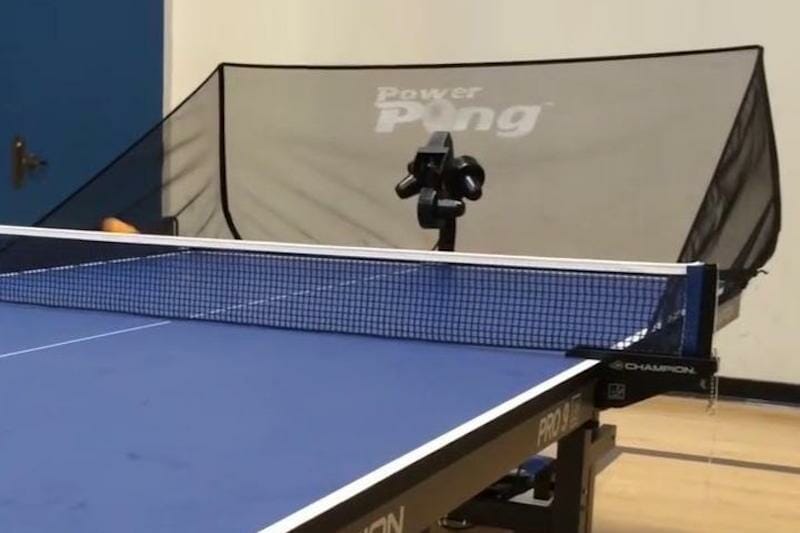 All things considered, the Power Pong 5000 is by far our favorite table tennis robot that you can buy right now. It's got so many incredible features and the fact that it's so customizable is awesome. The training possibilities with it are infinite. Not only that, the support and warranty that Power Pong offers is second to none and you can tell they really care about not only their brand and reputation, but their customers and their experience using Power Pong products.
A very easy recommendation to make to anyone wanting to try the best table tennis robot. Check it out below

Eugene (Gene) Sandoval has been one of those guys who spent too many hours around ping pong tables in high school. However, soon enough, Gene understood that there is more to ping pong than having fun. That is how he started a journey that made Eugene one of the experienced semi-professional ping pong players in the United States. As the founder of the PingPongRuler, Eugene spends most of his time surrounded by ping pong tables and research. He always has this knack for coming up with new ping pong strategies and telling the good and bad equipment apart.