8 Best Backhand Rubbers for All Players
Let's talk about backhand rubbers. While some players are content using the same rubber for backhand and forehand, others like to experiment — to mix and match to find rubbers that suit their unique playing styles.
After all, while we perform strokes on both sides of the paddle, the backhand and forehand are wildly different.
The backhand stroke is shorter than the forehand and uses more of the wrist and forearm. As such, softer rubbers are often favored, but not always. You also should avoid rubbers that are too slow if you are an attacker. I evaluated backhand rubbers for speed, ITTF approval, and overall value. Below, I also break down the results for offensive and defensive players.
Ready for the results? Here are the best backhand rubbers:
Why You Should Trust Ping Pong Ruler
We here at Ping Pong Ruler pride ourselves on being one of the best reliable table tennis information sources. I, for one, have been a table tennis player for over 10 years and have worked my way up from the bottom to compete in national competitions. 
All reviews are based on our own opinions, and I've done my best to select a range of rubbers so there will be at least a few that will appeal to you, no matter your style.  
Best Backhand Table Tennis Rubbers for Offensive Players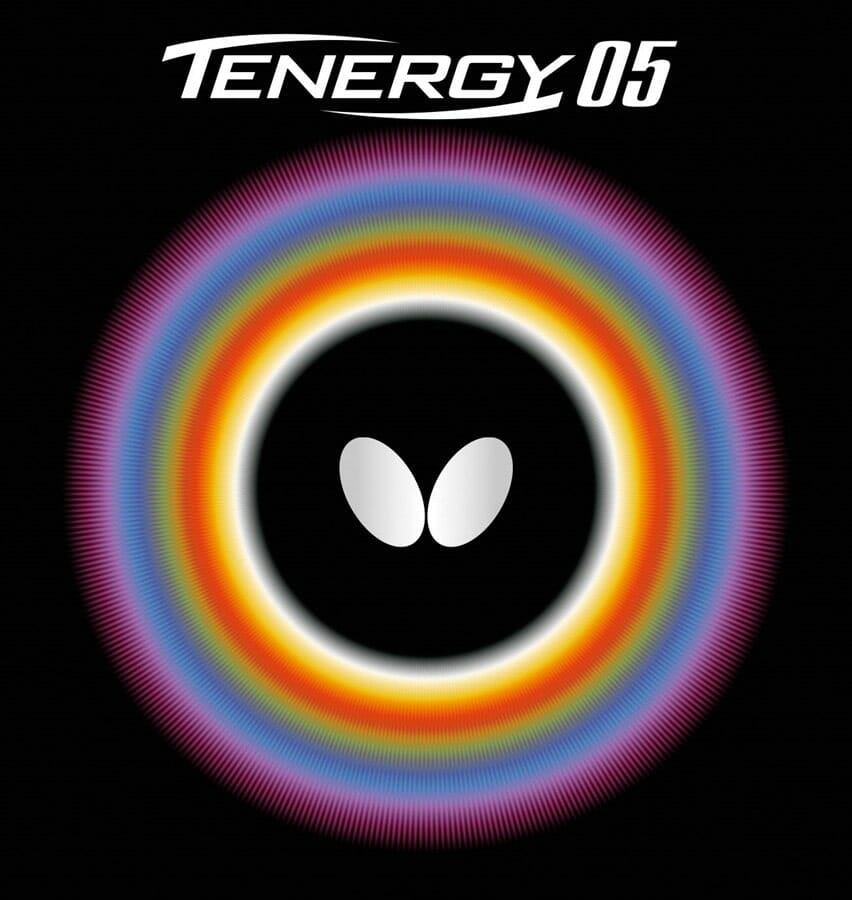 Specifications
Ratings: Speed 9.3, spin 9.4, control 8.4
Thickness: 1.7 mm, 1.9 mm, 2.1 mm
ITTF Approved? Yes
Price: $$$
Rating: 9.3
Pros
Very popular with professionals
Very spinny
Very fast rubber
Cons
Expensive
Poor control
The throw angle is a little high for backhand
Unsurprisingly, the most popular rubber of all time, Tenergy 05, makes the list as one of the best backhand rubbers on the market for 2023. As an explosively fast rubber, Tenergy 05 gives you all the speed you need for the more contained backhand strokes. This makes it one of the best rubbers for backhand flicks.
It is medium-hard and has a high throw angle. Personally, I prefer a lower throw angle, but to each their own. Tenergy 05 is versatile and works well on both the backhand and forehand side. Moreover, it's been the backhand rubber of choice of many professionals for years, and I see this continuing into the future.
The main two caveats to Tenergy 05 are its control and cost. Since it's so fast and spinny, it's hard to control. Even offensive players may want something a little more controllable on their backhand. Tenergy 05 is also one of the most expensive rubbers you can buy. It is undoubtedly a good offensive backhand rubber, but it may be better to look elsewhere if you are on a budget. For a more detailed look at this rubber, check out our Tenergy 05 review.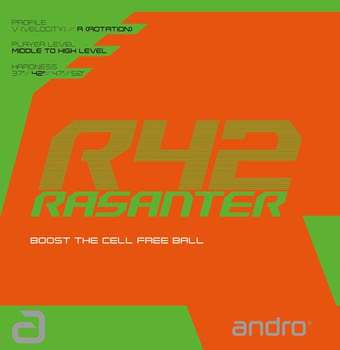 Specifications
Ratings: Speed 9.2, spin 9.4, control 9.3
Thickness: 1.7 mm, 2 mm, ultramax
ITTF Approved? Yes
Price: $$$
Rating: 9.3
Pros
Very spinny
Very fast
Medium-soft feels great for backhand
Long-lasting
Cons
Not as quick as the fastest rubbers
Since I'm a huge fan of the Rasanter series, either R42 or R37 would inevitably make this list. I chose to go with R42 over R37, as the latter is very soft — probably too soft for most players.
Rasanter R42 is a fast, very spinny rubber suited for the offensive modern-day looper. Created as a successor to the Rasant series, it addresses the plastic ball change. This saw the top sheet reduce in thickness, while the sponge thickness increased.
R42 offers sizeable dwell time, making it a great backhand rubber choice. If you are a particularly spinny player, you should have no trouble winning points from backhand loop openers against backspin. Rasanter R42 is one of the spinniest rubbers available and has a medium-high throw angle.  
Durability is another area in which R42 shines. It is very long-lasting, saving you money in the future since you won't need to replace the sheets as often. Check out our review of Andro Rasanter R42 for more information.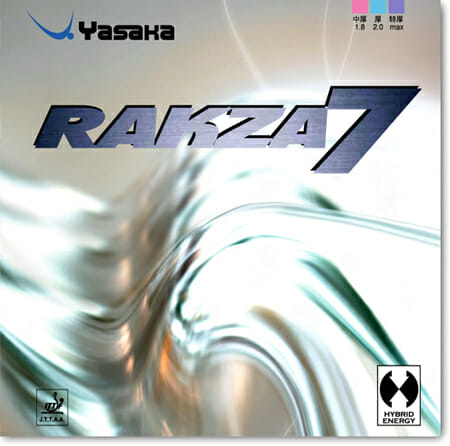 Specifications
Ratings: Speed 9, spin 9.3, control 8.9
Thickness: 1.8 mm, 2 mm, max
ITTF Approved? Yes
Price: $$$
Rating: 9.2
Pros
Well-priced
Very fast
Very spinny
Cons
Not as quick as the fastest rubbers
Rakza 7 plays very similarly to Rasanter R47 (my personal rubber), and it's a bit harder than Rasanter R42 above. Despite being out for a long time, it is still one of the most popular backhand rubbers for 2023.
It's got everything you need as an attacker, great spin, speed, and control. Like Tenergy 05, it's medium-hard, so it doesn't hold the ball for a particularly long time. You also get a much lower throw angle than Tenergy 05, making it a better backhand rubber for some. In fact, it's one of the best backhand rubbers in table tennis right now.
If Rakza 7 sounds like it might be for you, consider reading our full break-down.
Best Backhand Rubbers in Table Tennis for All-Round Players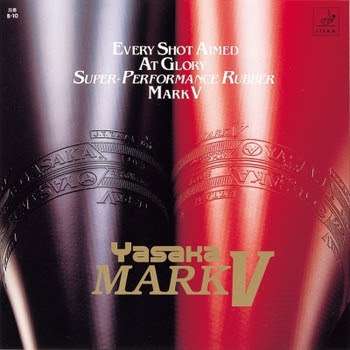 Specifications
Ratings: Speed 8, spin 8.2, control 8.7
Thickness: 1 mm, 1.5 mm, 1.8 mm, 2 mm, max
ITTF Approved? Yes
Price: $
Rating: 8.6
Pros
High control
Versatile
Inexpensive
Great for intermediate players
Cons
Not lively enough for advanced players
Yasaka Mark V is a staple of table tennis. It's one of the most popular rubbers of all time and is suitable for almost all players (only beginners should avoid it).
Sporting a sponge of medium hardness, Yasaka Mark V plays in a very predictable way. The throw angle is medium. It lacks the springy catapult effect of modern rubbers, which makes it easier to control and gives you more confidence in playing your strokes. Mark V is a good forgiving rubber for the backhand.
Available in 1 mm through to max, you have a great deal of customization at your disposal. Despite the lack of speed even in the higher thicknesses relative to other rubbers, Mark V has still shown its quality on the world stage. It's helped many players, such as the great Ma Lin, win world titles.
Yasaka Mark V is a solid choice for players who don't want top-notch speed and want their rubber to last. It's renowned for its durability. It's also one of the more affordable rubbers. Read our review of the Yasaka Mark V for more insight into it.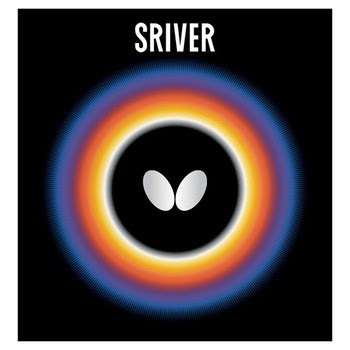 Specifications
Ratings: Speed 8, spin 8, control 8.5
Thickness: 1.5 mm, 1.7 mm, 1.9 mm, 2.1 mm, max
ITTF Approved? Yes
Price: $
Rating: 8.5
Pros
High control
Available in multiple thicknesses
Solid option for attacking and defending
Inexpensive
Cons
Spin and speed well behind the top rubbers
Rated and priced very similar to Yasaka Mark V, it's a close call between these two rubbers. Sriver has been a long-time favorite and bestseller among Butterfly players. This rubber has helped players secure over 20 World and 70 European Titles.
Sriver is available in several different thicknesses, allowing you to cater to your specific style. The 1.5 mm version is a great choice if you lean towards defending, 1.7 mm/1.9 mm is best for true all-round players, and 2.1 mm+ is for all-round players who need an attacking edge.
As far as all-round rubbers go, Sriver is a perfect fit. It may be an old-generation rubber, but it doesn't need the newer technologies developed mostly for the highly offensive style — it's not that kind of rubber. If you want to block more, I would go for Sriver. Yasaka Mark V is a slightly better choice if you want a bit more pace.
To learn more, read our Sriver review.
3. Donic Acuda S3 — Softest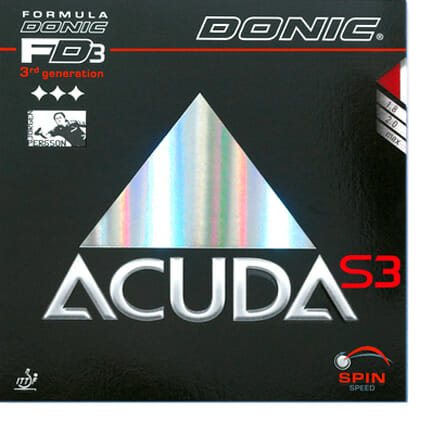 Specifications
Ratings: Speed 8.4, spin 9.1, control 8.7
Thickness: 2 mm, max
ITTF Approved? Yes
Price: $$$
Rating: 9.0
Pros
Top pick for players who like soft rubbers
Very spinny
Good control
Cons
Will be too soft for most players
Acuda S3 is an offensive-/all-round+ rubber. It is notably slower than the likes of Tenergy 05 but quicker than Sriver and Mark V. What makes this rubber unique is its soft sponge which gives you a lot of dwell time.
Back when I was competing a lot at county level, the Acuda series was very popular with players. As I recall, Acuda S1 and Acuda S2 were the most common. However, I feel S3 is a great backhand choice. Not only is it great for flicking and looping. But it also excels in the blocking department, so you can comfortably defend between your attacking spells.
Best Table Tennis Backhand Rubbers for Defensive Players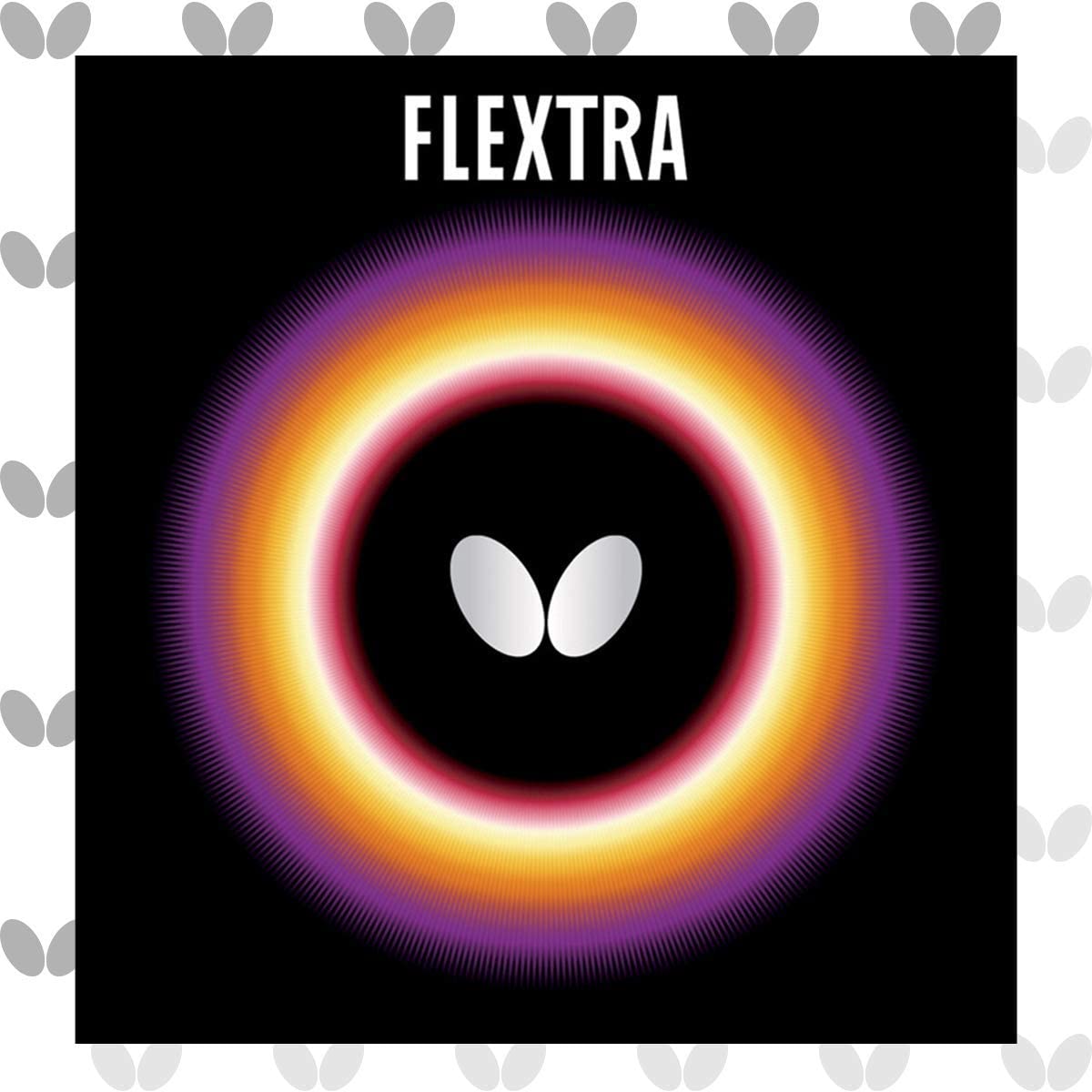 Specifications
Ratings: Speed 7, spin 7.4, control 8.7
Thickness: 1.9 mm, 2.1 mm 
ITTF Approved? Yes
Price: $
Rating: 7.8
Pros
Very cheap
High control
Great choice for a first custom rubber
Cons
Limited attacking potential
If you don't want to deal with pimples and instead chop with a standard inverted rubber, Butterfly Flextra is a good choice. This rubber has been around for a long time which has helped bring its cost down — it's the cheapest rubber on this list by a long way. 
Control is the focal point of this rubber, as is often the case with those designed with chopping in mind. It also doesn't have too much spin or speed, so you should find it easy to keep the ball on the table.
I feel like it's a great choice for somebody looking for their first custom rubber as it isn't too difficult to use, and by employing a chopping game, you can help keep yourself safe by preventing smashes. Equally, a seasoned chopper may find Flextra adequate as it's one of the best backhand rubbers for control. However, I expect such players would probably want a little more spin.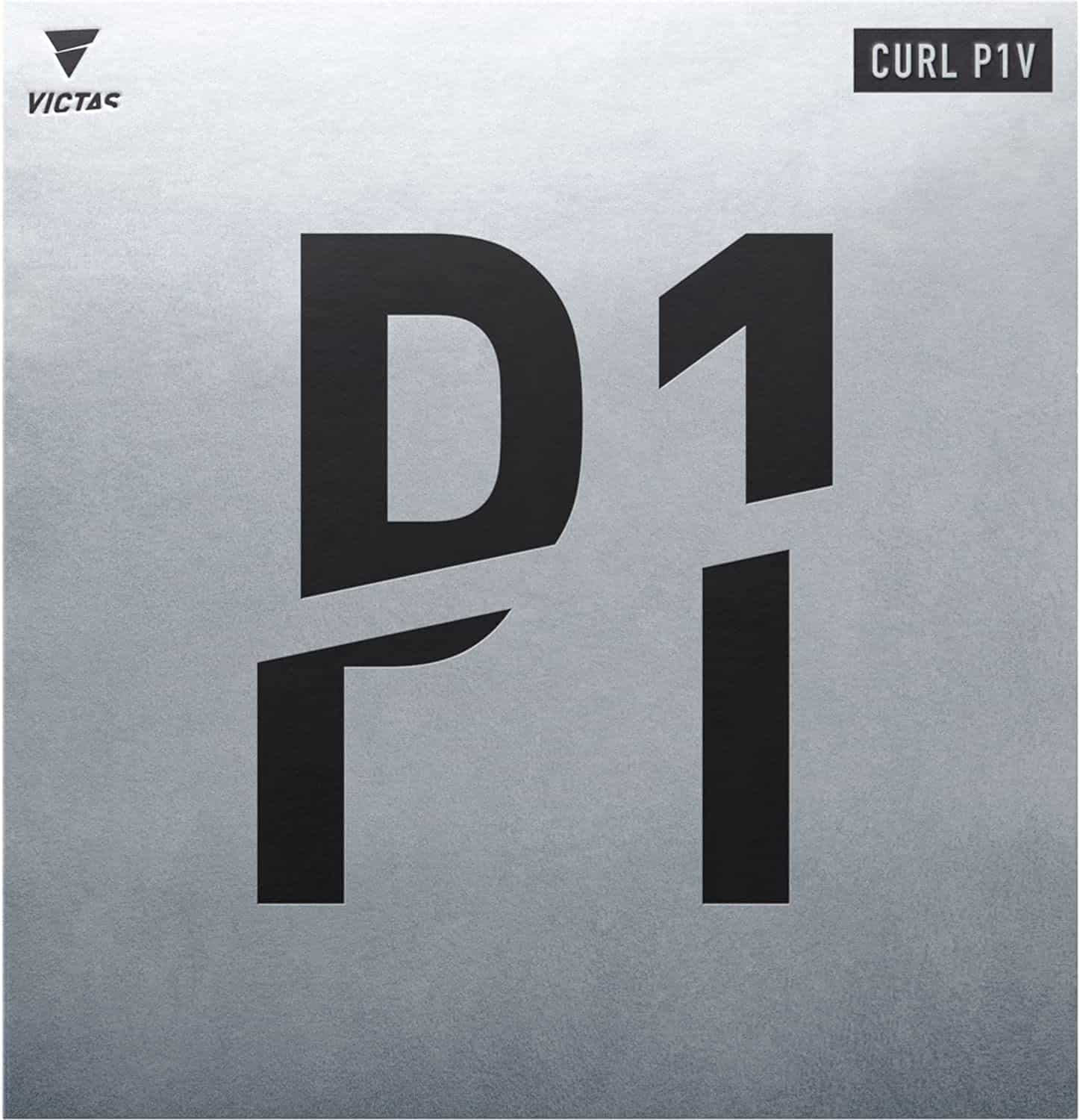 Specifications
Ratings: Speed 5.6, spin 6.5, control 7.5
Thickness: 0.5 mm, 1 mm, 1.5 mm
ITTF Approved? Yes
Price: $
Rating: 8.5
Pros
Very popular with professionals who chop
Deceptive
Well-priced
Cons
Very difficult to attack with
Formerly known as TSP Curl P-1R, Victas Curl P1V is a great choice if you're after a long pimple rubber. The Curl line is very popular with table tennis professionals, and outstanding players like Joo Saehyuk and Suh Hyowon use it. Once banned by ITTF regulations, Victas Curl P1V was reworked to make it legal once more.
It has among the softest and longest pips of the Curl rubber series, which helps it play very deceptively. This will make you a tricky player to deal with. Curl P1V can reverse spin well, turning backspin into topspin and vice-versa.
Victas Curl P1V is attractive, meaning you can splurge on your forehand rubber if you want to. I recommend pairing it with an inverted model to make your game extra tricky. You can then twiddle your paddle between the two to try and force a mistake out of your opponent.    
How Does Backhand Differ From Forehand?
I'm going to begin by getting the obvious out of the way. You play backhand strokes in front of your body, whereas you perform forehand strokes to the side. This, in turn, creates different mechanisms for each shot.
The stroke is far more contained as you strike the ball in front of you on the backhand side. This restricts your waist rotation, forcing you to generate speed and spin using mostly your elbow and wrist.
Forehand, by comparison, allows for much larger strokes as you strike the ball to the side of your body. This means you not only use a lot of elbow, but also more hip rotation and legs. As such, the forehand tends to be a much more powerful stroke, and this is the reason why the vast majority of players prefer it.
What Makes a Good Backhand Rubber in Table Tennis?
Ultimately, personal preference will decide the properties of your choice of rubber; but players should follow these general rules when looking for the best table tennis rubber for backhand.
First, you want a good amount of rubber speed. As mentioned earlier, backhand strokes are far more contained than forehand strokes. This means you need a little more help from the rubber in the higher gears for backhand strokes.
Most players also prefer a slightly softer rubber on their backhand side compared to their forehand. The softness allows you to be more versatile and gives you greater dwell time on your shots. But don't go too soft or the rubber could feel uninspiring.
In terms of throw angle, I would say this is one of the more subjective areas. Most of the time players prefer a medium throw angle. Why? Because players want to play more directly with shots, such as with flicks. You don't necessarily need a heavy arc on your backhand shot — it is rarer to loop from a low position on your backhand compared to your forehand.
Also, Chinese rubbers are great for the forehand but aren't ideal for the backhand. This is because you must generate a lot of power to use them effectively. Most people just won't be able to use Chinese rubbers to their full effect on the backhand side.
Frequently Asked Questions
What Rubber Is Best For Backhand?
The best rubbers for backhand depend on your style of play. For attackers, Tenergy 05 is a very good choice. It has the spin and speed required to play lethal backhand strokes. Allround players, on the other hand, are better off with a rubber such as Mark V or Sriver as they offer far more control
What Rubber Does Ma Long Use on Backhand?
Ma Long is currently using Hurricane 3 NEO on his backhand side. This is strongly advised against for most players as Chinese rubbers require a lot of power to use properly. You only tend to see them on the forehand side. But as Ma Long is the best player in the world, he has the skill to use it effectively.
Is Tenergy 05 Good for Backhand?
Tenergy 05 is a super rubber for the backhand, but its explosive power and high throw angle may deter some players. Personally, I feel it is better suited to the forehand side, but it's so great that you can use it on both. If you want a more direct Tenergy rubber, check out Tenergy 64.
How Do I Keep Rubbers in Top Shape?
To keep your rubbers in great condition you should avoid getting them dirty. The best way to do this is to store your bat in a case when you are not using it. You should also clean your rubbers after every session. You can do this by wiping them with a sponge and rubber cleaner.
Is a Soft or Hard Rubber Better for the Backhand?
For most people, a softer rubber is better than a hard rubber for the backhand. This is because the backhand stroke is very different from the forehand. It's much shorter and you use less body, relying more on your forearm and wrist. Soft rubbers complement this type of stroke more than harder sponge rubbers do.
Should I Use the Same Backhand Rubber as Forehand?
Most players use different rubbers on their backhand compared to the forehand. This is because the mechanics of each stroke is different. Generally speaking, you'll want a softer-feeling rubber than on your forehand side which has a good amount of speed.
Closing Thoughts
Most people have different rubber requirements on their backhand compared to their forehand due to the fundamental differences of the strokes. Hopefully, this guide has presented you with some rubbers that may be of interest.
In our opinion, the best backhand rubber in 2023 is Tenergy 05. Its high spin and speed give you all the tools you need to execute stellar backhand shots. The pros love it for a reason, and if you're a skilled attacker, you likely will too. 
As for an all-round rubber. I feel Mark V is the best rubber for the backhand. It's softer and slower than Rakza 7, making it far more manageable. As such, it's a great choice both for advanced and intermediate players. Rakza 7, on the other hand, is only the right backhand rubber for advanced folks due to its high spin and speed.
Want to learn more about our favorite rubbers? Read our review.

Freelance writer. Table tennis enthusiast. Lover of all things online. When I'm not working on my loop game I'm probably binge-watching some fantasy show.