Where would we be as players without the top ping pong brands that have provided us with quality equipment over the years? These table tennis companies deserve some recognition. And this article focuses on giving the best ping pong brands their due.
There are tons of great table tennis manufacturers out there, and each provides its own unique equipment after repeated testing. Be it rubbers, blades, tables, or whatever else, these table tennis companies push the boundaries with what they can deliver. Today I will take a closer look at the top table tennis brands, covering their history, interesting facts about them, and their top equipment.
Butterfly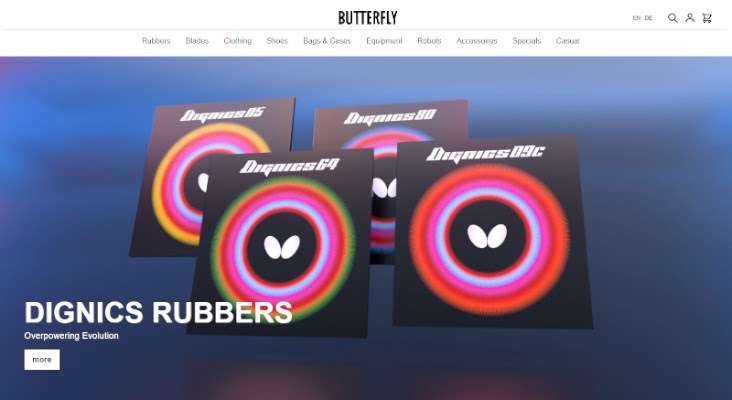 Butterfly was founded on December 19th, 1950 by Hikosuke Tamasu, a famous Japanese player. It was a dream of his to produce table tennis merchandise and he felt strongly about developing equipment to cater to individual styles.
Butterfly's first major success was the release of Sriver in 1967, an all-round rubber still used today. Much later, in 2000, the Bryce series followed, which also proved to be very popular. However, the creation of a new technology known as "springe sponge" would lead to Butterfly's most popular line yet: the Tenergy series. Released in 2008, the Tenergy series is known by many as the most popular rubber series of all time.
Butterfly also produced an incredible range of carbon blades. Though on the pricier side, they are well worth the investment. There is no doubt that Butterfly is one of the best table tennis brands around.
Sponsored Players: Timo Boll and Tomokazu Harimoto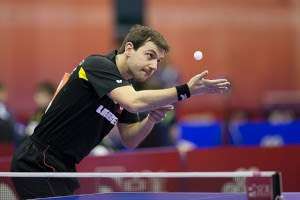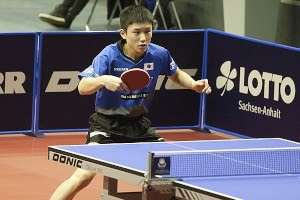 Featured product: Tenergy 05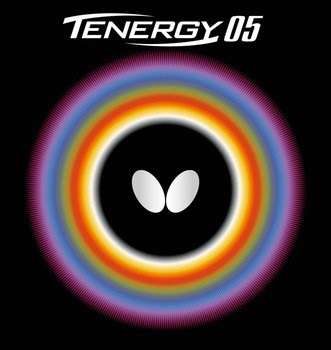 Tenergy 05 is easily the most popular rubber Butterfly has released. Even now, at over a decade old, it is still one of the best rubbers you can buy.
It's fast, spinny, and sports a high throw angle. Read a full review of Tenergy 05 rubber.
Stiga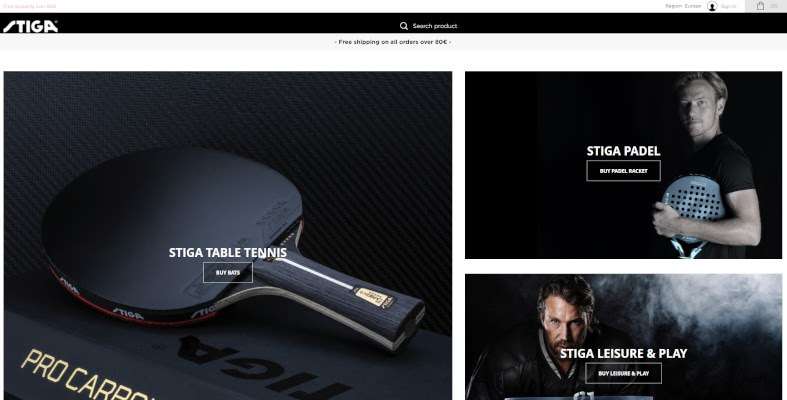 Stiga, or Stiga Sports as it is now officially known, is a table tennis brand that has been producing equipment since 1944. They have since branched out into other areas, such as table hockey and lawnmowers. They have a presence in an estimated 40 countries worldwide.
Based in Eskilstuna, Sweden, they produce all of their blades on-site to maintain strict quality control. Initially, Stiga only produced ready-made bats, but it didn't take long for them to produce individual pieces of equipment.
As the largest table tennis manufacturer in Sweden, it was only natural for Stiga to form a close bond with the Swedish National Team — one of the most successful teams in the world. In 2003 they signed a 10-year deal, which was later extended by another seven years in 2013.
Over the years, Stiga has produced many exceptional rubbers such as Boost and Calibra; but, it is their blades that they are the most well known for. Where many manufacturers have focused on carbon blades, Stiga has a plentiful range of all-wood blades. These have a superior feeling and provide more feedback. We have a Stiga ping pong paddles guide that breaks down the top rubbers and blades that Stiga currently has available.
Sponsored Players: Xu Xin and Doo Hoi Kem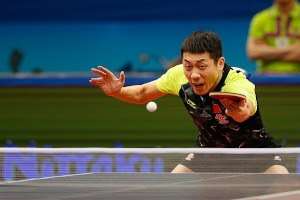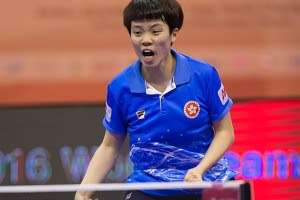 Featured Product: Rosewood NCT V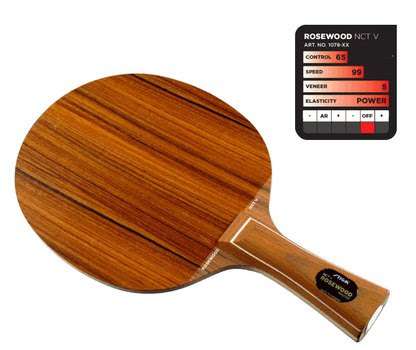 The Stiga Rosewood NCT V is a premium all-wood blade that is a joy to look at. It suits players with a fast style and who want to feel the ball when struck. The Rosewood also offers a decent amount of control, considering how fast it is.
DHS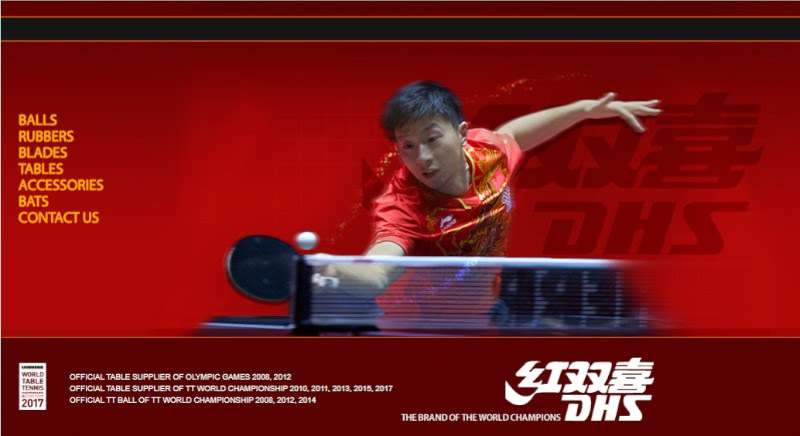 DHS is a large ping pong brand based in China. They specialized in table tennis balls for a very long time and as such, have produced many of the best balls to date. DHS has had the luxury of being the supplier for numerous Olympics Games and World Championships.
However, they excel in many other areas besides ball production. For starters, their rubbers are exceedingly popular in China, especially for the forehand. They have released many popular lines such as Hurricane, TG Skyline, and Hurricane Neo. In fact, in 2010, the use of DHS rubbers on the forehand side for national Chinese players reached a staggering 92%!
They also have several popular blades, such as the Hurricane 301 and Hurricane Long 5. The usage of DHS blades in the Chinese National Team peaked at 40% in 2009.
Sponsored Players
DHS is one of the few companies that don't advertise the players they sponsor. They have a very minimalistic website that doesn't include this information.
However, I did manage to find an interview with DHS from 2019, where they state that they sponsor many players on the Chinese National Team. This is hardly surprising given how many Chinese players use their equipment. DHS also stated they sponsor a handful of players outside of China.  
Featured Product: Hurricane 3 National (Orange Sponge)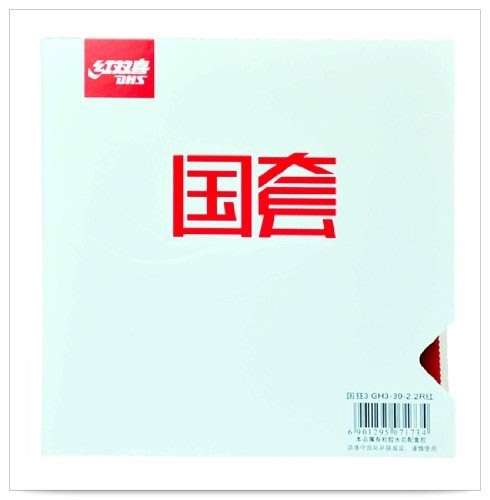 Hurricane 3 National is a very popular rubber often used on the forehand side, a rubber that can produce large quantities of spin. The national edition is an upgrade on the regular Hurricane 3 and is widely used by the Chinese National Team as the name suggests.
The rubber is also available with a blue sponge.
Donic

Donic is a German-based table tennis company that set up shop in 1978. The company is named after its founder: Doktor Nicklas. He took the first two letters of his first name and the first 3 of his second and joined the two to form DONIC. He shortly parted ways with the company in 1984, selling it to the Schreiner family when he relocated to Sweden.
After the passing of his father Karlheinz, Frank assumed leadership of Donic, signing Jan-Ove Waldner and Jörgen Persson as brand ambassadors. The pair were top players in the world at the time, and the signing helped Donic gain more reputation.
The company has an extended deal with the German Table Tennis Association. They have been the official supplier of its national teams from 1994 to 2010.
Donic has a super range of both rubbers and blades. More recently, they really seem to have expanded their rubber range with many iterations of Acuda, BlueGrip, and BlueStorm
Sponsored Players: Jan-Ove Waldner and Jörgen Persson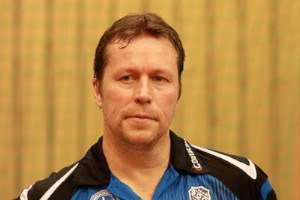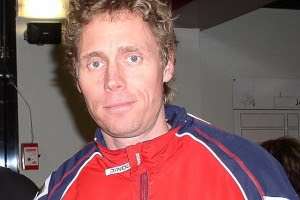 Featured Product: Donic Waldner Senso Carbon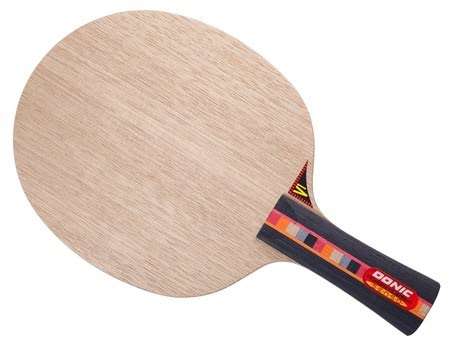 Based on the immensely popular Allplay blade, the Waldner Senso Carbon is a blade of legendary status. Used by Jan-Ove Waldner himself, the blade has attracted many players' interest worldwide.
The Waldner Senso Carbon is a seven-ply blade: five plies of wood and two of carbon. It features hollow handle technology and has an elastic layer to give you more feedback when you hit the ball. In terms of speed, it is quite fast, but nowhere close to the fastest blades on the market. Instead, its control is very high, a trait Waldner needed in his game that involved a lot of blocking.
Yasaka

Yasaka was formed in 1947. Like Donic, the founders took the first few letters of each of their names to create the word Yasaka. The company grew rapidly in the 1950s thanks to the release of Yasaka original, a soft controllable rubber.  
But the release of Yasaka Mark V two decades later is what really put Yasaka's name on the map. The rubber facilitated many title wins and it is still popular today. Yasaka Mark V is available in 1mm through to Max, so there is a great deal of customization possible with this rubber. Control is its most dominant quality, but speed and spin are also fairly high.
In today's game, Yasaka's newer series, Rakza, is its most popular line. Beginning with Rakza 7 and Rakza 7 Soft in 2010, then Rakza 9 in 2012, followed by Rakza X in 2014.
Sponsored Players: Ma Lin and Mattias Falck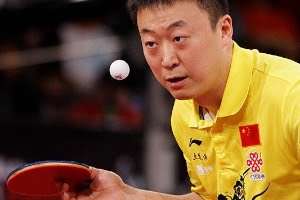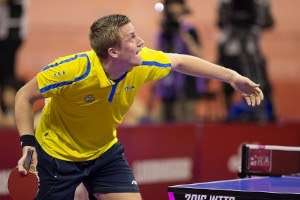 Featured Product: Rakza 7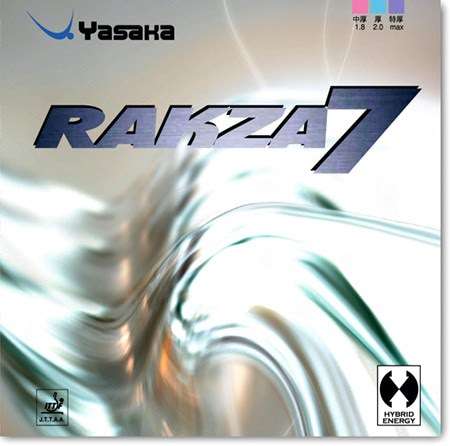 Despite Mark V being one of Yasaka's best-selling rubbers, we have chosen to go with Rakza 7 for our featured product. In a table tennis game that is getting faster year on year, most players need a faster rubber than Mark V to keep up with the pace.
Rakza 7 is super speedy with lots of control. It is much more forgiving than most offensive rubbers and is suitable for all-round or offensive players. Read the full review of Yasaka Rakza 7.
JOOLA

JOOLA is a German-based table tennis manufacturer formed by Karl Frey in the 1950s. Originally, Karl owned a department store known as Jooss in Landau. which had produced early table tennis tables. After much success, he decided to form a specialized department within the company purely for table tennis table production.
The success continued, and Karl saw it fit to break away and create an independent company, relocating to Godramstein in 1963. The company, JOOLA, flourished in its new setting and quickly maxed out production capacity even after taking control of new buildings for manufacturing.
JOOLA also produces quality equipment besides tables. One of their most popular blades is the Rossi Emotion, a carbon blade developed with the help of German player Jorg Rosskopf. In terms of rubbers, they have many great choices such as Rhzym-P, X-Plode Sensitive, and Dynaryz ACC.
We also reviewed some of the Joola mid-range paddles recently:
Sponsored Players: Yue Wu and Lily Zhang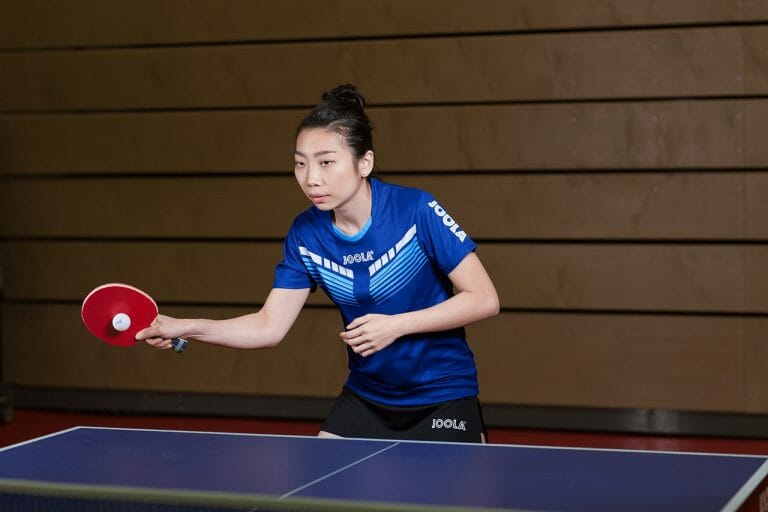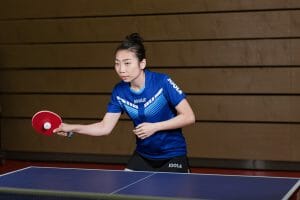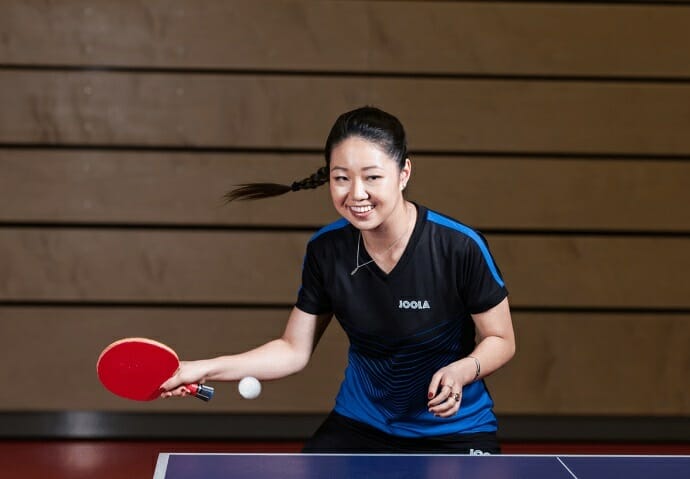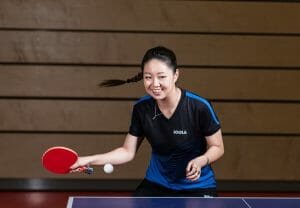 Featured Product: JOOLA Tour 2500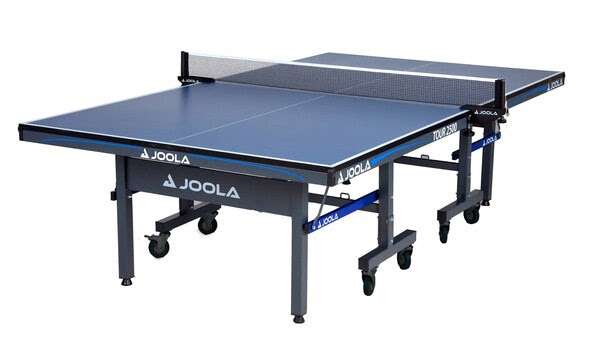 It only felt natural to feature a table instead of a blade or rubber as JOOLA's featured product, since they've produced so many great JOOLA ping pong tables.
At 25mm, the JOOLA Tour 2500 has a superior bounce to most tables that you will find — it meets tournament standards. It is also well-built, folds for easy storage, and comes 95% pre-assembled. If you want a quality table to improve your game the JOOLA Tour 2500 is the ideal choice. Check our full review of the JOOLA Tour 2500.
Andro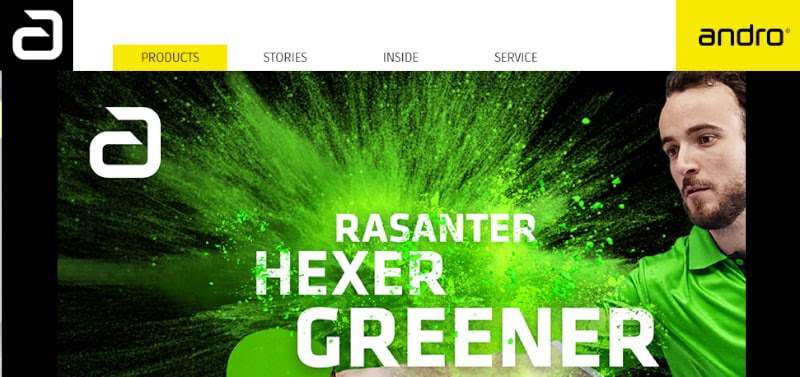 Andro is another table tennis manufacturer based in Germany. A much newer company than many of its competitors, it started in the late 1980s. But make no mistake — Andro is one of the top ping pong brands today. The company's founders are Wilifired Micke and Ralf Wosik, both keen table tennis players.
To start, Andro focused on developing table tennis equipment only for German buyers. But Andro has since expanded its reach, offering quality products worldwide.
One of Andro's most revolutionary releases was the introduction of microfiber shirts at a time where cotton shirts dominated. Microfibre is a far more lightweight and breathable material than cotton, making it much more suitable for table tennis players. Today, microfiber shirts are standard in the sport, thanks to Andro.
Sponsored Players: Simon Gauzy and Tomáš Konečný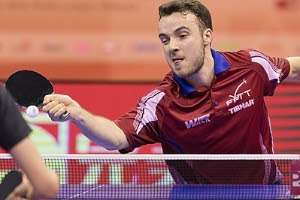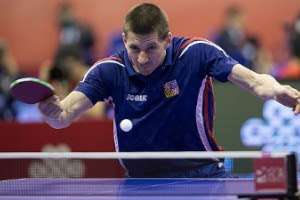 Featured product: Rasanter R42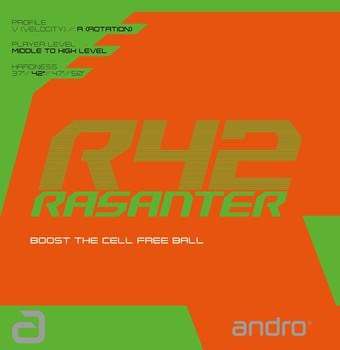 Andro might be a younger company than some of its competitors, but they have certainly caught up in terms of quality. Their Rasant series was wildly popular, and its successor, Rasanter, has received equal praise. Rasanter R42 is well priced, durable, and has tons of speed and spin. It is undoubtedly one of the most elite rubbers available today. We have a full review of the rubber available here.

Freelance writer. Table tennis enthusiast. Lover of all things online. When I'm not working on my loop game I'm probably binge-watching some fantasy show.