Donic Acuda S1 Rubber Review [Expert Opinion]
Donic Acuda S1 is a medium-hard rubber by Donic. It was popular upon its release, and this popularity spilled over into Donic's future releases as well. At the time, I remember seeing this Acuda everywhere at competitions. Junior players loved it, and it was easy to see why, as it produces excellent speed and spin.
Since the Acuda S1's release, Donic has come out with many new rubber lines such as Acuda Blue, Bluefire, and Bluestorm, but the Acuda S1 remains a reliable choice.
The Pros and Cons of the Donic Acuda S1 
| Pros | Cons |
| --- | --- |
| Fast: Very fast, the second fastest of the Acuda series | Spin limitation: Loses spin in the higher gears |
| Spinny: Produces great levels of spin, though with a caveat | |
| Very controllable: Feels easy to play shots. Blocking is very simple | |
| Many gears: You can switch between playing slow or fast at will | |
| Durability: Lasts for a long time | |
Specifications
Speed: 9.2
Spin: 9.1
Control: 8.5
Hardness: Medium-hard
ITTF Approved? Yes
Thickness (mm) : 1.8, 2, Max
Price: $$
Our rating :  9.1
Construction
The Donic Acuda series appears to have undergone redevelopment alongside the Coppa X series in 2014. This redevelopment brought about the use of Formula Donic 3rd Generation (FD3) technology. The creation of FD3 technology was a response to the 2008 speed glue ban. Acuda targeted the players that favor spin whilst Coppa X was more for speed lovers.
Advertised as having a complete package, FD3 supposedly features a superior feeling, precision, speed, and sound. Donic also states that the playing hours of rubbers with this technology are 50% higher than the life of previous rubbers.
The underlying sponge of the Acuda S1 is medium-hard and large-pored.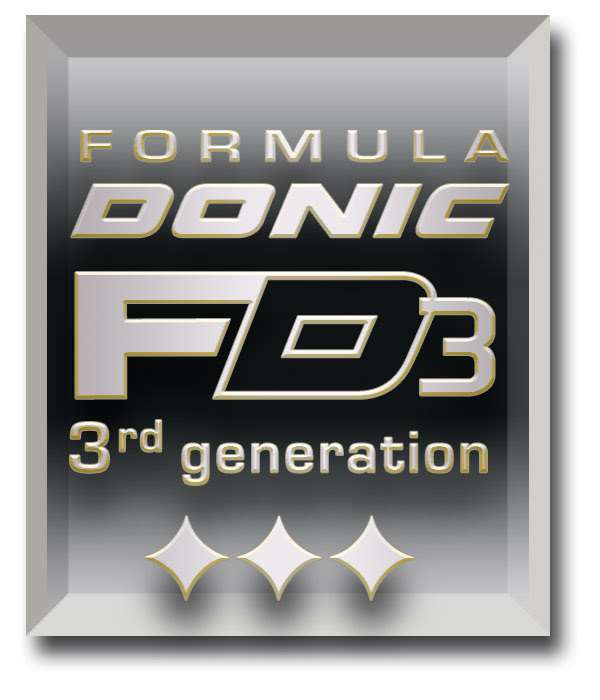 Which Table Tennis Pros Use Donic Acuda S1?
Donic Acuda S1 is not very widely used by table tennis professionals. This is because most players favor other brands such as Butterfly for their rubbers, and many instead use Donic for their blades.
The only player I could find who uses Acuda S1 is Ni Xia Lian, a penhold player from Luxembourg who uses S1 on her backhand. For her forehand rubber, she uses Curl P-1V by Victas.
It appears that the legendary Jan-Ove Waldner used Acuda S1 at some point in his career as well. However, it appears he switched to Coppa Jo Gold and Coppa Jo Platinum.  
The Positives
Acuda S1 provides a great deal of pace while still maintaining high levels of control. It's always difficult to find a balance between the power we want and safely getting the ball on the table, but I think Donic has the balance just right here with S1.
S1 is one of the fastest of the original Acuda series, falling just behind the newer S1 Turbo. Due to its speed, it makes an excellent forehand rubber. It is medium-hard and plays a more direct looping game than S2 and S3.
The S1 is very adaptable. I could easily see myself using it on both sides. In fact, when I read other reviews online, I frequently read of people using it on their backhand. This is probably due to its appealing levels of control. Everyone wants to have a safe backhand block, and the S1 enables this. Its high speed also allows you to comfortably switch to punches or loops in an instant.
Acuda S1 has more gears than most rubbers, so if you are a dynamic player who likes to play at a range of speeds, it should suit you rather nicely.
My brother for example, after years of trying many of the popular rubber series' such as Tenergy, Bluefire, and Rasant, will be going back to his Acuda roots when he next opens his wallet. He sports an attacking looping style with plenty of blocking and driving. For him, Acuda S1 ticks all of the boxes — a sign that this older rubber can easily still hang with the best.
Donic Acuda S1 is also very spinny. Just not quite as much as S2 or S3. You'll have no trouble winning points from spin alone with serving, although if this is your primary tactic I would advise going with S3. This is the spinniest and softest rubber that Acuda has to offer.
Another nice benefit of Acuda S1 is that it isn't very reactive to incoming spin. This is great if you struggle to return serves or block slow rollover loops.  
In terms of durability, I would say that Acuda S1 is above average. I would be comfortable keeping sheets of Acuda S1 for around a year before replacing them. This does, however, depend on how picky you are with your rubbers. If you play at an elite level or very frequently, of course you may want to replace them much earlier.  
The Negatives
The main negatives that come to mind are that Acuda S1, although fast and spinny, is not the fastest or spinniest rubber on the market. It falls quite short of these levels. But, this does not mean it is not a great rubber in its own right.
Top players seem to cite a lack of spin a little more often than a lack of speed. They explain that when they loop in the high gears, speed takes over and you lose much of the spin that the rubber can produce in the lower gears. This is problematic, as loop kills don't always win you points outright. Sometimes the level of spin on loop kills is just enough to make the ball drift over the edge of the table, or enough to pop the ball up high when your opponent blocks. But with Acuda S1, this probably won't happen as often as you would like.
About Donic
Donic is a table tennis manufacturer based in Volklingen, Germany. They produce many popular rubbers and blades and sponsor numerous athletes.
Swedish Legends Jörgen Persson and Jan-Ove Waldner assist in equipment research. The pair were Donic-sponsored players during their careers and have continued their close relationship with the company, helping them to produce modern products in the post-celluloid ball era.
Donic Acuda S1 Alternatives
Donic has a range of high-quality rubbers which I myself would be happy to use. In terms of the standard Acuda line, you've got Acuda S1 Turbo, Acuda S2, and Acuda S3. S1 Turbo seems to have been the best received by players.
But there are many other great rubber series such as Bluefire and Acuda Blue. Bluefire M1 and Acuda Blue P1 are probably the closest to Acuda S1. Both boast similar stats only being marginally faster and spinner. Other rubbers we love from the Donic range are Baracuda and Bluefire M1 Turbo. We have an in-depth review for Baracuda here, and Bluefire M1 Turbo made our list for being part of the top custom paddles for 2021.
We have a more in-depth buying guide for the best table tennis rubbers, so do give that a look if you're interested.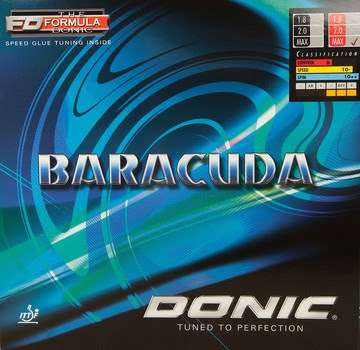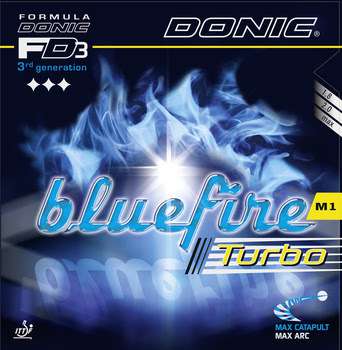 Conclusion
After diving into a Donic Acuda S1 review, it's clear that the Donic Acuda S1 is a remarkable rubber. Whilst it falls short of the top rubbers today, it excels in many areas. For players looking for a speedy rubber with high spin capability, Acuda S1 is a great choice.
In my opinion, it's generally more suited for use as a forehand rubber, but a lot of players tend to enjoy it on their backhand as well. Of course, you can use it on both sides if you so choose.

Freelance writer. Table tennis enthusiast. Lover of all things online. When I'm not working on my loop game I'm probably binge-watching some fantasy show.