Butterfly Rozena Rubber Review
Released in 2017, Butterfly Rozena marked a new rubber line targeted at a specific audience. Piggybacking off of the success of Tenergy, Rozena is aimed at players who are not skilled enough to use Tenergy but want a similar playing experience.
Think of it somewhat as a muted Tenergy rubber that can serve as a stepping stone. It plays a great attacking game and is a good choice for intermediate players and above. If that sounds like what you are after, stick around for our full Butterfly Rozena review.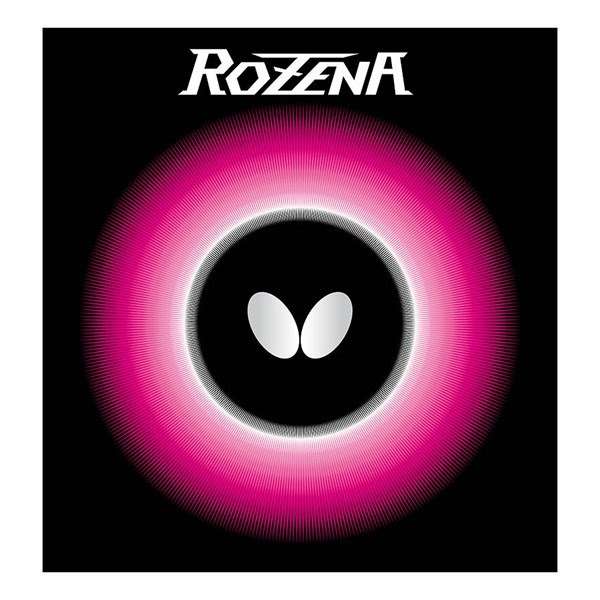 Specifications
Brand — Butterfly
Type of rubber — Inverted
Style — Attack
ITTF approved? — Yes
Thicknesses (mm) — 1.7, 1.9, 2.1
Price — $$
Construction
Butterfly Rozena uses Spring Sponge technology, the same technology found throughout the Tenergy series. Rozena also uses a new top sheet that features High Tension tech. The sponge is a stunning rose color.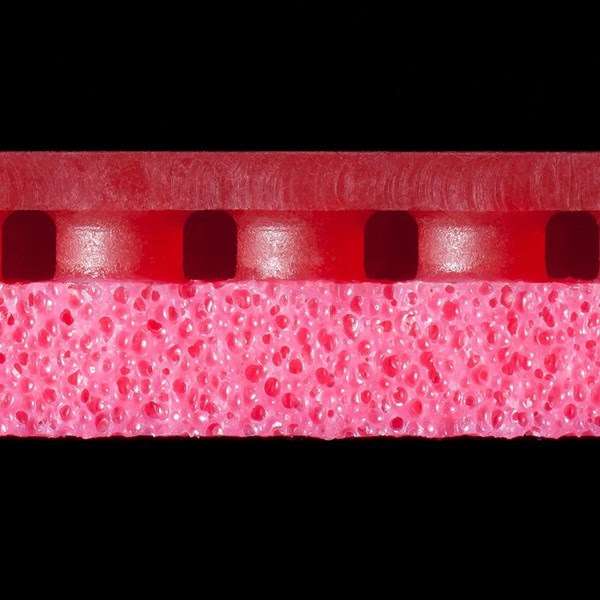 What Table Tennis Pros Use the Butterfly Rozena Rubber?
As Butterfly Rozena is targeted at the intermediate player market, there is little appeal for pros to pick it up. Most require faster and spinnier rubbers as they have the ability to safely use them to full effect, unlike most of us.
As a result, there is only one player we are aware of who is actively using the rubber, and that is Zhu Yuling. She is a Chinese shakehand player who uses it on her backhand. Her forehand rubber of choice is Hurricane III national blue sponge, and her blade is the Carbonado 45.
Rozena Ratings
Speed — 8.7
Spin — 8.5
Control — 8.8
Hardness — Medium
Our rating — 8.9
Spin & Speed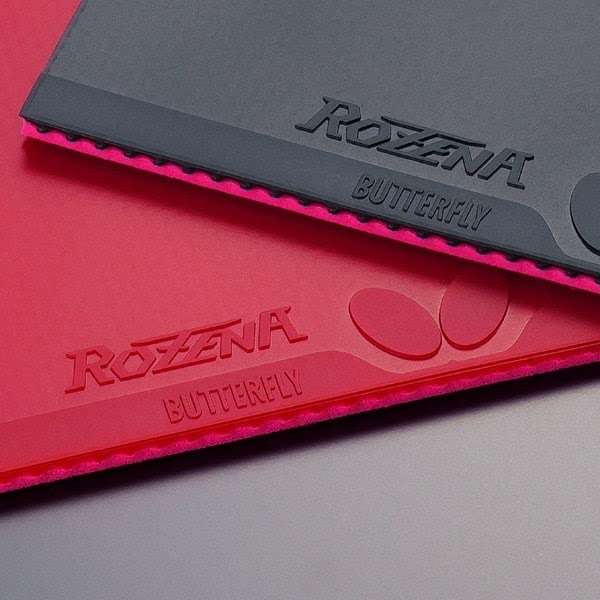 Rozena by Butterfly does a pretty good job of resembling a toned-down version of Tenergy as it advertises. It certainly feels slower, but make no mistake, it is still pretty fast. This is because you feel the kick from the Spring Sponge. As you deliver more force, the catapult effect becomes more noticeable, delivering amplified pace and an exaggerated clicky sound.
The spin qualities of Rozena are a little harder to judge. While it has high spin potential, you often feel a little bottle-necked throughout much of your game. This is most notable in the short game when pushing or serving, you can't quite produce as much spin as you would like, but it doesn't fall too far short. The reason for this seems to be that you have to engage the sponge to deliver truly spinny shots. And it's pretty damn hard to do this if you are brushing the ball.
This is one of the reasons Rozena feels so great away from the table. Back here, you can dig into the sponge with more impactful loops and unlock that extra kick of spin and speed. Of course, it doesn't quite match Tenergy, but it isn't all that far off either.
Another quality to note is that the rubber is spin-insensitive. Giving you the ability to produce your own spin without being particularly vulnerable to the spin imparted by your opponent.
Control
Control is what sells the Rozena rubber. That is, high speed and spin with maximum levels of control. The whole selling point of Rozena is that it is a more "forgiving" version of Tenergy. And, well, it is. You feel stable and secure when attacking, which allows you to go for more shots when you are out of position or at a disadvantage.
Rozena produces a medium throw angle with a moderate arc flight path. This means its arc is fairly similar to most offensive rubbers. In the Tenergy series, this probably most closely resembles Tenergy 80.
Looping off of backspin feels easy and so does looping against block. The only area that seems to take a bit of adjustment is loop on loop. The ball kicks off your bat a bit quicker than expected here, so you have to close your racket angle a bit or slow down on the pace a little. Of course, once you become familiar, you can exert the usual amount of force you use.
Rozena also feels great when you feel the need to block yourself. The ball doesn't kick off too fast, and due to its spin insensitivity, you feel comfortable blocking heavy spin loops. This is a pretty big plus for intermediate players who are probably not yet skilled in returning such shots using spin-sensitive rubbers.
Check out Table Tennis Daily's review for more info. They go into a lot of depth!

Should I Use Rozena on My Backhand or Forehand?
I feel that this Butterfly rubber is a good fit for both sides, but if I had to choose one, I would have to go for backhand. My reasoning here is that you will best utilize its control on the backhand side. And its spin insensitivity will come in handy for service returns, the vast majority of which you will be using your backhand for.
Some players also like to go for something a little harder on the forehand side, as the Rozena is of medium softness. This is just a general trend though, as hard rubbers are not for everyone.
Pros:
High control
Great speed and spin
Cheaper Tenergy alternative
Forgiving
Spin-insensitive
Cons:
Need impactful shots for high spin
Doesn't excel in any one area
About Butterfly
Butterfly is a table tennis manufacturer that dates back all the way to the 1950s. The company is the embodiment of the dream of its founder: Hikosuke Tamasu, a Japanese table tennis player.
One of the first key milestones of the company was the release of Sriver in 1967, which helped many players win international events. However, since this time, they have produced many other incredible rubber lines such as Bryce, Tenergy, and Dignics. This is in part, thanks to the research center in Tokyo where qualified scientists work hand in hand with table tennis professionals to develop top-quality equipment.
Butterfly Rozena Alternatives
Butterfly Sriver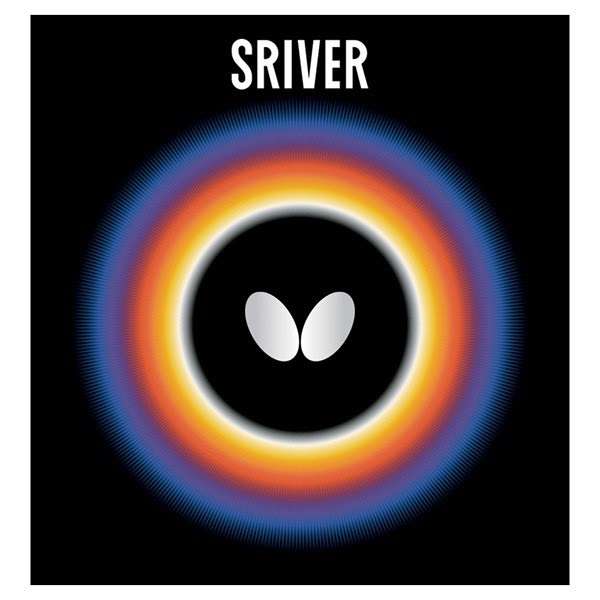 Sriver may be old, but it's Butterfly's best-selling rubber of all time. As such, it is a rubber you should consider if you are looking for new sheets. Sriver is slower and less spinny than Rozena, so it is a better choice for intermediate players lacking in confidence. It also sports a lower throw angle and is available in more rubber thicknesses which give you more options for customization. To learn more check out our full review.
Xiom Vega Pro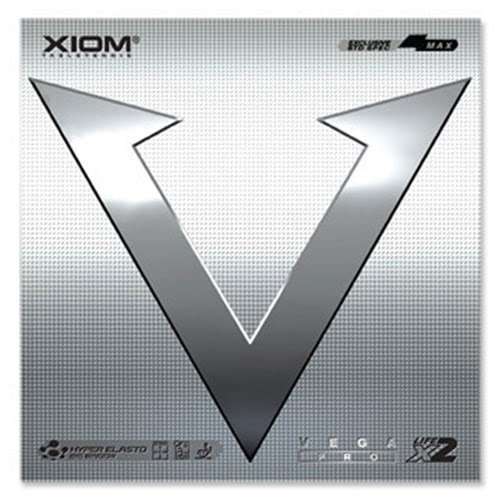 Xiom Vega Pro is a step up from Rozena. It is faster and spinnier but retains very high levels of control. There are two main differences between Rozena and Xiom Vega Pro. The first is the rubber hardness: Vega Pro is medium-hard, whereas Rozena is medium.
The other difference is Vega Pro's linearity. It lacks the catapult effect Rozena has, which means there is a close relationship between the force exerted and speed on the ball. This makes placement easier to predict and fewer balls are likely to fly off the end of the table. On the other hand, it suffers a bit away from the table as there is no catapult effect to assist it. If it sounds up your street give our review a read.
Conclusion
Butterfly Rozena is a great rubber and effectively fulfills its Tenergy-lite niche. Butterfly has done a great job of pulling out the qualities of the rubber that players love and toning them down for a new rubber that less-abled players can enjoy.
It's easy to recommend to intermediate players as it does have a super high skill cap. However, please note that it is not for beginners. They will not be able to handle the rubber at all, as remember, it's still pretty damn fast and spinny! Otherwise, you can check a list of the best ping pong rubbers and pick one of them!
So that concludes our Rozena Butterfly review. If you are in search of a great all-round attacking rubber with high levels of forgiveness, and are at least at an intermediate level, consider giving it a try.

Freelance writer. Table tennis enthusiast. Lover of all things online. When I'm not working on my loop game I'm probably binge-watching some fantasy show.