STIGA Advantage vs JOOLA Inside: Which Is Better?
The STIGA Advantage and the JOOLA Inside are two of the most popular ping pong tables in the world at the moment. They both on paper have a lot in common in terms of features and build quality, plus they've both gathered thousands of five star reviews and people are loving them. But, if you're in the market it can be hard knowing which one to go for, especially when they're so similar.
In this post we're going to be pitting the STIGA Advantage vs JOOLA Inside and compare them head to head to see which one is better.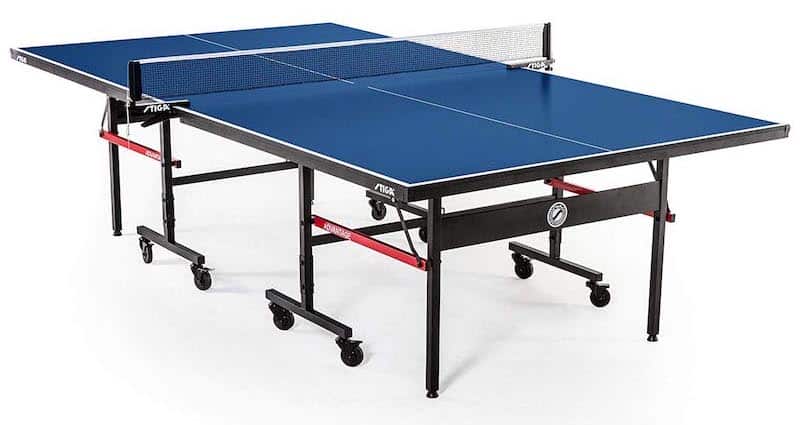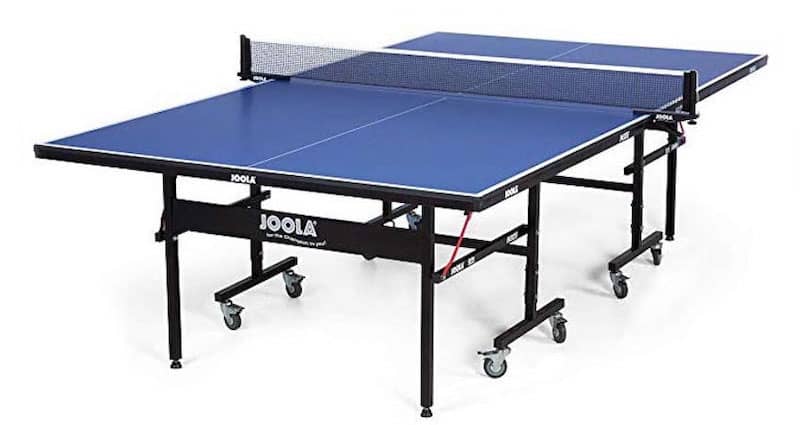 Before we start
If you've read out guide to buying a ping pong table here you'll know that the thickness of the table's surface is one of the biggest factors in the playability of the table. In a nutshell, the thicker the surface the better the ball will bounce.
If you're looking for a recreational table for your home we recommend getting at least a 3/4″ (18mm) thick surface as any less and you're just not going to have a good game.
STIGA Advantage: Overview
The STIGA Advantage, like most of the popular ping pong tables on the market at the moment is available in three different table thicknesses:
Construction and build
The STIGA Advantage is built with a 5/8″ thick table thickness that gives a reasonable good bounce considering the price. It's more than fine for home games but we always recommend getting a thicker table if you can afford it. If you're taking your table tennis seriously and want to enter official table tennis tournaments you'll definitely need to get a thicker table.
All of the STIGA Advantage models are incredibly easy to set up and start playing as it arrives 95% pre-assembled and ready to go. It should take only 10 minutes to set up as all you need to do is attach the legs.
Speaking of the legs, the STIGA Advantage has 1.2 inch thick legs made with steel that are strong and durable. At the end of the legs are rubber adjusters to prevent scratches and also allow you to ensure a completely level table. The table is actually two parts that split into two and fold away very easily and lock into place to keep it compact and safe when in storage. It also has 8 x 3″ thick caster wheels to make it very portable and easy to move around to where you want to put it.
As you'd expect, the STIGA Advantage comes with a 72-inch tournament-grade net and post set. We usually recommend replacing the cheap nets that come with tables in the price range but thankfully the one that comes with the Advantage is actually really good and very easy to assemble.
Pros of STIGA Advantage
Very easy to assemble – From box to playing in 10 minutes
Decent bounce – Considering the price it's a good bounce for casual play
Reasonable price – Very affordable price and value for money
Personal playback mode – Can be used in playback mode
Great reviews – It gets fantastic feedback from previous customers
What could be better
Not very thick surface – We'd ideally go for the Advantage Pro as it's slightly thicker
JOOLA Inside: Overview
Now to look at the JOOLA Inside. Just like the Advantage it comes in three different table thicknesses but they're a little different.
The JOOLA Inside has a 25mm (1″) thick model that is ITTF approved for tournaments and delivers a great bounce. If you have the budget we'd highly recommend going for this table.
JOOLA Inside: Construction and build
Just like the Advantage, the JOOLA Inside 15 has a 5/8″ thick, dark blue silkscreen striping table surface that gives a pretty good bounce for casual and recreational players. But, for more serious players and if you can afford it we'd recommend one of their two thicker models like the JOOLA Inside 25. It's so much better and only slightly more expensive. But, on all the models we found that it gave a smooth and consistent bounce across the entire surface of the table. It's supported by a 1.5 inch steel tube apron too.
When it comes to set up and assembly, the JOOLA Inside is very similar, being ready to play in under 10 minutes and arriving 95% pre-assembled. You just need to put the legs together and attach it to the table. You'll probably need a 2nd person though as table tennis tables can be pretty heavy.
Like the Advantage, it folds into two halves for easy portability when maneuvering it to where you want it. This also means that you can put it into personal playback mode and practice without a partner.
The frame and under carriage is also very similar to the Advantage but slightly beats it as the legs are 1.5 inch thick steel. This is a good sign of its strength and durability to hold the table up, but the downside is it is slightly heavier as a result. It also has 3″ caster wheels to make it easy to move around. The wheels are lockable to reduce the chances of the table rolling away when in storage too. It also has leg levelers to adjust the table height and ensure it's completely flat and give you the fairest game possible.
Pros of the JOOLA Inside
Easy to assemble – Around 10 minutes to set up
Good quality – Considering the price very reasonable
Strong legs and frame – 1.5″ steel legs and frame for good support
Affordable – Well priced
Great reviews – Thousands of five star reviews
Cons of the JOOLA Inside
Average net and posts – We weren't too impressed with the net and posts set on the 15mm model and would consider upgrading it to something like the JOOLA WM net
What we didn't like in each table
We didn't like the STIGA Advantage lite and wouldn't recommend it. For the price, it really wan't worth it. Just spending that little bit extra and going for at least the 5/8″ table is so much better.
Some customers of both tables reported that they received their table with a few missing bolts and screws. Generally both brands have good quality control but sometimes one does slip through.
We always recommend purchasing through a table tennis retailer like Megaspin as their customer service is fantastic and they will help you when dealing with the manufacturer if you do have any trouble with your table.
About STIGA and JOOLA
STIGA is a Swedish sports brand that has been developing sporting gear for over seven decades now. Their head office is in Eskilstuna, Sweden where table tennis is very popular. Their products are available in over 100 countries and in every continent!
JOOLA has also been around since 1952 after being founded in Germany. They've grown significantly since then to become one of the most recongizable names in table tennis. They stock a complete range of table tennis equipmet from tables and paddles to balls and robots.
Conclusion: Which would we buy?
So which one should you go for? Well if it were us buying a new table today we'd go for the JOOLA Inside 25. It's by far the best option out the six models that JOOLA and STIGA offer here. It is a little bit more money than the others but the quality of the bounce, the strong study frame, the easy of folding and strong casters make it a table that will last for years and an easy recommendation for us to make.
Our second choice would be there STIGA Advantage Pro. It's not quite as thick of a table surface as the JOOLA Inside 25 but a close second for us. We wouldn't even recommend looking at the STIGA Advantage Lite though. It's far too thin and only slightly less expensive.

Eugene (Gene) Sandoval has been one of those guys who spent too many hours around ping pong tables in high school. However, soon enough, Gene understood that there is more to ping pong than having fun. That is how he started a journey that made Eugene one of the experienced semi-professional ping pong players in the United States. As the founder of the PingPongRuler, Eugene spends most of his time surrounded by ping pong tables and research. He always has this knack for coming up with new ping pong strategies and telling the good and bad equipment apart.