Over the years, Killerspin has built a reputation for creating top-of-the-line ping pong tables, and the Killerspin MyT10 may be their best-designed table yet. With its superior build quality, it is certainly one for more serious players.
It's also quite the eye-catcher, I love the look of most of the Killerspin ping pong tables and the MyT10 doesn't break this trend. It's a very aesthetically pleasing table. But enough about looks, you want to know how it performs. So without any further delay, let's dive into the MyT10 review.
*Update* The Killerspin MYT10 is an older table, so we instead recommend the JOOLA Tour 2500 and Rally TL as the best alternatives. Click the links to read more, or visit the "Alternative Options" section towards the bottom of this post.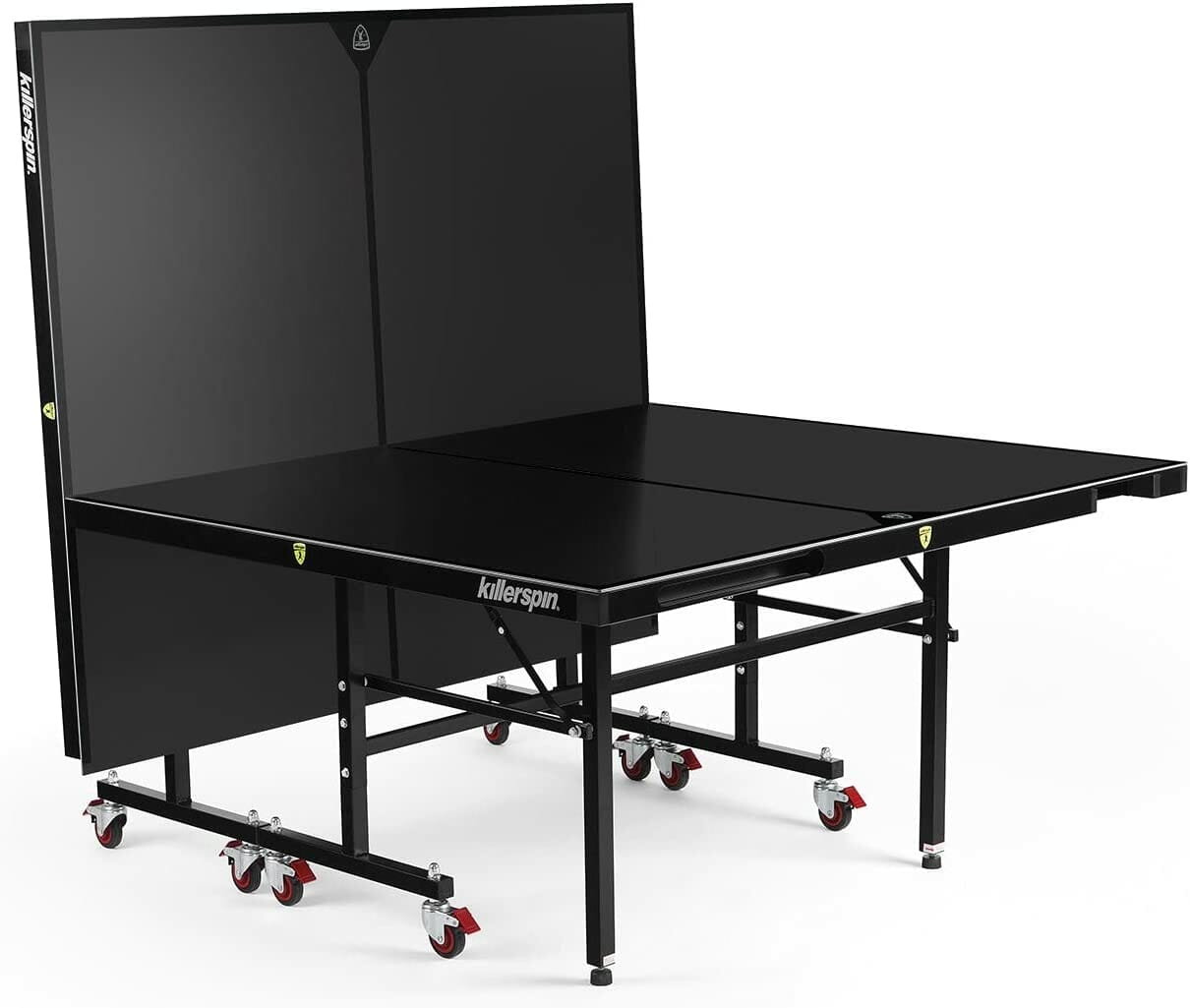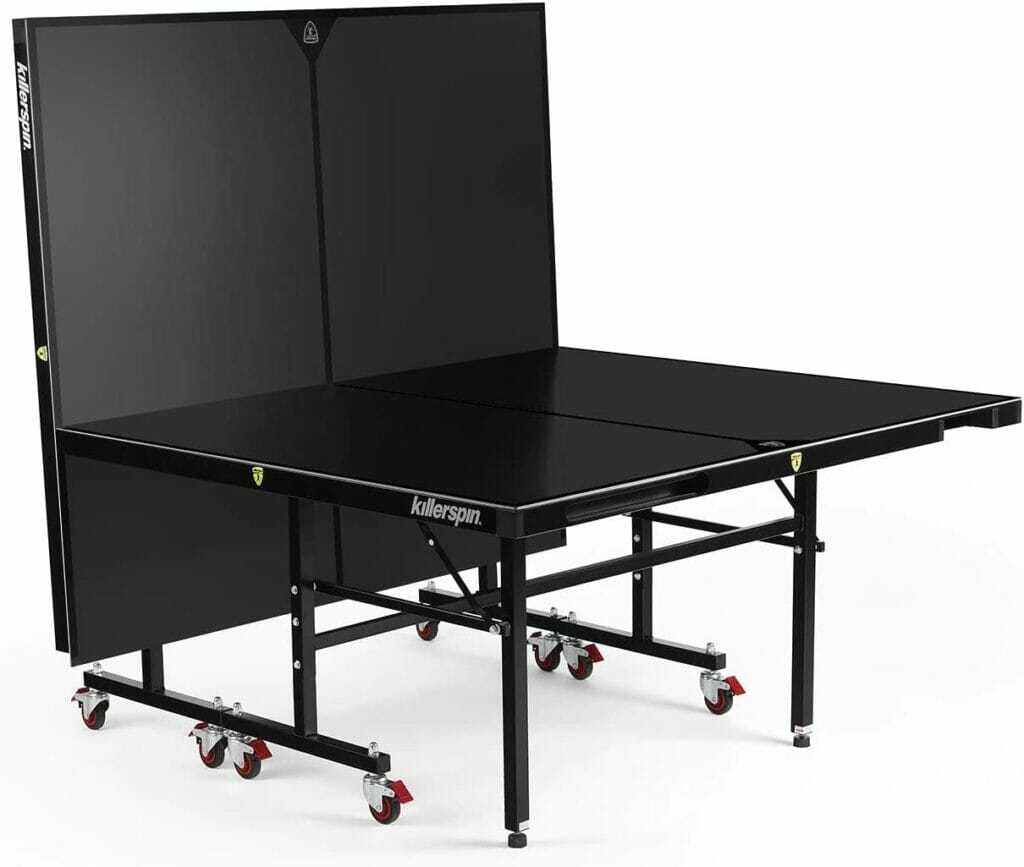 Specifications
Dimensions – 9ft x 5ft (regulation size) Play Position Dimensions: 107.8in H x 60in L x 36in W / Folded Dimensions: 64in H x 60in L x 36in W
Weight – 310lbs
Surface – 25mm MDF
Price – $$$
Our Rating – 9.0
Flawless Design
The Killerspin MyT10 was built with a sturdy 2″ thick metal frame and the table top is crafted with a 25mm medium density fiberboard. This state-of-the-art design provides an optimal bounce for professional-level play. Players of any ability will have a grand old time playing on this table. The only caveat is that this exceptional performance comes at a significant cost.
Killerspin is well known for producing high-quality table tennis goods, but they are far from being the cheapest. Therefore if you are looking to find value this model may not be the best table for you.


Assembly and Maneuvering
Assembling the MyT10 is very easy, but the table is a bit heavy. You might need two people in order to put it together. However, once you get it assembled, it is very easy to move around. The table comes with 4-inch ball-bearing wheels that roll seamlessly on wood or tile. You can also adjust the feet of the table to account for uneven surfaces.
Playback Option for Single Play
The MyT10 is great for single play as well. Each side of the ping pong table can fold up like many other models. This allows for solo practice which is great if you're a beginner. However, as this table is targeted at intermediate/advanced players this feature likely won't get much use. And if you're a beginner, you might want to consider a cheaper model unless you are set on playing a tonne of table tennis.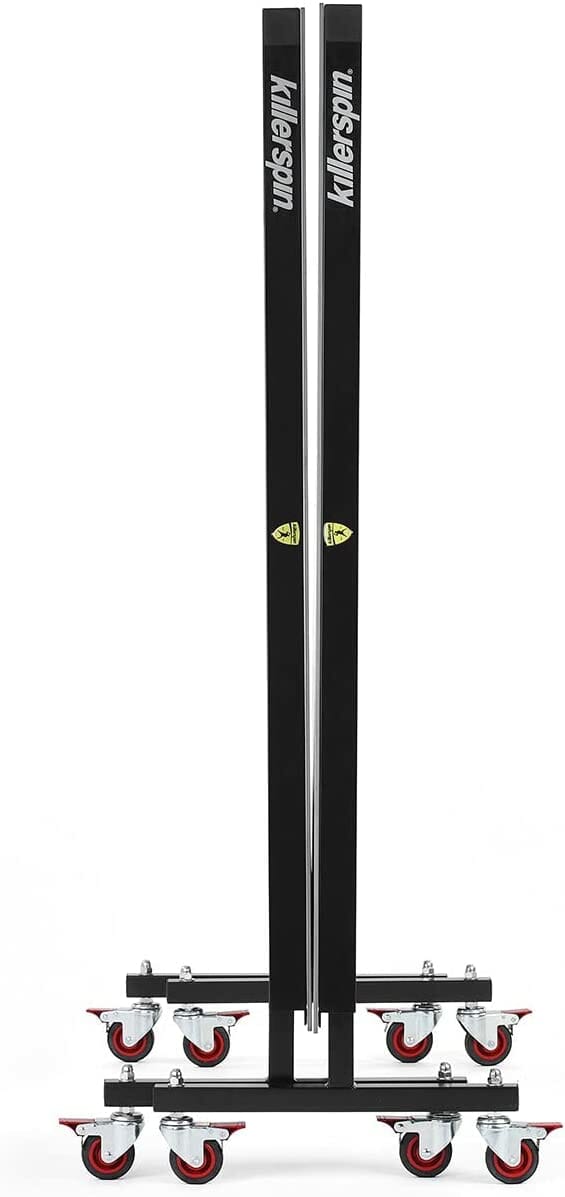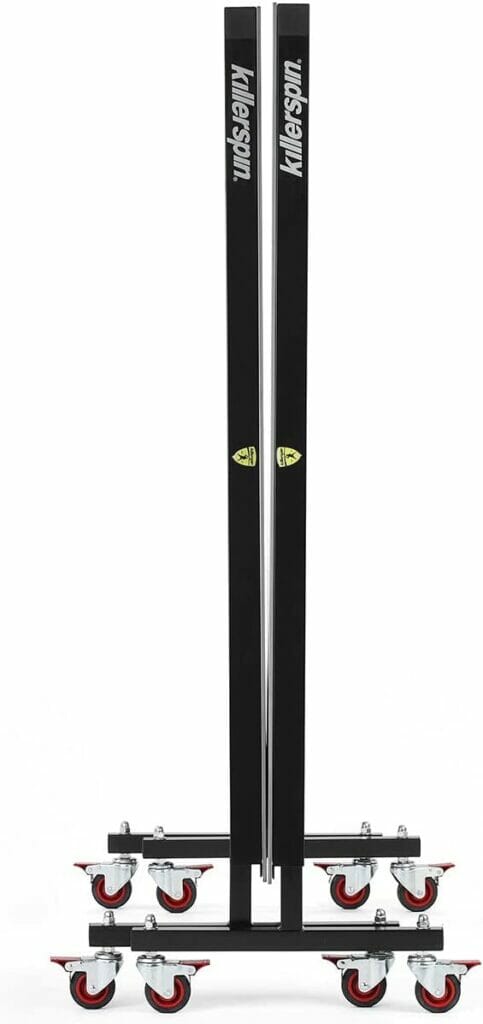 Pros
Heavy-duty frame
High-quality 25mm fiberboard top
4-ball-bearing wheels allow easy maneuverability
Premium steel net included
Blue/silver or black/black color options
Cons
Heavy
Requires some help to assemble
Expensive
Alternative Options
JOOLA Rally TL (25mm)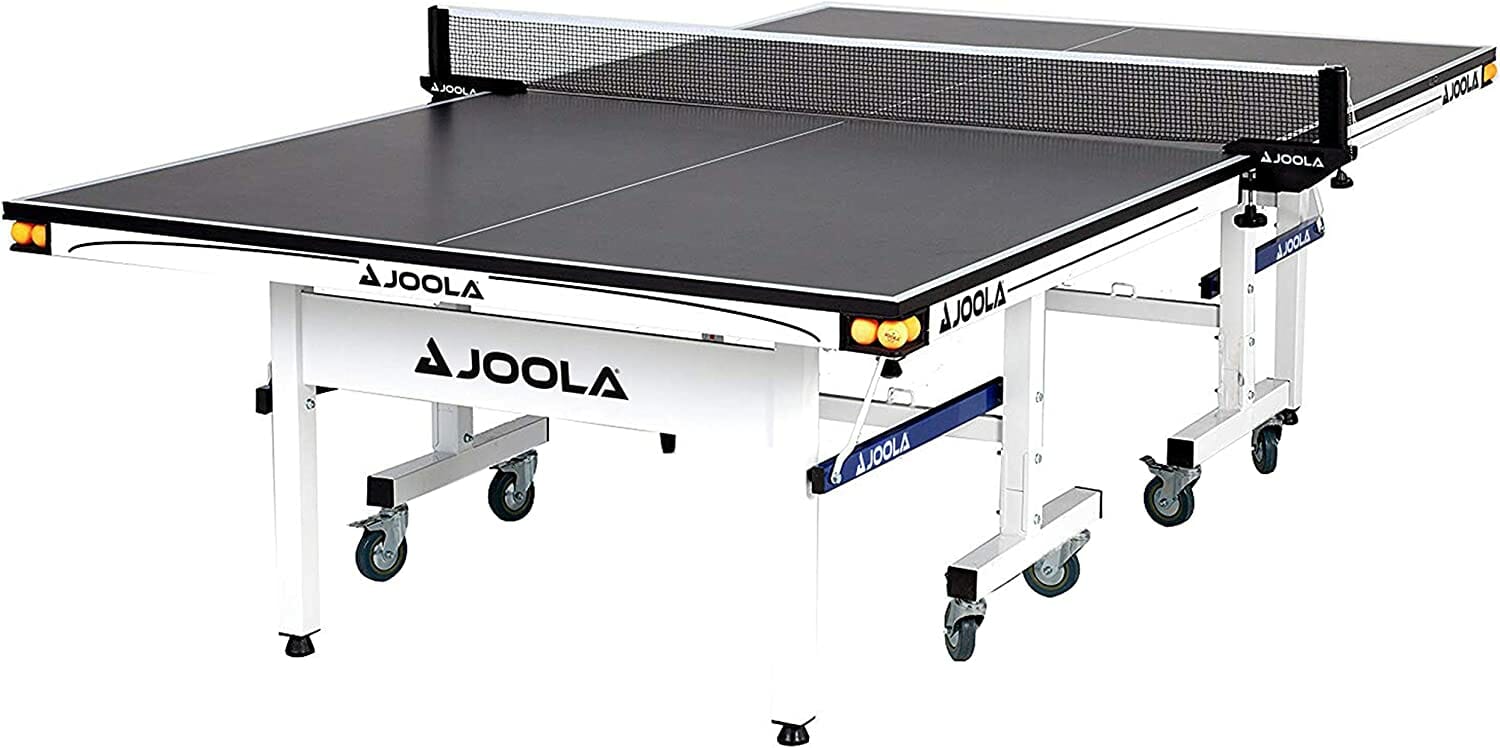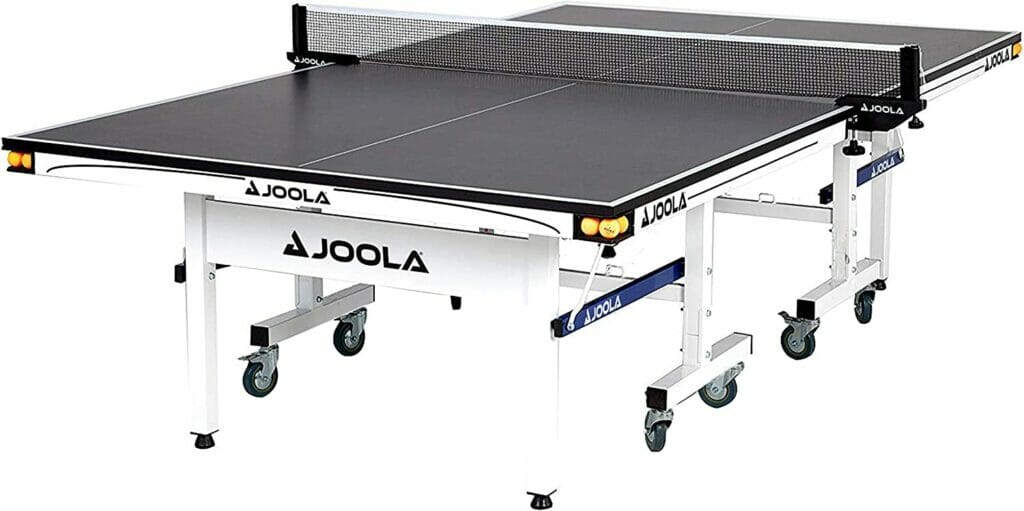 The JOOLA Rally TL, or the United Pro 25 as it is sometimes called, is the perfect cost-effective alternative to the Killerspin MyT10. It shares a competition-grade 25mm playing surface with a 2″ warp-resistant frame. What's more, it has integrated ball storage which is pretty rare among high-end tables.
Unfortunately, it can only store balls, not bats and balls like the MyT10, but your bats should be going in a case anyway after you're done. So it's not much of a negative in our opinion.
To learn more about the Rally TL check out our guide, but please note that this is for the 15mm version, not the 25mm version.
JOOLA Tour 2500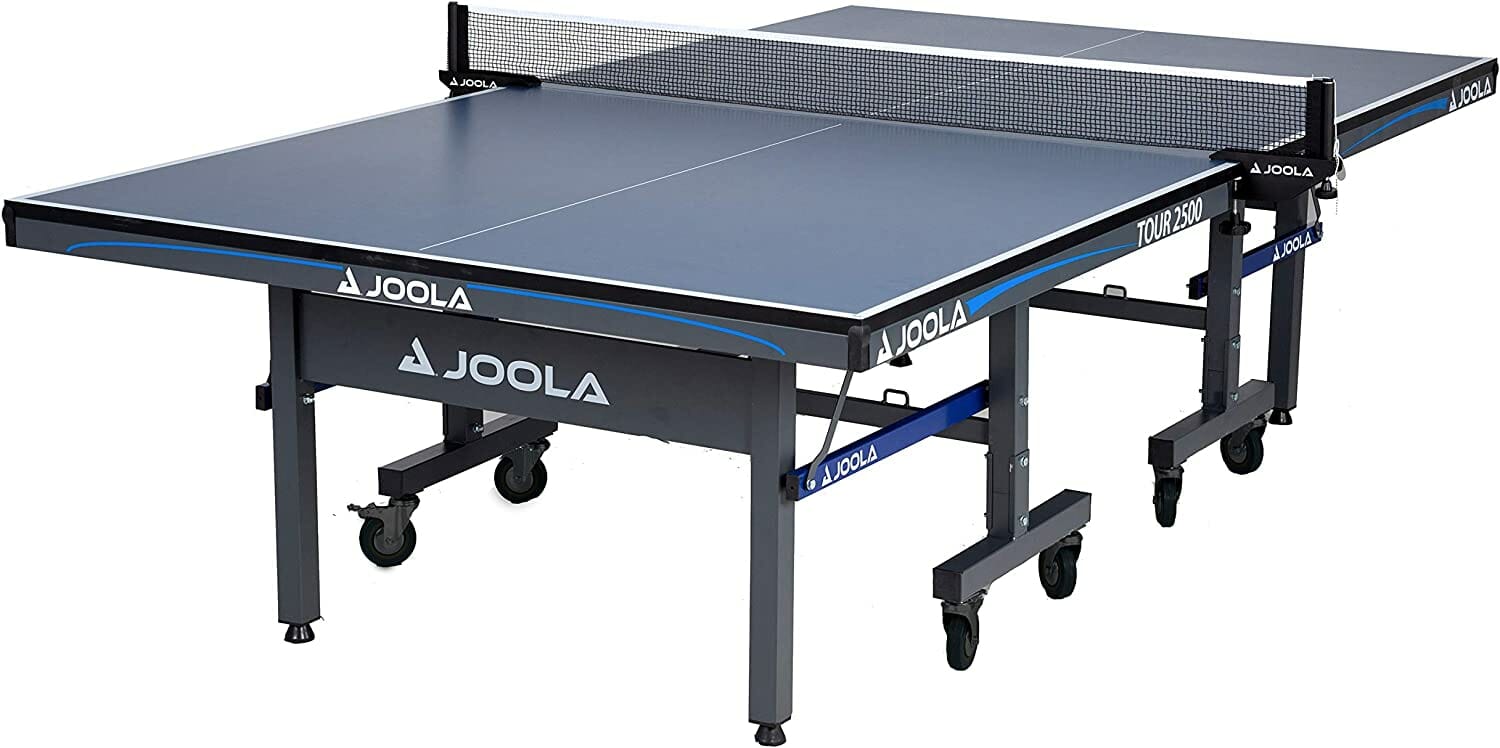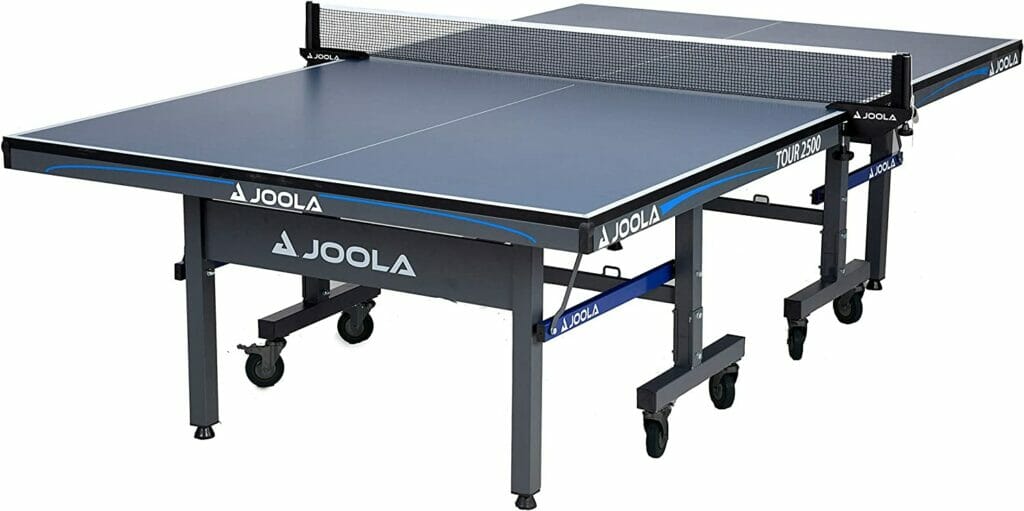 The JOOLA Tour 2500 is not all that different from the Rally TL. It has a premium 25mm playing surface and shares a near-identical structure. However, it does differ in a few areas. It's 33lbs lighter at 248lbs, assembles 5 minutes quicker in just 10 minutes, and has 1-inch thicker wheels at 4-inches.
Although these differences are minor, they are worth knowing about. This is what narrowly secured the JOOLA Tour 2500 our top spot on our list of the best ping pong tables.
To learn more about the JOOLA Tour 2500 read our full in-depth review.
Conclusion
While the Killerspin MyT10 is an elite table tennis table, it's a little pricey for most players. This is why we recommend looking at JOOLA models instead. They are a much bigger name in the table tennis space and their tables provide exceptional value.
Some of their closest models to the MyT10 are the Rally TL and Tour 2500. We wholeheartedly recommend either. They are some of the most popular tables in the world.
Other models to check out:

Eugene (Gene) Sandoval has been one of those guys who spent too many hours around ping pong tables in high school. However, soon enough, Gene understood that there is more to ping pong than having fun. That is how he started a journey that made Eugene one of the experienced semi-professional ping pong players in the United States. As the founder of the PingPongRuler, Eugene spends most of his time surrounded by ping pong tables and research. He always has this knack for coming up with new ping pong strategies and telling the good and bad equipment apart.