Update May 2019 – It looks like Killerspin have discontinued the MyT10 table sadly. We'll leave up our review below if you're looking at a second-hand table. If you want a new one though, check out our post on the best ping pong tables here.
Over the years, Killerspin has built a reputation for creating top of the line ping pong tables. Killerspin's table, the Killerspin MyT10 ClubPro, may be their best-designed table yet. This table has several built-in features that other tables cannot compete with.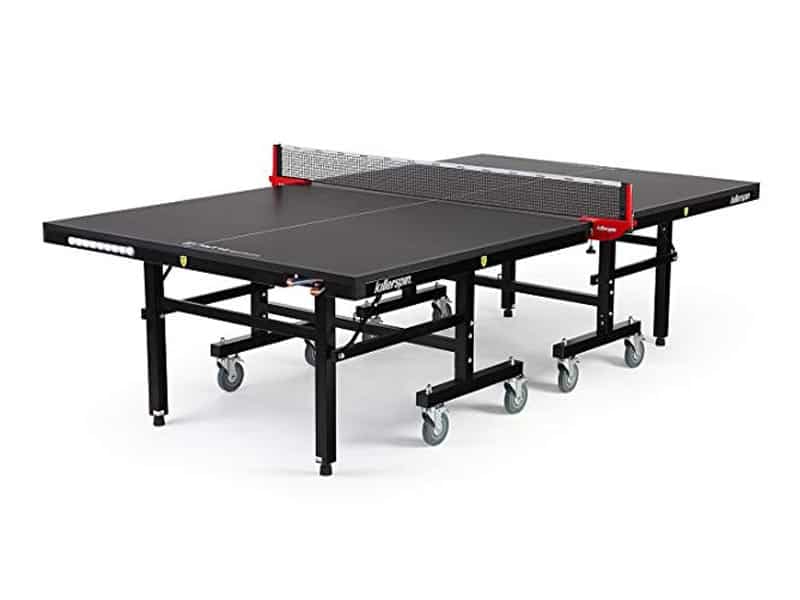 Check the latest price on Amazon.
Specifications
Play Position Dimensions: 107.8in H x 60in L x 36in W / Folded Dimensions: 64in H x 60in L x 36in W / Weight: 275 lbs
Playing Surface: 25mm MDF / Repeat Rollercoating on the Table Top
Features a 20mm x 60mm Heavy Gauge Metal Edge Banding and 50mm Square Metal Frame
High-quality Paint / Legs are Made out of a 50mm Thick Solid Steel Frame with Leg Levelers and 100mm Casters with Individual Locks
Attractive and Solid Design – High-Quality Paint / Folds Into Playback and Storage Positions: Safety Locking System EnsuresSecure Placement During Play or Folded Up
Includes a Premium Killerspin Net and Post System /High-Quality Wheels for Easy and Smooth Rollaway
Flawless Design
The Myt10 was built with a sturdy 2″ thick metal frame. The table top is crafted with a 25mm medium density fiberboard. The state of the art design provides an optimal bounce for professional play. Other table tops built from the same fiber material can cost you $2000 or more. Killerspin Ping Pong tables are known for being extremely high quality but at an affordable price.
Ping Pong tables of the same class are much more expensive, but they also lack several features that come standard with the Killerspin myt10. For example, the MyT10 ClubPro is a heavy duty table that will not need replacing anytime soon. The Killerspin Ping Pong table also comes with a premium steel net and post system.
Assembly and Maneuvering
Assembling the MyT10 ClubPro is very easy, but the table is a bit heavy. Two people may be needed in order to put it together. However, once the Myt10 ClubPro is put together, it is very easy to move around. The table comes with 4-inch ball-bearing wheels that roll seamlessly on wood or tile surfaces. The height of the table can also be adjusted for optimum play positions.
Play-Back Option for Single Play
This table is great for single play as well. Each side of the Ping Pong table can fold up. This allows for practice and easy storage. Whether your a pro or a beginner, this Killerspin Ping Pong table is right for you.
Pros
Heavy Duty Frame
High Quality Fiberboard Top
4-Ball-Bearing Wheels Allow Easy Maneuverability
Premium Steel Net Included
Blue/Silver or Black/Black Color Options
Cons
Heavy Table
Requires Some Help To Assemble
Larger Room Is Recommended For Play
Conclusion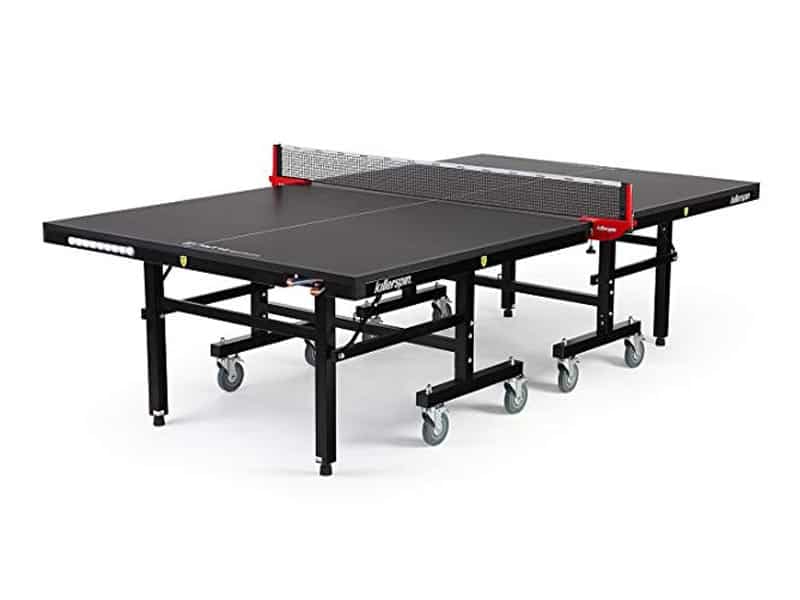 Anyone who is in the market for a ping-pong table should definitely purchase the Killerspin Myt10 ClubPro. Professional players, moms, and children have all recommended this table in the past. The state of the art design and easy maneuverability make this table a great buy. The fiberboard top and metal frame ensure quality play for even the most hardcore Ping Pong players.
Check the latest price on Amazon.