The STIGA STS 520 is a tournament-class table tennis table. The major characteristic that generally separates and ultimately decides a table's quality is the surface thickness and this table has a tournament-grade surface at 1" thick, the same thickness a pro would play on.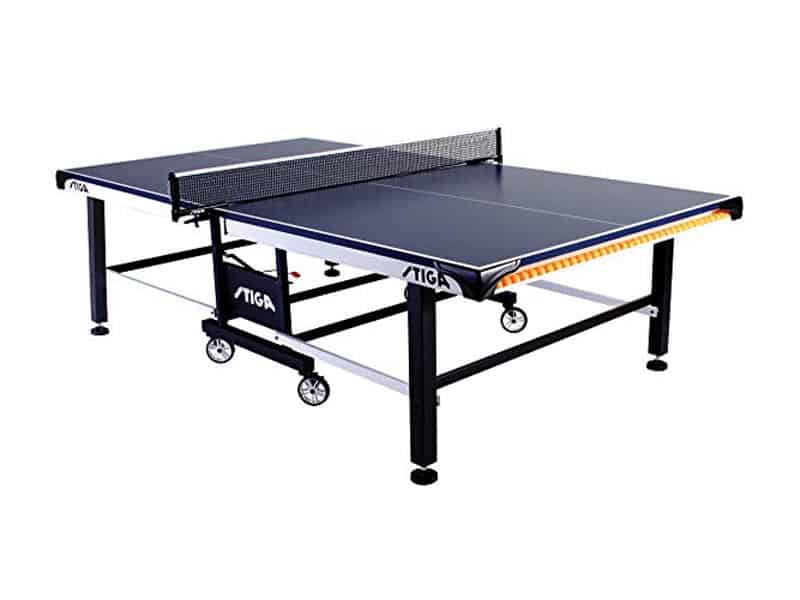 That's right, when you purchase this table, you'll play on the same surface that pro's play on, that you would see in the tournaments and the most intense table tennis games anywhere. It's also got silk-screened striping to keep that professional look pristine. It really does have a great design that makes this table worth its value.
Tournament-Grade Table with Exceptional Playability and Durability
1″ Thick Table Top with Silk-Screened Striping
2.5″ Heavy-Gauge Steel Legs with Leg Levelers and 5″ Ball Bearing Mag Wheels
2.5″ Powder-Coated Steel Apron with Patented Full-Length Ball Storage
72″ Premium Clipper Net and Post System Included
For Indoor Use Only
An Unlevel surface can ruin a Table tennis game, this table comes with leg-levelers so that's no longer a problem and it has 2.5" thick heavy-gauge steel legs so when players or children stand or lean on the table you know that the table can withstand the Table tennis table weight..
Everything on this table is supreme. Generally, only on outdoor tables would you find wheels 5" inch large, however this table also has 5" inch wheels, so perhaps you feel like taking your table outside, well you can definitely whether the rocks or any-thing like that. That's not to say that this table is an outdoor Tabe tennis table, this table will get ruined by rain or even high humidity.
The Stiga STS 520 also has a 2.5" inch powder-coated steel apron, another important aspect in the durability of your Table tennis table. While other tables can see thicker aprons, the steel apron is not that big of a deciding factor in choosing a Table tennis table. To read more about choosing a table read our buying guide that can be found here.
Conclusion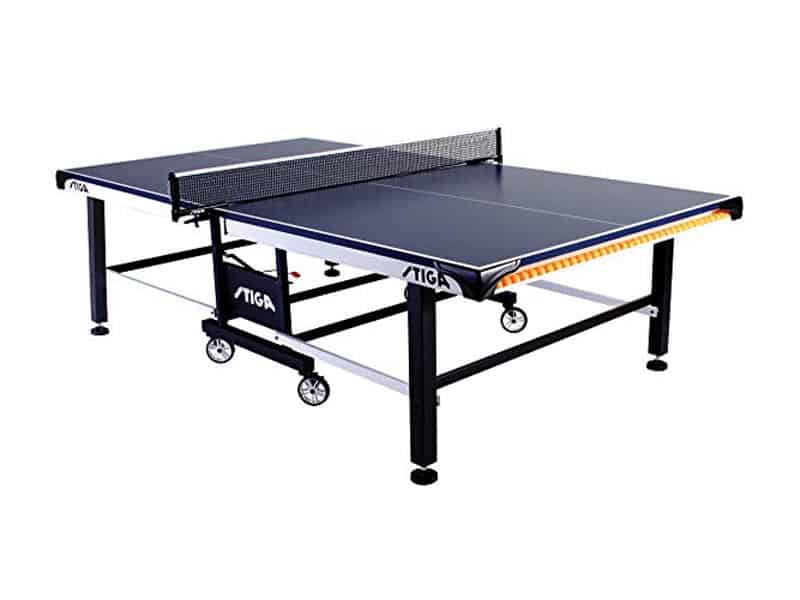 The STIGA STS 520 is a great indoor table that has some fantastic features that really do justify the addtional cost. Notably the 1″ thick table surface gives a great bounce. You generally won't see tables in the same price range as with that thick of a surface. Either way, this table should only be purchased if you are sure you want a tournament level table tennis tables, there are other tables (at less expense) that will still provide a great playing experience.
Related Product Reviews:

Eugene (Gene) Sandoval has been one of those guys who spent too many hours around ping pong tables in high school. However, soon enough, Gene understood that there is more to ping pong than having fun. That is how he started a journey that made Eugene one of the experienced semi-professional ping pong players in the United States. As the founder of the PingPongRuler, Eugene spends most of his time surrounded by ping pong tables and research. He always has this knack for coming up with new ping pong strategies and telling the good and bad equipment apart.