STIGA Expert Roller Review
The STIGA Expert Roller is a tournament grade table tennis table featuring a 1" inch thick fiberboard playing surface with silk screened striping for a flawless look and bounce. With heavy gauge legs and a strong frame from a well-respected brand. It's popular with serious players and is regularly found at table tennis clubs all over the world. Let's take a look at some of its features in a bit more detail.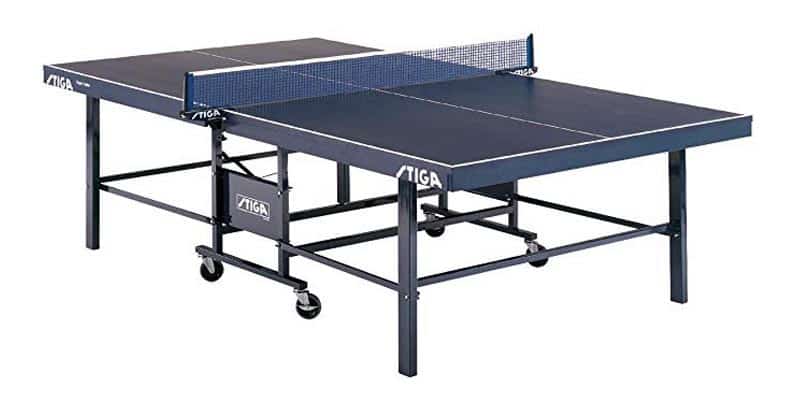 Specifications
Dimensions – 9 x 5 feet
Surface thickness – 1″ thick competition grade for official tournaments
Assembly time – 2 to 3 hours
Price – $$$ (Check current price)
Our rating – 9.0/10
Overview of the STIGA Expert Roller
Features
1-inch competition grade surface
This table is for competition-level players who plan to train and compete seriously or for players who want the best quality of bounce. The 1″ thick playing surface is ITTF approved (the International Table Tennis Federation) for official tournaments and competitions to ensure the bounce quality is the same no matter what table you're playing on. STIGA sand down the top and then apply multiple layers of speciality paint to get the smoothest possible surface for the ball. It has the regulation standard white striping that's printed directly on to the table to ensure that it's as smooth as possible rather than using a sticker like some other tables. It's then finished in their classic tournament blue color that we think looks great.
Strong, secure and safe frame that folds
The Expert Roller is protected by a 2.25-inch classic wood apron to provide adequate support for the table top and keep it stable and completely flat. Then it's got an extra heavy-duty, classic tournament style H-frame with huge steel legs made from heavy gauge steel. They measure 2.5 inches x 1.5 inches (some of the thickest we've seen on a table) to provide a very secure setting for your gameplay.
A key feature of an indoor table is that it's easy to fold away when not in use. This is really easy to fold away for storage or to put into the playback position for practice when you don't have an opponent. When unfolding the table the legs conveniently deploy automatically which makes it very easy and safe to set up and then put away into storage when you're finished. It's storage dimensions are W: 60-inch D: 30-inch H: 62inches.
As the name suggests, the Expert Roller has wheels to make portable and easy to move around indoors. It's equipped with four 4 -inch ball bearing wheels. Two of them then lock for extra stability when playing and safety when it's stored.
Assembly: It will take two to three hours
One annoying thing about 1″ regulation approved tables is the often very long assembly time. With the exception of a couple like the Butterfly Centrefold 25 which arrives fully assembled, most indoor tables with a thickness of 1″ will take 2 – 3 hours to put together. Sadly that's also the case with the Expert Roller and it will likely require two people as it's pretty heavy. But this is to be expected with high-quality tables so don't let it put you off. Thankfully though we found the instructions to be very clear and straight-forward. Here's a video of the assembly instructions so you can see what to expect.
72″ Clipper net and posts set included
Included when you purchase through Amazon is the STIGA 72″ clipper net and post set. It's a premium tournament level net made out of premium cotton and heavy duty steel for the posts. It's a clipper style post which is one of the easiest to set up and remove. It's also approved by the USA Table Tennis (USATT) passing all their requirements to be used in official tournaments.
About STIGA the brand
STIGA are one of the largest table tennis brands in the world manufacturing some of the top tables and paddles that we've played with. Since they were founded in Sweeden over 60 years ago they've become a firm favorite with amateurs and professionals all over the world and have sold their products into over 140 different countries. We're a big fan of them and they have a lot of tables in our post on the top table tennis tables that we recommend.
Positives
ITTF Approved table surface – The 25mm thick table top is approved for official tournaments by the International Table Tennis Federation
Strong undercarriage – Very strong frame with legs that are 2.5 inches x 1.5 inches and automatically deploy
Comes with net and posts set – Included when purchasing through Amazon is the STIGA 72 inches clipper net and post set which allows you to adjusts the height and tension
Foldable with playback feature – Fold up the table when not in use and also into the playback position for solo practice
Negatives
Long assembly – Frustratingly long and difficult assembly which will require at least two people and a few hours
Heavy – Because of the 1″ thick table surface it's very heavy and may require to people to fold and unfold
Conclusion: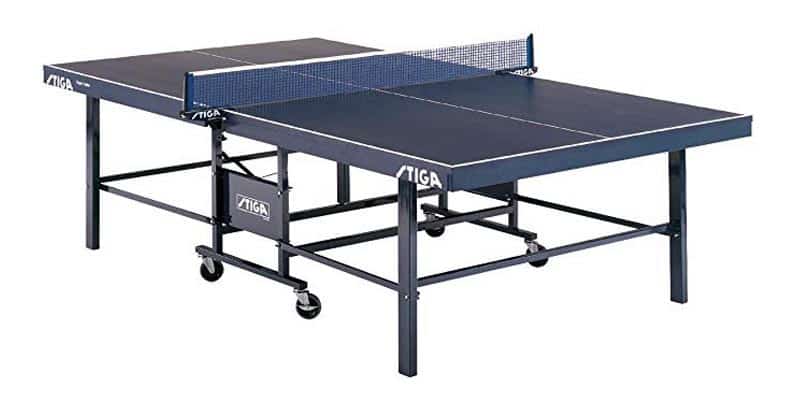 The STIGA Expert Roller is a high-level tournament-ready table for aspiring professionals or simply those who want a superior indoor table. We wouldn't recommend it if you aren't serious about your game or you are just starting out and still learning to play table tennis (it's more of an intermediate/advanced table) but should you decide to buy this table, it will not disappoint you.

Eugene (Gene) Sandoval has been one of those guys who spent too many hours around ping pong tables in high school. However, soon enough, Gene understood that there is more to ping pong than having fun. That is how he started a journey that made Eugene one of the experienced semi-professional ping pong players in the United States. As the founder of the PingPongRuler, Eugene spends most of his time surrounded by ping pong tables and research. He always has this knack for coming up with new ping pong strategies and telling the good and bad equipment apart.