With a professional grade table top, the JOOLA 3000SC is a table for anyone looking to play seriously on a competition level table. Everything from the table top to the ease of storage is of high calibre on this indoor table intended for long-lasting, top quality play. At this price, it isn't a casual purchase for the hobby ping pong player. However, for a committed player looking for the best possible game of table tennis, it is a worthwhile investment.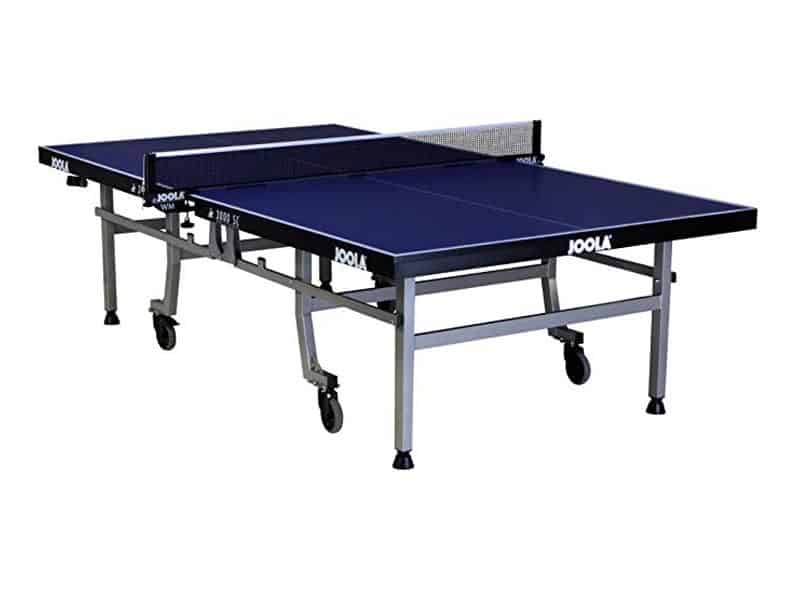 Specifications
Tournament-quality table tennis table with four heavy-duty wheels
Ultra-compact undercarriage system for easy setup and dismantling
Features an extra-sturdy 50mm metal frame and adjustable levelers under corner legs
Official table of 2006 Asian Games; includes a pair of safety brakes
Ships with WM model net set and posts; may have light scratches in playing surface; no dents or damaged parts
Competition Level Table Top
This 7/8" high density chipboard table top is the same table top that has been used in three different Olympics. Joola 3000 is ITTF Approved and is regulation size at 9 feet by 5 feet. The blue top is created with a special paint process that minimizes ball marks and eliminates glare.
An ITTF approved WM net set with adjustable height and tensions comes with the table..
Tournament Experienced Option
Beyond the table top being used in Olympics, the JOOLA 3000SC, in particular, is the official table for all major US ATT events. This premier table which is featured in many world competitions can also be featured in your home as they sell tables that have been used in tournaments to the public. Look for a table called Tournament Experienced and you can have your own table that has been featured in a professional competition.
Storage Features
For an area that is used for multiple purposes the automatic folding mechanism on this table is particularly useful. In a matter of moments this centerfold table goes from open to folded up. Remove the net and as the sides are lifted together the end legs fold in.
The 275lb table travels smoothly on its four durable 5" wheels to be moved to an out of the way storage area. Just as easily, the table can be opened and locked in place for play.
Undercarriage Support
Although the JOOLA 3000 is a rollaway, it is strongly built with the table top secured to a 2" powder-coated metal frame. Of the four wheels on the center legs, two have locking brakes which are operated by the touch of a foot.
The four corner legs are fitted with solid rubber levelers which are adjusted by hand. The top comes preassembled to the undercarriage making set up simple.
Cons
high cost compared to casual use tables
doesn't fold half way for individual play
tournament experienced may have significant marks
Pros
No assembly necessary
easy folding and rolling for storage
tournament quality, ITTF approved table top
Conclusion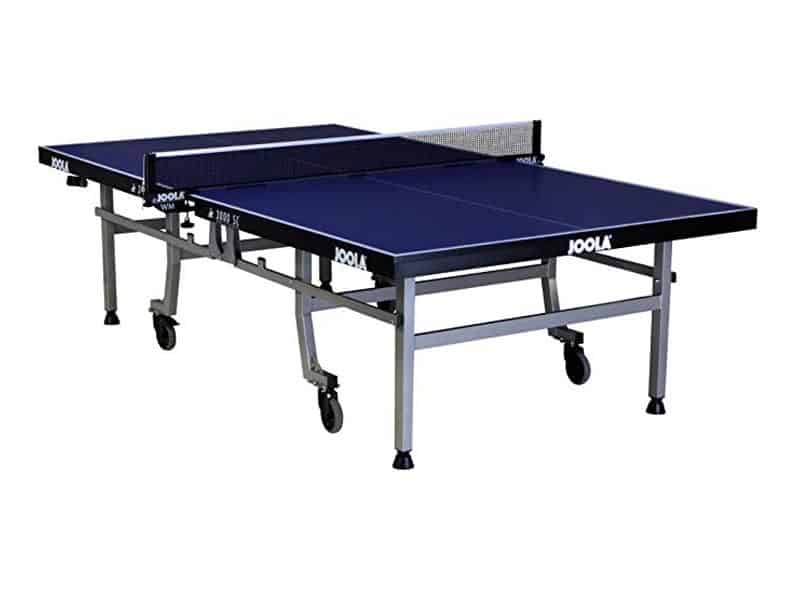 It is difficult to find anything negative to say about this table. Though this should not be purchased casually it is an excellent table for any serious player.
The Joola brand is known for its quality workmanship which is good enough to be used in competitions. Compared to other tables of this type in this price range the JOOLA 3000SC performs favorably. It will be good for decades of use and fun.

Eugene (Gene) Sandoval has been one of those guys who spent too many hours around ping pong tables in high school. However, soon enough, Gene understood that there is more to ping pong than having fun. That is how he started a journey that made Eugene one of the experienced semi-professional ping pong players in the United States. As the founder of the PingPongRuler, Eugene spends most of his time surrounded by ping pong tables and research. He always has this knack for coming up with new ping pong strategies and telling the good and bad equipment apart.