Harvil Outsider Table Tennis Table Review
The Harvil Outsider is a low end, easy to set up outdoor table tennis table for casual players looking to dip their toes into the game. It's got a 4mm thick aluminum surface which is a little thinner than we like to see but it's still getting positive reviews. Let's take a look at it in a bit more detail and see what things we think are good and bad about it.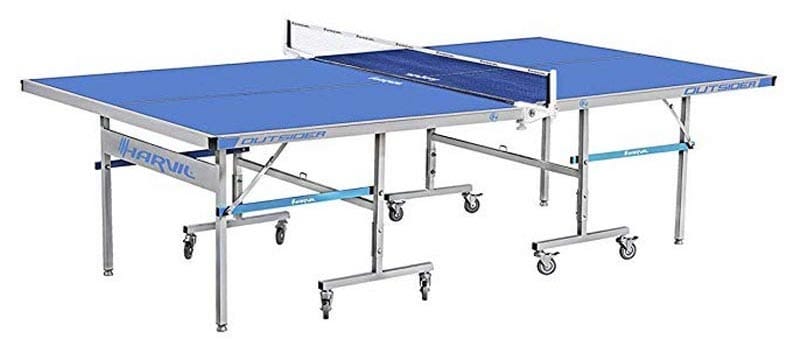 Specifications:
Dimensions – 9 x 5 ft (regulation size)
Assembly time – 10 minutes (just attach the wheels)
Surface thickness – 4mm thick aluminum composite top
Weight – 148 lbs
Price – $ (Check the latest price on Amazon)
Our rating – 7.0/10
Overview of the Harvil Outsider table tennis table
The features
4mm Weatherproof tabletop
The Harvil Outsider is as the name suggest an outdoor ping pong table. That means that it's made with different materials that are built to endure all the things that mother nature can throw at it. Moisture is one of the worst enemies of an indoor table and if you left a table like the JOOLA Inside in the garden during rain it would become completely warped and unplayable.
To prevent the surface from warping the Outsider is made with an Aluminum composite that's completely weatherproof to stop it from rusting and losing its shape which is something we always look for when evaluating outdoor ping pong tables.
We don't like how thin the table thickness is though. If you check out our guide to buying a new table tennis table you'll see that table thickness is everything when it comes to getting a good bounce. On an outdoor table, we'd expect to see a minimum thickness of 5mm, ideally getting one with 6mm or 7mm which will give a much better bounce.
If you're looking for a low-cost table for very casual games then this could be ok, but for not much more money you can get a table with a better surface. This table gets a lot of positive reviews but the negative comments are almost all about the bad quality of the bounce which is caused by the thin surface.
The frame and wheels
Harvil doesn't give away much detail in terms of the specifications of the frame on any of the product listings we could find. Not the best sign really. It doesn't look very supported in the center of the table and from reading customer reviews it seems this is negatively affecting the consistency of the bounce. Again, it will be fine for very casual games but not for serious players.
But as you'd hope for an outdoor table it is weatherproof and the legs and frame are powder coated to prevent it from rusting due to moisture. We'd recommend buying a table tennis table cover though to keep it away from as much water as possible.
It comes with eight locking wheels to help to make moving it around easy but they don't look very large. They look more like the wheels you'd find on an indoor table. Harvil doesn't give any specs of their thickness so it's hard to say for sure but you might find it harder to move over grass or rougher terrain.
Two separate tables that fold up
The Outsider is foldable which makes it ideal for putting into storage when it's not in use. It folds up to dimensions of L61.5″ x W23.6″ x H63.5″. You can also fold up one side of the table to put it into the personal playback position to practice on your own when you don't have an opponent. When folded up it locks into place with a safety latch to prevent it from collapsing unexpectedly.
Net and metal posts set
Included with the table is a durable net and set of metal posts that clamps on to the table. Again Harvil hasn't given much information about it so we're not sure if it's weatherproof. Best to take it off when not in use to prevent it from rusting.
Assembly: From the box to play in 10 minutes
Some outdoor table tennis table brands (I'm looking at you Kettler and Cornilleau) ship their tables completely unassembled which can be very frustrating. They can literally require over two hours and two people to put together. From reading past reviews it seems that this table used to be one of those too but now thankfully, the Harvil Outsider only takes 10 minutes to set up arriving almost completely ready to play straight out of the box. You only need to attach the caster wheels and then pop the net on and you'll be ready to play. You'll need a second person to flip each half of the table over though as it's pretty heavy. The video below shows how easy it is though.
About Harvil
Harvil is a table tennis brand that's owned by Dazadi, a large sports and games brand. They're a family run business that hasn't been going very long (they started in 2002) but seems to be getting good feedback from customers. We did find a few customers that reported that they were difficult to deal with when arranging delivery but on the whole, all the reviews are very positive.
The pros
10-minute assembly time – Super easy to set up only needing 10 minutes to attach the wheels
1-year warranty – Dazadi (the company that own the Harvil brand) offer a one year warranty and will either repair or replace any parts that are defective
Comes with net and posts – Included is a durable net and posts set
Affordable – One of the cheapest outdoor tables we've seen
The cons
Not a good bounce – With only a 4mm thick table surface the bounce on this table is not good
Frame doesn't look too supportive – The design of the frame doesn't look like it gives enough support in the center of the table
Conclusion: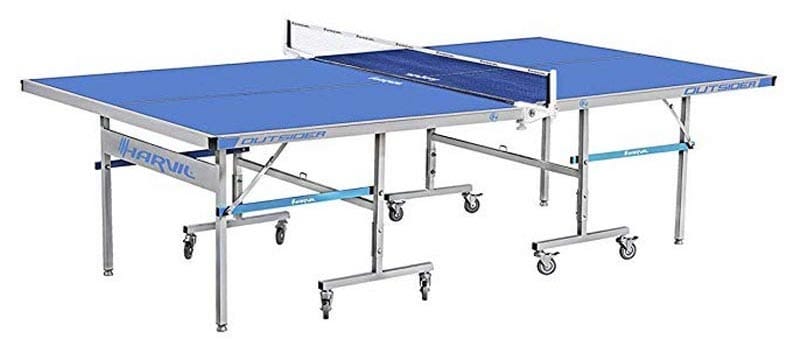 Overall we probably wouldn't recommend The Harvil Outsider. The 4mm thick surface is just too low and the bounce is not good. Whilst it is on the lower end price-wise it's only $100 or so cheaper than some of the most popular outdoor tables and so we would recommend you spend slightly more and go for a more renowned brand with a thicker top.
That being said, if you want something super easy to put together that's cheap and will be played by kids and those not used to playing it could be ok but we'd still recommend something like the JOOLA Nova DX or The STIGA XTR which aren't much more money but a lot better quality.

Eugene (Gene) Sandoval has been one of those guys who spent too many hours around ping pong tables in high school. However, soon enough, Gene understood that there is more to ping pong than having fun. That is how he started a journey that made Eugene one of the experienced semi-professional ping pong players in the United States. As the founder of the PingPongRuler, Eugene spends most of his time surrounded by ping pong tables and research. He always has this knack for coming up with new ping pong strategies and telling the good and bad equipment apart.