Butterfly Tenergy 80 Review
For any ping pong player looking to step up their game a little, a table tennis rubber that other professionals call their favorite should be a highly desired item. This rubber's name is Butterfly Tenergy 80. It's a part of the impressive Butterfly Tenergy series, along with Butterfly Tenergy 64, Butterfly Tenergy 05-FX, and Butterfly Tenergy 80-FX.
In this article, we're going to review the Butterfly Tenergy 80 and look at some of the features that make this rubber a top choice for so many professional table tennis players, including Zhang Jike and Miyu Kato.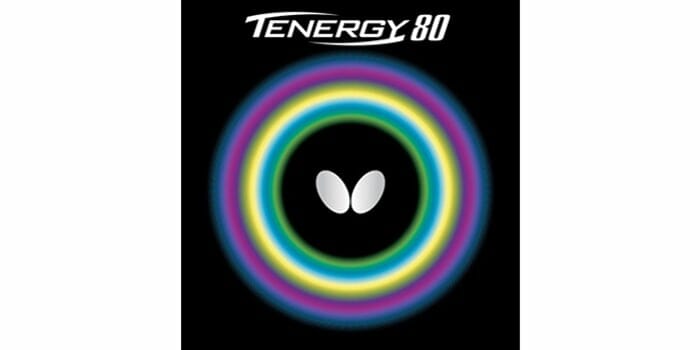 Specifications:
Sponge thickness (mm) – 1.7, 1.9, and 2.1
Speed – 13.25, Spin – 11.25, Sponge hardness – 36
Durability – Good
Surface – Pimples-in (inverted)
Price – $$$ (Check current price)
Our rating – 9.5
Butterfly Tenergy 80 Overview
One of the first things you'll notice about this rubber is the unique balance between speed and spin. Thanks to the high-tension and spring sponge technologies it uses, this Tenergy rubber will provide you with the ideal speed which is perfect for a competitive game, along with all-around topspin play. No matter what your playing style or level is, you'll appreciate the extra edge that this rubber will give you. If you are looking for a durable rubber, this one should be at the top of your list as it will last for years.
The Tenergy 80 is compatible with Timo Boll ALC, Viscaria, Mizutani Jun Super ZLC, and other Butterfly blades. It's suitable for a number of different strokes and plays, including counter and looping topspins, smash, block, and play over the table.
When it comes to performing the forehand topspin, this rubber is great for playing close, at mid-distance, and away from the table without having to sacrifice ball control. It also allows you to maintain speed and rotate the ball. However, if you want to generate a lot of power on your forehand side, you might want to go with another member of the Tenergy family like the Tenergy 05 because it's a much harder rubber.
Due to its softness, many ping pong players find this rubber to be an excellent choice for backhand strokes, particularly backhand flicks and topspins. The Tenergy 80 provides you with both comfort and ball control. With it, you can return the ball quickly and easily regardless of the distance between you and the table.
Some players like this rubber because it helps them lift backspins thanks to the lower throw angle, while others pick it due to the ease of use, lower spin sensitivity, and balanced speed. If touch play near the table is your strong suit, you'll be glad to learn that this rubber helps you maintain the ball control and spin as well as keep the ball low over the net.
The Tenergy 80 doesn't disappoint when it comes to serving either. You can make fast services and change the direction of the ball with ease. When it comes to counter topspins, you might find it hard to keep the ball on the table at first, but once you get used to this rubber, your performance will be more than satisfactory.
This table tennis rubber is an amazing pick for players whose play tends to be aggressive. The Tenergy 80 enables you to transition from spin to speed quickly and easily. However, it's more effective when used for high-spin shots. If you use this product to make the drive shot or other flatter strokes, you might have trouble maintaining ball control.
All in all, this is an incredible rubber. After you use it on your racket, your friends will ask you how you've gotten so much better at table tennis, and you will simply smile.
No review would be complete without including the potential negatives you could face from buying this table tennis rubber. Read on to discover the strengths and weaknesses of this product so you know exactly what you are getting before you make your purchase.
Pros
Very fast – A high-speed rubber that is capable of generating large amounts of power (it's even faster than Tenergy 05 and as fast as Tenergy 25)
Versatile – It allows for all-around topspin play, attack, and counterattack no matter how you play
Quick and easy transition from spin to speed
Great for short games, serving, and punching shots
Durable – This is a high-tension pimples-in rubber
Cons
You can make mistakes as a result of the high amount of spin on the ball
Not ideal for flatter strokes such as the drive shot
Conclusion
The Butterfly Tenergy 80 is a really good rubber that many professionals use in top-tier competitions. The top speed and very good spin are two of the hallmark features of this great rubber that many players recognize, so you know exactly what kind of quality you're getting your hands on when you pick it up. If your backhand strokes are your strong suit and you're on the hunt for a quality and long-lasting rubber, then this product might be the perfect choice for you.

Eugene (Gene) Sandoval has been one of those guys who spent too many hours around ping pong tables in high school. However, soon enough, Gene understood that there is more to ping pong than having fun. That is how he started a journey that made Eugene one of the experienced semi-professional ping pong players in the United States. As the founder of the PingPongRuler, Eugene spends most of his time surrounded by ping pong tables and research. He always has this knack for coming up with new ping pong strategies and telling the good and bad equipment apart.