Butterfly Compact 19 Review
If storage space is not readily available but you still want a full-size table tennis table then the Butterfly Compact 19 could be a good option. It's got all the features of a good quality table with a 19mm thick tabletop that gives a great bounce but it folds down to take up only 5″ deep so is very easy to put away when not in use. In this review, we'll look at some of its features and what we liked and didn't like so much.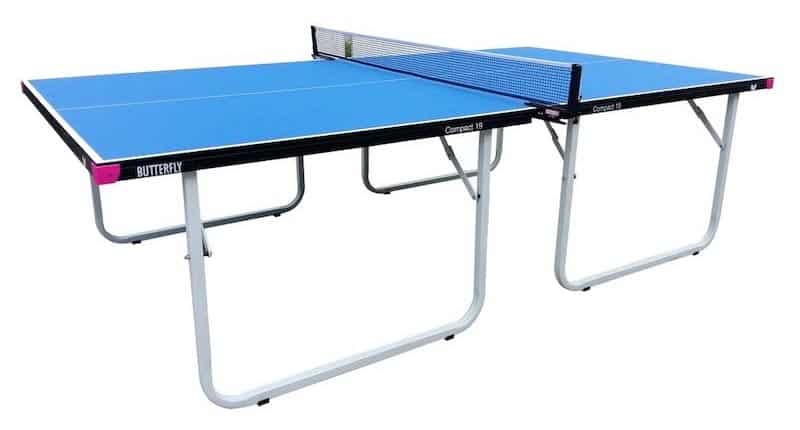 Specifications:
Dimensions – 9 x 5 feet
Assembly time – 0 minutes (arrives 100% preassembled)
Surface thickness – 19mm (3/4″)
Weight – 66kg (around 145lbs)
Price – $$ (Check the latest price on Amazon)
Our rating – 9.0/10
Overview of the Butterfly Compact 19 table
A look at some of its features
19mm thick sturdy tabletop
For the best quality bounce, you want to get a table with a thick surface and the thicker the top is the better the bounce will be. Indoor tables tend to range from 12mm (1/2″) which is very low quality all the way up to 25mm (1″) which is what you see on professional-grade tables used in official tournaments.
The Butterfly compact has a 19mm thick (around 3/4″) surface which is the perfect amount for recreational use at home or for serious players looking to train without spending a fortune on a professional 25mm table (which tend to cost over $1000). It gives a true bounce that's consistent across the whole playing surface.
It also is available in two different colors, blue and green. We like the green one although for some reason they seem to be different prices so if you're not too bothered check which one is cheaper. The corners of the table are protected by nice-looking magenta corner protectors too to help prevent any bashes from damaging it.
A strong and simple frame with no setup
The 19mm thick tabletop is pretty heavy and so needs a strong and sturdy frame to be able to support it. It's made from strong steel and it seems very sturdy and seems like it could take a real beating.
Another great feature is the lack of assembly necessary. We're big fans of tables that are easy to set up and this one comes completely 100% preassembled. No attaching wheels or screwing legs together just take it out of the packaging pop the net on and you're good to go.
Easy to move around considering it doesn't have caster wheels
Although it doesn't have the typical caster wheels that you're used to seeing on a table tennis table, each half of the table does have two wheels on the bottom to make moving it around a little easier. The one concern we do have is that it might not be too safe to store upright. Be careful to ensure that it isn't going to get knocked over or fall. But, that's the downside to having such a compact table.
It is slightly on the heavy side with each half of the table weighing around 72lbs (33kg) so another reason to be careful when storing it!
Clip-on net and posts included
Although you'll need to purchase paddles and balls separately the Compact 19 comes with an easy to use net and posts set. It's super easy to attach and has a rubber protector to stop it from damaging the table surface. If you watch the video above you'll see how it works.
Butterfly: A leading table tennis brand
Butterfly are one of the top table tennis brands in the world. You'll often see that as sponsors for large events and even as an official supplier of tables. Their equipment is also used by Olympic and world champions so you know they're going to be high quality. They've been involved in producing table tennis products for over 60 years! Bowmar Sports are the North American distributor so if purchasing online you'll likely be dealing with them and customer feedback seems to be good all around.
Pros of the compact 19
No assembly – It comes completely preassembled and you don't have to set up anything
Good 19mm thick tabletop – A 19mm thick tabletop that gives a true consistent bounce over the whole surface
Very compact – It folds up to be very compact (only 5″ deep)
Comes with net and posts – Easy to set up clip-on net and posts set included with rubber protectors to prevent damage to the table surface.
Great warranty

– Butterfly offers a great 3-year warranty on this table incase there are any defects
Cons of the compact 19
Quite heavy – Thicker table tops tend to be heavier and have a thicker frame to support it. Each half weighs 33kg (72 lbs).
No locking wheels – Although it has rubbers on the end of the legs it might not be as sturdy as a table with locking wheels
No playback position – It can't fold up into the personal playback position
Conclusion: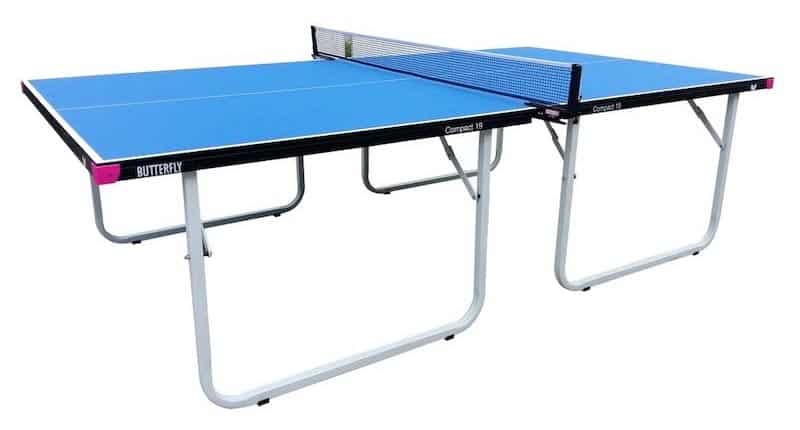 So do we recommend the Butterfly Compact 19? Well it is a really nice table that has a good bounce due to it's 19mm thick table surface that we really liked. We think it comes down to whether you need a table that packs up very compactly. If you're limited by space then this could be a good option as it's still a full-size table unlike the mid-size ping pong tables like the JOOLA Midsize or the STIGA Space Saver which also pack up very small.
We'd probably recommend going for a more traditional table tennis table with caster wheels (see our most recommended ones here) but they won't be as compact and easy to store like this one so it depends on your needs. But it's still very good value for money and gets a 9.0 score out of 10 from us.

Eugene (Gene) Sandoval has been one of those guys who spent too many hours around ping pong tables in high school. However, soon enough, Gene understood that there is more to ping pong than having fun. That is how he started a journey that made Eugene one of the experienced semi-professional ping pong players in the United States. As the founder of the PingPongRuler, Eugene spends most of his time surrounded by ping pong tables and research. He always has this knack for coming up with new ping pong strategies and telling the good and bad equipment apart.