The STIGA STS 420 table tennis table is a tournament level table with a 1″ surface thickness. For people looking to get a premier level ping pong table that complies with all tournament regulations, it's a great and relatively inexpensive choice.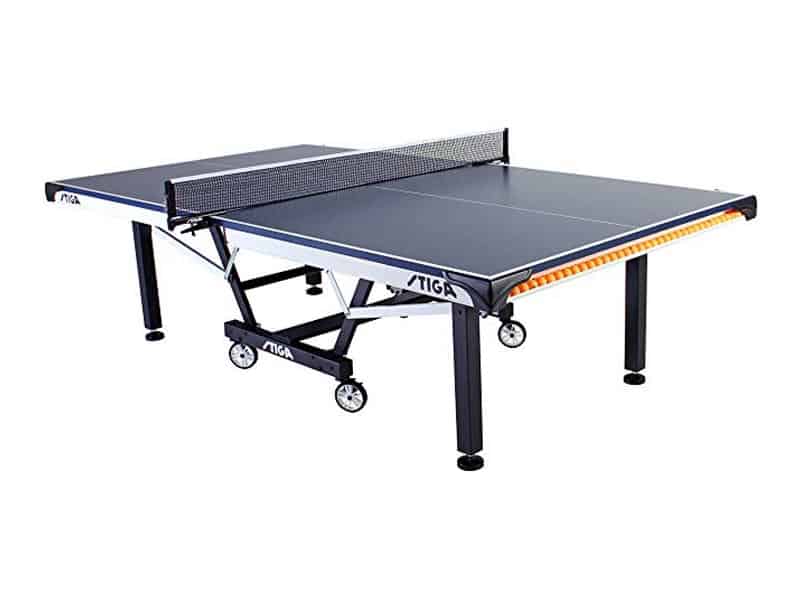 Specifications
Tournament-Grade Table with QucikPlay Chassis for Easy Assembly
1″ Thick Table Top with Silk-Screened Striping
2.5″ Legs with Leg Levelers and 5″ Mag Wheels with Locks
2.5″ Powder-Coated Steel Apron with Patented Full-Length Ball Storage
72″ Premium Clipper Net and Post System Included
For Indoor Use Only
Click here to see some of the other table tennis tables we recommend.
Self-Opening Legs
The self-opening legs make it easy to open, close and transition the table for single play. This also helps ensure the table is properly supported after moving the table or bringing it out of storage.
5" Mag Wheels
The large Mag wheels make this Table Tennis table easy to roll over any surface, including carpet.
Convenient ball storage
Extra balls are always in reach – integrated into both ends of the Table Tennis table apron is a full length ball caddy – never have to run around the room in search of a ball again – they're right at both players fingertips!
Assembly
This Ping Pong table is simple to put together, requiring only 4 screws to complete assembly.
Great playing surface
The Ping Pong table surface is supported by a 2.5" steel apron designed to help keep an even bounce across the whole table. Additionally the STS 420 uses a silk screen striping to print the playing lines on their playing surface. This is done to ensure as consistent a playing surface as possible.
Steel Leg Construction
The legs are 2.5" of heavy gauge steel and are able to be independently leveled. This creates a rock solid base and a dead level table – even if the floor isn't.
Conclusion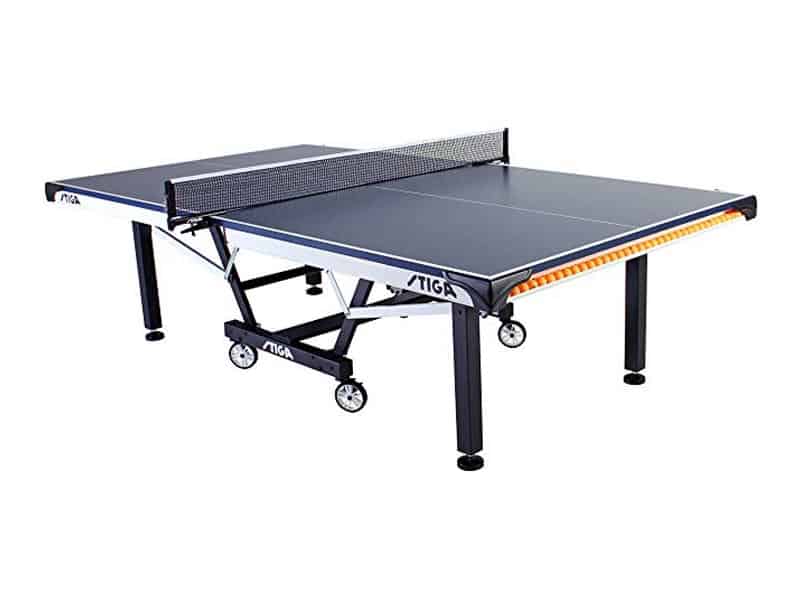 Overall we liked the STIGA STS 420. The solid construction of the table combined with all of the well thought out features make this ping pong table an excellent buy. You're getting a versatile table that will be able to stand up to the demands of both a professional tournament player as well as the recreational family player.
Related Product Reviews:

Eugene (Gene) Sandoval has been one of those guys who spent too many hours around ping pong tables in high school. However, soon enough, Gene understood that there is more to ping pong than having fun. That is how he started a journey that made Eugene one of the experienced semi-professional ping pong players in the United States. As the founder of the PingPongRuler, Eugene spends most of his time surrounded by ping pong tables and research. He always has this knack for coming up with new ping pong strategies and telling the good and bad equipment apart.