The STIGA STS 285 comes to you preassembled and ready to play. You can literally open the box, pull it out, unfold in the driveway and be mid-rally within minutes. And with no need to remove the net when folding, it's easy to open and easy to stow away until you are ready to play next time.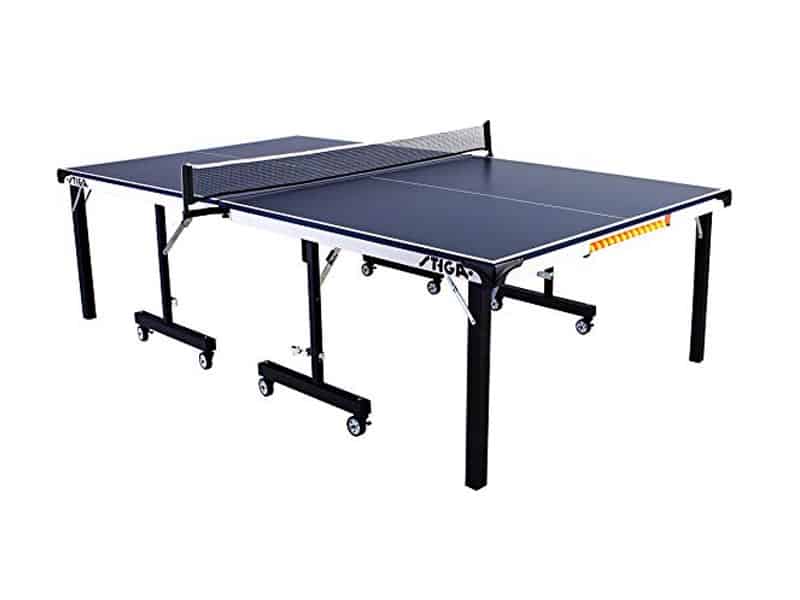 Specifications
No Assembly Required with InstaPlay Technology
3/4″ Thick Table Top with Silk-Screened Striping
2″ Legs and 3″ Mag Wheels with Locks
2″ Powder-Coated Steel Apron with Patented Half-Length Ball Storage
72″ Pivoting Net and Post Set Included- Open and Close Without Removing Net
For Indoor Use Only
Overview of the STIGA STS 285
With its ¾ inch thick tournament top, the STIGA STS 285 gives a solid performance in an amateur setting, perfect for home or neighborhood tournaments. The table has regulation markings in silk-screened lines so you enjoy a smooth playing surface, without dealing with lines that adhere to the table like a sticker. These lines will never come off as they are under the clear top coat that finishes the playing surface.
The table features a two-inch powder coated steel apron for bounce consistency across the whole table. It has two-inch steel legs for stability with caps on the ends so that your floor is protected from damage.
The two sets of ball bearing wheels support the frame and yet move effortlessly over most surfaces and lock into place to keep the table steady during play. The 72-inch pivoting net stays on when the table is folded so set-up is always a breeze.
Each side of the table has one set of capped legs and one set of wheeled legs which allow the two table halves to stand independently of the other. This table is rated for indoor use only. If you are planning on using and storing this table inside, this is perfect..
Table dimensions
In the two player game position this table measures 60 inches wide, 108 inches deep, and 30 inches high. In the single user position, the measurements are 60 inches wide, 68 inches deep and 62 inches high. In the storage position, the measurements are 60 inches wide, 30 inches deep and 62 inches high.
Pros
Features Ping Pong ball storage built in and holds balls even when folded
Easy lock wheels for stability
Can be folded with one side up for self-play
¾ inch top is very durable
Cons
Customers reported sagging in the middle on some tables
Net hardware made of plastic
Sides are large, unfolding and locking difficult
Needs better support
Alternative Tables
Reviews didn't rate the STIGA STS 285 very highly getting less than 3 stars out of 5. But, there a whole host of other table tennis tables that have hundreds if not thousands of 5-star reviews at a similar or even cheaper price. To see which ones we recommend head over here.
Conclusion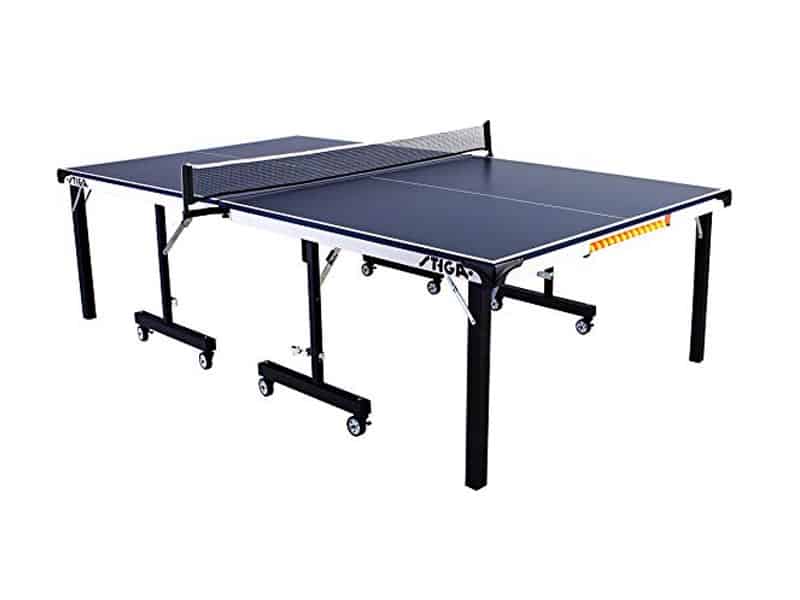 So, to conclude, if you're thinking about purchasing a brand new STIGA STS 285 we probably wouldn't recommend it. The fact that so many customers have reported the surface to warp and become bent means that it hasn't been designed as well as other tables, even ones made by STIGA. If you're looking at a second hand table, we'd recommend inspecting it before you buy to see if it has begun to lose its shape.

Eugene (Gene) Sandoval has been one of those guys who spent too many hours around ping pong tables in high school. However, soon enough, Gene understood that there is more to ping pong than having fun. That is how he started a journey that made Eugene one of the experienced semi-professional ping pong players in the United States. As the founder of the PingPongRuler, Eugene spends most of his time surrounded by ping pong tables and research. He always has this knack for coming up with new ping pong strategies and telling the good and bad equipment apart.